Summer Boredom Busters – 31 Activities for Kids
Summer is here and I am sure that you are all looking for things to do with the kids. I know my kids can tell me that they are BORED within 30 minutes of waking up! It's time to take away the electronic devices and get the kids' imagination soaring. I remember when I was a kid, I woke up, went outside and played outside for as long as my mom would let me. I don't remember being bored because I would find something to do, either with my friends or by myself. So, if you are in a rut this summer, I thought I would share some fun ideas to help combat the Summer Boredom Blues.
Here are 31 Summer Boredom Busters for Kids:
Plant a garden, or a least one or two plants – We planted 4 pepper plants for the 1st time ever in a cute little gardening box
Make slime – My daughter did this just last week, it took 2 minutes to make and she still plays with it!
Have a tea party or a picnic in the backyard
Play a board game
Go berry-picking
Make a Lemonade Stand – These always do best on garage sale days for us!
Finger-paint – You can even have the kids make their own
Blow bubbles – You can even have the kids have their own bubble solution
Play with LEGOs
Build a fort – Use blankets and sheets and let the kids go to town!
Make a cardboard city out of empty boxes (free from appliance stores)
Use that sidewalk chalk
Start a summer journal
Play catch
Play soccer
Make sock puppets
Go fishing
Take a hike or go biking
Wash the car – The kids may not do the best job ever, but they will have fun getting wet and spraying each other…I mean the car 😉
Make water balloons – we LOVE the Bunch O Balloons, no tying required and you have a bunch ready in just moments
Go swimming – in the pool or head to the beach
Play pool noodle field hockey – Head to an open field, or someone's big backyard, grab a bunch of pool noodles and a really light ball. Have the players use the noodles as their "hockey sticks" and play on!
Water sponge relay – Get two buckets (more if more kids are playing – you need 2 buckets per every 2 kids), and one sponge (one sponger per every 2 kids) fill one bucket with water, and have the kids try to fill the other bucket by only using the sponge. First team to fill their bucket wins!
Hide and Seek
Lay on the grass and look for shapes in the clouds
Play Hop Scotch – Make the board with sidewalk chalk!
Make a story – Have the kids work together and write their own story, if they aren't to the age of writing yet, pictures work beautifully for story-telling!
Do a Scavenger Hunt – Make a list of common things in the house/yard/subdivision and have the kids go searching. Be sure to add some summer essentials on the list, like goggles, sunglasses, etc.
Do some baking – Make brownies or cookies and deliver them to friends, family, neighbors or the local fire station or police department.
Invest in quality toys – We have the Sprio Hop. This seesaw is daycare quality and is a blast for kids of various ages! Each seat holds up to 77 lbs. Sometimes quality toys cost a bit more up front, but when you are getting something that will last for years of fun, it's worth it in my book!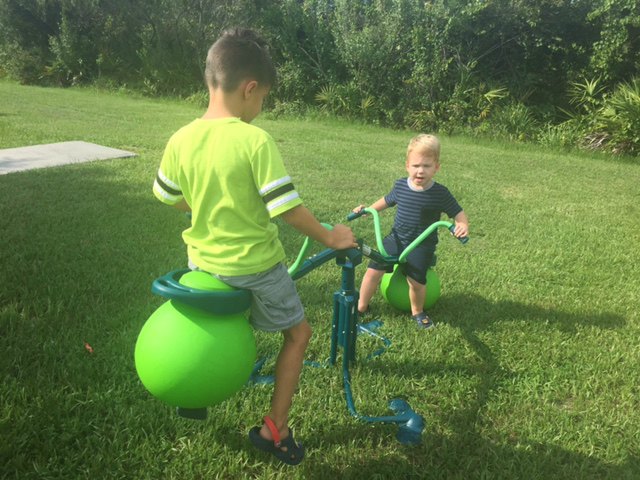 Here is a bit more about our new favorite teeter-totter:
Big kids and little kids absolutely love bouncing and playing on the Spiro Hop. This is a redefined teeter-totter. The handles are curved over so kids have a great grip and can keep their balance. The bounce part protects the kids from any quick movements that could result in the lighter side coming down quickly. My kids first fell in love with the teeter-totter motion, but then added the spinning for the extra fun! This is a crowd pleaser from ages 2-10. We also played a Simon Says like game that required the kids to listen and then follow one step commends. The kids loved it, spin right, bounce three times each, make two complete circles, they could not get enough of it! As the parent, I loved that assembly was super easy, I mean it was ready for fun in about 15 minutes. The long bar that the kids sit on has 3 different adjustments that allow for children that have different weights to bounce evenly. The adjustment is quick and easy to change. We have used it inside and outside 🙂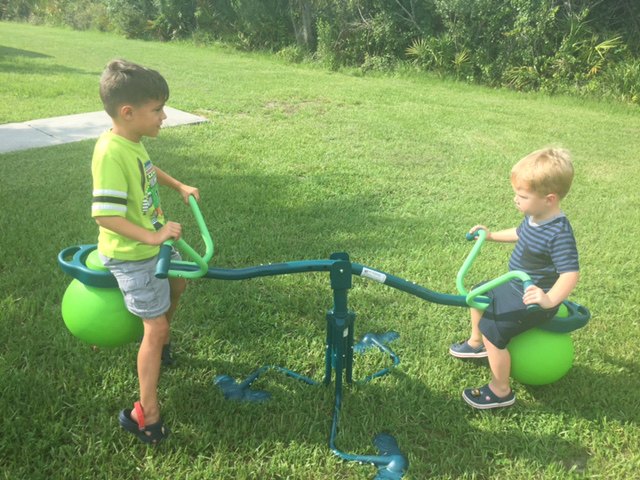 What are some of the ways you and your family Beat Summer Boredom? What are some of your favorite Summer Boredom Busters?
Be sure to follow Food Wine Sunshine on Facebook, Twitter, Pinterest, Google + and Instagram for more tips, fabulous recipes and more!
While we did receive product(s) above listed for review, no other compensation was received. All opinions are our own.