(Last Updated On: April 21, 2021)
Want to go to Universal Orlando but don't have park passes? Don't worry, there are plenty of fun things to do at Universal Orlando without passes! Disclosure: This post is sponsored by Universal Orlando, all opinions and tips are 100% my own.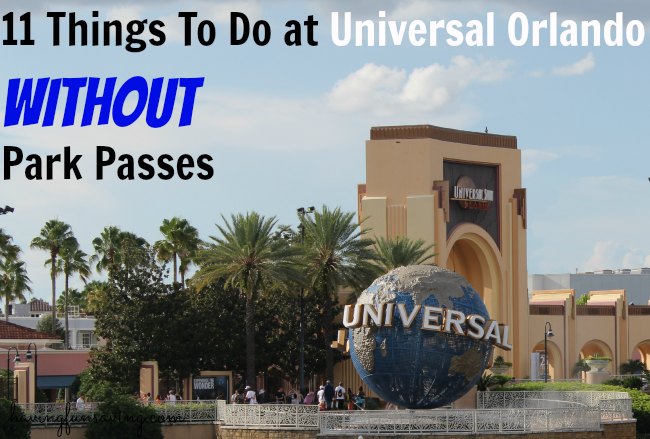 11 Things To Do at Universal Orlando Without Park Passes
Want to experience Universal Orlando but don't have passes? Don't worry, there is plenty of ways to enjoy Universal without actually even going into the park! Oh, and as a tip, you can park for just $5 starting at 6 PM 😉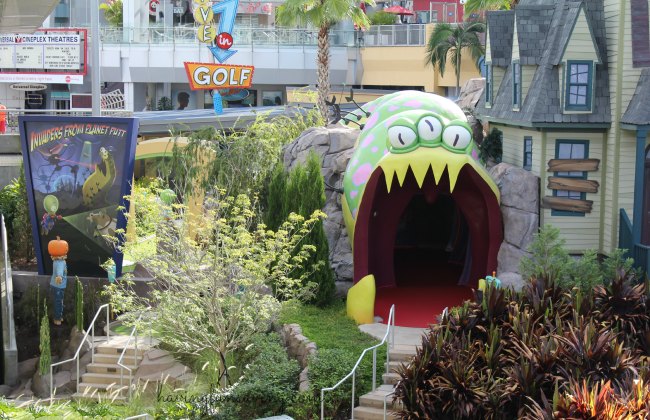 Go Mini Golfing
Grab the kids, and head over to the Hollywood Drive-In Golf™! There are 36 holes of golf that are offer two themes from movies from the 50s, The Haunting of Ghostly Greens and Invaders From Planet Putt. You can putt your way through a cemetery and a flying saucer, under a giant spider, around a 30-foot robot, into the basement lab of a haunted house, and more. With the LED lighting, you can play day, night and even late-night!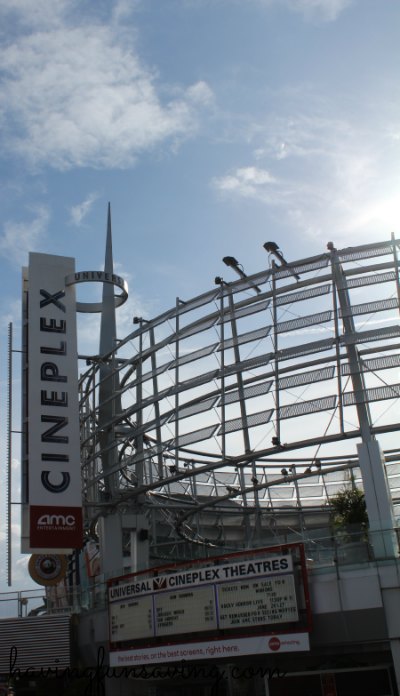 Catch a Movie
Ready to unwind after a long day? Or getting excited to catch the the new Minions movie? There is no better place in Orlando to catch a movie than at AMC® Universal Cineplex 20 with IMAX®. Each theater features all-stadium seating with high-backed rocking chairs, and state-of-the-art projection and sound systems. You can grab food and an adult beverage there too!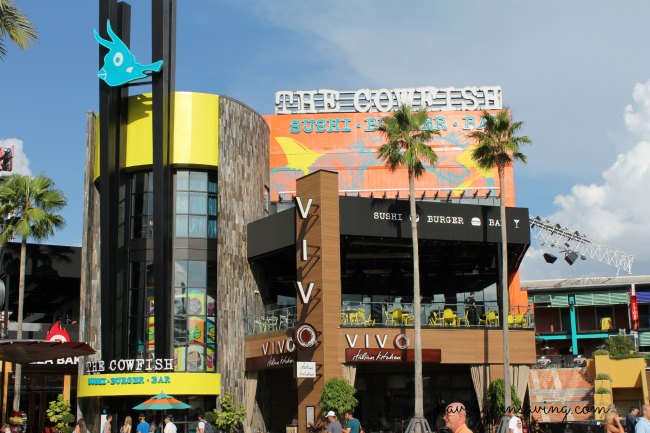 Eat
Oh, you can definitely spend the day eating at Universal. There is a restaurant for everyone. The options are endless and the food is award-winning. We took my in-laws to Cowfish when they came to visit us for their 20th Wedding Anniversary.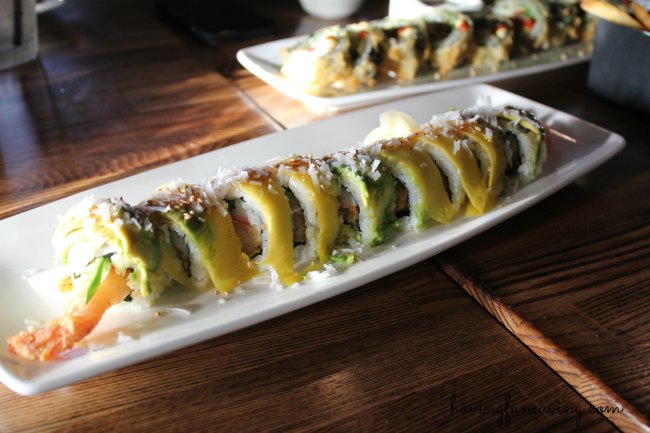 My husband and I LOVE Sushi, so we were excited to check out the different rolls available.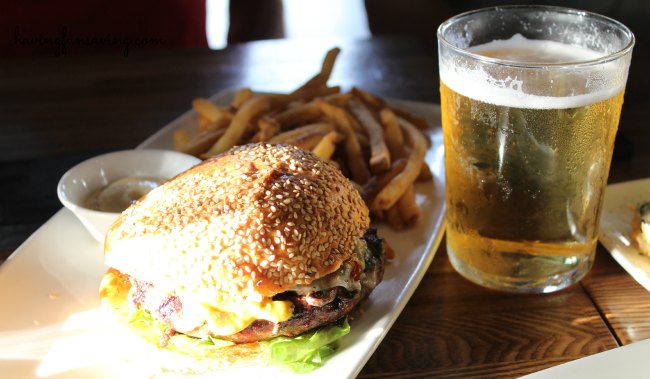 My in-laws love a good burger, so Cowfish was the perfect option for our family. Once you walk in, you find yourself instantly smiling.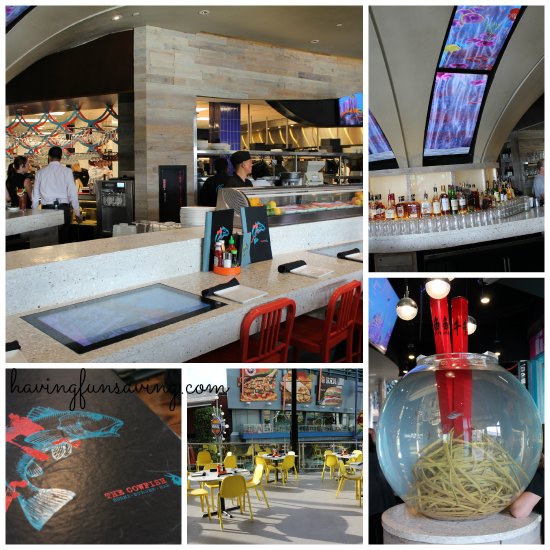 From the fun funky colors to the friendly servers and staff, you can't help but be in Your Happy Place.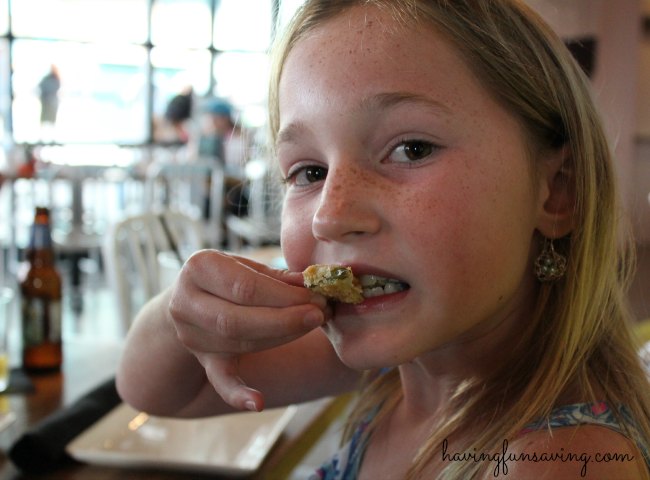 Not to mention, the food is amazing. My daughter highly recommends the Fried Pickles 😉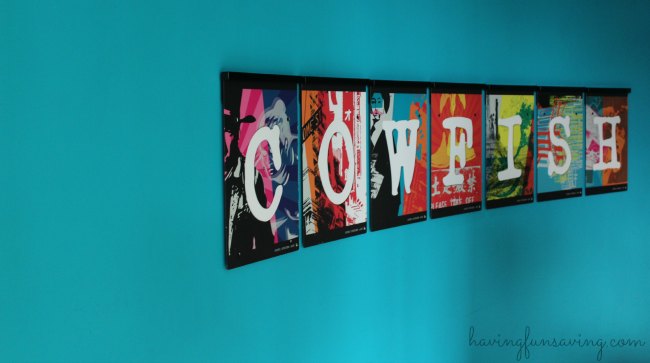 If you are looking for good food and a great time, my family and I highly recommend Cowfish!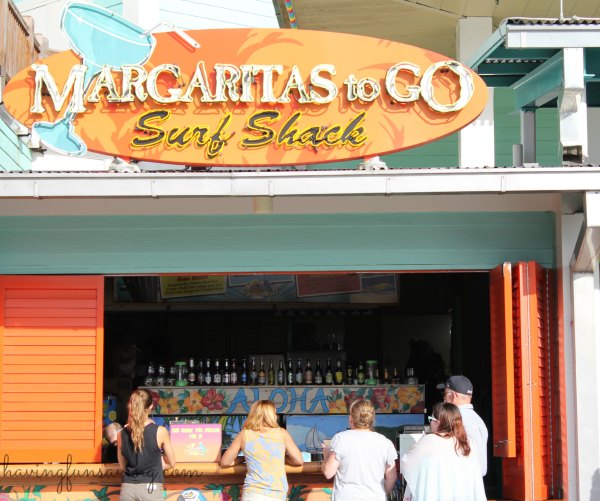 Drink
If you are just looking for an adult beverage and a place to relax and hang out, Universal City Walk has plenty of places to do just that. Most restaurants have a bar area inside, but there are also outdoor hot spots that promise smiles and fun.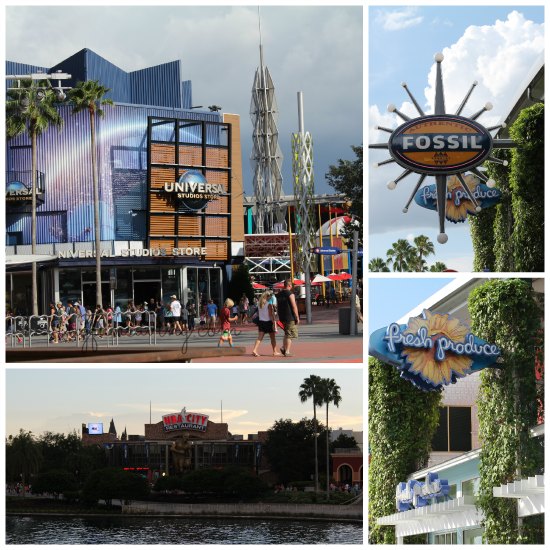 Shop
Like to find the latest and greatest fashions? Or maybe just the latest Universal Studios Movie gear? Citywalk has you covered there too. From Fresh Produce to NBA favorites! You can easily spend a few hours browsing your favorite finds in over a dozen shopping venues at Universal Orlando CityWalk.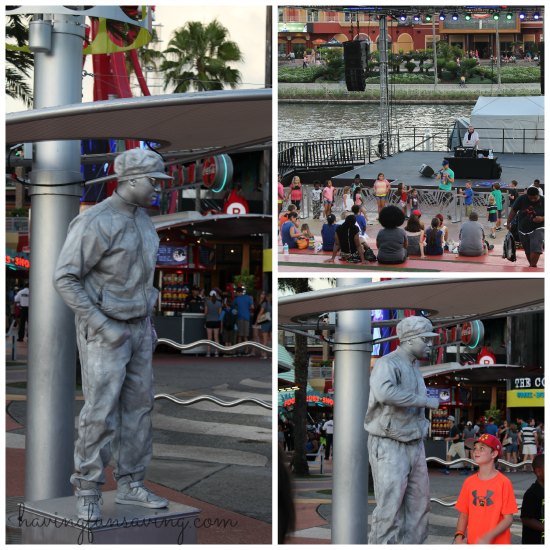 Enjoy a Street Performance
You will see statues come to life as you stroll around CityWalk! And keep a look out on the center stage, when we were there the DJ had a scavenger hunt going on for the kids. What a perfect way to get the kids doing something fun while the adults get the chance to sit and relax for a few moments.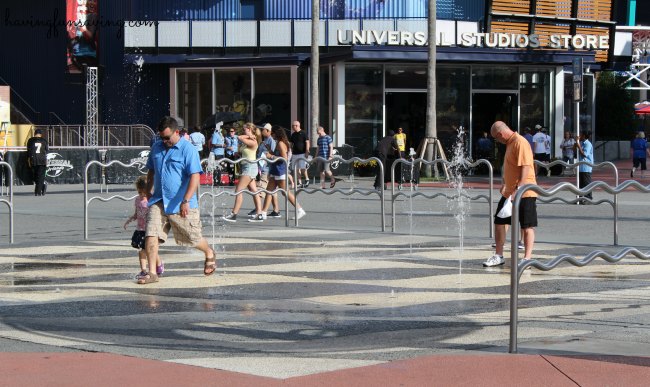 Play in the Water
It gets HOT here in Florida, take a moment to let yourself cool down and walk thru the fountains with (or without!) the kids 🙂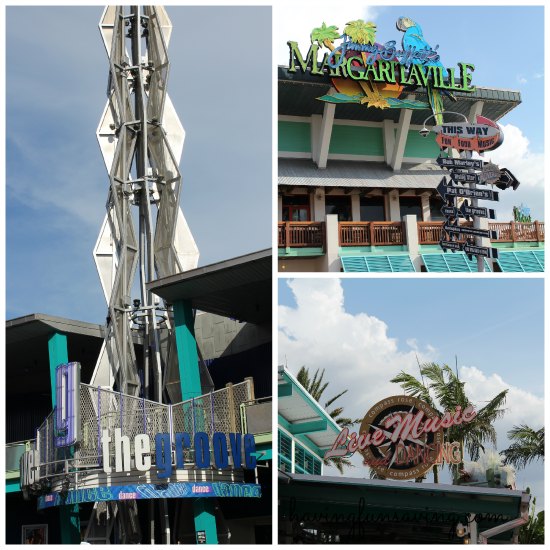 Dance
Love to get your groove on? When the sun goes down, the night life heats up at Universal CityWalk! There is a club for everyone, from the dueling piano bar to Bob Marley tunes to traditional clubbing music!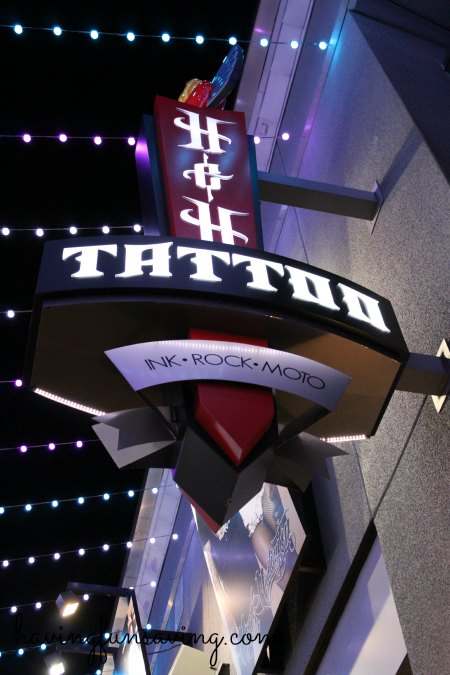 Get a Tattoo
Yes, you can even get a tattoo! Hart & Huntington Tattoo Shop has an awesome store, beautiful art, and art that you can permanently take home 😉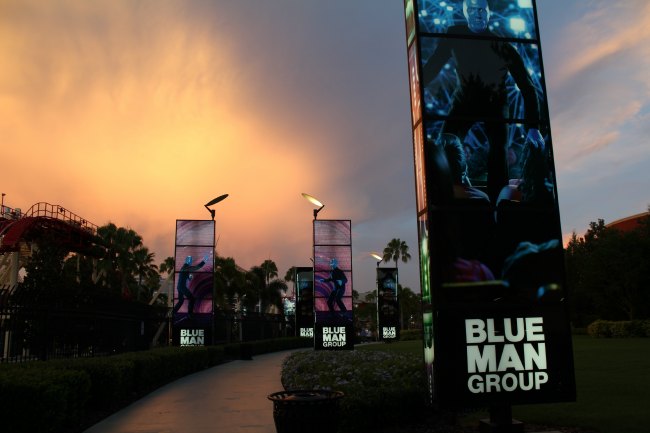 See the Blue Man Group
Blue Man Group is nestled in Universal Orlando, but you don't need a park pass to get in! Just your Blue Man Group Tickets 😉 This show is unlike any other you will see, and if you have seen it before, you will love seeing it again and again.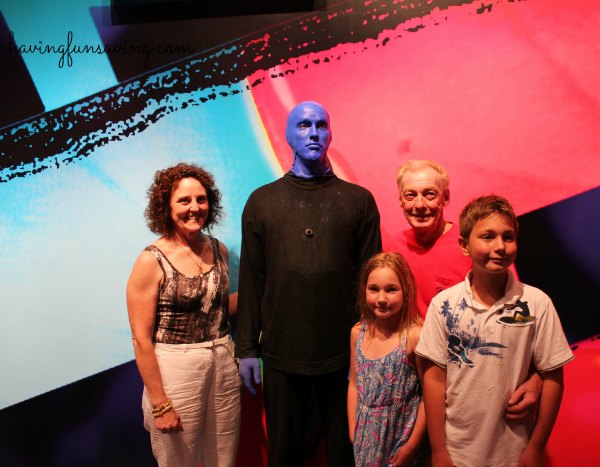 It is the one show that all our out-of-town visitors request to see. How can three BLUE MEN who don't even talk keep a crowd entertained for almost two hours? With music, painting, marshmallows, goldfish, dancing and MORE that will keep you on the edge of your seat laughing. This show is great for all ages, my daughter 1st saw it when she was 5 and we have taken both of our parents to it.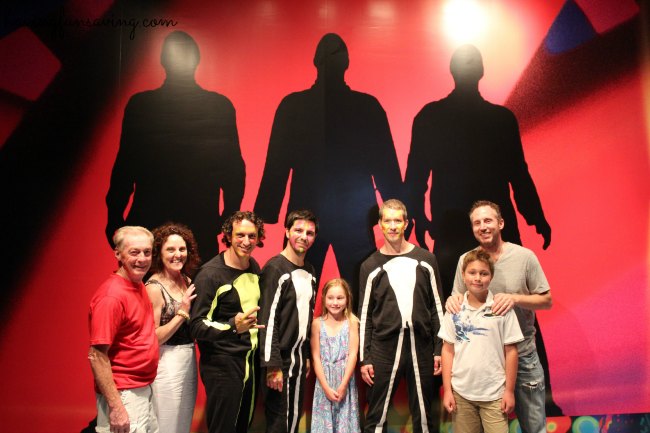 It doesn't matter if you are young or old, the Blue Man Group will leave you Young At Heart. Hold onto your ticket stub after you leave the show, you can actually score FREE ADMISSION to select CityWalk venues with your Blue Man Group ticket stub.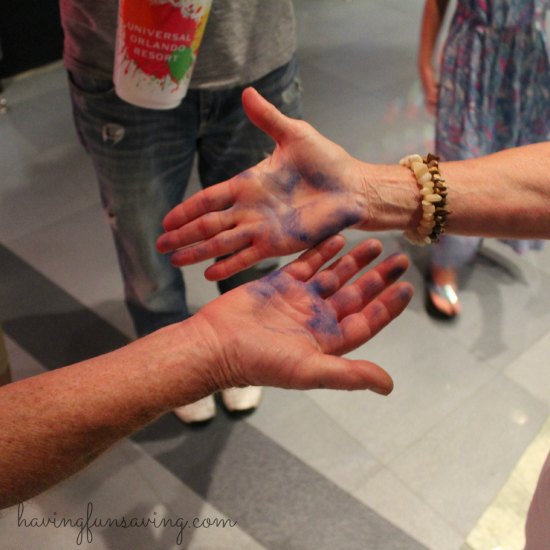 Have you ever wondered if the Blue Men are actually Blue? Well, we have the hand prints to prove it 🙂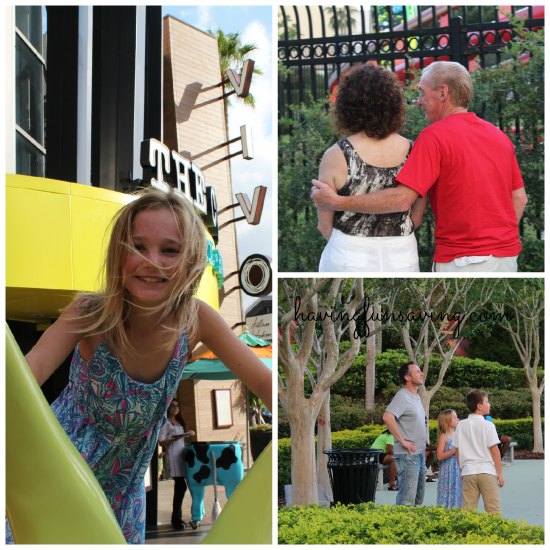 Simply Enjoy Yourself
As you stroll around Universal Orlando and CityWalk you will find yourself smiling, enjoying yourself, and the time with your family.
What would be your favorite thing to do at Universal Orlando WITHOUT Park Passes?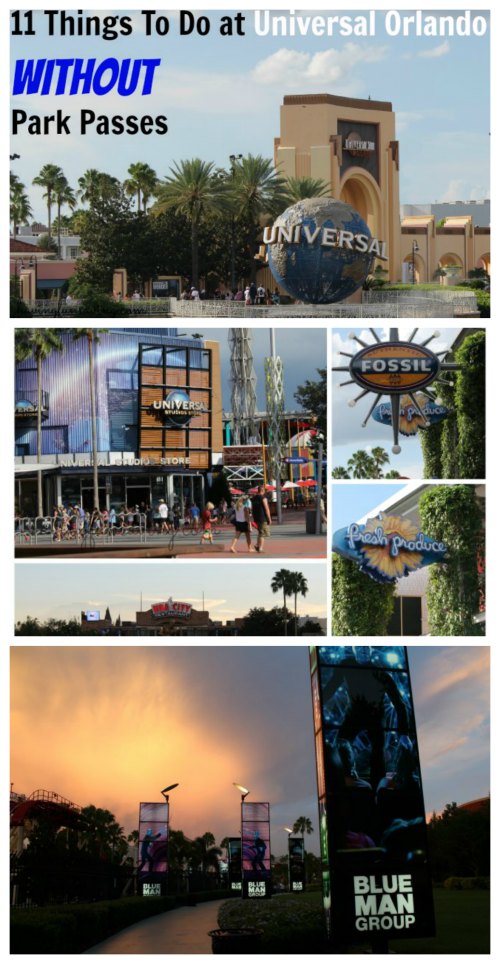 Make sure to follow Universal Orlando Resort on Facebook and Twitter.
While you are at it – stay up to date with me too 🙂 Find Food Wine Sunshine on Facebook, Twitter, and Pinterest.