(Last Updated On: April 10, 2020)
Grab the glow sticks, glow necklaces and shut off the lights! Planning a glow in the dark party is something the whole family will enjoy. I know we all end up laughing and having a blast!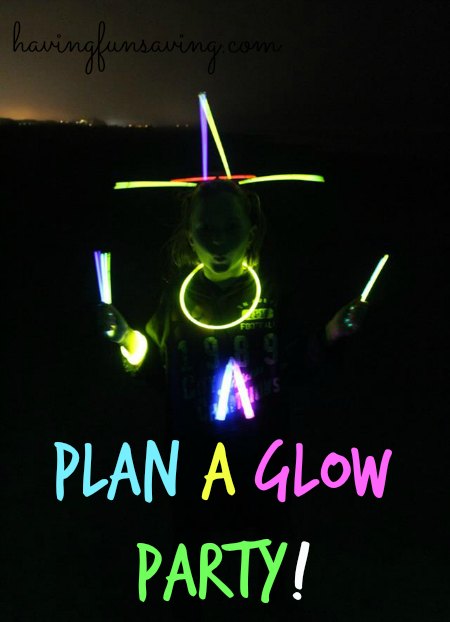 Glow In The Dark Party Ideas

Are you looking for something fun, inexpensive, and a bit silly to do as a family activity? Then why not plan a glow party! What is a glow party you ask? A glow party is where you gather up as many glow sticks, wands, crowns, and necklaces that you can find and turn off the lights for a fun and hilarious time!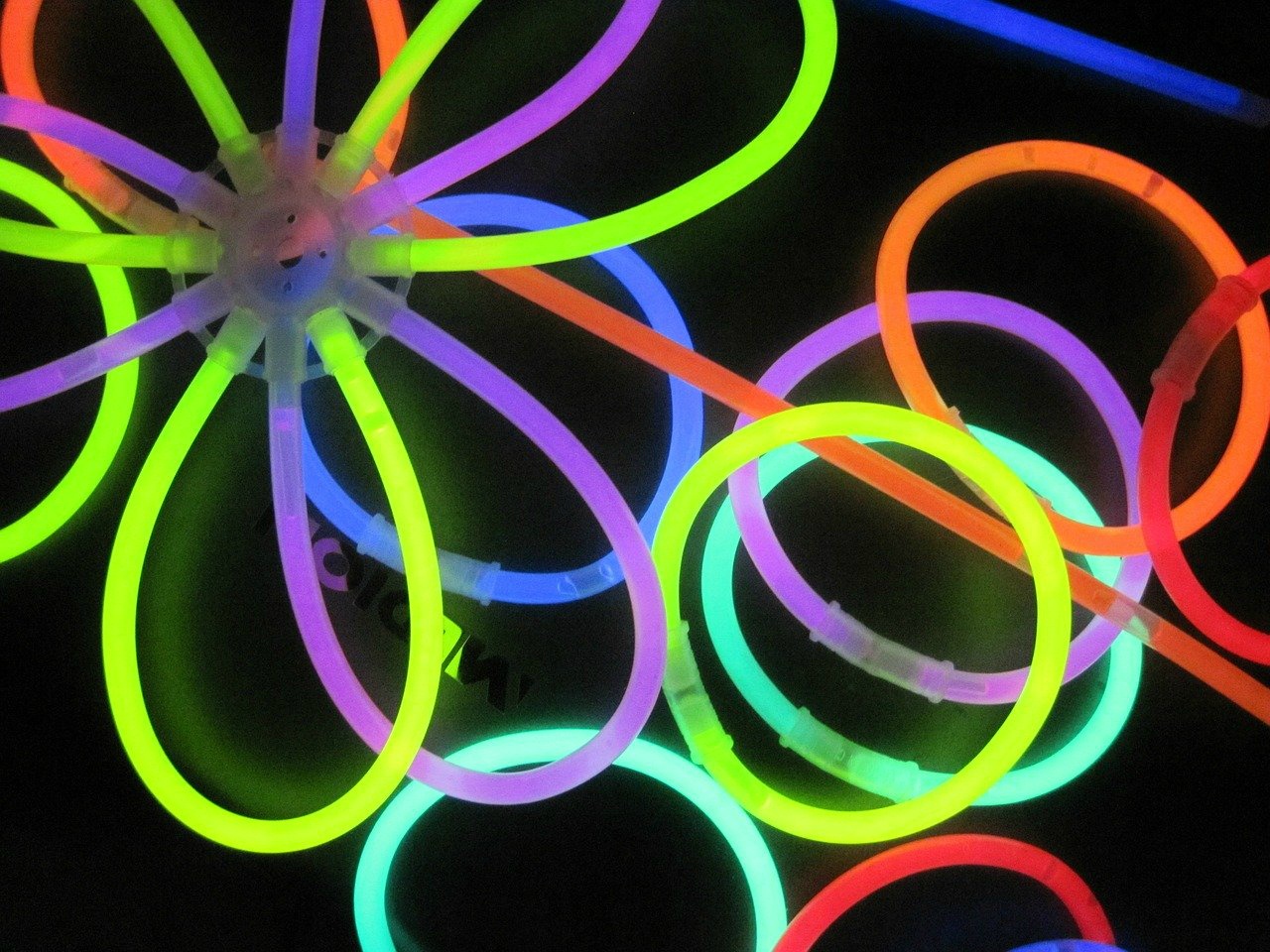 Every year when we go camping in St. Augustine and we walk down to the beach just after sunset and have the ultimate family glow party! We are always laughing non-stop! It's hard to take pictures in the dark, and I didn't want to use my night option for pictures much because I wanted to see all the GLOW, but I think you will get the idea 🙂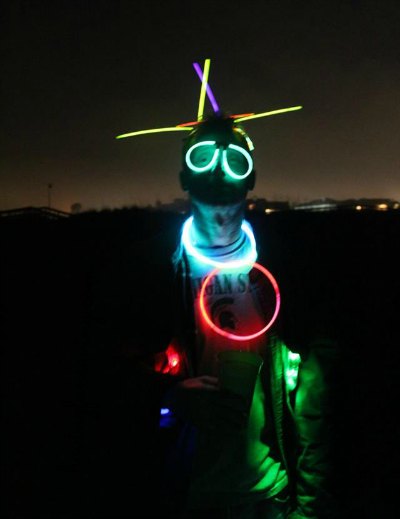 Having a GLOW PARTY it's definitely an inexpensive way for kids and adults to have some serious FUN!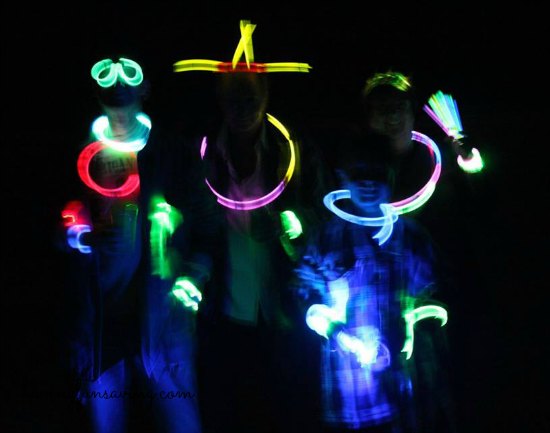 You can pick up glow sticks at Walmart, the dollar bin at Target, and most dollar and party stores for very little money. Pick some up regularly and the next thing you know you will have quite the collection of glow in the dark accessories. Be sure to keep an eye out after major holidays like Easter, New Year's and the 4th of July because you can frequently find glow sticks, and other glow in the dark accessories like crowns marked down in the clearance section making it even an even more inexpensive family activity.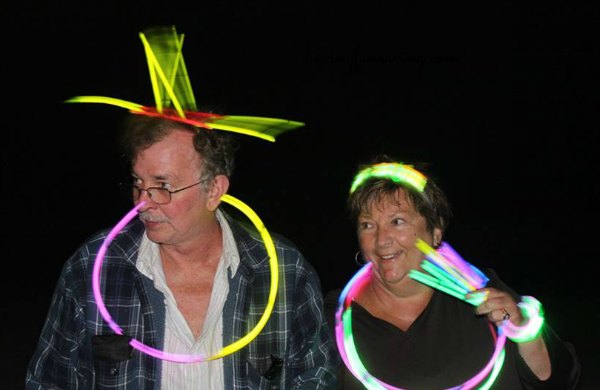 Once you have gathered all of the glow sticks you want for your party it is time to get them glowing and turn off the lights or head out into the dark outside. Put on some fun music and laugh until your sides hurt from the hilarious images in front of you.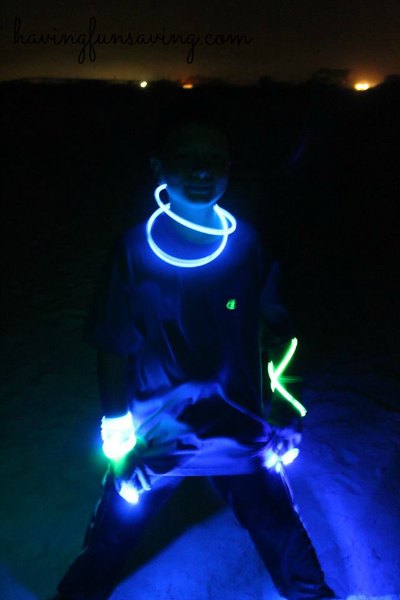 We had over 100 pieces in our Glow Party. As you can see, my son had on about 10 bracelets! In fact, I think we all did!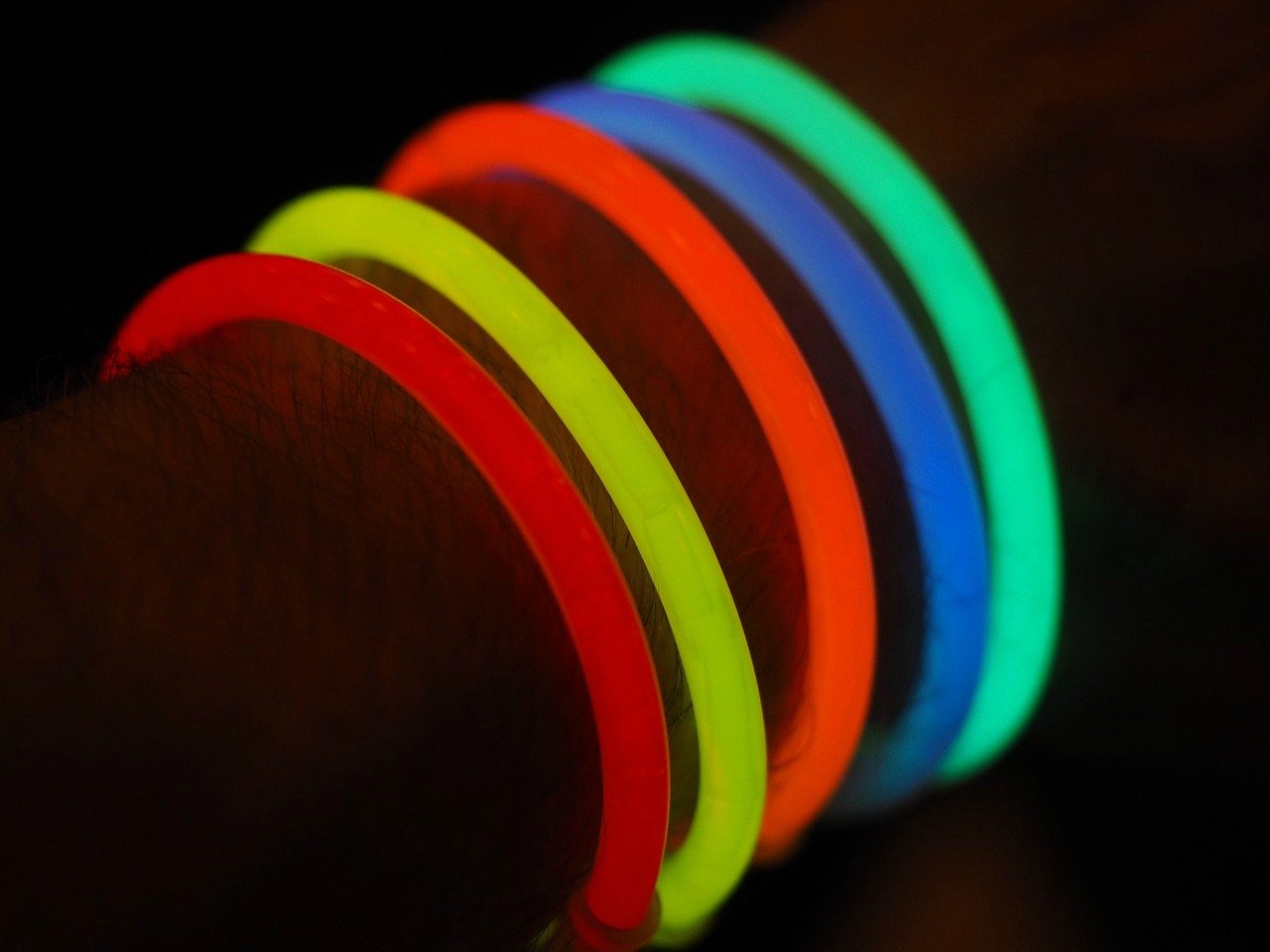 Our favorites were the glow glasses and that weirdo head one. They both looked HILARIOUS in the dark! I honestly can't remember the last time I laughed that hard.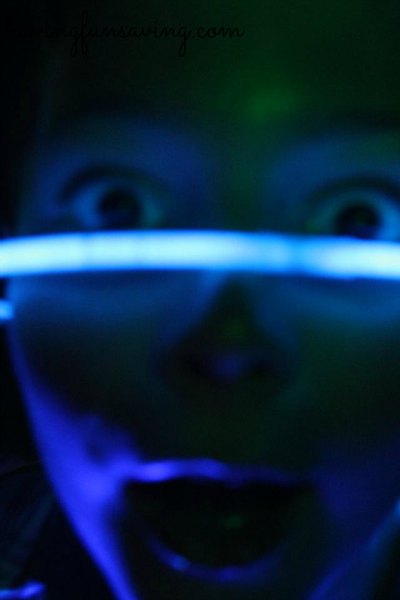 You don't have to be camping, be at the beach or even outside to have fun a glow in the dark party – just grab your glow sticks, dim the lights at home and let the fun begin. Some alternative activities for your glow party are to have a glow in the dark pool party. If you don't have a pool but you just just want a quick fun activity one night, particularly for younger kids, turn off the lights and put some glow sticks in the bath tub. Your kids will be squeaky clean and have a blast in the process. Of course if you are just doing a fun in the bathtub night, you won't need quite as many glow sticks!
My son was also wearing some Laser Finger Beams, we bought a big set of these years ago and they are PERFECT for glow nights! You can get a package of 48 on Amazon right now for about $5. If you ask me, it's totally worth it! We have also got these glow in the dark "balls" they are fun to play catch with in the dark!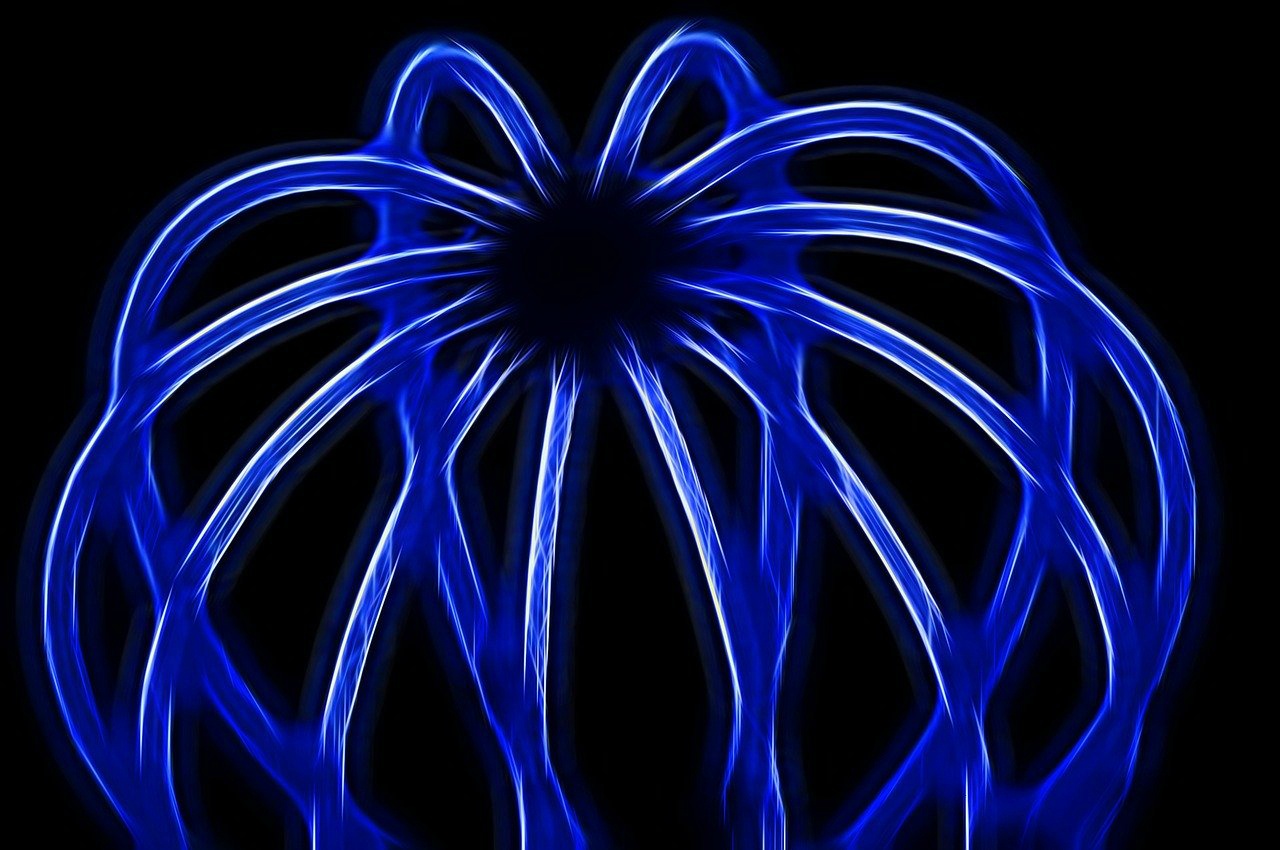 Got some leftover plastic eggs from Easter? Make some Glow In The Dark Easter Eggs and play catch or Hot Potato with them for an extra fun activity!
Have fun with these Glow In The Dark Party Ideas, I know we always do!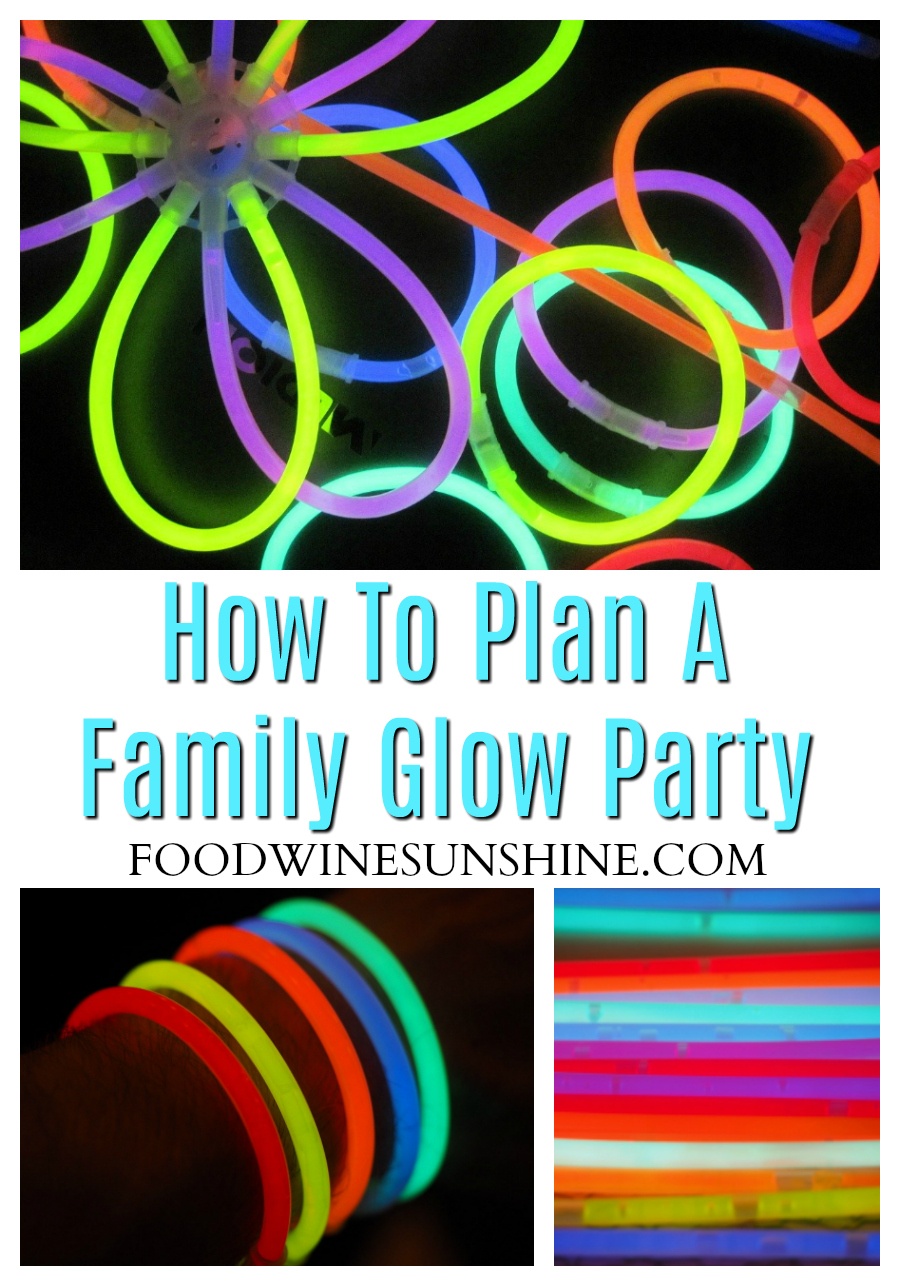 Be sure to check out Food Wine Sunshine on Facebook, Twitter, Pinterest and Instagram for more tips, recipes, family fun and more.