(Last Updated On: July 9, 2021)
Yountville is a beautiful, artsy place in California just minutes from Napa Valley. Read these Best Things To Do In Yountville and plan your next Wine Country vacation.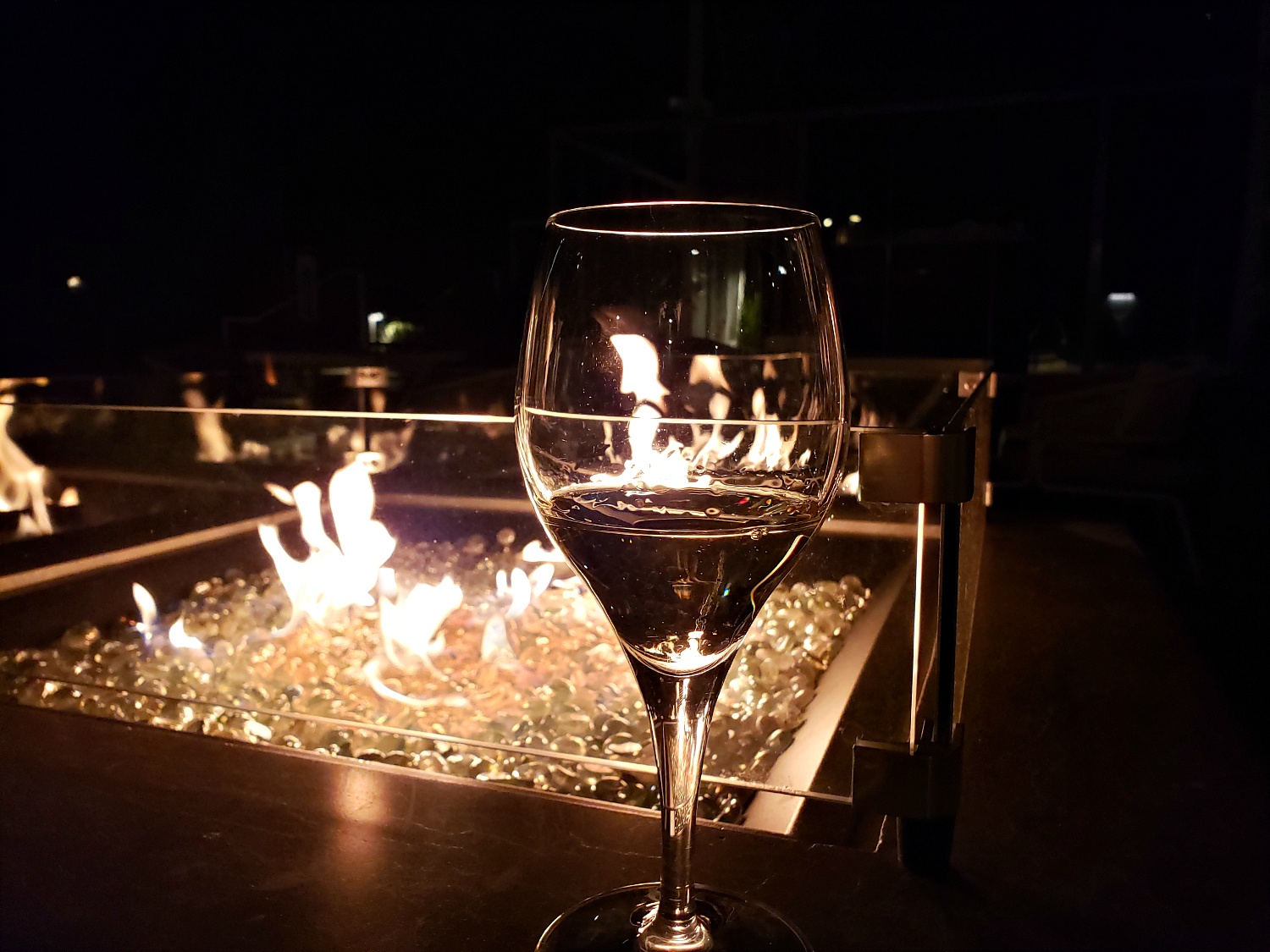 Top Things To Do In Yountville California
Yountville is an incorporated town in Napa County and is often referred to as the "heart of the Napa Valley". The entire town is founded on the concept of passeggiata, or the art of the stroll. You can walk to or from everything the town has to offer including 5-star hotels, Michelin star restaurants, boutique shopping, tasting rooms, wineries and more. Which is exactly why we decided to stay in Yountville on our last trip to Napa Valley. Yountville is a short drive from many of the Top Napa Valley Wineries and has so much to offer right in town. Quaint. Hip. Artsy. Gorgeous views. Plus much more. So let's talk about some of the top things to do in Yountville, best places to eat in Yountville, where to stay in Yountville and more.
Where To Stay In Yountville
If you are planning a trip to Yountville one of your first concerns is probably the best place to stay. Yountville will not disappoint with their luxurious hotel accommodations, or if you are looking for something a little more quaint they have several bed and breakfast options.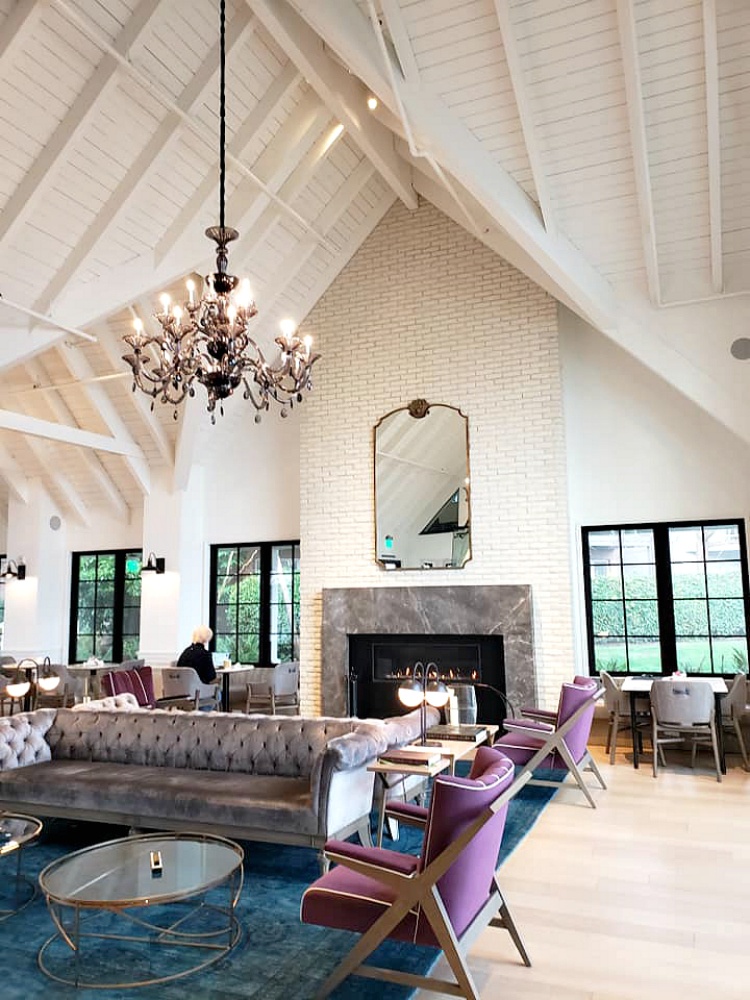 The Vintage House
On our recent visit to Napa Valley, we stayed at the Vintage House. The Vintage House is a visitor favorite with its touches of rustic elegance and modern sophistication. They have guest rooms, lofts, and bungalows, and all come with a fireplace. We used the fireplace every night (we went in January) and loved the romantic yet cozy ambience it gave us. There is a state of the art fitness center on the property as well as a world-renowned spa. Personally, we just loved sitting in the gorgeous lobby with the fire in the background or sitting outside taking in the mountain views. We started each day with a complimentary wine country breakfast, and there are complimentary wine tastings offered on-site on the weekends. We were able to try Hill Family Wines our first night. The pastries at the breakfast are provided by the Model Bakery and while they are all delicious, the English muffins are not to be missed. Seriously, they made Oprah's list of favorite things in 2016, and they are world-famous. Don't worry if you fall seriously in love with them they will ship some to you. I may have to call them to place that order! When we return to Napa Valley, we will definitely stay here again.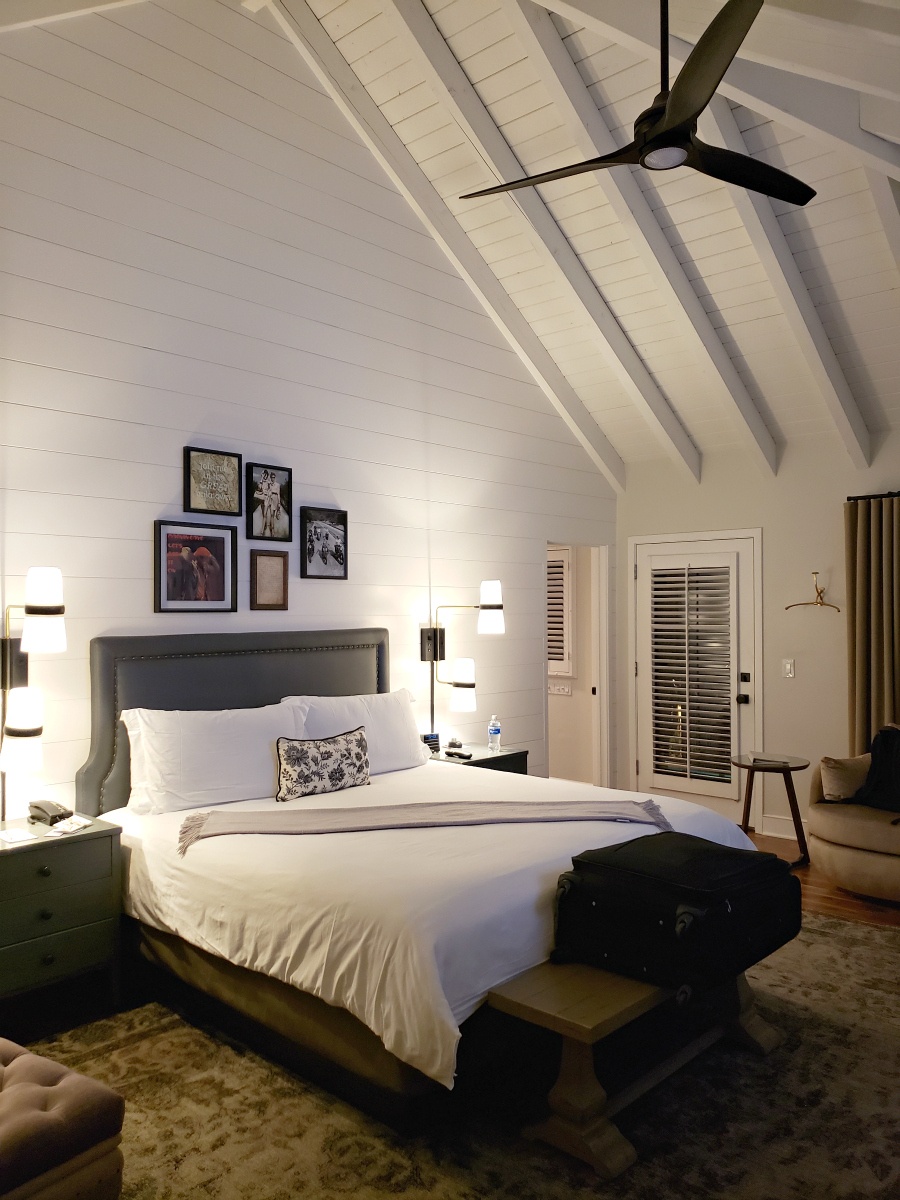 Vintage House address: 6541 Washington Street, Yountville, CA
Vintage House phone number: 707-944-1112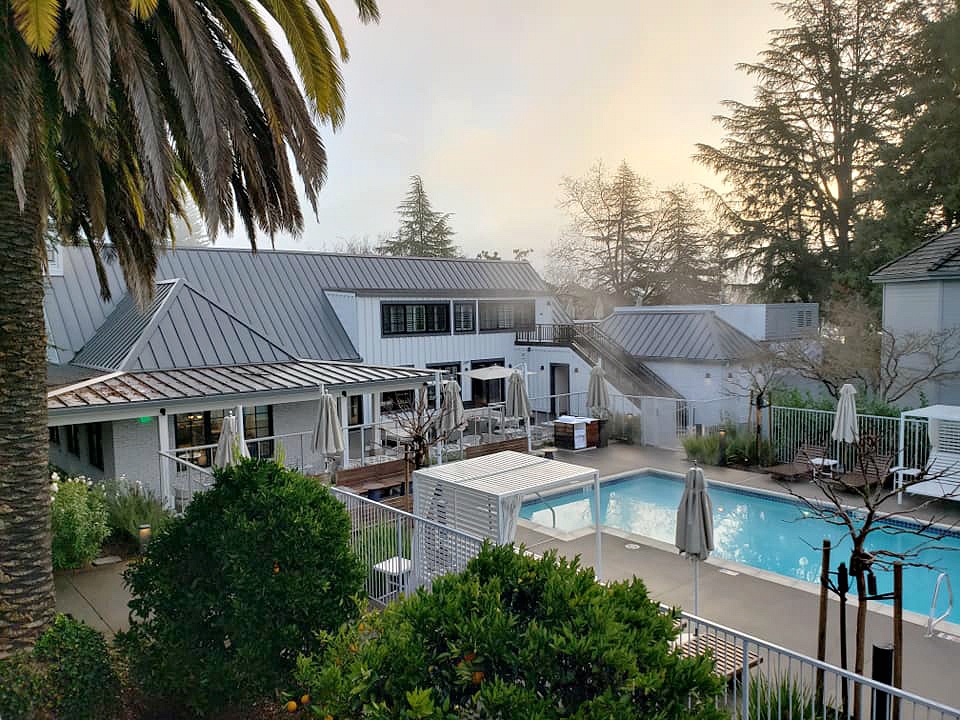 North Block Hotel
If you are looking for serenity in a modern boutique style hotel check out the North Block Hotel located at the North end of town. There are only 20 well-appointed and sophisticated rooms, and complimentary amenities include a welcome drink upon arrival, signature bath products from the onsite spa, espresso machine, plush robes, and a complimentary breakfast.
North Block Hotel address: 6757 Washington St, Yountville, CA
North Block Hotel phone number: 707-944-8080
There are also quite a few bed and breakfast type accommodations available in the area if you are looking for something a little bit more low key.
Best Restaurants in Yountville
Now that you know of some options on where to stay in Yountville let's talk about the food! There are so many amazing restaurants in Yountville that you would have to stay quite a while to experience them all.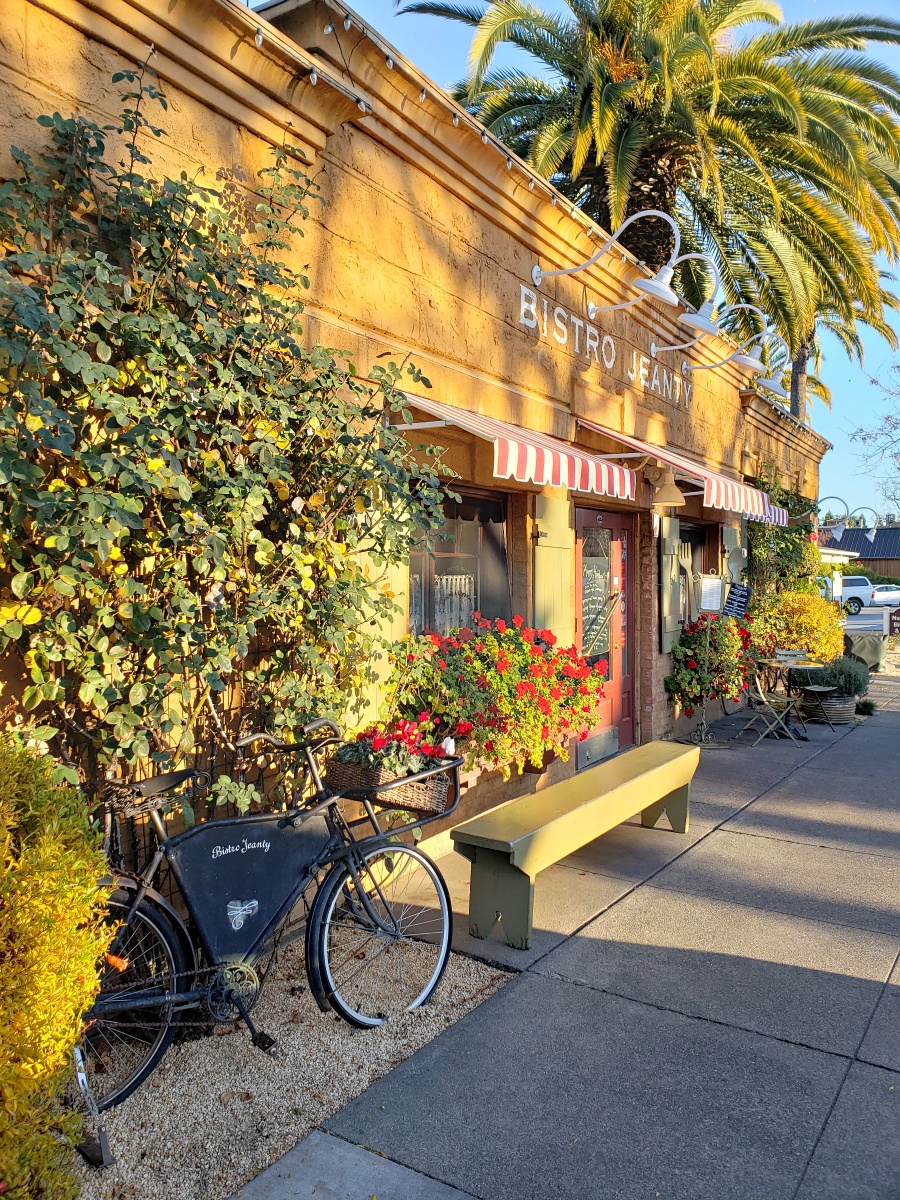 Bistro Jeanty serves classic homestyle French cuisine and the Beef Bourguignon (short ribs with roasted carrots and pearl onions) will send your taste buds straight back to France. Chef Philippe Jeanty sources seasonal local products to recreate classic French country style dishes in a relaxed and homey environment. My husband and I dined here our second night in Yountville at the recommendation of several people. We loved every mouth-watering bite. We stayed our meal with the in-house smoked salmon which literally melted in our mouths. For dinner at Bistro Jeanty we both had the Beef Bourguignon. I had mine with a side of mashed potatoes and my husband has his with a side of noodles. Both options were delicious, however the Beef Bourguignon is definitely good enough all on it's own. For dessert we shared the Crème Brûlée au Chocolat. It was the best of two worlds – chocolate and Crème Brûlée! While we were treat to our meal, our opinions are our own.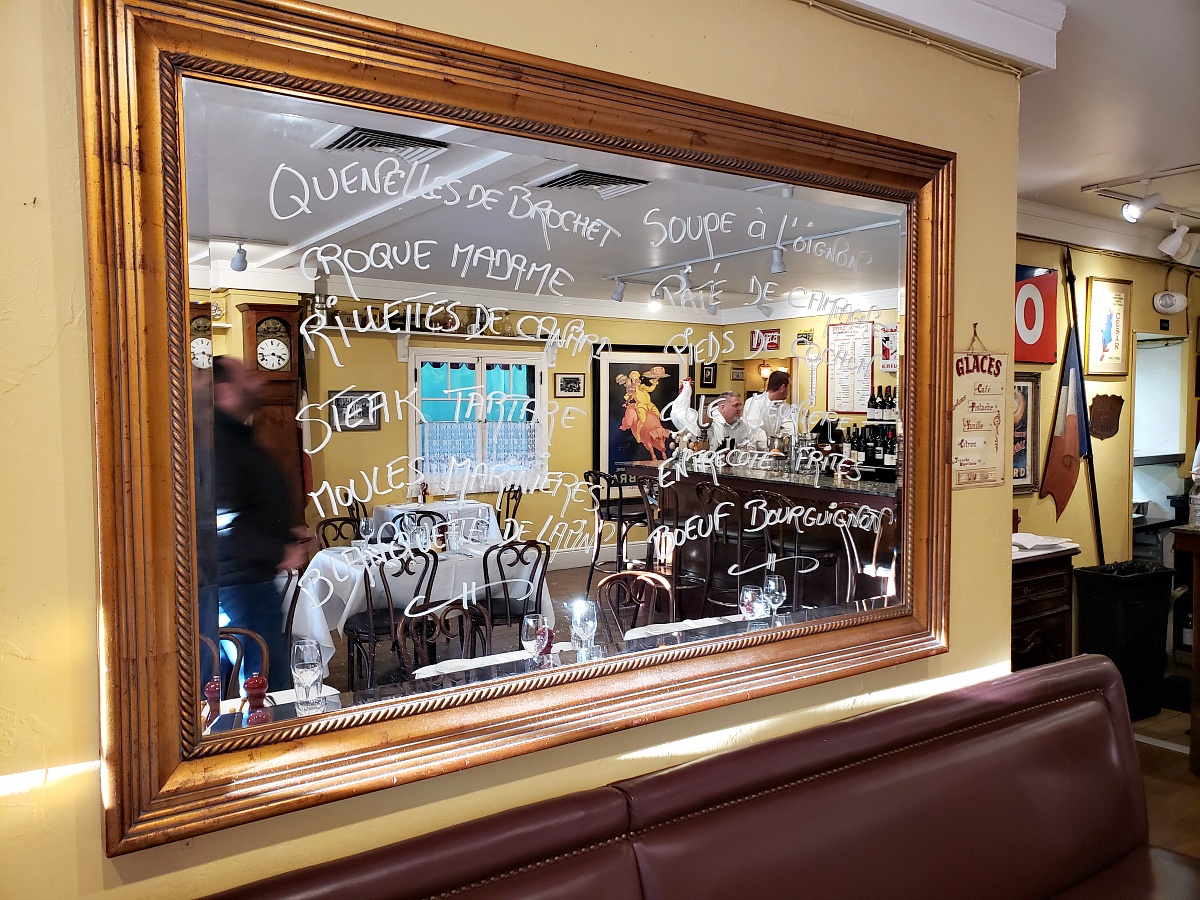 Bistro Jeanty address: 6510 Washington Street Yountville, CA
Bistro Jeanty phone number: 707-944-0103
Bistro Jeanty is open everyday from 11:30 a.m. to 10:00 p.m. Reservations are highly recommended.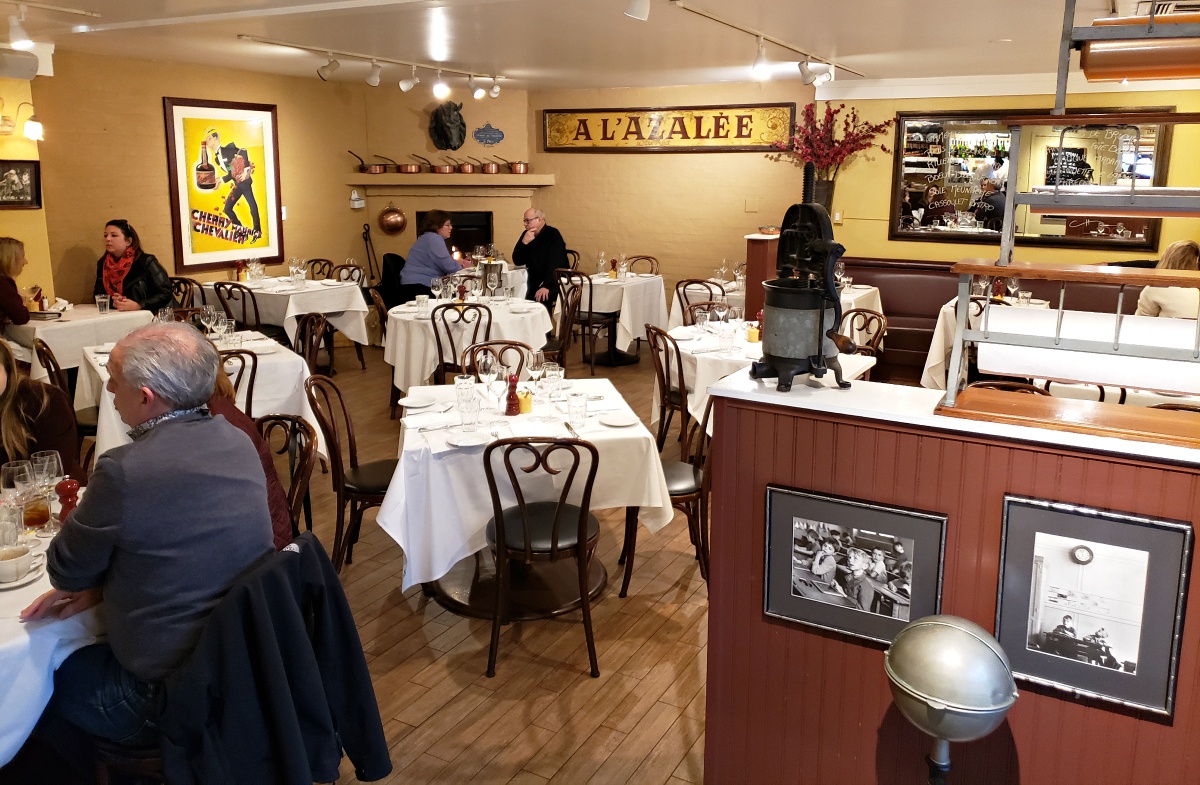 Ciccio is a casual Italian restaurant located in the right on the end of town. They feature simple wood-fired pizzas and classic Italian entrees. If you stop in here for dinner make sure that you give the risotto a try! Many of the ingredients are locally sourced from the gardens at Altamura Ranch which is also home to the Altamura Vineyards and Winery, the only winery located in the Wooden Valley of the Napa Valley appellation. We dined at Ciccio our first night in Yountville. After we checked into The Vintage House and took advantage of our first wine tasting, we were definitely hungry. Ciccio's does not take reservations but they are very quick to serve their guests and our wait was not long at all.
Ciccio address: 6770 Washington Street Yountville, CA
Ciccio phone number: 707-945-1000
Ciccio is open Wednesday – Sunday from 5:00 p.m. to 9:00 p.m.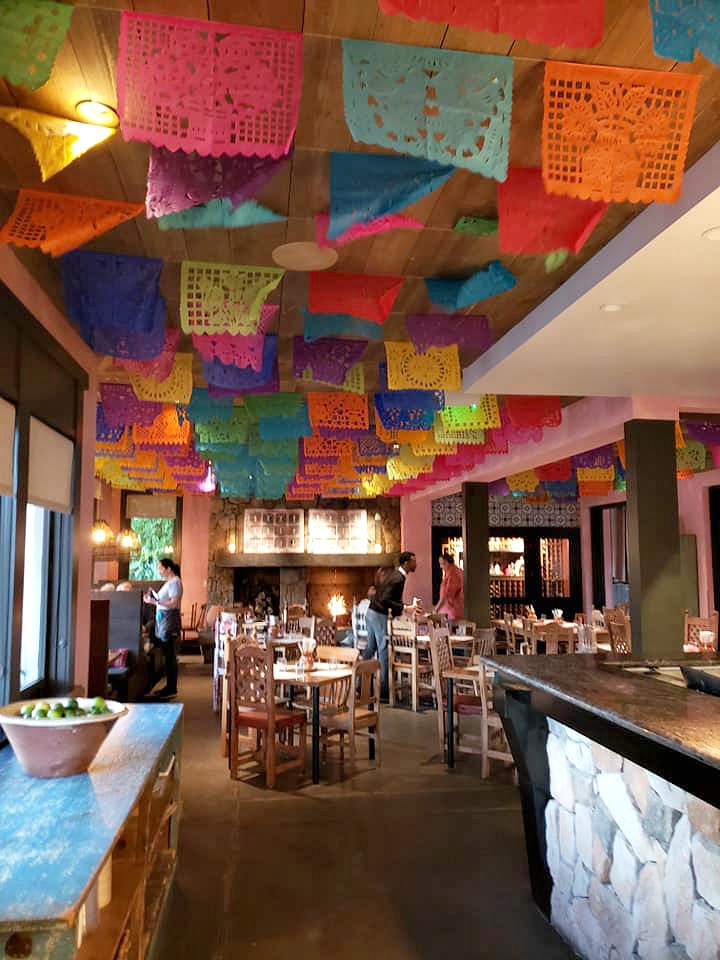 La Calenda provides traditional Mexican food, made with fresh ingredients and traditional cooking methods. They also offer a full-service bar specializing in mezcals, tequila, beer, and local wines, as well as wines from Mexico. La Calenda is one of the few restaurants in Yountville that is open until later in the evening, so if you have a late night craving or just want a cocktail, this is the place to go. We had a late lunch here during our stay in Yountville. We loved the vibrant decor and the authentic tacos. Oh and the guacamole was delish!
La Calenda address: 6770 Washington Street Yountville, CA
La Calenda phone number: 707-945-1000
La Calenda is open everyday from 11:00 a.m. to 11:00 p.m. No reservations required.

The French Laundry
The famous restaurant, The French Laundry is located in Yountville. The world-famous Chef Thomas Keller owns The French Laundry and prepares a fixed fine dining menu nightly. This restaurant is definitely more pricey, meals typically start at $325 and go up from there. There is a dress code, men are to wear sport coats and you cannot wear t-shirts or tennis shoes. While I have never dined at The French Laundry, my husband has and says that's it is not only an incredible meal, but an incredible experience. Which I would assume you would expect from dining at a three-Michelin-starred restaurant such as this one.
The French Laundry address: 6640 Washington St, Yountville, CA
The French Laundry phone number: 707-944-2380
The French Laundry is open everyday, on the weekends they are open for lunch and they close daily at 8:45 p.m. Reservations required.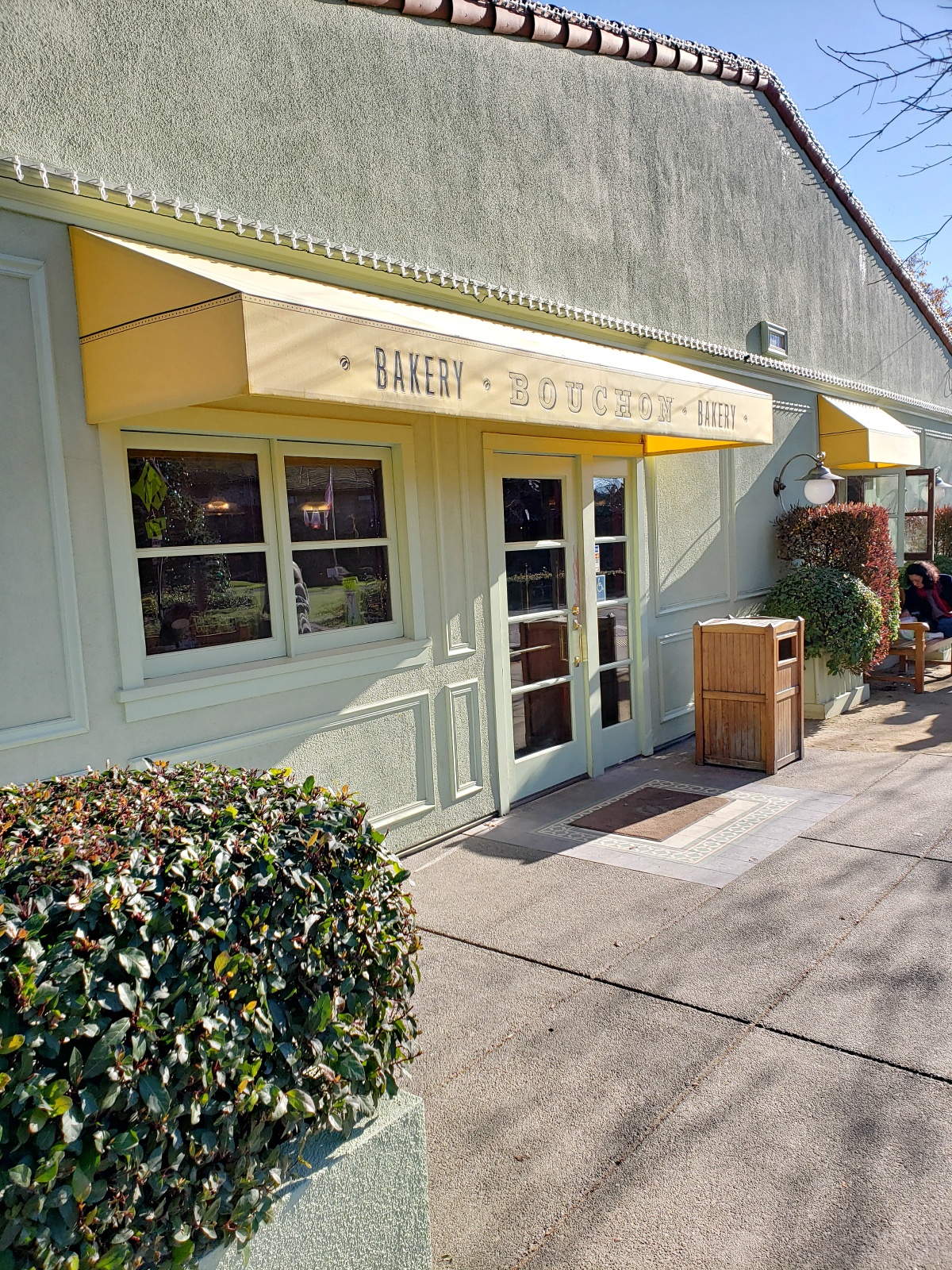 Bouchon Bakery
Chef Thomas Keller also has a bakery in Yountville. The Bouchon Bakery serves up mouth-watering French pastries and breads daily. Every time we walked past, there was a line, but the food is definitely worth it.
The Bouchon Bakery address: 6528 Washington St, Yountville, CA
The Bouchon Bakery phone number: 707-944-2253
The Bouchon Bakery in Yountville is open everyday from 7:00 a.m. to 7:00 p.m.
A convenient stop for lunch is definitely Bouchon Bistro, one of the latest offerings from the French Laundry's Thomas Keller. The dishes are artfully displayed, full of contrasting flavors and textures using the freshest ingredients. A pizza delighted with its juxtaposed flavors of salty, crisp bacon, sweet caramelized onion, and creamy Gruyere cheese. A beet salad was a work of art, with red and pink beets flanked by radish slices and topped with colorful yellow pansies. The quiche is so light and creamy that it was like a soufflé. Flawless service and savory taste sensations make any meal at Bouchon a highlight of a visit to Yountville.
Bouchon Bistro is located at 6534 Washington St, Yountville, CA 94599
Bouchon Bistro Phone: (707) 944-8037
Bouchon Bistro is open 12-9PM Monday thru Friday and Saturday and Sunday is opens at 10 AM.
Things To Do In Yountville
Shopping
The Shops at Marketplace at the Estate located in the heart of Yountville offer a variety of specialty and boutique stores. From shoes, designer clothing, unique trinkets, art, and more you can find it all here. The Shops at Marketplace are housed in a historical building from the 1870s that was the former home of Groezinger Winery. In addition to the boutiques and specialty shops here, you will also find three restaurants, an award-winning chocolatier, and art galleries featuring artists from the area.
In addition to the Shops at Marketplace at the Estate, there are other boutique shops, restaurants, artisans, and tasting rooms to explore in Yountville. You can also get some additional shopping at the Napa Premium Outlet shopping center which is about 15 minutes away.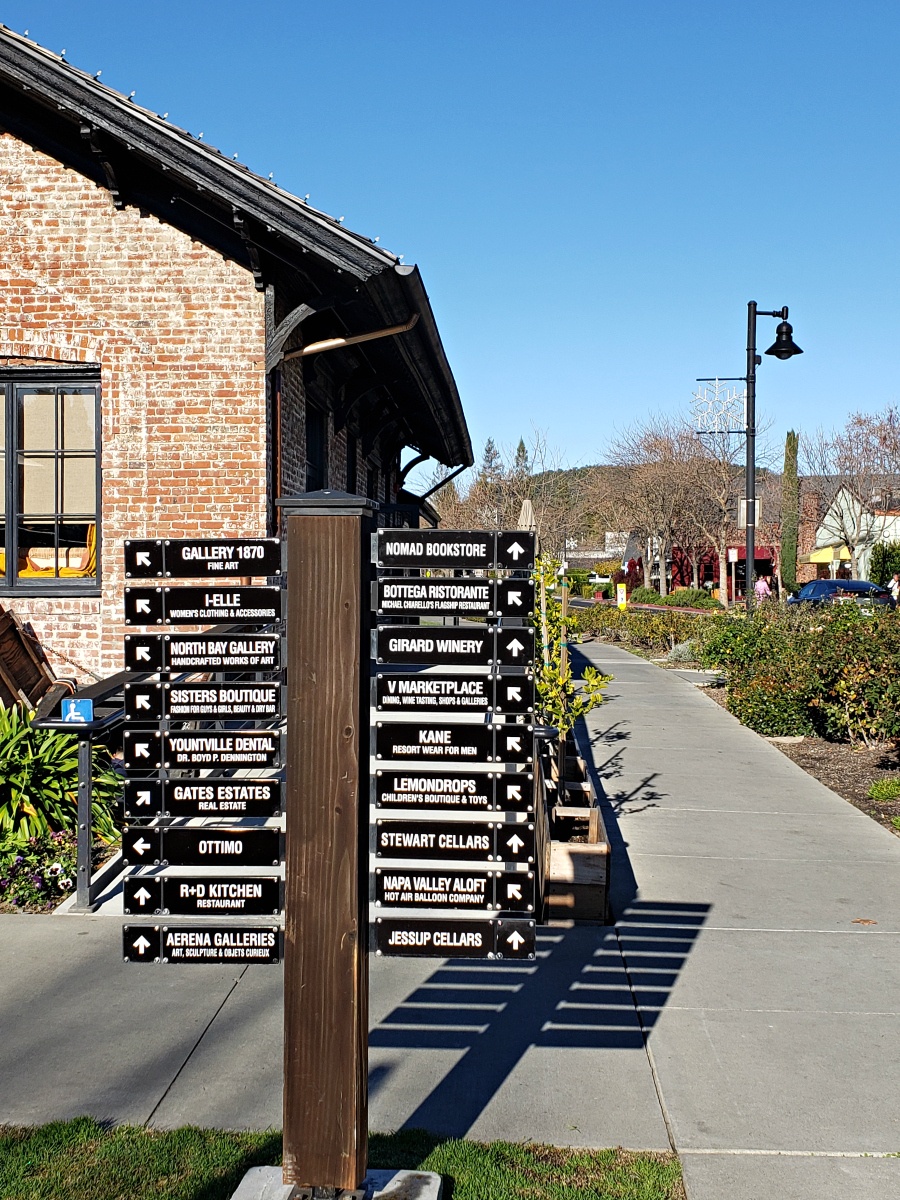 Wine Tasting
With a location known as the "heart of the Napa Valley" you would expect there to be quite a few tasting rooms and wineries to visit in Yountville, and the city does not disappoint. There are 15 tasting rooms within walking distance and seven nearby wineries.
Two of my favorite wineries right in Yountville are:
Hope & Grace Wines is next door to Bouchon at 6540 Washington Street. The winemaker, Charles Hendricks, has done wonders showcasing his own winemaking skills after years of consulting for other labels. The tasting room is edgy, with great artistic touches, including the original artwork that inspired the design for his label. With an approximate annual production of 2,000 cases, he has a Chardonnay, a Malbec, a couple of Pinot Noirs, and two Cabernet Sauvignons.
Jessup Cellars is just down the street from Hope & Grace at 6740 Washington Street. Another edgy tasting room filled with great art and such a warm and friendly ambiance. Founded in 1996 by Mark Jessup, Jessup Cellars offers a great lineup of both white and red wines. Concentrating on small production wines, their focus really is on showcasing the individual characteristics of the location where the grapes were grown, often known as terroir. This attention to detail has resulted in some beautifully hand-crafted wines. Jessup Cellars is open daily from 10 – 6.
There are of course, hundreds more wineries to visit in the Napa Valley and surrounding areas and don't forget the famous Napa Valley Wine Train!
Most of the tasting rooms in Yountville are open daily, with a few exceptions, and the majority of them do not require reservations unless you have a large party. You may want to consider making your reservations for winery tours in Yountville before your trip begins. If you would like to visit wineries in Napa Valley, Napa is only about 18 minutes away by car. Be sure to check out the Best Napa Valley Wineries To Visit.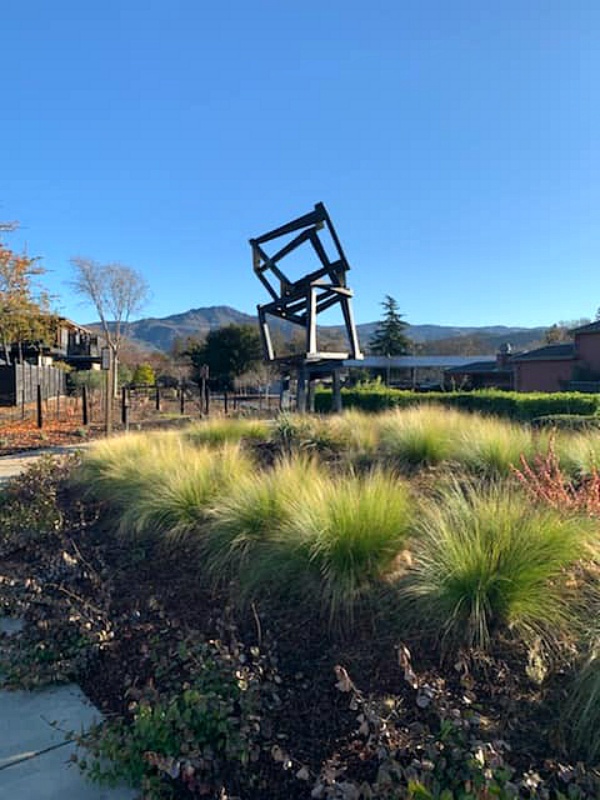 Art Galleries To Visit
If you are a patron of the arts or an aspiring artist then Yountville has a lot for you to see as well. There are several galleries around town, in addition to all of the local artists featured in the tasting rooms. There is even an art walk as you stroll down Washington Street with art pieces on display throughout the town. You can pick up a map for the Yountville art walk in the Yountville Welcome Center that describes the art and the artists who created it. We walked down Washington Street and actually several of the side streets every morning after breakfast, the views of the mountains were gorgeous, we passed several vineyards along the way and the art gave you the feeling it was part of the landscape. Beautiful, yet natural in it's surroundings.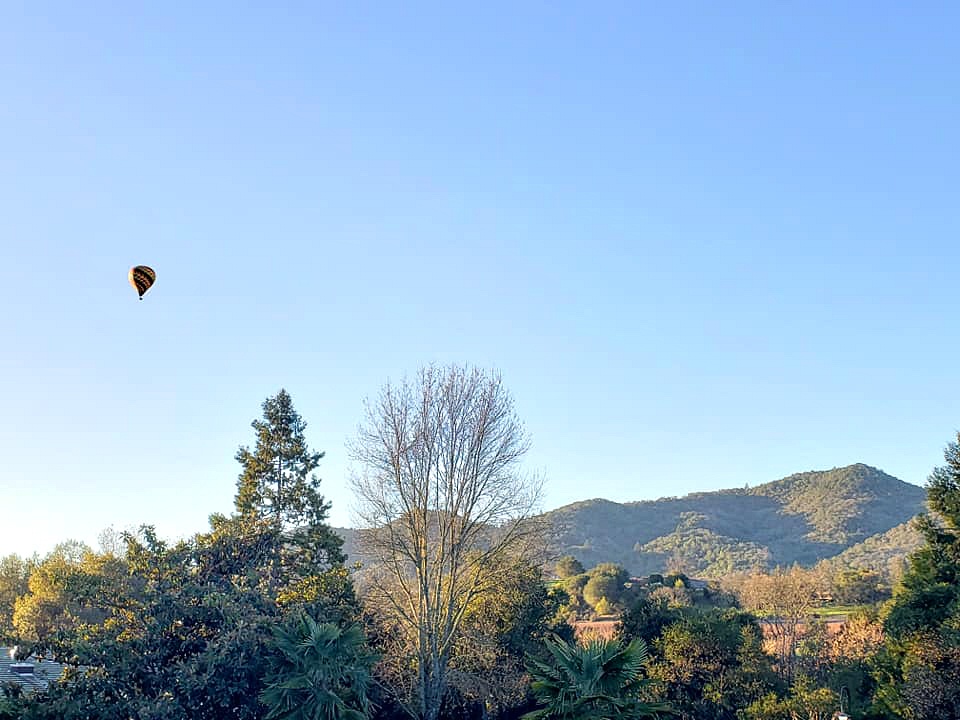 Go For A Hot Air Balloon Ride
You traveled to wine country to see the vineyards and the beautiful countryside, why not do it from a bird's eye perspective? There are several hot air balloon touring companies that provide just that. Soar high in the air over the Mayacamas mountain range, and the valley itself and take in the breathtaking views below, just don't forget your camera! If you are staying at the Vintage House, they are happy to arrange a hot air balloon ride for you.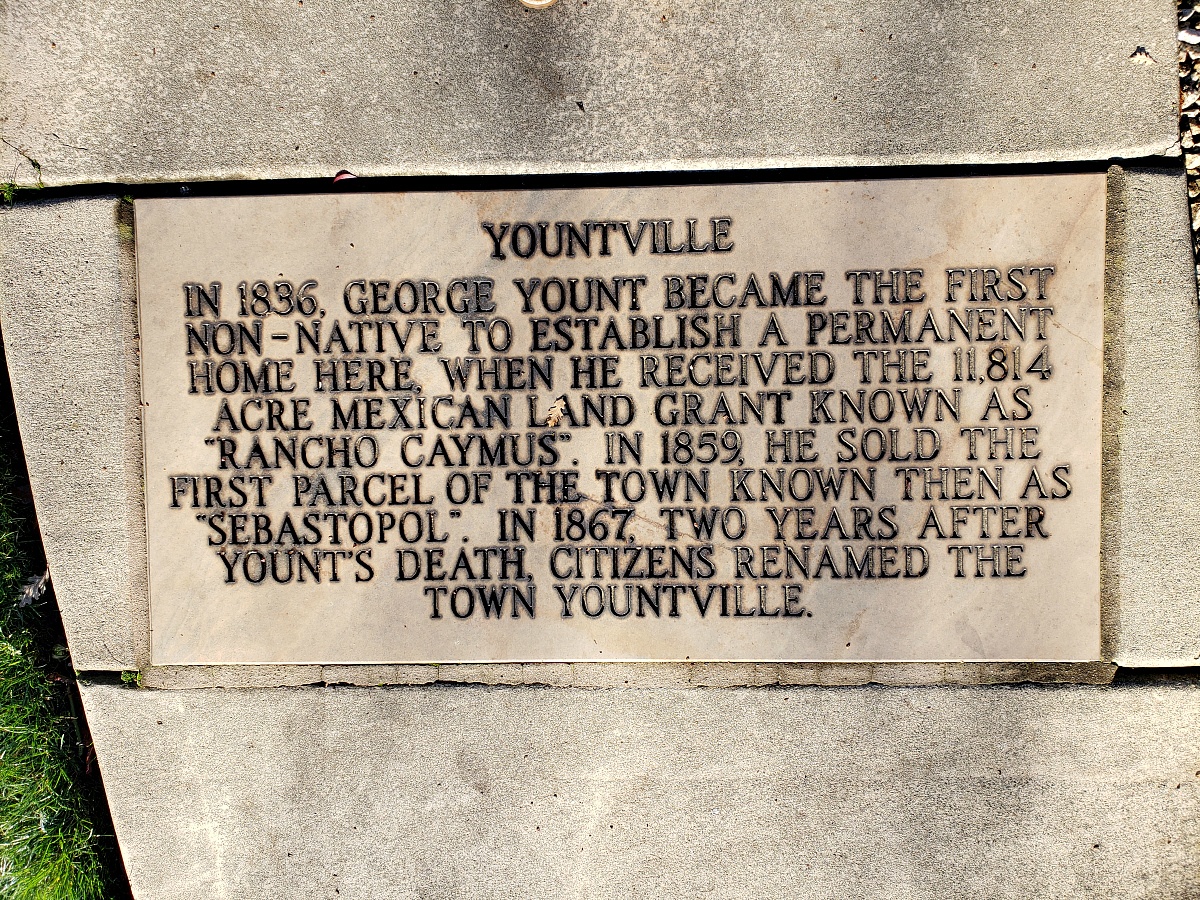 Yountville has something for everyone history, art, shopping, delicious food, gorgeous views, and of course lots of wine. If you are looking for a relaxing and luxurious getaway where you can make memories that will last a lifetime, then Yountville is the place for you.
Have you been to Yountville? What is one of your favorite things to do in Yountville California?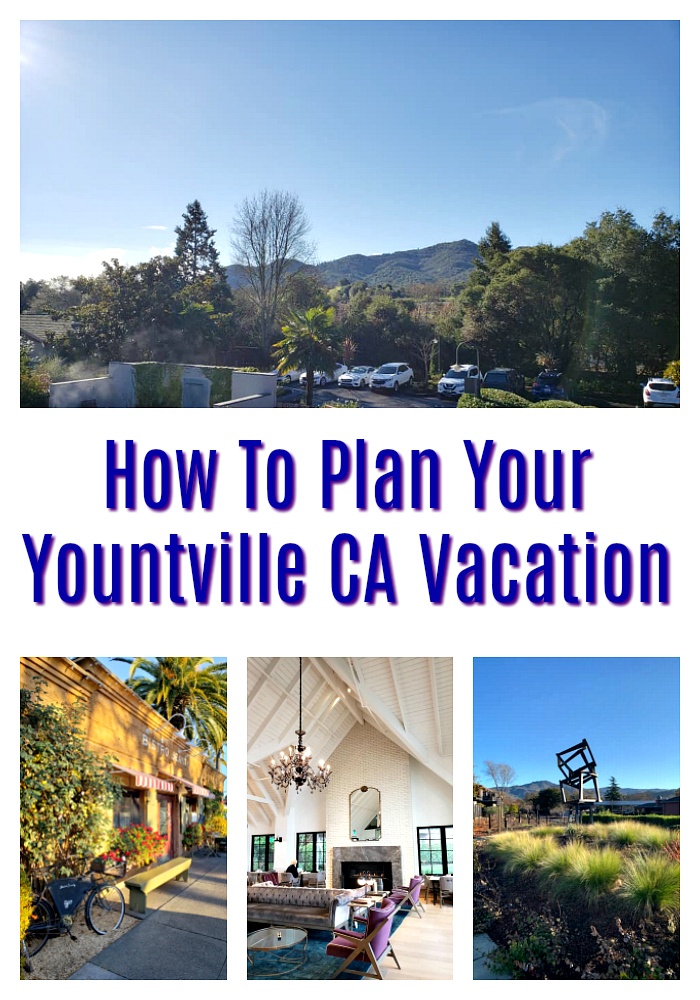 Be sure to check out Food Wine Sunshine on Facebook, Twitter, Pinterest and Instagram for more travel tips, healthy recipes, and more.