(Last Updated On: January 25, 2022)
If you are a wine lover, then you are familiar with the beauty of Napa Valley and Napa Valley wines. Be sure to read on to see the best Wineries in Napa Valley to Visit when planning your trip to Wine Country.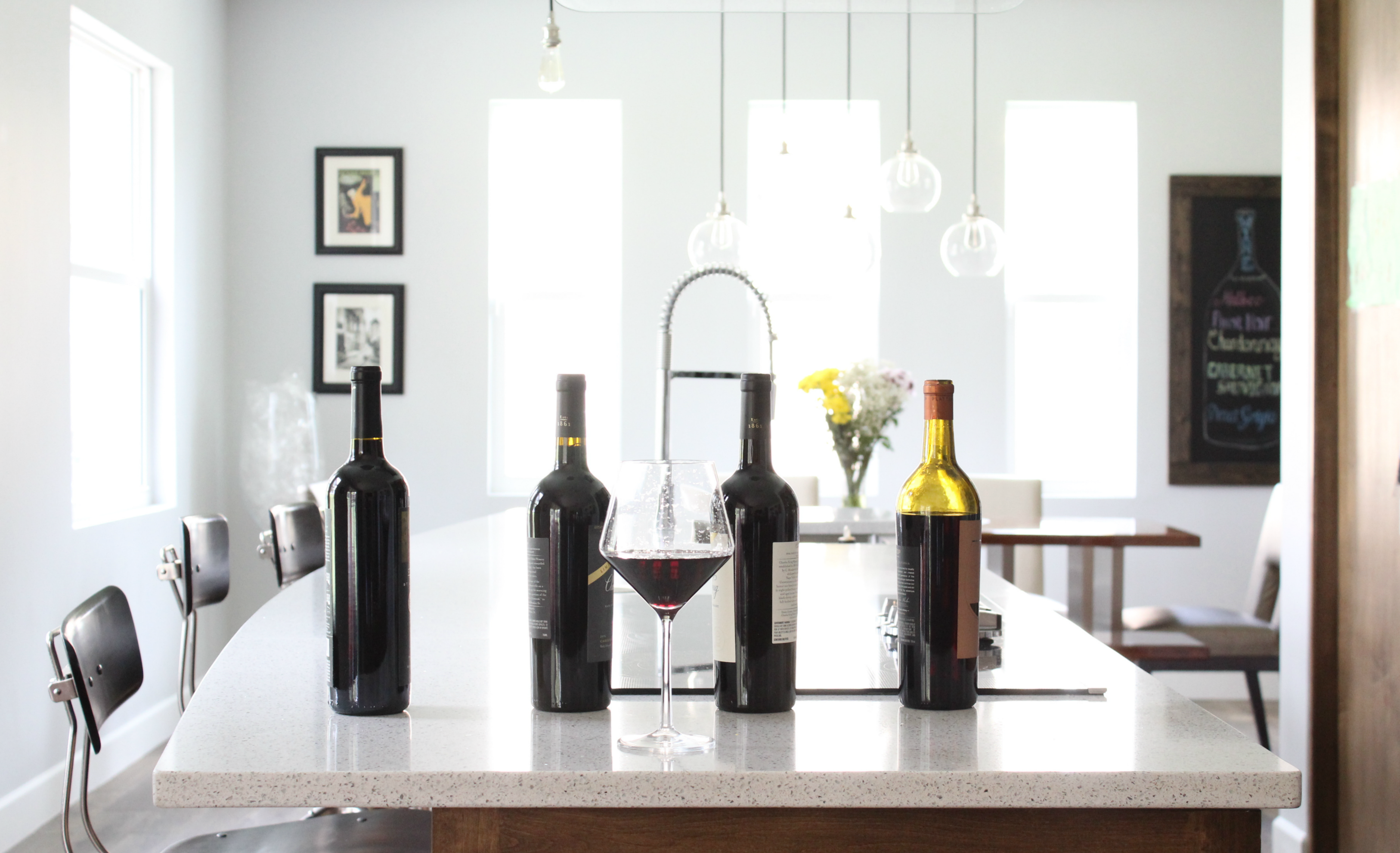 The Best Napa Valley Wineries to Visit
Napa Valley is filled beautiful countryside scenery and award-winning wines, Napa Valley is a perfect spot for a weekend getaway or vacation. Napa Valley is a narrow valley a mere 5 miles wide and 30 miles long, produces some of the best wines in the world. Blessed with abundant sunshine, flanked by the Vaca Mountains to the east and the Mayacama Mountains to the west, Napa is a picturesque and agreeable excursion from San Francisco, just about an hour away by car.
Due to the micro-climates formed as a result of the varied terrain and effects from the Pacific Ocean and San Francisco Bay, Napa Valley is known for producing award-winning Cabernet Sauvignon from the warmer, northern parts of the Valley, and varietals such as Chardonnay and Pinot Noir, which benefit from the cooling effects of the marine-generated fog from Bay, in the southern part of the valley.
If there's an Eden among wine regions, could this be it?
Of all the world's great wine regions, Napa Valley is unique. Not only does it yield some of the world's finest wines, but it defies the common paradigm of specific regions that suit specific winegrape varieties.
Wine Terroirs Defined
Now a familiar term, terroir refers to the aggregate of soil, climate, slope, and exposure that provides the conditions for vine growth. The French have always held—and continue to hold—that terroir is the most fundamental factor in successful winegrowing. In contrast, many New World winemakers tend to favor the importance of viticulture and winemaking while giving a positive nod to terroir.
Great International Terroirs
Many superlative wine terroirs have proven their uniqueness over centuries: Hungary's Tokaji for Tokaji Aszu; France's Bordeaux for Cabernet Sauvignon and Merlot; France's Loire for Chenin Blanc; Champagne for the undisputed reigning queen of sparkling wines; Burgundy for Pinot Noir and Chardonnay; Beaujolais for Gamay; Italy's Montepulciano for superb Sangiovese (Brunello); Italy's Lange Hills for Nebbiolo; Germany's Mosel River for Riesling; Australia's Eden Valley for Shiraz. And the list continues on. The one factor that unifies these great terroirs is that they all are specific to one or two winegrape varieties that perform better there than anywhere else in the world. No international region can claim to provide a superb terroir for just about every winegrape variety that one cares to plant there, except for California's Napa Valley.
Napa Valley's Superb Cabernet Sauvignon
Cabernet Sauvignon is the flagship variety here, and it's grown with outstanding success all over the valley floor and in both mountain ranges that rim the valley. It finds its ultimate expression in two of Napa Valley's AVAs: Oakville/Rutherford and Stags Leap District, where typical prices soar to $200 a bottle and above. Other Napa Valley AVA Cabernets range from around $40 to over $100. Napa Valley Cabernet Sauvignon fruit prices soared to $4,728 per ton. Other varieties proved much less profitable. Sauvignon Blanc, for example, garnered only $1,908 in spite of superb fruit. So why isn't the entire Napa Valley carpeted with highly profitable Cabernet Sauvignon? If Napa Valley were in France, the government would surely eliminate competing varieties since this exquisite terroir is so profoundly suited to Cabernet Sauvignon.
The Uniqueness of Napa Valley
Since Napa Valley is in California, fewer restrictions apply, and wine estates are free to grow whatever they please. In the beginning, it was mostly nut trees and Mission grapes. But as the Napa Valley wine industry developed, it was discovered that nearly every winegrape variety performed extremely well here.
Some of California's finest Syrahs also hail from Napa Valley.
The uniqueness of Napa Valley is that it lends a Midas touch to everything grown there. Of course, it's all about world-class Cabernet Sauvignon, but it's also about Merlot, Syrah, Zinfandel, Chardonnay, Sauvignon Blanc. White Zinfandel was born here and California's finest Chenin Blanc carries a Napa Valley appellation.
If you are planning that Wine Country getaway, you will want to know what are the top wineries in Napa Valley. Napa Valley is known for for producing magnificent Cabernet Sauvignon, and almost every single one of the 400+ wineries (95% of which are family owned) in Napa offer at least one for you to try.
My husband and I have been to Napa a few times now and I know that planning a trip to Wine Country can pretty overwhelming. From trying to decide what time of year to visit to what are the best wineries in Napa Valley to go to and where to stay, there are so many things to consider when planning a visit to this wine lovers paradise. The busy times, of course, are during the Fall Harvest and in the summer when it's warm and inviting. However, we visited in the "slow season" which was in January and we loved it. In January in Napa Valley, the weather is cooler and the crowds are much less, so when you go on that winery tour, you may be with one or two other people instead of 15.
Trying to narrow down which best wineries in Napa Valley to visit can seem like an impossible task. It's very important that you want to make sure you have enough time at each one as well, because visiting a winery in Napa (or anywhere!) is about the experience, not just tasting a bunch of wines. Wine is made to be swirled, sipped, and savored. In other words, don't plan to see 10 wineries in a day in hopes to just drink a lot. Forget the visits, and just buy a bottle if that's what you want to do! Instead, plan your day based on what you want to see and enjoy, because drinking wine and enjoying the moment is what a trip to Napa Valley is all about. I know that once you start planning a trip, you can get excited and want to plan 3 or 4 tastings in a day, but trust me, you won't enjoy your wine tastings as much if you feel rushed and constantly looking at your watch to see when your next appointment is.
Not sure where to start? This list will definitely help you, but while you are out wine tasting idea consider asking for recommendations from other wineries. Strike up a conversation with the friendly and knowledgeable tasting room staff, as they often have friends and relatives in the local wine scene as well. Wineries know you are not going to visit only one place that day, and many of them have partnerships with or purchase grapes from other vineyards, so it is a great way to get some recommendations for places you may never have heard of.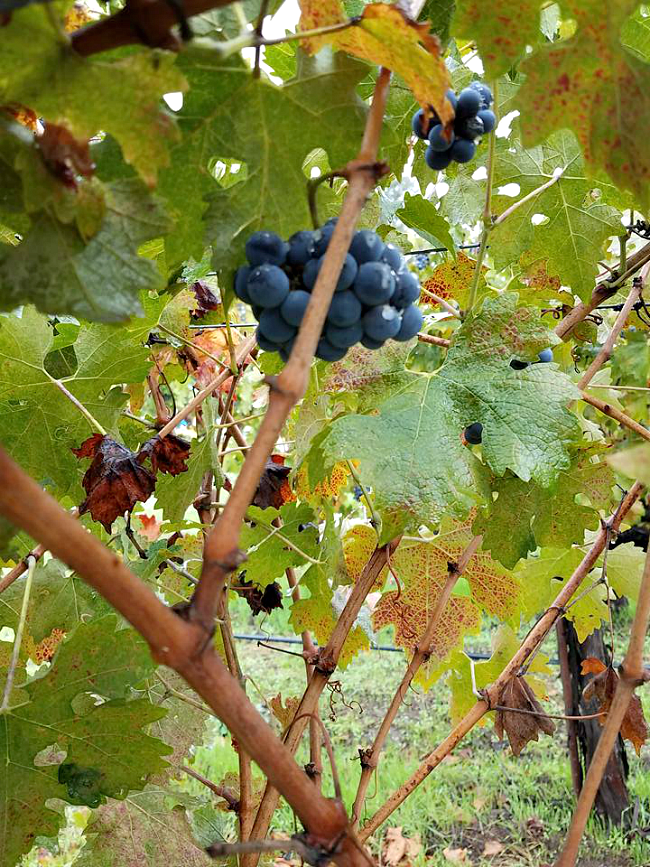 The first time visited Napa, we stayed and started our wine tasting tour in St. Helena, which was great as St. Helena is a quaint little town that is overflowing with wine-making history. The second time we stayed in Yountville, which I have to say we will definitely do again. Yountville is a hip little town that you can walk to many wineries, eateries, bistros, and shops. We loved being able to walk out the front door of our hotel, we stayed at the Vintage House, and walk to get just about anything we needed. And the restaurants right in town were incredible! But this article is about the wineries, so I will get back to those…but for more information and details on Yountville, see my post here on Top Things To Do In Yountville.
To help you in making your wine tasting choices, below you will find my favorite Napa Valley wineries to visit. I must note however, that this list might change from time to time. Why? Because I have not visited all 400+ wineries in Napa yet, but it is my goal to make it to a few more 😉 Cheers!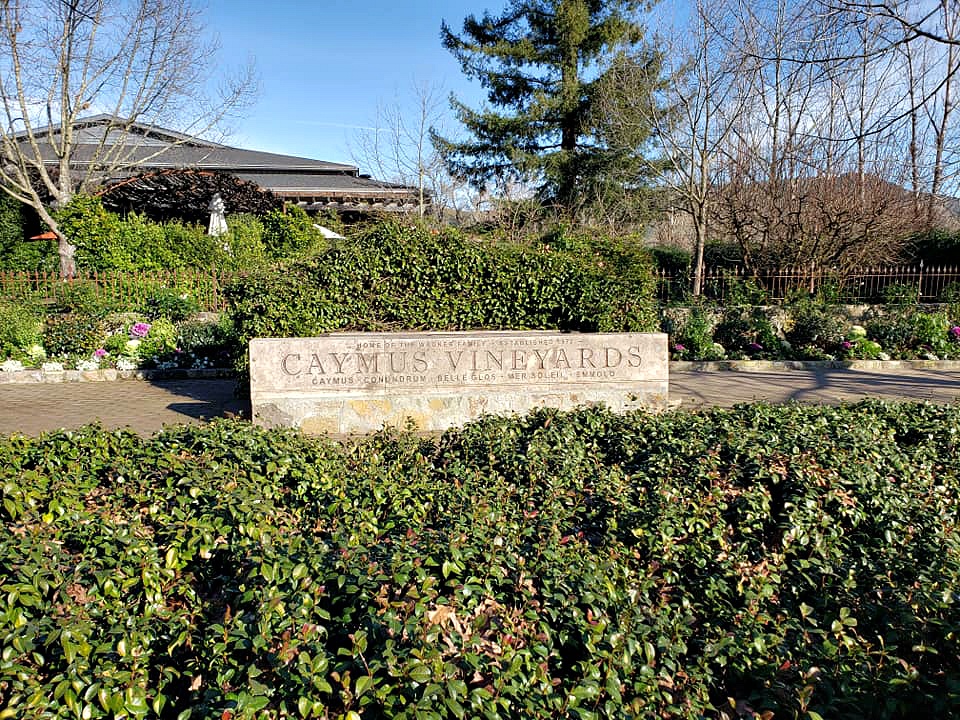 Caymus Cabernet has been a favorite of ours for years, so we were really excited to see that the winery is just as exquisite as the wines. Caymus Vineyards offers a relaxed, intimate tasting experience on their beautifully landscaped grounds, with exemplary service from very knowledgeable staff.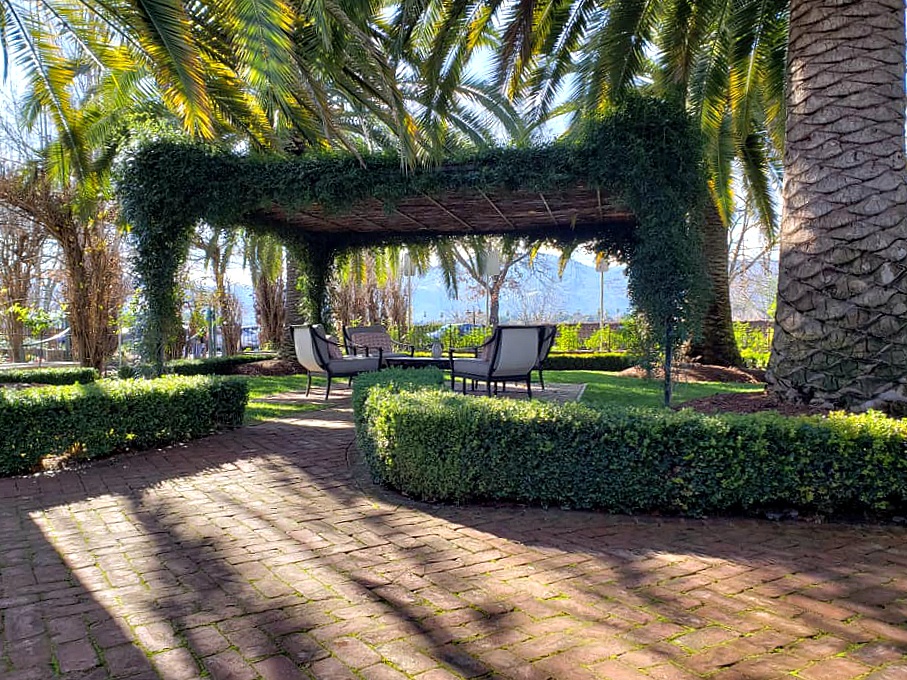 We sampled five wines made by the Wagner family – Caymus, Mer Soleil, Emmolo and Conundrum while enjoying that breath-taking view. In fact, we sat there for over 2 hours chatting, sipping, learning about the Wagner Family of wines and just enjoying the moment. They even gave me a blanket to stay warm! We went in January, so it was a bit chilly (but not too bad!) so the blanket was perfect way to stay warm and still enjoy those incredible mountain views.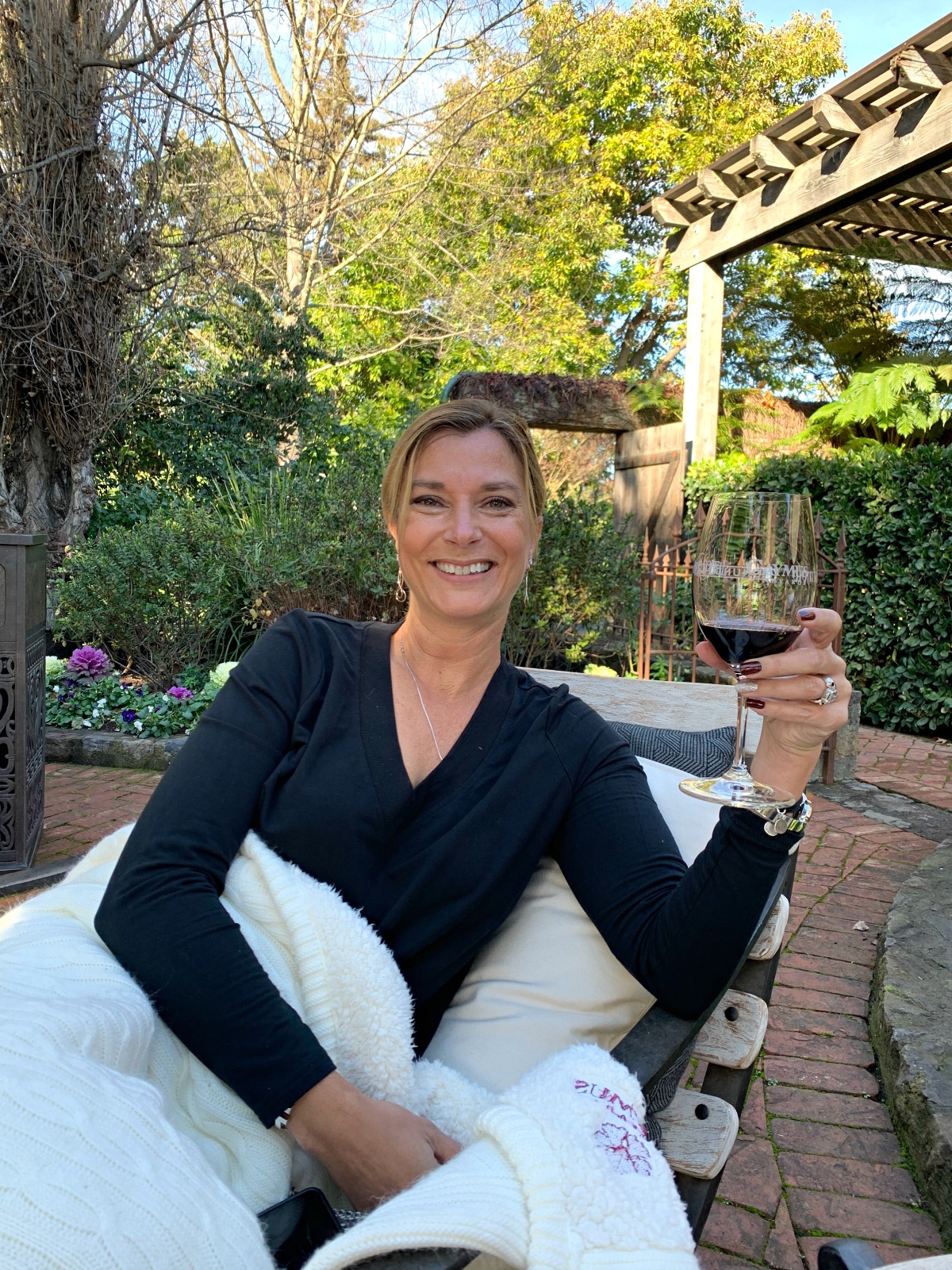 We also learned about being farmers and winemakers in Napa Valley, and a bit of the Wagner family history dating back more than 150 years.
The Caymus Napa Valley has a taste unlike any other Cabernet Sauvignon we have had. You can always tell when you are enjoying a Caymus Cabernet Sauvignon. Caymus Cabernets offer a wide array of aromas and flavors including cocoa and vanilla, but for me, it's the vanilla that the most memorable. We were excited to try the Special Selection Cabernet Sauvignon when we were there, it was so good we even bought a bottle! But you don't have to take my word for it, it is the only wine that has won Wine Of The Year twice by Wine Spectator. This Special Selection Cab is silky perfection. We actually bought more than a case overall, this was our first time trying some of the Wagner family wines and after tasting them, we had to bring them home.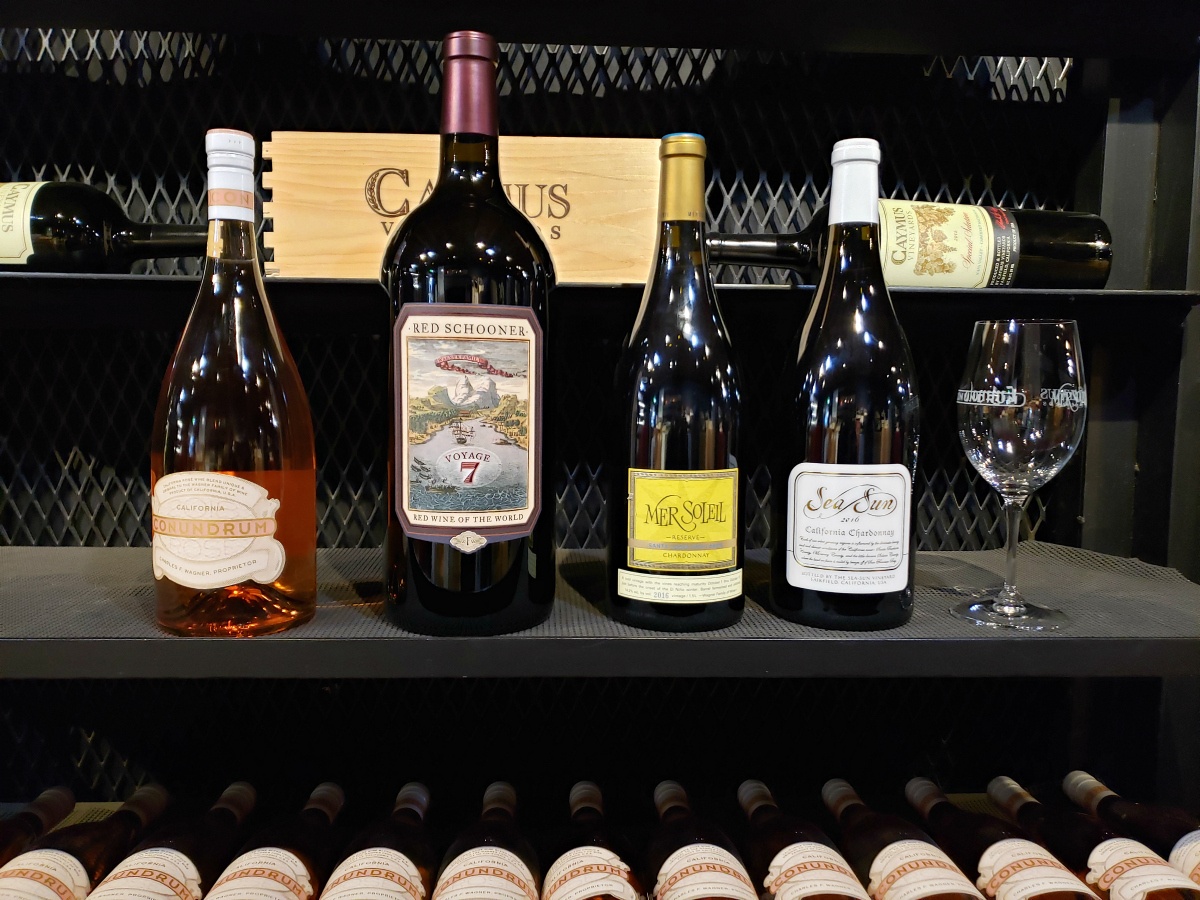 Mer Soleil gets it's name from the sea and sun, and the wine is a true representation of them both. Sourced from Santa Lucia Highlands, the Reserve Chardonnay and Pinot Noir powerful and flavorful. Both wines spend time in oak barrels, the Chardonnay spends the longest time giving it buttery notes while still being light and the Pinot Noir spends 9 months in French Oak giving it that depth of flavor.
Emmolo is from Jenny Wagner, she loves the crisp bright taste of a Sauvignon Blanc and she created one that you must try. Emmolo also produces a beautiful Merlot (that has a bit of spice and it fruit forward) with grapes sourced from the Oak Knoll District and a Sparkling Wine.
I love the name Conundrum, doesn't it just sound fun? And that is exactly what the wine is, bright, fun and a mix of beautiful grapes from the Caymus Vineyards. I love the Conundrum Rosé, and for the price of just $18 it's definitely a Rosé that will be a staple in my house. There are other varietals, they are all extraordinary blends made with from finest of vineyards.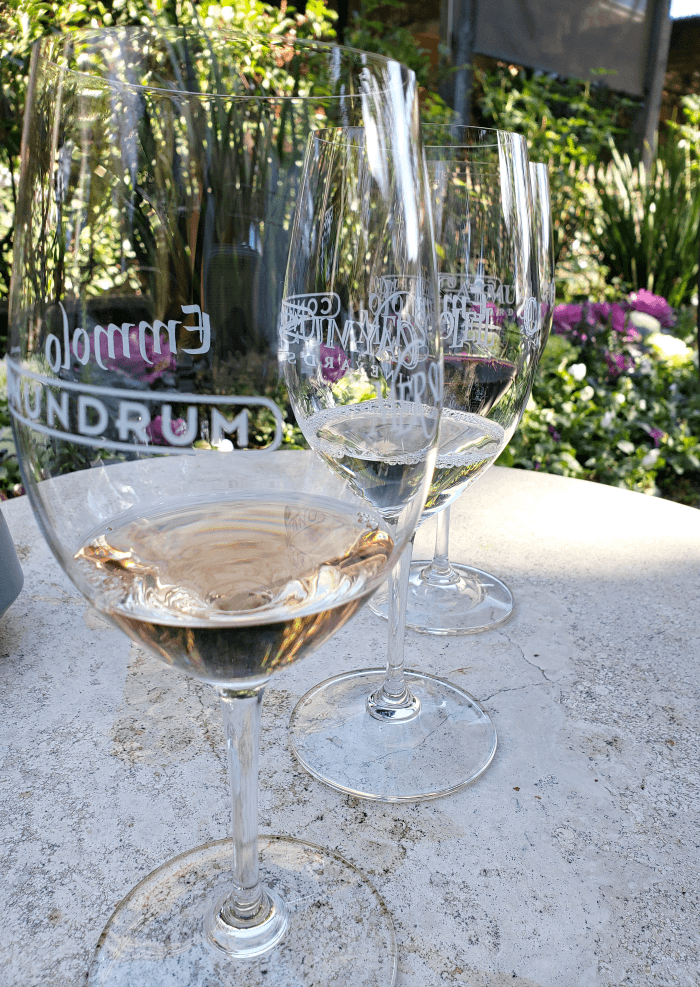 Caymus Vineyards is open for tastings daily from 9:30 am – 4:30 pm. Tastings are $50 per person. Reservations are preferred and encouraged. Caymus does not have a Wine Club, they work very hard with their distributors so that you can find their family of wines wherever you are, you can also buy them online.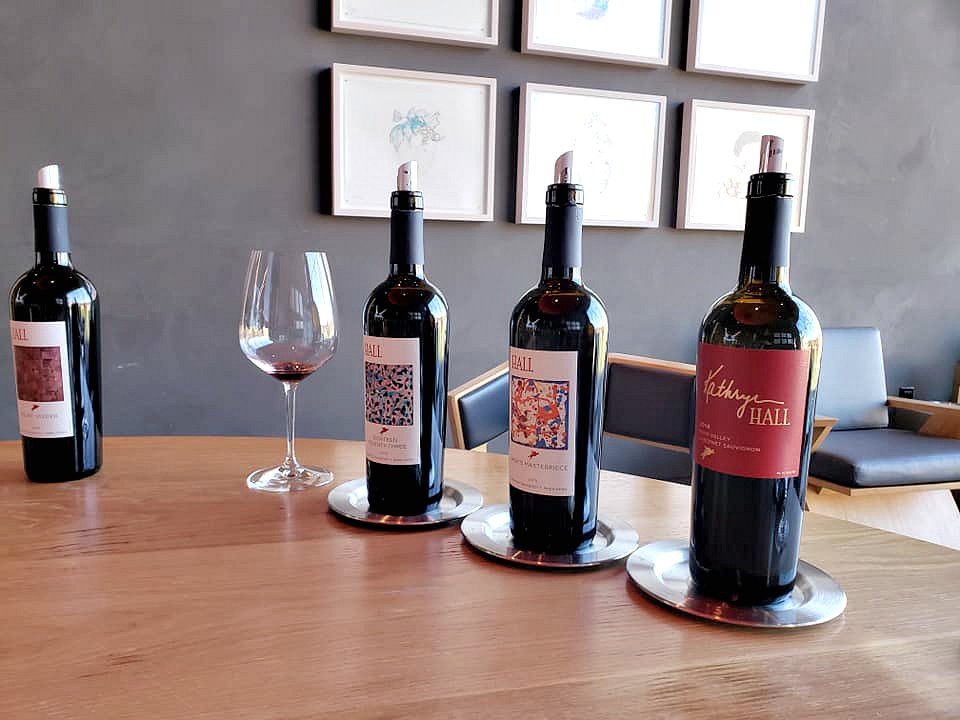 We visited the St. Helena location, there is also the HALL Rutherford, and WALT Sonoma Square locations. HALL Wines St. Helena is located at the historic Bergfeld Vineyard at the base of the Mayacama Mountains. The moment you pull in you will see a huge Bunny. Bunny Foo-Foo is an unique art piece that instantly let's you know that you are in for a one-of-a kind wine tasting experience. You will find over 35 other pieces of contemporary art at HALL Wines, and they are extraordinary pieces! You will even find artwork on some of the wine labels. HALL Wines is unlike any other winery we have visited, you will find wine, art, history, architecture, technology, incredible views and lots of places to sit, relax and enjoy. We sat on the balcony for a few hours!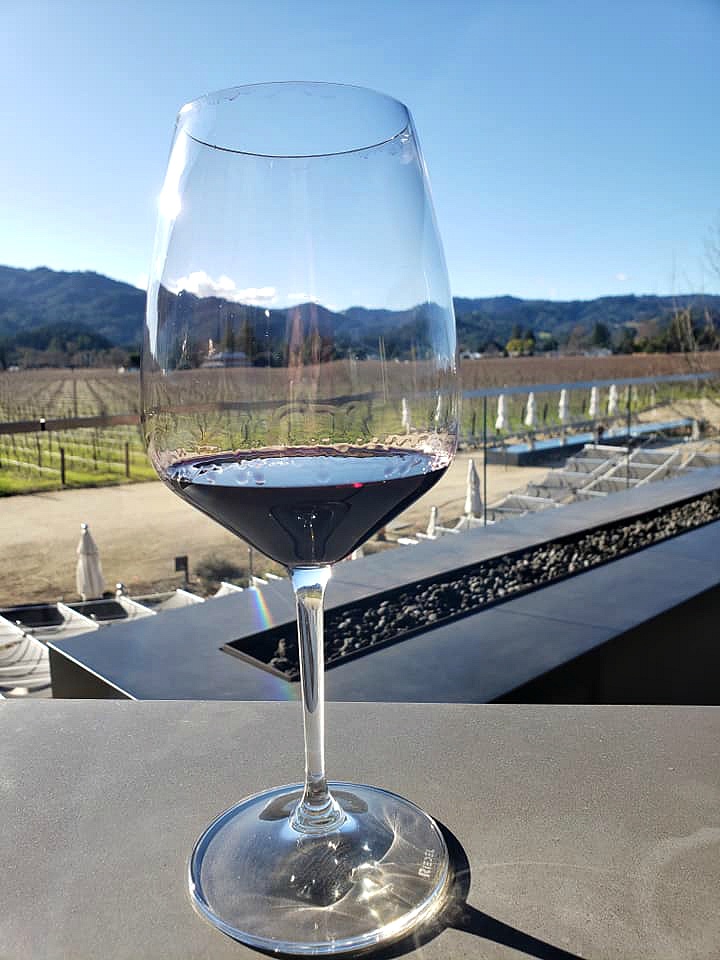 Here is a little bit of information on HALL Wines: Owned by Craig & Kathryn Hall, its vineyard collection features five Certified Organic estates producing classic Bordeaux varietals. HALL's highly rated wines include the Napa Valley Cabernet Sauvignon, selected as Wine Spectator's #18 of the 'Top 100' in 2010, the 2008 Kathryn Hall Cabernet Sauvignon that earned #2 Wine Spectator "Top 100" Wines, its 2010 Exzellenz earned 100 points by Robert Parker, and its 2013 and 2014 Rainin Vineyard Cabernet Sauvignon earned 100 points from Robert Parker and Jeb Dunnuck respectively. Collectively, over 250 HALL Wines have been rated 90 points and above. As you can see, HALL Wines is definitely one of the top rated wineries in Napa Valley.

I can definitely see how they have received so many high ratings, we were able to taste several wines and fell in love with each one. So much so, we decided to join the Wine Club. Kathryn Hall was my husband's favorite, mine is the Mount Veeder but again, they all drank beautifully.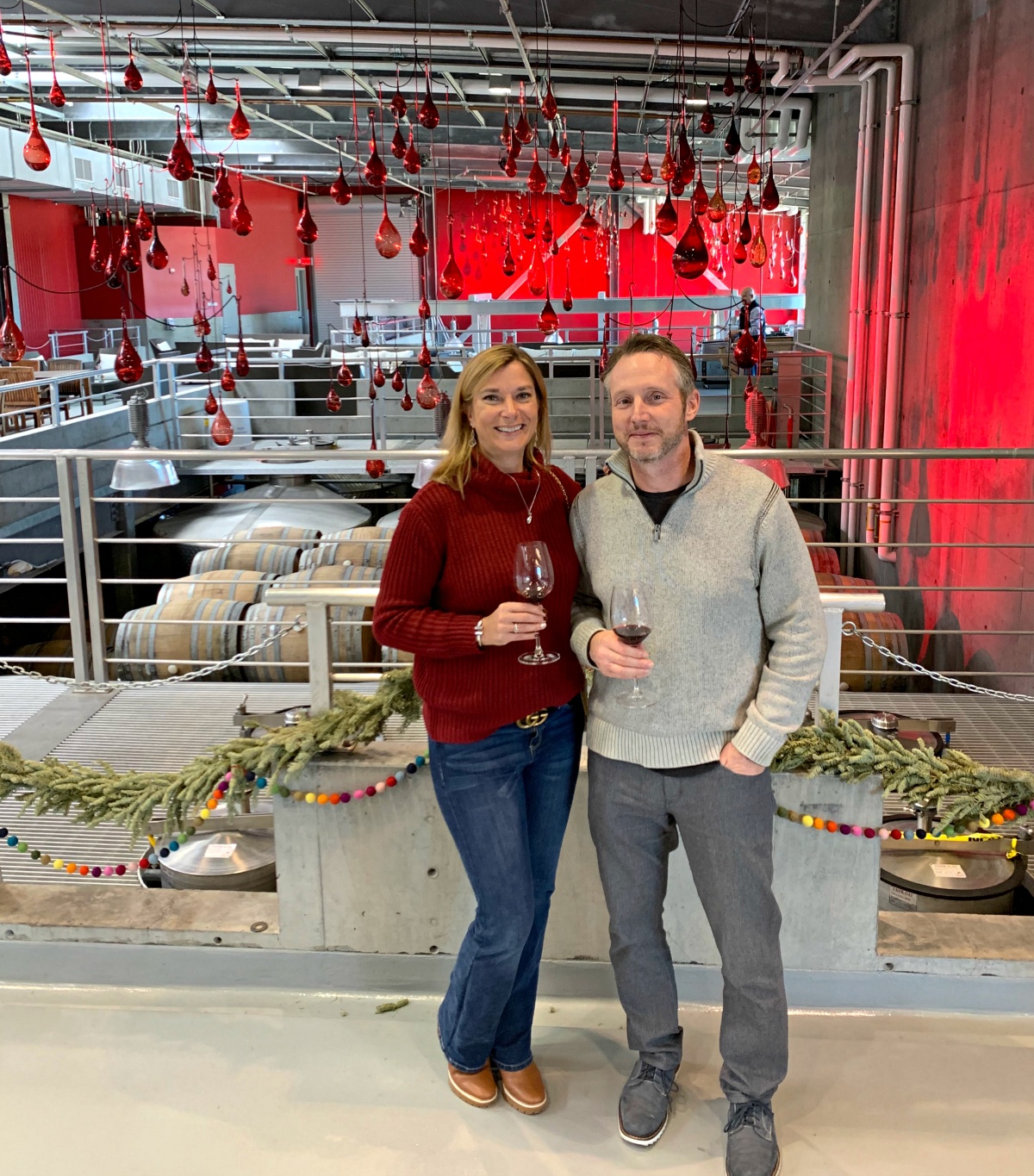 We added HALL Wines to our winery list to visit because we enjoy the white label wine at one of our favorite restaurants here in Tampa, we had no idea how many different varietals they had or the extent of their Cabernet collection. So, if there is a wine that you enjoy at home, be sure to look them up while you are in Wine Country, you may just be pleasantly surprised by their additional wines and winery.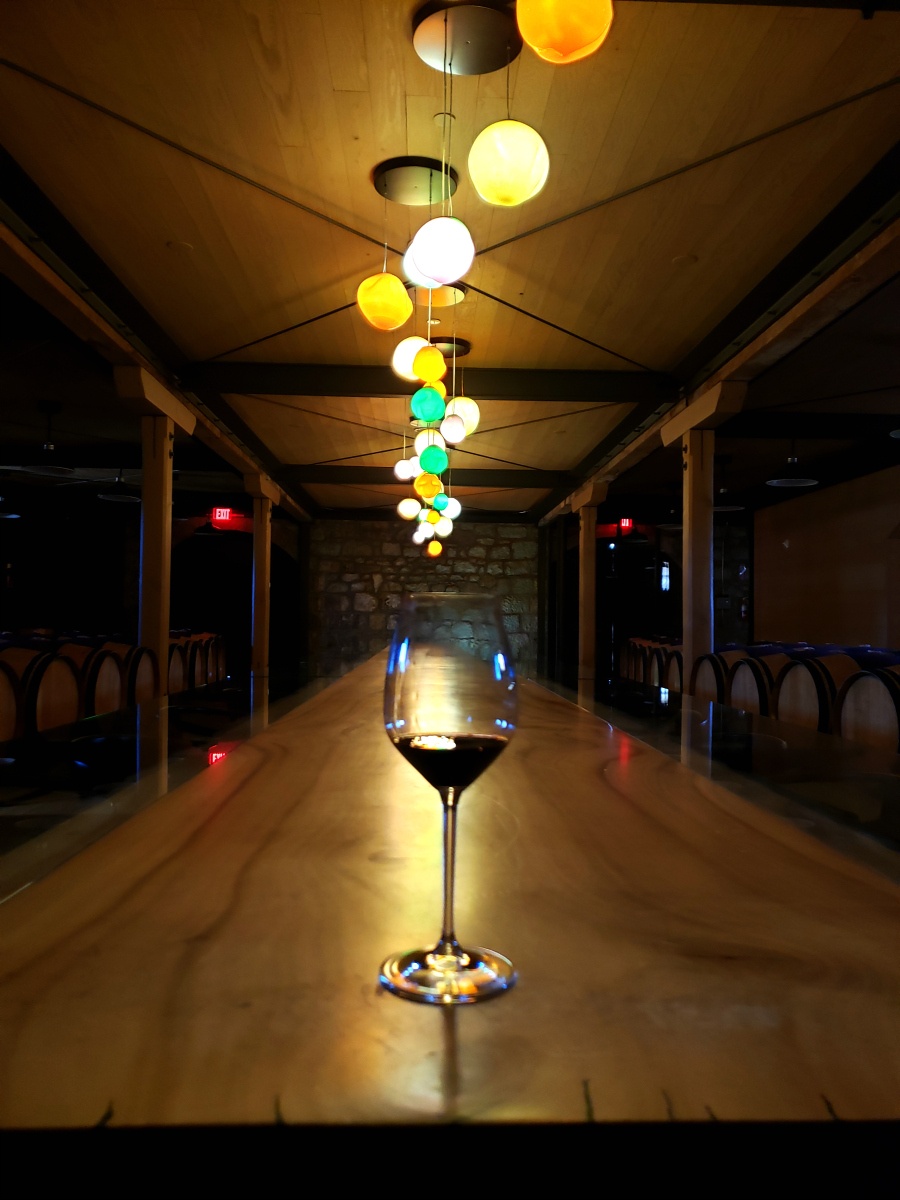 HALL Wines is open for tastings daily from 10am – 5:30pm. Tastings are $50 per person, tours also start at $50. We did the HALLmark tour, Eric was our "tour guide" and he was fantastic. Wine Tasting Reservations for HALL St Helena, HALL Rutherford, and WALT Sonoma Square are required for groups of 6 or more, and recommended for all visitors.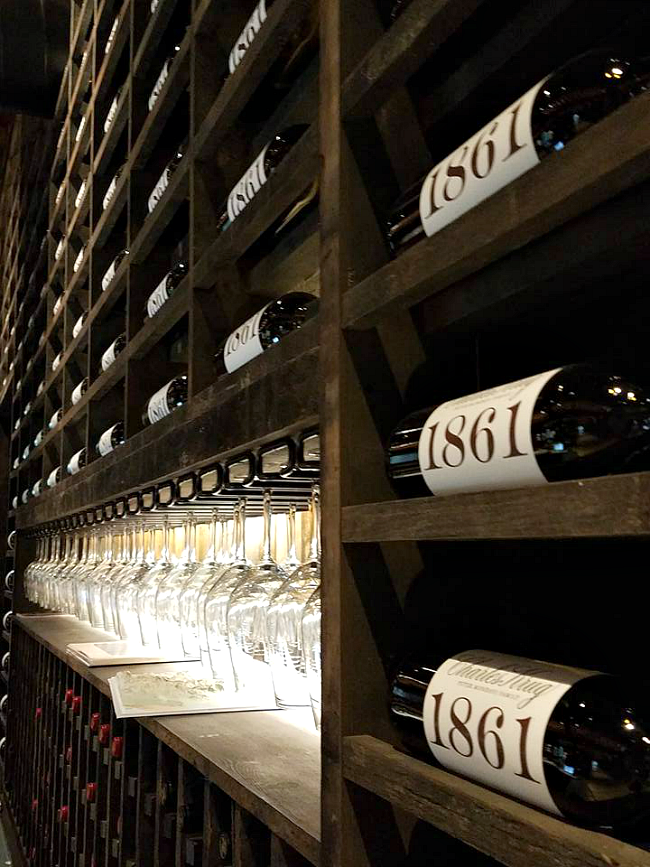 I probably had one of the most incredible experiences of my blogging career (or wine tasting life) at Charles Krug Winery. Before I get into that, let me tell you a bit about the winery. Charles Krug is the oldest winery in Napa Valley, and it is also the home of the first tasting room. The tasting room first opened in 1882 and has evolved into a stunning hospitality center and tasting room that pours exceptional wines. You could say that since this is one of the first wineries opened, it is definitely one of the famous wineries in Napa Valley.
Now that you know a piece of the Charles Krug history, let me tell you about our visit. My husband and I made an appointment for a wine tasting that was later in the day because we wanted to go to dinner right after. Shortly after we arrived, Marc Mondavi (YES, THE MARC MONDAVI) sat down at our table and joined us on our tasting tour of Charles Krug wines. We talked about wine-making, parenting, hunting and traveling until the employees started to shut off the lights in the winery (we missed our dinner reservation by hours).
He was so easy to talk to, and getting his perspective and thoughts on the wines was an experience I will never forget. He told us a family story about the wine Generations, and I will tell you that I always have a bottle of Charles Krug Generations in my house, and not just because the wine is amazing, but because of that story. 95% of Napa wineries are family-owned and I feel it's the family that makes the wine. I'm not just talking about the actual wine-making process, but the love behind the scenes is what makes a wine so incredible, and you can tell that the Mondavi family loves their family and their wines.
Since that visit to Charles Krug Winery, I have had the opportunity to dine with Janice and Angelina Mondavi, and I can tell you that they are wonderful people as well. So pour a glass of Charles Krug with me and say CHEERS to the oldest winery in Napa! This is a spot you will not want to miss on your Napa Valley wine tour, I promise you.
As for what to taste, well we are Wine Club Members, so I have tasted almost all of the wines by now except the Zin Dessert Wine I believe. I highly recommend all the Limited Release Cabs, because you can't get them anywhere else and they are incredible. I also enjoy the Charles Krug Sauvignon Blanc. There is not much better than a cool, crisp glass of Sauvignon Blanc on a hot summer day.
Charles Krug Winery is open for tastings daily from 10:30 am – 5:00 pm. There are two tasting options and prices are $45 and $75. Tastings are free for Wine Club members. Reservations are requested.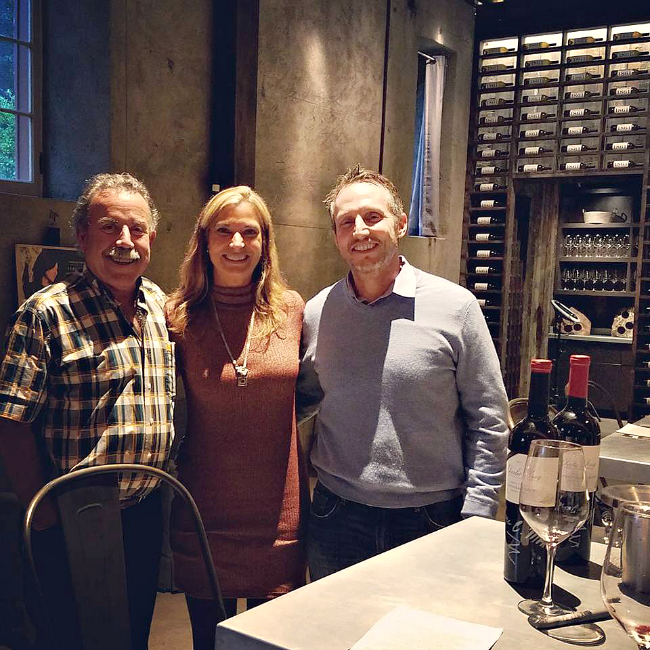 Freemark Abbey is another piece of wine-making history. Freemark Abbey has over 130 years of wine-making experience, and is also the home of the first female Napa winery owner on record. Cheers to the women in wine-making! Here after we toured the winery and learned a bit of the history, we did a Cabernet Sauvignon tasting that ended with the 2004. We bought a bottle of the 2004, it was AH-MAZING. We have been holding onto it for a special occasion, but I have learned that sometimes the special occasion is just the fact that it's Tuesday and our family is all sitting at the table together. So, we have to open that bottle, and soon.
Freemark Abbey Winery is open for tastings daily from 10:00 am – 5:00 pm. There are several tasting options, prices start at $45. Tastings are free for Wine Club members. Reservations are requested.

Duckhorn Vineyards, Freemark Abbey and Chrales Krug are actually all really close to each other, so if you are looking to do a few wineries in a day, these three are great options. Duckhorn was a name that we were familiar with before going to Napa, it's a wine that we have seen in stores and on the menus of our favorite restaurants. So, we knew we wanted to visit the winery. Duckhorn Vineyards was co-founded by Dan and Margaret Duckhorn in 1976, which was one of the first 40 Napa Valley wineries. They are known for their Cabernet Sauvignon and Merlot, and the Sauvignon Blanc is also a must-try. The winery sits on 10-acres and offers stunning views of the vineyards and garden.
Duckhorn Vineyards Winery is open for tastings daily from 10:00 am – 4:00 pm. There are several tasting options and prices start at $40 per person. The $40 tasting option is free for Wine Club Members. Reservations are required for all tasting options.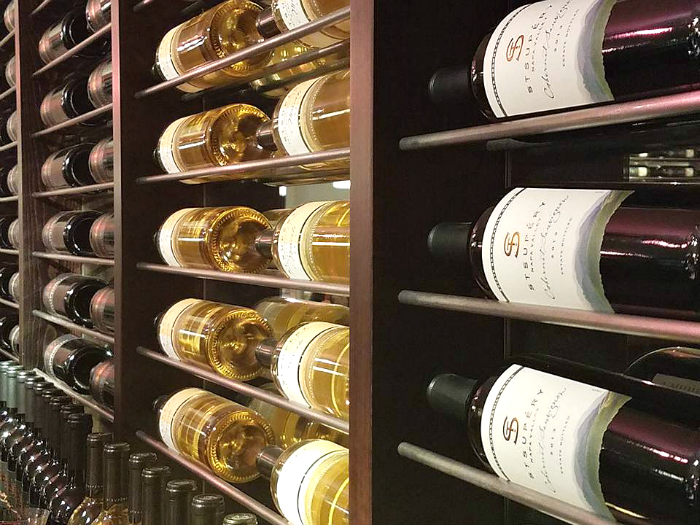 Another household favorite wine! St. Supéry Winery is located in Rutherford, the grounds are surrounded by greens and gardens, I honestly just wanted to sit on the porch all day! But there was no way I was missing my wine-tasting experience. St. Supéry Estate Vineyards and Winery produces 100% estate grown, certified Napa Green wines, focusing on Sauvignon Blanc, Cabernet Sauvignon, and additional red Bordeaux varietals. My favorite St. Supéry white wines are the Dollarhide Sauvignon Blanc and the Semillion.
I will admit that there isn't a red wine from St. Supéry that we don't love, but I will say that we always have ELU, Dollarhide Elevation, and the Rutherford Cab in the wine cooler. And if you are looking for a Cab that is great and at a great price point, pick up the St. Supéry Napa Cab the next time you are at the grocery, you can't go wrong with it! Plus, it is priced under $40! After our visit to the St. Supéry Winery we became Wine Club members.
Their grounds are beautiful, so we sure to allow yourself some time to walk around and enjoy them.
St. Supéry Winery is open for tastings daily from 10:00 am – 5:00 pm. There are several tasting options and prices start at $40 per person. Reservations are preferred but not required.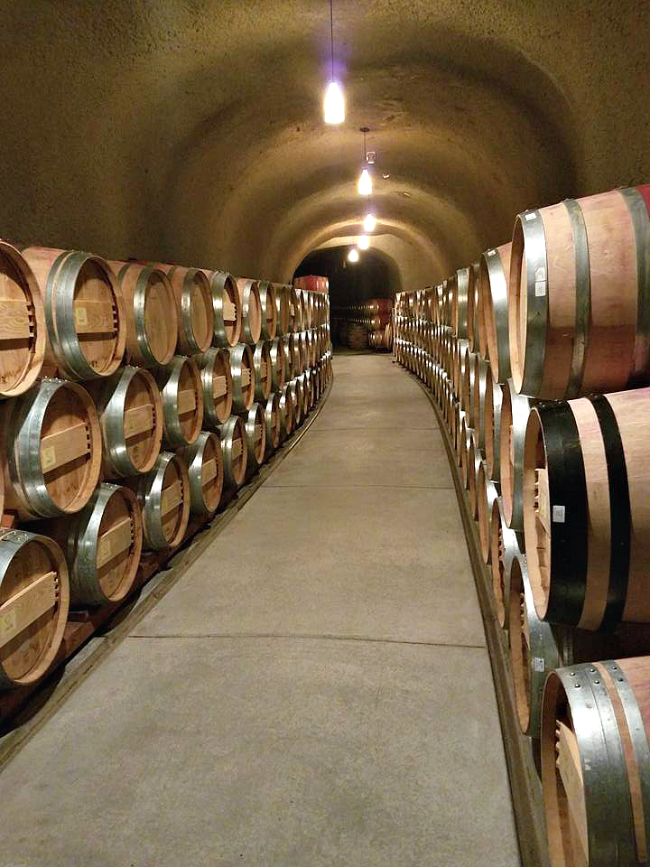 When planning our trip, we had several people tell us that Quintessa should be added to our list of the best Napa Valley wineries to visit, and that we had to do the tour that took us to the caves where the wine was stored. Well, we did exactly what our friends recommended and it was a winery visit that was unlike any other. Be sure to book your tour in advance, as they only do so many a day and you wouldn't want to get there and not experience the grounds, caves and the wines.
A total of 160 acres are planted with Cabernet Sauvignon, Merlot, Cabernet Franc, Petit Verdot and Carménère on 26 vineyard blocks. Each block is farmed—organically and biodynamically—harvested, and vinified individually to preserve and enhance the nuances of the land. Quintessa offers three different tasting options, but I say if you are going, go with the Quintessential Experience. You won't regret it. Quintessa wines, just like their property, is complex and elegant.
Quintessa Winery is open for tastings daily from 10:00 am – 3:30 pm. There are several tasting options and prices start at $70 per person. Reservations are required.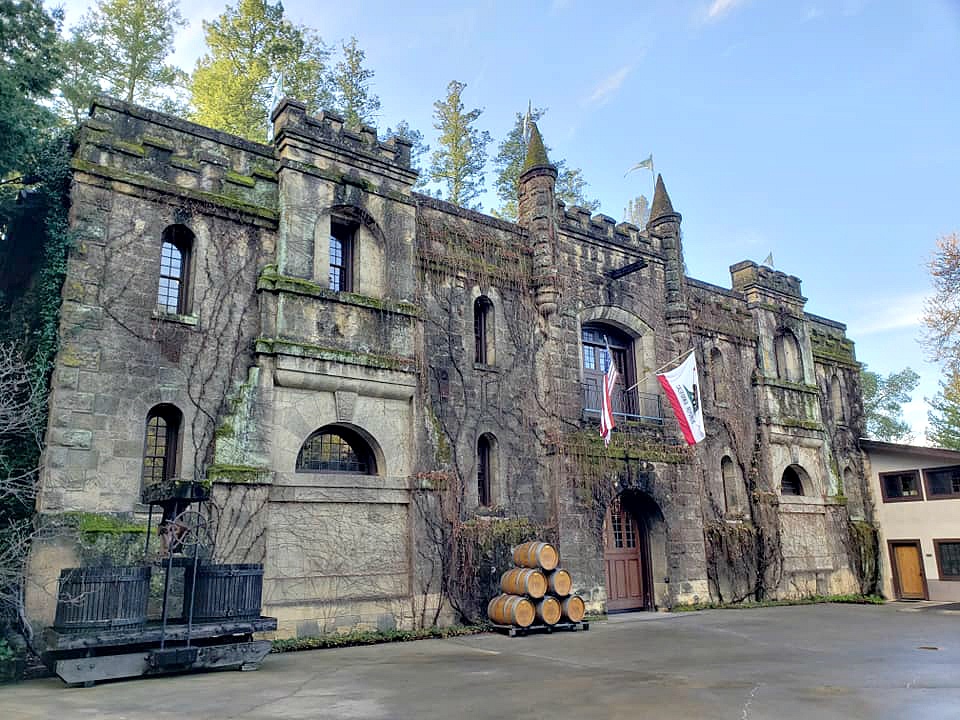 Have you seen the movie Bottle Shock? Yep, this is that wine. That winery. The 1973 Chardonnay that rocked the world in 1976. Actually, Chateau Montelena still makes incredible wines today, but it was the grounds that I really enjoyed walking through the Chinese-inspired gardens and looking at the French-inspired Chateau.
Chateau Montelena Winery is open for tastings daily from 9:30 am – 4:00 pm. Tasting prices are $40 per person, and there are upgrades available. Reservations are not required.
The winery is housed in the former Post Office building, built-in 1872. The charming, historic building makes an amazing backdrop for tasting some heavenly wines. Appointments are currently requested.
Elizabeth Spencer Wines is located at 1165 Rutherford Road (Hwy 128) in Rutherford. The tasting room is open Thursday – Monday 10 – 5 PM. Tastings start at $40 per person.
Darioush Winery, reflecting the heritage of Darioush Khaledi's Persian ancestry, resembles the palaces of the ancient city of Persepolis, near the cradle of wine-making in Iran, thought to originate as long ago as 5,000 BCE. The imposing structure of hand-hewn stone from Iran and formal gardens graciously welcome the visitor to Napa.
The impeccable service by the staff at Darioush ensures that every visitor feels special, from the valet to the tasting room staff. They are usually puring five wines the Signature Chardonnay, crisp and balanced, and the Signature Cabernet Franc, robust and fruity.
Darioush Winery is located at 4240 Silverado Trail, Napa, CA 94558 and is open daily from 10:30 – 5:00 PM. Tastings start at $85 per person.
Owned by the Leonardini Family, Whitehall Lane is known for its outstanding Cabernet Sauvignon. But they also have an impressive Sauvignon Blanc, it is exhibiting bright and non-grassy flavors. Their Reserve Cabernet Sauvignon is also excellent, with full, fruity flavors expressed.
Whitehall Lane is taking a leadership role in exploring closure systems as vintners continue to struggle with balancing the many positive aspects of natural cork with the problems resulting from a small percentage of cork taint. Whitehall Lane uses screw-top closures, natural cork, and an innovative glass cork, which they use for their reserve Cabernet Sauvignon.
Whitehall Lane is located at 1563 St Helena Hwy, St Helena, CA 94574. is open daily 10 – 5:30 PM. Tastings start at $60 per person
The McDonald family owns land that has been producing grapes for generations but only recently established the Round Pond winery. The tasting room takes advantage of their site in the middle of the valley, with an open, airy covered deck overlooking a wide expanse of vineyards backed by the Mayacamas Mountains to the west and St. Helena Mountain to the north.
Tastings can pair three wines with morsels of foods showcasing their other products, olive oil, citrus syrups, and vinegar. The Sauvignon Blanc, with its bright citrus flavors and the Cabernet Sauvignon was rich berry flavors and well-balanced tannin.
Round Pond is located at 875 Rutherford Rd. Rutherford, CA 94573 and is open daily from 10 – 4 PM.
Vincent Arroyo Winery is located in Calistoga and is open for tasting by appointment only now. One of the specialties here is the Petite Syrah. Animal lovers will enjoy visiting as Vincent's dogs are even part of the winemaking process, complete with their own blends! JJ and Bodega are regular fixtures at the winery and even share in the fame after their appearance in the Winery Dogs Calendar.
While these are some of my favorite places to visit in Napa, there are well over 500 wineries in the region. Not everyone is always going to like the same wines, but by choosing wineries like these that offer a great selection of both white and red wines at varying price points, you'll be sure to find something you will like!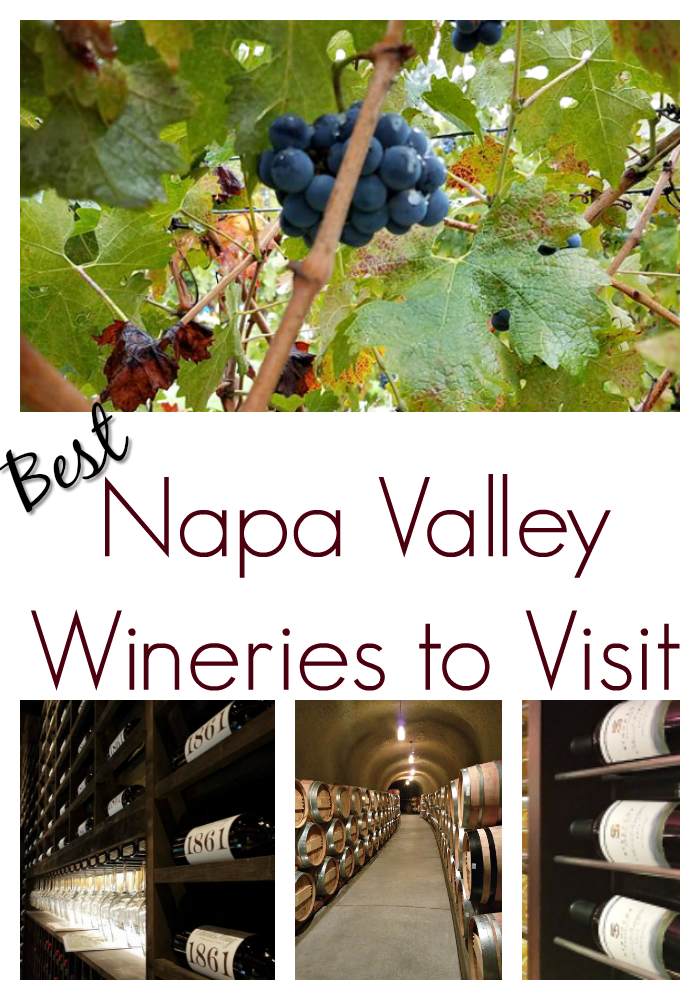 One another related note, if you plan on going to one or more wineries in Napa Valley, I do recommend hiring a driver or have a DD 😉 Nothing ruins a day of wine tasting faster than getting pulled over. Please drink responsibly.
So, if you have ever wondered what is the best winery in Napa Valley, I hope this list helps you narrow it down some.
Have you been to Napa Valley? What is your top Napa Valley Winery to visit? What would you say are the top wines in Napa Valley?

I told you that Napa is filled with wine-making history, and if you want to learn more about the history and Napa itself, be sure to stop at 1881 Napa. 1881 Napa is Napa Valley's first wine history museum and tasting salon. At the museum you can explore Napa's rich wine history, an extensive collection of historic wine relics from Europe and the United States and original artifacts from the Early California Wine Trade Archive. 1881 Napa is located in a historic Victorian home built in 1874 next to Oakville Grocery (founded in 1881, it is the oldest operating grocery in California). The wine museum in 1881 Napa is open to the public with complimentary visitation. A self-guided tour up to and along the museum's second-floor mezzanine tells the history of Napa Valley, introduces the founders and influential early pioneers.
1881 Napa is located at 7856 St. Helena Highway in Oakville and is open daily from 11 a.m. to 6 p.m. If you are interested in doing any wine tastings, reservations are recommended. You can make wine-tasting reservations (which are not complimentary 😉 ) here.
Is your favorite Napa Valley Winery not on this list? Be sure to email me your favorites so I can be sure to check it out, and perhaps add it to my list of the Best Napa Valley wineries to visit.
Love wine? Love to travel? Be sure to check out the Best Wineries to Visit in Michigan.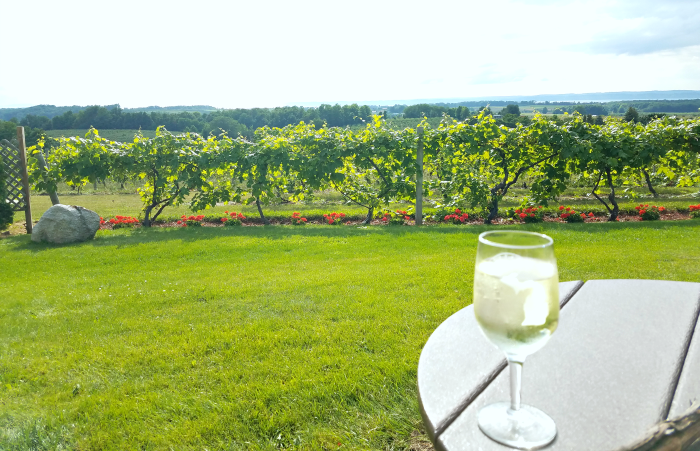 Be sure to check out Food Wine Sunshine on Facebook, Twitter, Pinterest, and Instagram for things to do in Florida, healthy recipes, and more.