(Last Updated On: June 25, 2021)
There are over 400 beautiful wineries in Sonoma County California. See this list to discover the top wineries to visit in Sonoma, not just for the wines, but for the views, hospitality, and more.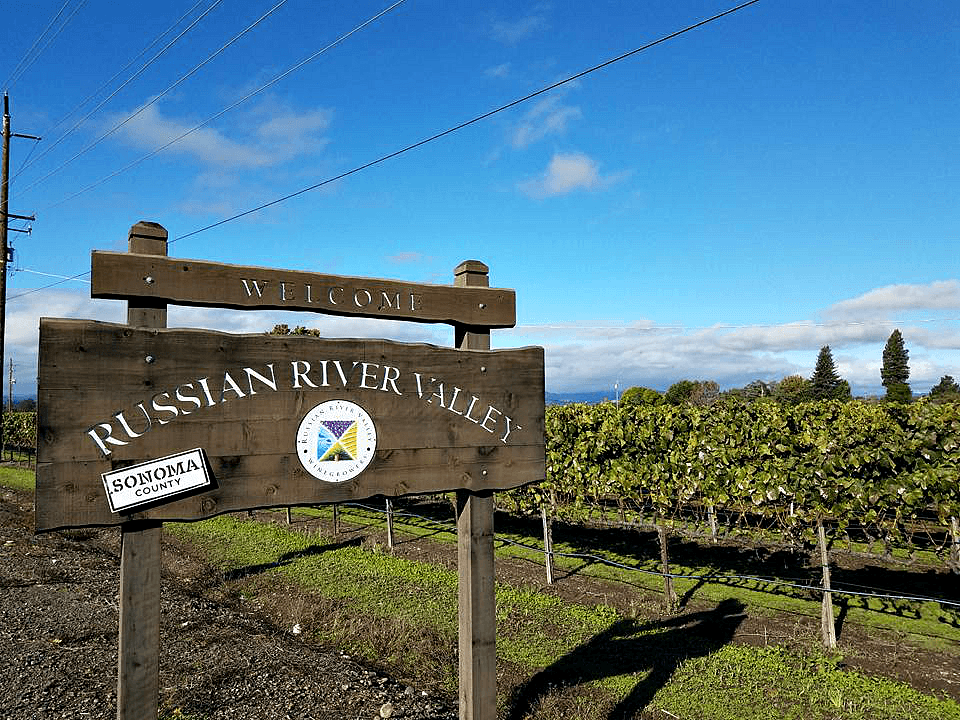 Top Sonoma Wineries To Visit
In the southwest corner of the Californian Wine Country lies Sonoma County. California is full of beautiful wineries to visit with delicious flavors all waiting to be savored and tasted, and many of these wineries are located in Sonoma County and the Russian River Valley. With numerous wineries, many of which host tours and tastings as well as other recreations, touring these lands is a treat.
Sonoma County California has a long growing season that includes mostly sunny days with minimal rainfall from May until September. The temperature averages between 70 and 90 degrees, but even in the warmest areas the cool evening temperatures are in the 40's and 50's. As you can see, we were there in the Fall, we definitely had some rain, cloud and cooler temperatures, but that didn't stop us from appreciating the gorgeous views. In fact, being from Florida, we appreciated the cooler temperatures. Sonoma is primarily known for it's Pinot Noir, Cabernet Sauvignon, and Chardonnay wines but some fine Merlots and Zinfandels are coming out of the area as well.
The soil in the Sonoma area is predominately Goldridge soil. The soil is comprised of a dark yellow fine sandy loam at the surface over a subsoil of golden yellow sandy loam, and fractured sandstone. This soil has excellent drainage and the roots of the grapevines can go as deeply as they need to produce very fine grapes.
There are over 400 wineries in Sonoma so it is going to take you a long while to get around to visiting all of them. If you are planning a visit to Wine Country, here are some of the best Sonoma wineries to add to your list of places to visit first.
Top Sonoma Wineries To Visit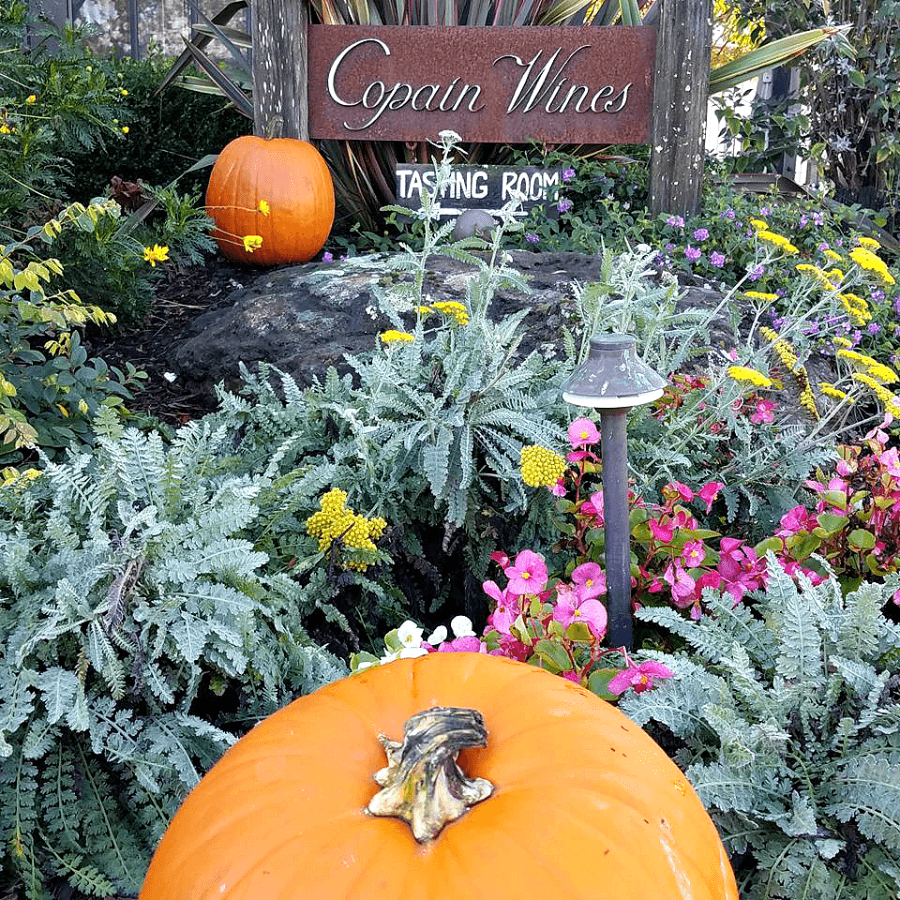 The Copain winery was founded in 1999, and the name means buddy or pal in French. The winery focuses on creating Pinot Noir, Chardonnay, and Syrah wines inspired by the Rhone River valley region of France. They also make a seasonal Rosé, which is actually one of my favorite Rosés. Their Chardonnay is also incredible, in fact, it's the reason we joined their wine club. The Copain winery sits atop a beautiful hillside with stunning views of the Russian River Valley. I strongly recommend planning extra time at Copain, because you will want to sit down and enjoy the views.
Complimentary tastings are available for wine club members but do require reservations. For non-members, Copain offers a Reserve Flight where guests are offered a tasting of six different wines from the Single Vineyard portfolio, paired with an assortment of fruits, cheese, and charcuterie. This experience lasts approximately 75 minutes and costs $60 per person. The Comparative Library tasting is an in-depth exploration of three select vineyards with both current and past selections from these vineyards available to try and compare. This experience is $90 per person or $45 per wine club member and lasts approximately 90 minutes.
The Copain winery was purchased in 2016 by Jackson Family Wines, but is still true to the unique vision, the winery was started with and focuses on vineyard-designated wines. One of the original founders Wells Guthrie remains on staff at the winery.
Copain Winery is located at 7800 Eastside Rd, Healdsburg, CA 95448 and is open daily from 10 AM – 4 PM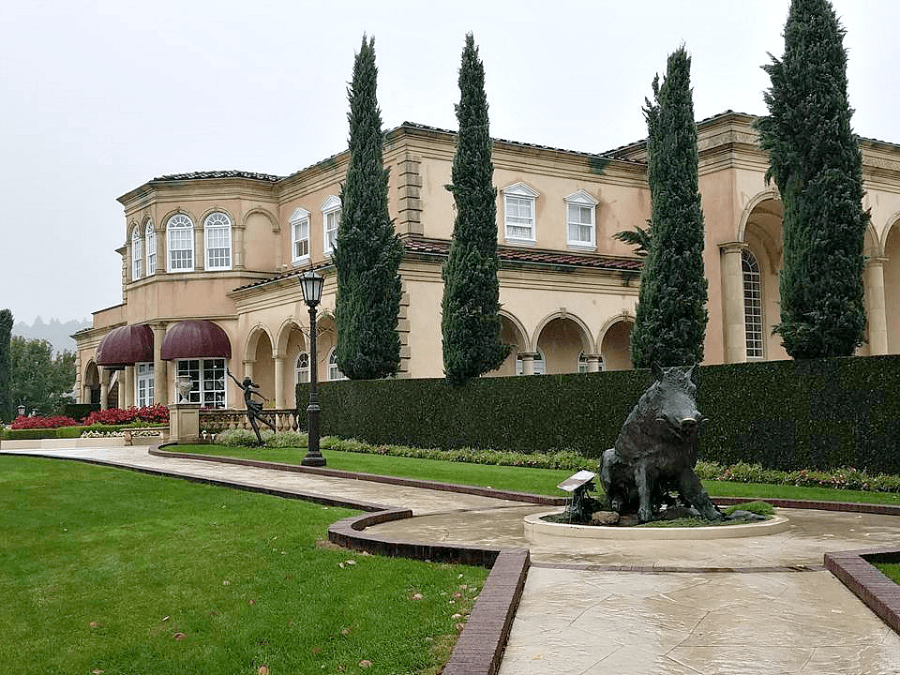 The Ferrari-Carano Vineyards and Winery was founded in 1981 by Don and Rhonda Carano. The winery was started with just 30 acres and has now grown to over 19 vineyards and encompasses over 1,500 acres. In addition to producing some really wonderful wines, people come to visit to explore the 5 acres of beautiful gardens. My uncle actually advised us to visit this one because the gardens are so beautiful to walk through. In the gardens, you will find some rare for the climate Portuguese cork oak trees. These are the trees that wine corks are made from.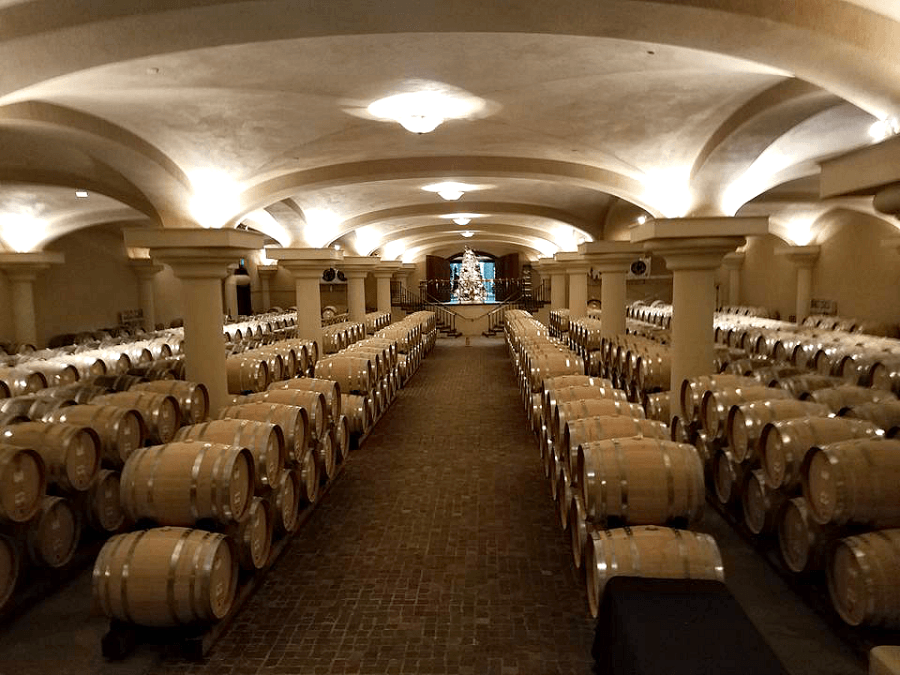 The Ferrari Carano vineyards are open for tastings daily from 11 to 5 and unlike most wineries in the area do not require reservations. Their tastings are also extremely reasonably priced. You may taste their offerings at the Enoteca Reserve wine tasting bar underground in the cellar where it is $25 to taste four wines. They also offer tastings at the Villa Fiore wine tasting bar and shop where it is $15 per person to taste five of their wines. If you aren't interested in a tasting you can take a seat at the Il Terrazzo, the outdoor terrace overlooking stunning views if you purchase wine by the glass or the bottle daily from 10 to 5. You are more than welcome to walk around the gardens and estate while you sip on your wine.
Ferrari-Carano Vineyards is located at 8761 Dry Creek Rd, Healdsburg, CA 95448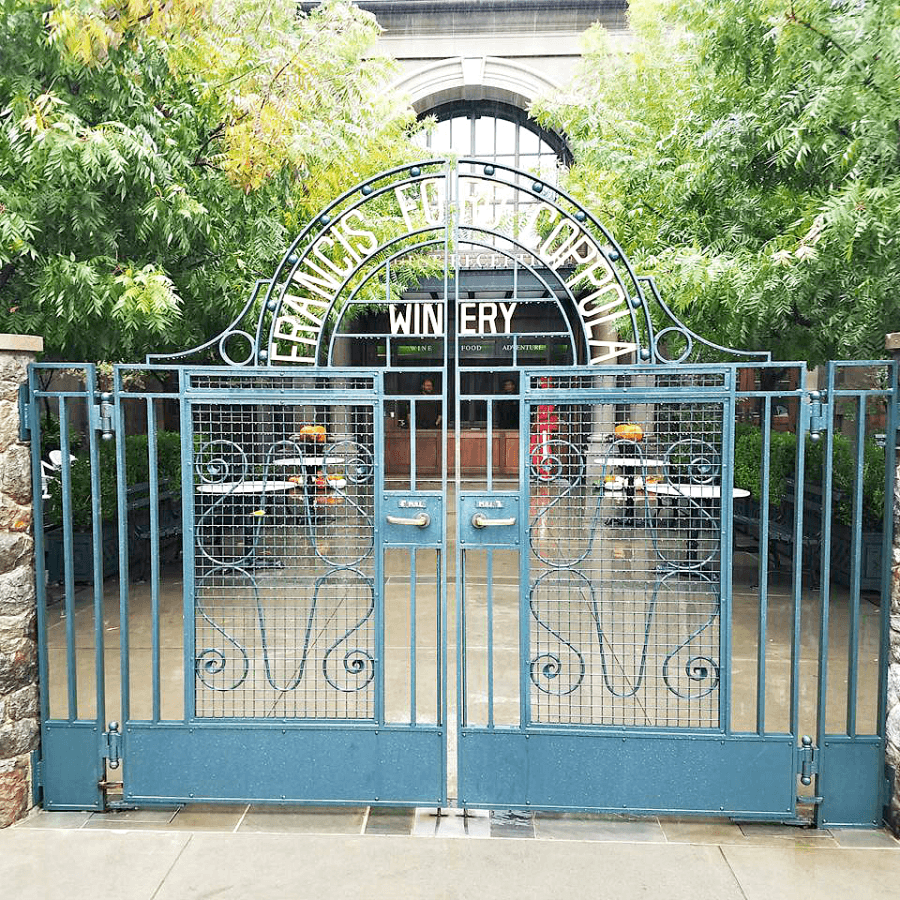 Francis Ford Coppola, yes the six-time Oscar-winner also has a winery. If you are in Sonoma this is one winery stop that you definitely need to make. There are incredible wines to be found here but there are a lot of other things to see as well. The main building of the winery looks like a European chateau with a glass pyramid placed on top of it. When we were originally planning our trip to Wine Country I had several people tell me that Francis Ford Coppola Winery was the Disney World of wineries, and now that I have been there, I understand what they meant. You can easily spend the day here.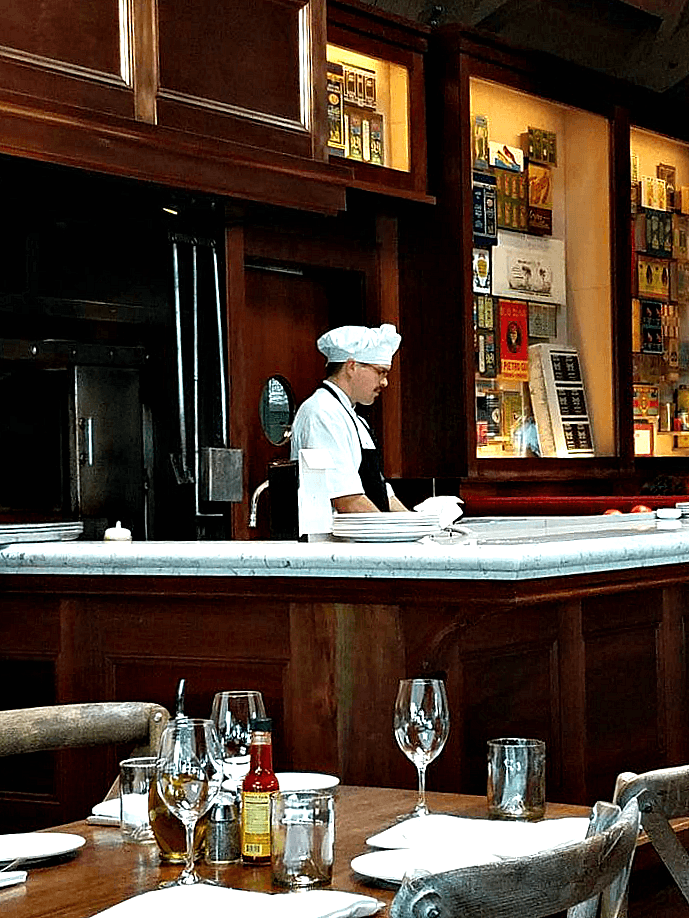 Inside the building, you will find a full-service restaurant Rustic, Francis's Favorites, with an authentic Argentine grill, where an Asador (grill master) prepares South American style wood grilled meats. My husband and I ate here and the food was delicious. I had Mrs. Scorsese's Lemon Chicken and my husband had the Rigatoni and Meatballs. You will also find a movie gallery that is full of memorabilia from Coppola's movies including Don Corleone's desk from The Godfather trilogy among many other cinematic treasures. My husband is a self-proclaimed movie-buff so this was definitely one of his favorite parts.
The winery also has pools that are opened seasonally and are family-friendly! There are not a lot of wineries that let you bring your kids along with you! You do have to have a pass for the pool, and you can make reservations for that ahead of time, which is recommended, online. There is also poolside dining featuring salads, paninis, wood-fired pizza, and gelato. All of this is of course in addition to the wonderful wines being produced here.
There are daily walking tours offered at 11:30, 1:30, and 3:30 that will give a behind the scenes glimpse at the bottling process and also the stories behind many of the wine labels produced at the winery. I definitely recommend taking the tour, it's a great opportunity for you to see that there is so much more to wine than just drinking it. There are also a variety of tastings offered. You can take a First Flight tasting in the upstairs gallery bar that features vineyard-designate Reserve and Storyteller portfolios.
You can also participate in the Sonoma Inclusive tasting features wines from across the Sonoma Valley region. This tasting is offered at the Main Floor tasting bar. Both of these tastings are offered daily with no reservations from 11:00 to 5:30. These options are reasonably priced, and some of the tastings are even free for wine club members. You can also make reservations for a private tour and tasting.
Francis Ford Coppola Winery is located at 300 Via Archimedes, Geyserville, CA 95441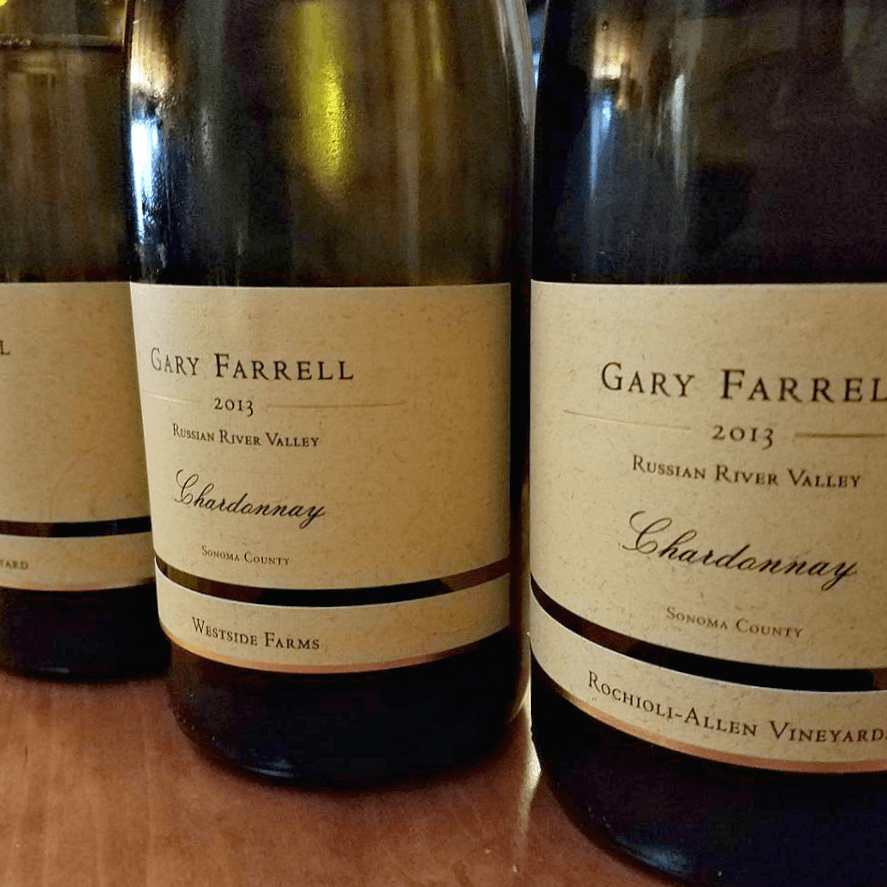 At Gary Farrell Vineyards and Winery you will drink in stunning views of the Russian River Valley as well as some of their award-winning small-batch Chardonnays and Pinot Noirs. In 1982 Gary Farrell produced his first Pinot Noir from grapes grown in the Rochioli vineyard. He made handshake deals with growers in the area, and today his vision lives on as the vineyard makes wines from 5 specific neighborhoods all with their own unique terroir.
Tastings at the winery are by appointment only at the tasting salon which is open daily from 10 to 4:30. They offer three different types of tastings here. The Exploration Tour includes a tour of the winery and bottling process and then a tasting of five wines paired with cheese. This tour lasts approximately 90 minutes and is $55 per person or complimentary if you are a Grand Crew member. The Inspiration tour is approximately 90 minutes and focuses on six different Pinot Noir wines paired with artisan cheese grown from the fruit in the Russian River Valley and beyond. This tasting is $75 per person or complimentary for Crew members at the Collector level. The Elevation tasting offers a tasting of 5 wines artfully paired with artisan cheeses and lasts approximately 60 minutes. Discussion with a brand ambassador centers on how wine pairs with foods to bring out the best in each wine. This tasting is $35 per person and complimentary for all Grand Crew members. Keep in mind that Gary Farrell wines may only be purchased through the winery so if Pinot Noir and Chardonnay top your list of favorite wines you may want to consider a membership option.
Gary Farrell Vineyards and Winery is located at 10701 Westside Rd, Healdsburg, CA 95448.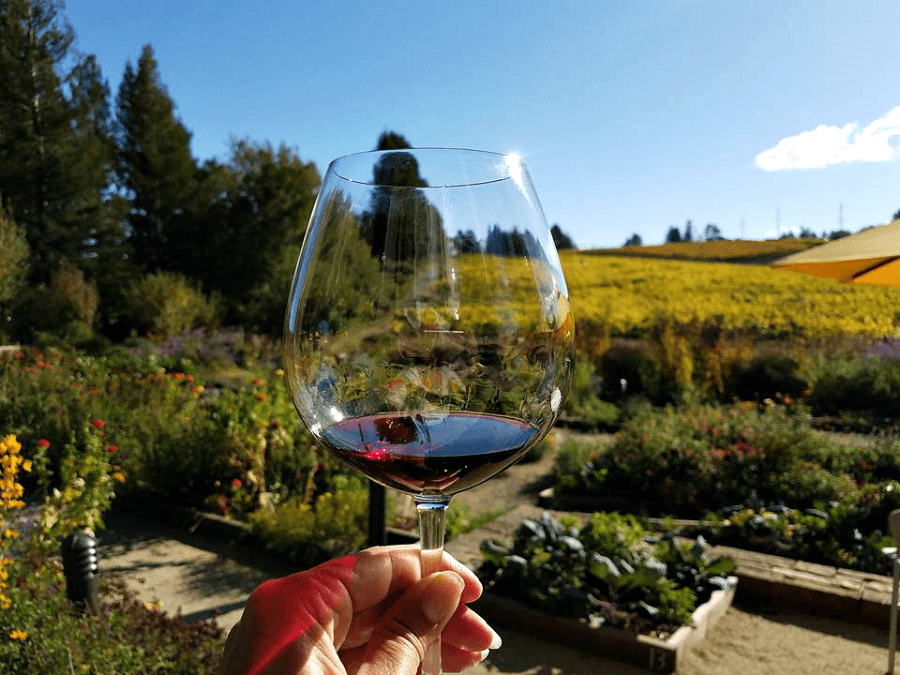 In 1980 Lynn and Anisya Fritz purchased Quail Hill Ranch and Vineyards, since that time they have purchased adjacent properties building their name and their presence in the Russian River Valley. With their purchase of Quail Hill they also became the proud owners of some of the oldest Pinot Noir and Chardonnay vines planted in the Russian River Valley.
Lynn and Anisya believe very much that the wine, the food, and the scenery should all be part of the whole experience and it shows in how they treat their guests and the tasting opportunities available here. The winery is only open for tours and tastings by reservation but they have several offerings available each week. When you are here, be sure to walk the breath-taking gardens and allow yourself some time to take in the views.
The Estate Flight leads you on a tasting of four wines from the Russian River Valley and Sonoma Coast and you are welcome to walk around the property as you enjoy your wines. This tour is $40 per person, lasts about an hour, and is available Wednesday through Monday from 10 to 3 pm. The Collector's Flight includes tasting six of Lynmar's Proprietary, Pinnacle and Vineyard Designate collections and lasts approximately 90 minutes. This Flight is offered Thursday through Monday from 10 to 2 and costs $90 per person.
There are complimentary tasting available for Lynmar Advocates but they do require reservations in advance. If you are interested in a delicious farm to table lunch paired with delicious wines you should definitely consider the Lynmar Experience. This is a 3-course meal prepared with ingredients from the estate and local area paired with the perfect Lynmar wines for your dishes. The meal last approximately 2 and ½ hours and is offered once per day Thursday through Sunday from April 3rd to November 4th. Cost is $95 per person or $75 per person for Advocates.
Lynmar Estates is located at 3909 Frei Rd, Sebastopol, CA 95472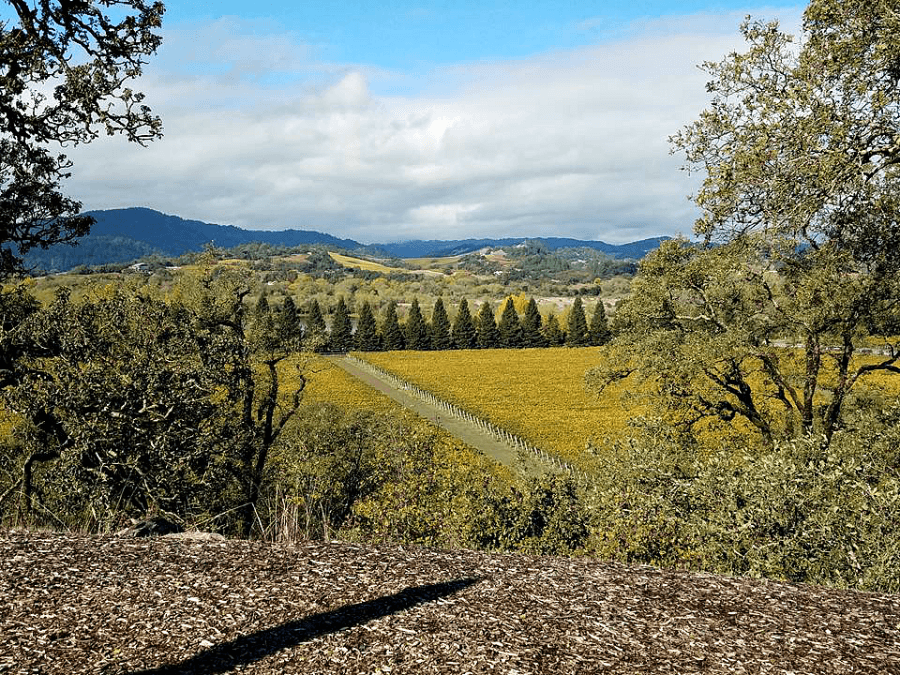 Come for the Chardonnay, stay for the gardens. The Vitner's Reserve Chardonnay from the Kendall Jackson Vineyard Estate starts with a light aroma of green apples and honey. The first flavor to capture your attention is crisp apple, followed by sweet melons, pineapple, and toasted nuts. This barrel-fermented wine has a silky mouthfeel and a lingering taste.
Kendall Jackson Vineyard Estate & Gardens is located at 5007 Fulton Rd, Santa Rosa, CA 95403 and is open daily from 10 AM – 5 PM.
Cline Family Cellars is a family owned and operated winery located here in Sonoma. They produce extraordinary wines. And the Cline Ancient Vines is an outstanding Mourvedre, which some are made from original plantings dating back to the 1880s. Mourvedre is a full-bodied red wine that boasts hints of minty bay leaves and a strong blackberry and plum taste with chocolate overtones. With soft tannins, a hint of pepper, and a smooth mouthfeel, this wine is best served with darker meats, tenderloin, and dark chocolates and is guaranteed to bring out the smoky flavor of any grilled food, be it meat or vegetables. Be sure to give this wine a try while you are there.
Cline Family Cellars is located at 24737 Arnold Drive Sonoma, CA 95476 at is open Thursday – Monday 11 AM – 5 PM.
This 60-acre vineyard specializes in Italian wines. Vally Of The Moon was established in 1863 with an original cellar. I just love old wine cellars! While you are here, be sure to try the Pinot Blanc. Pinot Blanc is probably one of the "lesser appreciated wines." Valley of the Moon Winery has provided wine lovers with a Pinot Blanc that might change some minds. The light honeysuckle aroma is appealing. The taste of kiwi and pear lingers on the palate and finishes with a hint of tangerine. There is a slight mineral undertone. This wine is best paired with a seafood pasta dish.
Valley of the Moon Winery is located at 134 Church St, Sonoma, CA 95476 and is open Sunday – Thursday 11 AM – 7 PM.
B.R. Cohn several amazing wines, but the rose is one of my favorites for summer. With a delicate combination of Syrah, Grenache, and Mourvedre, the Rose is a sweet, fruity wine with a smell of honeysuckle and raspberry but drifts into peach and nectarine overtones and finishes dry with a touch of spice.
B.R. Cohn Winery & Olive Oil Company is located at 15000 Sonoma Hwy, Glen Ellen, CA 95442 and is open daily from 10 AM – 5 PM.
There is little doubt that Sonoma County produces some of the top wines in the world. With varying soils and atmospheres, many flavors are unique to this area. Be sure to pick up a bottle the next time you are out. You might find a new favorite to add to your growing cellar.
These are just a few of the wonderful wineries available for you to visit in Sonoma. Keep in mind that all of these wineries will have special events throughout the year so be sure to check their websites before planning your trip. Most of the wineries listed here do require reservations in advance, but there are many that don't, if you see one that looks nice or you recognize the name, don't hesitate to stop in. The employees will let you know if reservations are required.
You should also consider becoming a member at your favorite wineries. You may be able to attend tastings or special events for free or at a reduced cost and you will get the first choice picks of your favorite wines to sip at home.
Please drink responsibly. Be sure to have a designated driver with you or hire a driver for the day while visiting the wineries.
There are of course plenty of things to do in Sonoma other than just tasting wine. If you need a break from the wineries you might want to visit the Armstrong Redwoods State Natural Reserve. The trees here seem to reach past the sky and they are 500 to 1000 years old, you don't want to miss this site. The QuarryHill Botanical Garden is a mystical 25-acre woodland garden that is designed to be a living museum of sorts. There are thousands of beautiful flowers and plants to see here. You can also check out the Sonoma Plaza, it is the largest plaza in California and it is the place where a group of settlers proclaimed the Republic of California in 1846. There are a lot of historic landmarks here as well as galleries, boutiques, restaurants, tasting rooms, and more. You are sure to find an enjoyable activity for everyone in Sonoma.
Is your favorite Sonoma Winery not on this list? Feel free to comment below or email me with your top Sonoma Wineries so that I can visit them and maybe add them to this list!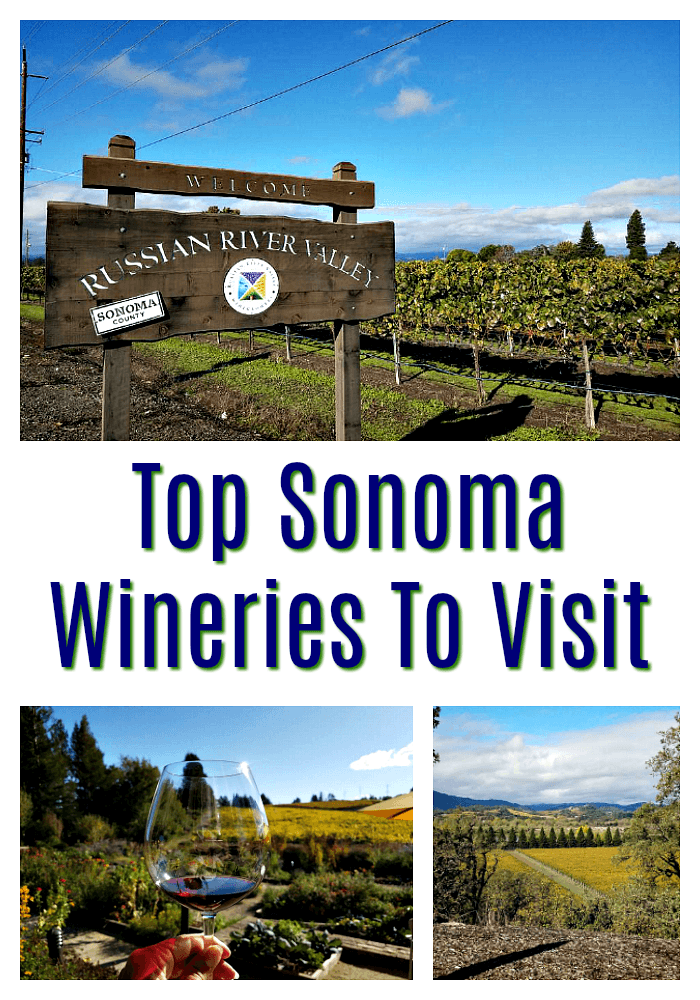 Planning on visiting Napa Valley while you are in Sonoma as well?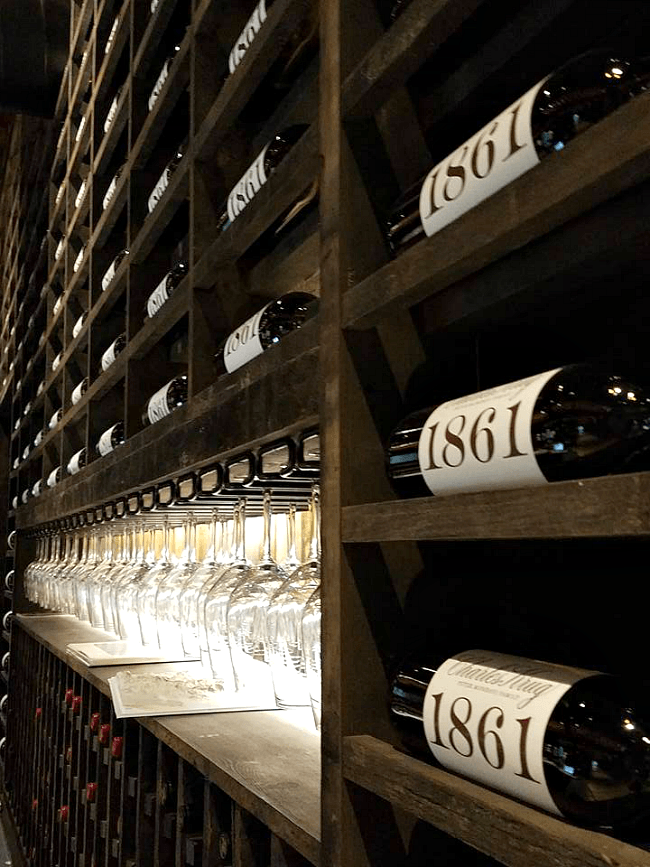 Top Napa Valley Wineries to Visit
Looking to travel outside of California to do some wine tasting?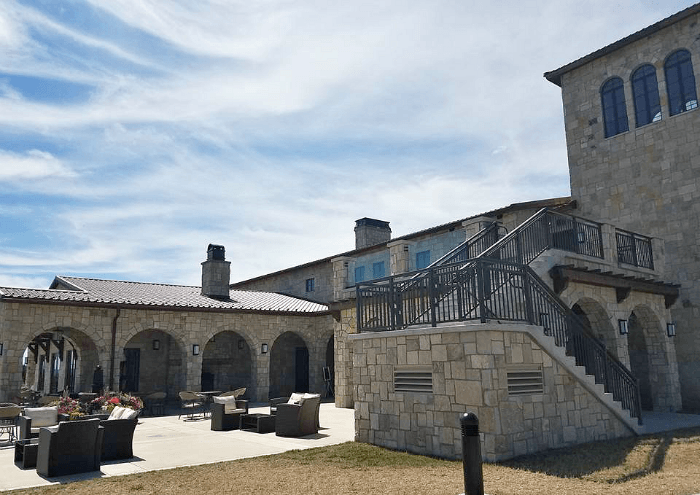 Best Michigan Wineries To Visit
Be sure to follow Food Wine Sunshine on Facebook, Twitter, Pinterest, and Instagram for more wine tips and experiences, healthy recipes, and travel.