(Last Updated On: August 5, 2022)
Tampa is filled with outstanding restaurants, here are the Best Date Night Tampa Restaurants. Your favorite date night spot in Tampa not on the list? Be sure to let me know what it is.

Best Date Night Restaurants in Tampa Bay

Everyone needs a night out now and then. And whether it's because you don't want to cook that night, or because you are celebrating something special, a nice date night is always welcome. My husband and I have dined at quite a few restaurants in Tampa, but definitely not them all, so if you have a favorite date night restaurant in the Tampa Bay that you think should be on this list, be sure to reach out to me and I can get it added!
Best Date Night Tampa Restaurants
There are actually three restaurants inside the Karol Hotel that I recommend checking out on your next date night. Each one has a very different experience.
The Vantage Rooftop is…well, you guessed it…on the rooftop of the Karol Hotel. The views are absolutely incredible. We went here on a Saturday night and got a table on the balcony, it was shaded and offered views of water and the downtown skyline. It was the perfect place to sit, relax and catch up on all the happenings of week. I highly recommend having a handcrafted cocktail (Karol Bliss was delish) and the Seafood Platter. The watermelon granita on top of the fresh oysters was the perfect pairing. Here you can enjoy tapas, cocktails, local craft beers and wine. It is a beautiful location to unwind and dine.
You can eat in the Bistro area or the Bar area. Both are beautiful and uniquely decorated. We ate in the Bistro and enjoyed the view of the water and ambience of the lights on the deck. The menu offers local seafood, the highest quality steaks, chicken, pasta and tapas. You can order one of the signature cocktails, craft brews or enjoy a glass of wine. Our server recommended the Orin Swift Papillon Red Blend and we were very pleased! While the steaks are promised to be some of the best in the Tampa Bay area, my husband and I couldn't resist the opportunity to have local Black Grouper. He enjoyed his piccata style and I had it as the fish & chips. It was by far the best fish & chips I have ever had…and those rosemary fries…Next time we will definitely try the steak!
The Karol Hotel is located at 2675 Ulmerton Rd Clearwater Florida 33762.
Vantage Rooftop Bar is open Tuesday – Thursday 4:00 PM – 9:00 PM and Friday – Saturday 4:00 PM – 10:00 PM. Happy Hour specials are available Tuesday – Friday from 4:00 – 6:00.
K Club Bar & Bistro is open Tuesday – Thursday 4:00 PM – 9:00 PM and Friday – Saturday 4:00 PM – 10:00 PM. You can make reservations via phone at (727) 273-8760 or on OpenTable.
Located right on the Tampa Riverwalk with unbeatable views, a fun outside area, a stellar wine list and an outstanding menu, you can't go wrong having a night out at Ulele. Be sure to try the charbroiled oysters! The Caymus Cabernet is reasonably priced here as well, so be sure to grab a bottle. Our favorite entrees here are usually the Juan Snapper, Shrimp N' Grits, and Barry's Tomahawk Pork Chop. And while all the desserts are extraordinary, we always come back to the house-made ice cream…the maple duck bacon is…wow.
Ulele is located at 1810 North Highland Avenue Tampa, FL 33602 and is open for lunch and dinner daily.
Located in the heart of Tampa on Kennedy Blvd. Mise En Place isn't worried about trends, they are focused on classic food with a French twist. Mixed in with a bit of a contemporary flair. They also have an outstanding wine list. Entrees include everything from rice noodles to duck breast, and be sure to save room for dessert.
Mise En Place is located at 442 West Kennedy Blvd, Tampa, FL 33606 and is open for dinner Tuesday – Saturday.
The Columbia Restaurant in Ybor is a piece of Tampa history. I'm sure it will always be on my list of best date night Tampa restaurants for that reason alone! Go for the incredible sangria, the homemade bread and the 1905 salad, but be sure to take in a piece of the history while you are there too, you will feel like you stepped back in time.
Columbia Restaurant is located at 2117 E. 7th Ave. Tampa, FL 33605 and is open everyday for lunch and dinner.
Donatello Tampa serves up authentic Italian cuisine and will make you feel special the moment you walk through the door. And when you walk out actually, as each lady receives rose. Their menu is mainly derived from Italy, consisting of handmade pasta that is made daily and much more. We almost always get a pasta dish when we are at Donatello's, but we have loved everything we had tried, a few favorites are: Cannelloni Donatello ( Rolled fresh pasta stuffed with veal, mozzarella, glazed with besciamella and tomato sauce), Linguini Al Granchio ( Linguini with jumbo crab meat in a white wine or tomato sauce) and the Scalopinni Di Vitello Pulcinella (Veal scaloppini sautéed with prosciutto and fontina cheese). The waitstaff here is impeccable, always making you feel like you are first-class. They also have an impressive wine list, but be prepared for first class prices.
Donatello Tampa is located at 232 N. Dale Mabry Hwy. Tampa Florida 33609 and is open nightly for dinner.
This one is not too far from our house, so we end up at Sacred Pepper frequently. The food is delicious. I definitely recommend the blackened steak bites for an appetizer, and the short rib pasta is a family favorite. For dessert, the bread pudding is remarkable. If your wine tastes are a bit higher end, just ask for the Reserve Wine List, I recommend the Hall Cabernet. If you happen to go on a Sunday, be sure to look at the Sacred Sunday Special, not only is it a great deal, but it includes a lot of our favorites; you get your choice of pizzette, pasta, entree and a bowl of homemade ice cream for dessert all for under $20 per person. They also have a Ciao Monday Special.
Sacred Pepper is located at 15405 N Dale Mabry Hwy Tampa, FL 33618 and is open nightly for dinner.
Because sometimes you just need comfort food. Located on West Bay to Bay in Tampa, Counter Culture serves up all your favorite comfort foods but not in the way your mom did. However, my mom never served up octopus, but you will find an incredible octopus dish served here 😉 Modern plates are available in this casual, yet upscale dining experience with bay views.
Counter Culture is located at 2909 W Bay to Bay #100 Tampa, FL 33629 and is open Monday – Friday for dinner and Saturday and Sunday for brunch and dinner.
Datz has a fun atmosphere, eclectic eats and out of the this world desserts. Be sure to come hungry because the portions are HUGE. Datz is the home of comfort food with flair, such as chicken and waffles eggs benedict (which is a family favorite). Datz also serves up craft beers, a large variety of bourbon, house-made breads, and you will not be at a loss of bacon or cheese. If you love a good brunch menu, Datz is your place.
Datz has an eclectic cocktail menu with artisanal liquors found nowhere else in Tampa and has a seasonal menu. And if you have a sweet tooth (like me) you have to visit Dough right next door. Dough is a whimsical, from scratch bakery. Here you will find out-of-this-world doughnuts, cupcakes, coffees and more.
datz is located at 2616 S. MacDill Ave, Tampa, FL 33629 and is open everyday, with all day brunch on Sunday.
Located…you guessed it…on Swann in Tampa, this contemporary restaurant focuses on seasonally-inspired dishes with a local flair. Known for their incredible brunch, they also have a dinner menu that will leave you deciding what to get for awhile…which is okay as they have a fully stocked bar that will serve up your favorite cocktails. Start with on of their Starters, such as the Lamb Meatballs and work your way up to the Blackened Beef Ribeye which is plenty big enough for two. For dessert, may I recommend the seasonal cobbler? Delish.
On Swann is located at 1501 Swann Ave. Tampa, FL 33606 and is open daily for lunch and dinner.
Here you will find carefully crafted unique menu items that include hand-selected charcuterie boards, crab hushpuppies, fried brussels sprouts salad, duck confit taco and much more. Haven is located on West Morrison Avenue in Tampa and serves up 300 bourbons and 40 wines by the glass! Cheers to that!
Haven is located at 2208 West Morrison Avenue Tampa, FL 33606 and is open Monday – Saturday for dinner, with Happy Hour Specials from 5:00 – 7:00. They are closed on Sundays.
While taking in 360-degree views of the Tampa, Westshore, and St. Petersburg skylines, guests at Sal Y Mar can experience a mouth-watering collection of tapas, from Citrus Crab Cakes and Vegetable Bruschetta, to more authentic Spanish treats such as Carne Asada Street Tacos and Pan Seared Scallops with mango puree, plantain crisp, and pico de gallo. The menu was created by Executive Chef Stephanie Bisogne and showcases the freshest possible local ingredients in a surprising assortment of salads and entrees, including Filet Mignon, Pan-seared Grouper, Chipotle-charred Chicken and more, along with a small selection of fresh-made desserts to provide a sweet ending to any meal. Sal Y Mar also serves a wide array of classic and artisanal craft cocktails, local craft beers, wines and bubbles for guests to enjoy as they toast another Florida sunset.
Drawing on Mayan influences from the Mexican coastal town of Tulum, the space is dressed in earth tones and coastal organic finishes, with fresh crisp linens, bamboo ceiling and comfortable hanging hammock chairs. Whether gathered for happy hour, special events, or a fun evening out with friends, guests can enjoy panoramic skyline views of the Bay area through floor-to-ceiling windows or the open air.
Sal Y Mar is located at 3650 Midtown Drive, Tampa, FL 33607. Sal Y Mar is open 7 days a week from 4:00 PM to 12:00 AM, until 1:00 AM on Friday and Saturday.
I had to add this one because it's such a fun place to go on a date. Not sure what kind of food you want but you know you want a fun atmosphere? Head to Sparkman's Wharf! There are a lot of options, but no assigned seating, so keep a look out for an open table. They also have entertainment at night, and it's on the water! We really like the empanadas at Montados. The pizza at The Corners was also a delicious, I mean, the corners are the best part of the pizza!
Sparkman's Wharf is located at 615 Channelside Drive, Tampa, FL 33602 and is open daily. There are two parking lots/garages that are very close for your convenience.
If your date night allows you to stay overnight be sure to check out Epicurean Hotel. Experience the best of South Tampa at the boutique, food-focused Epicurean Hotel, a member of the prestigious Autograph Collection® of Marriott International. This 137-room property is not far from beautiful Bayshore Boulevard and Hyde Park Village. Overnight guests may enjoy dinner at the hotel's signature Élevage restaurant, or take advantage of takeout from the award-winning Bern's Steak House, right next door, which is on my list for best dessert spots in Tampa.
What is your top choice for the best date night Tampa restaurants? Let me know so I can get it added to my list!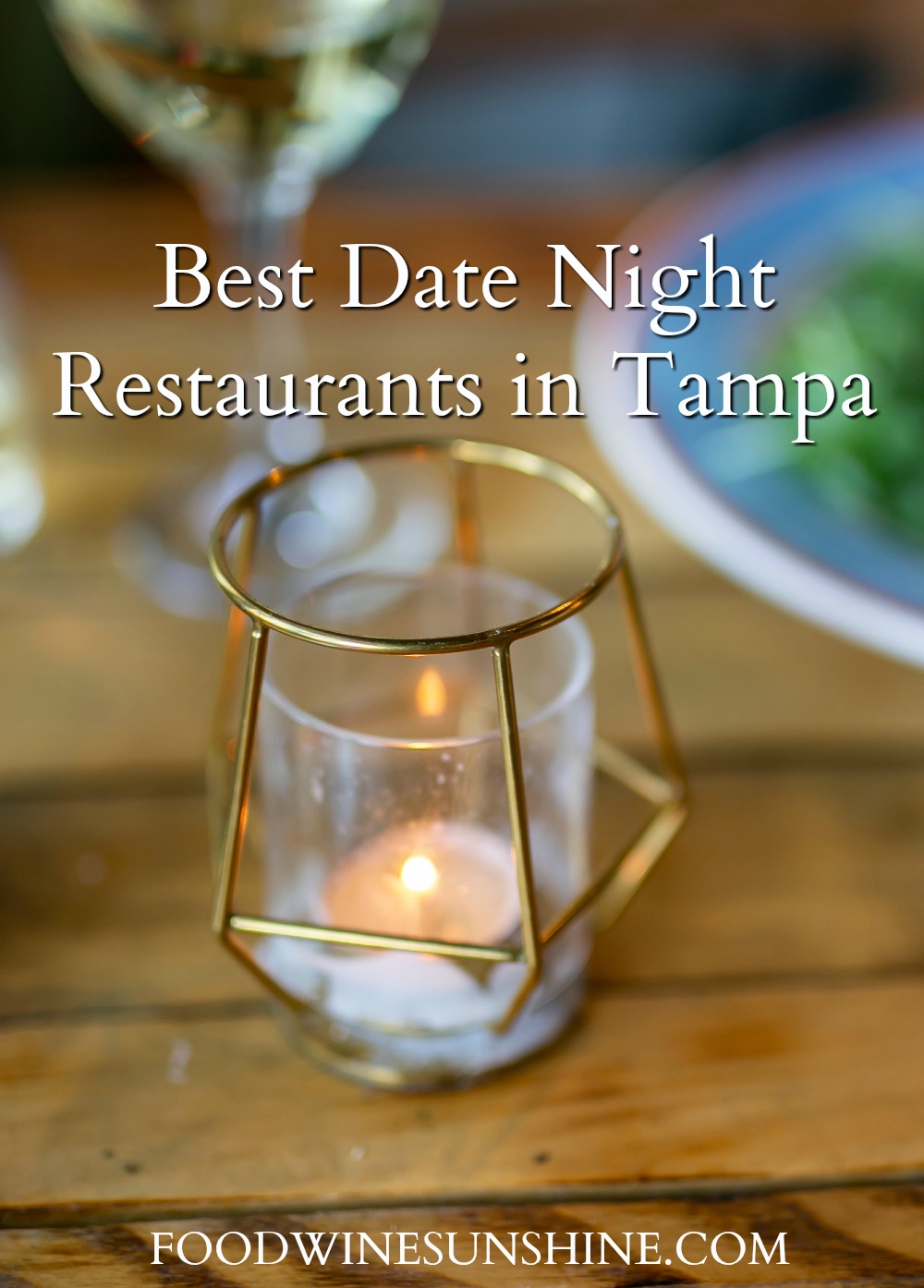 Looking for more than just date night restaurants? Check out these 32 Unique Date Night Ideas.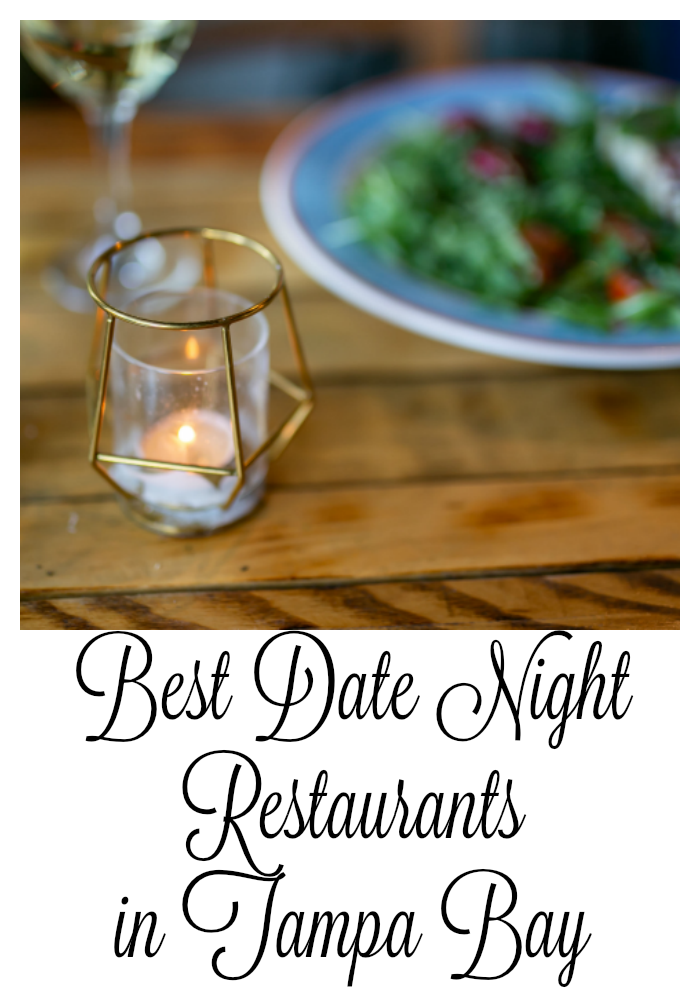 Be sure to follow me on Facebook, Twitter, Pinterest and Instagram for more things to do in Florida, healthy recipes, and more.