(Last Updated On: February 3, 2021)
Dessert. My favorite meal of the day. If you are looking for the best dessert spots in Tampa, I have them for you! It's time to indulge a little and enjoy. You're welcome.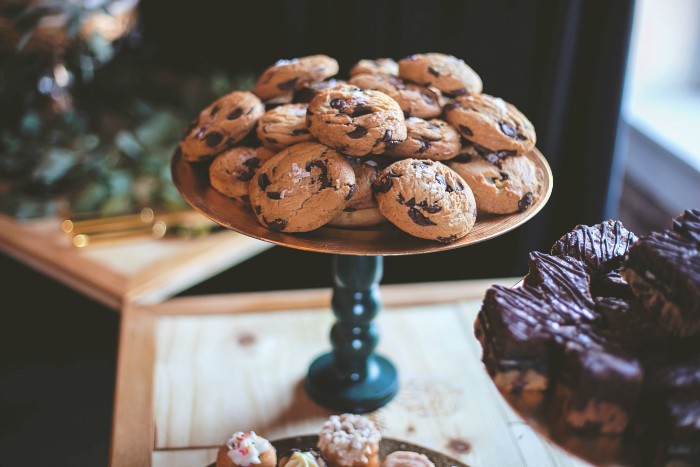 14 Best Dessert Spots in Tampa
Photo credit: Foto Bohemia
Everyone loves a sweet treat now and again and Tampa Bay is filled with fun stops to satisfy your sweet tooth. Which dessert spots in Tampa are your favorite? Do you see them on this list? If not, be sure to email me so I can check them out too!
Best Dessert Spots in Tampa
The bakery that creates all the delicious treats for datz. Dough has homemade cupcakes, ice cream and the most incredible doughnuts you have ever seen.
Dough is located at 2602 S MACDILL AVE. TAMPA, FL 33629
Amazing treats and an amazing cause. Why wouldn't you go to Dough Nation? They have edible cookie dough, ice cream and more. Dough Nation offers classic favorites like chocolate chip, dark chocolate, and interesting mixtures like s'mores, sweet & salty caramel and more. Because Dough Nation is owned and operated by Metropolitan Ministries, one of Tampa Bay's premiere and most trusted nonprofits, all proceeds from your purchases go directly to feed the hungry in Tampa Bay through the Ministries' hunger relief programs.
Dough Nation is located at 11642 N. Dale Mabry Tampa, FL 33618
The Dessert Spot at Toffee to Go invites you to sit down and enjoy a delicious cup of Kahwa coffee, delectable pastries, mouthwatering cakes, cookies, incredible ice cream, scrumptious pies and other droolworthy sweets! The toffee cheesecake and magic toffee bars look incredible!
The Dessert Spot at Toffee To Go is located at 3251 W. Bay to Bay Blvd. Tampa, FL 33629
Tiny and amazing. Perfect for just having one, to satisfy that sweet tooth…but good luck with only getting one! Tiny bites is a dessert shop where the you order dessert and then watch as the different ingredients are combined to create a fresh delicious treat. They also have iced to order cupcakes, filled cookies, cake pops, small pre-made cakes and custom order cakes. There are very limited numbers of the pre made items so that they do not go to waste.
Tiny Bites Desserts is located at 14410 North Florida ave, FL 33613
Established in 2013, Bake'n Babes is a local Tampa bakery that prides itself on using locally sourced, preservative-free ingredients. The OREO cheesecake is calling my name! They also have paleo granola and I hear they make killer freakshakes!
Bake'n Babes has two locations in Tampa:
Bake'n Babes Armature Works 1910 North Ola Avenue Tampa, FL 33602
Bake'n Babes at Gen-X Tavern 103 East Jackson Street Tampa, FL 33602
This dessert room located inside Bern's Steakhouse is a Tampa icon. They have MANY of desserts to chose from in a unique setting. We usually ask the server what they recommend, you have to go to the Harry Waugh Dessert Room at least once. It's definitely a Tampa experience.
Bern's Steakhouse is located at 1208 S Howard Ave Tampa, FL 33606
If you want a slice of one of the most incredible pies, then you have to stop at Goody Goody. With a good ole-fashioned flare, this "diner" is not to be missed. The pies are made fresh and they always have seasonal options. Come hungry and don't leave without having dessert!
Goody Goody is located at 1601 W Swann Ave, Tampa, FL 33606
During strawberry season there is no other place you want to be! From the strawberry milkshakes to the strawberry shortcake and everything in between, Parkesdale Farms is the absolute best spot in the Tampa Bay area for all things STRAWBERRY DESSERT.
Parkesdale Market is located at 3702 W. Baker Street, Plant City, FL 33563
Holy cheesecake Batman! If you are looking for the most delectable cheesecake, then this is where you need to go. You can get a variety of flavors, so be sure to pick up several. This is a pop up bakery, so be sure to double check locations and times before heading out to get your cheesecake fix.
Augustine's Cheesecakes is located at 5226 S Dale Mabry Hwy, Tampa, Florida 33611.
Located just outside of Tampa Bay, this bakery is worth the drive. From whole cakes to all your favorite pastries, you can order online, preorder and enjoy these treats. Baked with love and passion.
Born & Bread Bakehouse is located at 1113 S. Florida Avenue Lakeland, FL 33803
Rolled Ice Cream? Yes please! Snowrolls is an ice cream and coffee shop that serves up thai-inspired rolled ice cream. They have at least 14 signature flavor combinations, but you can make your own too!
Snow Rolls To Go is located at 2223 N Westshore Blvd Suite B2 TAMPA, FL 33607
Gigi's offers one-of-a-kind cupcakes topped with their signature swirl with is sure to leave on a smile on your face and your sweet-tooth craving satisfied.
Gigi's Cupcakes is located at 3810 W Neptune Ave, Ste B2 Tampa FL 33629
All sorts of different flavors, get small bundt cakes or big bundt cakes! But you will get Nothing Bundt Cakes 😉
Nothing Bundt Cakes is located at 13252 N Dale Mabry Hwy Tampa, FL 33618
They have all sorts of amazing Italian Ice flavors. And don't miss the Gelati! Gelati is the perfect layering of Italian Ice with the Soft Ice Cream. Gelati is a true indulgence.
Jeremiah's Ice is located at 14320 N Dale Mabry Hwy. Tampa, Florida 33618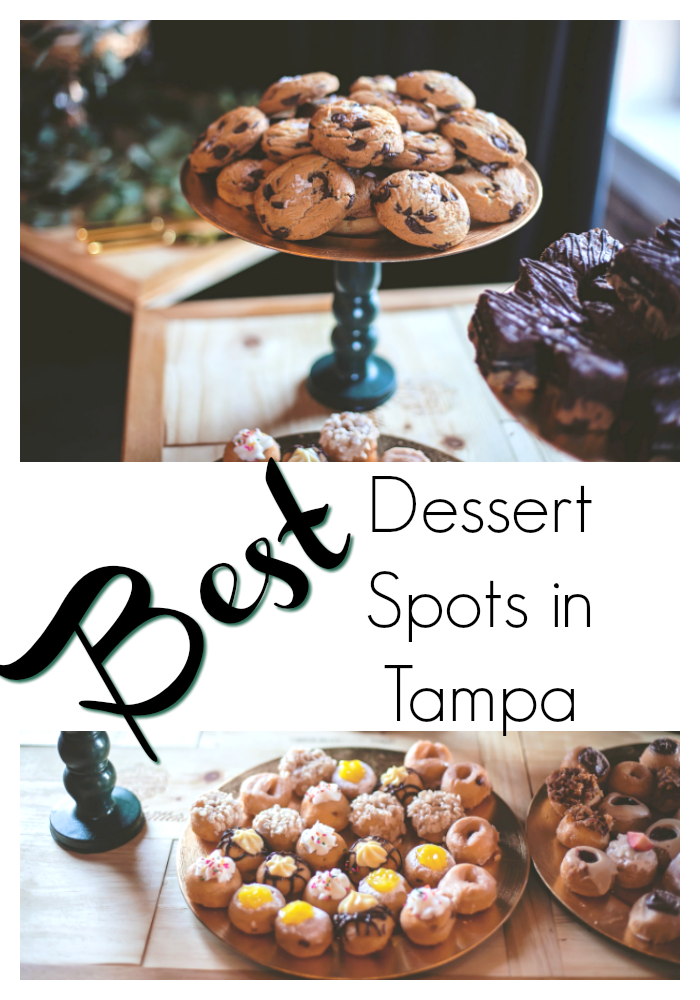 What is one of your favorite places to get desserts in Tampa? If your favorite spot to get sweet treats in Tampa Bay isn't on my list, be sure to email me so I can check it out and get it added!
Be sure to follow me on Facebook, Twitter, Pinterest, and Instagram for more things to do in Florida, healthy recipes, and more.