(Last Updated On: June 15, 2022)
There is so much more to St. Pete than award-winning beaches, but that in itself is a reason to visit. Discover the top reasons to visit St. Petersburg Florida.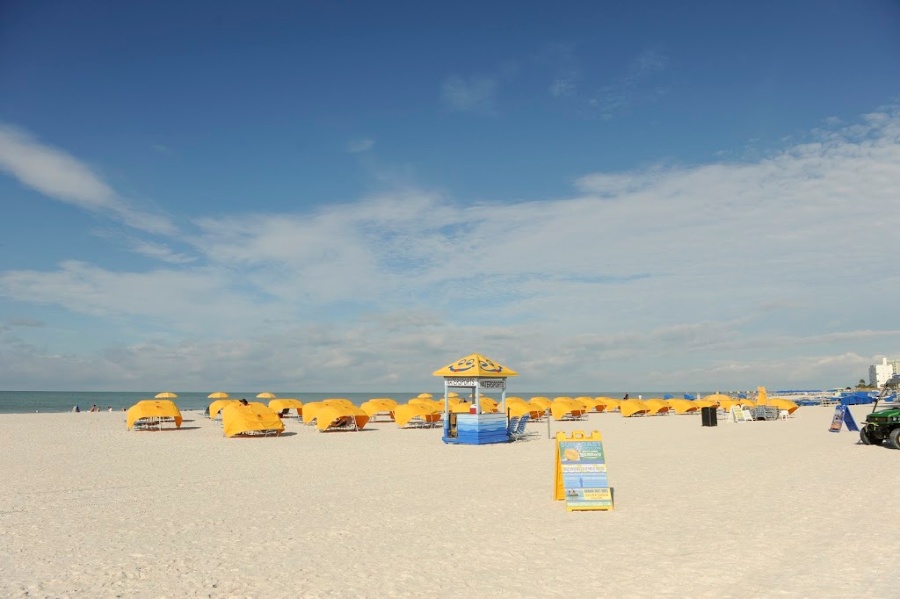 Top 12 Reasons to Visit St. Petersburg Florida

This Floridian city is the second largest city in the Tampa Bay area. The coastal city has historically been a popular choice for retirees, but younger people have started moving here as well. People flock to St. Petersburg to check out the downtown art scene, local beaches, and filming locations for some of America's most popular movies.
Despite not being a flashy tourist destination, there are plenty of great reasons to visit St. Petersburg. From fun beach activities to affordable attractions, Florida's Sunshine City is worth traveling to!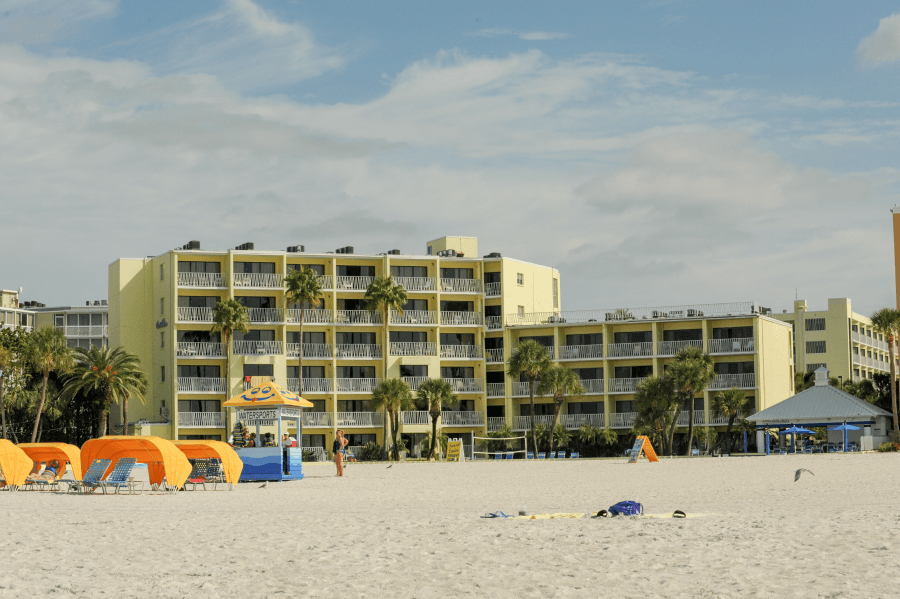 Places to Stay In St. Petersburg
And if you are looking for a place to stay on St. Pete Beach while you are enjoying all the fun things this beach city has to offer, be sure to check out TradeWinds Island Resorts. TradeWinds Island Resorts – the Island Grand and RumFish Beach Resort – has added 141 guestrooms to its portfolio, along with a new zip line on the beach, and a new Mexican restaurant concept at the Island Grand. The 141 rooms were part of the property formerly known as the Alden Suites, which was acquired by TradeWinds last March and incorporated into the RumFish Beach Resort. The expansion brings the RumFish Beach Resort room count to 353, for a total of 899 guest rooms at TradeWinds Island Resorts.
A 40-acre beachfront playground, TradeWinds Island Grand & RumFish Beach Resort by TradeWinds were created with fun in mind. Soar over the sand via zip line. Kick back in a 10-person Aqua-Bana. Master a stand-up paddleboard. Party with a pirate. Play on the offshore water park and enjoy the three-story High Tide Slide. Feast on the freshest Florida seafood under a 33,500-gallon aquarium. Kids will never be bored with KONK (Kids Only No Kidding) camps, crafts and family activities. Or relax by one of nine pools, indulge in a massage or escape to a beachside hammock. We are committed to ensuring that every guest can "just let go" while visiting one of their resorts.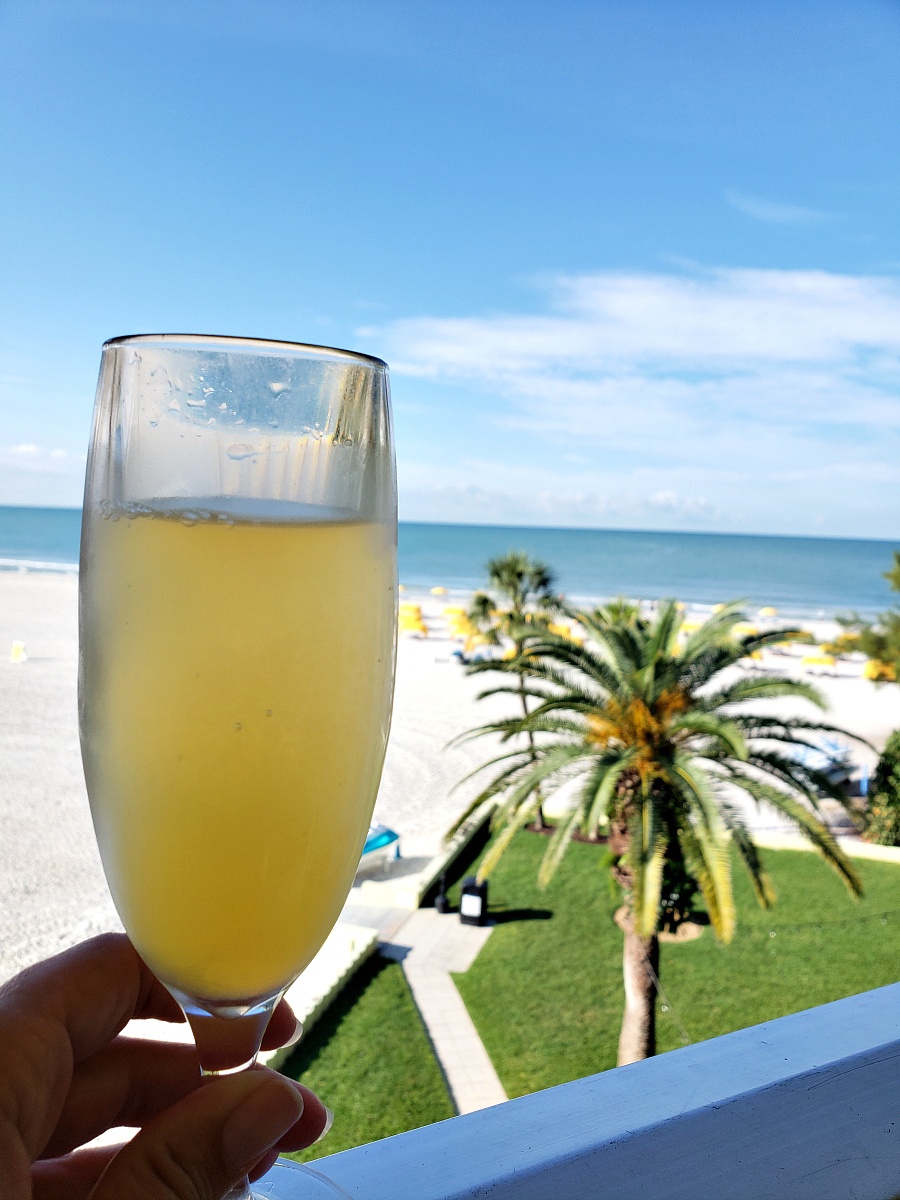 Alright, now that you have your place to stay on St. Pete Beach, let's check out all the fun things to do while you are in town.
Things To Do In St. Petersburg, Florida
Pass-a-Grille is part of the larger St. Pete Beach, which TripAdvisor frequently names to its list of best beaches in the country. This public beach is perfect for visitors who want to truly relax – you won't see many tourists here, and the area isn't congested with hotels or businesses. Despite the beach being secluded and not very populated, it's still wheelchair accessible. Visitors can rent a Surf Wheelchair for free, which can be used on sand and in the ocean water!
After you've spent some time at the beach, check out Historic 8th Avenue's restaurants and shops.
The new St. Pete Pier just opened in July of 2020. This new attraction is on the city's picturesque waterfront and has something to do for everyone.
One thing to check out while you are at the St. Pete Pier is the Tampa Bay Watch Discovery Center. The Discovery Center is the only marine environmental and educational experience in downtown St. Petersburg, providing guests from around the world an upfront opportunity to learn and live the story of the recovery of the Tampa Bay ecosystem.
With soaring rooflines, floor-to-ceiling glass walls, and outdoor wet classroom, the Discovery Center creates a dynamic visitor experience centered on environmental stewardship as well as the recovery and restoration of Tampa Bay, the largest estuary in the state of Florida. An exhibit-rich gallery of live marine habitats, hands-on interactive displays and video presentations tell the story of Tampa Bay and share the history and recovery of this unique ecosystem, and the integral role played by Tampa Bay Watch since 1993.
The Discovery Center features an exhibit gallery that brings this tale of environmental recovery to life, as well as an indoor classroom, outdoor "wet" classroom, and soon, a brand new Eco-tour boat and floating classroom. The focal point of the exhibit gallery is a centerpiece marine estuary habitat that showcases many of the species found in Tampa Bay. Touch tanks, interactive displays, video presentations, and docent-led tours all combine for an unforgettable experience designed to inspire guests to walk away with a newfound respect for our local environment and how small steps can make big changes in their own environment.
Tickets for the Discovery Center are available online or at the Discovery Center:
Adult (Age 13-61): $5
Child (Age 4-12): $3
Senior (Age 62+): $5
Active Military (with ID): $3
Florida Teachers (with ID): $3
Toddler (Age 3 and under with an adult): FREE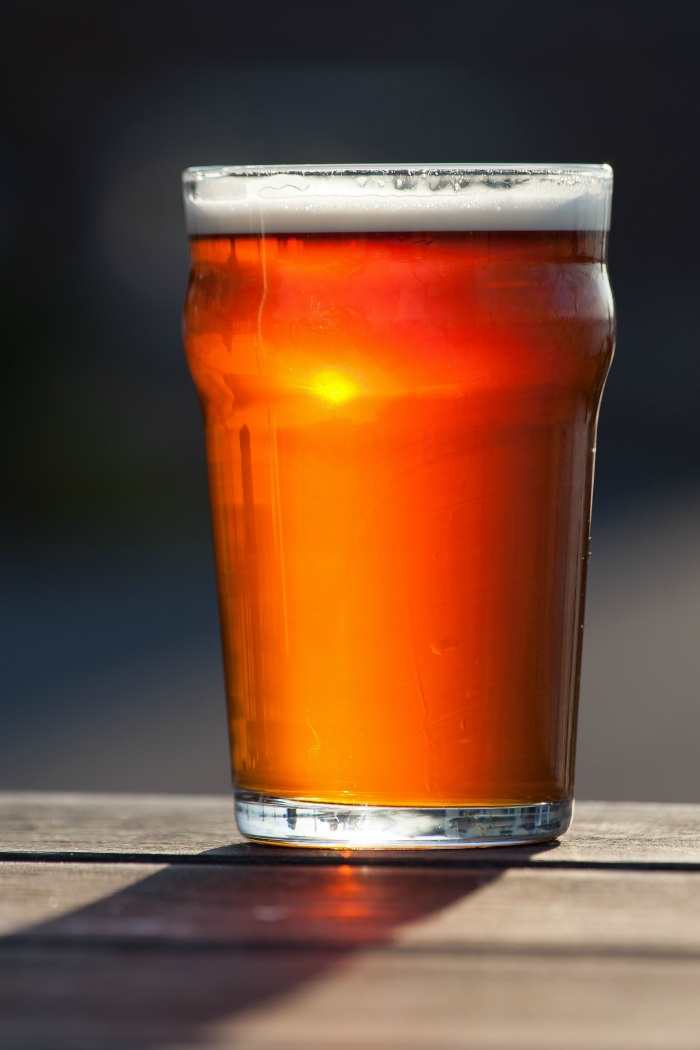 If you are a craft beer fan, there are 35+ local craft breweries along the "Gulp Coast." There is even a Craft Beer Trail passport that you can download so you can keep track of the places you visited. You will find craft beers like mango habanero and key lime.
Did you know that St. Petersburg has the largest city market in the southeastern United States? Explore the Saturday Morning Market to discover homemade pastries, ethnic cuisine, and organic produce. You'll also find artisans and vendor booths, both with handmade items to sell. This market has been great for the St. Petersburg community and its businesses – each market brings in an estimated $120,000 for the participating vendors!
Even if you're not interested in making a purchase at the market, stop by for the live entertainment that starts at 11:00am.
This public park in St. Petersburg is often used as a wedding and event venue. Located on the waterfront, Vinoy Park offers gorgeous views and light fitness trails. Whether you're there to relax or exercise, there's plenty of room to enjoy yourself on the park's 11 acres.
Vinoy Park hosts concerts and festivals throughout the year, so be sure to find out if you'll be in town for anything exciting. You just might be in St. Petersburg or the annual Beer and Bacon Festival!
Since you are surrounded by water, it's no wonder that there are plenty of opportunities to go fishing. In fact, there are even some restaurants that will allow you to bring in your fresh catches and they will clean and prepare them for you. Talk about a fresh meal! You can fish inshore, offshore, with a spear, off the pier, on a kayak, with a fishing charter or even on a party boat.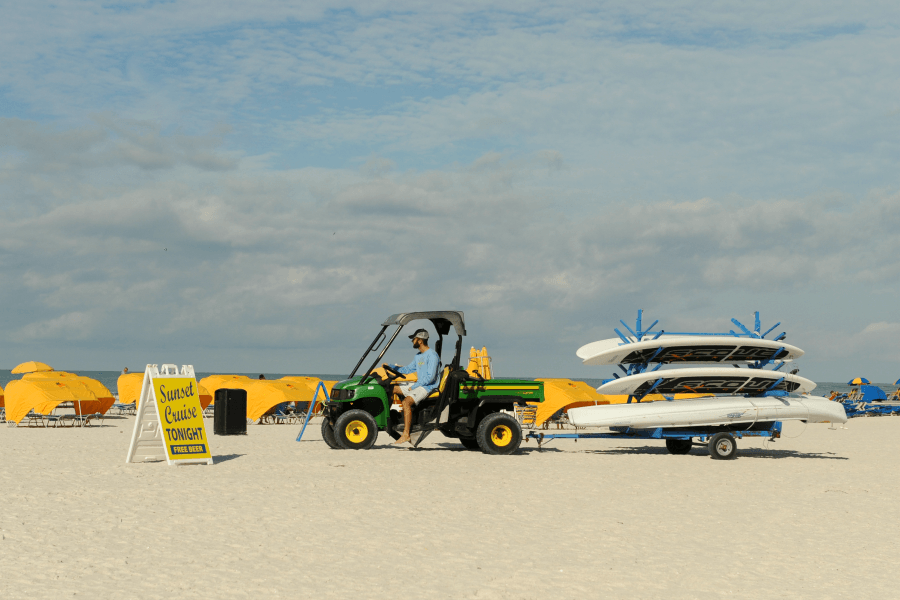 If fishing isn't your thing, there is still plenty of ways to enjoy the water in St. Pete! You will find companies scattered all along the white sandy beaches that rent jet-skis, paddleboards, sunset cruises, and even parasailing! While you are on the water, be sure to keep your eyes peeled for dolphins and manatees.
Visit the Morean Arts Center and other galleries St. Petersburg. With free exhibits and museums that charge for admission, you can enjoy fine art on any budget. Some of the galleries even offer programs for kids!
The Morean Arts Center is located at 719 Central Avenue in St. Petersburg. There are a few galleries that are affiliated with the Morean, but the exhibits at this address are free.
Surround yourself with over 500 palm trees and cycads at the Gizella Kopsick Arboretum. You'll find over 150 tree species throughout the arboretum, and they plan to add more species as they find ways to bring them to St. Petersburg. Walk along the park trail to take in the tropical plant life!
The Gizella Kopsick Arboretum is wheelchair accessible, with every facility designed to meet the needs of visitors with disabilities.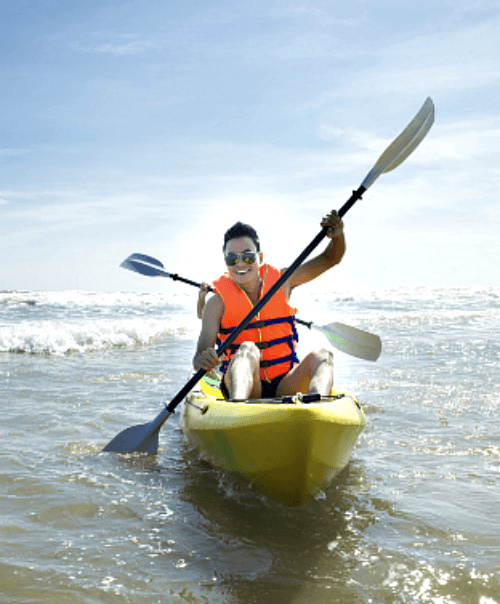 North Shore Park runs along the Tampa Bay to Vinoy Park, and it's filled with family-friendly amenities. You and your family can play tennis by the water on one of four tennis courts, play in the ocean water, and enjoy the playground. Go for a run on the recreation path while your kids run free on the grass!
There's an art museum in St. Petersburg dedicated to Salvador Dali, and it's arguably one of the city's most well-known attractions. While tickets to the museum are quite expensive, you can visit the museum store and cafe for free. Inside the shop, you'll find Dali-inspired home decor, tableware, and wearables. You may walk into the store expecting to just browse, but you might not be able to resist buying a melting clock for your house!
If you're able to splurge on any attraction in St. Petersburg, make "the Dali" the treat of your trip. You just may find that you have a new favorite artist!
Gulf Beaches Historical Museum
If it's too hot outside to go to the beach, opt for the Gulf Beaches Historical Museum instead! The museum building was once Pass-a-Grille's first church. Now, it's home to exhibits that highlight South Pinellas County's beach communities. Learn about how beach communities were formed, the history behind the nearby islands, and view artifacts from residents!
The museum is free, though it's closed from Monday-Wednesday each week. They often feature exciting rotating exhibits, like the World War II collection.
Not far from St. Pete is Clearwater, if you are looking for a fun sunset celebration, be sure to make the 30 minute drive over to Pier 60.
There's a sunset celebration every night in Clearwater! Starting two hours before sunset and ending two hours after sunset, head to the pier to see street performers, vendors, and live crafters. On weekends, catch an outdoor film at Sunset Cinema, Clearwater Beach's free "theater." The shows start at dusk, so arrive early to reserve your spot on the lawn!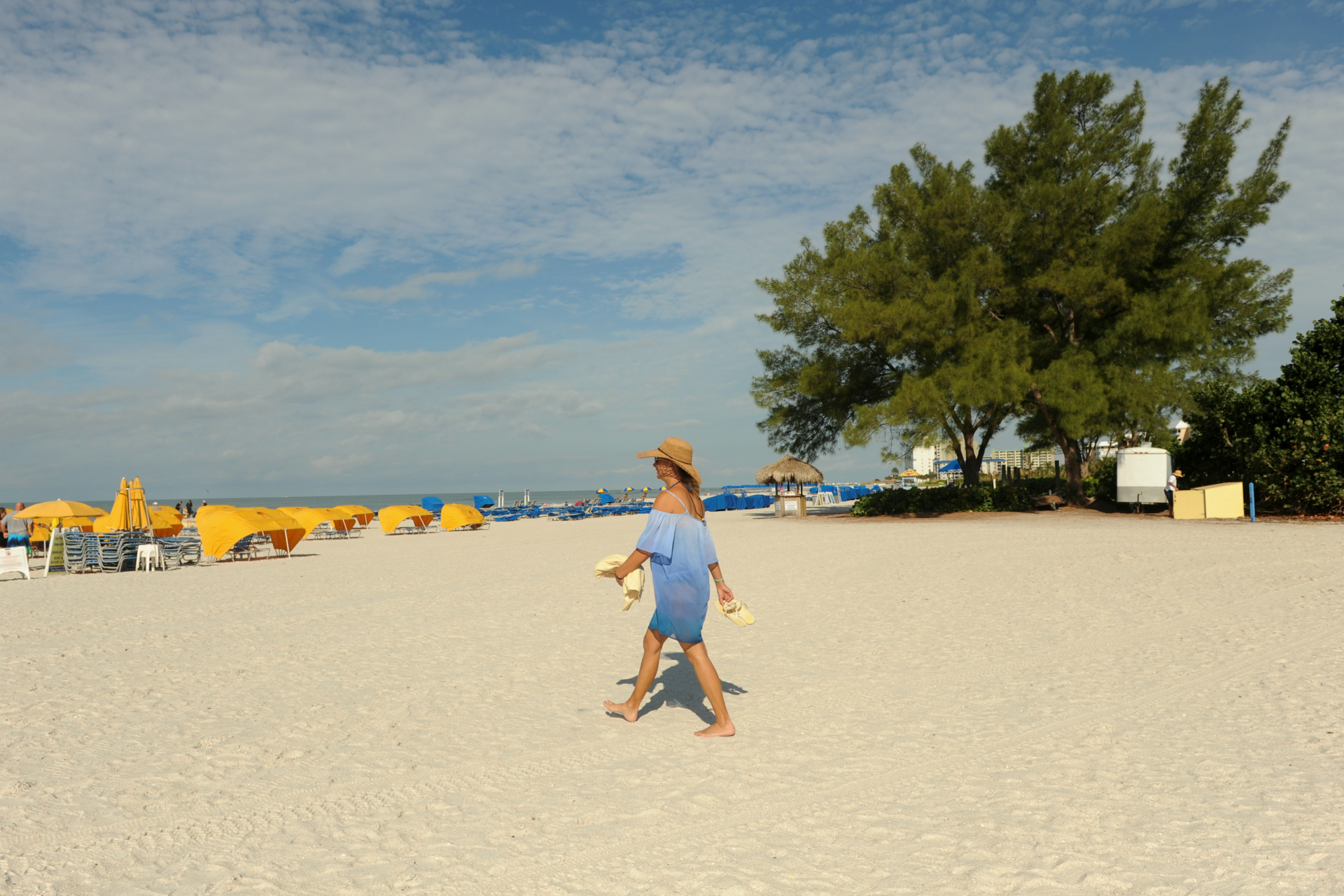 The St. Petersburg community is filled with fun things to do, even if you're on a budget. Whether you prefer beachfront parks or indoor activities, this coastal Floridian city has reasons for everyone to visit! Whether you are planning to stay one night or ten, be sure to make your reservations at TradeWinds Island Resorts.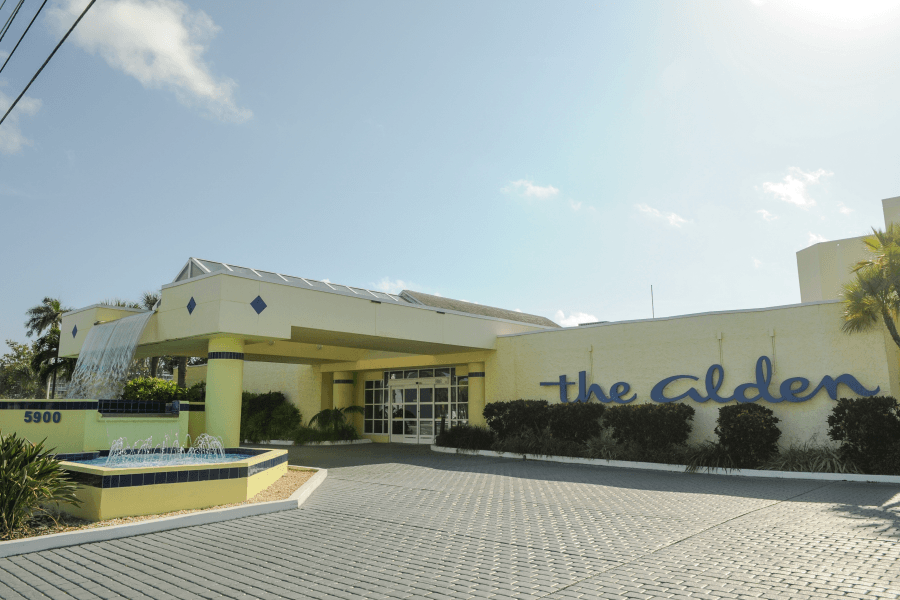 Have you been to St. Peterburg Florida before? What is one of your favorite things to do in St. Pete?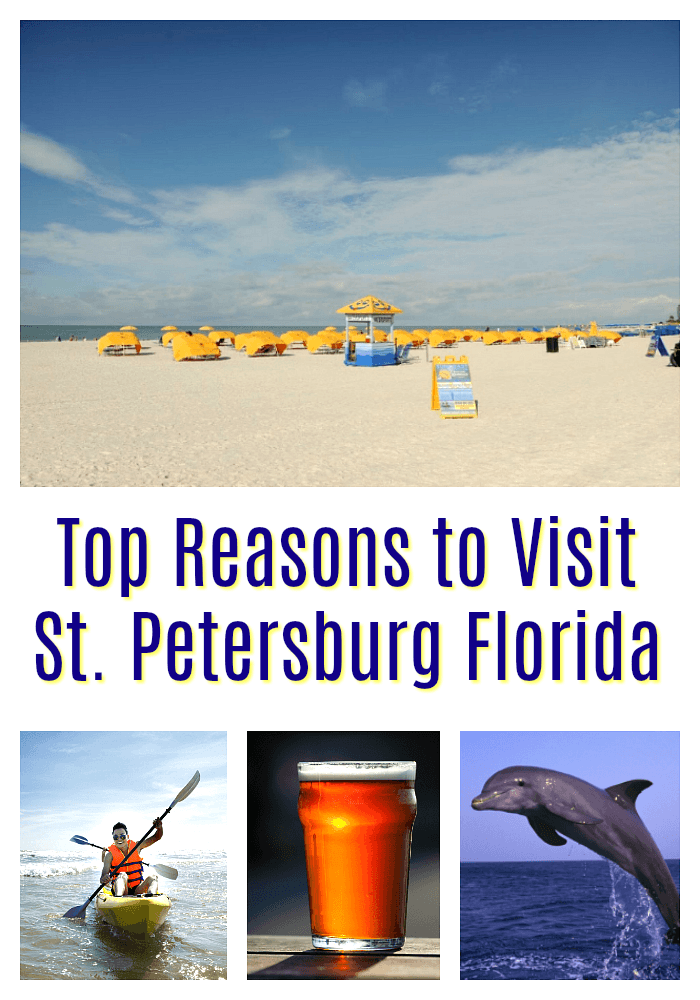 Looking for more reasons to visit the Tampa Bay Area?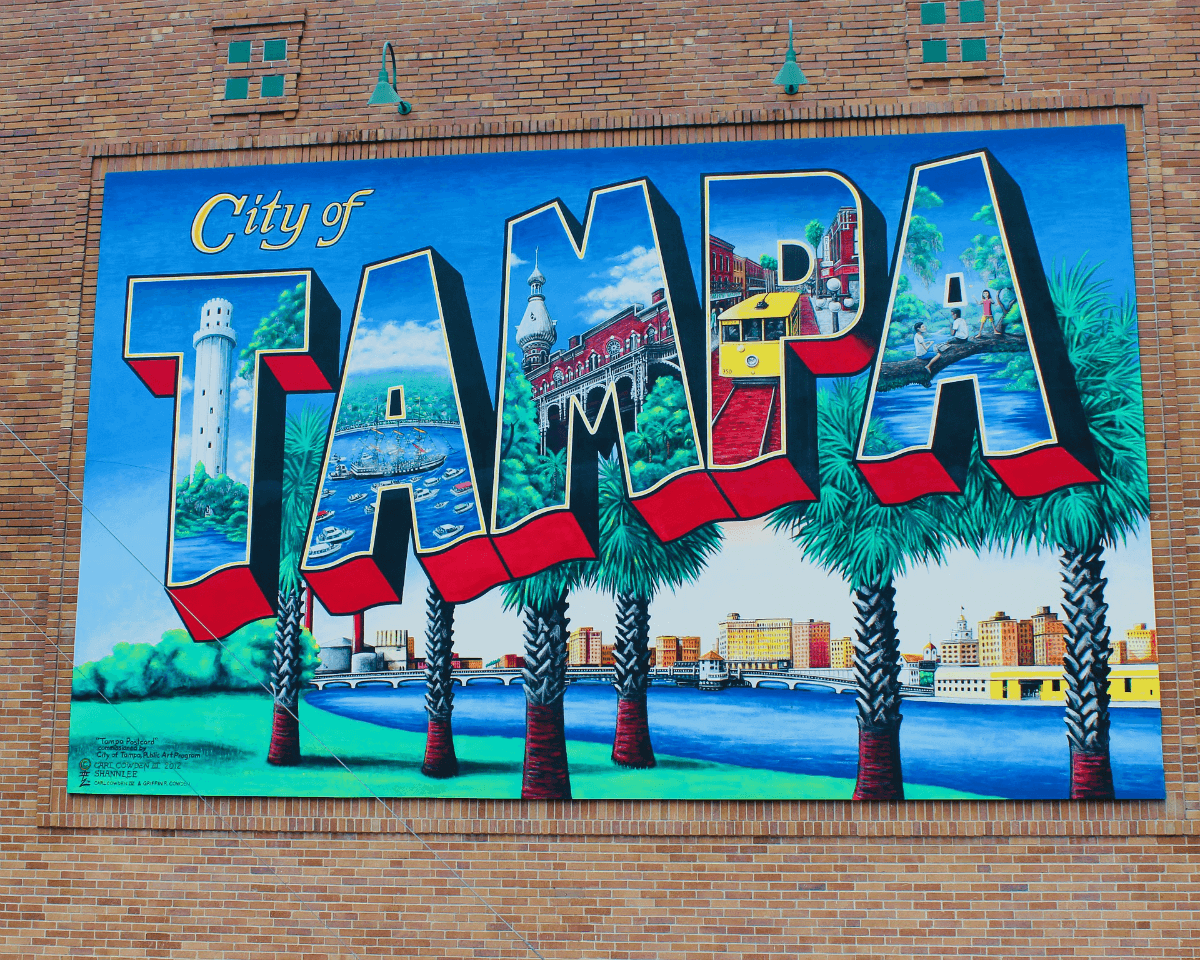 Best Free Things To Do In Tampa
Make sure to visit Food Wine Sunshine for more Florida Family Fun and stay up to date with me Facebook, Twitter, Pinterest, and Instagram.