(Last Updated On: June 9, 2023)
Planning a trip to California's Wine Country? Make sure Calistoga is on your travel itinerary. Here are the top things to do in Calistoga and how to plan your stay in Calistoga California. While we were hosted at our stay at Mount View Hotel & Spa, all opinions and our love of Calistoga are our own.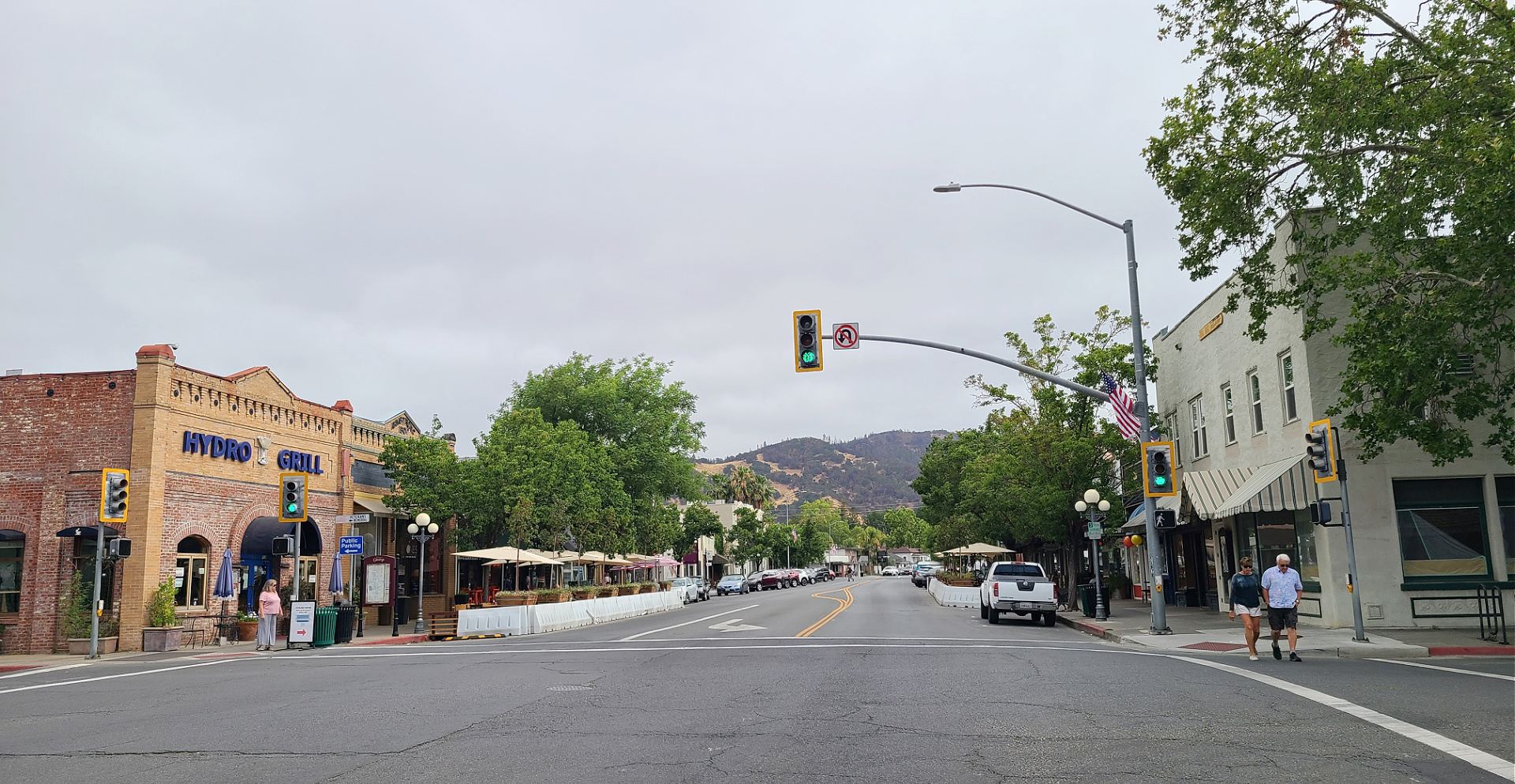 How To Plan Your Stay In Calistoga
My husband and I got back a visit from Wine Country a few weeks ago. We planned to stay in Yountville for a few nights and to visit some of our favorite Napa Valley wineries, then we wanted to experience somewhere new.
We stayed in Calistoga for the first time. Actually, it was our first-ever visit to this quaint town in California's wine country. Calistoga just celebrated it's 100 year birthday not too long ago, and I will have to admit, it looks great for it's age. Calistoga is an adorable, well-preserved town in California's wine country. Its setting is the north end of the Napa Valley, where forested Mt. St. Helena rises above some of the most beautiful vineyards.
The town itself is consciously old-fashioned, the main streets of the town recall the past. Calistoga is a Designated Historical Landmark, where fast-food establishments are not allowed.
The best way to get there is drive up the long fertile Napa Valley, through the busy city of Napa, past fields lined with stiff hedges of splayed grapevines. Follow the Silverado Trail, take Route 29, or ride the celebrated Wine Train past the valley vineyards and the hills like green corduroy, tufted with gently curving rows of grapes. You'll pass wineries with famous names like Stag's Leap, Domaine Chandon, and Charles Krug, though the train only goes halfway to Calistoga before it turns around.
Highway 29 passes through quaint Yountville, where the first vines were planted. Then other small towns, and cozy St. Helena, in the valley's green heart. Past that is Bothe State Park, a relaxing place to camp, or to stop for a while and enjoy the views.
Then comes Calistoga, set far from the everyday world, beautifully preserved, between the double-peaked mountain and the vines, seemingly set back in time.
Napa County is located north of the San Francisco Bay Area, and the weather can change rapidly, so it is advisable to plan for four seasons in one day. A good alcohol-free start to the day is to head north for Calistoga and the Old Faithful Geyser. This is a nice drive through the whole valley and past many vineyards. The Old Faithful Geyser costs $10 per adult, and visitors get to see the geyser erupt and watch a National Geographic documentary about the owner of the geyser, who believes that she can predict earthquakes using the erupting times. The place is very retro and great for photos, but a bit basic on facilities. After visiting the geyser, it is well worth visiting Calistoga, which is small but has some great places for brunch. Another must is to stop at the "Welcome to Napa Valley sign" just outside of Calistoga, which is a great photo opportunity.
Activities for visitors to Calistoga include wine tasting, casual yet delicious restaurants that pride themselves in local roots, mud baths and bathing in mineral spring water, spa treatments, hiking and biking, and exploring the small pedestrian-friendly town.
If you are planning a trip to Calistoga, I wanted to share some of the top things to do in Calistoga, best places in to eat in Calistoga and where you should stay while you are visiting Calistoga.
Best Things To Do In Calistoga
Wine Tasting
There are plenty that you can simply walk to right on Lincoln Ave. If you are up for a short drive, we visited CADE, Neal Family Vineyards and Rombauer Vineyards while staying in Calistoga.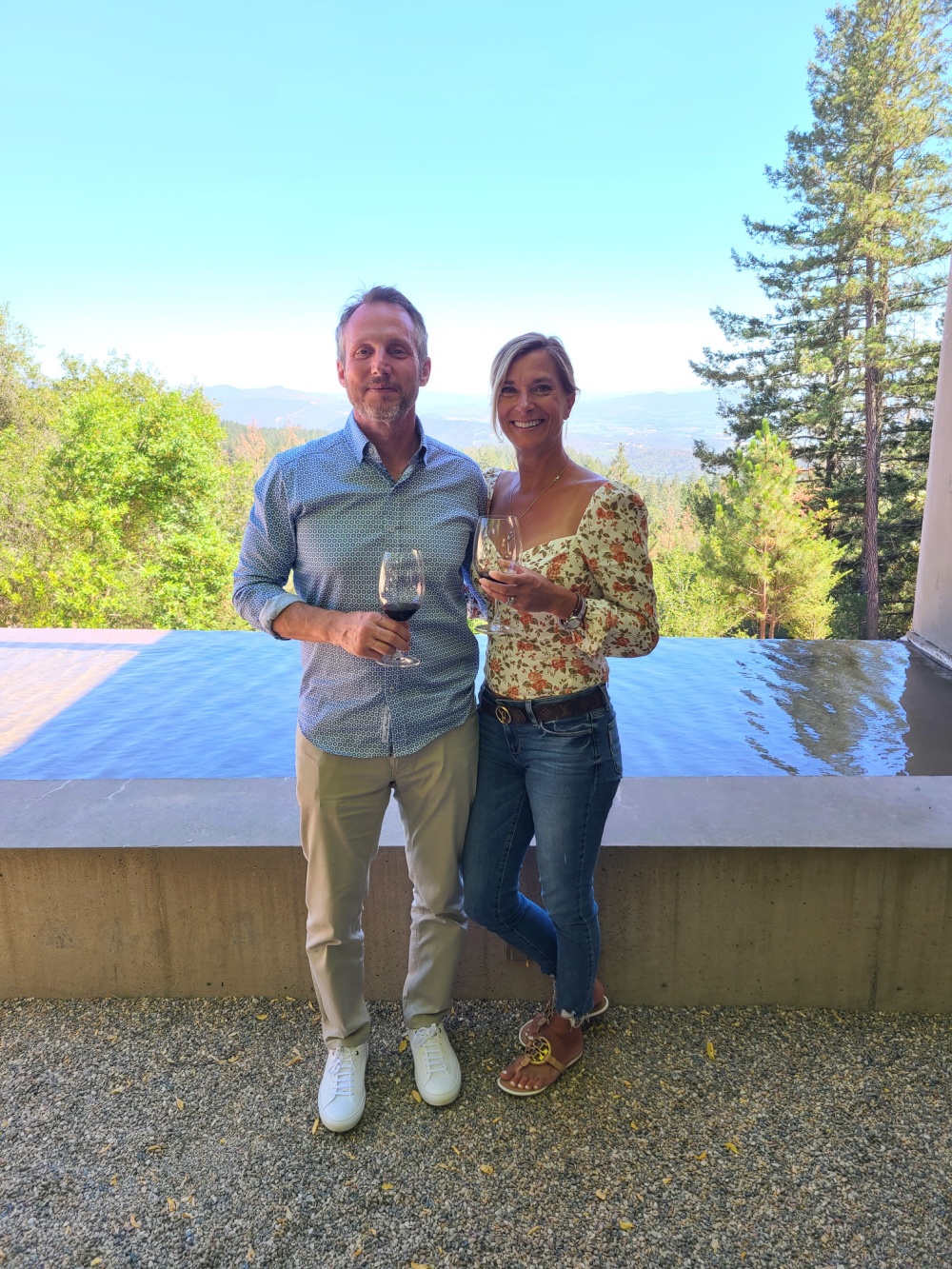 CADE is located on the coveted Howell Mountain. Howell Mountain is known to produce some of the best Cabernet Sauvignons available. So, it's no surprise that CADE is known for it's impeccable Cabernet Sauvignons. Since they sit on Howell Mountain, you are promised a view that is just as good as the wines. We started our tasting here with their very well-known Sauvignon Blancs, then moved into the Cabs. If you have never had a CADE Cabernet, you are missing out. You will taste dark berry notes, with a touch of spice, all delivered with a velvety texture and lush tannins and bright acidity.
CADE is located at 360 Howell Mountain Rd S, Angwin, CA 94508.
Once we left CADE, we drove a bit on Howell Mountain to Neal Family Vineyards.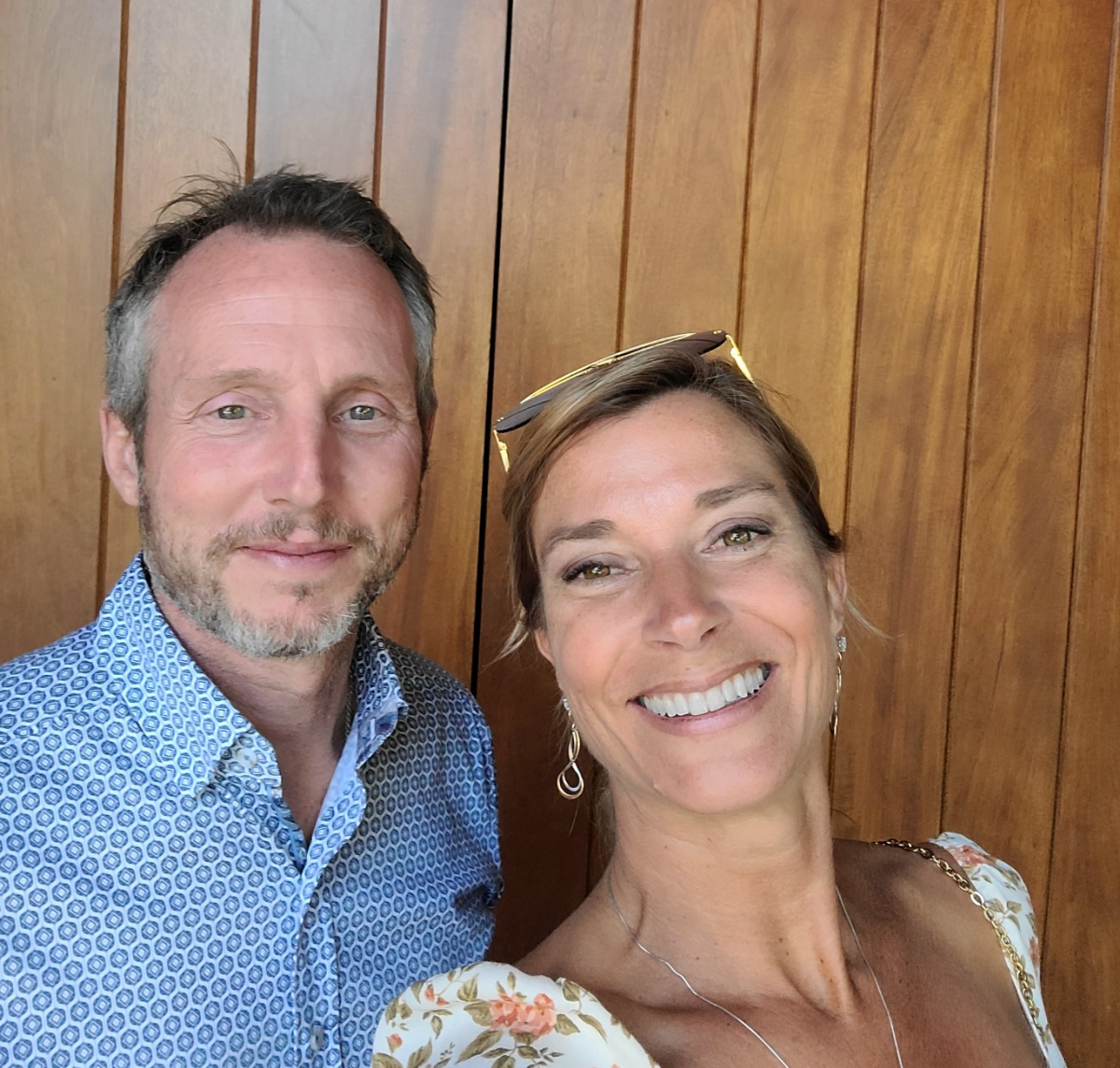 I was pleasantly surprised when we pulled in to this family-owned winery. The beautiful building was surronded by gorgeous grounds. Flowers. Koi pond. Handmade copper benches. The friendliest staff. This was the first time we have evee had their wines, and we came home with a case. They make outstanding Cabernet Sauvignon, so that is what they mainly pour. We also tried their Zinfindeal. We met the daughter of the owner while we there as well, this family loves what they do…and they do it well.
Neal Family Vineyards is located at 716 Liparita Ave, Angwin, CA 94508.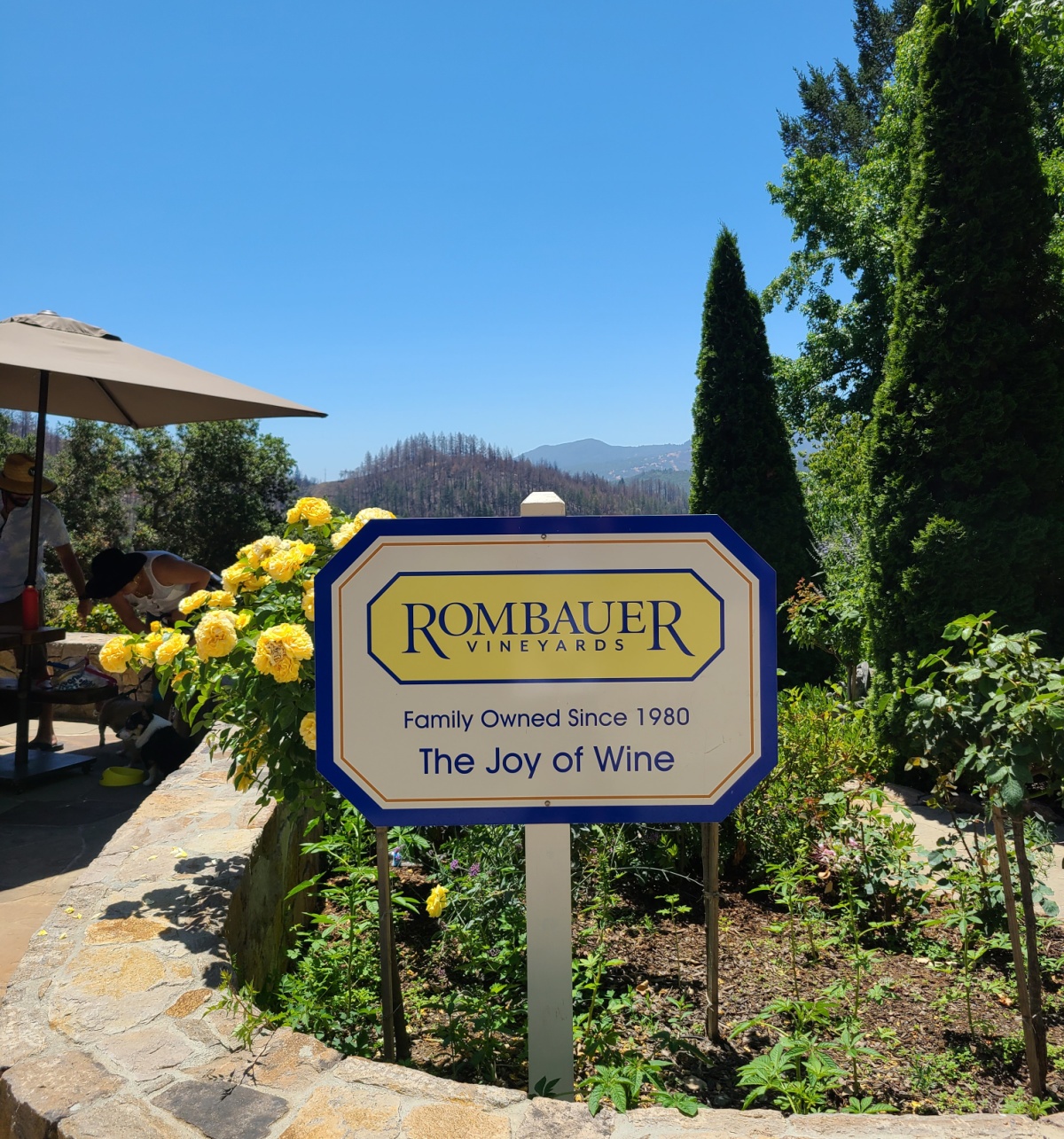 You may be familiar with Rombauer due to their world-famous Chardonnay, a tad buttery and 100% delicious. We sat in their gorgeous gardens while we sampled Sauvignon Blanc, Chardonnay and a few red wines that were reserved for Club Members. The view. If you have never been to Rombauer before, be sure to allow for at least a 1 1/2 hour visit, you will need at least that long to start to appreciate the view. Seriously, one of the best views in Napa I have ever seen. Breathtaking.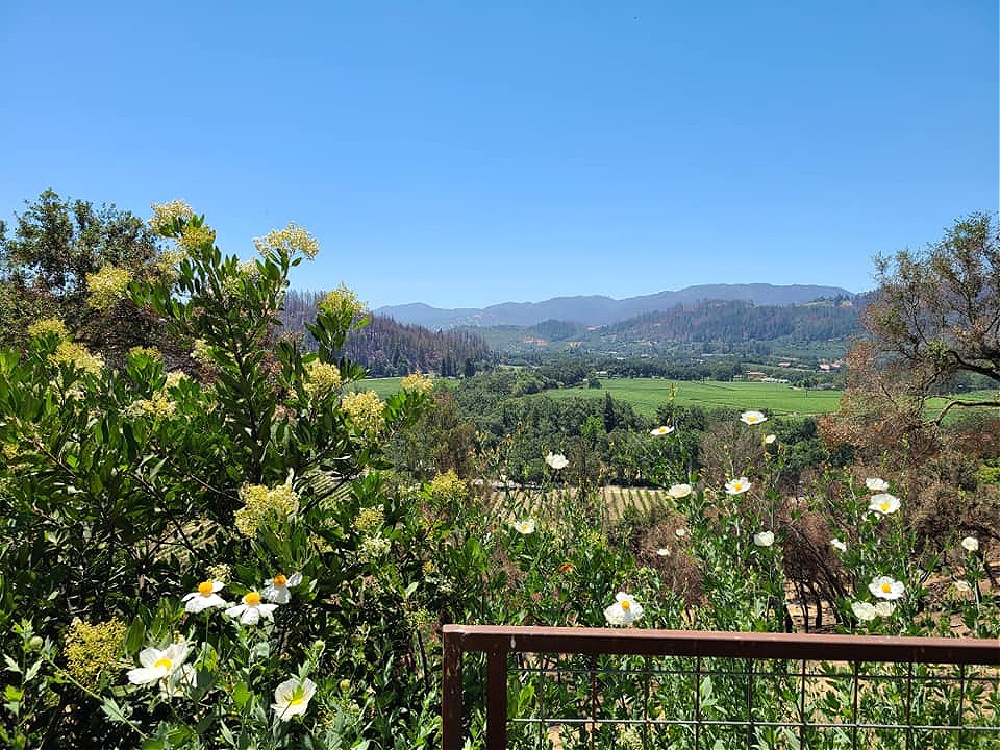 Rombauer Vineyards is located at 3522 Silverado Trail N, St Helena, CA 94574.
A few famous wineries in Calistoga are Schramsberg and Clos Pegase.
Schramsberg Vineyards is known for their sparkling wines. It is located on Schramsberg Road, which is accessed off Highway 29, the main street of Calistoga.
Clos Pegase is a unique winery that was designed by Michael Graves. Tours, free, no reservations necessary, include a look at some of the amazing art collection of Mitsouko and Jan Shrem, the owners. An oak shaded picnic area is a fine place to eat a bag lunch or something put together from the Clos Pegase deli. The wines seem divinely inspired as well. To reach the winery, go south on Highway 29, then left on Dunweal.
This is just a sampling of the wineries in and around Calistoga. The valley is full of vineyards, almost all offering tours and tastings. Some do require reservations, so be sure to check that out before planning your wine tasting day.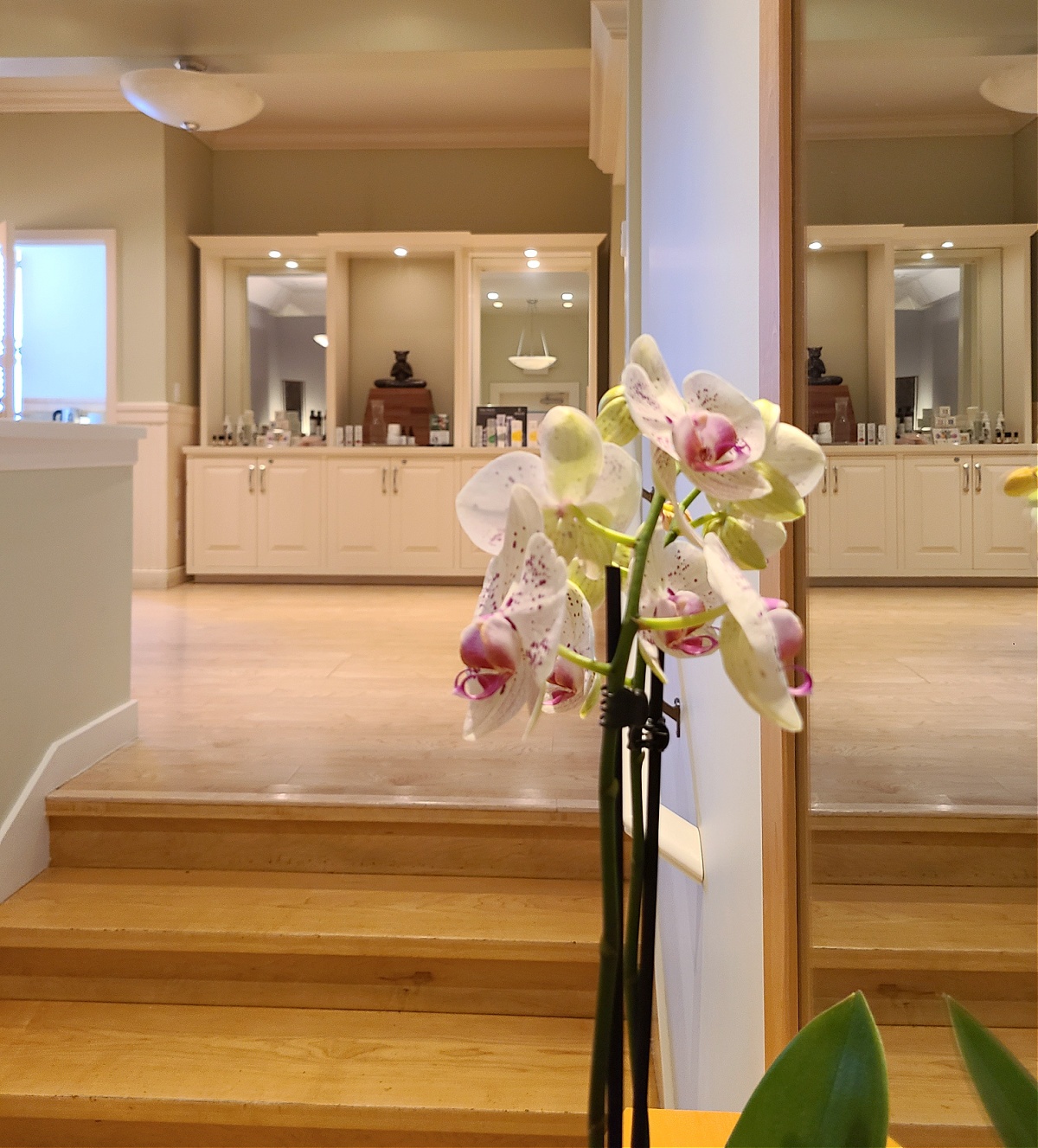 Hot Springs, Mud Baths, Spa Services Oh My!
Calistoga won its first fame as a resort town, where visitors relaxed in the mineral water spas. Calistoga water is still sold throughout California.
Mount View Spa is an example of the spa offerings in Calistoga. My husband and I visited the The Mount View Spa and relaxed in the small boutique environment. We actually took our very first mud bath! I officially look 10 years younger…well, I wish, but it was a very rejuvenating, therapeutic experience. We relaxed in the geo-thermal jacuzzi and allowed our bodies and mind to sink deeply into serenity.
You can enjoy mud baths, salt scrubs, sauna, and massage, as well as other spa services. Located right in the historic Mount View Hotel, it is right downtown.
There are many spas and springs are located in the area, as the area is indeed known for it's hot springs and mud baths. If you are in Calistoga, I highly recommend trying one!
Hiking and Biking
Robert Louis Stevenson Park, just north of town, is named for the famous writer, who honeymooned there. Visitors can hike through pine and fir to the double tops of Mt. St. Helena, or follow a milder trail through oak, madrone, and bay to the Stevenson Memorial. The trailhead is at a parking lot about six miles north of Calistoga on Highway 29.
An excursion to the Petrified Forest is also fun, especially if you came to Calistoga with the kids. This is a privately owned attraction a few miles west of Calistoga. Tours are available of redwood trees blown down in a volcanic explosion and petrified in layers of ash.
For mountain bikers, a tough but gorgeous ride is the Oat Hill Mine Road (really a trail) that starts from the intersection of the Silverado Trail (really a road) and Highway 29. There is parking near the trailhead.
This difficult trail was once a stagecoach route. Then it was a 4-wheel-drive route, which was closed to vehicles as too dangerous. Yet it makes a lovely, challenging out-and-back hike or bike. It is about 9 miles one way, with additional trails available at the top.
Another option is a wine tasting tour by bicycle. The Calistoga Bikeshop, among others, will rent equipment, arrange tastings, and pick up any wine you might buy. Other vendors offer group tours, as well.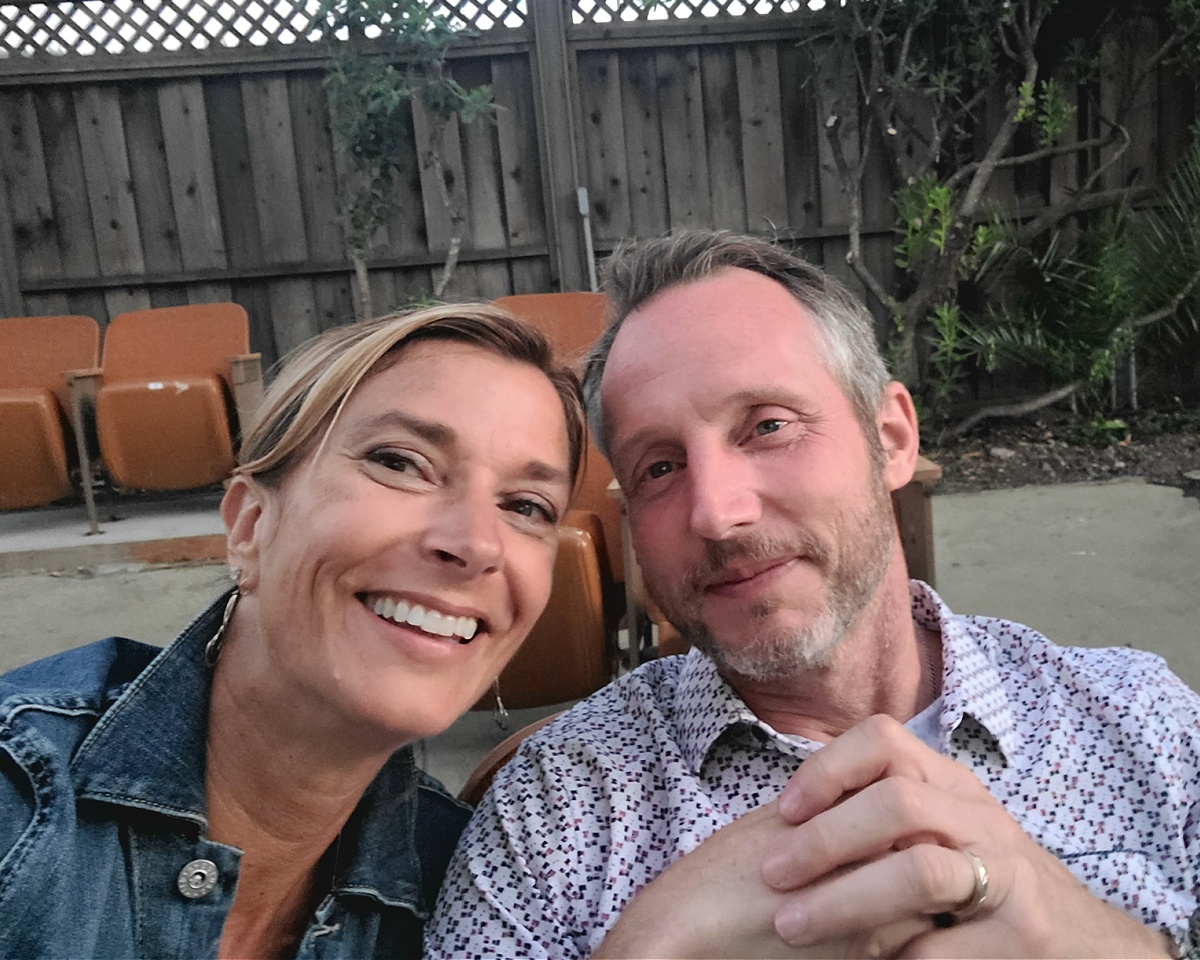 On the outdoor patio of the Mount View Hotel & Spa you can actually enjoy an incredible dining experience and then watch a classic movie in antique movie theater chairs. We did this while we were in Calistoga and really enjoyed it! We were able to order from a menu that featured Amaro and Johnny's (more on both of these restaurants is listed below), we were served outside and then the outdoor movie started when we were done. It was like a drive-in-movie experience meets fine dining…without the car. This experience is available Friday – Sunday night.
Calistoga has a "geyser," the Old faithful of California. It goes off at regular periods the way a geyser does, shooting a plume of water high in the air. However, the feature is not what it seems; it was created by someone drilling a well. It's a fine spectacle, all the same.
Where to eat in Calistoga
There are many options to eat in Calistoga, most of which you can walk to right on Lincoln Avenue. Here are just a few of my recommendations of places to eat in Calistoga.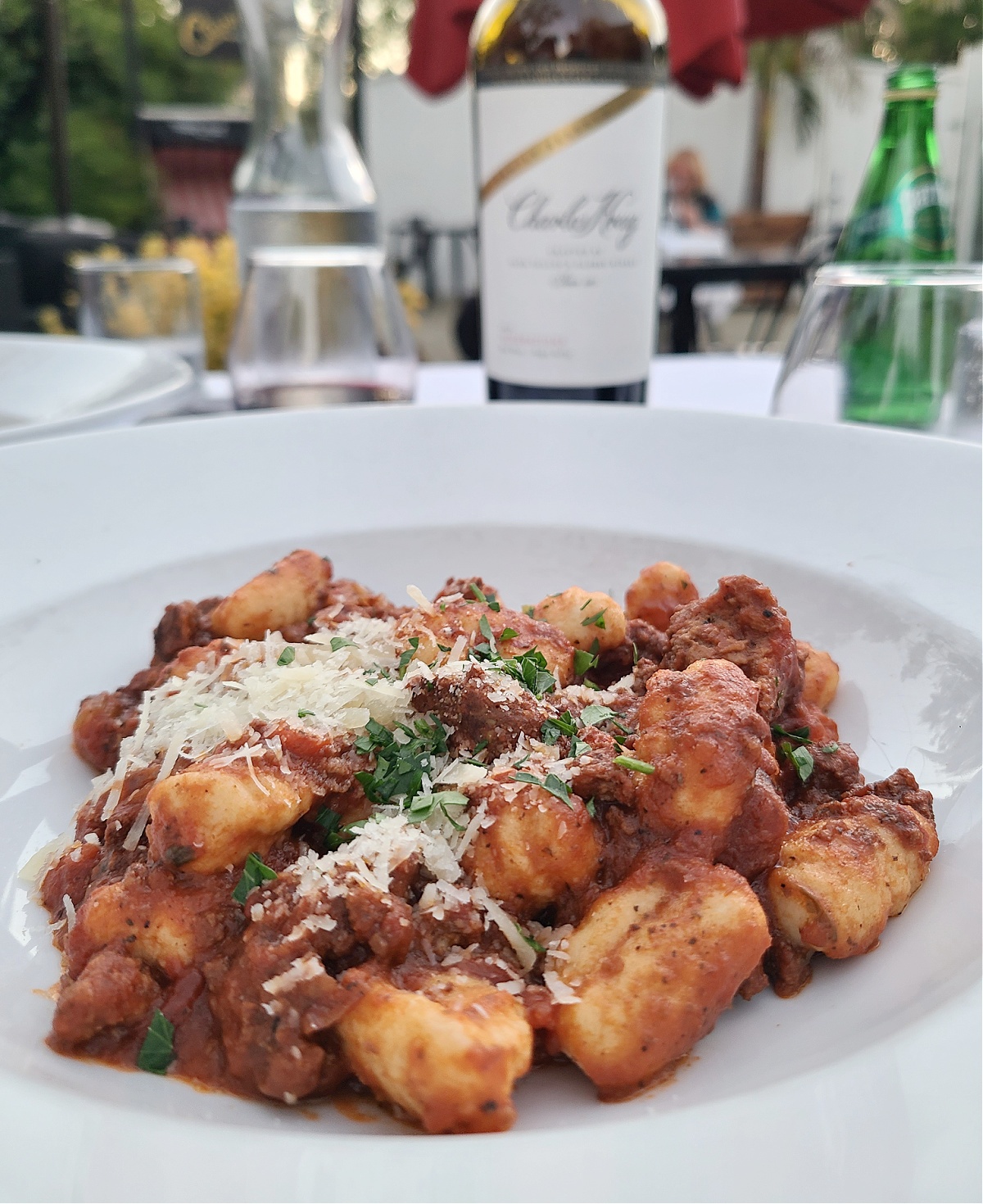 Here you will find classic Italian dishes such as gnocchi, pastas, braised meats and pizza. There is also an Italian-focused wine list, as well as some of your favorites through Napa Valley. My husband and I ordered from Amaro for our Dinner & A Movie experience, I ordered the gnocchi and my husband had the braised meat and pasta. Both were incredible! We paired our pasta dishes with Generations from Charles Krug.
Amaro Italian Kitchen is located onsite at the Mount View Hotel & Spa at 1457 Lincoln Avenue, Calistoga, CA 94515.
Rooted in history and that small-town hospitality. Here you will find a wide array of appetizers that are perfect for sharing, soups, salads, sandwiches and plenty of hand-crafted cocktails, beer and wine. Named after Johnny Ghisolfo who actually build the Mount View Hotel in 1919 and opened "Johnny's" restaurant & bar open after the lifting of Prohibition by Congress in 1933. The bar did close in 1984 but reopened in 2016 in honor of John B. Ghisolfo.
Johnny's Sports Bar is located onsite at the Mount View Hotel & Spa at 1457 Lincoln Ave, Calistoga, CA 94515. They are open for brunch on the weekends, Lunch Thursday – Monday and dinner nightly.
Calistoga Inn Restaurant & Brewery
The Calistoga Inn Restaurant & Brewery is located right on Lincoln Avenue as well. We sat outside on their outdoor patio, listened to live music and enjoyed delicious food and wine. We split the Paella and the crab cakes…both were absolutely amazing! And the paella is definitely big enough to split.
Calistoga Inn Restaurant & Brewery is open for lunch and dinner daily and is located at 1250 Lincoln Ave, Calistoga, CA 94515.
While we didn't get the chance to eat here, we had several locals that we should make time to try it on our next visit. Sam's is named after resort founder Samuel Brannan, is the place to meet for food that is seasonal, creative and thoughtfully prepared. Sam's is open for breakfast, lunch and dinner in a fun, vibrant atmosphere.
Sam's Social Club is located at 1712 Lincoln Ave, Calistoga, CA 94515.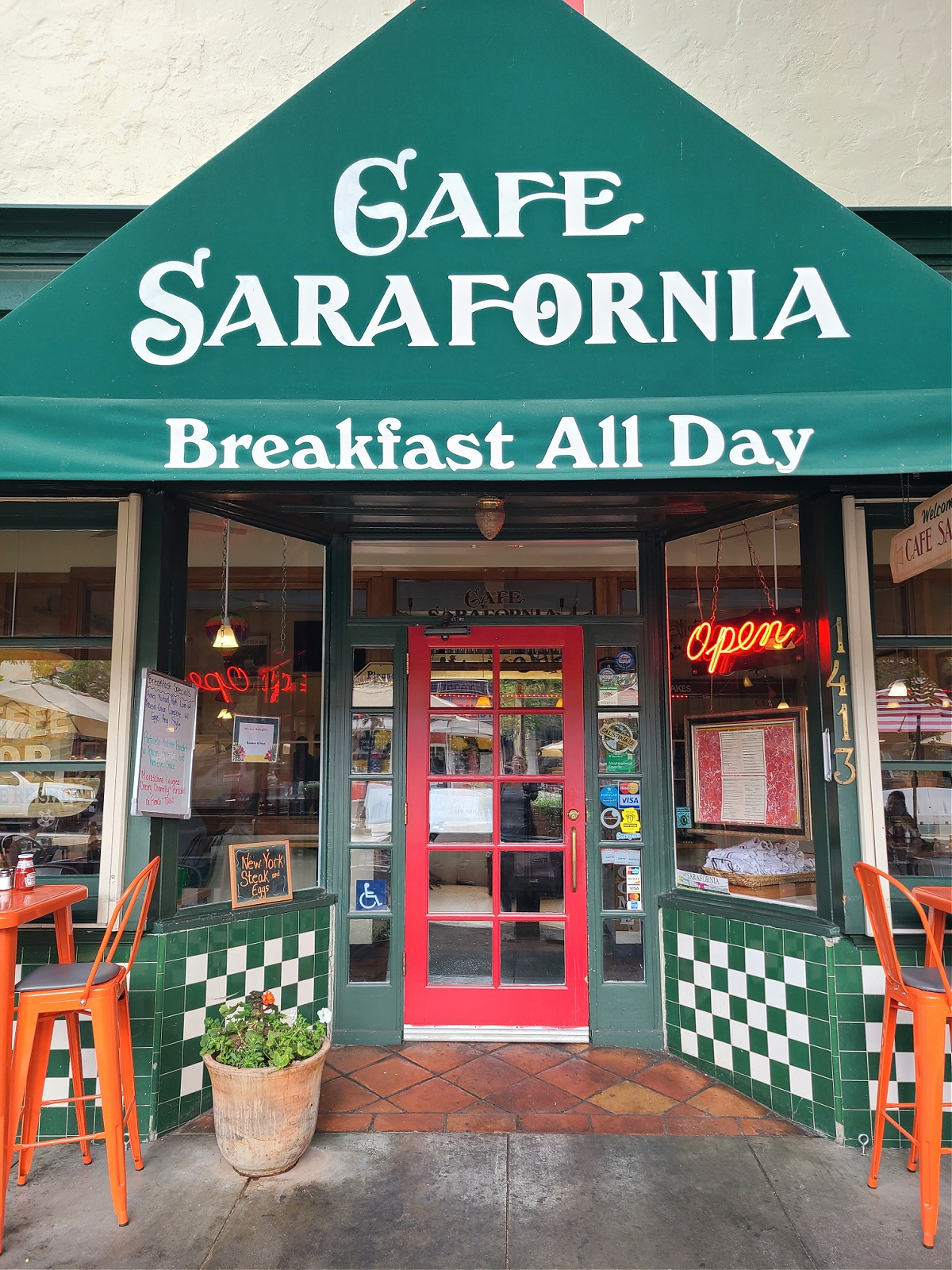 We walked here for breakfast each morning. Sarafornia is all about comfort food, and that is exactly what we had. I had the Brennan Benedict, which is their spin on Eggs Benedict, my had tomato slices, portobello mushrooms, bacon, and their famous red-eye sauce. It was so good, my husband ordered it the second morning…and I ordered it again 🙂 They also make a good cup of coffee!
Café Sarafornia is located at 1413 Lincoln Ave, Calistoga, CA 94515. They are only open for breakfast and lunch, they close at 2 PM.
Where to stay in Calistoga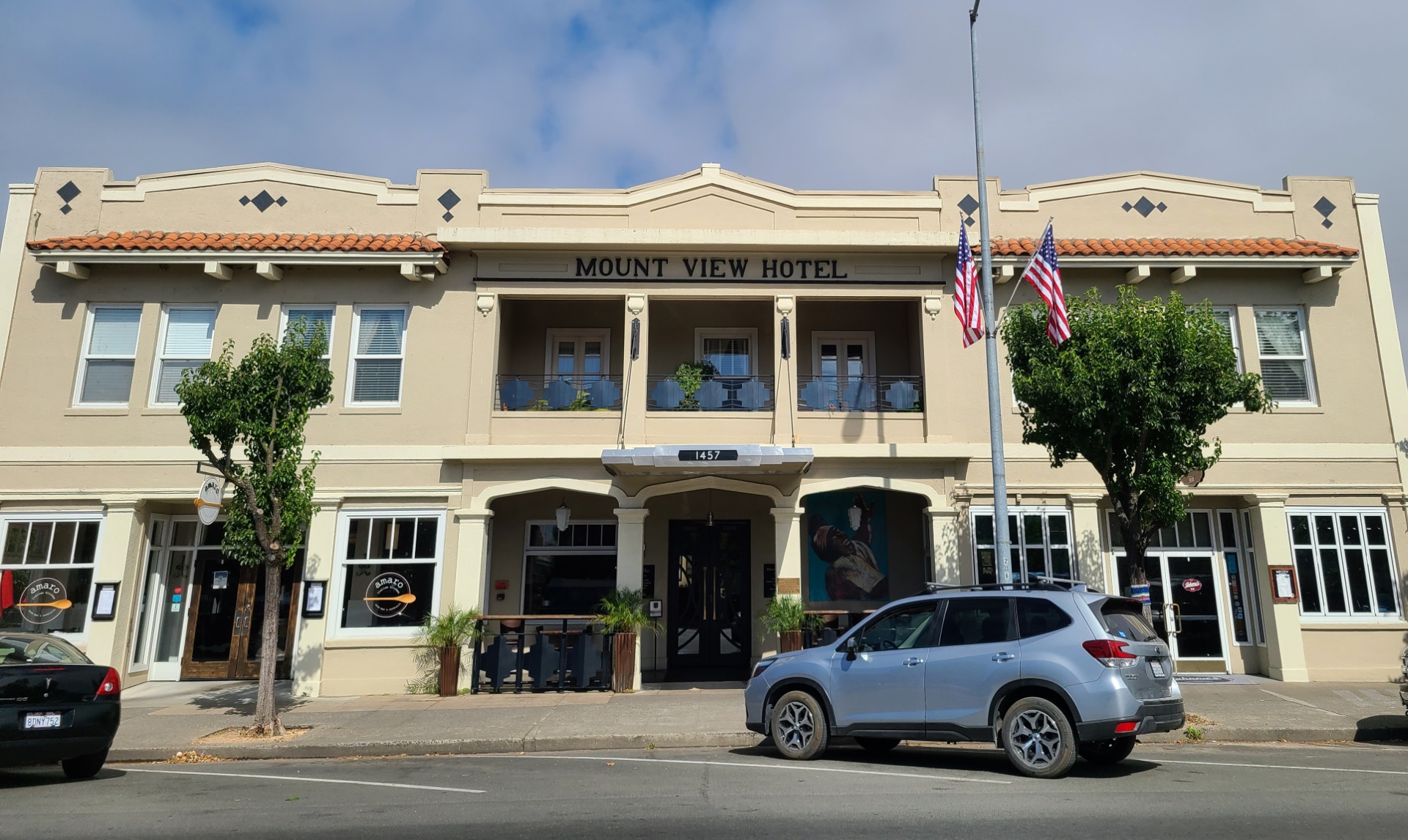 Celebrating over 100 years, the iconic Mount View Hotel & Spa is centrally located on Calistoga's Lincoln Avenue. This is a hotel where you can relax in the heart of Napa Valley's wine country just steps from the all that Napa Valley has to offer.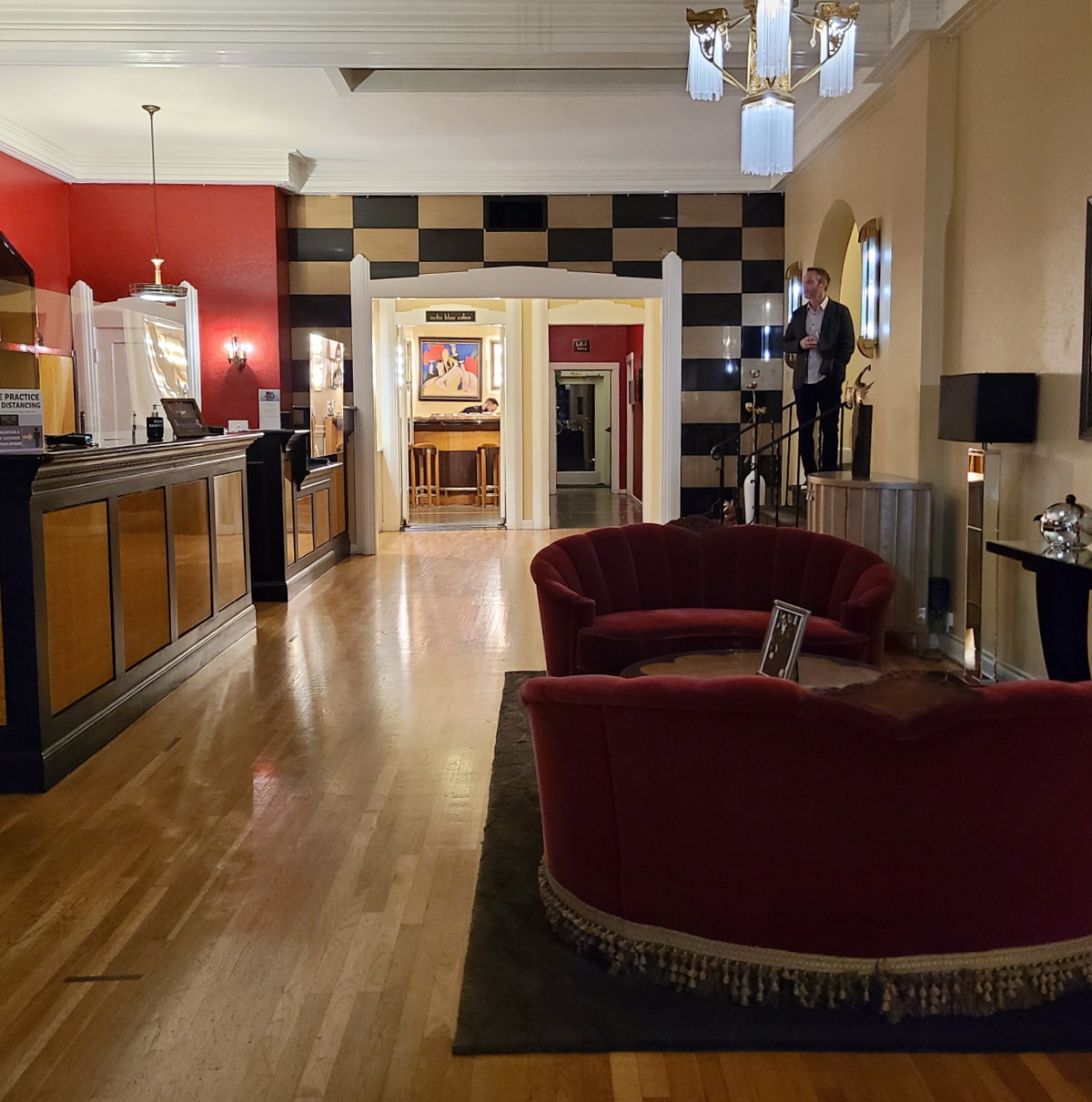 I loved this hotel from the moment we walked in, you are greeted by Art Deco interiors and smiling faces from the staff. Not to mention, if you are hungry from your travels or day of wine-tasting, Johnny's and Amaro are right there on site. Also on-site is the spa, so you can walk right down in your robe to enjoy your spa services.
We spent our days walking around Calistoga, wine tasting , eating delicious food, and sitting by the pool at the hotel. We were there for the Vino & Vinyl hour where were we served incredible Califorina wines while sitting poolside enjoying old-school tunes and cooling off by their poolside misters. Can you really imagine a better way to spend the afternoon?
Inspired by One Hope Wines and the first of its kind in Calistoga, they have adopted "cause integration" hospitality in the Napa Valley. Their vision is to create exceptional experiences that inspire people to indulge while doing good.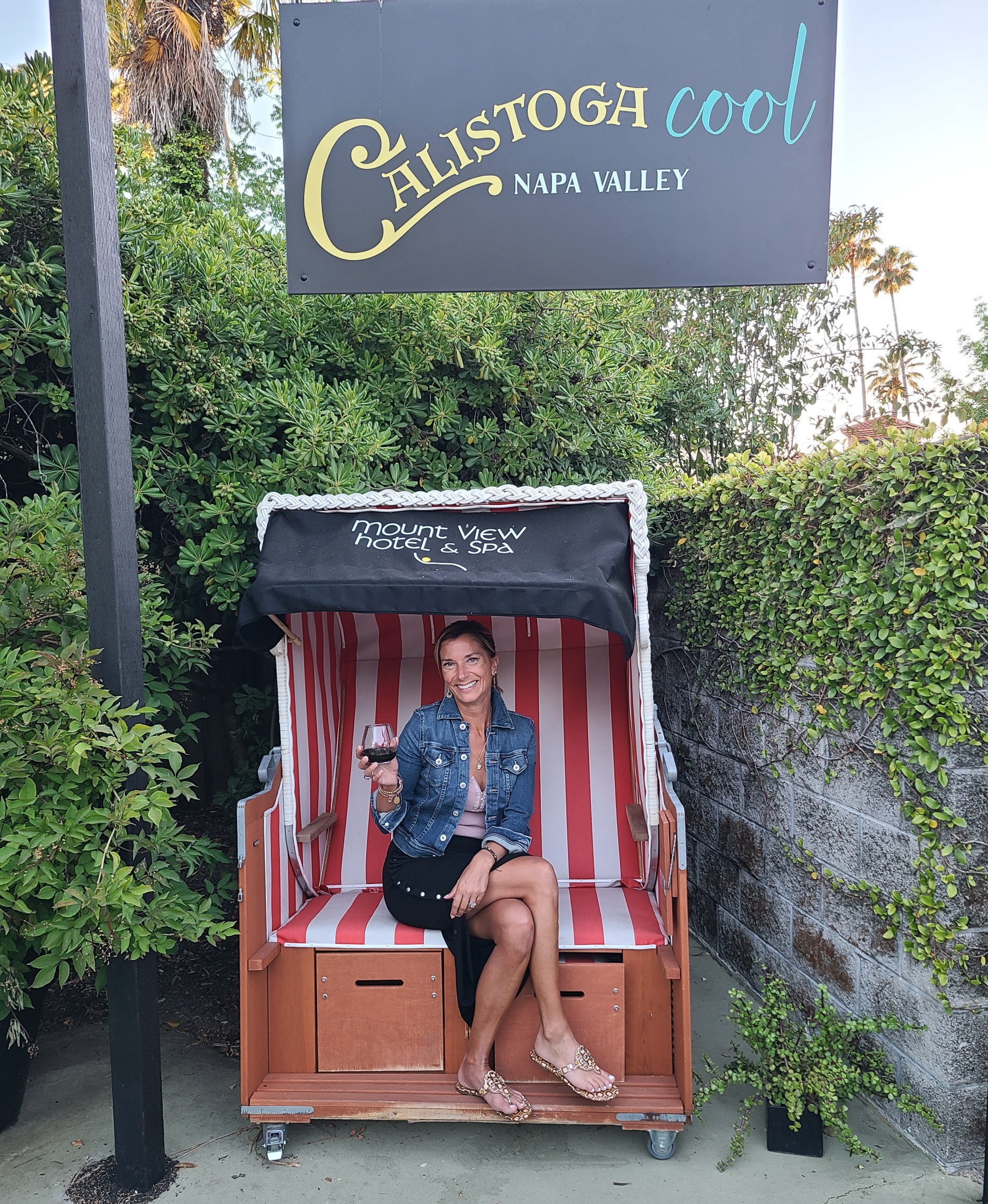 Mount View Hotel & Spa was recognized in 1981 on the National Register of Historic Places. Current owners Michael and Stephanie Woods are continuing to welcome adventurers into this Calistoga landmark.
Mount View Hotel & Spa is located at 1457 Lincoln Avenue, Calistoga CA 94515. The Mount View Hotel phone number is (707) 942-6877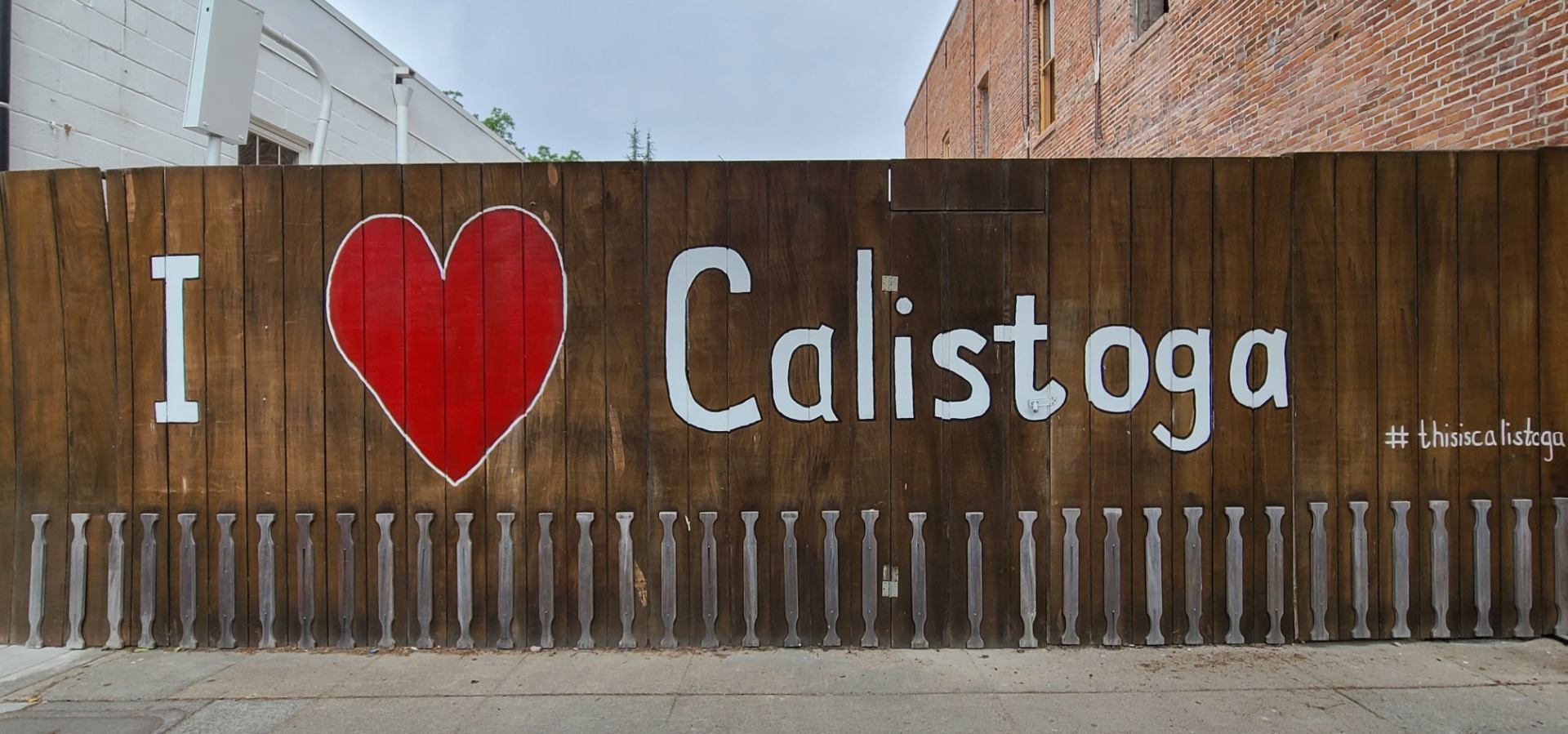 We really enjoyed our time in Calistoga, from the wineries we visited, the places we ate and where we stayed, everything was just perfect. We are looking forward to visiting Calistoga again soon!
Have you been to Calistoga before? What is one of your favorite things to do there?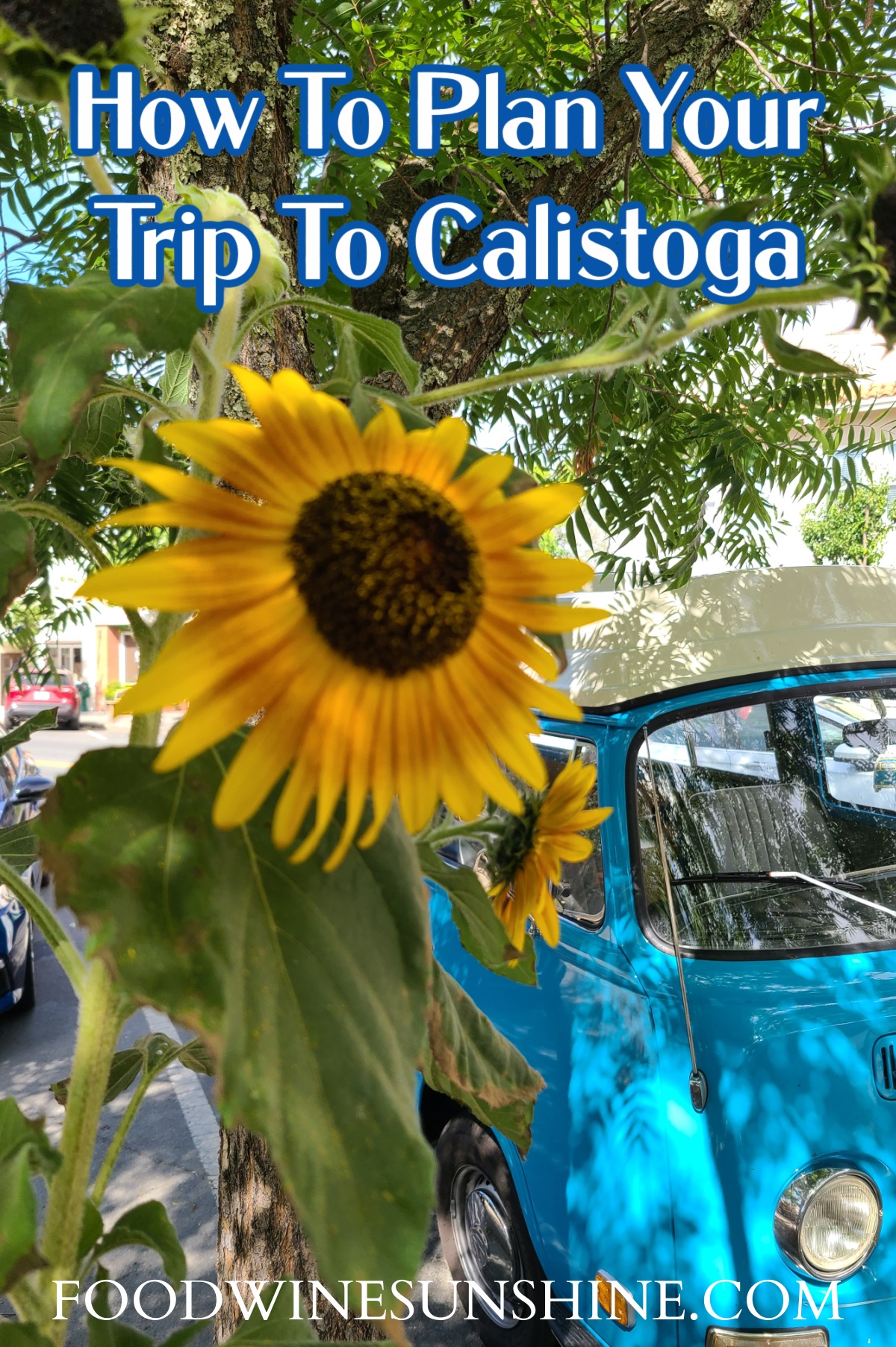 Be sure to follow Mount View Hotel & Spa on Facebook, Instagram, and check them out online.
While you are at it, follow me, Food Wine Sunshine on Facebook, Twitter, Pinterest and Instagram for more travel tips, healthy recipes, and wine tasting experiences.