(Last Updated On: February 8, 2021)
Sweet Peach Pie on a cookie! Yes! Homemade peach pie filling tops a homemade sugar cookie base to create the ultimate peach pie sugar cookie bars. This easy dessert recipe is ready in less than 45 minutes. While this sponsored is sponsored by Florida Peaches, all opinions and this recipe are my own.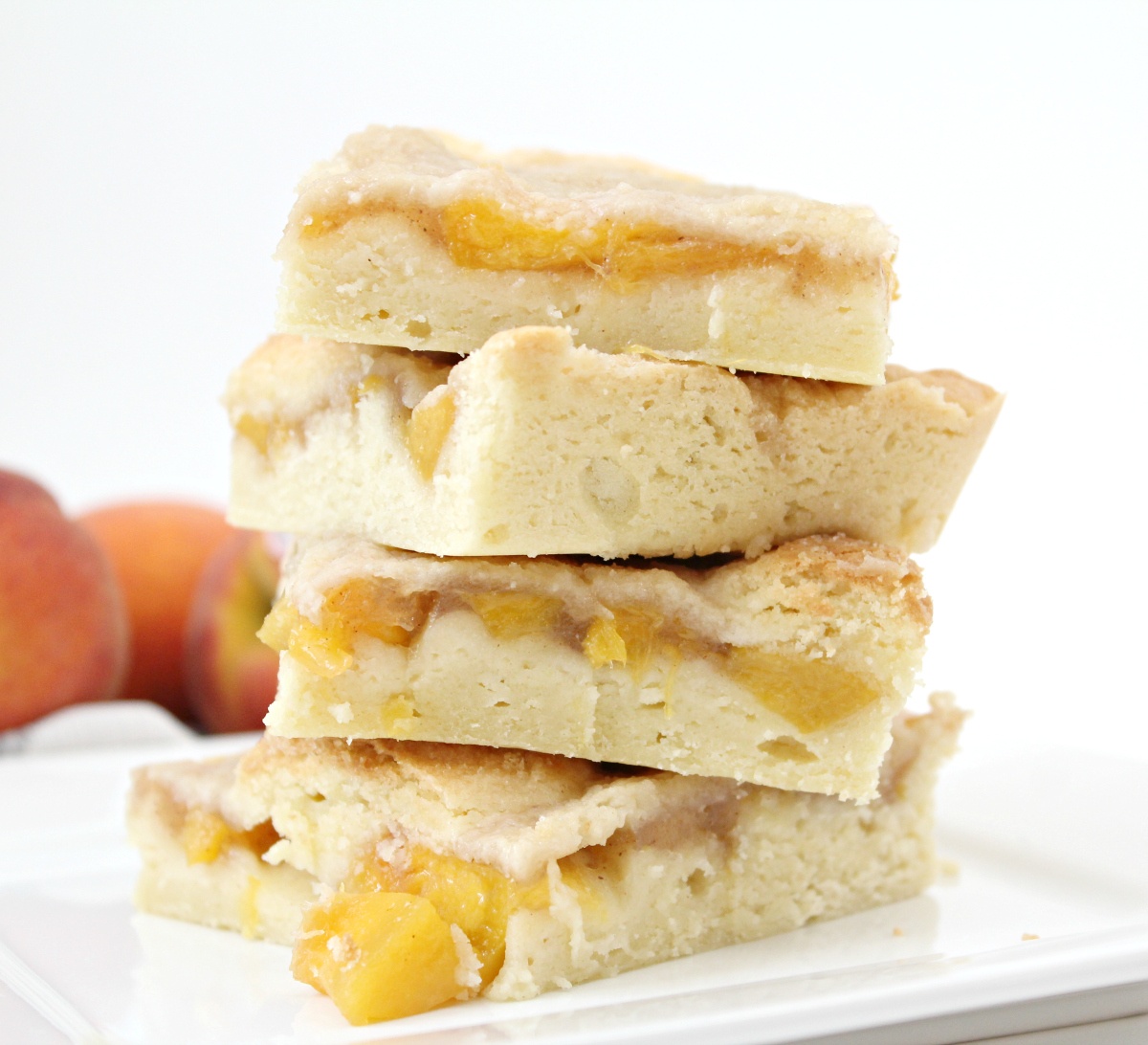 Homemade Peach Pie Cookie Bars
Anyone doing a bit more baking recently? I will openly admit that baking isn't always my strongest skill in the kitchen, but when I saw that Florida Peaches were in season, I decided I had to make something sweet and delicious. A peach pie sounded incredible, but I wanted something that the kids could take a small bite of when they walked past the kitchen counter if they wanted to. That got me thinking about cookies. So, why not combine the two? Peach Pie Sugar Cookie Bars.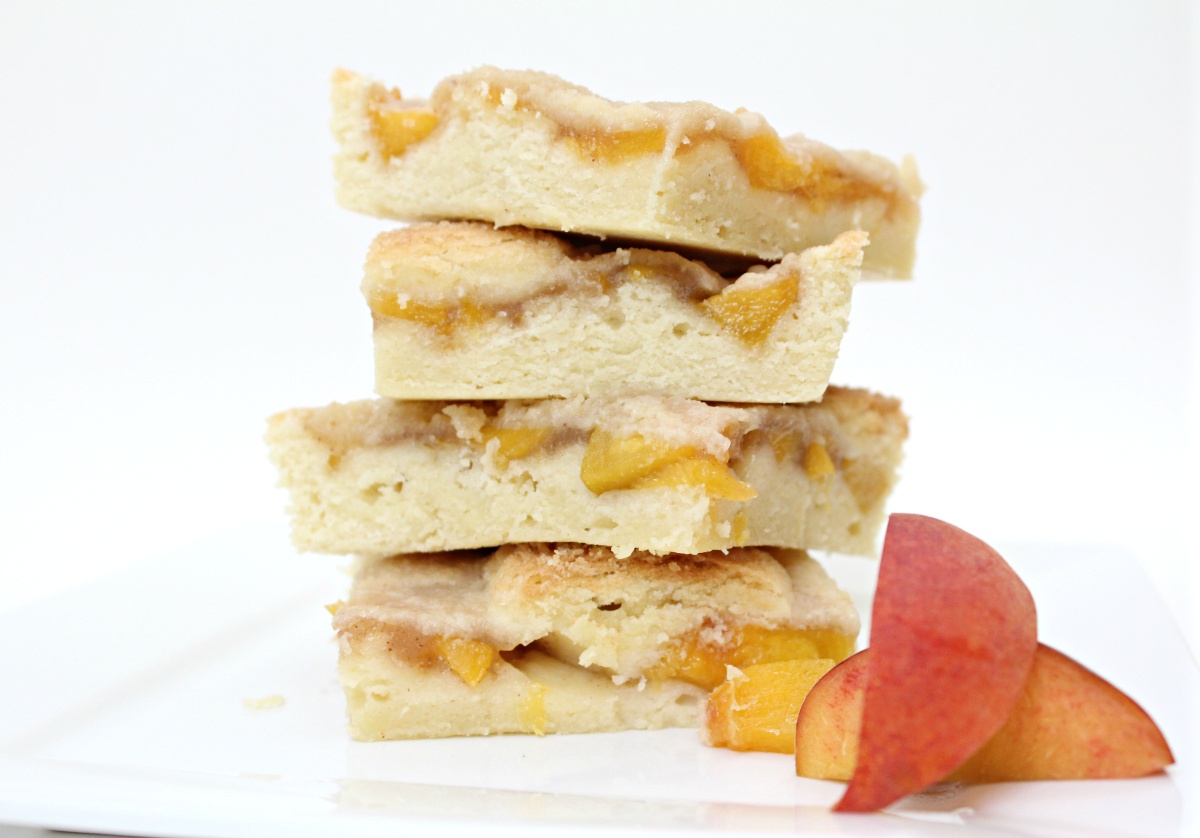 And yes, they do taste as good as they sound.
I made the peach pie filling. I have made apple pie filling before and it's actually surprising easy, and since homemade always tastes better than canned, making the peach pie filling was the only way to go. Peaches are juicy and naturally sweet making these Peach Pie Cookie Bars absolutely addicting. Especially when they are sitting on the kitchen counter 😉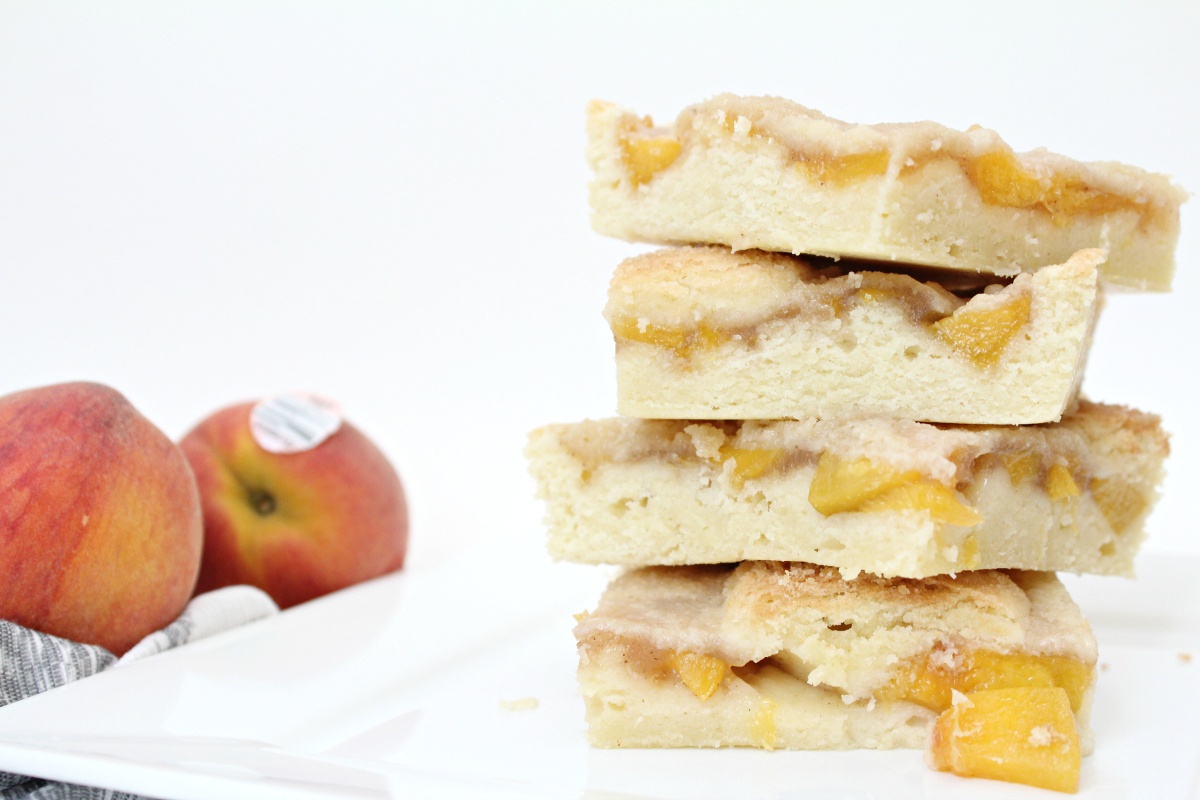 Peaches are sweet, juicy and one of my favorite fruits but did you know that they are good for you as well? I love using peaches in my smoothies because they have many health benefits.
Here are some of the health benefits of peaches:
Peaches are rich in beta-carotene making them a good part of your healthy lifestyle for lowering the cholesterol level in the blood stream.
Peaches are loaded with antioxidants that benefit your heart by destroying free radicals that start chain reactions within your body and can damage your cells.
Peaches are rich in Vitamin A and Vitamin C, and can help improve skin health and vision health.
Peaches are a great source of dietary fiber which assists in lowered risk of colorectal cancer.
Not to mention, peaches taste amazing. I would say that's a health benefit too, wouldn't you?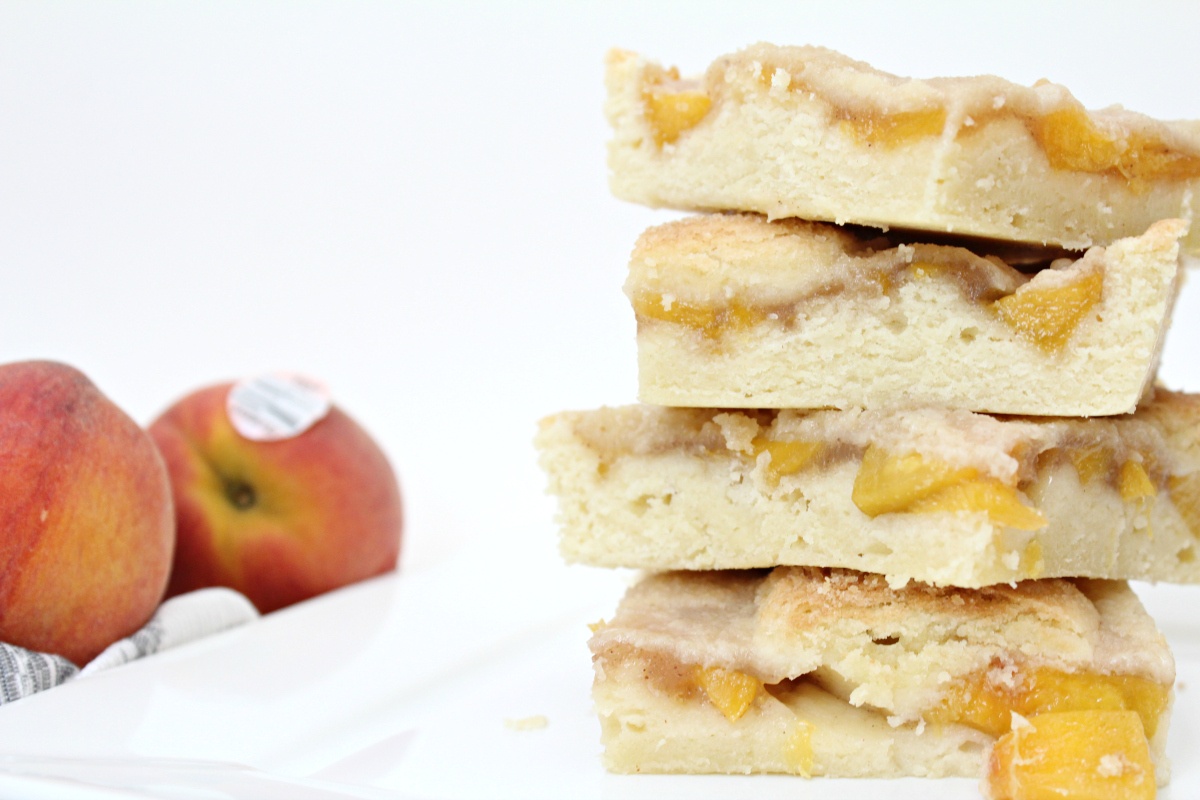 The homemade peach pie filling in my Peach Pie Cookie Bars is actually really easy to make. What will take you the longest is peeling the peaches. I absolutely love peach skins, but they will make your pie filling a bit sour and the texture will be a bit off, so I do recommend peeling them. Once you have peeled your peaches, it will only take about 8 minutes before you have yourself homemade peach pie filling.
The "base" of these peach cookie bars is sugar cookie, it is made with only 6 basic ingredients, all of which you probably have in the house right now. You will need butter, sugar, vanilla extract, eggs, salt and flour to make the sugar cookie base of your peach pie cookie bars.
I made a very simple streusel topping for my Peach Cookie Bars, in fact it is the same one I used on my homemade strawberry muffins. For the streusel topping you will need sugar, brown sugar, flour, butter and cinnamon. Again, all ingredients that you probably have at home right now.
While there are three components to making these Peach Pie Cookie Bars, rest assured they are easy to make! Plus, I promise the effort you put in is well worth it.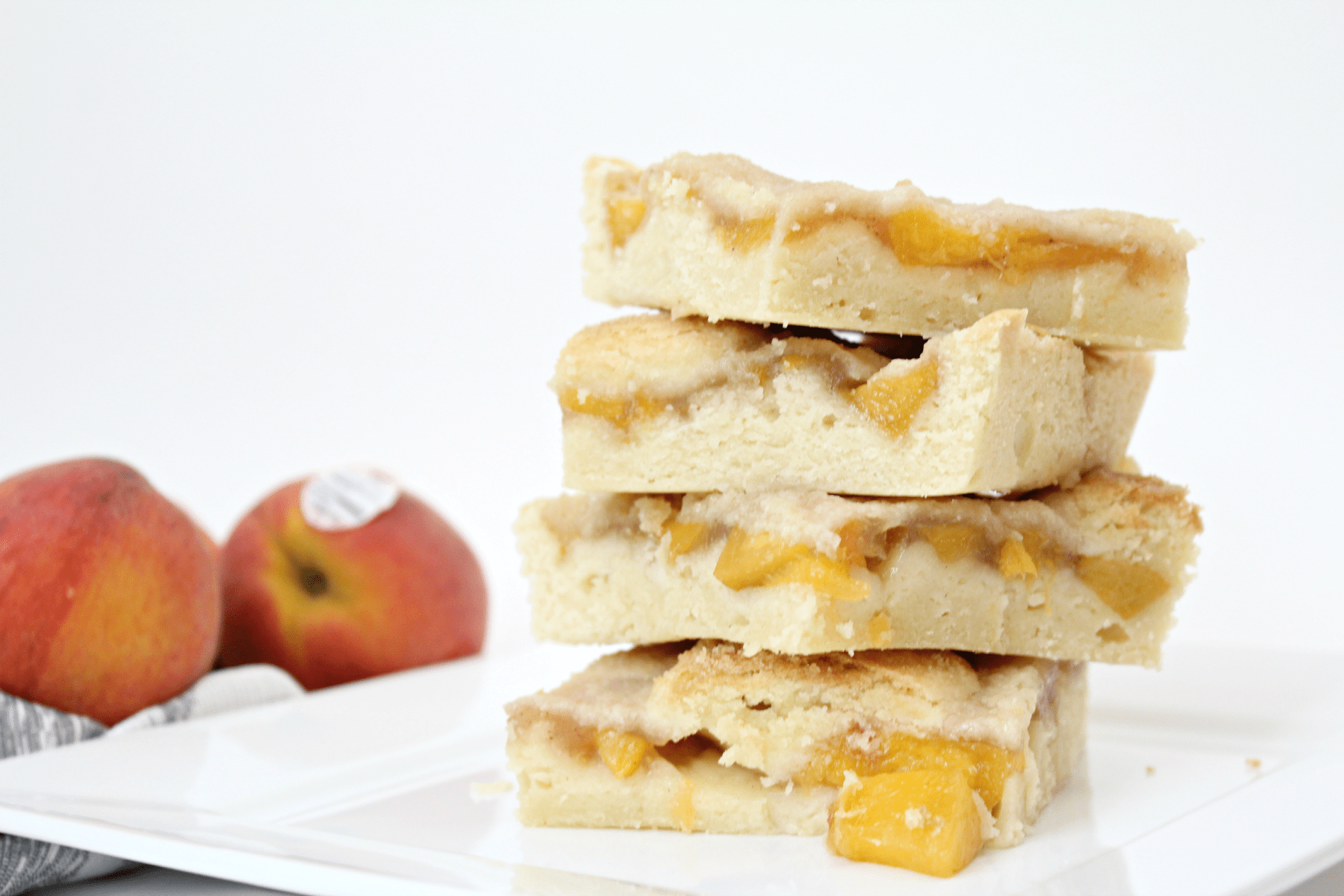 Now, here is how to make my Homemade Peach Pie Cookie Bars. Be sure to Print It and Pin It so that you can make them again and again.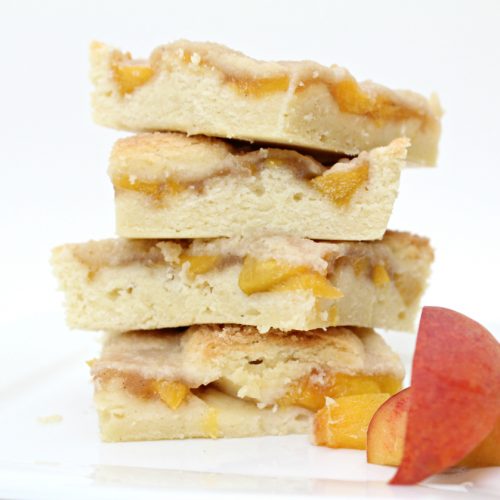 Peach Pie Sugar Cookie Bars
Sweet peach pie filling baked on top of a homemade sugar cookie crust, oh my! This easy dessert recipe is actually ready in less than 45 minutes.
Print
Pin
Rate
Ingredients
Fresh Peach Pie Filling
5

cups

fresh Florida peaches

sliced or roughly chopped, pitted and skin removed

1

cup

water

1

cup

sugar

¼

cup

cornstarch

1½

tsp

vanilla extract

1

tsp

cinnamon
Homemade Sugar Cookie Base
2

sticks

butter

softened

2

cups

sugar

2

tsp

vanilla extract

4

large eggs

½

salt

3

cups

flour
Streusel Topping
¼

cup

sugar

¼

cup

brown sugar

⅓

cup

flour

1

tsp

cinnamon

¼

cup

cold butter, cut into cubes

½ stick
Instructions
Peach Pie Filling
In a large saucepan, add sugar water, fresh lemon juice, and cornstarch.

Cook at medium-high heat until mixture becomes thick. Stir consistently to avoid getting clumps. Cook for approx 5 minutes.

Remove from heat and add peaches, vanilla extract, cinnamon.

Mix everything and set aside until ready to use. Allow to cool.
Streusel Topping
In a medium bowl, combine sugar, brown sugar, cinnamon, flour and chilled cubed butter.

Stir with a fork or pastry blender until the mixture is crumbly.

Set in the fridge until ready to use.
Sugar Cookie Base
In a mixer, mix the butter and sugar until smooth.

Add the vanilla extract and eggs. Mix until smooth.

Add in 2 cups of the flour and the salt. Mix slowly until combined and then add the remaining 1 cup of flour. Mix until smooth.

Prepare a 12x7 cookie sheet (make sure it's one with a 1 in edge).

Carefully spread 3/4 of the dough on the bottom of the cookie sheet.

Pour the homemade peach filling all over the cookie base.

Add tablespoon sized dollops of the remaining cookie dough on top of the peach filling.

Sprinkle the Streusel Topping all over the top.

Bake for 25 - 30 minutes. If you want to "brown" your Streusel Topping, increase the temperature to 400° for the last 2 minutes, but watch it so it doesn't burn.

Allow to cool slightly before cutting and serving.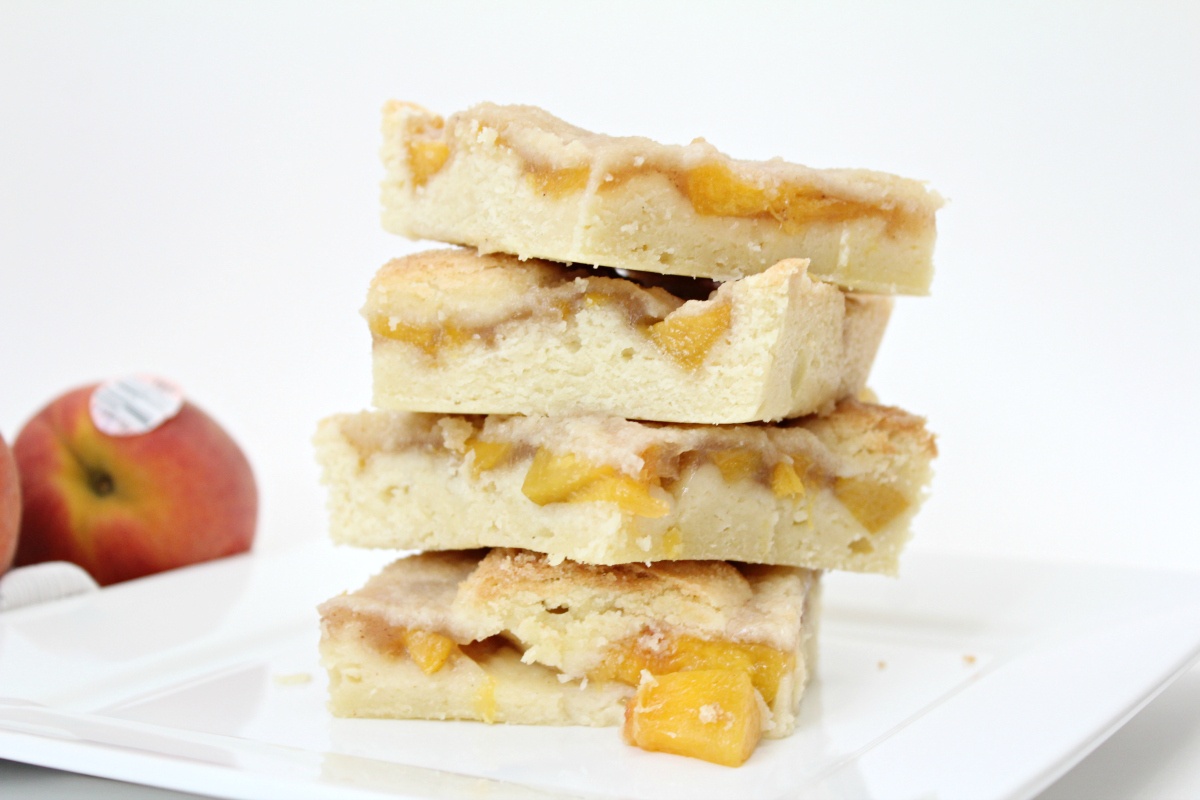 I hope you enjoy these Sugar Cookie Peach Pie Bars as much as we do!
This peach pie bars recipe does make a big tray, but leftovers are just as good the next day. I had a piece this morning with my morning coffee…it was heavenly.
Do you have to refrigerate Peach pie bars?
You can leave Peach pie bars on the counter but they will last longer if you store them in the refrigerator.
How long will Peach pie bars last?
Your Peach pie bars will last for a few days on the counter, but if you put them in the fridge they will last up to 5-6 days.
Can you freeze Peach pie bars?
Yes, you can freeze peach pie bars.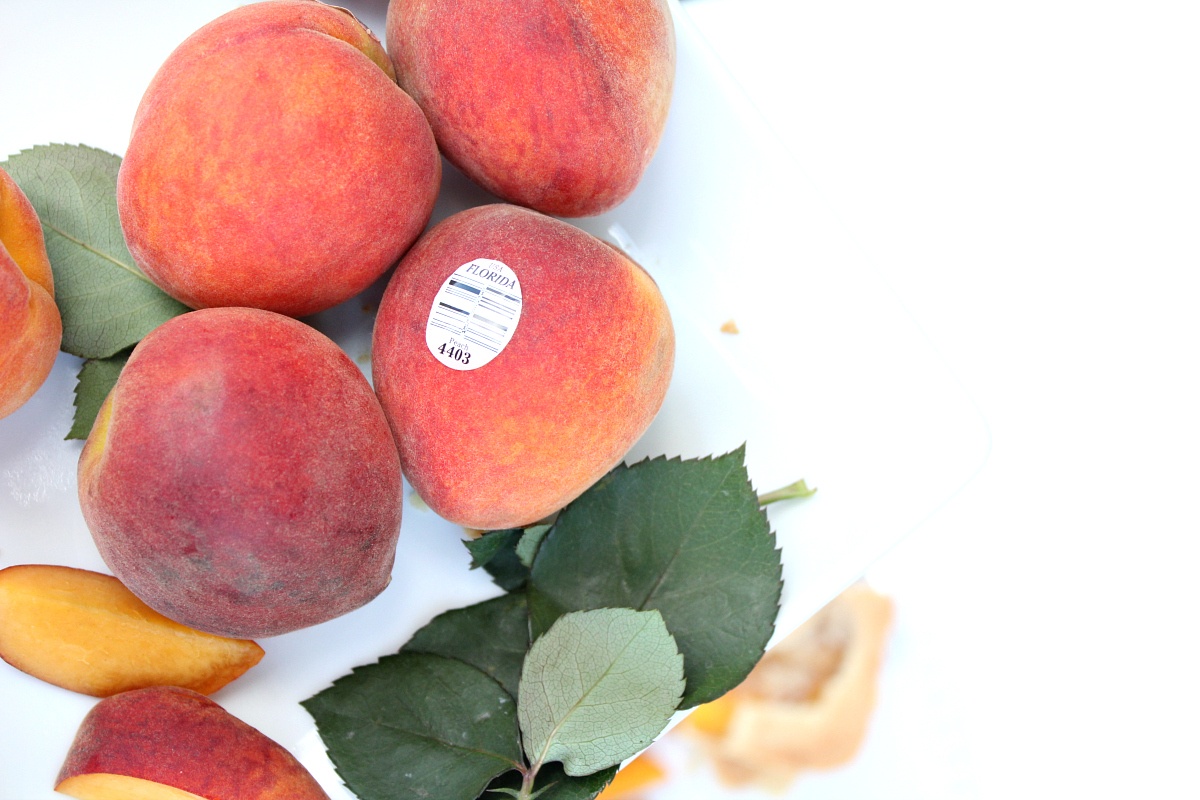 You can follow Florida Peaches on Facebook and Instagram for more sweet treats and recipes. Be sure to pick up some Florida peaches the next time you are at your favorite grocer. I found Florida Peaches at my local Walmart, but you will also find them at Winn-Dixie and Publix. If you don't see them at your local store, be sure to ask the produce manager when they expect their next shipment. Florida peaches are available late-March through May, so don't delay grabbing some.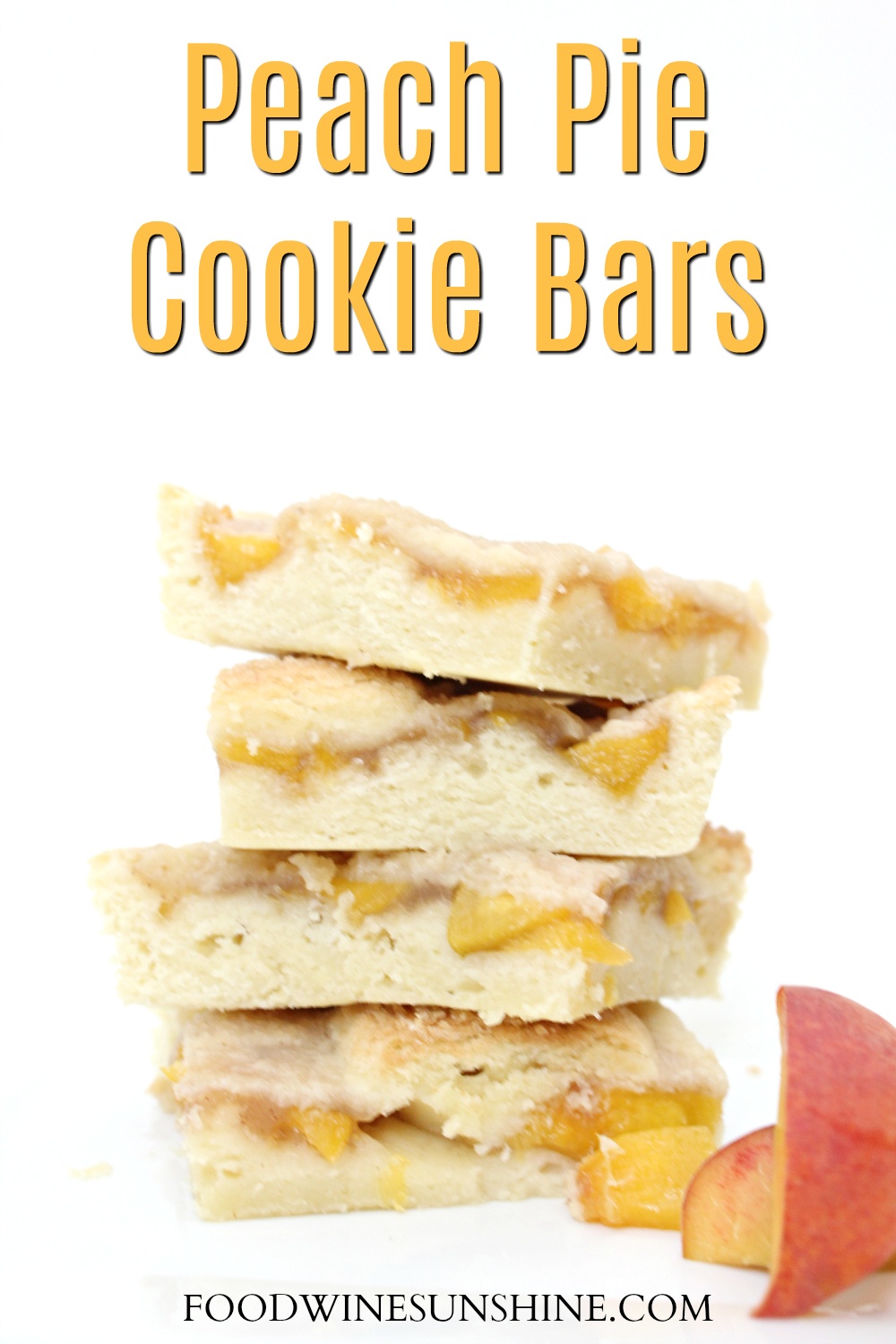 Looking for another deliciously peach recipe?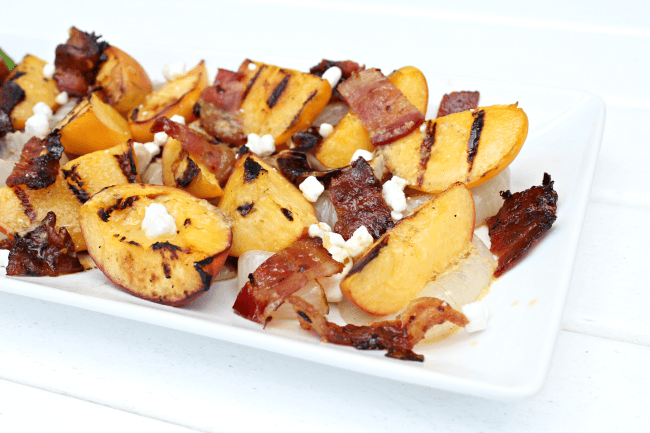 Grilled Peach Salad with Bacon and Onions
Be sure follow me on Facebook, Twitter, Pinterest and Instagram for more delicious recipes, things to do and more.