(Last Updated On: March 11, 2020)
Make these Easy Strawberry Muffins With Streusel Topping for an easy breakfast option or a delicious treat! These strawberry muffins are made from scratch with Fresh from Florida strawberries. While this post is sponsored, all opinions and the recipe are my own.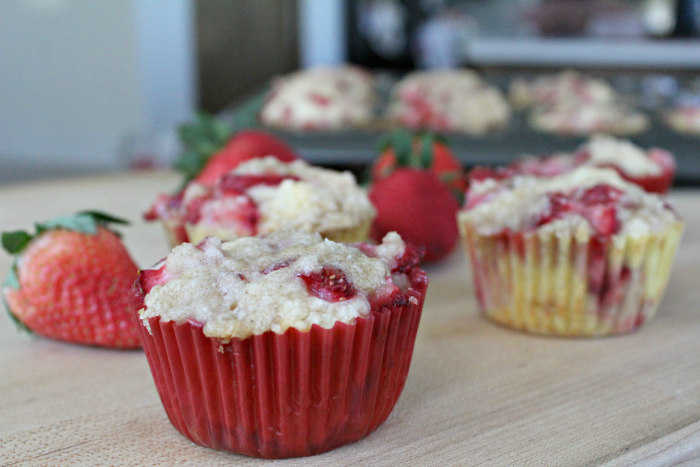 Easy Strawberry Muffins With Streusel Topping
I just love strawberry season and all the fun strawberry recipes I can create, like these strawberry muffins made from scratch! I live about 30 minutes from the Winter Strawberry Capital of the World, Plant City, that means I am always looking for the Fresh From Florida sticker on my strawberries. Fresh from Florida strawberries means that I am not only supporting local farmers, but that I am getting strawberries from right up the road! You can get produce fresher than that.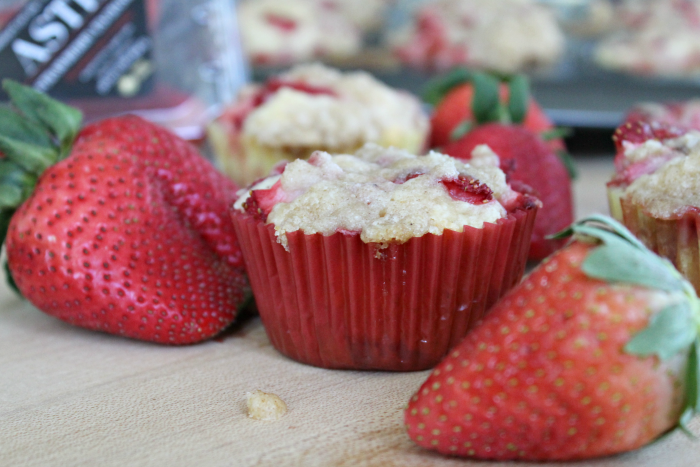 I grabbed the strawberries and other few ingredients for my strawberry muffins from Winn-Dixie, they partner with the families and farms that harvested the land for generations, because they know what customers love and share Winn-Dixie's commitment to stunning quality and freshness. I guess they would have to be dedicated to freshness considering that Southeastern Grocers sells more than one million locally grown strawberries per month during season. That is a LOT of strawberries!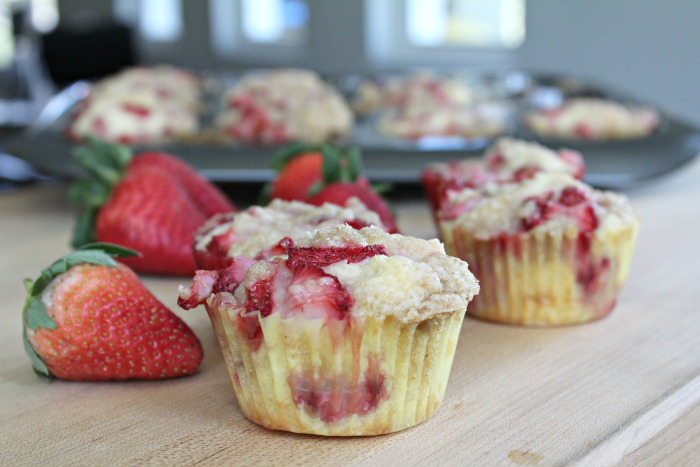 Not only are strawberries delicious, but they are a great source of vitamin C, manganese, potassium and they are rich in antioxidants. Plus, a whole cup of strawberries has less than 50 calories, that means we can indulge and not feel guilty 😉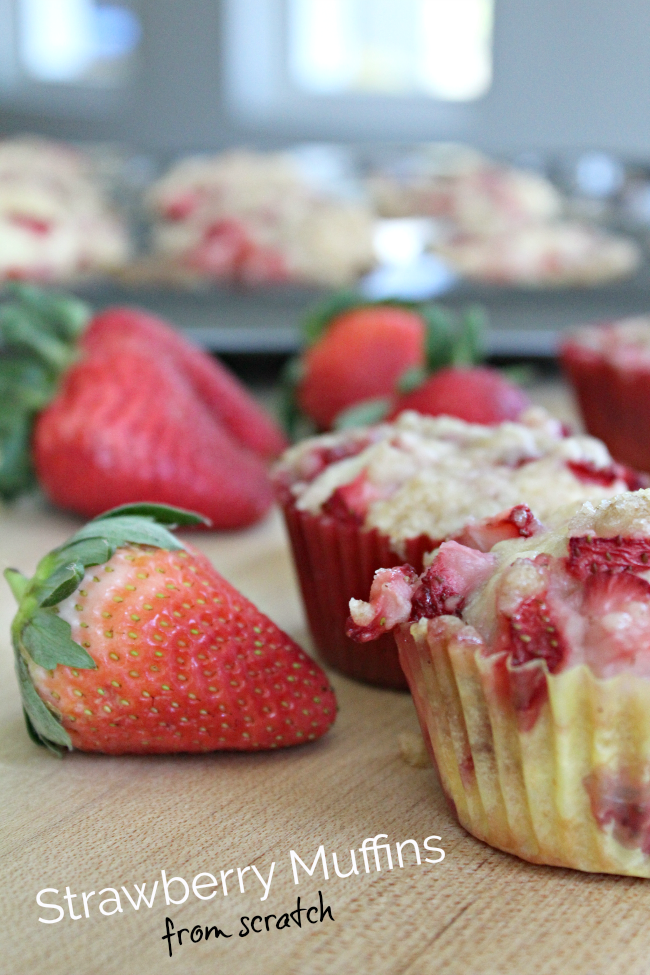 If you know me, you know that I am not a baker. I can whip a batch of brownies from a box, no problem, but when things start to get complicated, I am out. So, trust me when I tell you that these Easy Strawberry Muffins are just that. Easy. You need very few ingredients for these strawberry breakfast muffins and the prep time is less than 15 minutes. And most of your prep time is dicing up the strawberries. If you happen to have leftover strawberries, be sure to check out some of the other delicious strawberry recipes below and over on Winn-Dixie's Facebook page.
Now, here is my Easy Strawberry Muffins with Streusel Topping recipe. Be sure to Print It and Pin It so that you can make it again and again.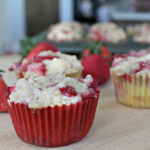 Print Recipe
Easy Strawberry Muffins With Streusel Topping
These easy strawberry muffins with struesel topping are the perfect breakfast or afternoon snack. Made with fresh strawberries, these muffins are absolutely delicious!
Ingredients
Ingredients for Muffins
2

cups

diced fresh strawberries

½

cup

sugar

¼

cup

butter

softened

1

egg

1

teaspoon

vanilla extract

½

cup

non fat vanilla Greek yogurt

1½

cups

all-purpose flour

2

teaspoons

baking powder

Pinch

of salt
Ingredients for Streusel Topping
1/4

cup

sugar

1/4

cup

brown sugar

1/3

cup

all-purpose flour

1/2

teaspoon

ground cinnamon

1/4

cup

cold butter

cubed
Instructions
Instructions for streusel topping
In a medium bowl, combine sugar, brown sugar, cinnamon, flour and chilled cubed butter

Stir with a fork or pastry blender until the mixture is crumbly

Set in the fridge until ready to use
Instructions for muffins
Preheat oven to 350 degrees

Line a 12 cup standard muffin tin with paper liners or coat with nonstick spray, set aside

In a large mixing bowl mix the butter and granulated sugar until light and fluffy

Add egg, vanilla extract and yogurt, beat until well combined

Sift in the flour, baking powder and pinch of salt, beat on low speed until just mixed

Gently fold in about half of the strawberries

Fill muffin liners ¾ full with batter, top with remaining strawberries and then sprinkle streusel crumble on the top

Bake for 20-25 minutes, until the muffins are lightly browned on top and a toothpick inserted in the center comes out clean.

Enjoy!
I hope you enjoy this Easy Strawberry Muffins with Streusel Topping recipe as much as we do!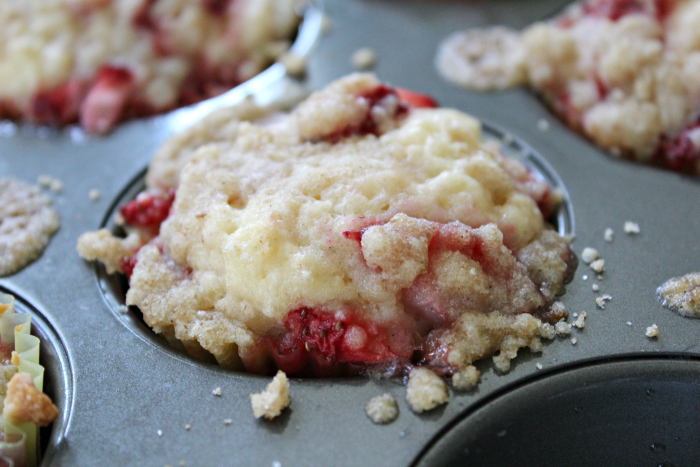 Now, you can easily leave off the streusel topping if you want, but I think it adds a little extra touch of sweetness. I mean, can you really go wrong with sugar, butter and cinnamon? I didn't think so.
Since you will be headed to Winn-Dixie soon to grab all the ingredients for these strawberry muffins, I wanted to let you know about a fun STRAWBERRY event going on at the Plant City store.
Here are the details of the Plant City Winn-Dixie

Strawberry

Celebration Event:
The Winn-Dixie store located at 205 W. Alexander St. in Plant City, FL is hosting a family friendly in-store event all about strawberries on Saturday, March 9 from 11 a.m. – 4 p.m.
Strawberry lovers are encouraged to attend and enjoy entertainment, spin the wheel for a chance to win fun strawberry giveaways and gift cards, take a photo with a real strawberry character and eat delicious strawberry samples throughout the store, including strawberry shakes and a massive strawberry shortcake created by the bakery team.
I can't wait to try that strawberry shortcake!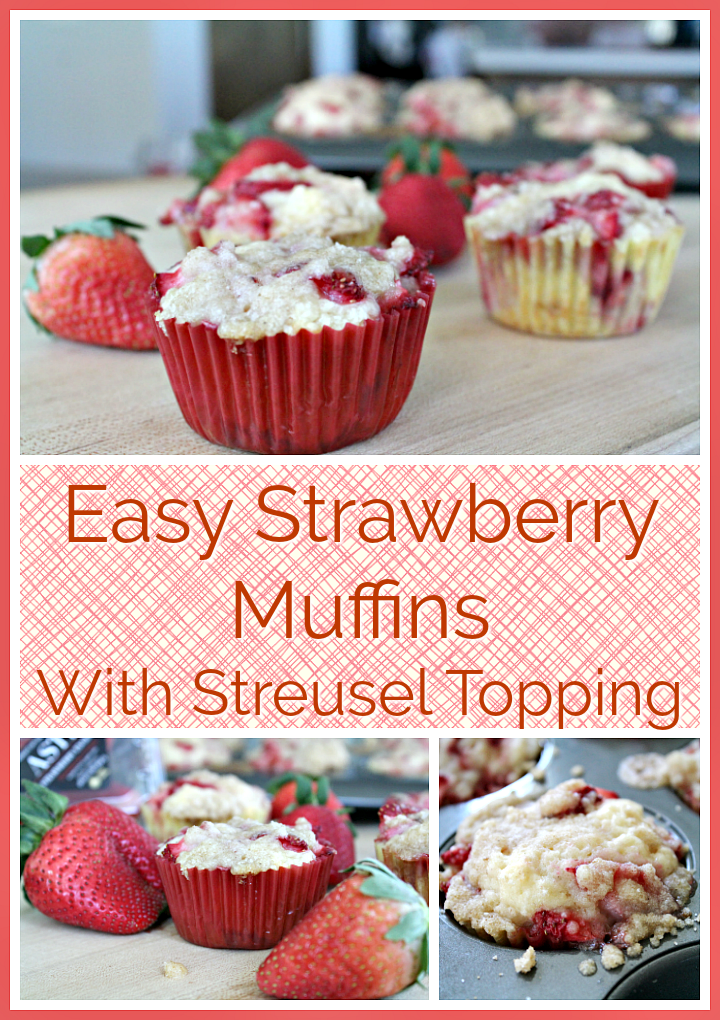 What is one of your favorite ways to enjoy fresh strawberries?
Looking for more deliciously sweet strawberry recipes?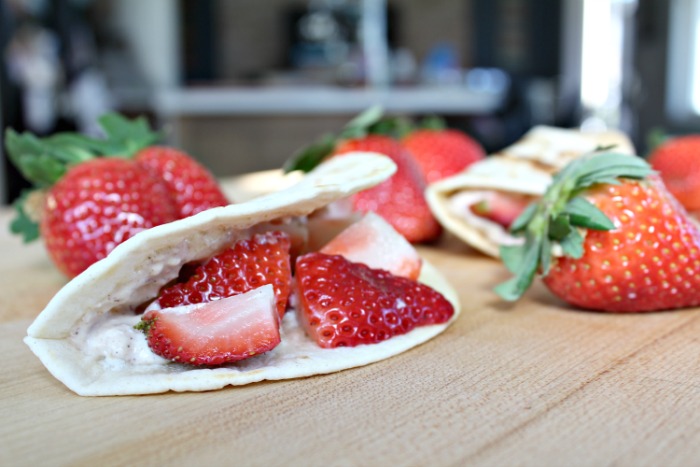 Simply Sweet Strawberry Breakfast Tacos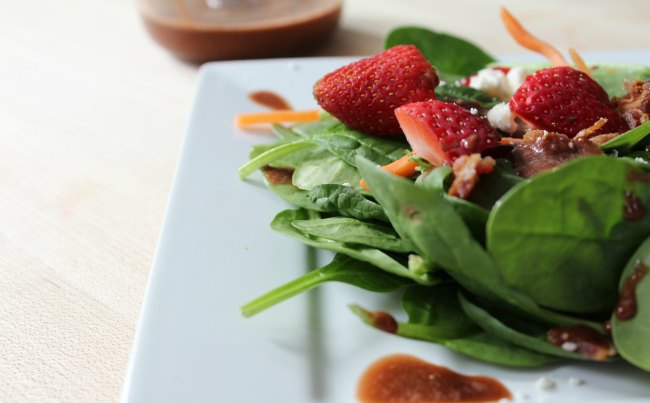 Homemade Strawberry Balsamic Vinaigrette Dressing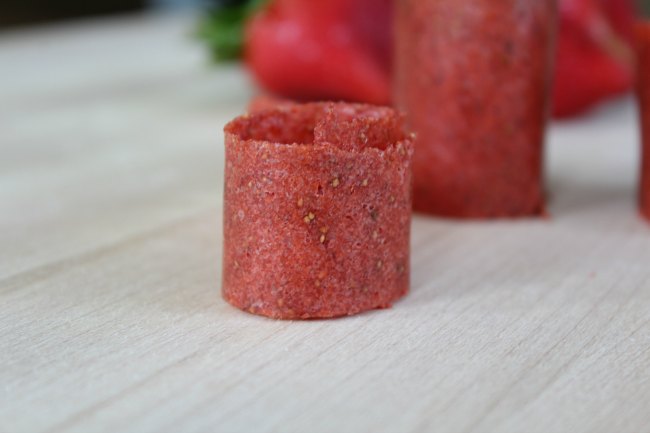 Homemade Strawberry Fruit Roll Ups
Follow Winn-Dixie on Facebook, Twitter, Pinterest, and Instagram for more recipes, savings, and more.
While you are at it, check out all the recipes on Food Wine Sunshine and follow me on Facebook, Twitter, Pinterest, Google + and Instagram.