(Last Updated On: March 29, 2021)
Fire up the grill and enjoy this Sweet & Salty Grilled Peach Salad with Bacon. This sweet and salty peach salad is balanced perfectly and topped with a fresh mint & peach vinaigrette dressing. While this sponsored is sponsored by Florida Peaches, all opinions and this sweet and salty recipe are my own.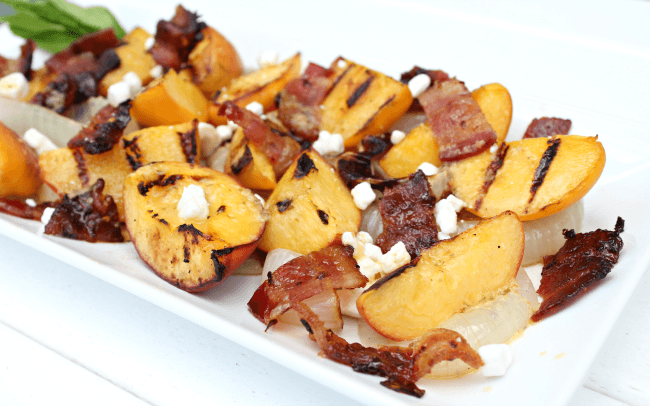 Sweet & Salty Grilled Peach Salad with Bacon
Summer, summer, summertime…Time to sit back and unwind… Oh come on, you know the song too! Depending on where you live, you may not be rocking out to Summertime jams yet, but here in Florida we not only get to enjoy the warm temperatures, but the amazing fruits and vegetables that our climate produces. Like right now I am loving all things peach! Not only are Florida peaches juicy and delicious, but they are good for you 😉 Peaches can help reduce cholesterol and they are rich in antioxidants, vitamins and fiber. Florida peaches are available late-March through May, so head to the store and be sure to grab some….like right now.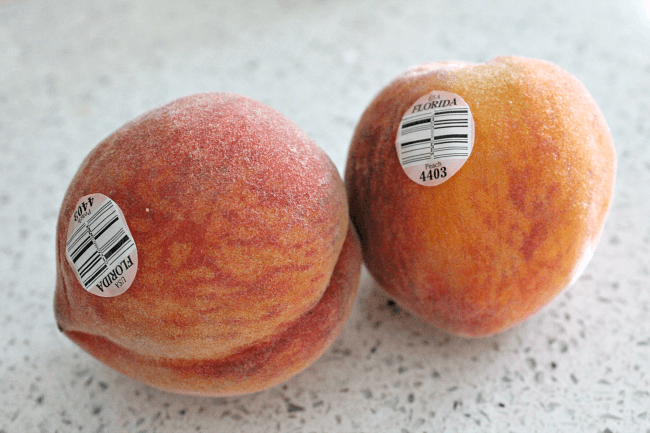 Peaches make for the perfect afternoon snack or to add to lunches. I also get creative with my Florida peaches, like peaches are amazing in my morning smoothie, on top of ice cream for dessert, in cocktails, in salsa, in breakfast casseroles, and so much more! Like in this Grilled Peach Salad with bacon and onions.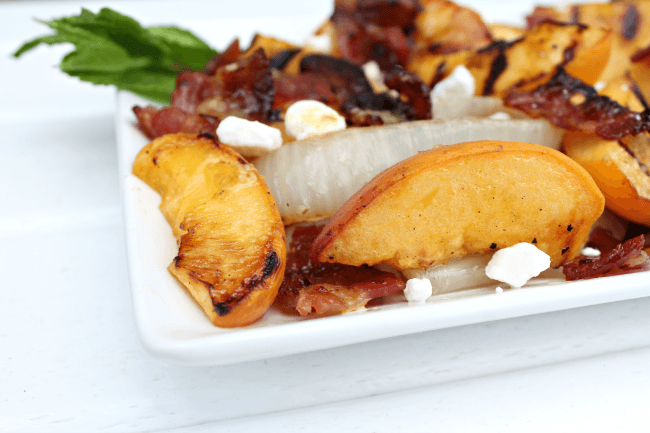 Unlike in your "typical" salad there are no greens in this salad, this grilled peach salad is filled with amazing textures and flavors. Oh, and there's bacon. Grilled peaches and BACON…do I really need to say anything else? Well, I guess I should probably give you the recipe so you can create this deliciousness at home too.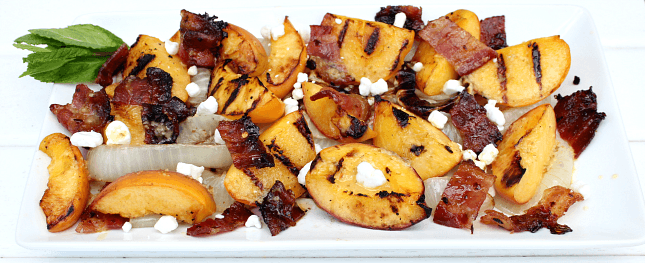 For this Grilled Peach, Onion and Bacon salad you will only need a few main ingredients…Are you ready for this?
Florida Peaches
Onions
Bacon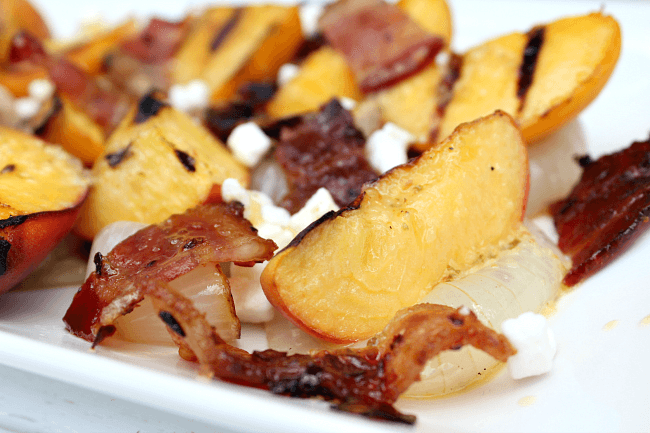 Who would have guessed?? 😉 I also added some goat cheese for that creamy bite of deliciousness and I made a Fresh Mint & Peach Vinaigrette Dressing that is the perfect accompaniment to this salad. The Mint & Peach Vinaigrette Dressing is light and doesn't take away from the grilled flavors of the peaches and onion.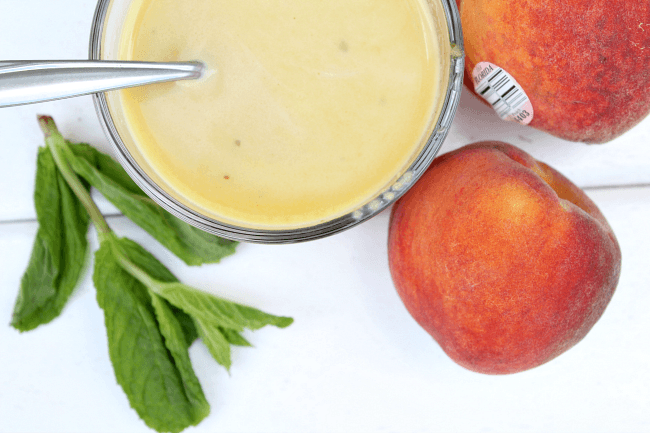 I added a bit of sweet and heat to the bacon, some brown sugar and red pepper flakes, which just added another layer to the flavor profile of this amazing grilled peach and onion salad.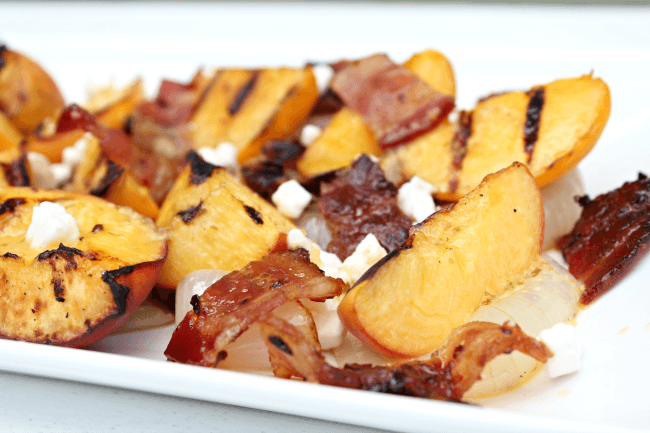 This grilled peach salad is the perfect side dish to just about anything you toss on the grill, a nice steak, pork chops or chicken. It would even be delicious on top of that steak, pork chop or chicken. It's also great by itself, I made it for lunch yesterday.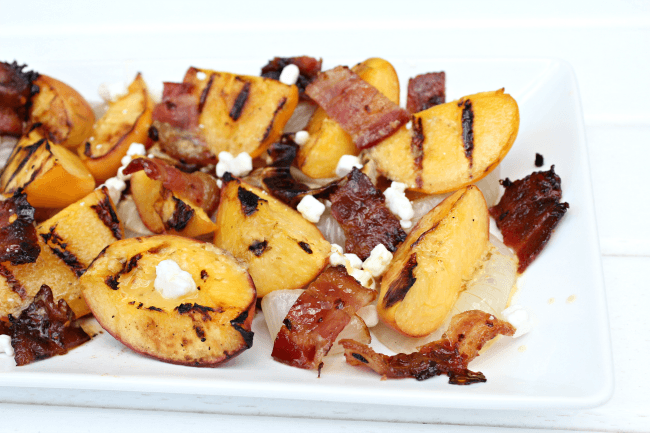 Now, here is my Sweet & Salty Grilled Peach Salad with Bacon and Onion Recipe. Be sure to Print It and Pin it so that you can make it again and again.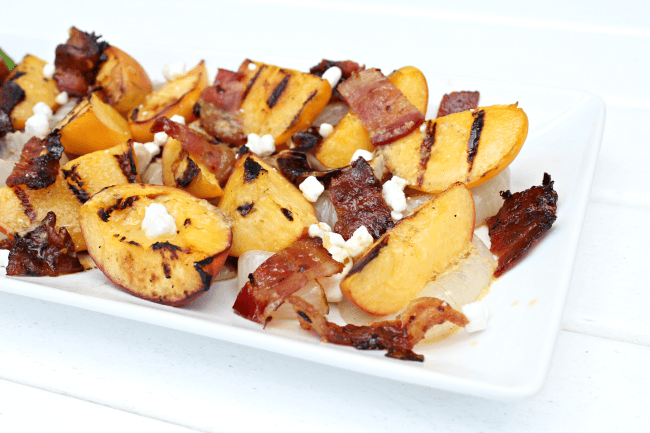 Sweet & Salty Grilled Peach Salad with Bacon
Warm up the grill and make this delicious Grilled Peach Salad! Add in the crispy bacon and grilled onion for a plate of sweet and salty amazingness.
Print
Pin
Rate
Ingredients
Ingredients for Grilled Peach Salad
6

Florida Peaches

pits removed and cut into 1/2 - 1 inch wedges

2

large sweet onions

cut into 1-inch-thick slabs

5

slices

of bacon

1/4

cup

light brown sugar

1

teaspoon

red pepper flakes

Extra-virgin olive oil for brushing the onion slices and peaches

Crumbled goat cheese
Ingredients for Fresh Mint and Peach Vinaigrette
¼

cup

chopped fresh mint

3

tablespoons

fresh lemon juice

⅓

cup

extra virgin olive oil

2

tablespoons

red wine vinegar

1/2

tablespoon

honey

½

teaspoon

salt

1/2

Florida peach

pit removed
Instructions
Preheat oven to 400 degrees

Line a large rimmed baking sheet with parchment paper or aluminum foil

Pour brown sugar and red pepper flakes on a large plate,mix it around

Coat each side of bacon in the brown sugar and red pepper mixture

Place the bacon on the prepared baking sheet *I place mine on a baking rack so that the grease drops down but you don't have to*

Bake for aprrox. 20 minutes, until caramelized (the bacon will crisp as it cools).

Let cool, then cut the bacon into large bite-size pieces.

While the bacon is baking, light the grill and heat to medium high heat.

Brush the onions with olive oil and season with salt and pepper.

Grill onions, turning occasionally, until softened and browned, approx 10 minutes.

Put the onions on a plate and side aside.

Put the peach wedges in a large bowl and pour on extra virgin olive oil, gently stir to coat the peaches.

Grill the peaches over moderately high heat until tender, approx 2 - 4 minutes.

Transfer to a plate.

Separate the onions into rings.

On a large serving plate place the grilled onion rings and grilled peaches, sprinkle on the bacon pieces and goat cheese.

Drizzle with Fresh Mint & Peach Vinaigrette Dressing.

Enjoy!
Mint & Peach Vinaigrette Instructions
Combine chopped mint and lemon juice in a small saucepan.

Bring to a boil and remove from heat.

Let steep for about 10 minutes.

Put remaining dressing ingredients (olive oil, red wine vinegar, honey, salt and peach) into a high powered blender or food processor and blended thoroughly.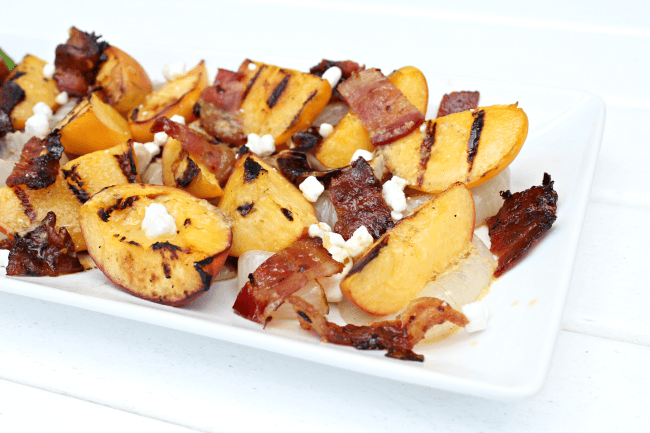 I hope you enjoy this Sweet & Salty Grilled Peach Salad with Bacon as much as we do!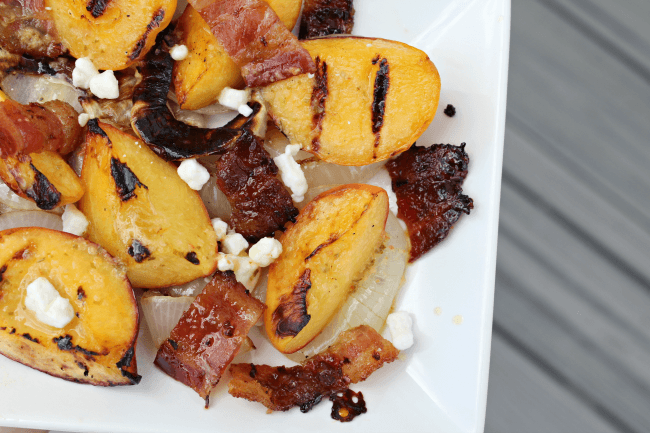 What is one of your favorite way to enjoy peaches?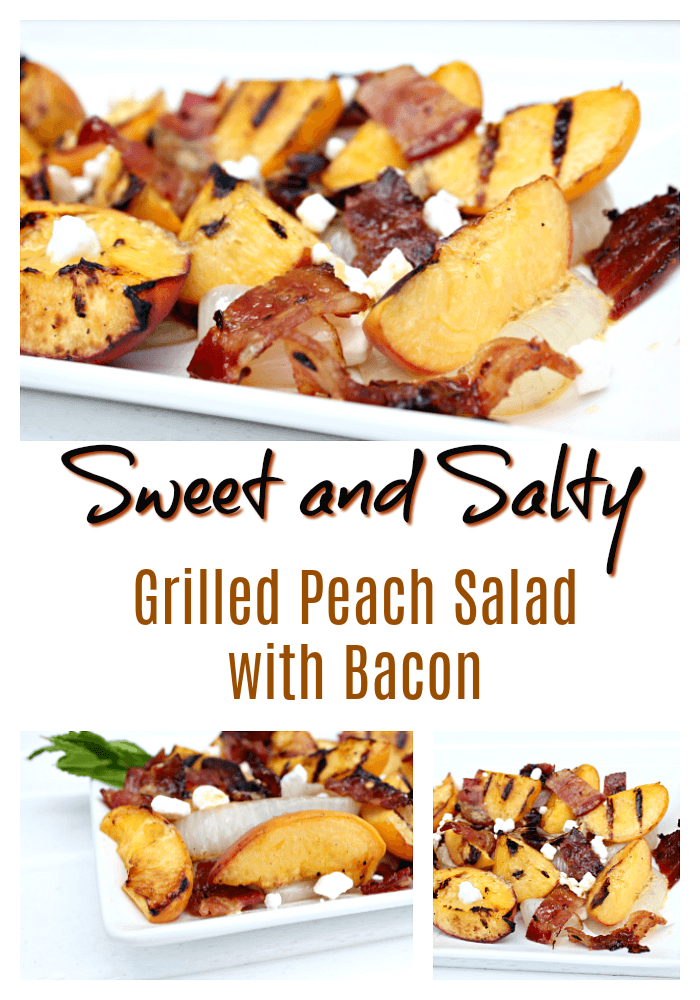 Be sure to follow Florida Peaches on Facebook and Instagram for more sweet deliciousness and be sure to pick up some Florida peaches the next time you are at your favorite grocery store. I found Florida Peaches at Publix, Winn-Dixie and Walmart, if you don't see them at your local store, be sure to ask the produce manager when they expect their next shipment. Florida peaches are available late-March through May, so don't delay grabbing some for my grilled peach salad with bacon and onions.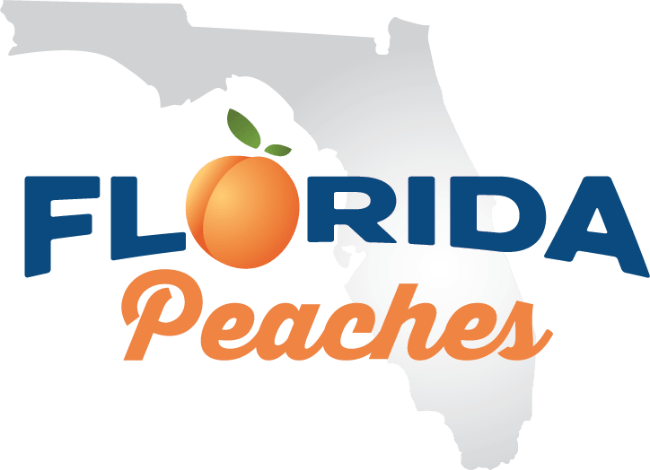 Follow me on Facebook, Twitter, Pinterest and Instagram.