(Last Updated On: April 7, 2020)
Painting on canvas is an excellent way to allow your children to be creative and have fun. Canvas painting for kids is a frugal and easy activity for kids.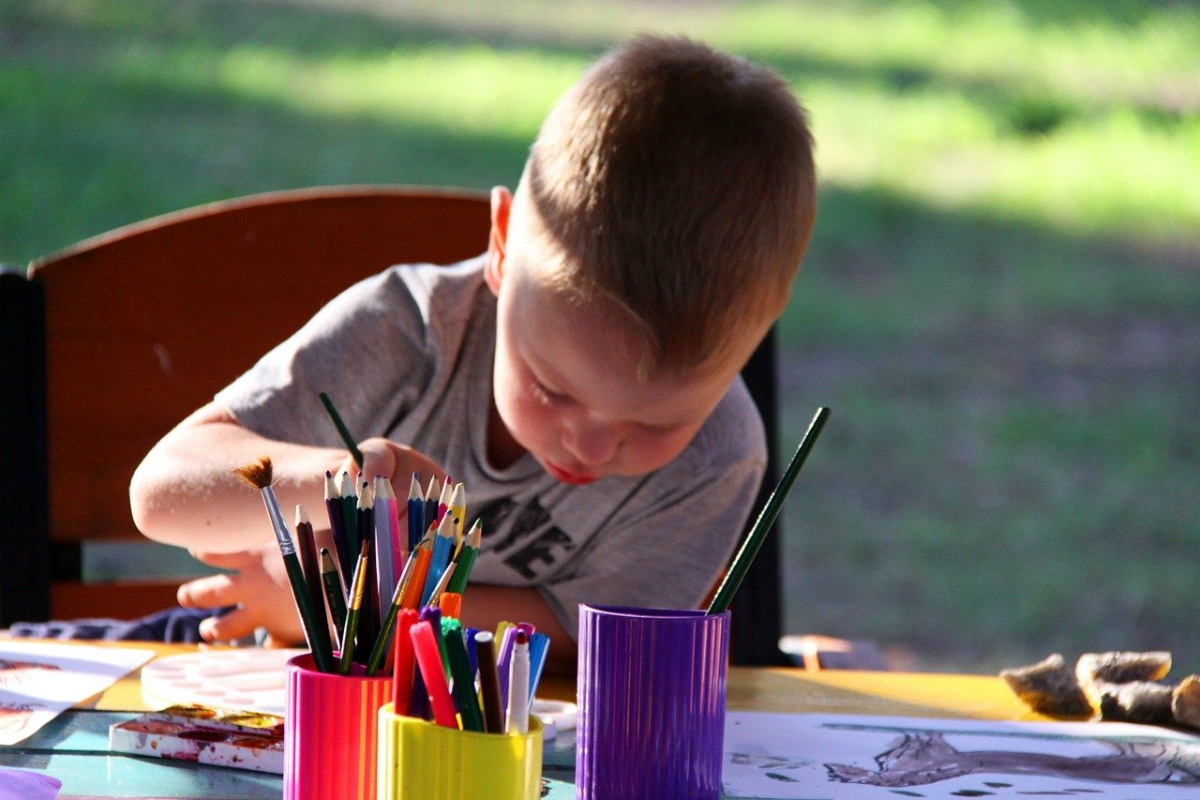 Easy Canvas Painting For Kids
Canvas painting for kids is a fun and fairly inexpensive activity that encourages creativity, develops fine motor skills, builds confidence and helps develop cognitive skills. Canvas painting for kids will also bring hours of fun! Painting with kids is an excellent indoor activity for kids, and if the weather is nice and you have a table outside, it would be fun to do in the backyard as well.
All you need are a few basic supplies when painting with kids, all of them can be found at your local craft store, online and you may be able to find some at the dollar store. You will need canvases, paints (acrylic work well) and brushes. If you have little kids and are nervous about using acrylic paints, consider washable paints or you can also just make your own paints with ingredients from your pantry with my simple finger paint recipe, it's even edible in case you have very little ones who like to taste things 😉
I recommend picking up a variety pack of brushes, and if you are painting with little kids, get the brushes with the thicker handle or ones that have a grip so that their little hands can work with them better.
Children love creating and canvas painting will provide them with a sense of pride when they see their completed masterpiece, be sure to tell them "Good job" as well, everyone likes a little positive reinforcement. Canvas painting is a great activity for kids of all ages, if you are looking for a bit of canvas painting inspiration, you can find a ton on Pinterest. You can also let your kids paint about a favorite memory, character, or whatever that they would like to paint a picture of.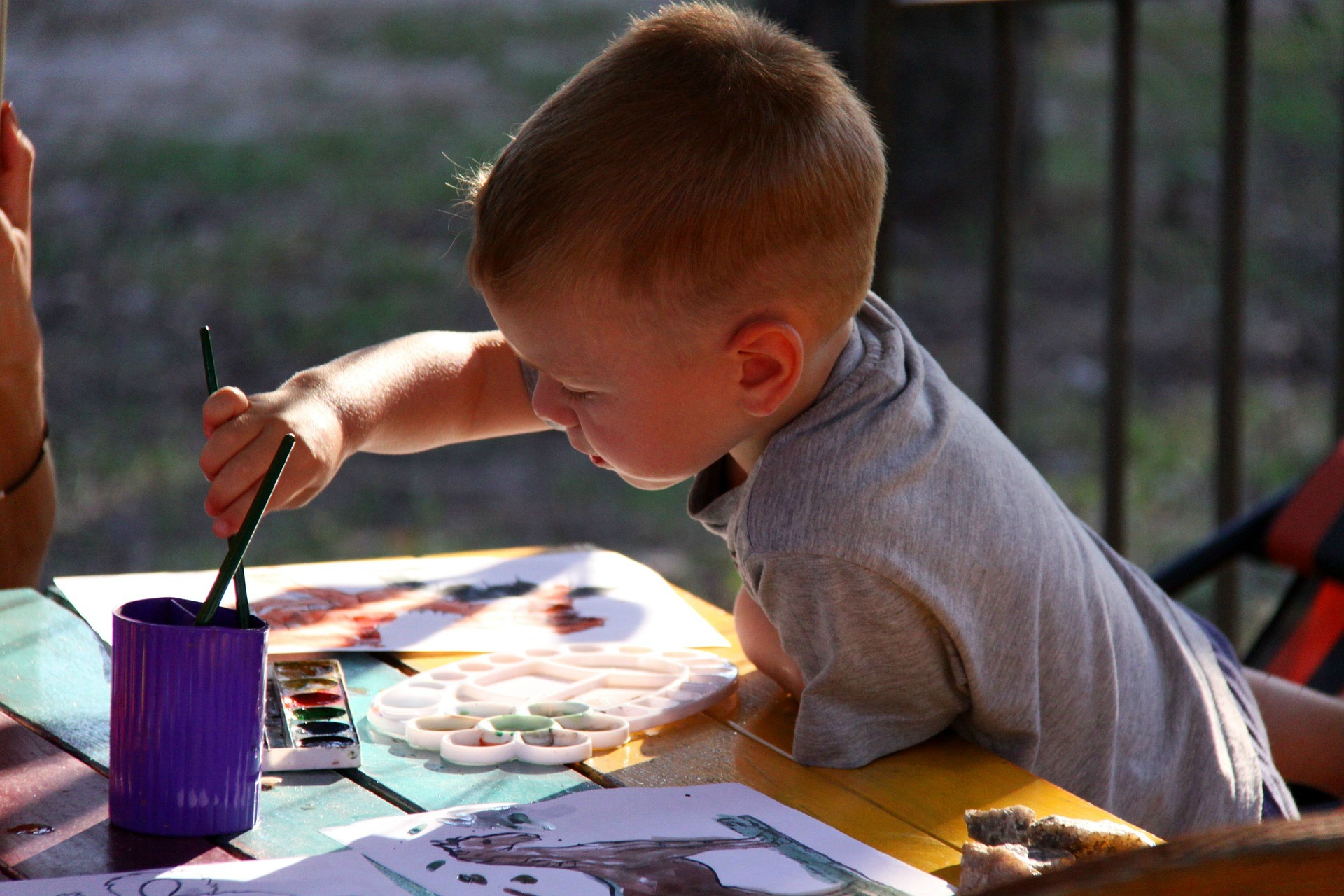 A handmade painted canvas by your child gives you a keepsake to treasure forever, long after the kids are tired of having it hanging in their room.
If your kids want to get a bit more creative when painting on canvas, try adding a little bit of water to your paint and put a dollop of a few different colors on the canvas. Then have them take a straw and blow the paint around. Ask them what they see in the blown paint on the canvas. This is really easy to do, but does require two people, one to blow and one to move the canvas around as needed. This encourages them to stretch their imaginations even further.
Here are some canvas paintings that my kids did YEARS ago with my mom: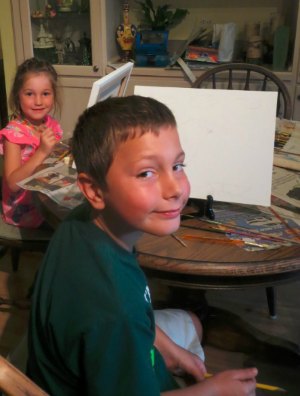 We let both of the kids paint their own image….Steven painted a "Summer Memory"…that is him tubing on Lake Leelanau with the world's biggest wave!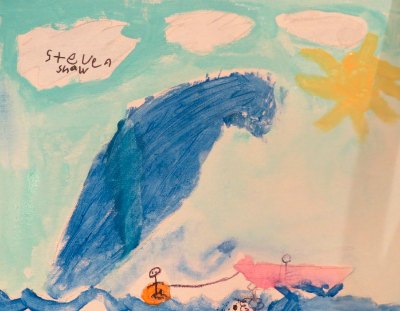 Sadie's was a little more abstract and just used various colors that made her happy.
For the 3rd one – my mom added some water to various colors and we dropped the colors on the canvas and used a straw to BLOW the colors around to make a fun and unique picture.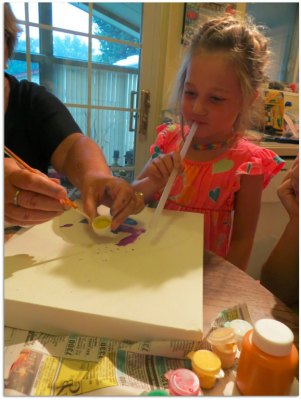 We also had the kiddos put their hand prints on the canvas too – complete with a signature 😉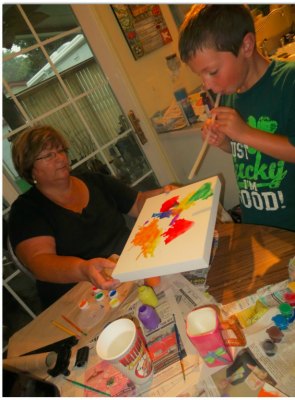 This is a great way to keep the kids busy for the afternoon help the kids expand their imagination and see what they see and the shapes that they create with the paint. As we were blowing the colors around we would ask "What do you see?" We saw a clown face, balloons, cats, and more – you see a FUN new shape every time a color is added and blown.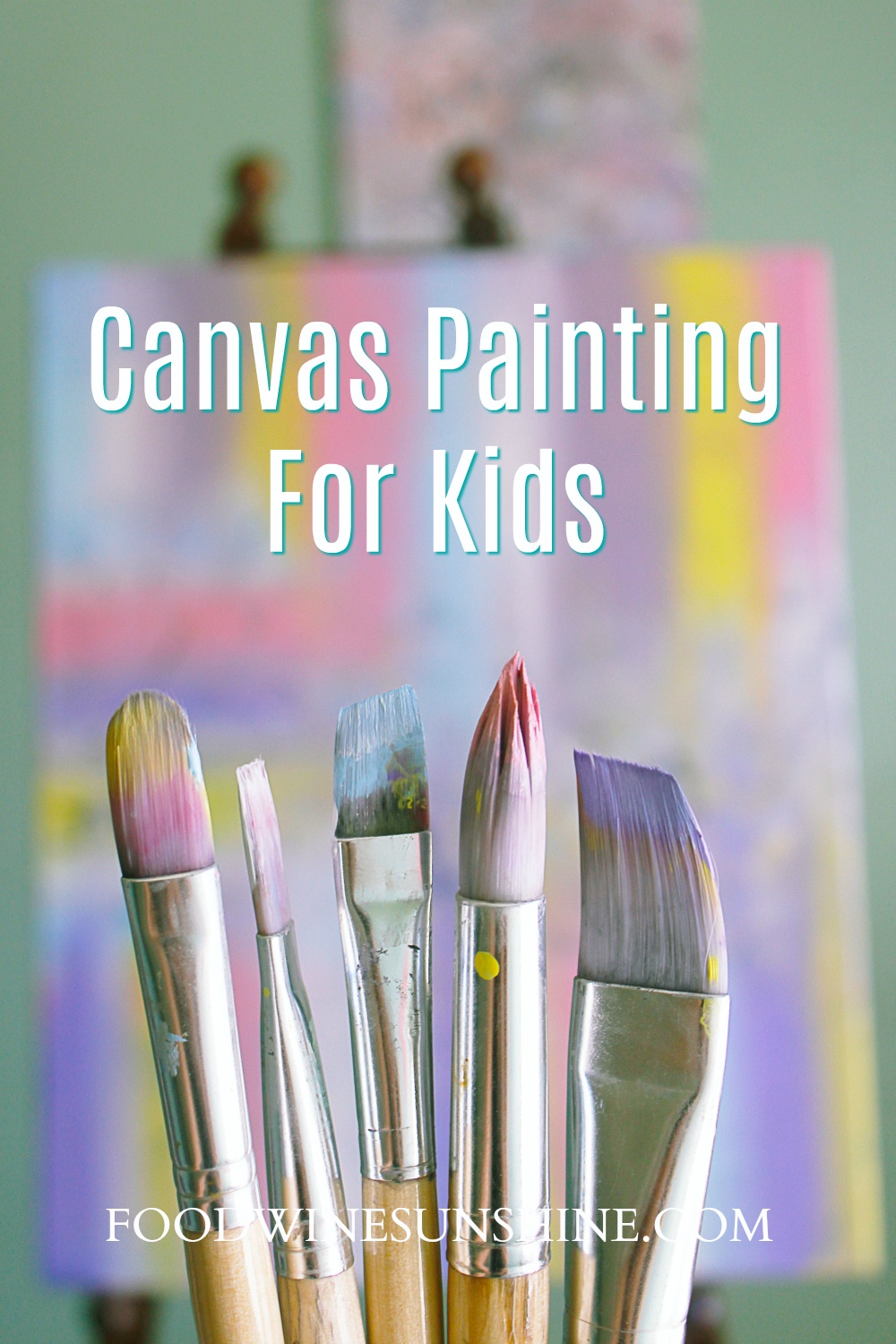 Be sure to follow Food Wine Sunshine on Facebook, Twitter, Pinterest, Google + and Instagram for recipes, fun tips and more 🙂