(Last Updated On: May 19, 2021)
Summer is made for BBQs, wine, and spending time outside! Fire up the grill and check out how this guide on pairing wines with BBQs. And grab an incredible Strawberry Sangria recipe that you can enjoy all summer long.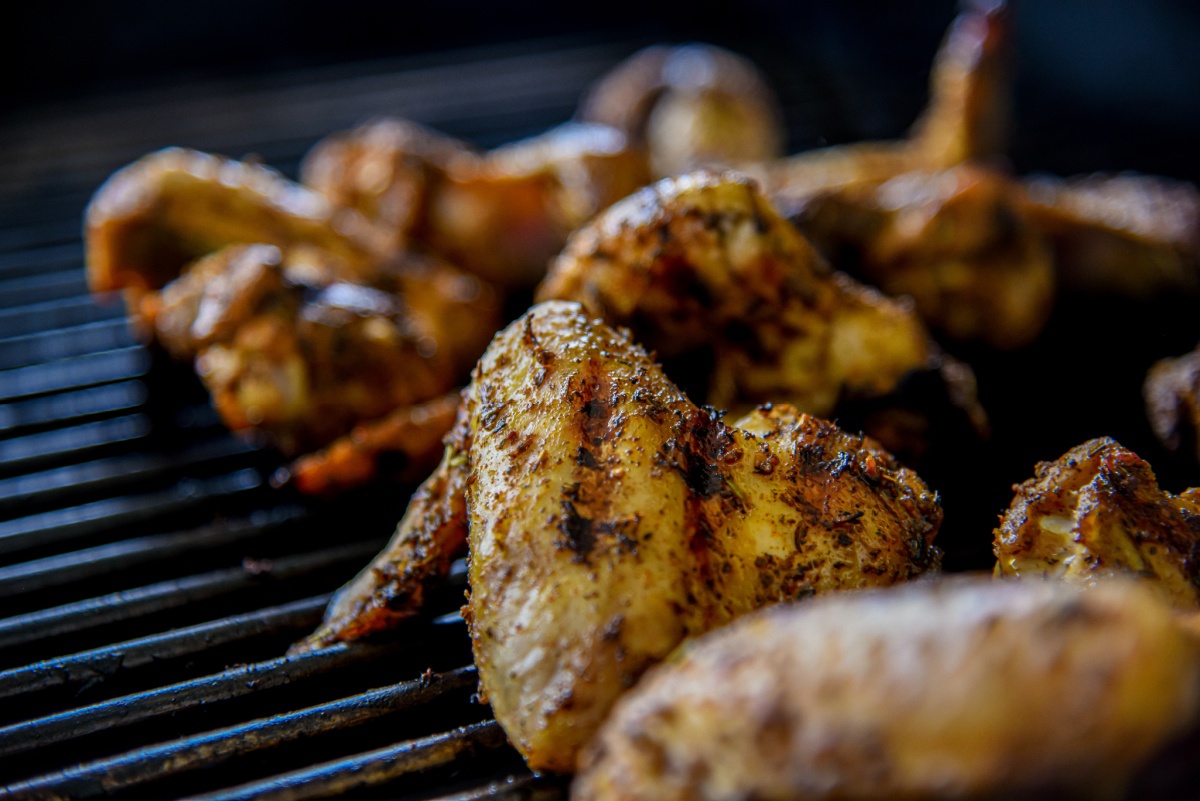 Pairing Wines With BBQs + Summer Strawberry Sangria Recipe
The weather is heating up as summer is here that means it's time for summer parties, entertaining more outdoors, and enjoying more outdoor activities. It also means that it's time to heat up the grill, bbq on your favorite meat, and enjoy a nice glass of wine or a summer cocktail.
Summer meals are lighter, and this is the same for summer wines. Whether choosing a red or white wine, look for a lighter-bodied wine. This is especially true when choosing red wines for your grilling parties. Lighter wines are fruitier and lower acidic flavor, giving a lighter feel on the tongue with a refreshing zippy finish. During the summer months, choose wines that express thoughts of refreshing and sip ability. Choose the type of wine that is wonderful for sipping on those hot summer days.
One wine that is left out during the summer months is Sparkling wines. Many Sparkling wines are great for summer meals for their natural acidity and refreshing bubbles. Sparkling wines work great with meals involving seafood. You don't have to wait for a special celebration to enjoy Sparkling wines!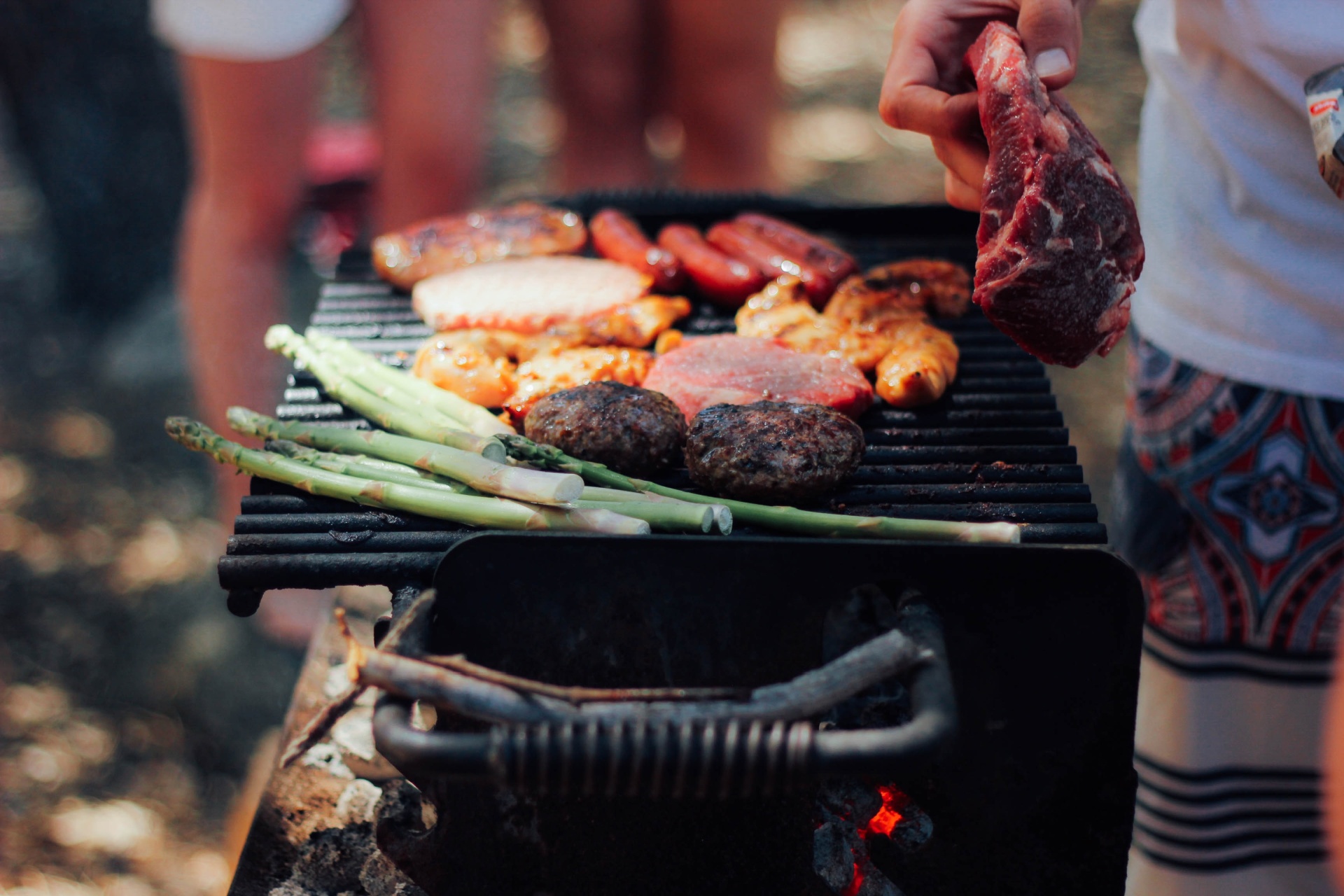 When choosing wines to go with the grilled foods of summer, veer away from the heavy complex and oaky wines such as Syrahs, Cabernets, and Burgundy. Try lighter wines such as a Chardonnay, Pinot Grigio, Riesling, or Rose. If you really want a red wine, Zinfandels pair beautifully with BBQed food. For a good finish on these hot summer days, you can even look to a Muscat grape wine such as Moscato.
Grilling red meat on the grill, a good red wine to pair is a Zinfandel or a Merlot. A Pinotage or Pinot Noir is a good choice for the more fruit-forward lover or when there are several types of meat being served, and red wine is a must. A Chardonnay or Spanish Albarino goes beautifully with chicken or grilled fish.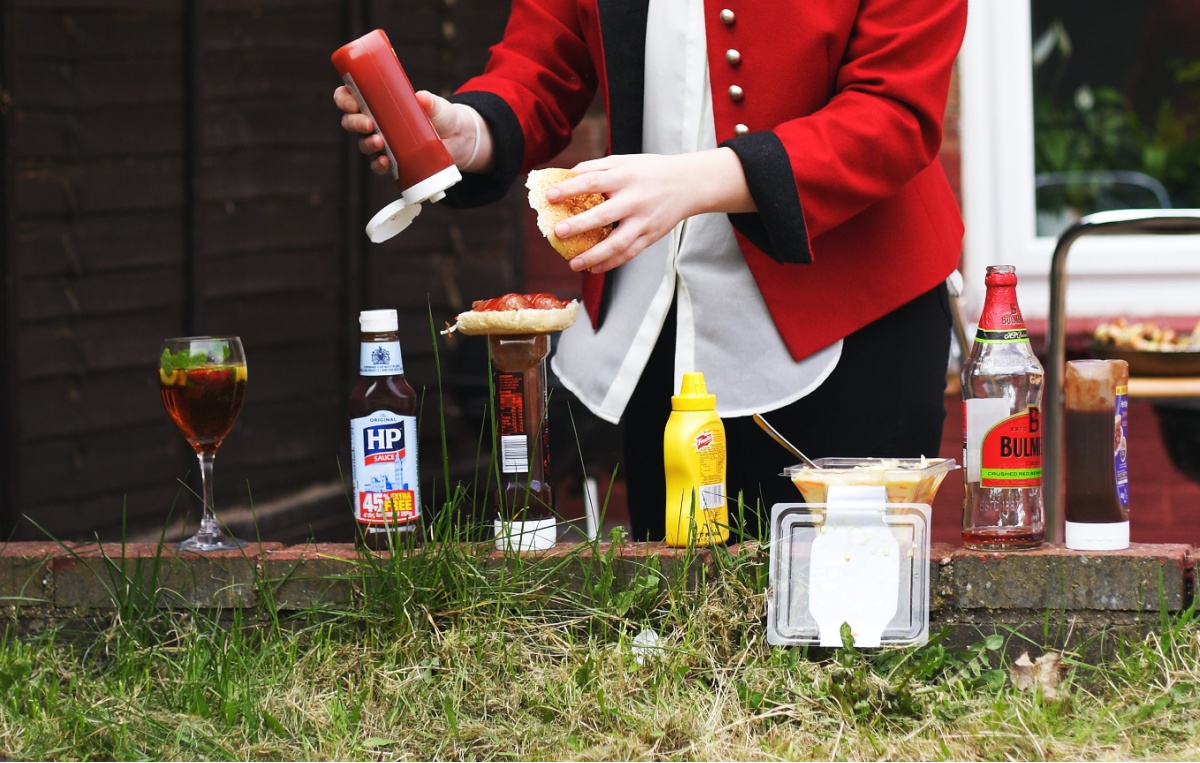 Other grill friendly wines include Riesling that goes well with brats, shrimp, and a variety of grilled fruits and vegetables. Sauvignon Blanc has a quality that can handle marinades and sauces that are herbaceous. Another choice that offers a balance to spicy foods, but has a gentle sweetness is the Gewurztraminers. These wines varietals are a great choice for blackened or Cajun-spiced chicken or fish.
Starting the summer party off with chips and dips doesn't mean a wine can't be served.There are plenty of wines that go amazingly well with the salty, greasiness of chips, and even popcorn. A dry Riesling will also go well with the start of a summer grilling party. Bring on the chips and dips; even nachos can go well with these wines, especially if spicy.
Making casseroles for the summer get together can be a little trickier when choosing a wine, but not impossible. Consider the dominant flavor of the casserole when picking out a wine. A beef-based casserole goes well with a Zinfandel, Cabernet Franc, or Grenache. Creamy chicken dishes can be served with a Rose or Pinot Grigio, or the tried and true Chardonnay.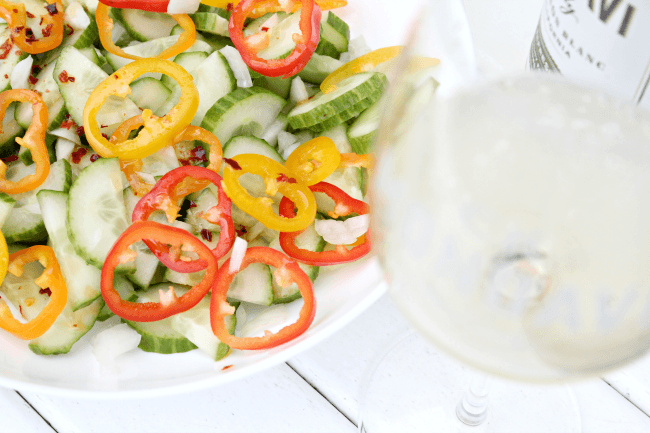 Salads, due in part to the dressings being vinegar-based or an oil vinegar combination of heavier dressings, make wine choices a challenge. As a general rule choosing a Sauvignon Blanc or a Rose wine are safe bets for the majority of favorite salads. A Pinot Grigio can be a good rescue wine for salads, especially those with heavy proteins such as eggs, ham, or bacon. Fruit salads go great with a Sparkling wine or a sweeter, not dry Riesling.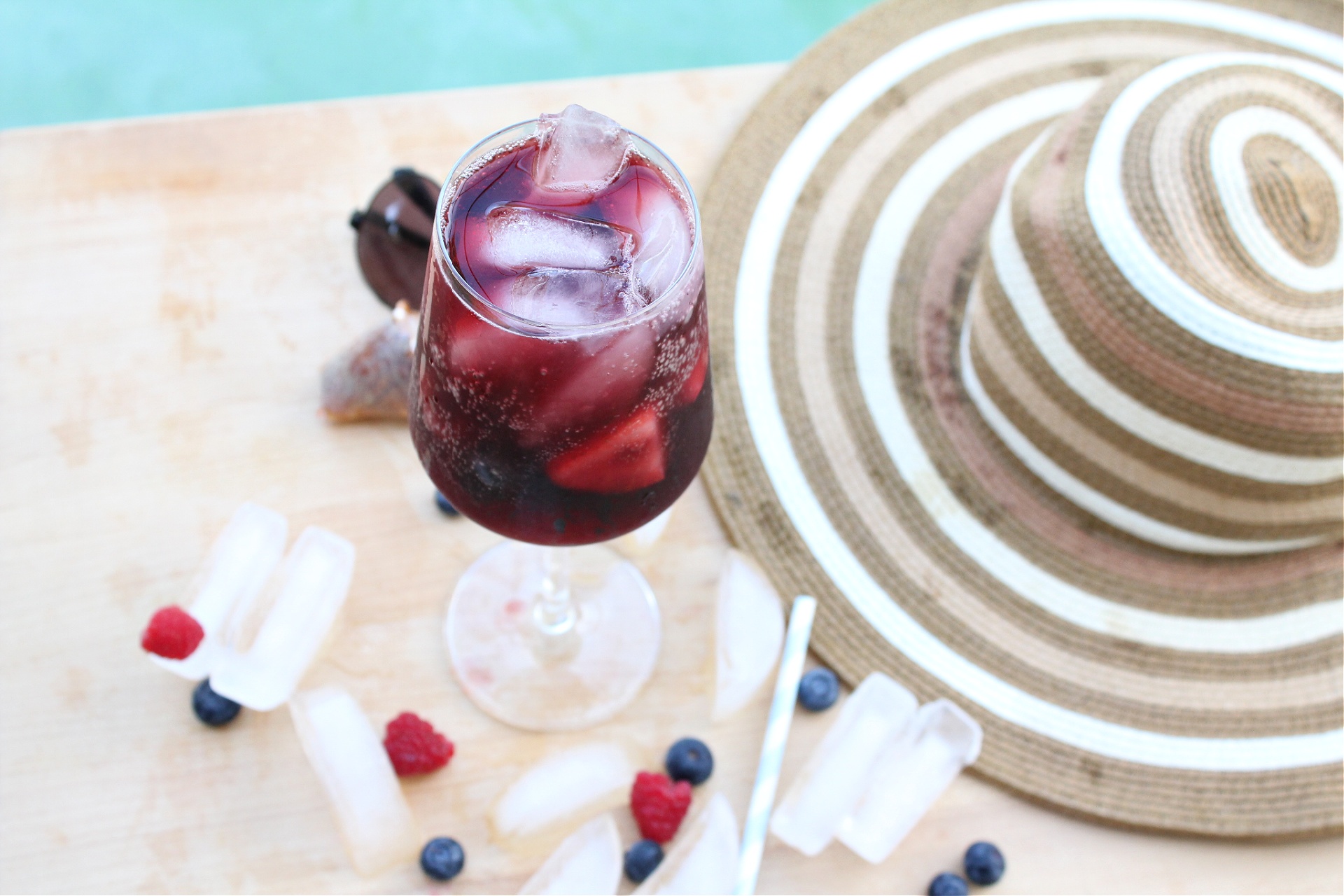 Want to have a refreshing pitcher available for the guests to sip that is not the standard margarita or beer, Sangrias can't be beaten. Sangrias are a refreshing change that goes well with any food that is part of the grilling menu. Besides extending the wine being served, Sangria is just a fun drink.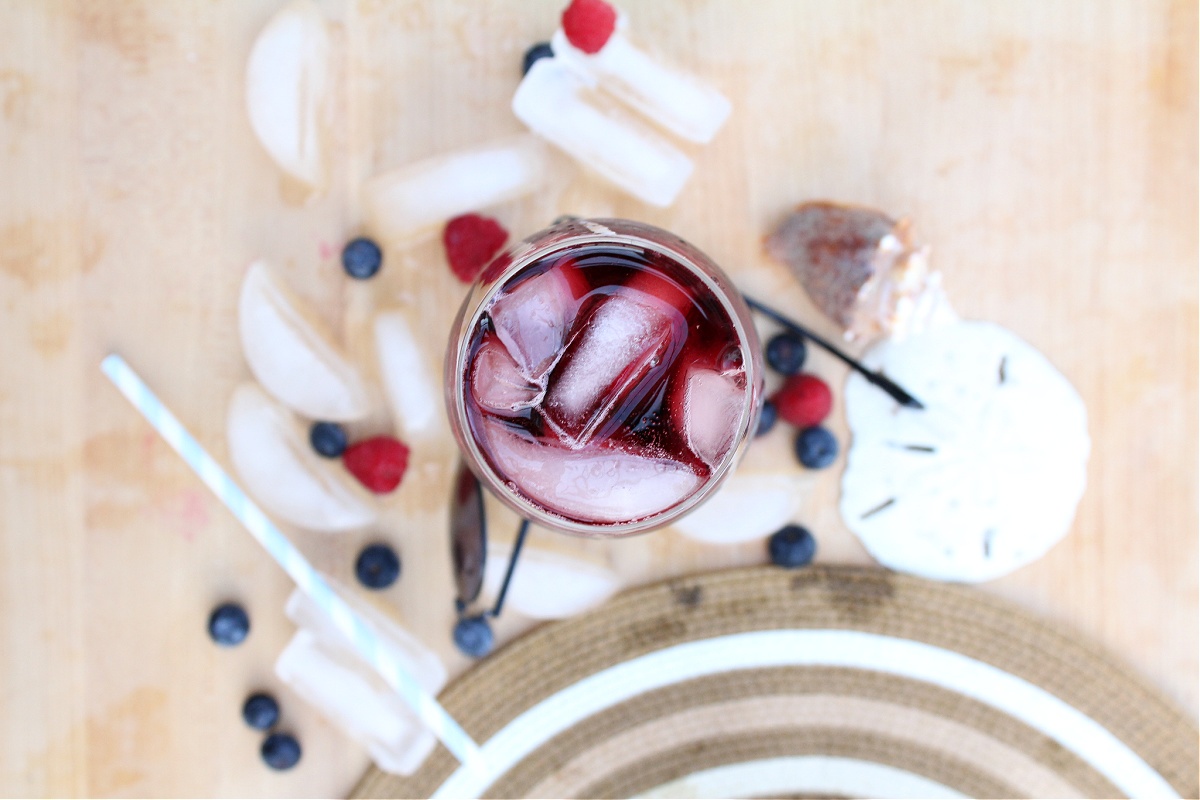 So, now that you have your suggested wine pairing for your summer grilling, I thought I would share an easy sangria recipe that will definitely be a hit at your next outdoor party.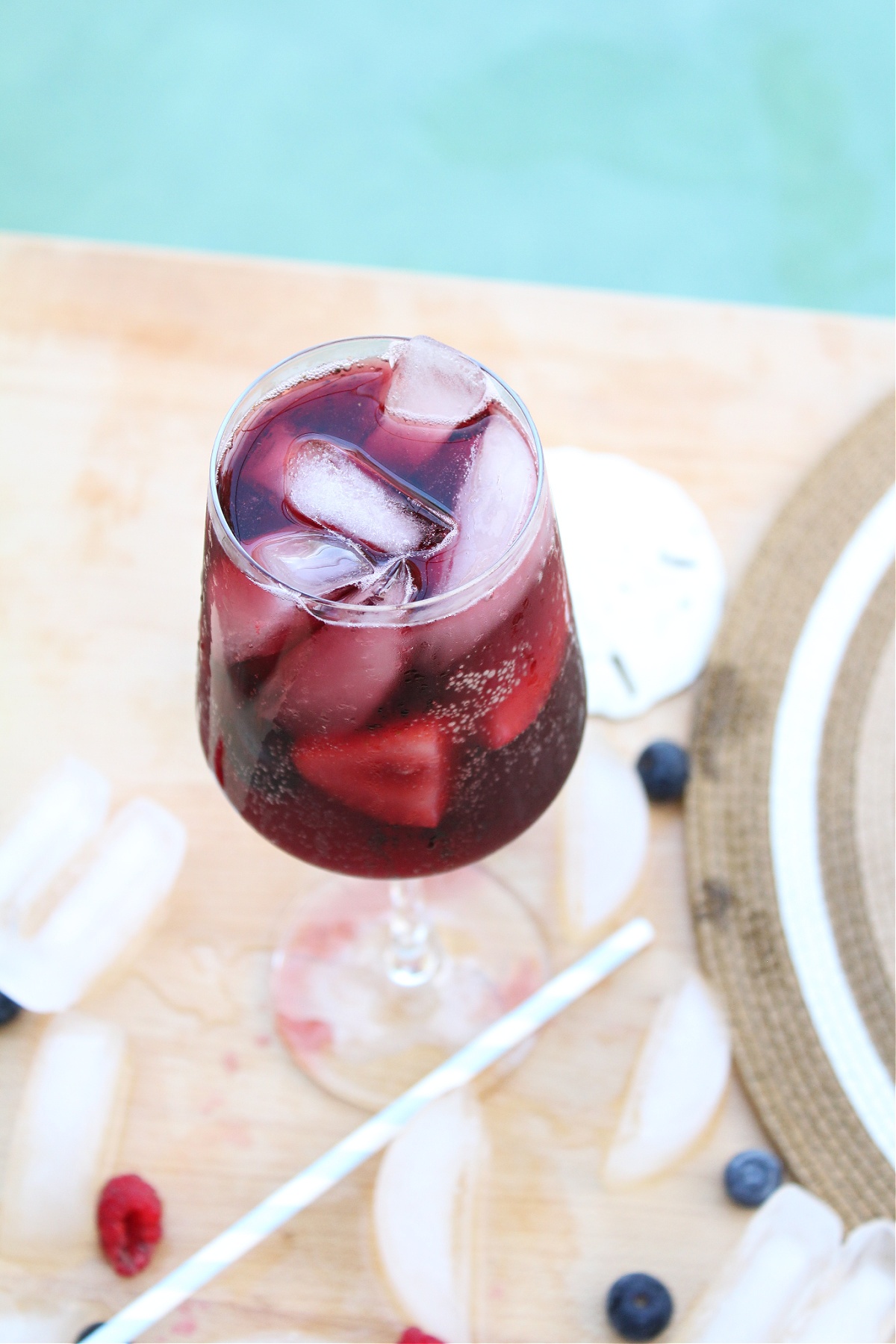 This is a Strawberry Sangria recipe, but feel free to add in extra fruits if you would like. As you can see I added in some raspberries and blueberries.
For my Strawberry Sangria you will need:
Red wine – I used CK Mondavi and Family Merlot, but any red wine you have on hand will do.
Strawberries
Brandy
Blue Curacao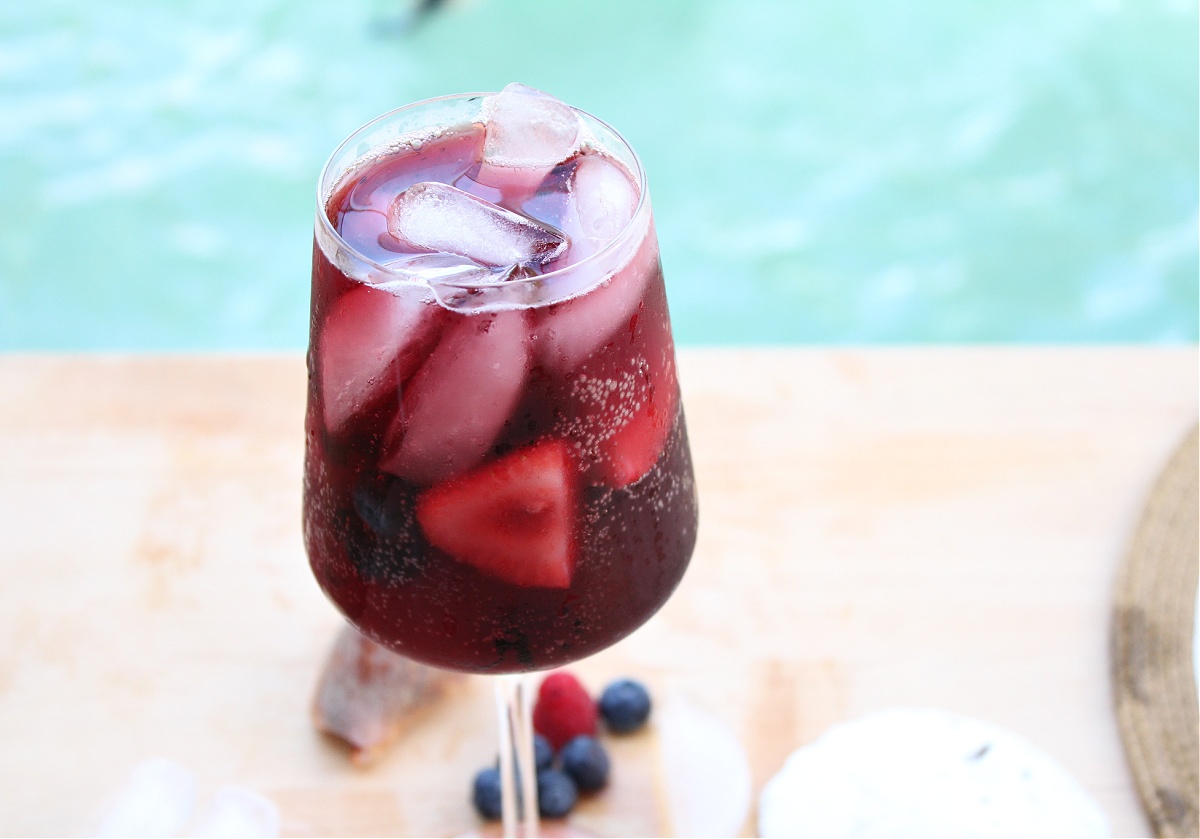 Easy enough, right?! Depending on how many people you have coming over to enjoy your summer BBQ, you may want to double my strawberry sangria recipe. This recipe is good for 4 glasses, and I promise you, your guests (and you!) will be asking for a 2nd glass.
Now, here is my Strawberry Sangria recipe, be sure to print it and pin it so that you can enjoy it all summer long. And next summer. And the next summer 😉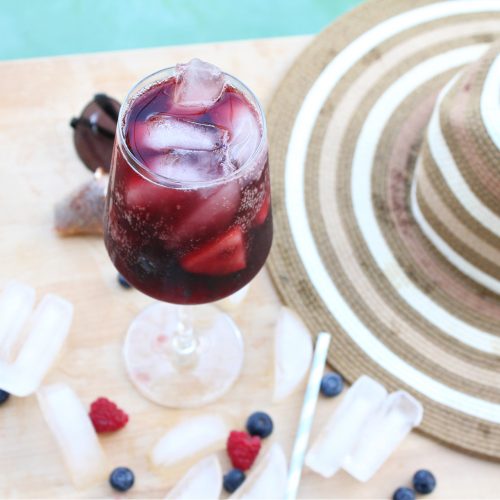 Strawberry Sangria
This easy sangria recipe is the perfect addition to your summer BBQ menus. Made with only a few ingredients you and your guests will love this strawberry sangria.
Print
Pin
Rate
Ingredients
1

bottle of red wine

I used CK Monadvi and Family Merlot, a Rioja is often used, but any red wine will do

1

pint

strawberries

fresh or frozen - frozen can double as ice cubes

2

oz

brandy

4

oz

Blue Curacao
Instructions
In a large pitcher mix together the red wine, strawberries, brandy, and blue Curacao until well mixed.

Refrigerate at least one hour or ideally overnight.

Serve the next day from a large pitcher filled with ice.

Add sliced oranges for extra zing if desired.
Nutrition
Calories:
230
kcal
|
Carbohydrates:
14
g
|
Protein:
1
g
|
Fat:
1
g
|
Saturated Fat:
1
g
|
Sodium:
9
mg
|
Potassium:
419
mg
|
Fiber:
2
g
|
Sugar:
7
g
|
Vitamin A:
18
IU
|
Vitamin C:
70
mg
|
Calcium:
34
mg
|
Iron:
1
mg
Summer grilling times is a great chance to kick back and relax. Experiment and try wines that you haven't tried before. Wine choices do not have to be expensive, as many wines perfect for the summer grilling parties are often around $10.00 – $15.00. Grilling and barbecues are a big part of enjoying summer. Don't forget the wine. Or the sangria.
And if you are headed out on a picnic, check out the best wines to bring with you on a picnic.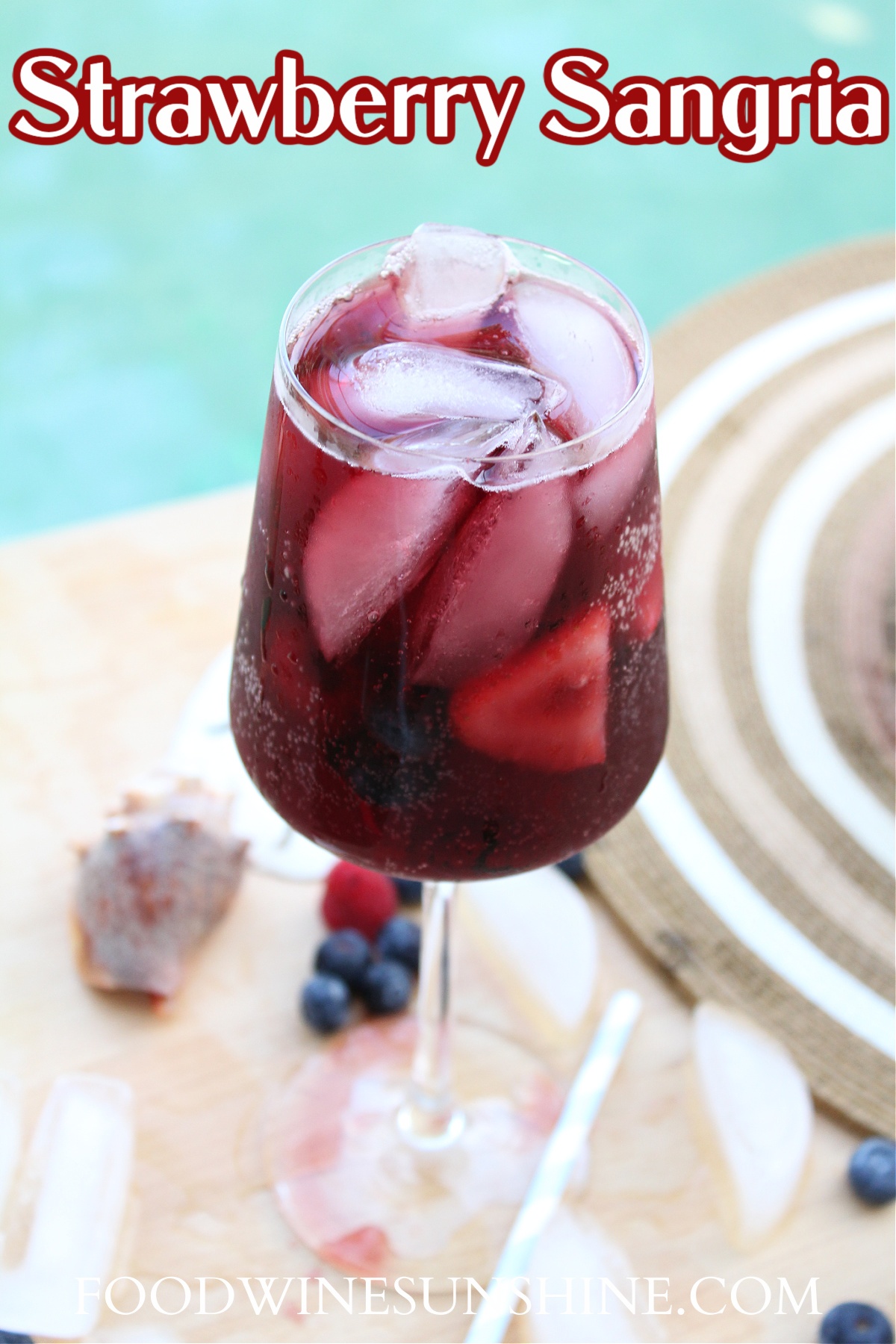 What is one of your favorite summer wines? Do you like sangria?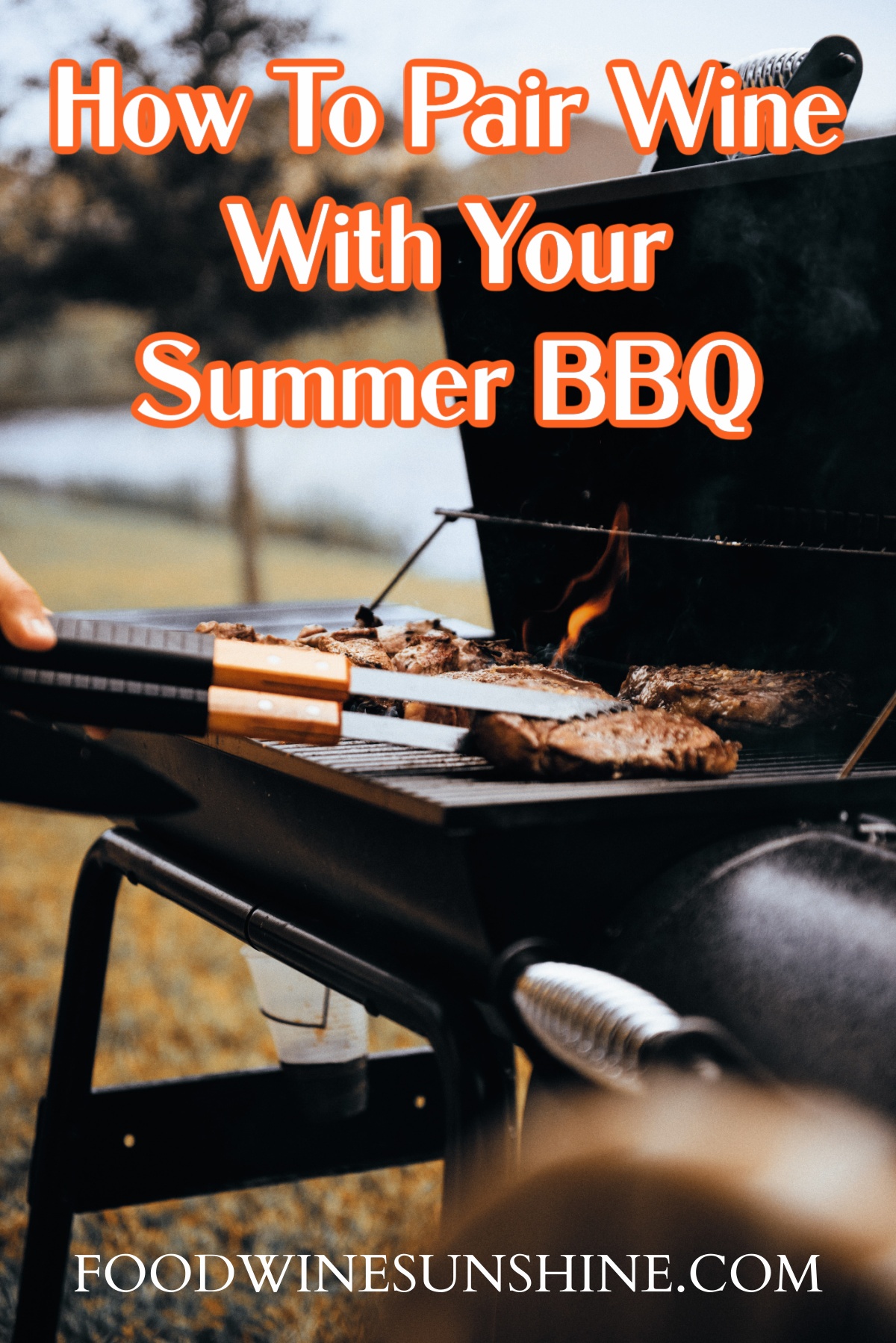 What is one of your tips for pairing wines with BBQs?
Be sure to check out Food Wine Sunshine on Facebook, Twitter, Pinterest, and Instagram for more wine tips, cocktails, healthy recipes, and fun things to do.