(Last Updated On: April 16, 2023)
Looking to spend some time outdoors entertaining this summer? Here are 20 Simple Outdoor Entertaining Tips For Summer, make dining and entertaining outdoors simply a success!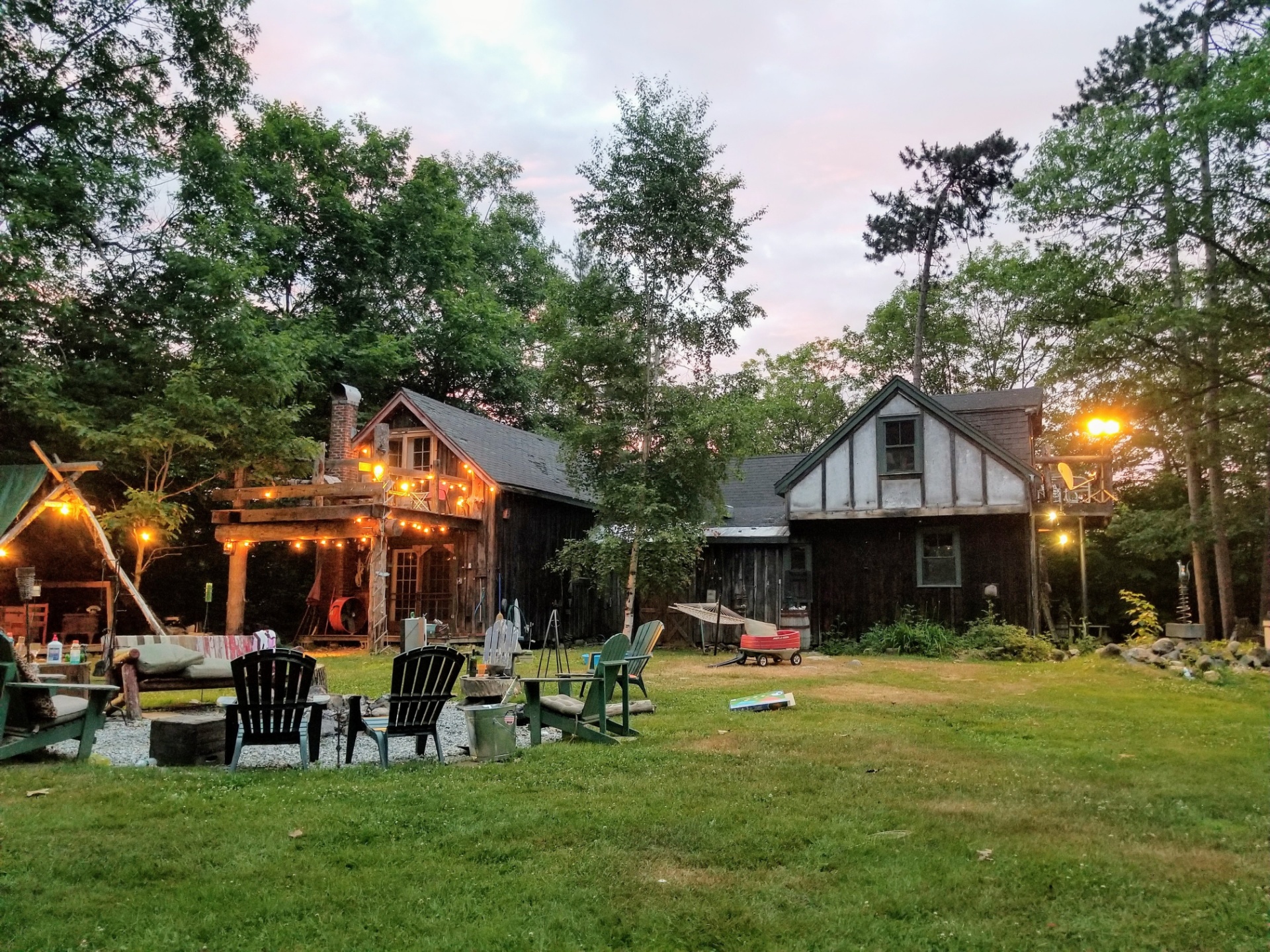 20 Simple Outdoor Entertaining Tips For Summer
As the weather warms up, we automatically like to spend more time outside. Spending time outside in the summer is a great way to enjoy your outdoor living space. Entertaining and dining outside in the summer is a wonderful way to spend time with friends, get some fresh air, and keep the inside of the house clean.
To create the perfect atmosphere for your outdoor dining space without spending a fortune, it takes a little organization and some dedicated time to do some creative thinking.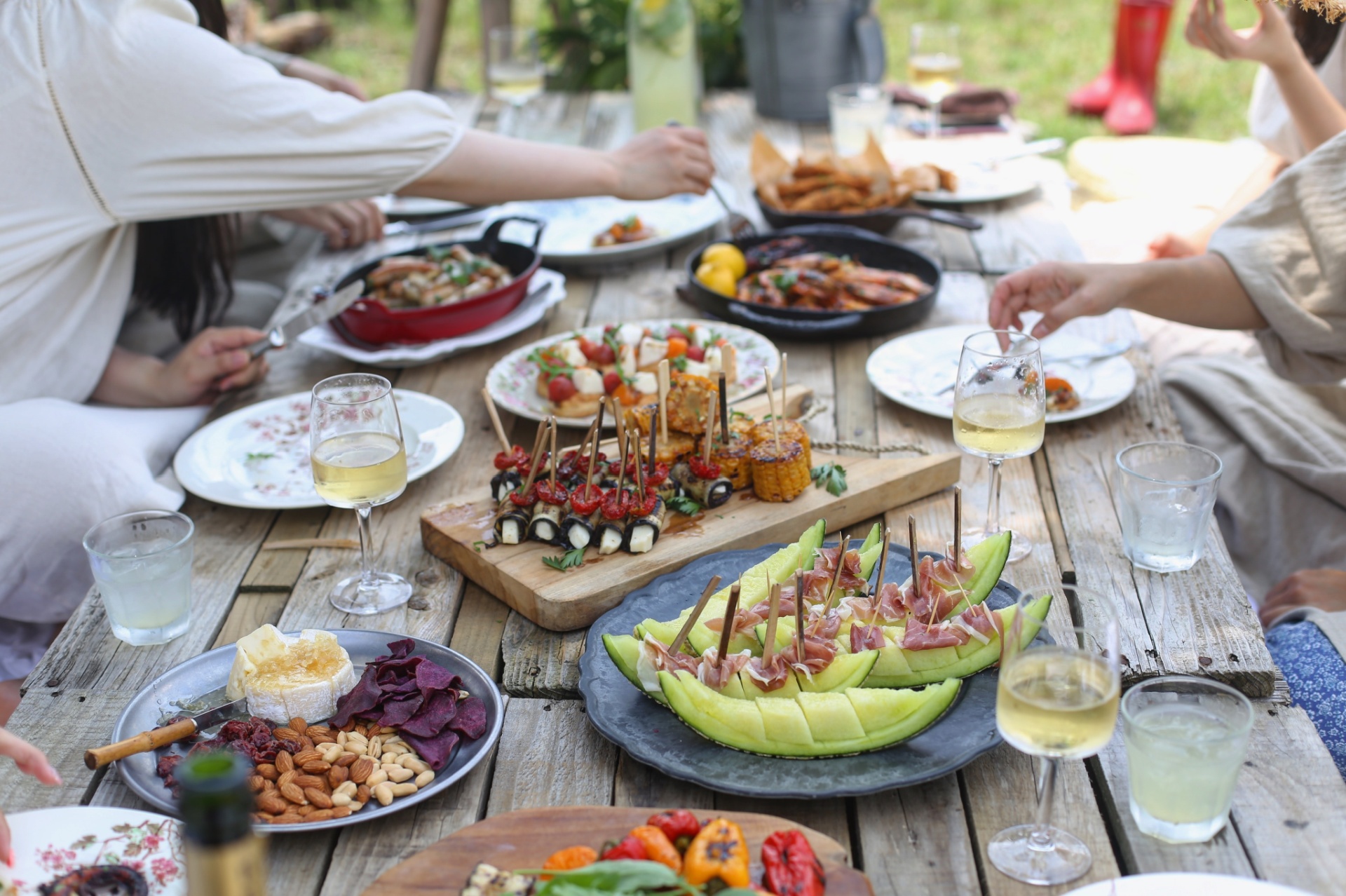 Here are a few simple ideas to inspire your outdoor entertaining and dining this summer:
For more informal dining and additional dining space, place an old door (or similar sized piece of lumber) on top of four empty paint cans (half fill with sand for stability) and cover with a tablecloth or bed sheet. Surround with plenty of cushions for guests to lounge on.
If you are lucky enough to have a swing seat with an awning, add a pile of cushions for guests to enjoy after eating.
Set aside a table for preparing refreshments to avoid cluttering the dining space.
Mark drinking straws with paper flags to help guests identify their glass. Be sure to have a couple cocktail recipes ready to make.
Keep bugs out of party drinks by covering each class with a cupcake cover.
Have a list of games for guests to enjoy, such as pin the tail on the donkey, hula-hooping, croquet, corn hole and badminton.
Create a children's corner with crayons, paper, scissors, and glue. Get an older sibling to supervise.
Decorate the backyard, porch, or patio with floral garlands or paper bunting.
Fill buckets with herbs such as lavender to line the path to the patio or porch for a sweetly scented walk.
Add a touch of glamour to a porch ceiling by hanging a chandelier made by bending wire into shape and decorating it with fairy lights and glossy, fresh ivy.
Bouquets of small flowers such as pansies look particularly sweet, displayed in simple, plain drink glasses.
Mixed glassware and accessories add a relaxed feel to the festivities.
Covered lanterns between each place setting provide atmospheric table lighting for the evening.
A weathered laundry tub filled with ice is an ideal wine chiller.
Shelter guests from the heat of the day with a pretty canopy made of a bedsheet and four sturdy poles.
Tea lights in assorted glass jars are perfect for outside spaces when the light begins to fade.
Fill a little-used soup tureen with garden flowers for an impressive centerpiece.
Jam jars or old sundae glasses filled with appetizers make a rustic table display.
Details such as tea towels with interesting prints such as a lobster or favorite vegetable or fruit, help add a little French chic.
A cleverly folded napkin can hold cutlery and a decorative sprig of rosemary for a smart country table setting.
Being organized and getting things done ahead of time will allow both the hosts and guests to enjoy a wonderful al fresco evening. If you are interested in planning a summer party where friends and family will be spending the day, be sure to grab this Summer Party Essentials Printable to help you with the planning!
And if you are planning to enjoy the outdoors with a picnic, be sure to check out these affordable picnic wines.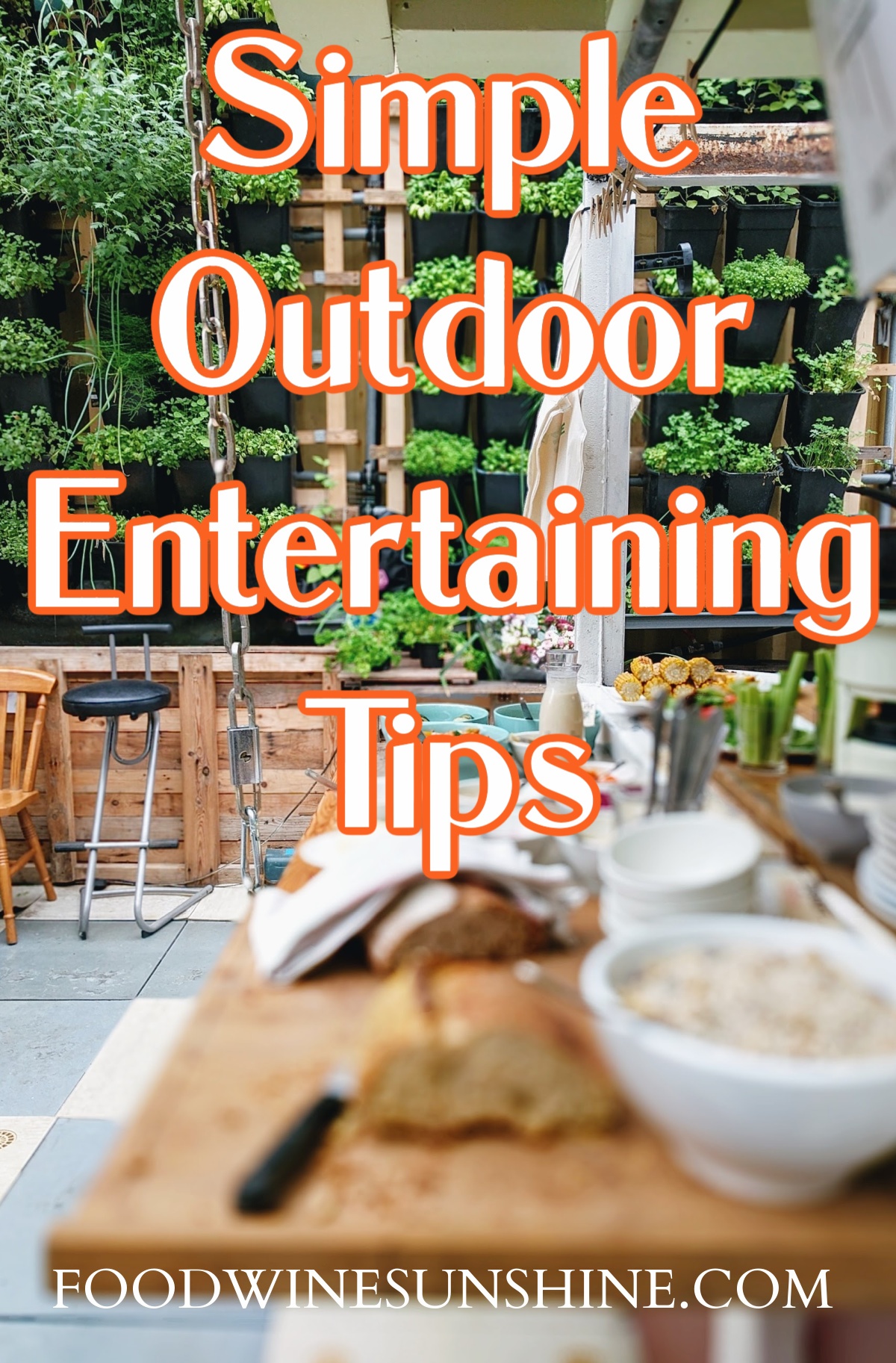 What is one your favorite Simple Outdoor Entertaining Tips For Summer? Do you like dining outside in the summer?
Be sure to follow Food Wine Sunshine on Facebook, Twitter, Pinterest and Instagram for more tips, delicious recipes and more!