(Last Updated On: April 7, 2021)
As the weather warms up we like to be outside! Pack a picnic to enjoy with your friends and family, but don't forget the wine. Here are the best picnic wines for under $15. Cheers!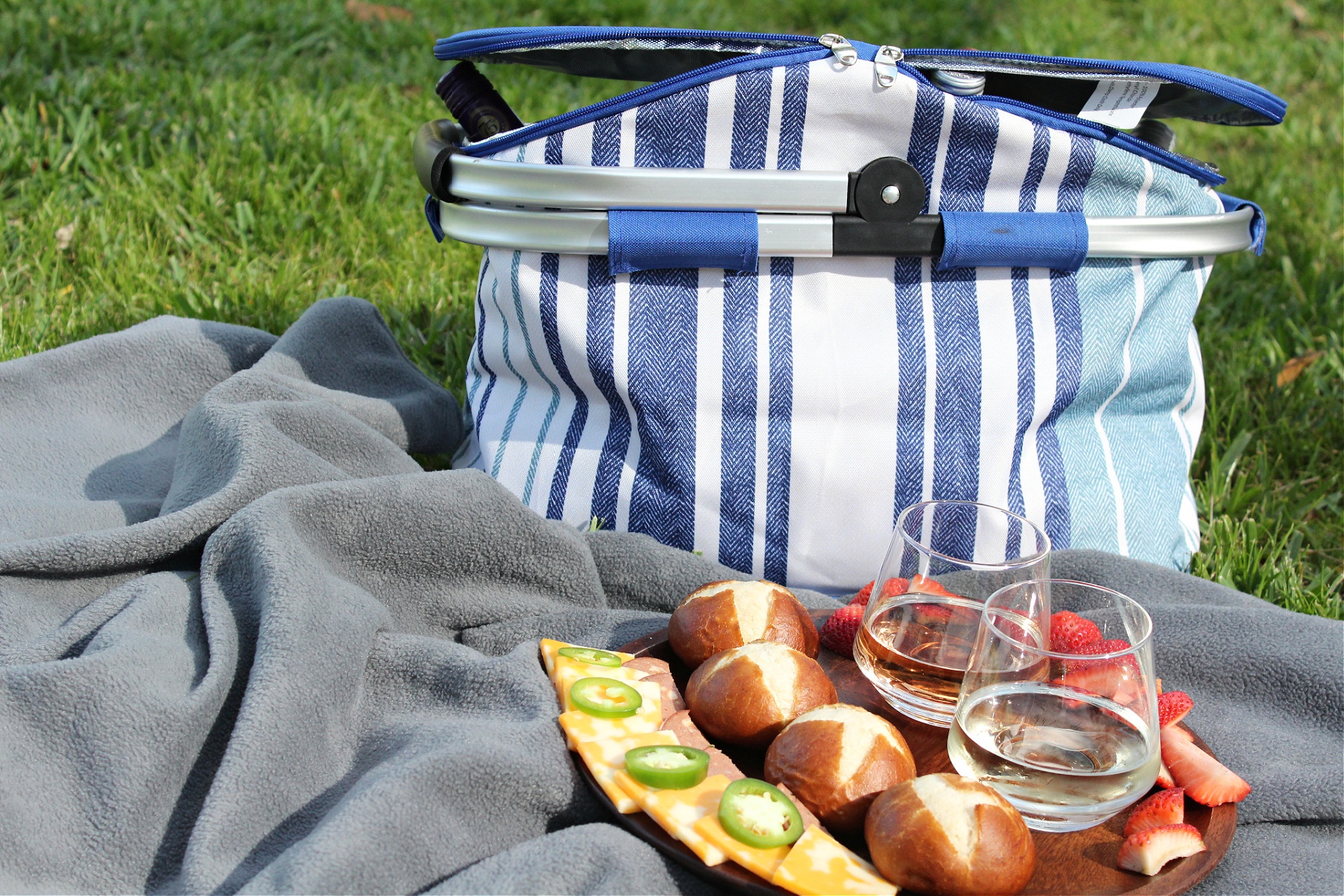 Best Picnic Wines For Under $15
Spring and Summer is the perfect time for picnics, beach parties, barbecues, relaxing, and celebration. These reasonably priced wines would make the perfect accompaniment to your Spring and Summer gatherings. Whether the menu is barbecue, burgers, fruit and cheese, fish, or a light salad, these wines will turn a simple summer meal or gathering with friends into a festive and fun occasion. Without breaking the bank.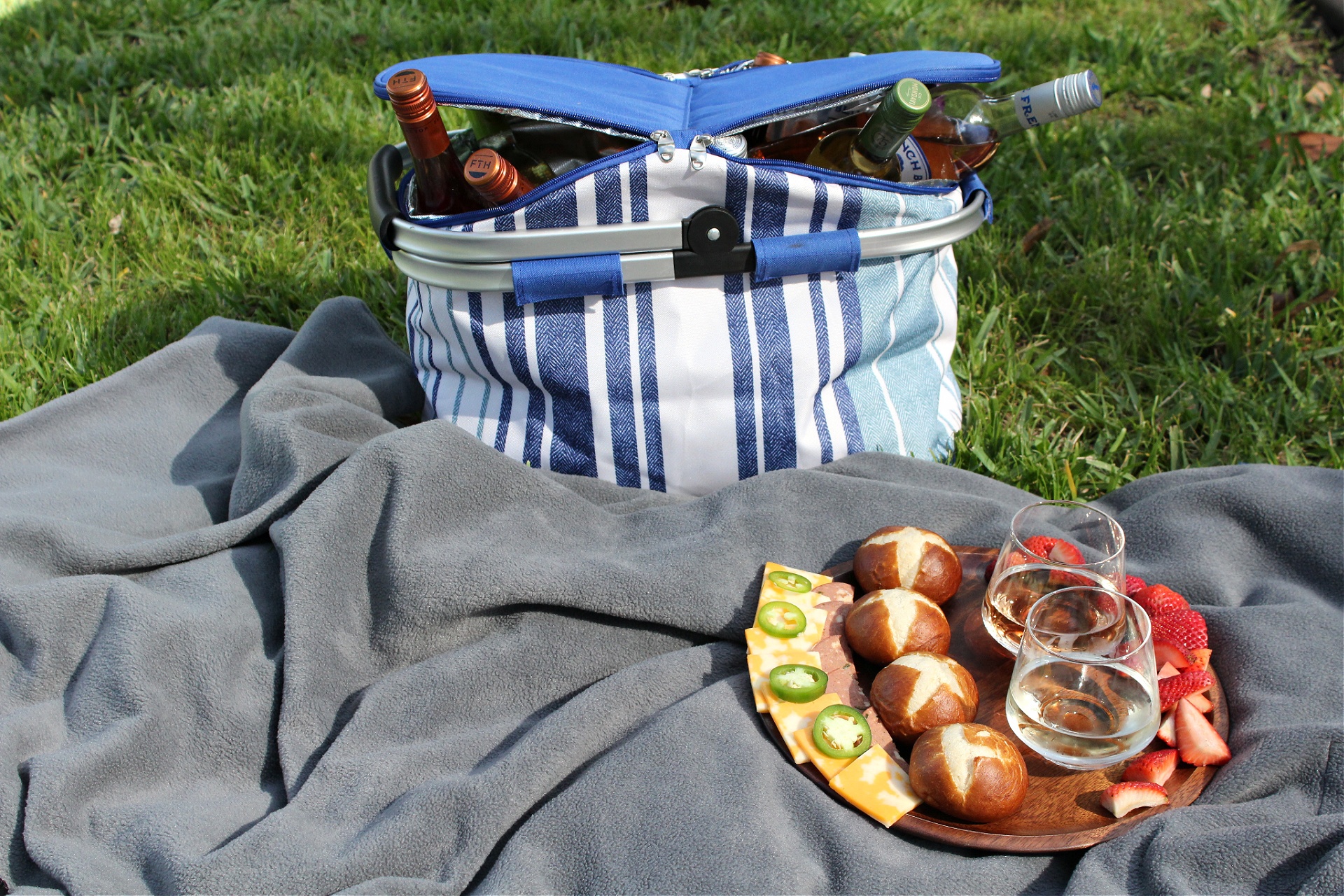 Bringing a classy touch to a picnic is as simple as adding a bottle of wine to your picnic basket or beach bag. These wines suit the heat and festive mood of Spring and Summer.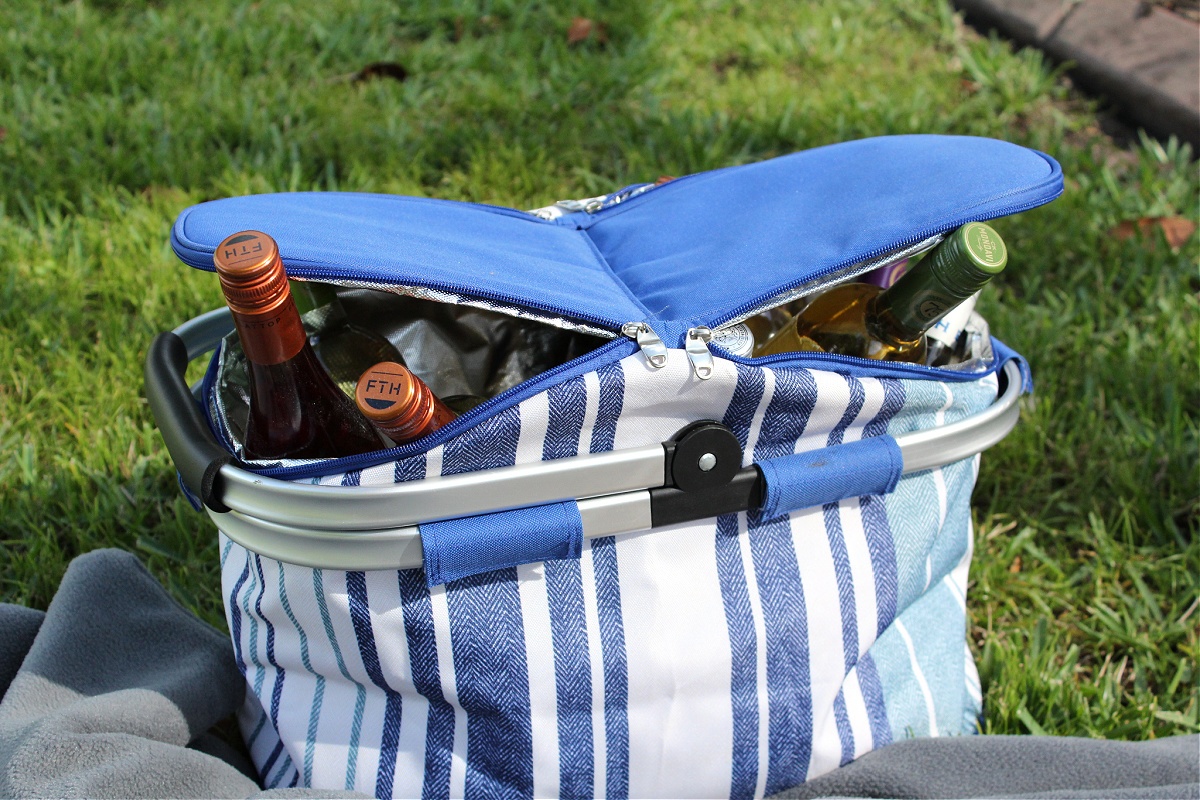 Now, no one really enjoys a hot glass of wine. So, I do recommend having somewhere in your beach bag or picnic basket something to keep your wine at a reasonable temperature. White wine is best served nice and chilled, while red wine doesn't have to be "cold" but hot isn't an idle serving temperature for anything…well, expect hot cocoa…or a hot toddy. If you need a chiller, there is a large variety of wine chillers Amazon, but for the purpose of a picnic, I like the wine bottle chilling sleeve because it's compact and easy to carry.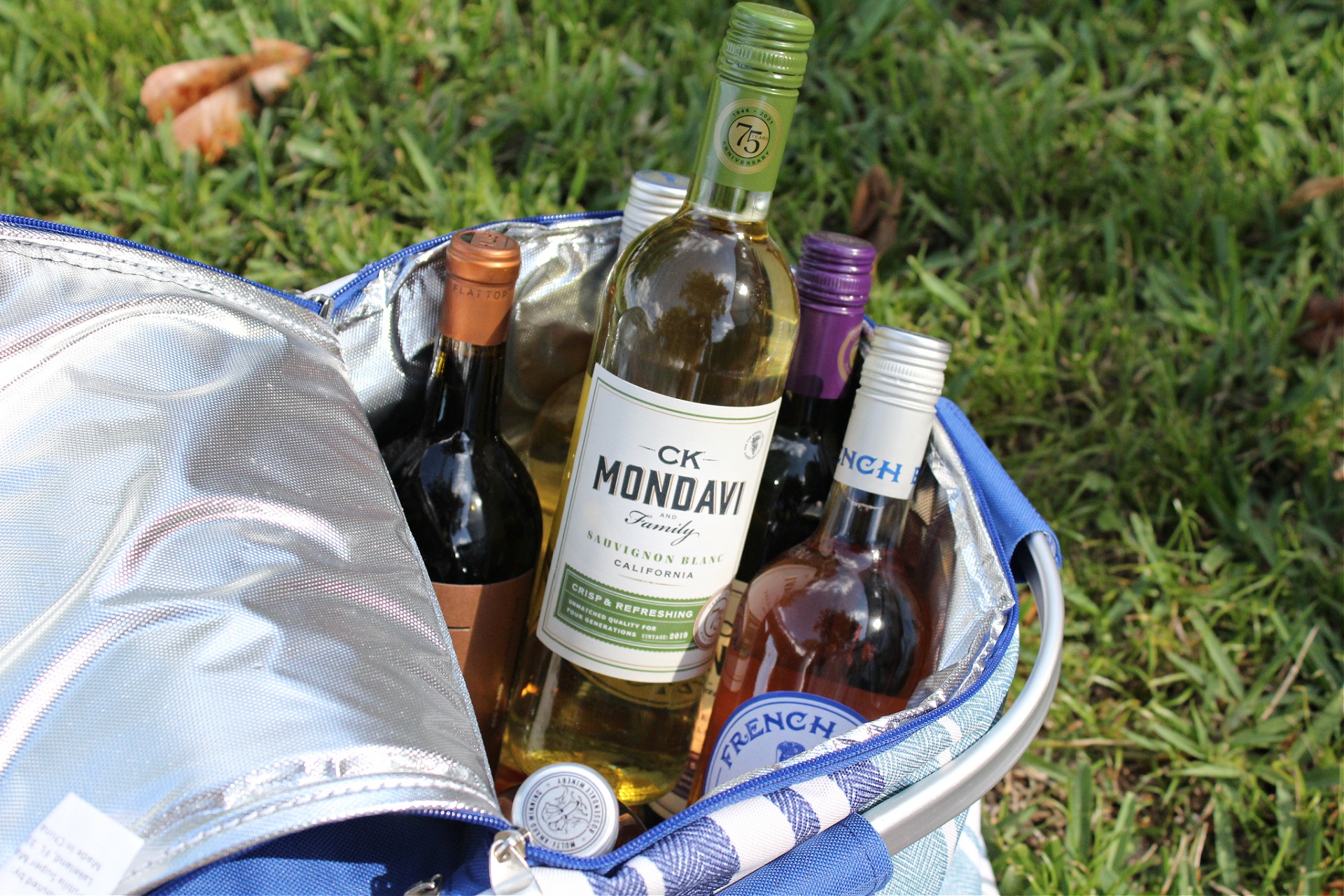 I have the Best Picnic Wines for under $15 listed below into categories, starting with white wines, then Rosé wines, then Bubbly wines, then red wines. I also listed whether or not the wines had a screw top or a traditional cork. If your favorite picnic wine has a traditional cork, don't forget the wine opener!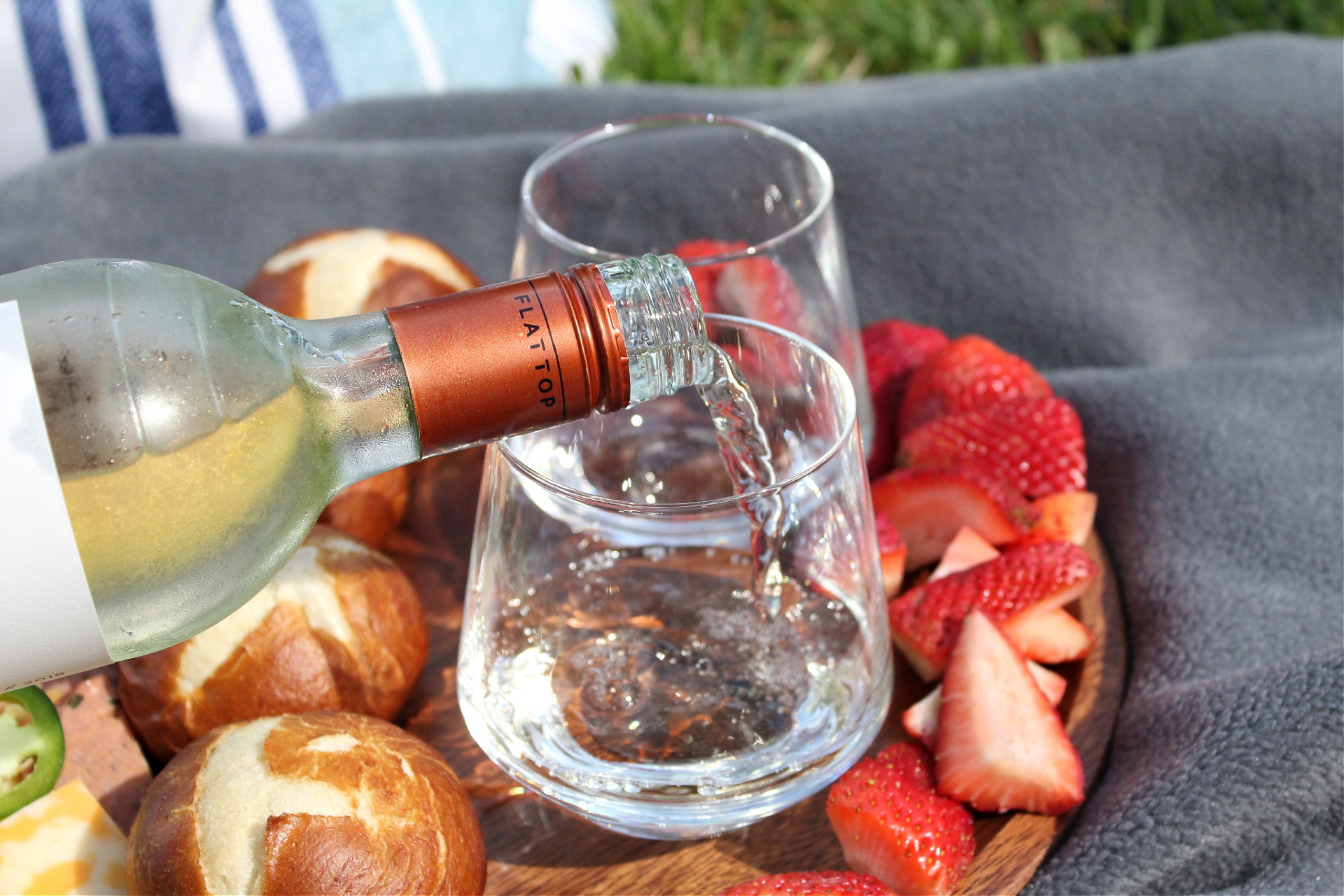 Best Spring & Summer White Wines For Under $15
Three Thieves Bandit Pinot Grigio – Box Wine
Versatile in packaging and flavor, these single-serving boxes of light, citrusy wine pour out to a generous glass that goes anywhere with anything- grilled chicken, grilled veggies, or even potato salad—traveling light? Drink it straight from the box. Price is just under $6 for the 500 ml box.
CK Mondavi and Family Pinot Grigio – Screw Top
This easy drinking Pinot Grigio has aromas of wildflowers, peaches and pears. Making it the perfect addition to your picnic as it pairs delightfully with all the flavors that you packed! You will taste tropical flavors with a touch of spice that lead to a crisp and refreshing finish. From $8.
Flat Top Hills Chardonnay – Screw Top
You wouldn't normally think of chardonnay as a picnic wine, but this one from Flat Top Hills has notes of succulent stone fruit and ripe pineapple, which will taste great with that grilled chicken and fresh fruit. From $13.
CK Mondavi and Family Sauvignon Blanc – Screw Top
This Sauvignon Blanc has subtle aromas of lemon, kiwi and herbaceous notes. Flavors of grapefruit and citrus make this crisp, refreshing wine a picnic food-friendly favorite. From $8.
Flat Top Hills Sauvignon Blanc – Screw Top
Here you will taste generous fruit, jasmine and lemon zest with a crisp and balanced with a lemon drop finish. I love serving this Sauv Blanc with goat cheese, green vegetables, salad with one of my homemade vinaigrettes and dishes with a bit of heat. From $12.
Waipapa Bay Sauvignon Blanc – Screw Top
This delightful Sauvignon Blanc is from New Zealand. It has intense aromas of gooseberry, grapefruit and passion fruit, beautifully balanced with crisp, aromatic flavors and hints of citrus. When packing for your picnic, keep in mind that this white wine pairs well with shellfish, chicken, grilled vegetable dishes and fresh green salads. From $13.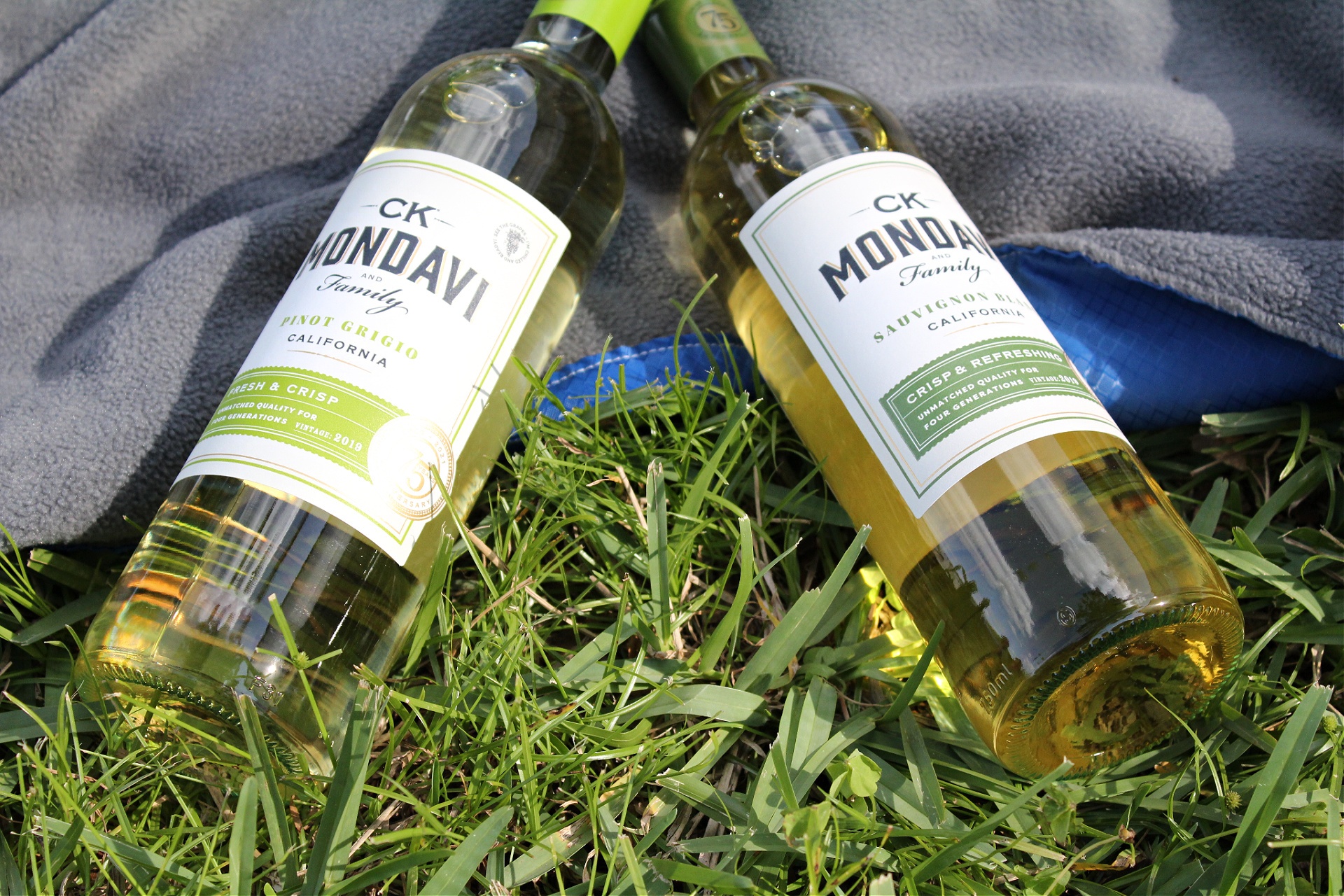 Other White Wine Varietals to Try At Your Picnic
Spring Splendor – Traditional Cork
This is delightful semi-dry white wine that is full of fruit flavors. With a name like Spring Splendor, it is a great addition to your picnic baskets. Best served cold. Priced at $7.
Arca Nova Vinho Verde – Screw Top
Just a little bit of fizz brightens this "easily drinkable," low-alcohol white, refreshing on a hot day or with grilled chicken, seafood, or veggies. Around $11 per bottle.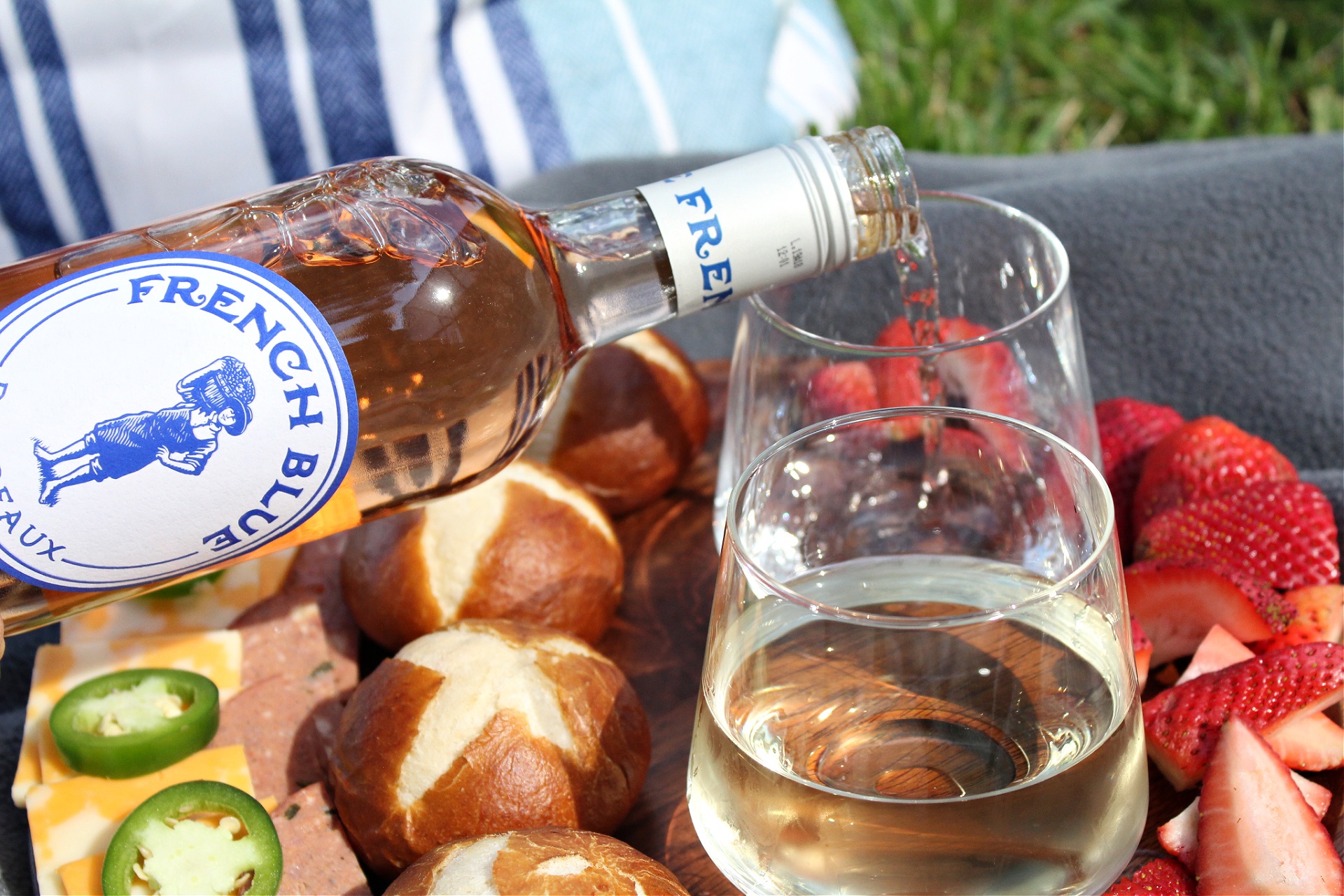 Best Spring & Summer Rosé Wines For Under $15
Flat Top Hills Rosé – Screw Top
Flat Top Hills Rosé of Grenache, Carignan and Dolcetto is fruit-forward, yet dry and supple. This beautiful pink hued wine gives aromas of strawberry cream pie, guava and has floral notes with a touch of whipped cream and mango on the finish. This wine will pair well with every cheese you bring along. From $13.
French Blue Rosé – Screw Top
French Blue 2020 Bordeaux Rosé is made from red wine grapes selected and expressly harvested for being made as a rosé wine. The beautiful floral bouquet is reminiscent of lilacs and summer berries, while the palate bursts with bright citrus and luscious strawberry notes. Make sure this Rosé is in your picnic basket if you are serving chicken, turkey, salmon, charcuterie, soft cheeses, feta and gouda. From $14.
Best Spring & Summer Bubbly Wines For Under $15
Sofia Brut Rosé Minis – Single Serving Can
Having a can of wine is incredibly convenient when you are enjoying a picnic! No need to worry about breaking a bottle or trying to remember if you brought a wine bottle opener. This Brut Rosé is from Francis Coppola Winery and is blended from Pinot Noir and Chardonnay. Brut Rosé Minis has a light effervescence and fragrant notes of fresh fruit, flowers and spice. The sparkling flavors pairs beautifully with picnics and sipping by the pool. From $15 for the 4-pack of minis.
Great Lakes Red Bubbly – Single Serving Can
Where sweet meets bubbly in perfect matrimony. Here is the concord grape you grew up with, it's rich flavor is blended into a sweet, vibrant and juicy red wine all wrapped up in a delightfully carbonated bubbly drink. Don't forget the coozie. $5 each.
Charles de Fer Brut Reserve
Sparkling wine is festive. Popping the cork on this champagne-like bubbly will make you feel like you're at a party in the Hamptons. Get the party started with appetizers or even homemade popcorn. From $14.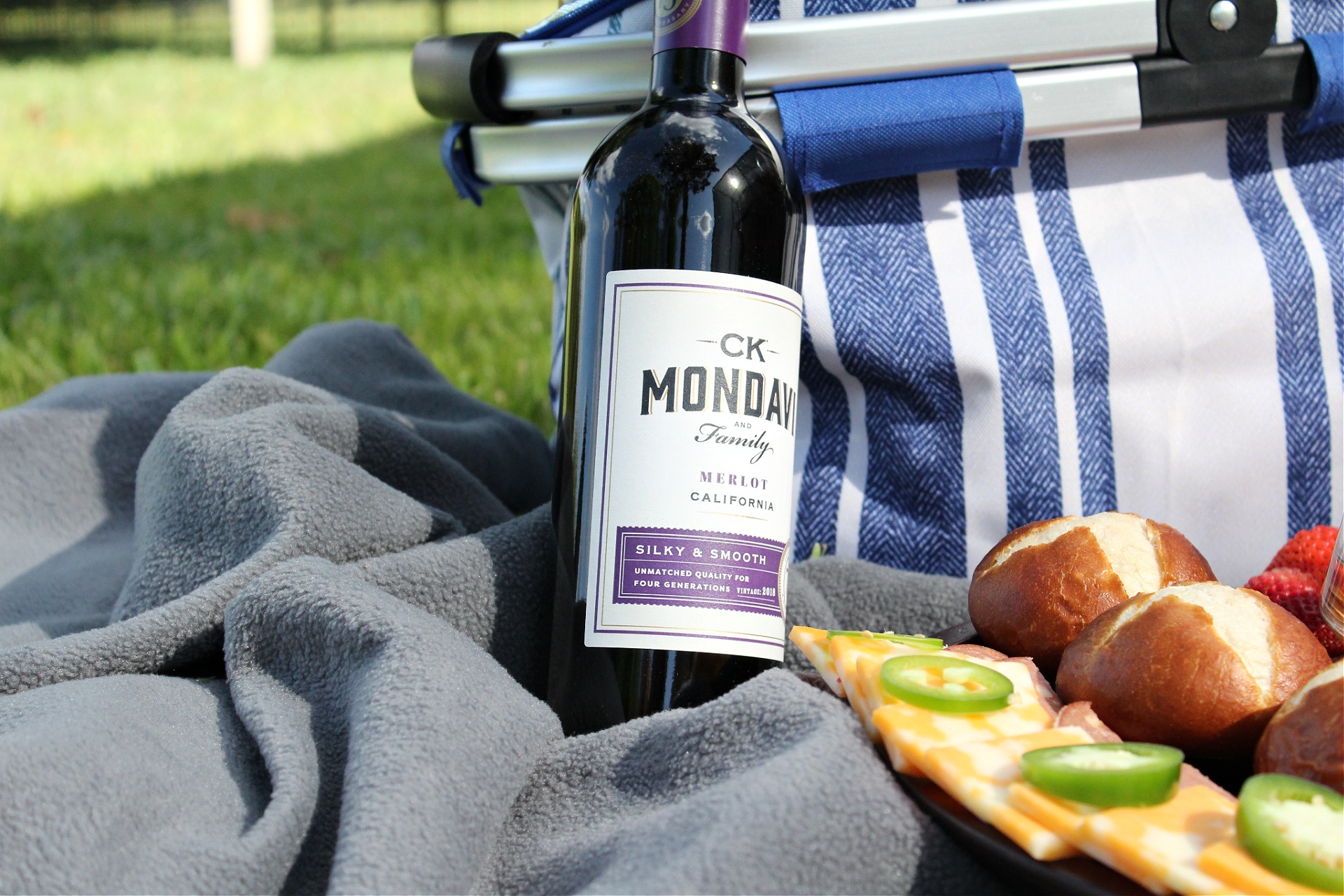 Best Spring & Summer Red Wines For Under $15
Three Thieves Bandit Cabernet Sauvignon
A red light enough for summer but strong enough to stand up to grilled meat, in a box small enough to slip into a purse or pocket for pairing with a baseball game hot dog. From $5.99/box
CK Mondavi & Family Cabernet Sauvignon – Screw Top
This is a excellent Cabernet Sauvignon for it's price point. This wine has a classic, deep red color, rich with cherry and blackberry flavors with a hint of oak. This red wine will pair well with your picnic burgers, rich cheeses and whatever else you may want to try with it. From $8.
Merlot
CK Mondavi & Family Merlot – Screw Top
This Merlot is silky and rich with aromas of plum, blackberry jam and dark chocolate. That being said, it is sometimes good with an ice cube or two in it, go ahead, I won't tell anyone! This is a medium-bodied red wine has a soft finish that never disappoints. From $8.
Spier Pinotage – Screw Top
This medium-bodied red is great for steak, burgers, or pulled pork sandwiches, and grilled vegetables like Portobello mushrooms. From $12.
Flat Top Hills Red Blend – Traditional Cork
This is a medium to full-bodied red wine with cinnamon and spice components and dark fruit and bright raspberry fruit notes. This red blend wine pairs well with the smoky cheeses and anything and everything BBQ. From $15.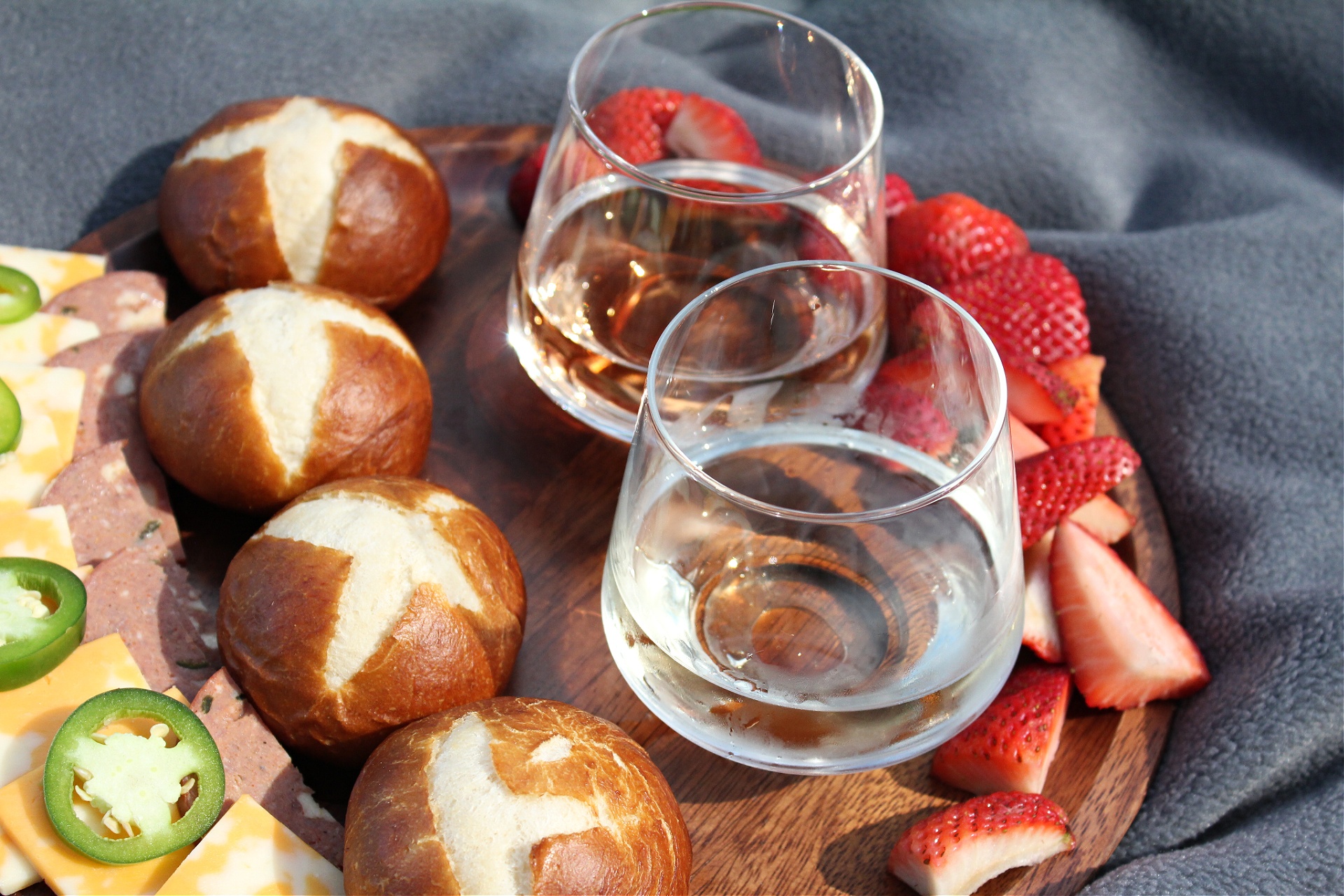 When is the last time you had a picnic? I hope this picnic wine guide helps you pick the perfect wine for your next picnic!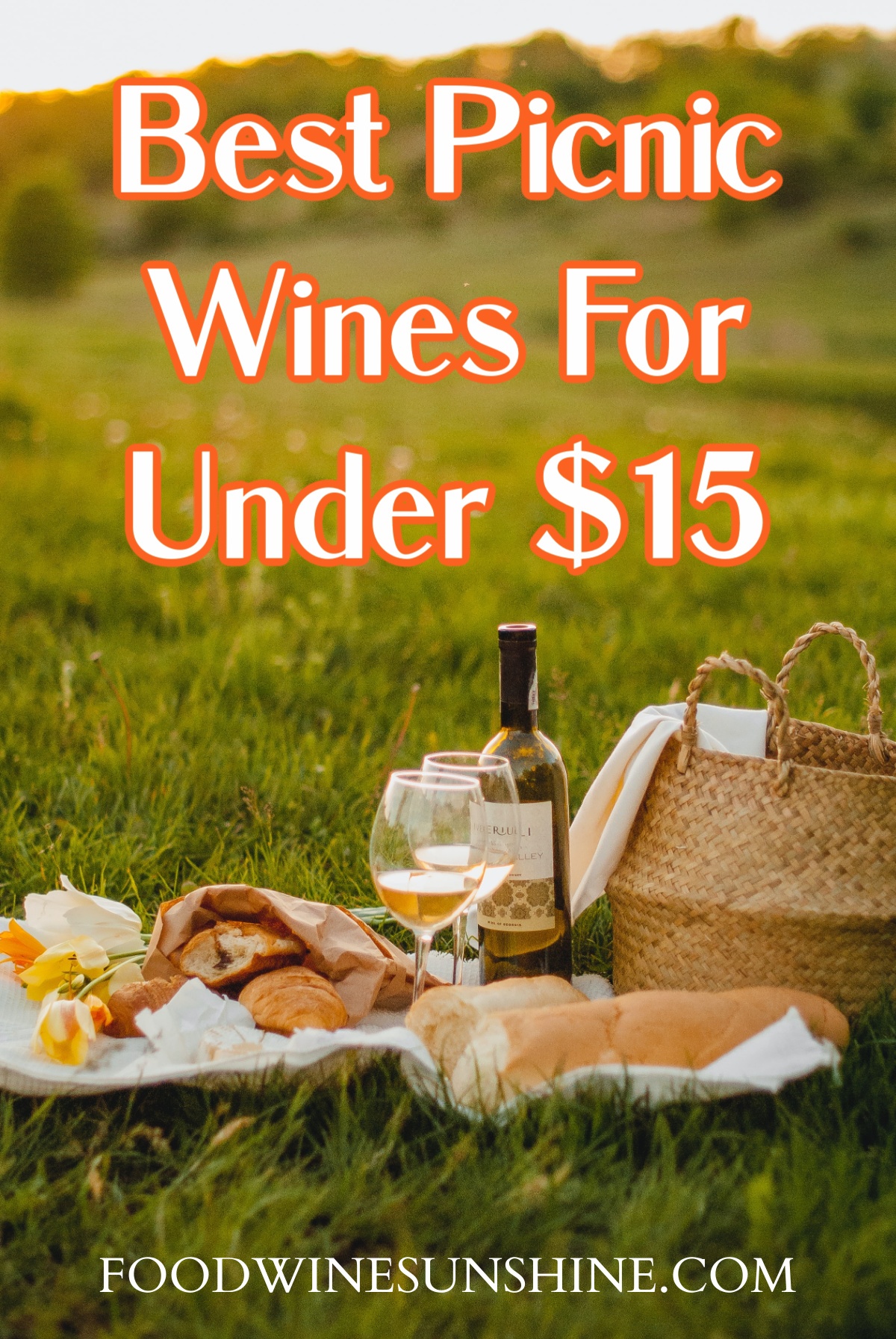 Be sure to check out Food Wine Sunshine on Facebook, Twitter, Pinterest, and Instagram for more wine tips, cocktails, healthy recipes, and fun things to do.