(Last Updated On: January 20, 2021)
These low carb burger bites are ready to serve in about 25 minutes. This easy appetizer recipe is a definite crowd-pleaser. I am a proud CK Mondavi and Family Ambassador, while this post is sponsored, all opinions and the recipe are my own.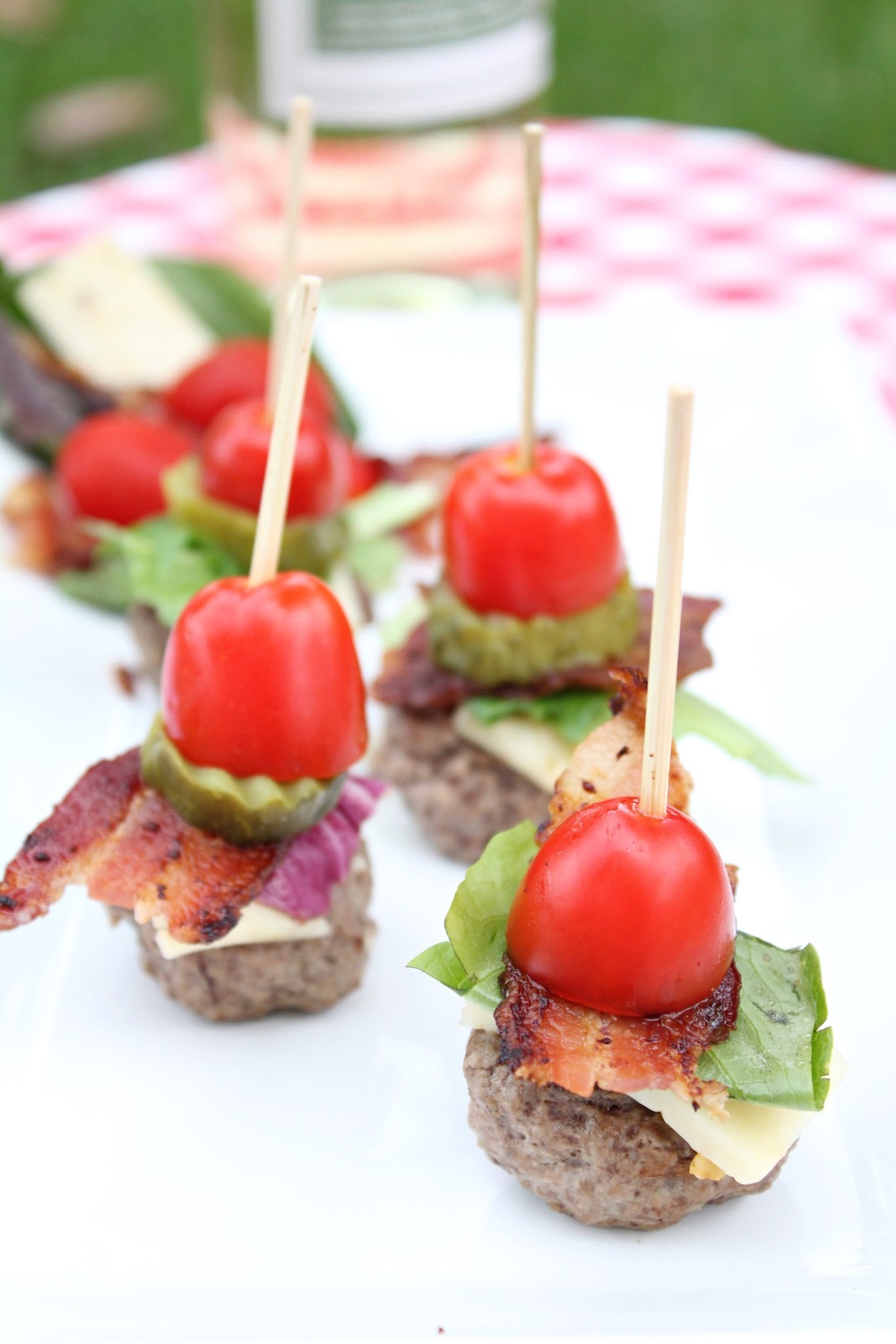 Low Carb Bunless Burger Bites
We are all spending a bit more time outdoors lately, not only because it's summer but because to make sure we can still have fun with family and friends, but socially distanced as well. One of the things we have been doing more of as a family and with our close friends is playing outdoor games. We love playing cornhole and bocce ball, how about you all?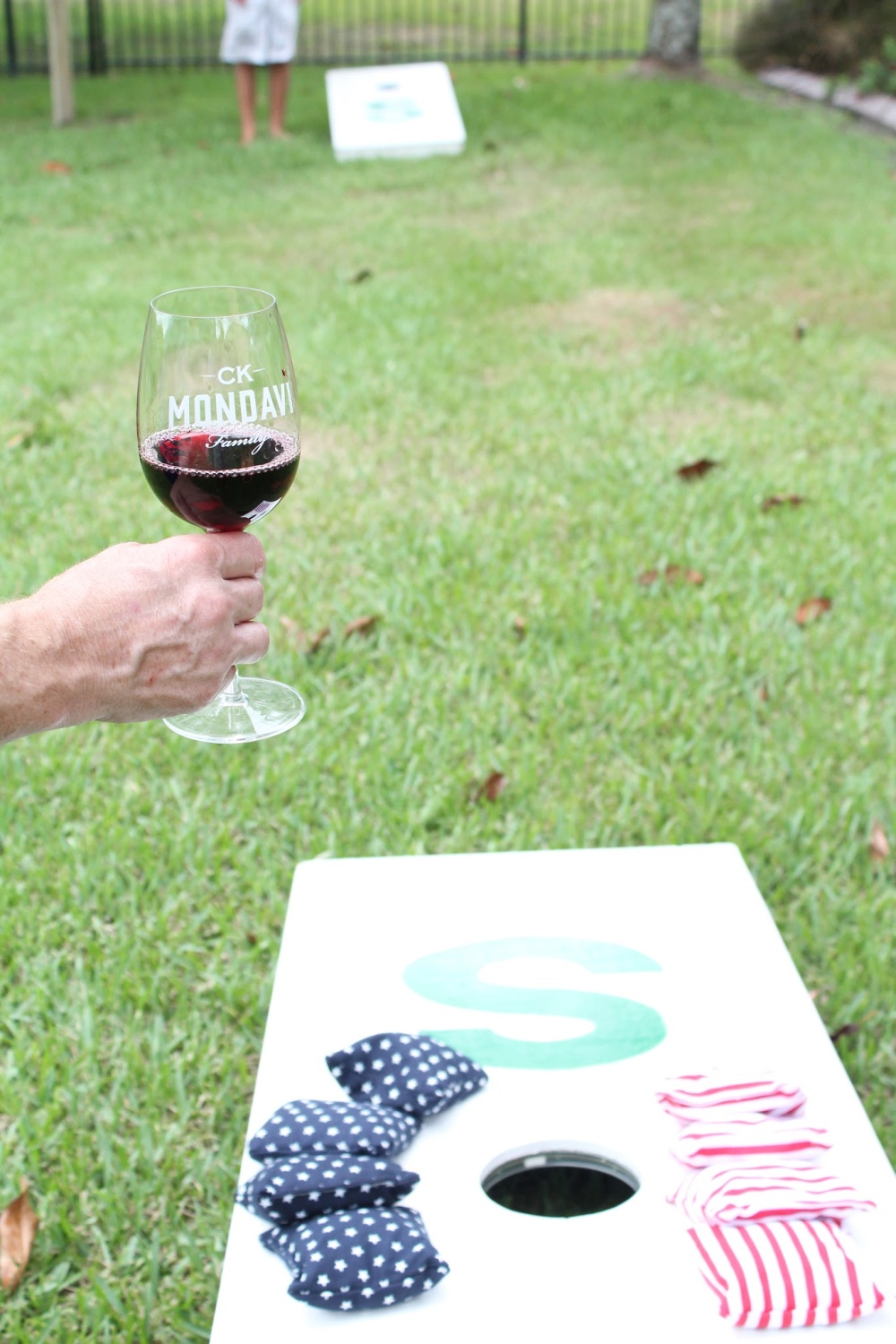 My sister-in-law actually made our cornhole set, it's actually easier than you think! You just need to make sure you make it with thick enough wood so the bags don't bounce too much and you add a coat of polyurethane as a top coat so the bags slide good…but not too good 😉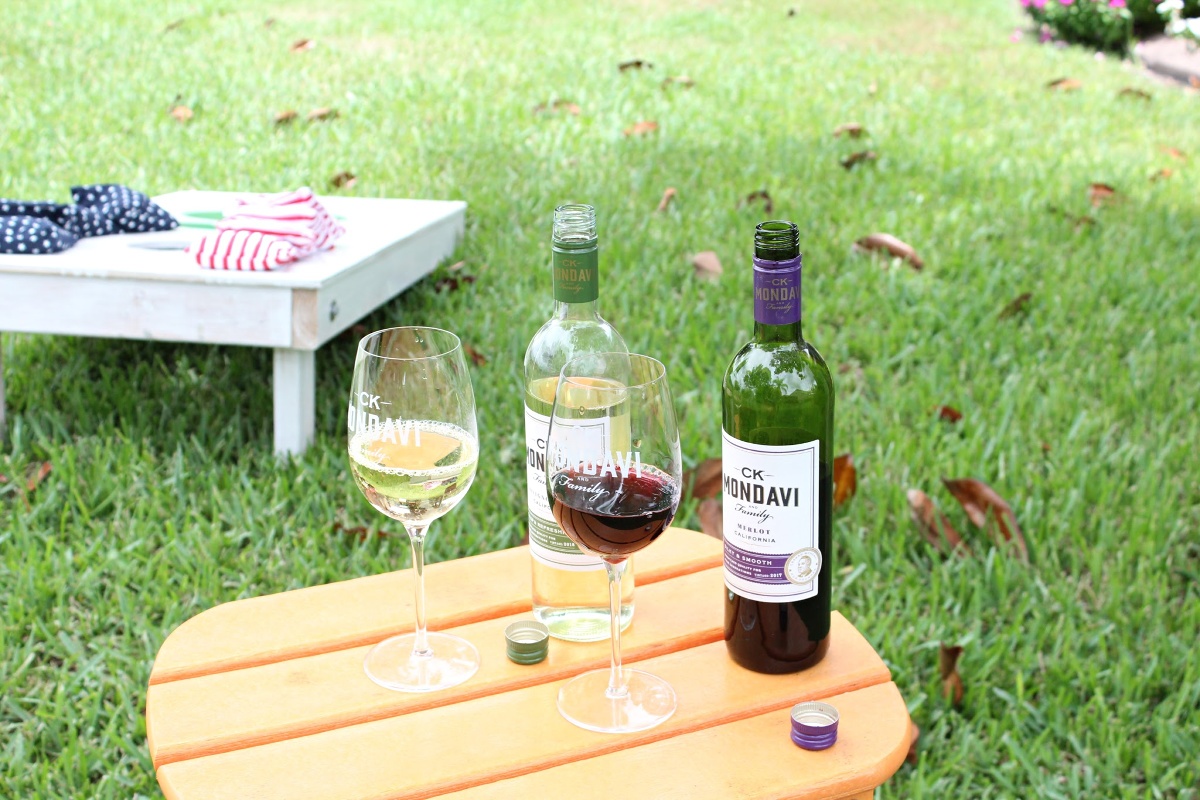 If you don't want to make yours, you can find cornhole sets at just about every superstore and online. We even have a small set in our camper so that we can play while we are camping 🙂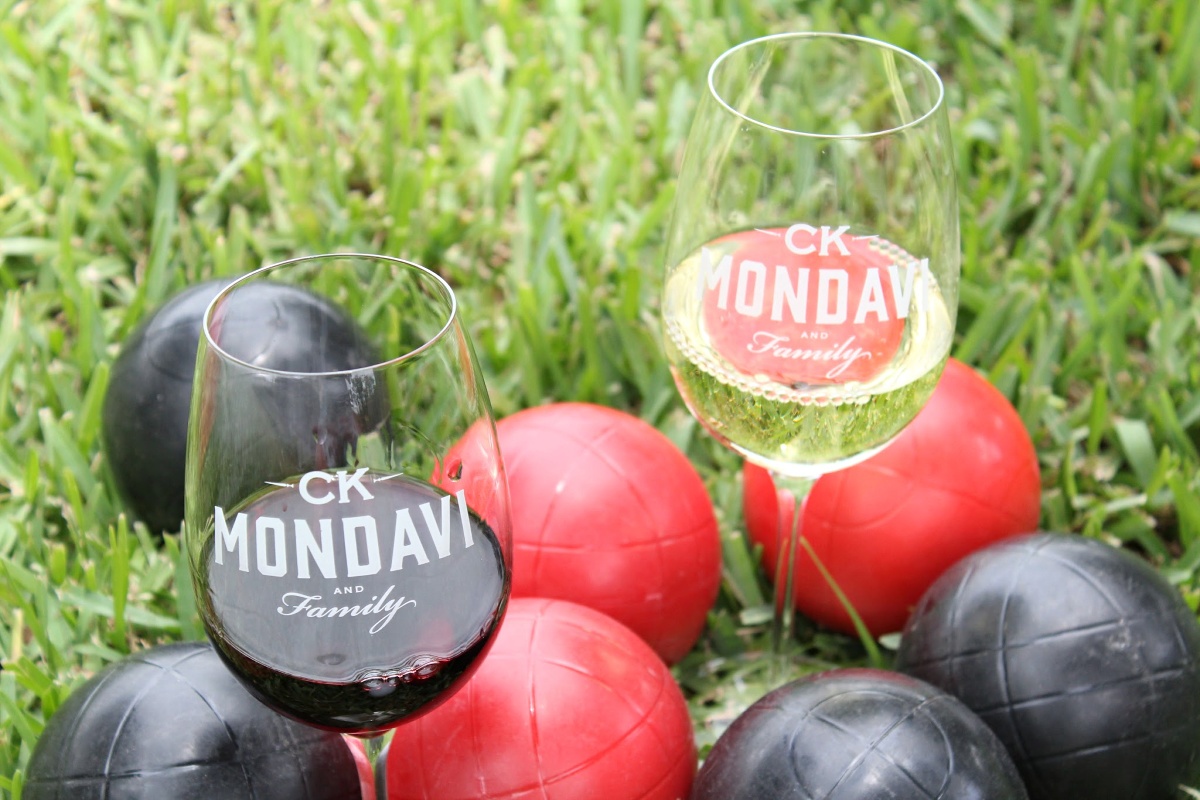 Bocce ball is great too because you just need your favorite bocce ball set and some open land. And some friends to play with!
We all know that playing games is a bit more fun when there are adult beverages involved 😉 And since you all know me, you know that my beverage of choice is almost always a glass of wine. With summer here and the temperatures a bit higher, I wanted to share some of my favorite summer drinking wines. I do recommend drinking them nice and cold, after all it's hot outside. If you are outside playing for awhile, you may notice that your wine will heat up quickly, so if you really want to, add in an ice cube or two. GASP! I know, I know. MAJOR wine drinking no-no, right? I know. But if you are outside having fun with friends and playing games, the only real no-no is not having enough wine 😉 So, if you need to cool your wine down just that much more, I'll allow it…this time.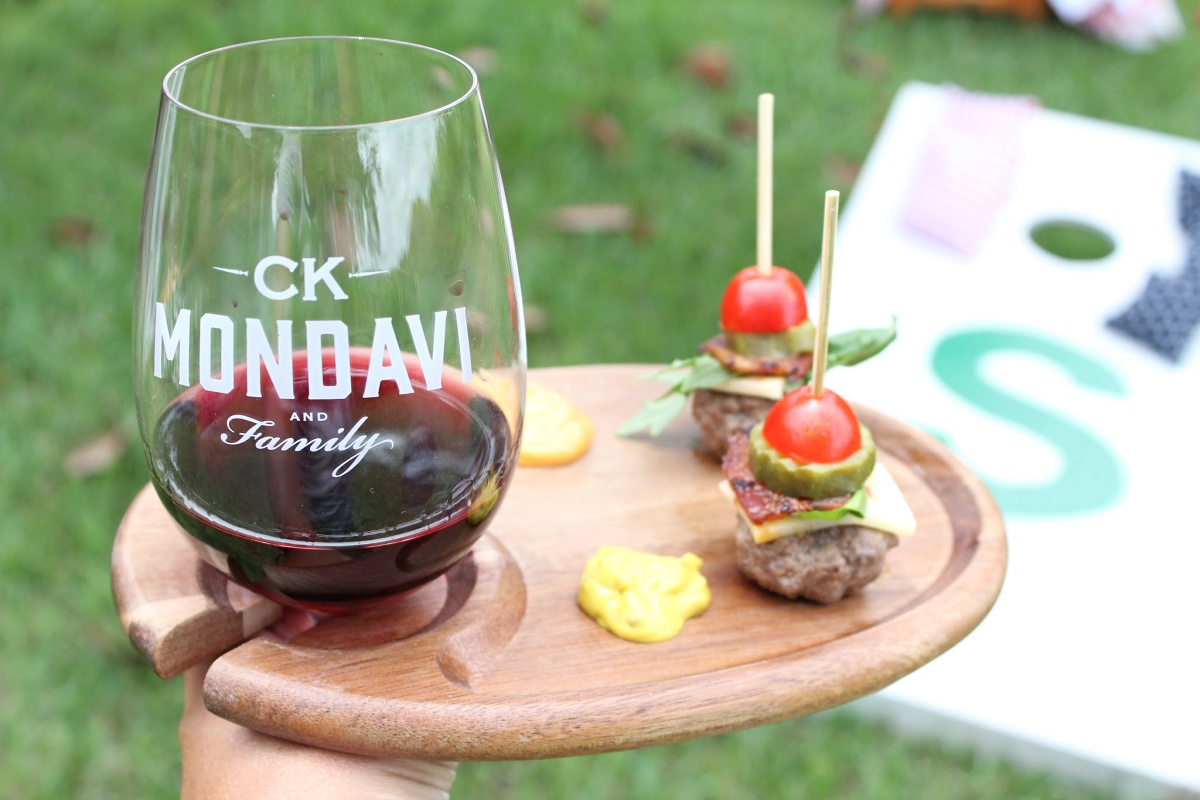 Here are a few of the wines I am enjoying this summer:
CK Mondavi and Family Sauvignon Blanc
The reason I like CK Mondavi and Family Sauvignon Blanc is that for the price point it is very true to the varietal. Sauvignon Blanc is known for it's fruit flavors and this one is spot on. You will taste green apple to apricot from the moment it hits your tongue. This wine is drinkable from the moment you grab it at the grocery store, but I recommend serving it nice and cold.
CK Mondavi and Family Pinot Grigio
Pinot Grigio is a simple, crisp and clean wine. Served cold, it's refreshing and you can catch tasting notes of fresh mint. Did you do that Pinot Grigio is actually from a red grape? Yep! The winemakers have to work extra hard to get Pinot Grigio to be a white wine. Pinot Grigio pairs beautifully with fruit because the fresh flavors don't overpower the delicateness of the fruit.
CK Mondavi and Family Merlot
Yep. I just mentioned a red wine in the summer. And not just any red wine, Merlot. Merlot is actually one of the major red wine varieties in California besides Cabernet Sauvignon. You will find ripe cherries in the nose when you first smell this easy-drinking red wine which actually makes it perfect for making sangria. The CK Mondavi and Family Merlot is aged in French Oak for 2 – 3 months giving it a nice balance with just a hint of oak and vanilla flavors. It has a good tannin balance which makes it friendly on the palette, again making it a nice option for a summer red wine. Overall the CK Mondavi and Family Merlot soft and velvety, and if you put an ice cube or two in it while you are out playing lawn games, I won't tell.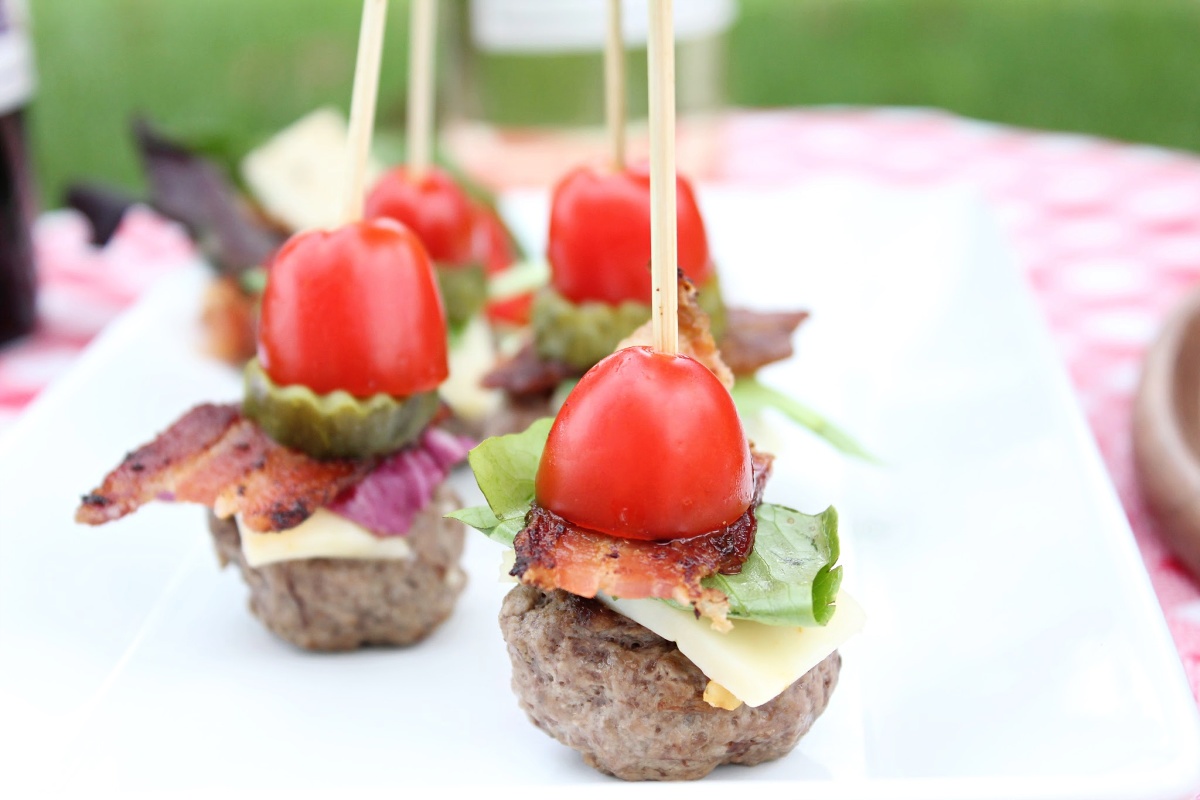 Now that we have the games and the wines down for this summer, what about some eats?? For playing outside with friends and family, I recommend easy finger foods. Single servings. Easy to pick up and easy to enjoy. And when I think of summer, I think of burgers.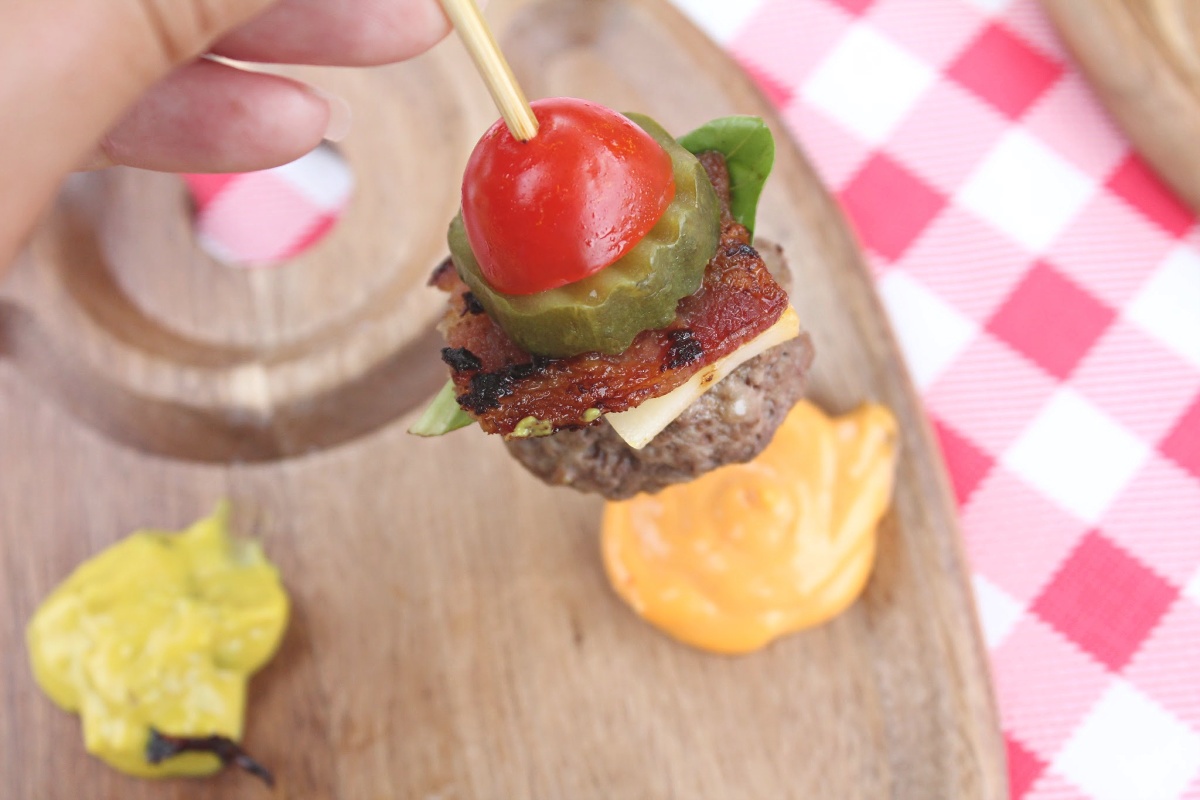 So, I made bunless burger bites. And as an added bonus, since there is no bun, my mini burger bites are also low carb, gluten free and keto-friendly.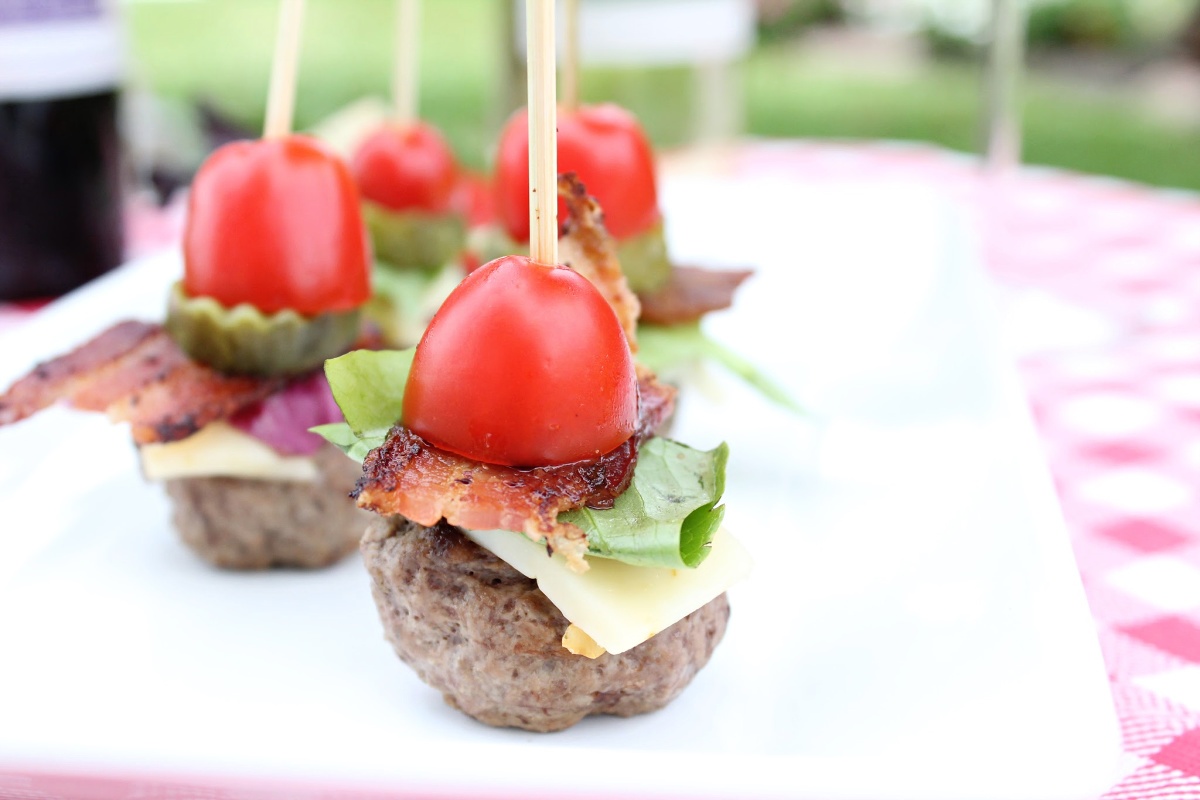 It's actually pretty easy to make these mini bunless burger bites, which is good since you want to be spending your time in the backyard playing games and not in the kitchen.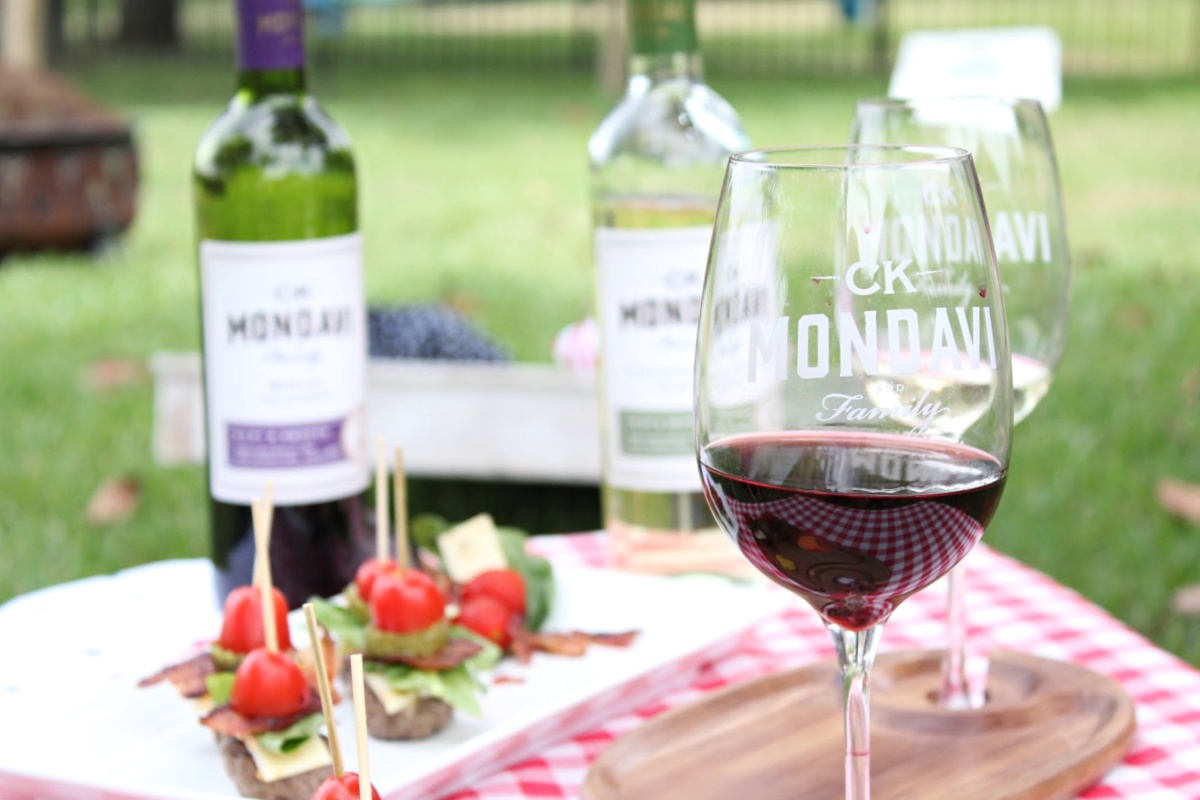 Ready to eat? Me too. Here is my bunless burger bites recipe, be sure to Print It and Pin It so you can make it again and again.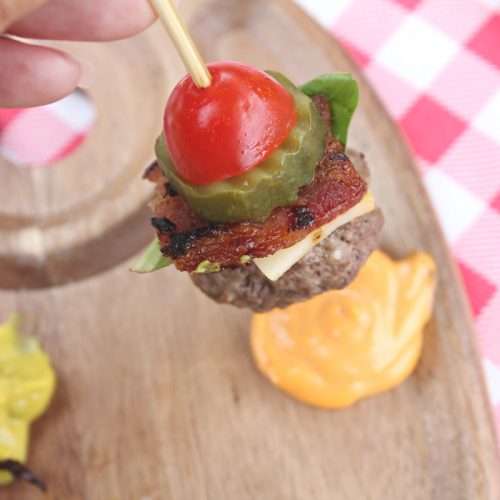 The Best Bunless Burger Bites
These mini burger bites are the perfect appetizer for summer and all year! Ready in under 25 minutes, you will have plenty of time to enjoy the day and not be stuck in the kitchen.
Print
Pin
Rate
Servings:
24
burger bites
Ingredients
1

lb

ground beef

I used ground sirlon

1

pinch

salt

1

pinch

pepper

1

clove

garlic

minced

1

tsp

your favorite all purpose seasoning - I used DUST by VooDoo Chef

6

slices

cooked bacon

24

small squares of cheese

I used pepper jack

24

pickle chips

12

grape tomatoes - cut in half

1

cup

lettuce

just enough to put a small piece on each burger bite

Sauces for dipping. I used Jalapeno Mustard and Srircaha Sauce from Silver Spring Foods

24

large toothpicks are small bamboo skewers for serving
Instructions
Place the ground beef in a medium bowl.

Add the garlic and seasonings.

Using your hands work in the seasonings and garlic into the ground beef. Be careful to not over work the meat.

Form mini burgers, I rolled them like I was making meatballs and then flattened them just a tad so the shape was more like a burger.

Place the mini burgers on a plate until all are formed.

In a large skillet, drizzle a small amount of olive oil over medium meat.

Add your mini burgers. Brown each side of your burger. This will take about 2 - 3 minutes per side.

While the burgers are cooking, cook your bacon if you haven't yet.

Once the burgers are browned on each side, put the whole pan into the preheated oven (make sure your pan can go into the oven, if not, transfer the burgers to a cookie sheet).

Bake the burgers for 3 - 5 minutes until cooked throughout.

When the burgers are done, it's time to assemble your burger bites.

Place one piece of cheese, one piece of lettuce, one small sqaure of bacon, one pickle, and a half of tomato on top of each mini burger.

Hold each one together with a large tooth pick or mini bamboo skewers.

Serve with your favorite dipping sauces and CK Mondavi and Family Wines.
Notes
This recipe makes about 24 bunless burger bites, feel free to double the recipe for larger gatherings.  Everyone usually eats 2 - 4 per person.
Nutrition
Calories:
64
kcal
|
Carbohydrates:
1
g
|
Protein:
4
g
|
Fat:
5
g
|
Saturated Fat:
2
g
|
Cholesterol:
16
mg
|
Sodium:
116
mg
|
Potassium:
92
mg
|
Fiber:
1
g
|
Sugar:
1
g
|
Vitamin A:
106
IU
|
Vitamin C:
1
mg
|
Calcium:
15
mg
|
Iron:
1
mg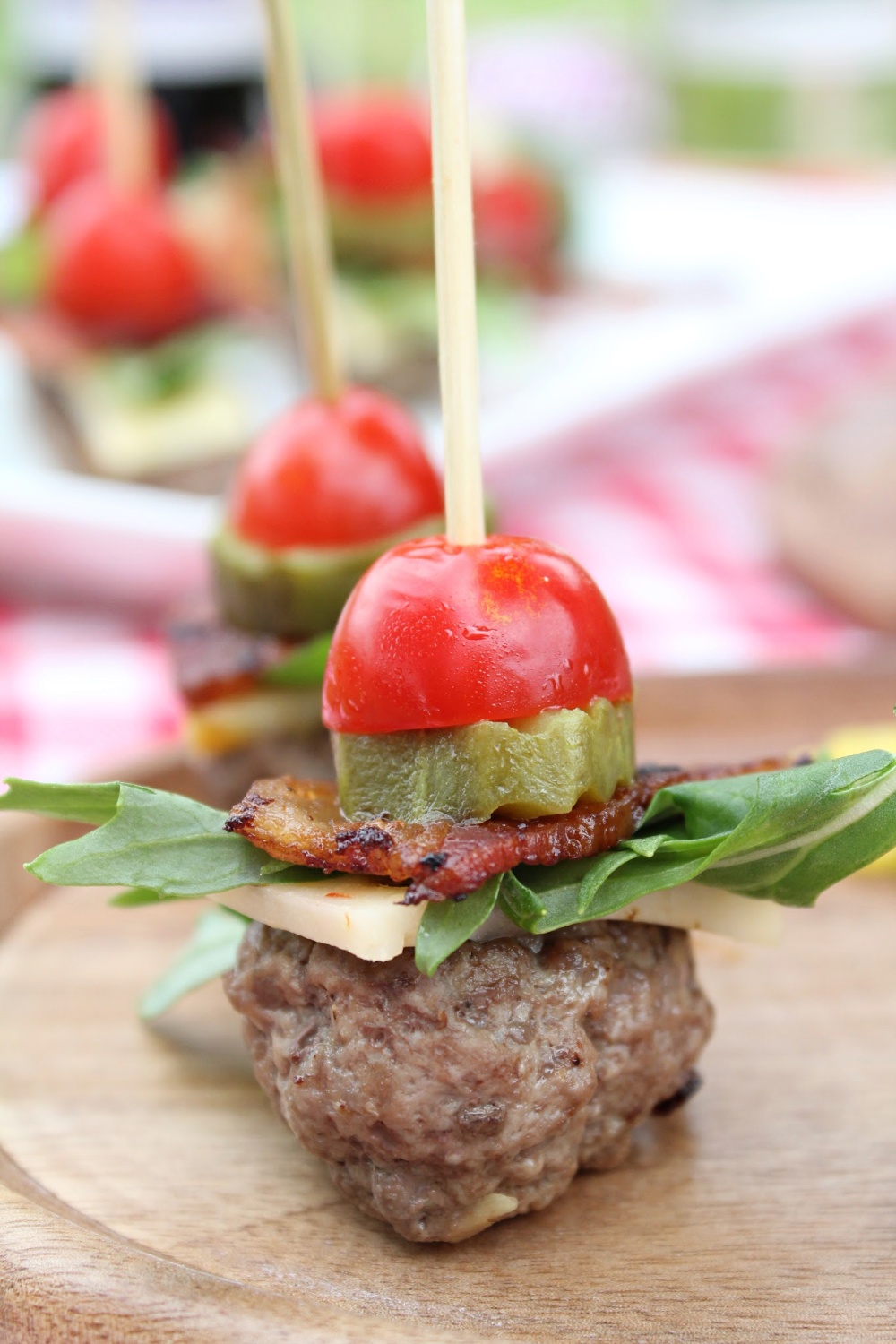 I hope you enjoy these mini burger bites as much as we do!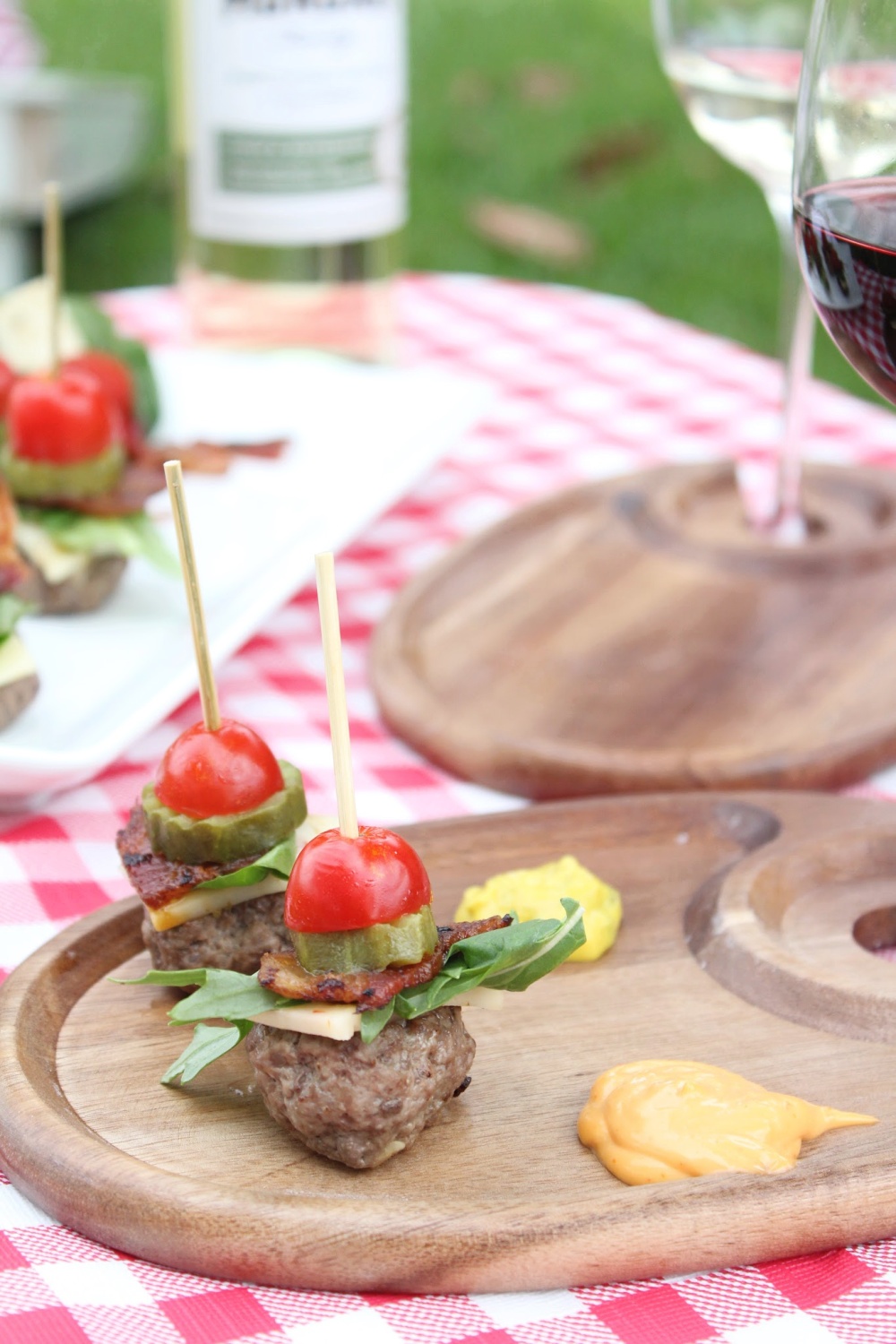 What is one of your favorite backyard games to play in the summer? Do you have a favorite summer wine? Do tell!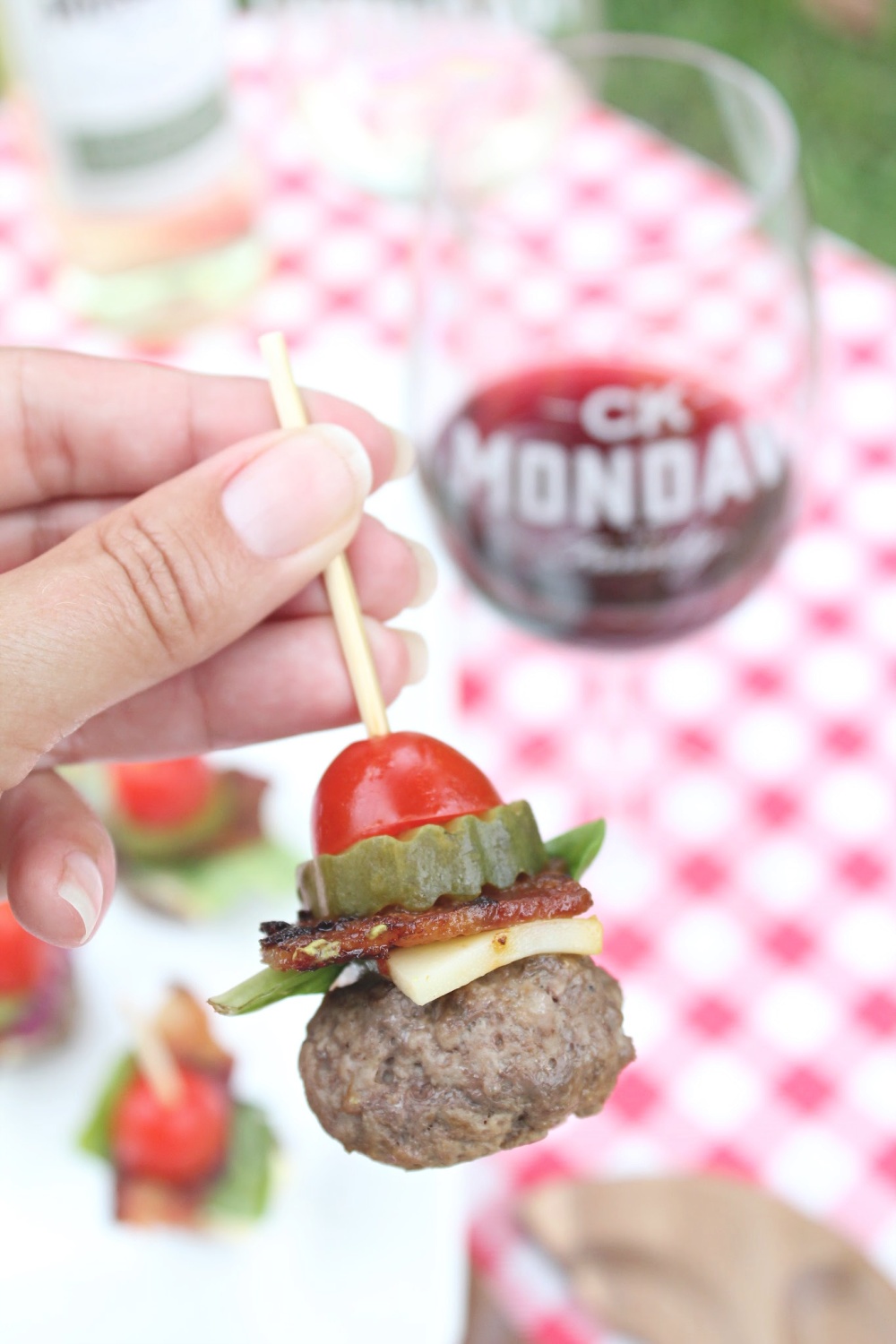 Learn more about CK Mondavi and Family by checking them out online, and following on Facebook, Twitter, Pinterest, Instagram, and YouTube.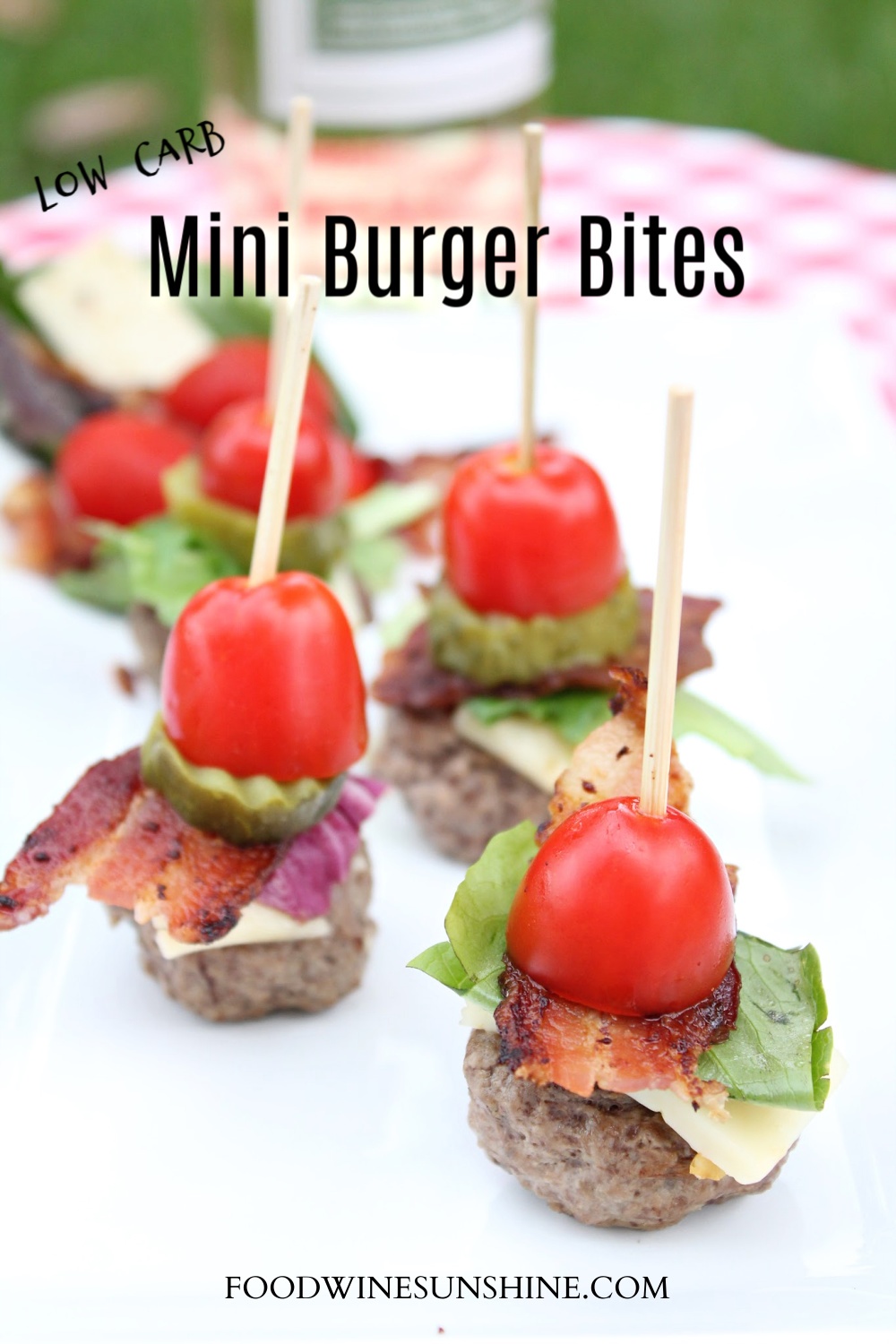 Be sure to check out all my recipes and follow along on Facebook, Twitter, Pinterest and Instagram.