(Last Updated On: May 11, 2021)
An easy peach dessert recipe with a thyme-infused red wine sauce, this luxurious but easy dessert is the perfect treat for anyone with a sweet tooth. Prepped in just minutes and ready in less than 30 minutes, you and your family will love this tasty peach dessert.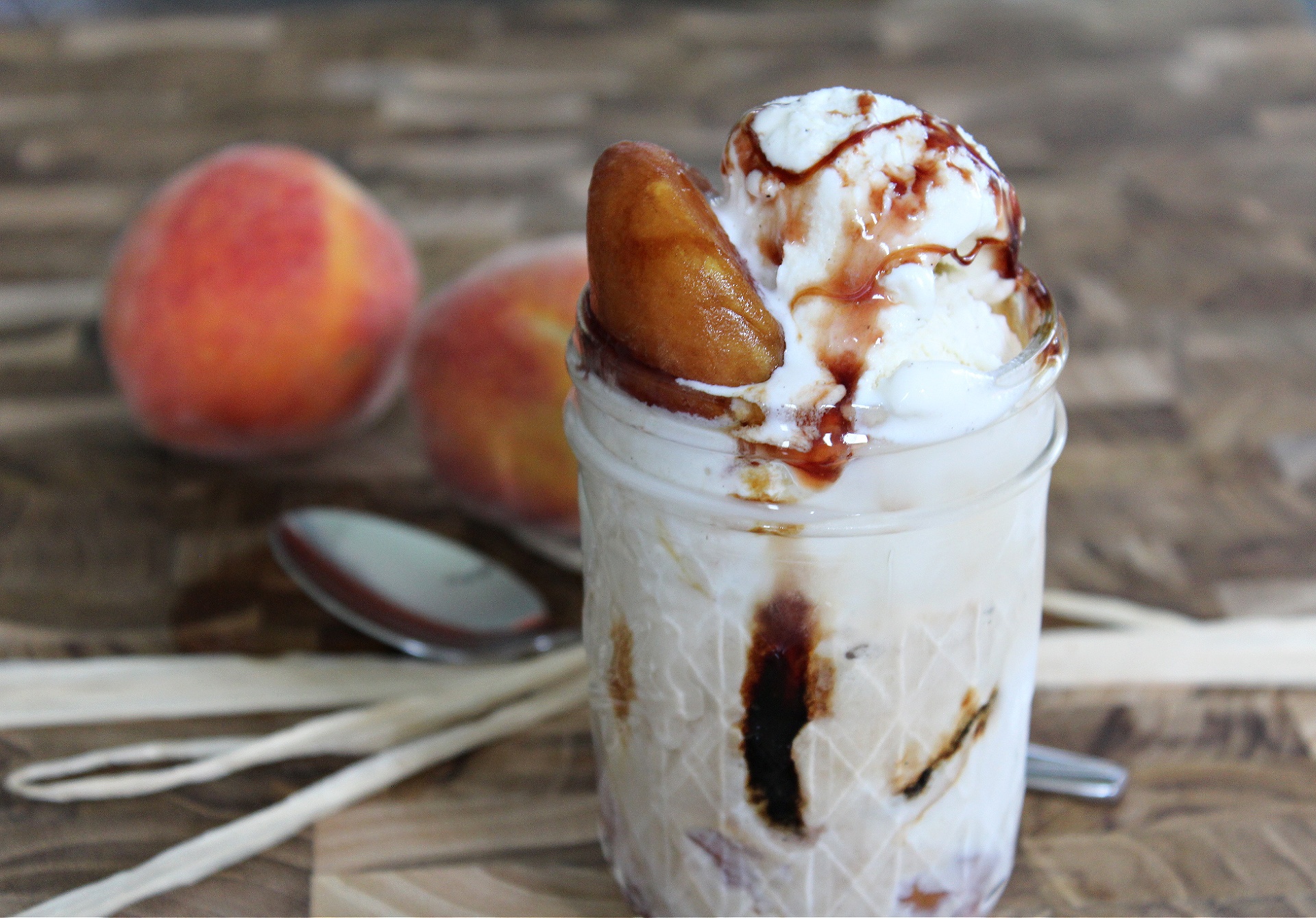 Oven Roasted Peaches with Red Wine Sauce
Two of my favorite things. Peaches and red wine. Sprinkle in some sugar and some thyme and I mean really, how could it be anything but magical? Well, I guess you could serve this Oven Roasted Peaches with Red Wine Sauce on top of ice cream….Yes, that would make it extra magical. And that's exactly what I did.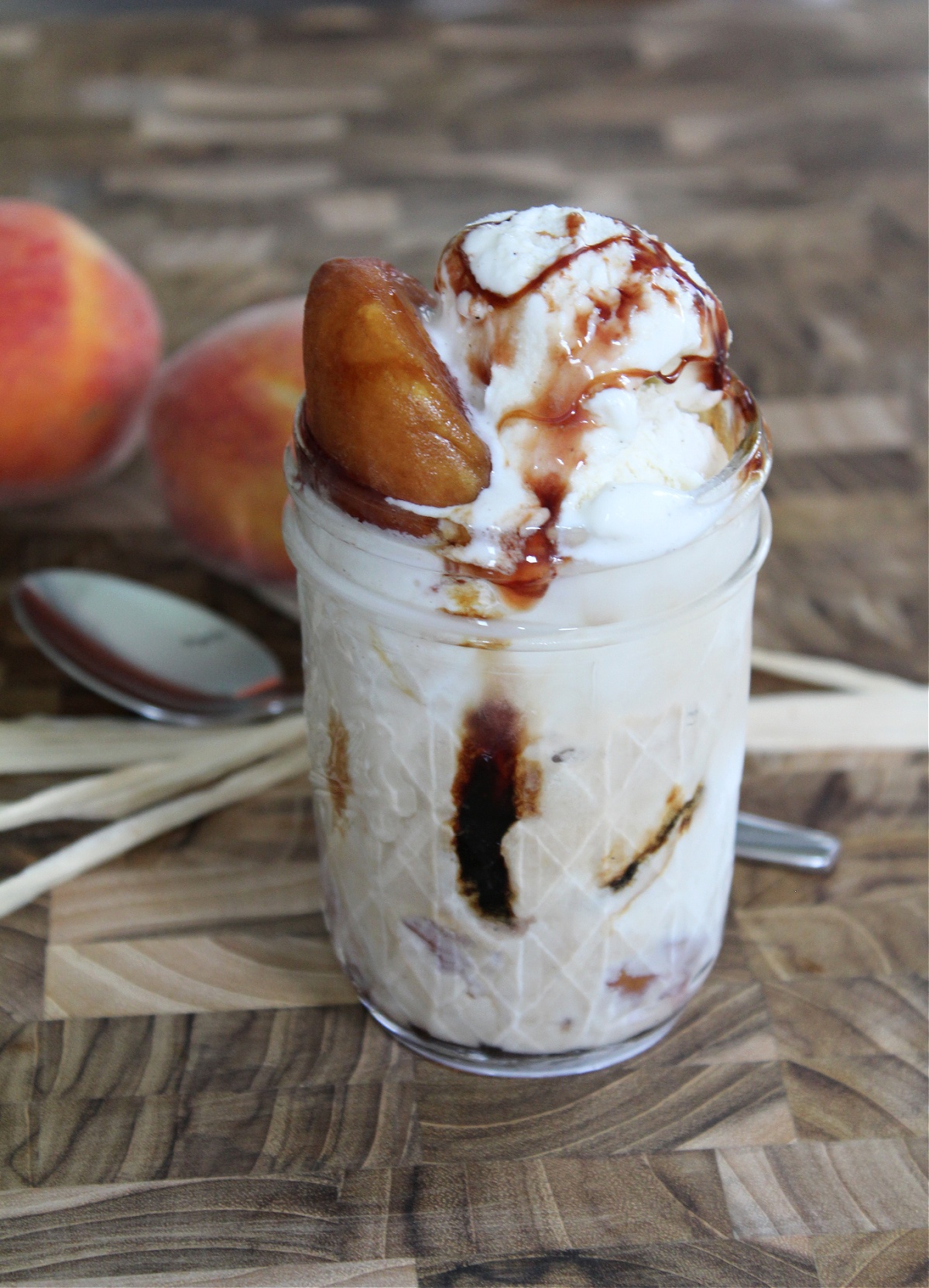 Don't get me wrong, I ate a whole oven roasted peach on it's own before indulging in my ice cream treat, and it was incredible by itself. But, come on, ice cream makes every better.
This is definitely another amazing peach recipe to try this peach season.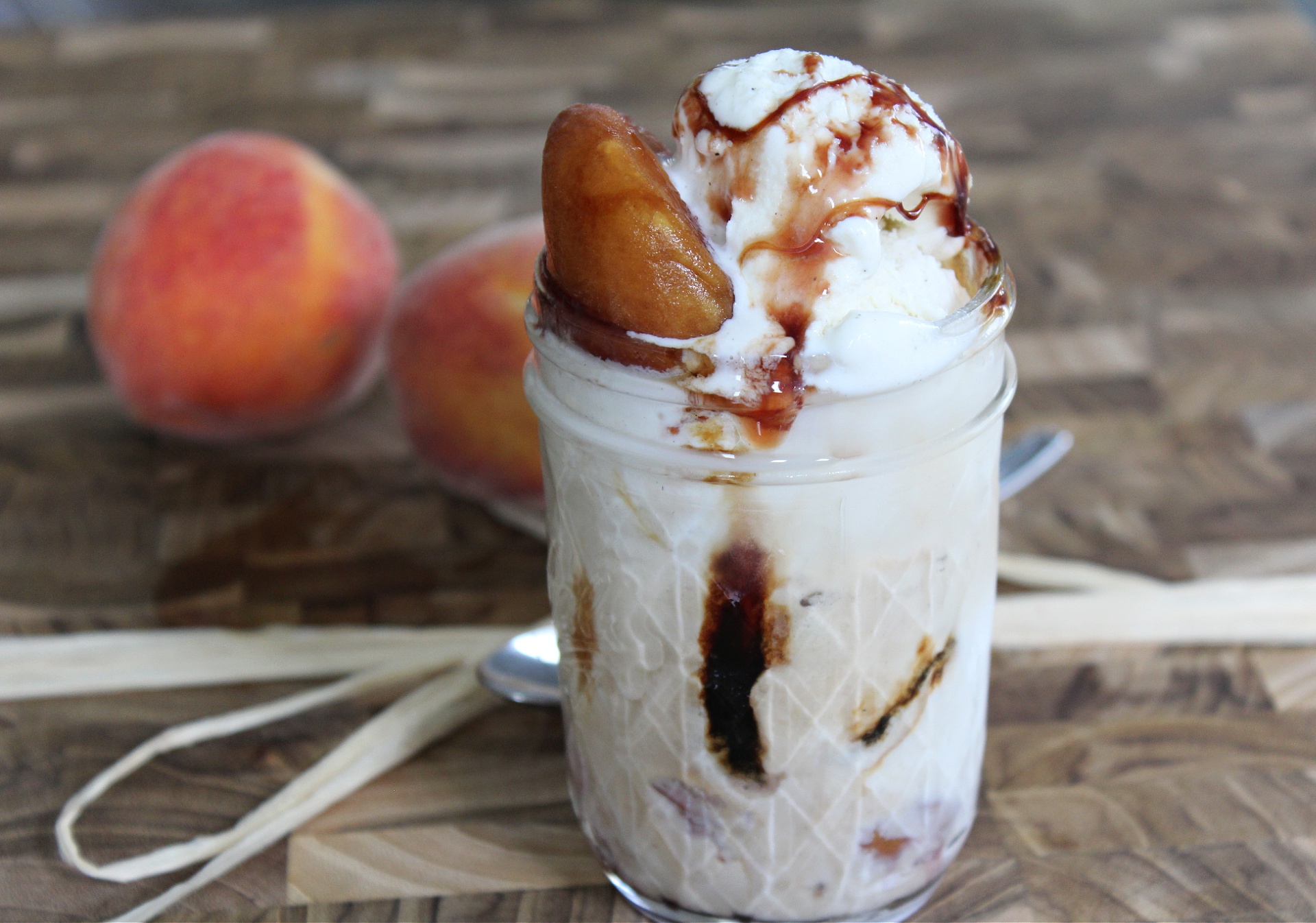 This rich red wine and thyme sauce make this peach recipe the perfect easy dessert. This easy dessert recipe is ready in under 30 minutes, and it is a good way to use up hard or overripe peaches. Or it's great to make just when you want a delicious peach dessert. It's also beautiful, so if you are looking for a dessert to impress friends and family, this Oven Roasted Peaches with Red Wine Sauce dessert definitely fits the bill.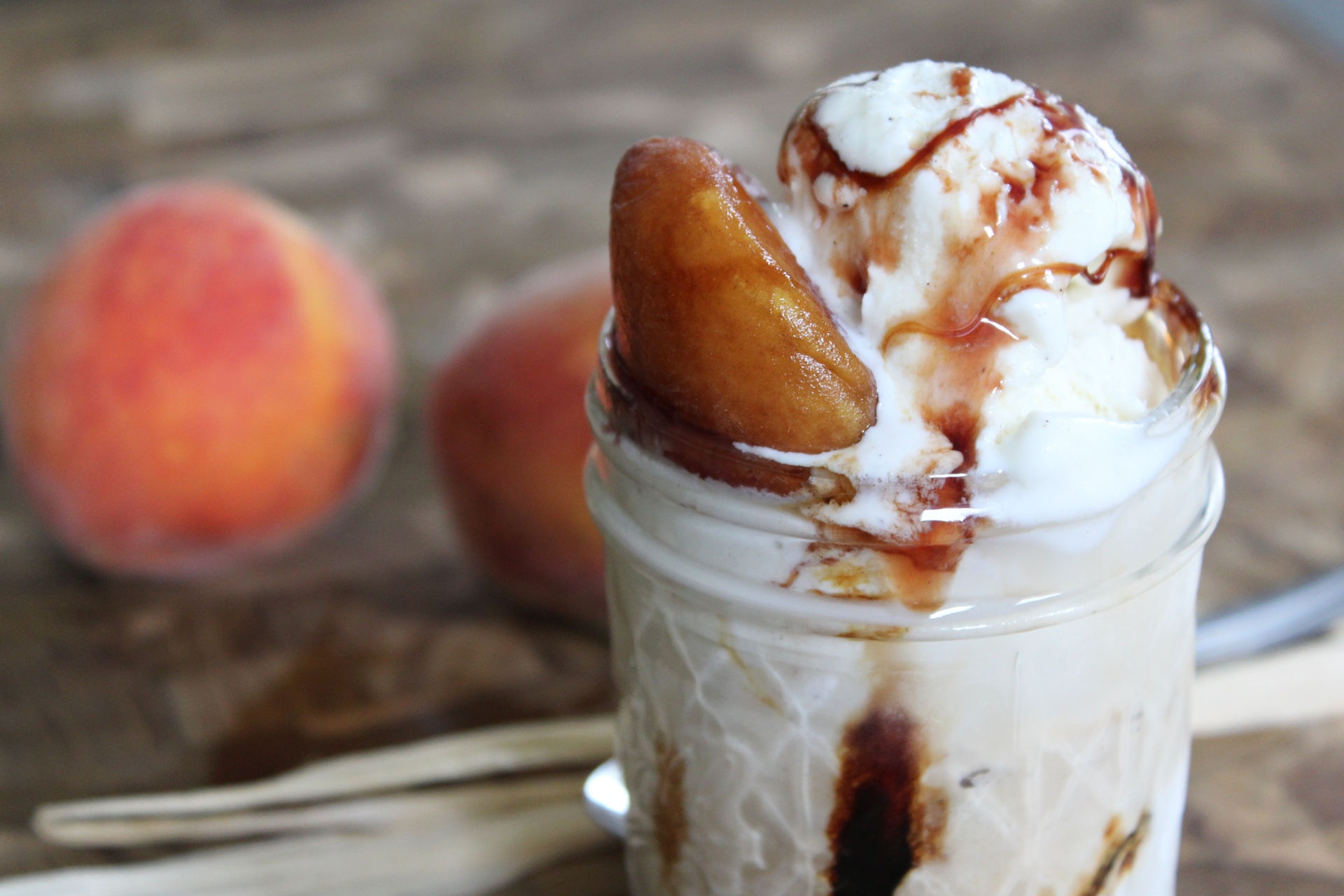 To ensure that they are not overripe when they arrive, peaches are often picked a tad unripe and, as a result, are usually still a little hard by the time they reach supermarket shelves. It is possible to ripen the peaches before eating by covering them with a breathable cloth (muslin or cotton) and placing them in a cool, dark spot for a couple of days.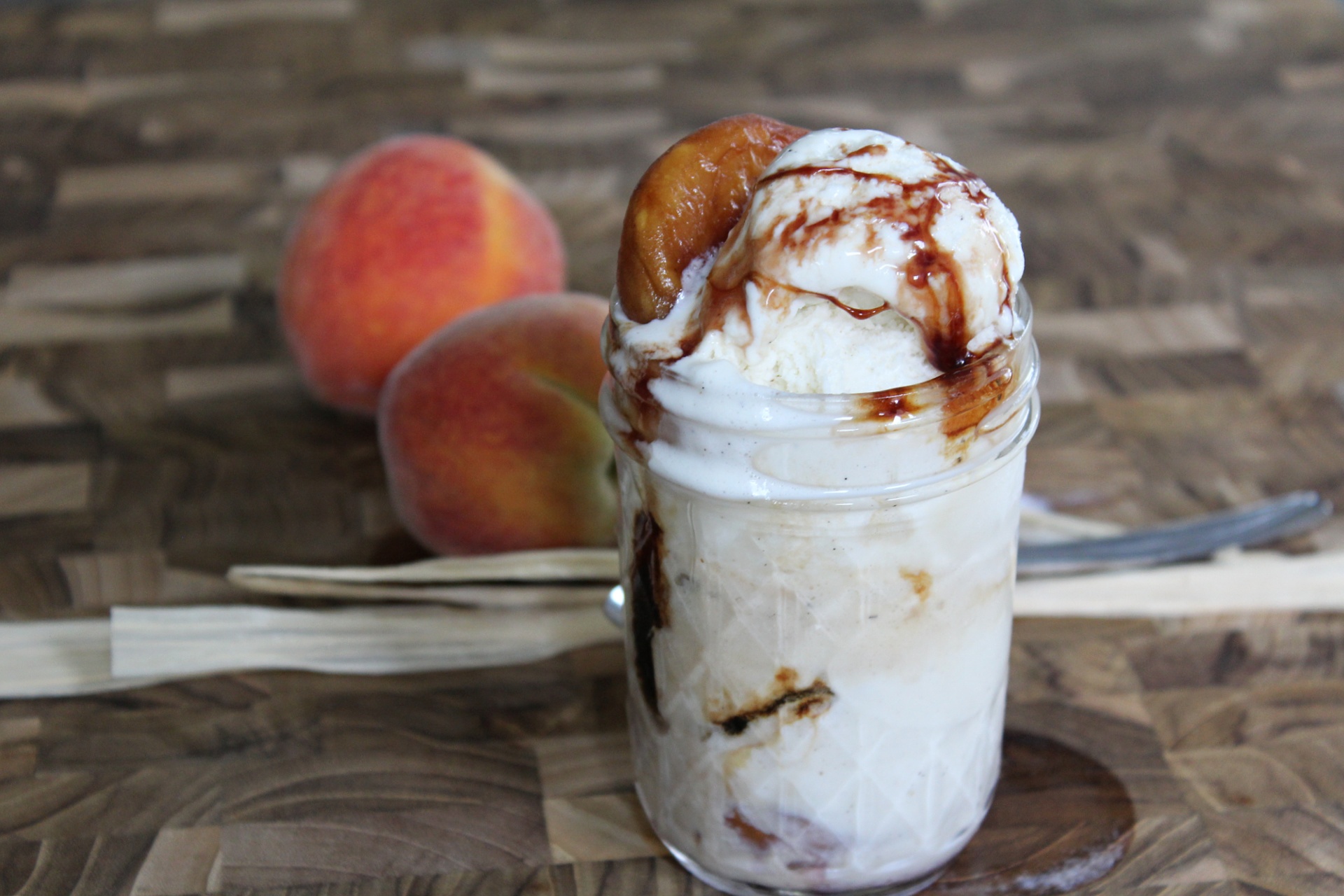 This peach recipe is the perfect solution to using peaches that may not have been ripe, are overripe, or are just perfect. Hard peaches become soft and juicy in the oven, while overripe peaches that may have been forgotten at on the bottom of the fruit bowl and are just too soft to eat on their own release their juices. These peaches blend with the woody thyme and red wine, which reduces to a thick, sticky sauce.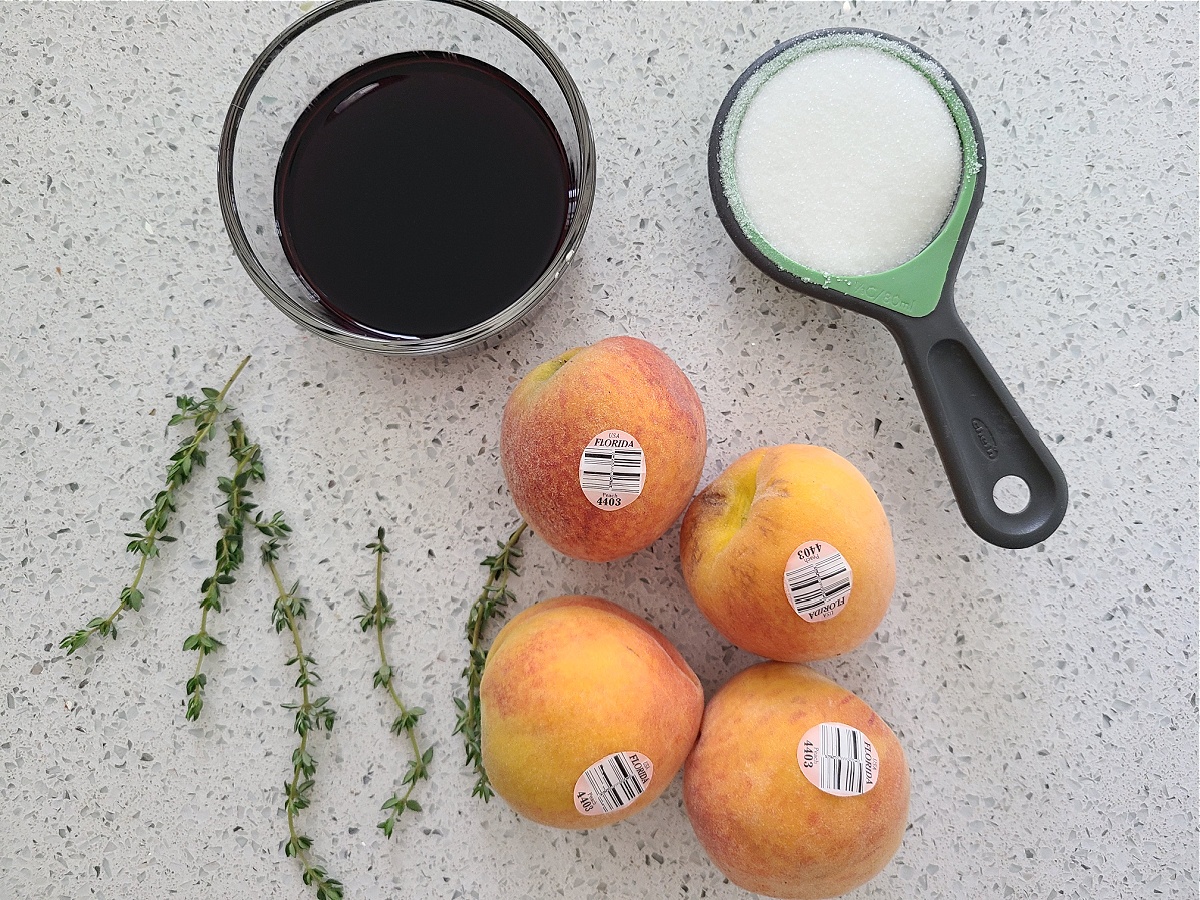 To make this Peach Dessert with Thyme and Red Wine you will need these ingredients:
Peaches – I recommend Florida peaches, of course
Sugar
Sprigs of thyme
Red wine – I used CK Mondavi Cabernet Sauvignon
Small amount of unsalted butter
Just 5 simple ingredients! How easy is that? And this easy peach dessert recipe only takes a few minutes to prep.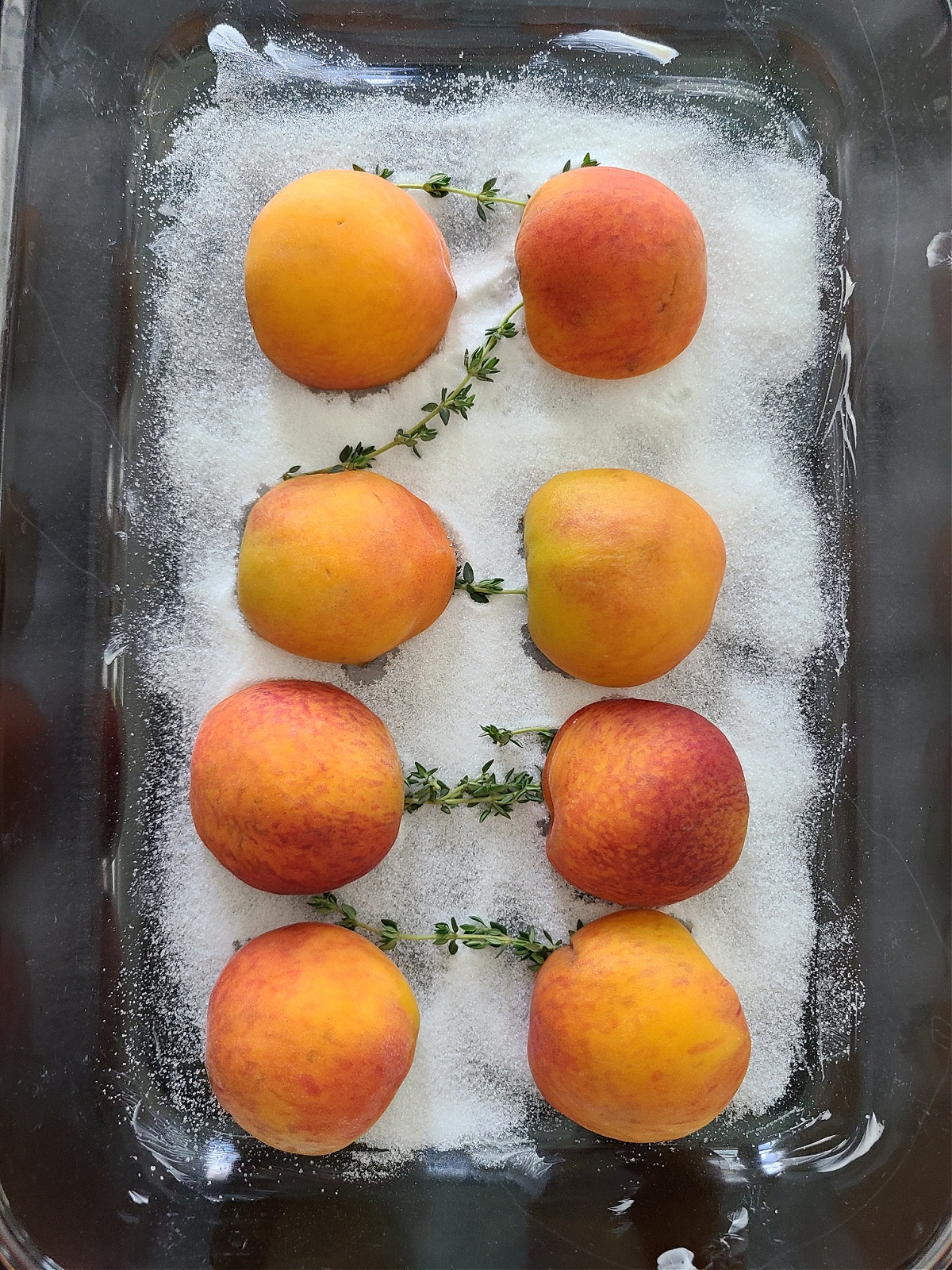 Simply butter the pan, sprinkle with sugar, add in the thyme and top with the peach halves.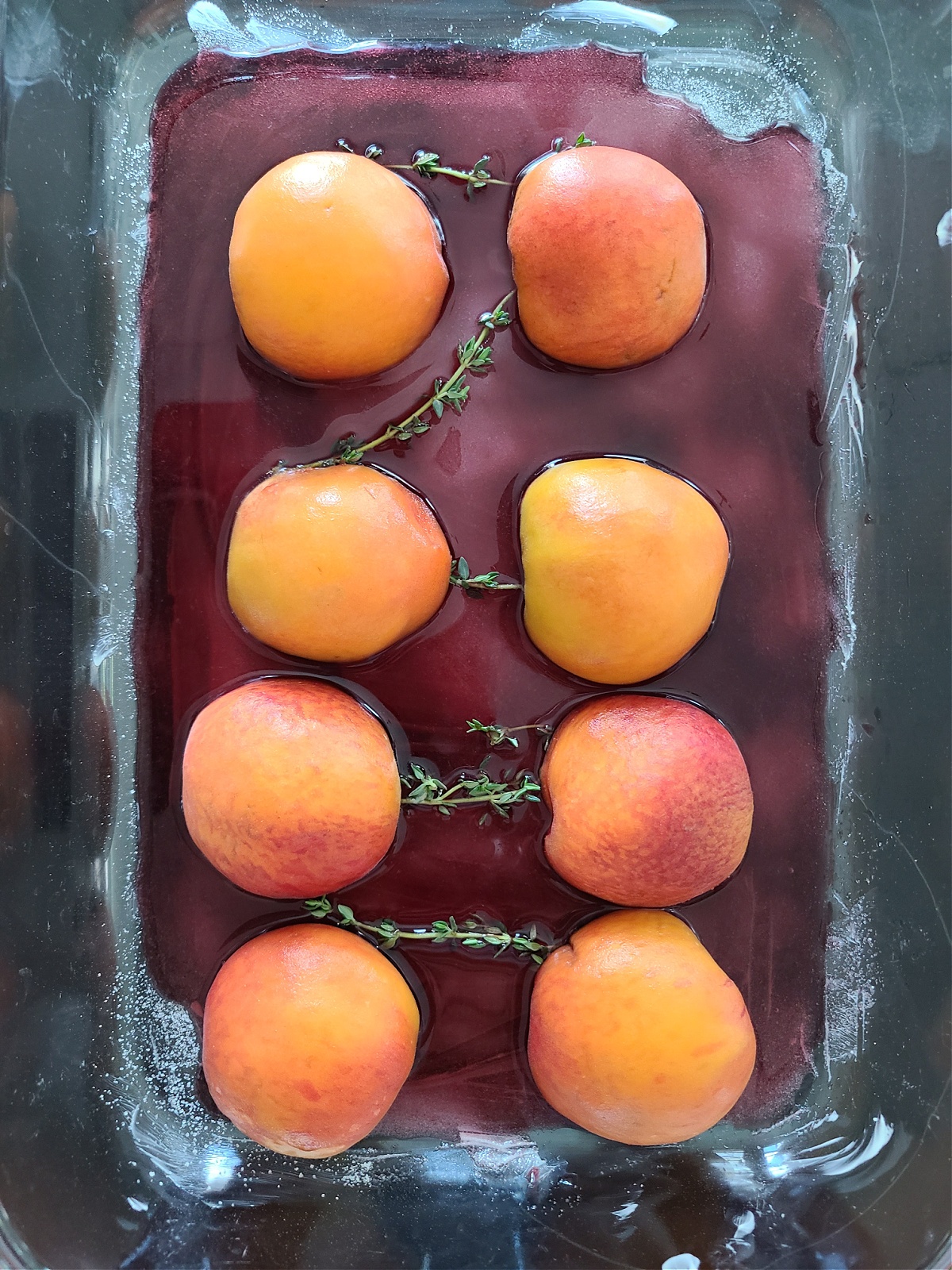 Then pour on the red wine. Then, take a step back and look at how beautiful it is! I just love the contrast of color with the red wine and peaches! BEAUTIFUL!
That sugar and red wine reduce to an absolutely incredible sweet red wine reduction that pairs perfectly with the peaches.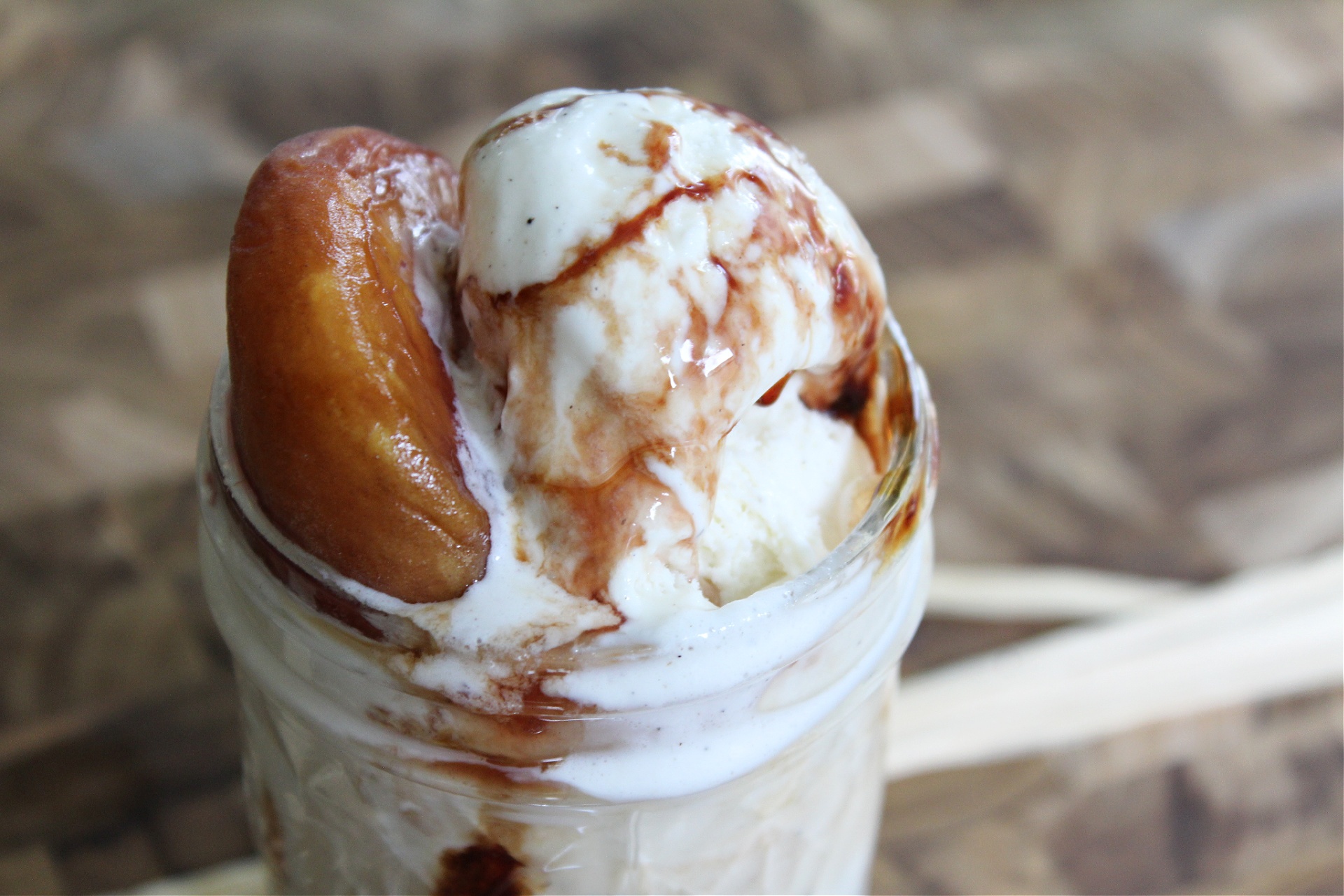 Now, here is my Oven Roasted Peaches with Thyme-Infused Red Wine Sauce Dessert recipe, be sure to Print It and Pin It so that you can make it again and again.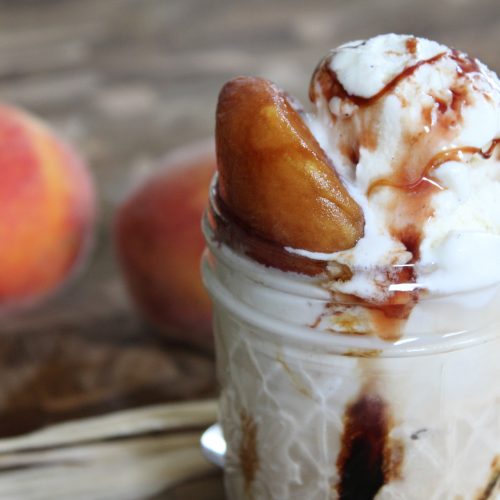 Ingredients
4

peaches

1/3

cup

white sugar

5

sprigs of thyme

½

cup

red wine

Small amount of butter
Instructions
Wash the peaches and cut a circle around the peach stone with a sharp knife. Twist each half of the peach in opposite directions to separate. Carefully remove the pit, which will remain in one half of each peach, with the point of a knife or – if the peach is ripe enough - scoop it out with a spoon.

Grease the base of an oven dish with butter.

Sprinkle the sugar over the butter and lay the sprigs of thyme on top of the sugar.

Put each peach half, cut side down, on the thyme, and drizzle with the red wine over the peaches.

Place the dish in the oven and cook the peaches for 10-15 minutes. They are ready when the fruit is soft, and the skin starts to wrinkle. It may take longer if your peaches aren't quite ripe yet.

Remove from the oven and discard the thyme.

Leave the peaches to cool for a few minutes. You can peel off the skin if desired, I did not. I love peach skin! If you would like to peel it off, you should be able to do this easily with your fingers. Cut the peaches in half or quarters if desired.

Prepare four bowls with vanilla ice cream, top with peaches, spoon over the wine sauce. *Ice cream is not required! These peaches are amazing all on their own! But, who doesn't love a little ice cream?!
Notes
I cut my peach halves in half again, making the pieces smaller. I also put a piece or two on the bottom of the mason jar when serving so that we made peachy deliciousness down to the very last bite.
The red wine sauce will continue to thicken a little after you pull it out of the oven, so if it doesn't look thick enough right away, let it cool for a minute or two.
Nutrition
Calories:
150
kcal
|
Carbohydrates:
32
g
|
Protein:
1
g
|
Fat:
1
g
|
Saturated Fat:
1
g
|
Sodium:
1
mg
|
Potassium:
331
mg
|
Fiber:
2
g
|
Sugar:
29
g
|
Vitamin A:
549
IU
|
Vitamin C:
12
mg
|
Calcium:
17
mg
|
Iron:
1
mg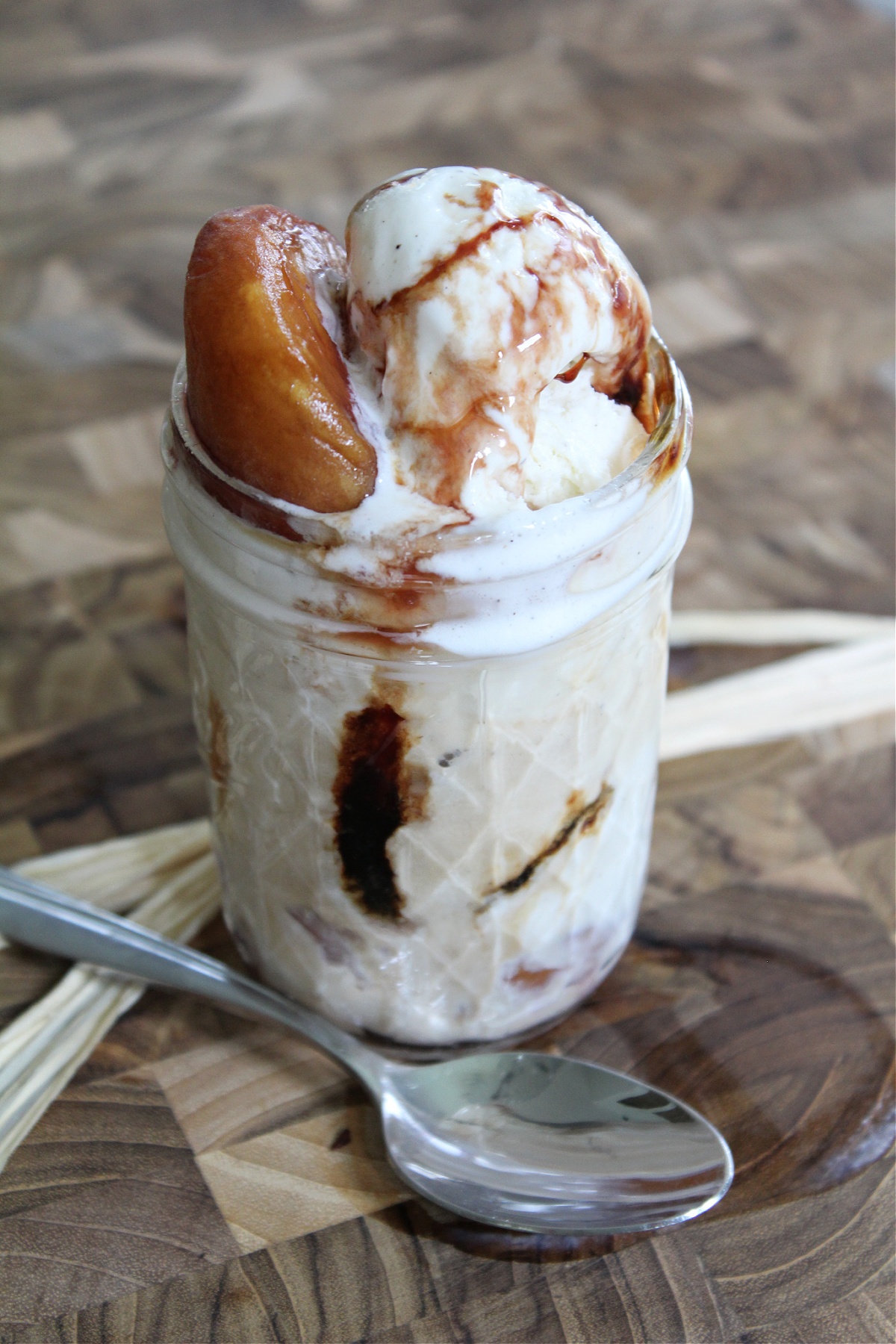 I hope you enjoy this Oven Roasted Peaches with Thyme-Infused Red Wine Sauce Dessert as much as we do!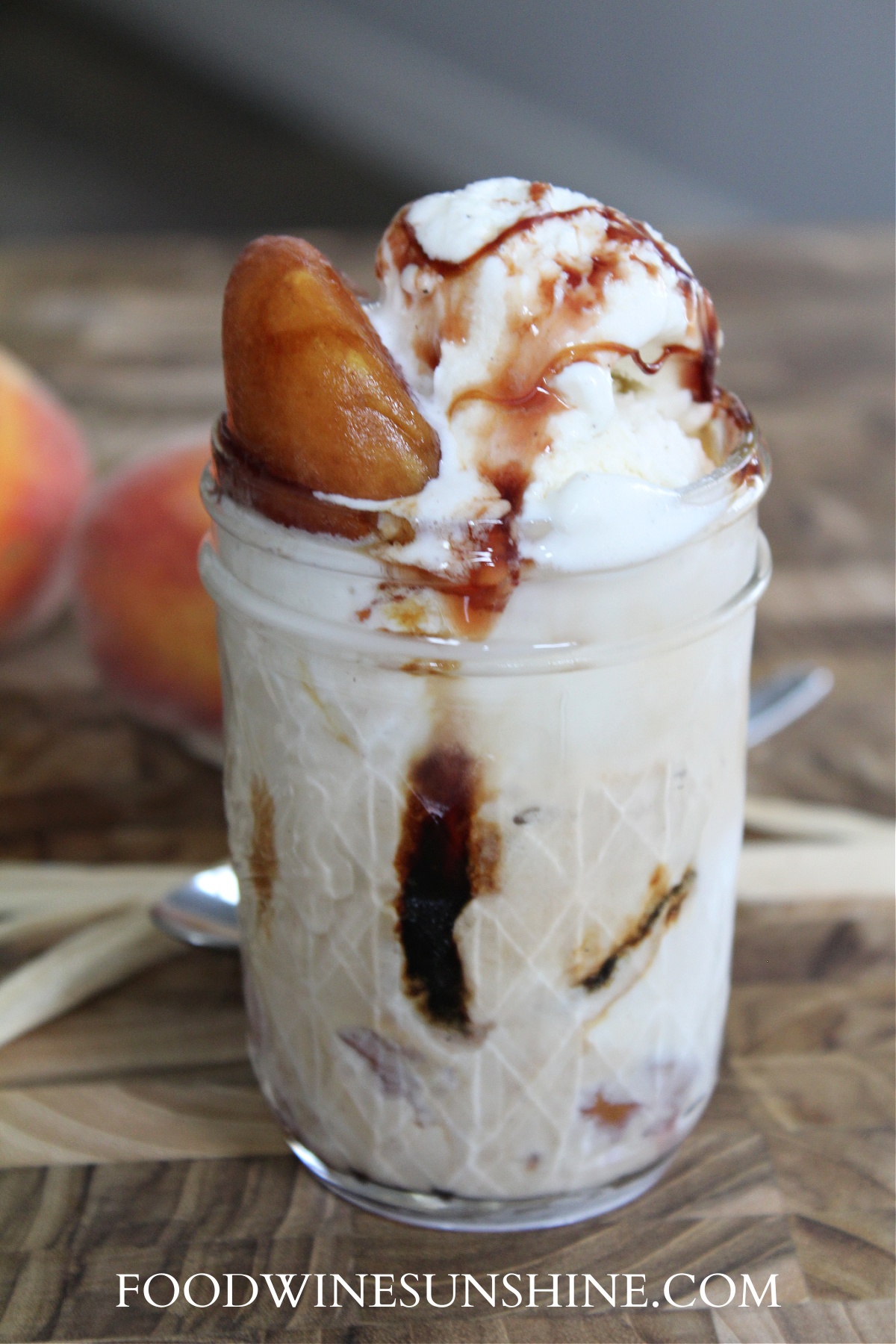 Can you use another red wine instead of the Cabernet Sauvignon?
Yes! I liked using the Cabernet Sauvignon because it is a bolder red wine. A Zinfandel would also be good. But really, you can use what you have at the house. Be sure to save yourself a glass, because that wine will be the perfectly pairing with these dessert.
Can you use white wine instead of red wine?
Yes! This easy dessert calls for red wine but can also be made with white wine. You just won't get that rich color from the red wine. I would recommend not using a sweet white wine, since you will get a sweetness from the sugar and peaches. I would recommend a Chardonnay, but use what you have and let me know how it turns out!
Can you use a fruit other than peaches in this dessert?
Sure! Peaches can be replaced with smooth nectarines if peaches aren't in season.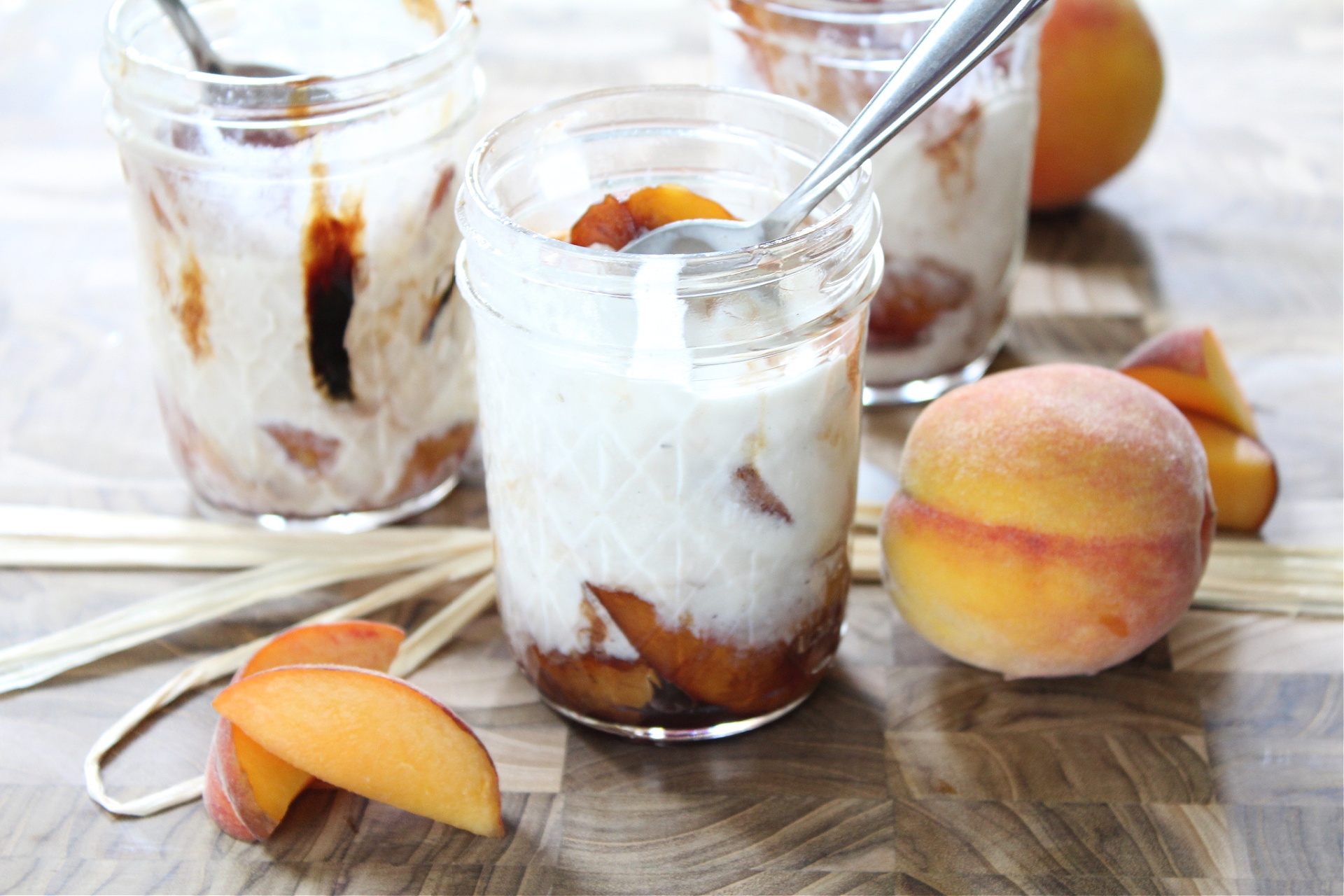 As you can see, we all enjoyed this delicious peach red wine dessert 🙂
What is one of your favorite peach dessert recipes?
You can follow Florida Peaches on Facebook and Instagram for more sweet treats and recipes. Fresh From Florida also has some amazing Florida Peach recipes. Be sure to pick up some Florida peaches the next time you are at your favorite grocer. If you don't see them at your local store, be sure to ask the produce manager when they expect their next shipment. Florida peaches are available now through mid-June, so don't delay grabbing some.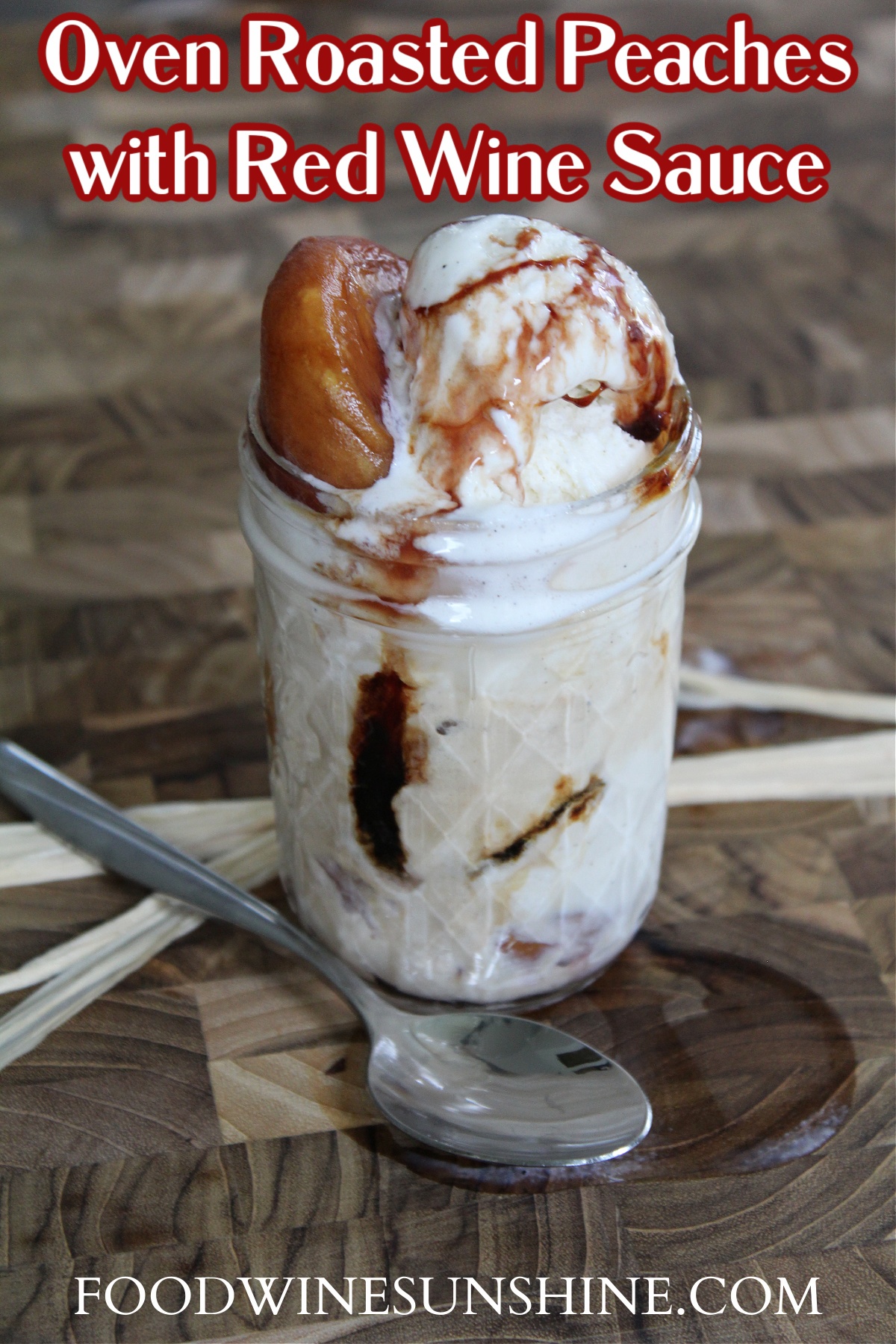 Be sure follow me on Facebook, Twitter, Pinterest and Instagram for more delicious recipes, wine tastings, and travel tips.