(Last Updated On: March 8, 2022)
This Easy BBQ Cheeseburger Folded Tortilla Quesadilla Recipe is the perfect family meal idea. This trend went viral on TikTok for a reason! Grab this easy stacked quesadilla recipe and enjoy. While this post is sponsored by Shuman Farms RealSweet Onions, all opinions and the recipe are my own.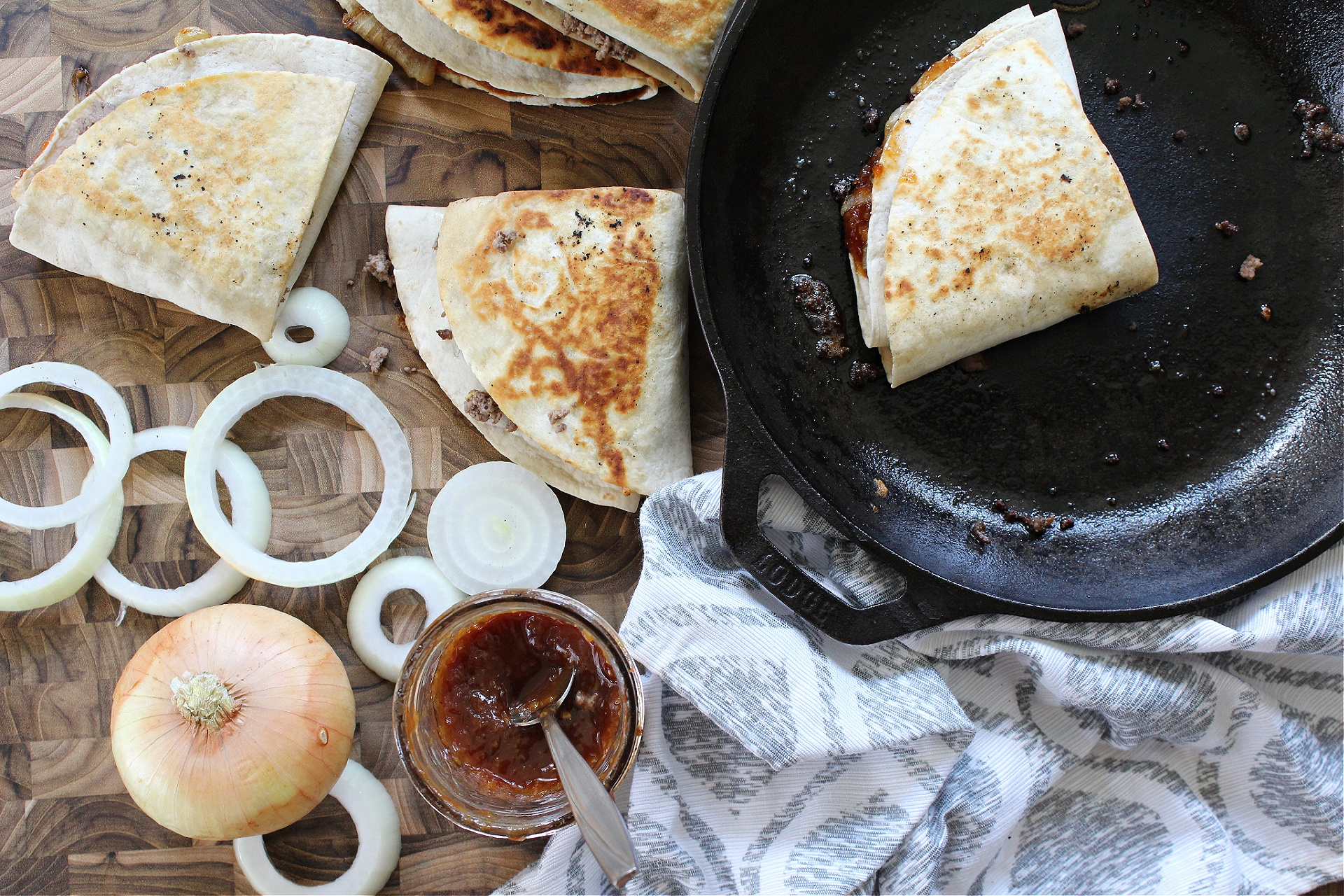 BBQ Cheeseburger TikTok Folded Tortilla Quesadilla
Have you seen the quesadilla trend on TikTok? Okay, even if you aren't on TikTok, you have probably seen the fun (and easy) way to make folded quesadillas. My mom even texted me a video that she saw on TV! And if you haven't seen this easy way to level up your quesadilla game, then you are in for a real treat.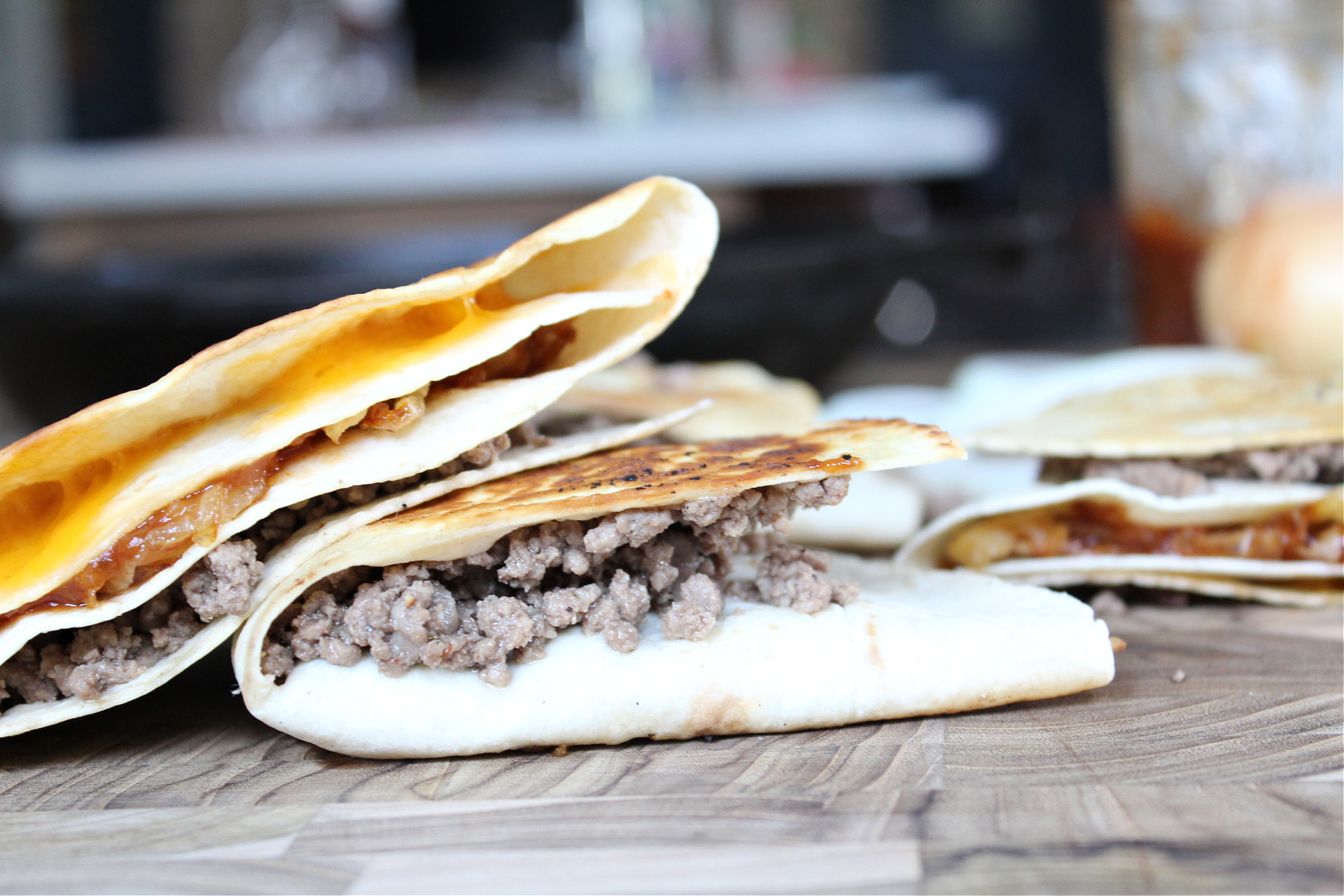 I am all about easy dinner ideas, and one that the whole family loves is a bonus. Add in that these folded tortilla quesadillas that went viral on TikTok are actually really fun to make, you got yourself a family dinner idea that you will find yourself making again and again. I have already made them 3xs myself!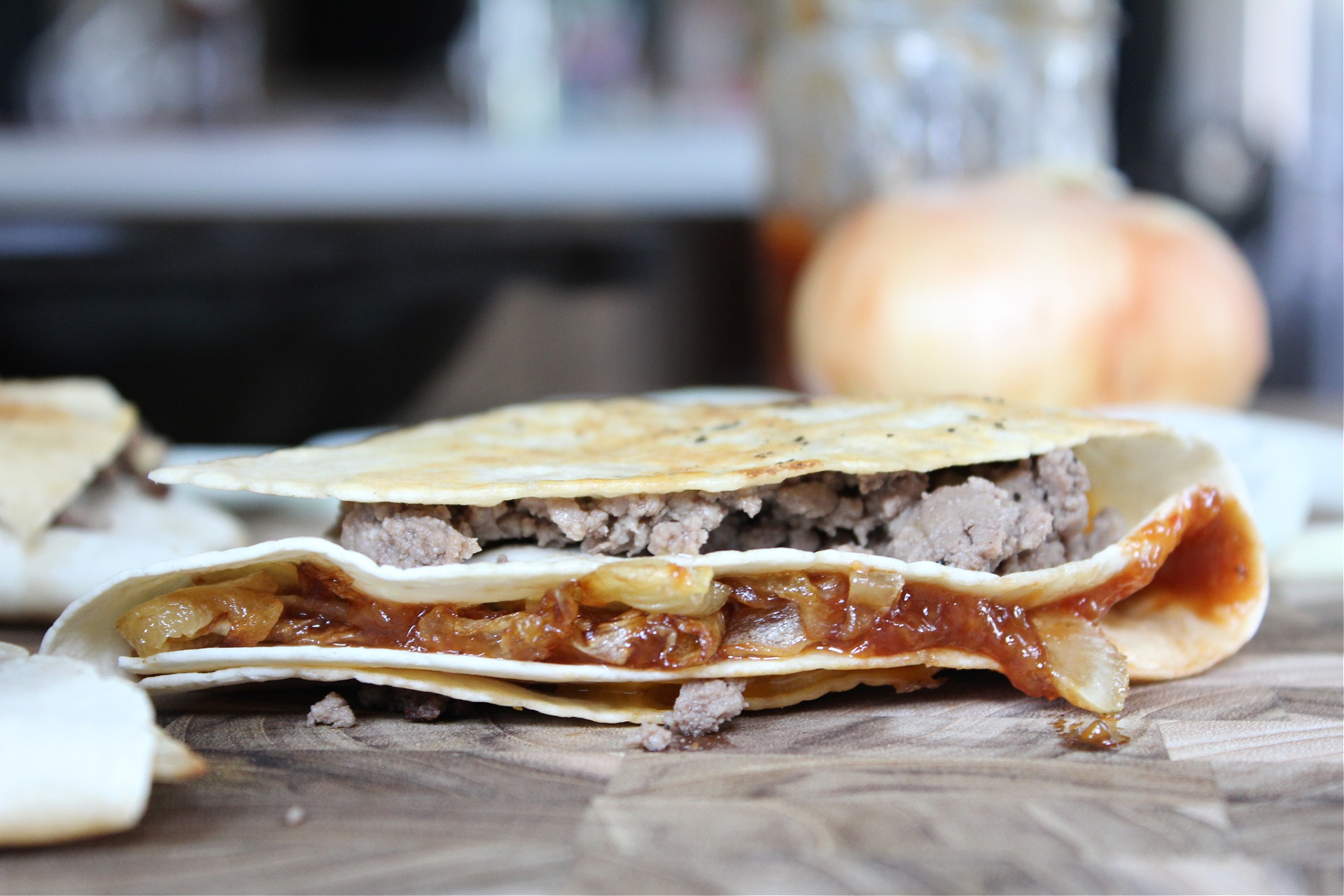 One of our favorite meals are cheeseburgers, but I rarely make them at home. I'm not sure why exactly, I just don't. Plus, the restaurant up the street makes a killer BBQ Cheeseburger, so when we want a really good burger, we usually head there and buy one. They load their burger with caramelized onions, BBQ sauce, and cheese. SO GOOD.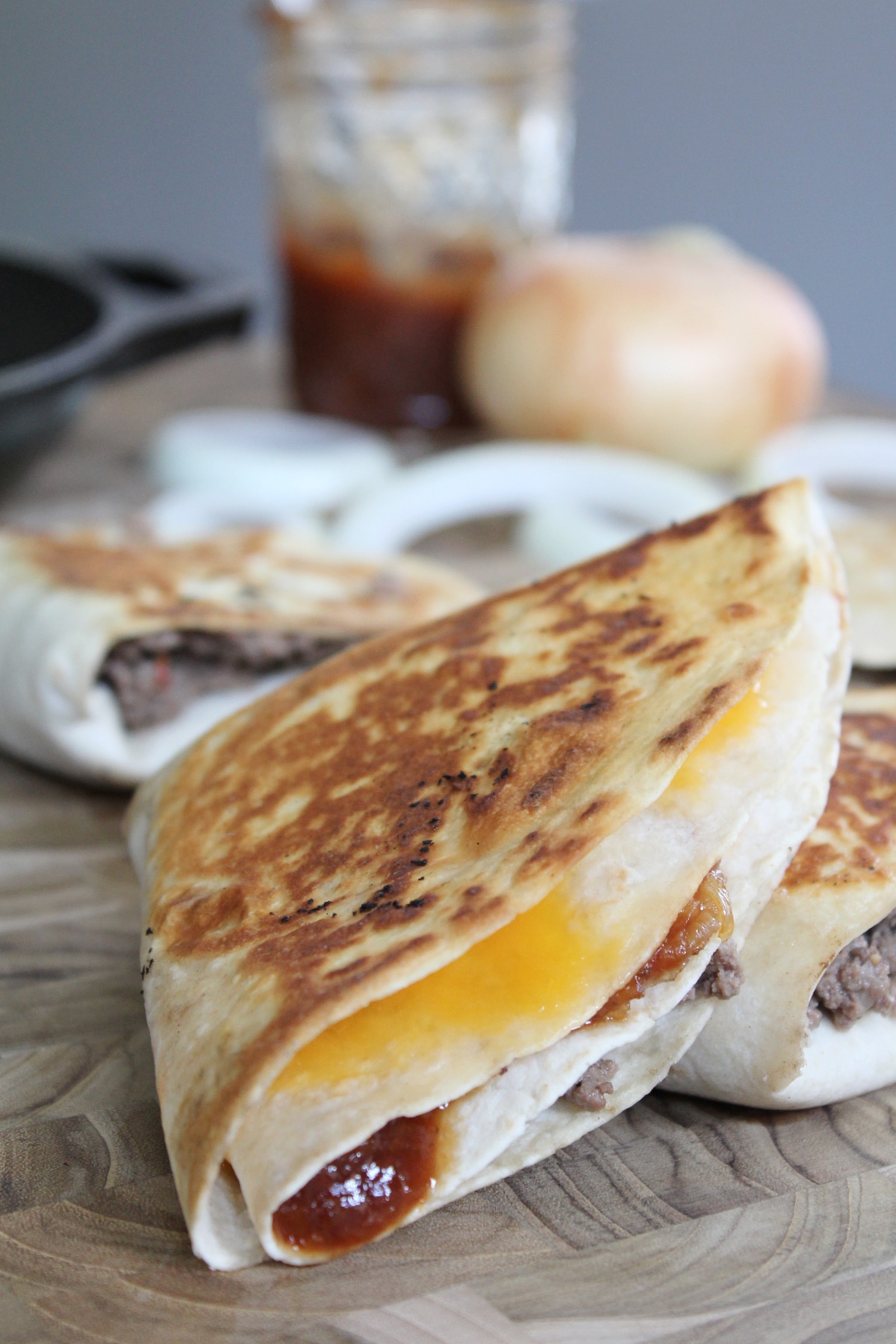 So, once I decided I was going to make a beef folded tortillas quesadilla recipe, I knew exactly what toppings I was to make it with.
Plus, this BBQ Cheeseburger Folded Tortilla Quesadilla is way easier to make than a burger…in my opinion.
Loaded with ground beef, cheese, caramelized onions and peach bourbon BBQ sauce, these stacked foldover quesadillas are super quick and easy to make, making them perfect for an easy weeknight meal or lunch.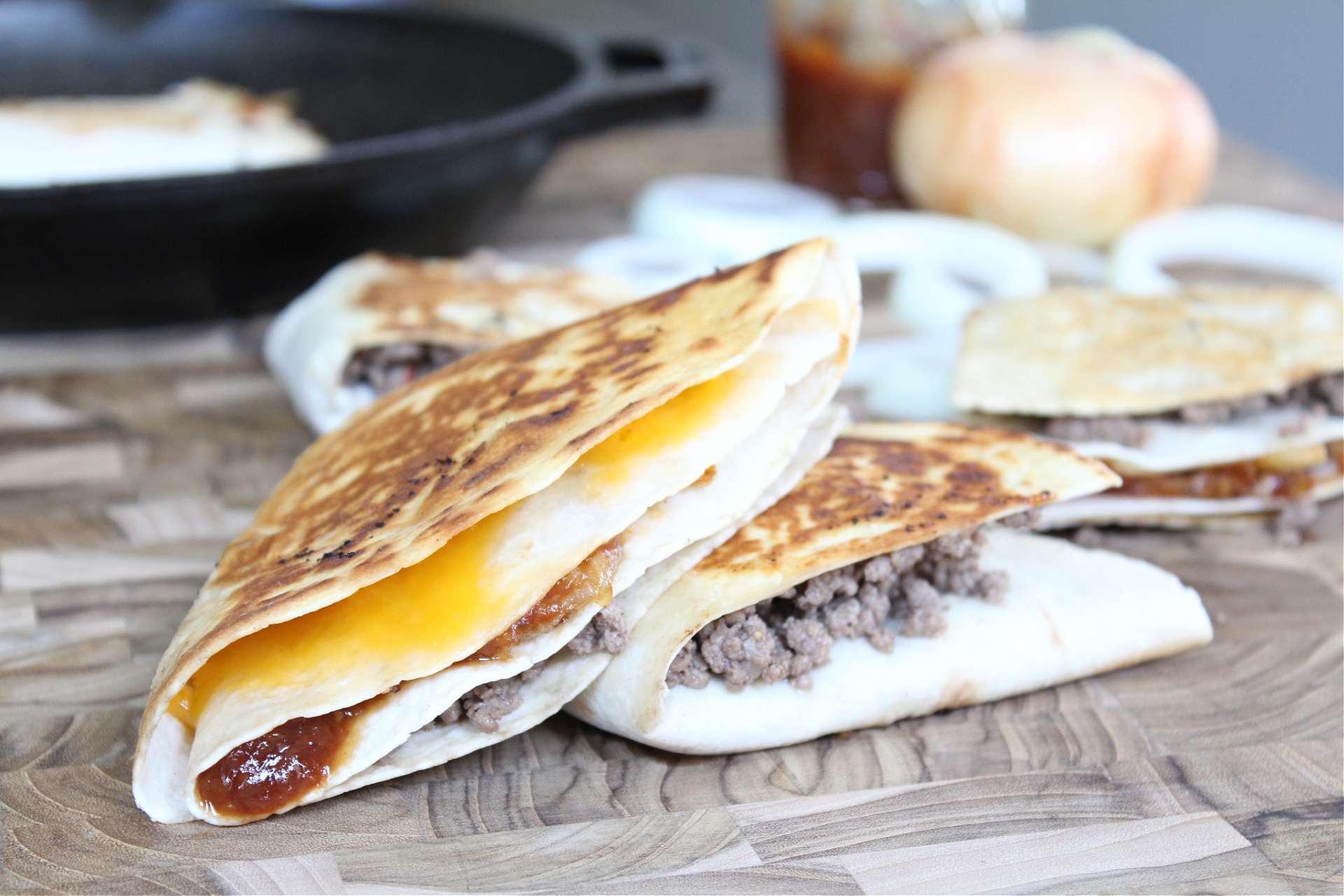 These are the ingredients you will need to make my BBQ Cheeseburger Folded Tortilla Quesadillas:
Caramelized onions really add an extra layer of flavor to these quesadillas. Then when they are combined with the BBQ sauce, that layer of smokiness is absolutely heavenly. Caramelized onions are magically delicious all on their own, but when added to your favorite dish, like these cheeseburger quesadillas…man oh man are they incredible!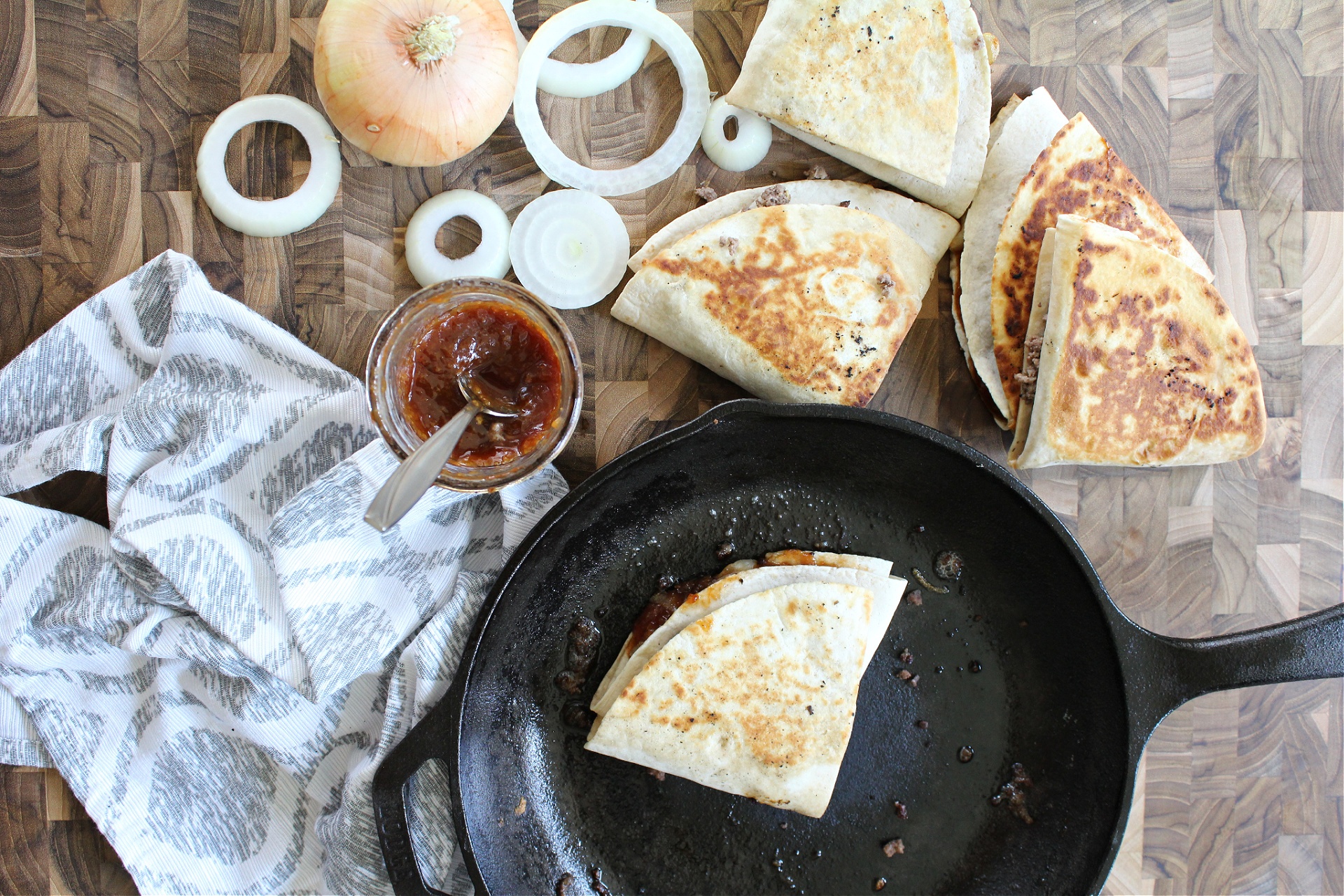 Here is a step by step video on how to make my amazing BBQ Cheeseburger Quesadillas:
Here are step by step photos on how to make my version of Tik Tok's Viral Folded Tortillas: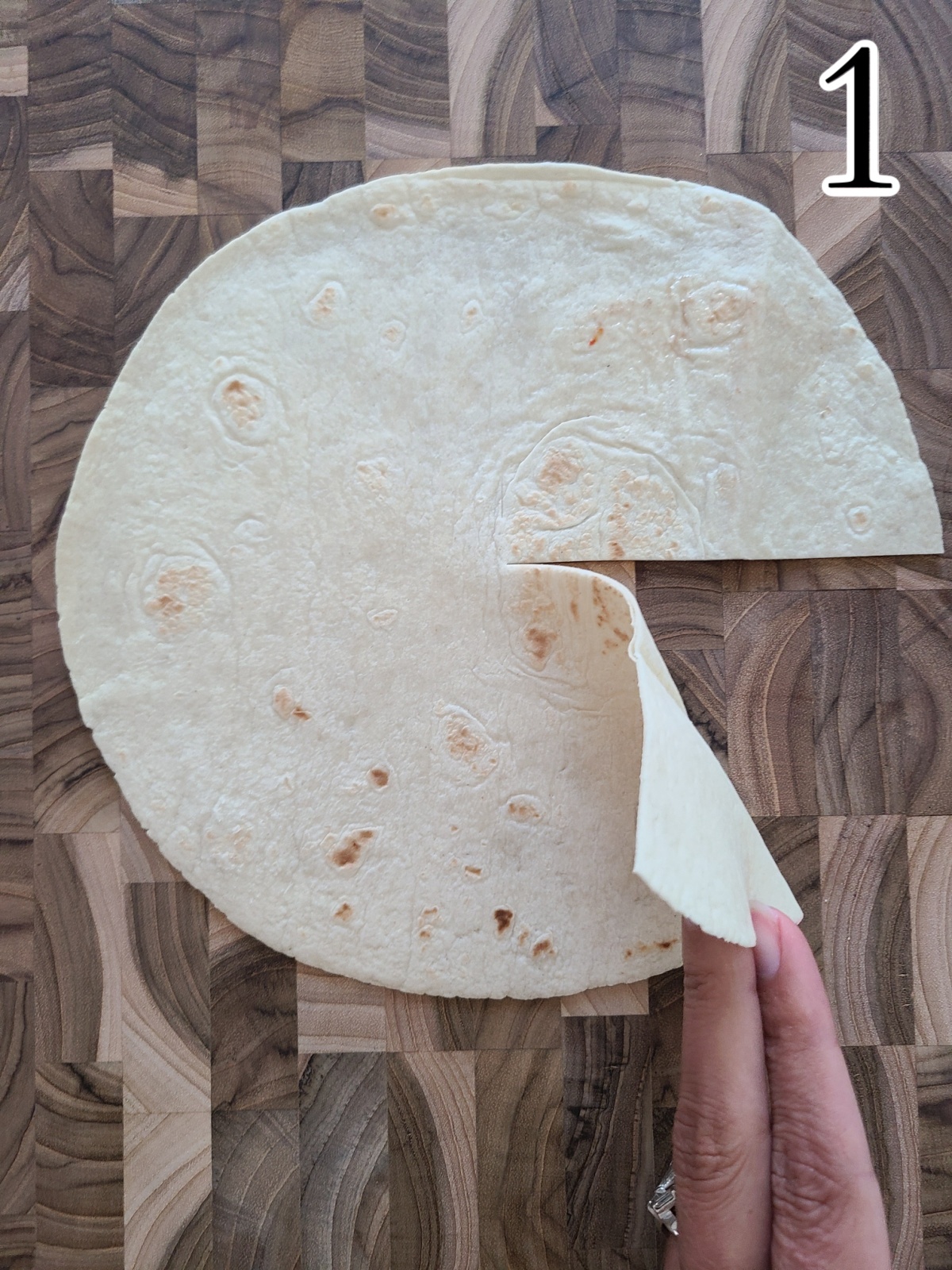 Step 1: Cut a slice in the tortilla. Only one cut, and only half way through.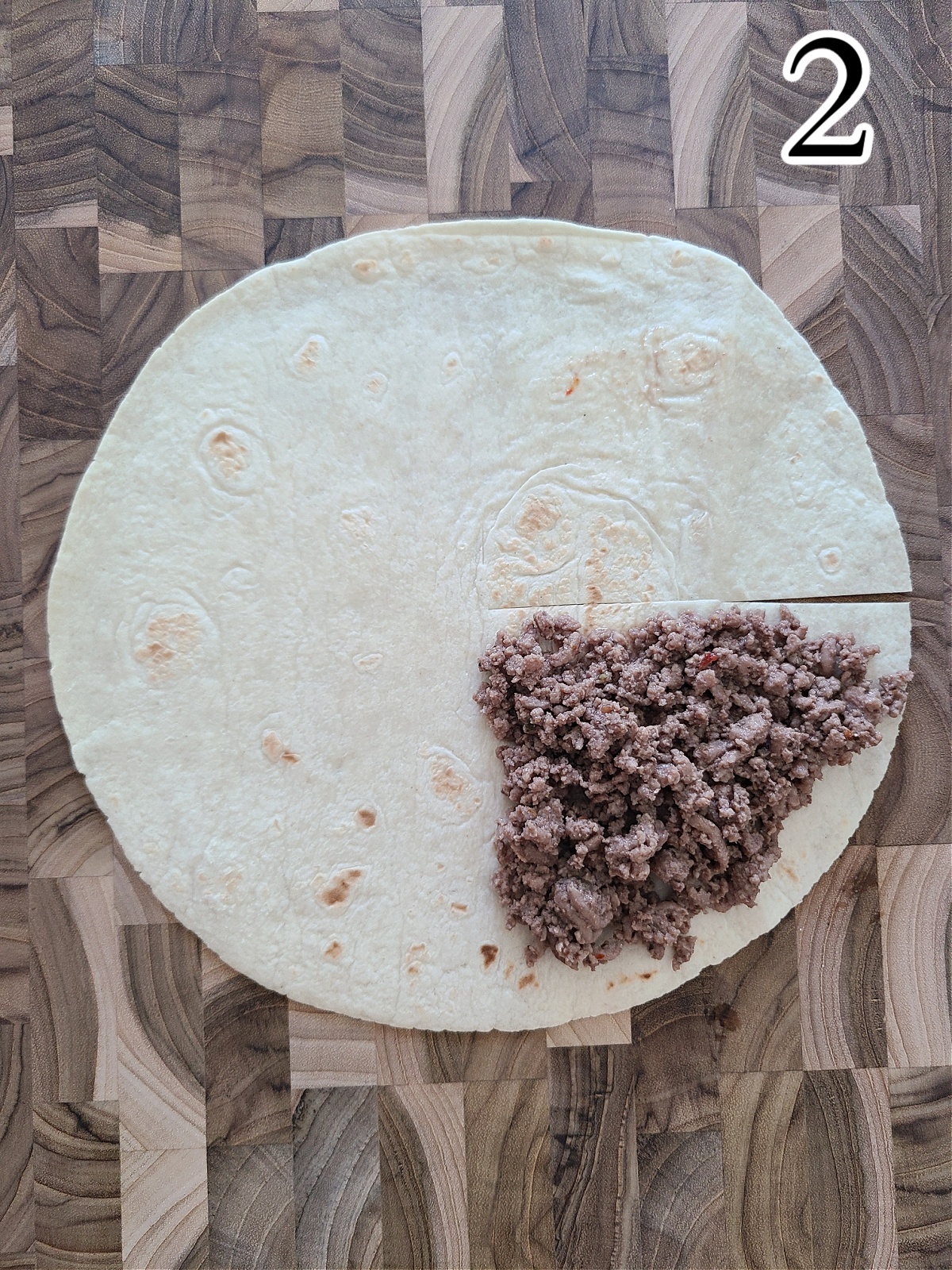 Step 2: Add approximately 2 tablespoons on the cooked ground beef to one quarter of the tortilla. The part of the tortilla that has the slice above it.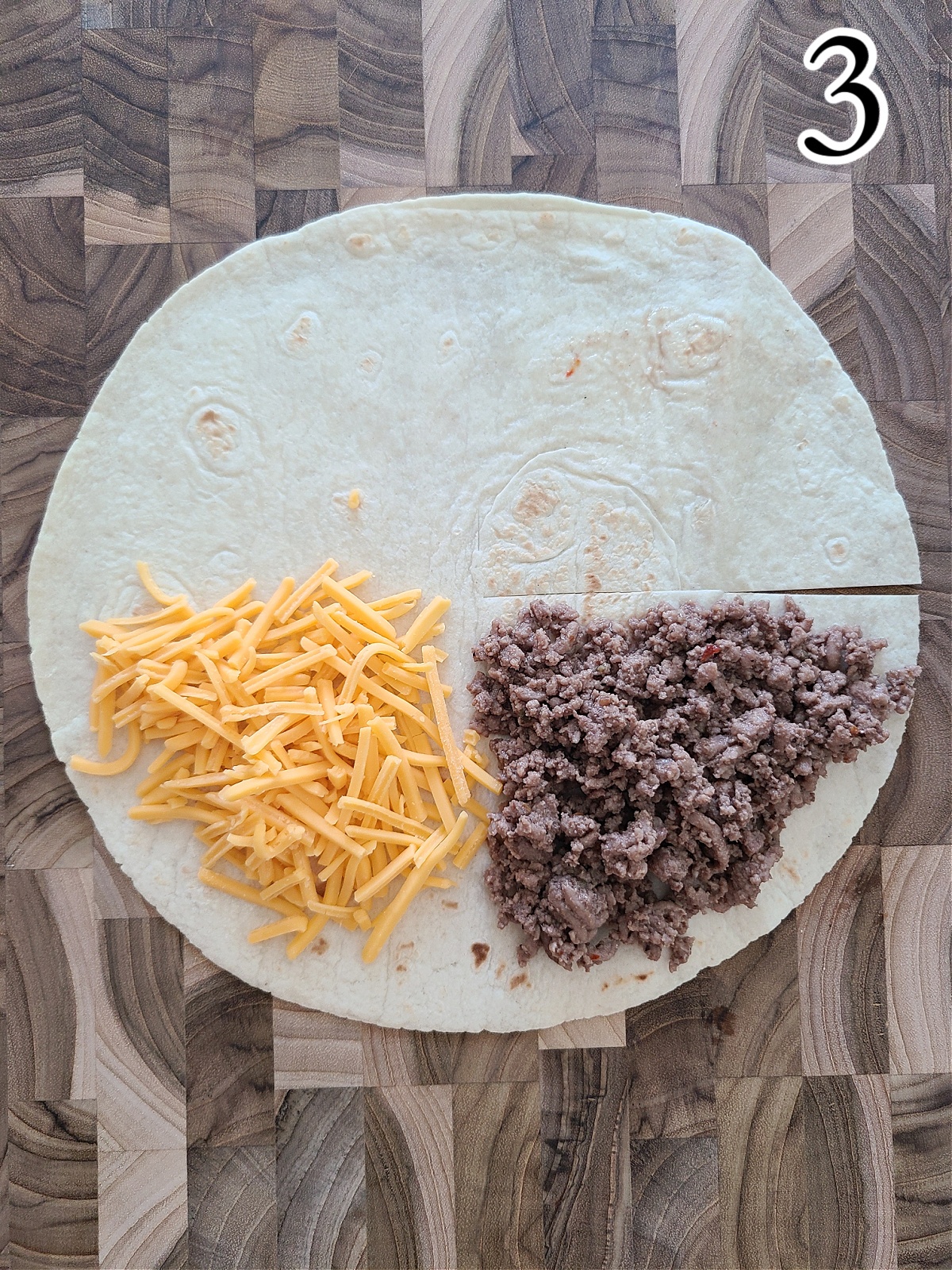 Step 3: Add shredded cheese to the next "quarter" of the tortilla.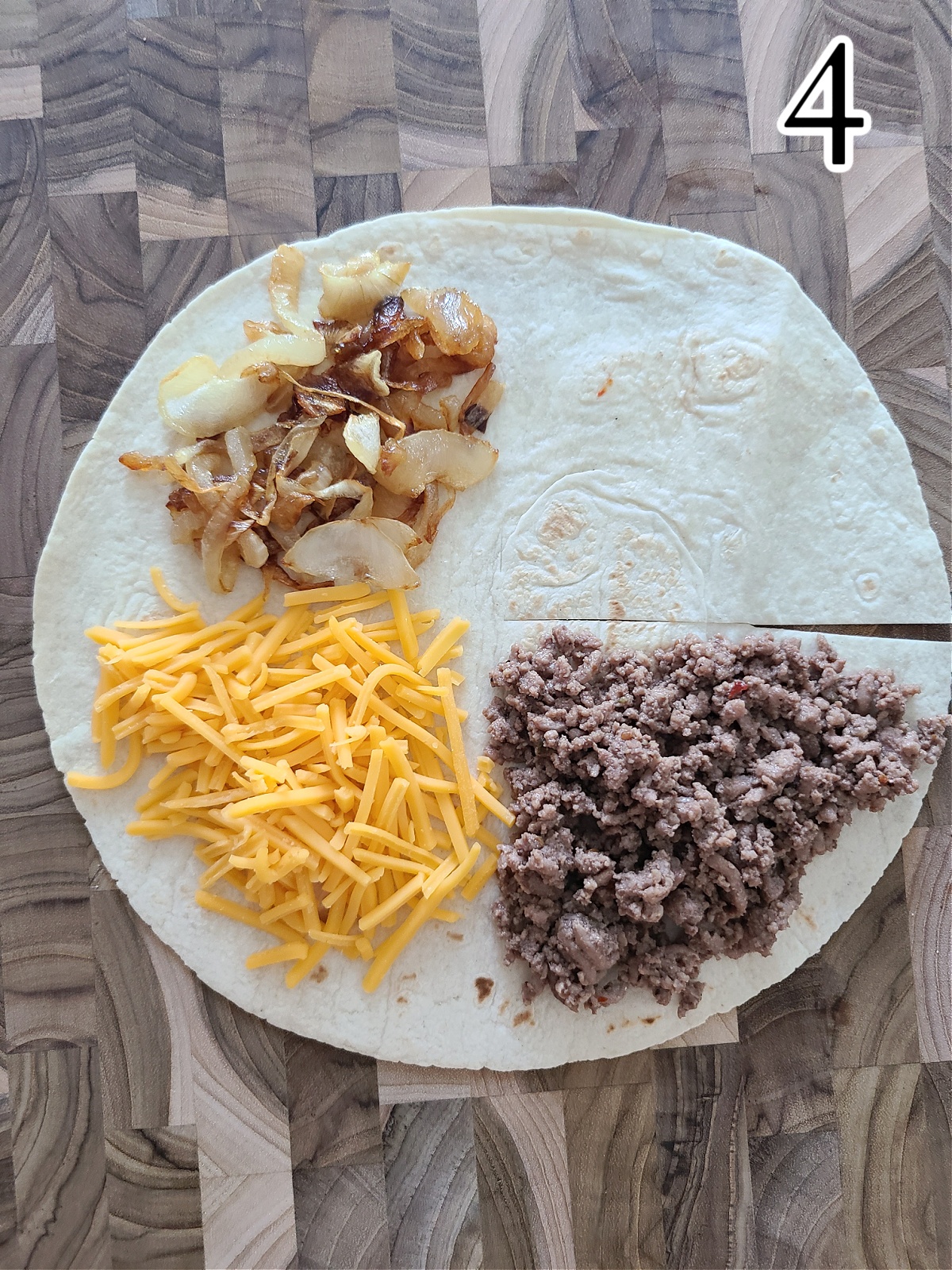 Step 4: Add the caramelized RealSweet Onions to the next quarter of the tortilla. Not sure how to caramelize onions at home, grab this easy recipe.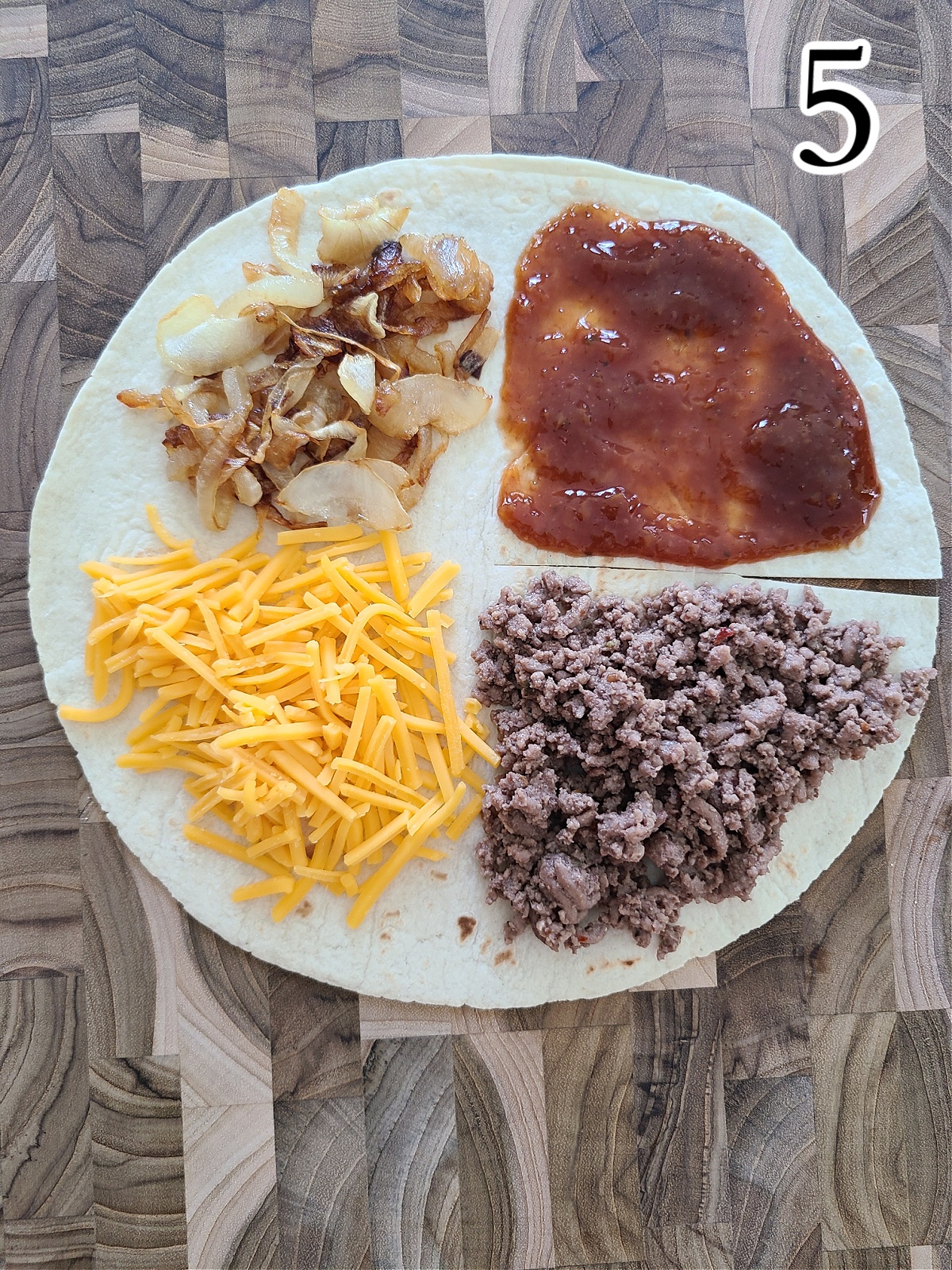 Step 5: Add the BBQ sauce to the last quarter of the tortilla. I used approximately one tablespoon.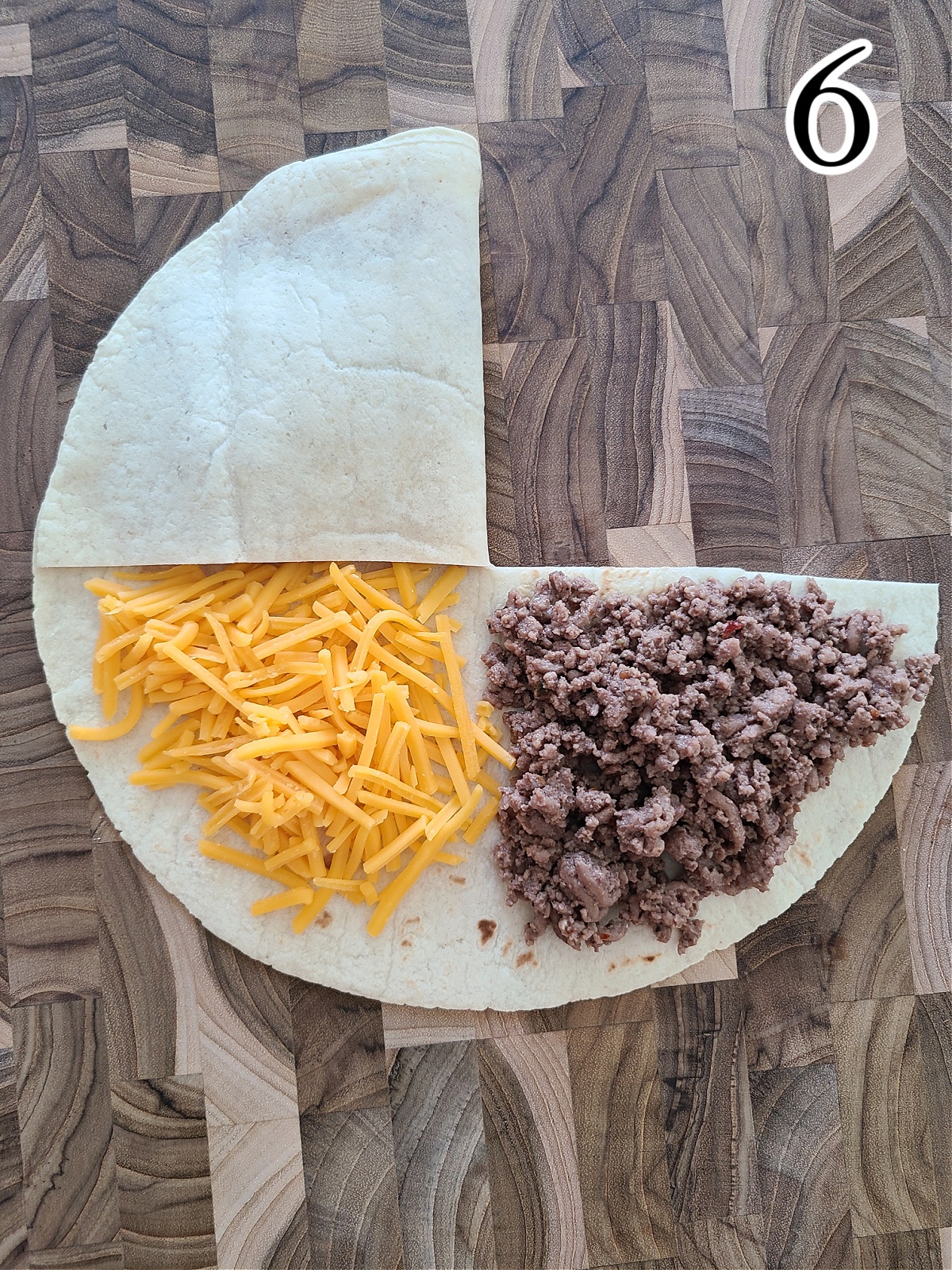 Step 6: Fold the BBQ sauce section on top of the caramelized onions.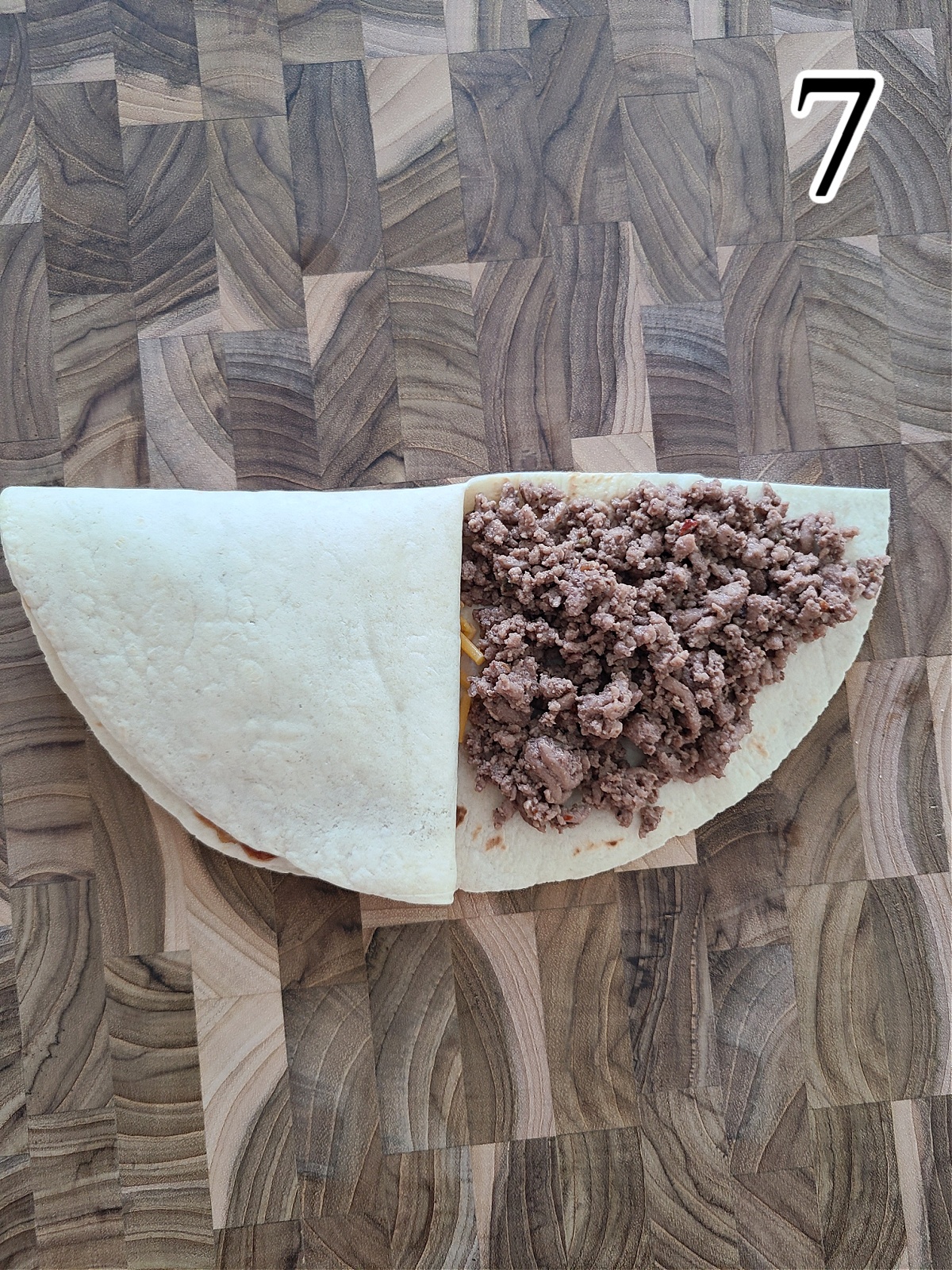 Step 7: Fold the BBQ sauce and onion section over the shredded cheese section.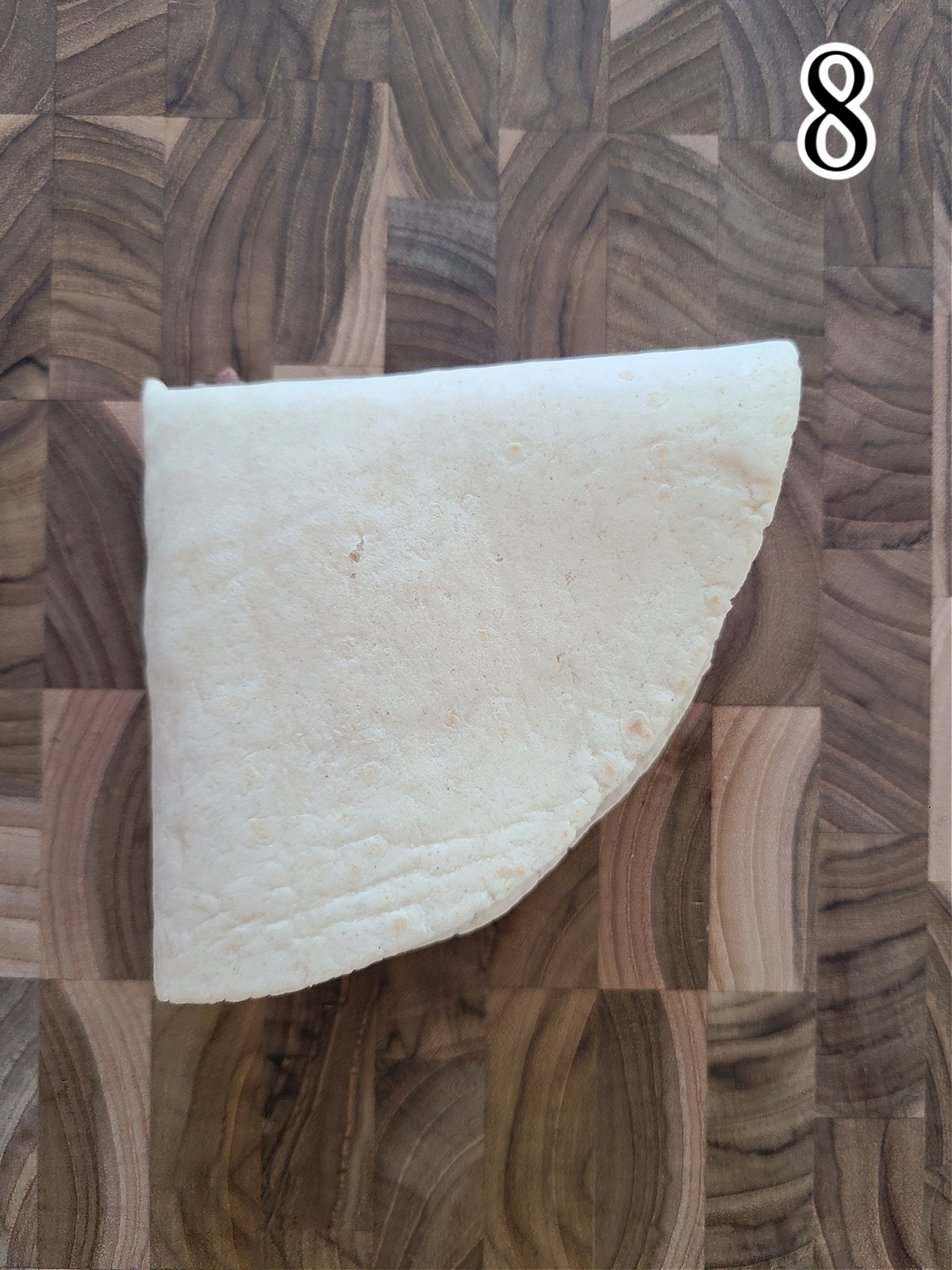 Step 8: Continue to fold the sections, so that the BBQ sauce, onion, cheese sections fold onto the beef section.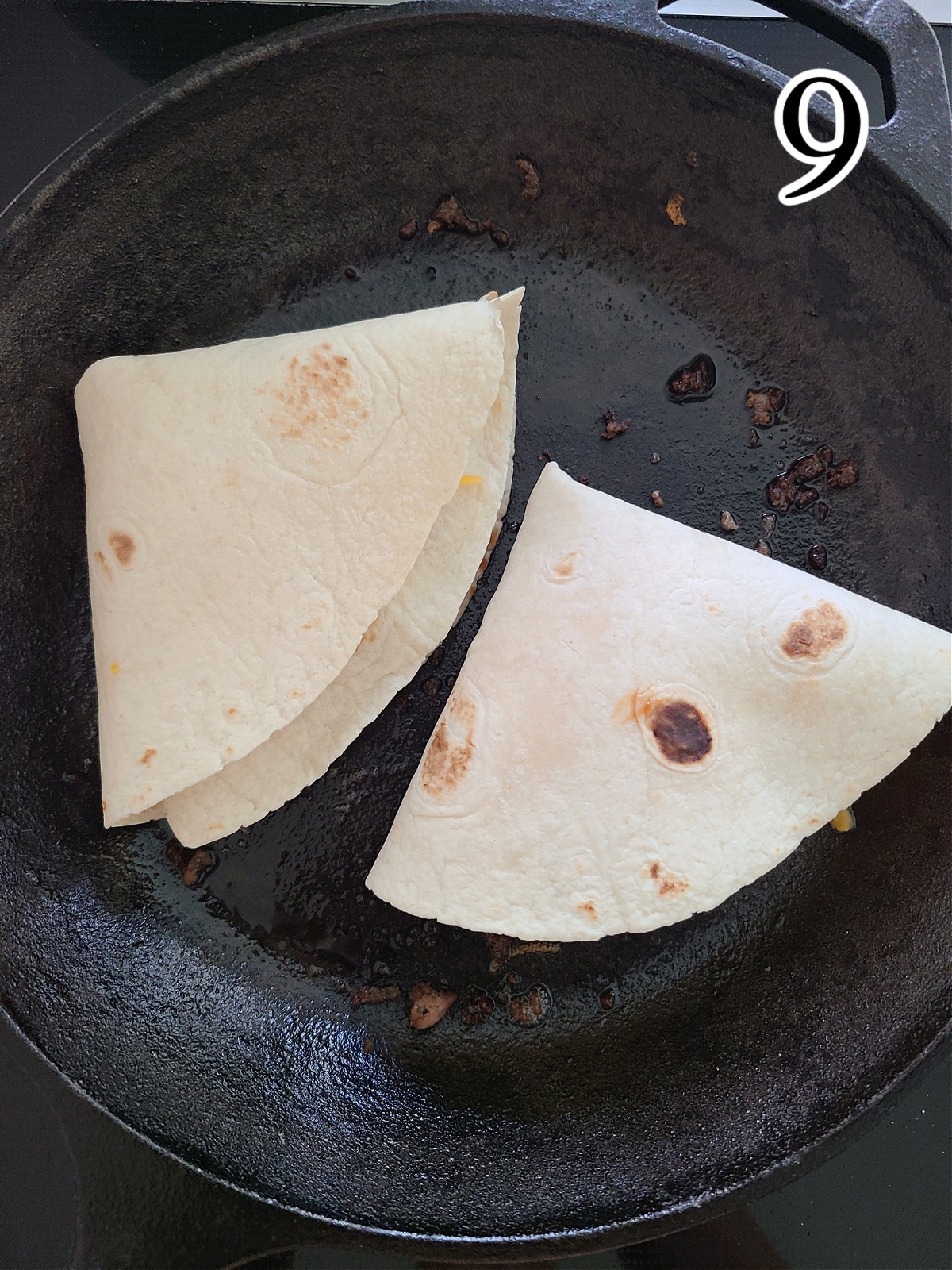 Step 9: Heat in skillet to warm throughout and melt the cheese. You can also bake them, but cooking your folded quesadillas in a skillet will brown them nicely and they will cook a little faster. If you bake them, I recommend 350 degrees for approximately 10 minutes, you want the cheese melted and the tortilla a little crispy.
Be sure to see the printable recipe card below for full ingredients and instructions.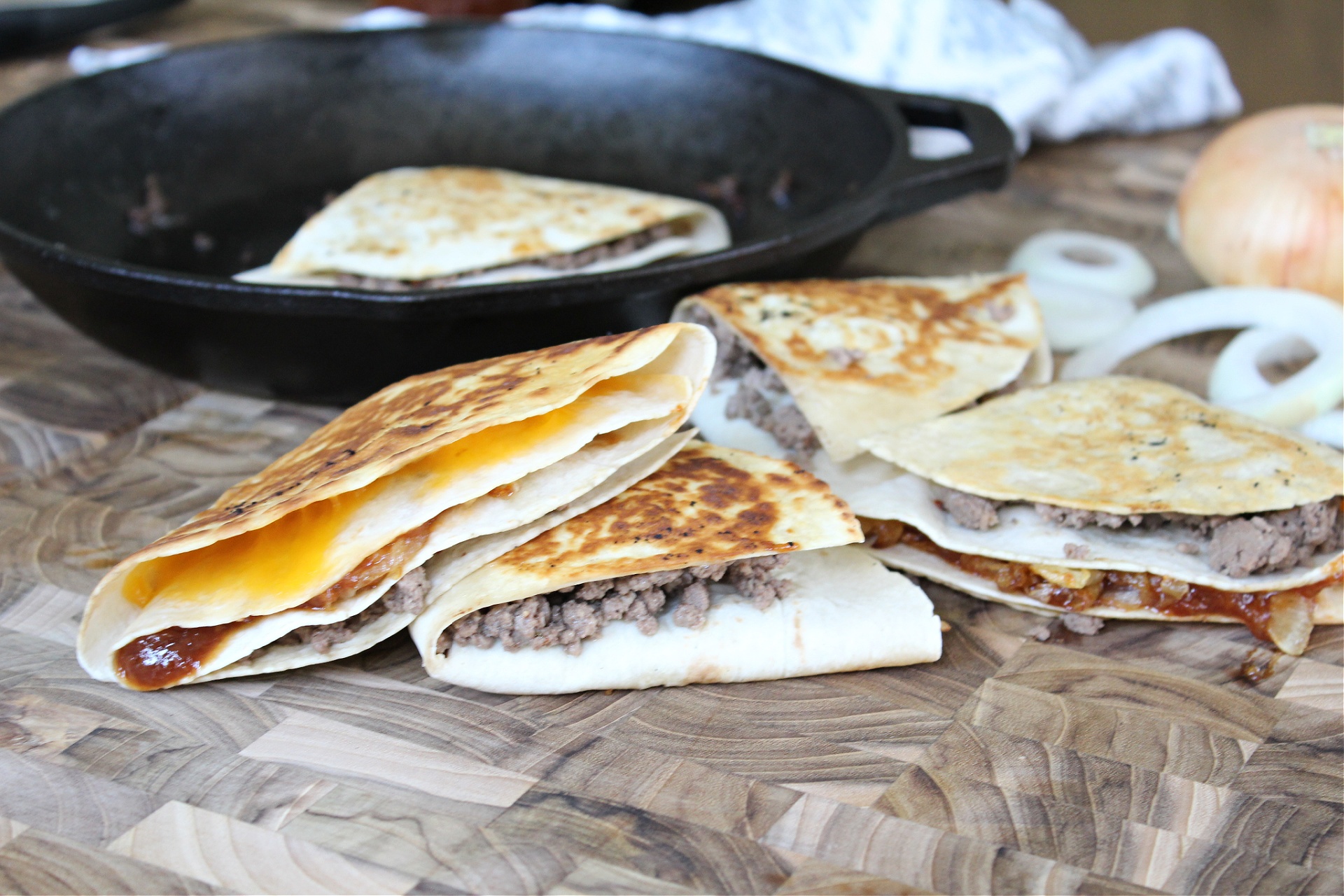 Can you make these stacked beef quesadillas ahead of time?
Yes! As I mentioned, I have made them a few times already. The second time I made them, I prepped them in the morning and put them in the refrigerator until dinner. Then just cooked them as stated below.
If you have leftovers you can keep them in the refrigerator in an airtight container for a few days. Reheat them in the oven/toaster oven or a skillet.
Can you meal prep these folded tortilla quesadillas?
Sure can! If you want to freeze them, I recommend wrapping each one in press n seal to avoid any freezer burn, then putting then in a freezer bag. When you are ready to make them, allow them to thaw in the fridge and warm in oven/toaster oven or skillet.
Can you use something other than beef?
Of course! You can easily substitute ground turkey, chicken or pork if you prefer. You can also use leftover shredded rotisserie chicken. If you prefer to leave out the meat, you can use plant-based meat crumbles and them vegetarian.
Can you use something other than caramelized onions?
I strongly recommend using the caramelized onions, but if you don't have the time to make them, I understand. I have made this exact recipe with pickled onions and I loved it! Want to use just sliced RealSweet Onions, you can!
What do you serve these folded tortillas with?
Homemade onion rings or french fries are always a good option when having a BBQ Cheeseburger topped with caramelized onions. I served mine with roasted vegetables. My kids love roasted brussel sprouts and I had a butternut squash that was calling my name.
Tips for making stacked beef quesadillas:
Don't use the snack size tortillas. They will be too small once you fold them! I used the fajita size, but the burrito size will also work.
Don't forget the cheese. It helps hold the layers together.
Don't overload the fillings, they will spill out when you fold the sections.
Do make the sauce the first section you fold, if you fold the meat or cheese first, it will fall out.
Do have fun and get creative!
Now, here is my BBQ Cheeseburger Folded Tortilla Quesadilla recipe. Be sure to Print It and Pin It so that you can make it again and again.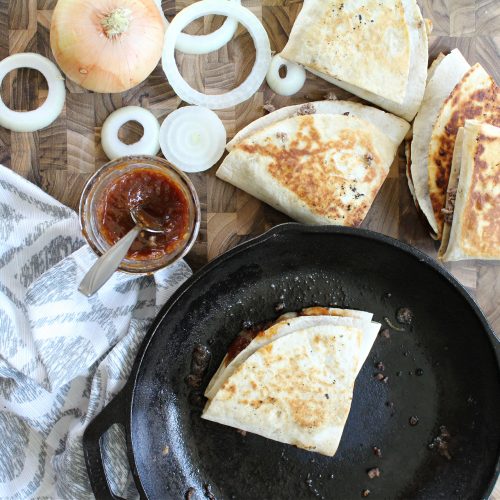 BBQ Cheeseburger Foldover Quesadilla (Viral Tik Tok Recipe)
Print
Pin
Rate
Ingredients
8

large flour tortillas

I used low carb tortillas

1

lb

cooked ground beef

I used lean ground beef. Season to your liking, I added red pepper flakes.

1

cup

Caramelized RealSweet Vidalia Onions

recipe here

1

cup

shredded cheddar cheese

½

cup

BBQ sauce

I used Bourbon Peach BBQ sauce
Instructions
Lay tortilla flat. Cut to the center of the tortilla.

Add the cooked ground beef to the quarter directly below the cut.

Add the cheese to the next quarter.

Next add the caramelized onions to the quarter above the cheese.

In the final quarter, add the BBQ sauce.

Now, start folding the sections. First fold the BBQ sauce section over the caramelized onions.

Fold that section over the cheese quarter.

Finally, fold the stacked portion over the beef section.

Repeat these steps with all the tortillas.

Add olive oil or butter to a skillet.

Warm the skillet over medium heat.

Cook the folded quesadillas approx 3 minutes per side to brown the tortilla and make it crispy, and melt the cheese.
Notes
I did end up with about 3 servings of beef leftover, which I happily used to make these again for lunch the next day.
My husband and son both ate 3 folded quesadillas for dinner, my daughter and I both ate one, but would have been happy splitting one more....if the guys didn't eat them first 😉
Nutrition
Calories:
180
kcal
|
Carbohydrates:
11
g
|
Protein:
16
g
|
Fat:
8
g
|
Saturated Fat:
4
g
|
Trans Fat:
1
g
|
Cholesterol:
50
mg
|
Sodium:
317
mg
|
Potassium:
295
mg
|
Fiber:
1
g
|
Sugar:
7
g
|
Vitamin A:
182
IU
|
Vitamin C:
2
mg
|
Calcium:
121
mg
|
Iron:
2
mg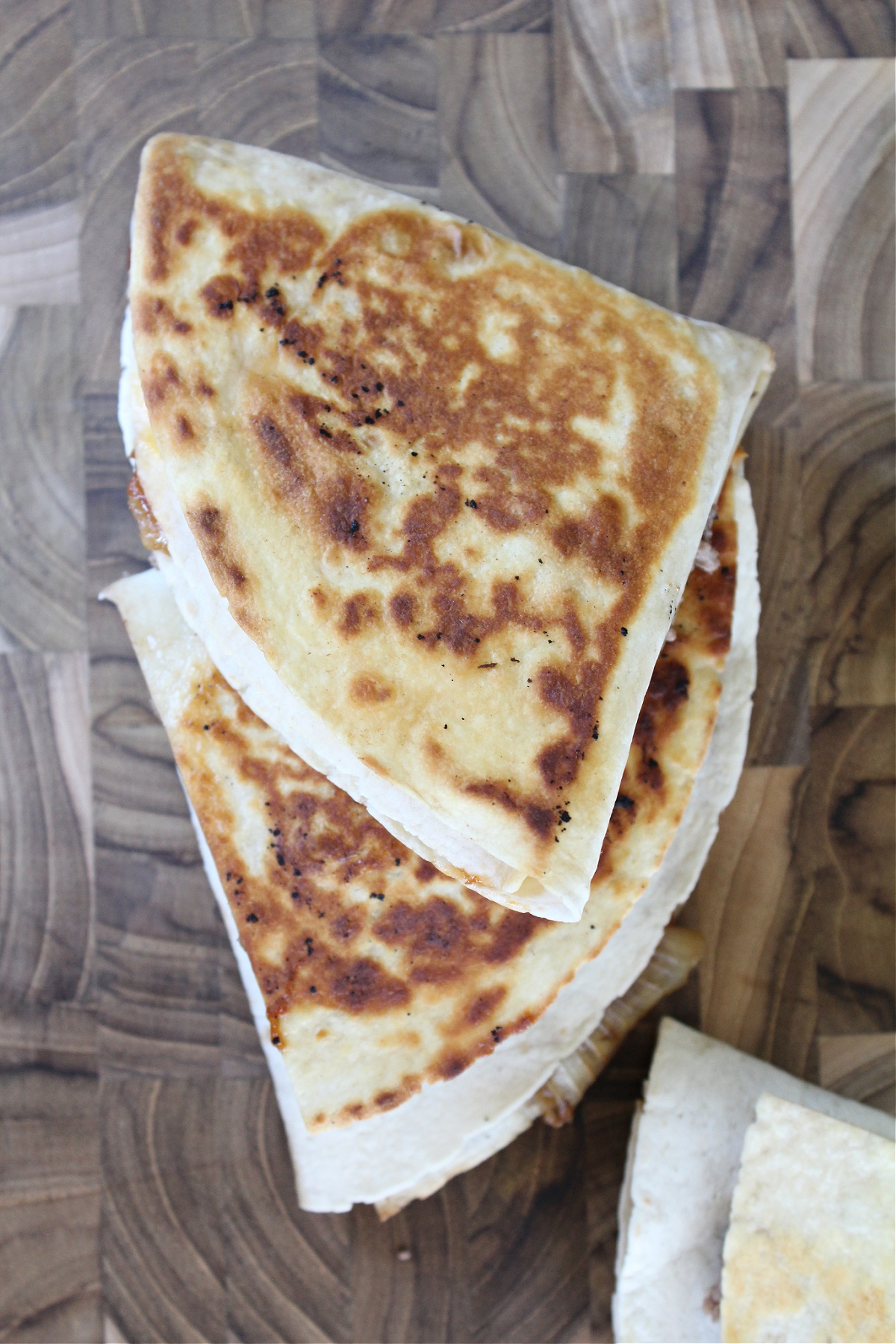 I hope you enjoy these BBQ Cheeseburger Folded Tortilla Quesadillas as much as we do!
If you haven't tried the foldover quesadilla Tik Tok recipe trend yet, this is a delicious recipe to get you started.
You all know that I follow Weight Watchers, so I wanted to put the breakdown of WW points per quesadilla here for you all:
2 tablespoons 96% lean ground beef – 1 point on WW Blue Plan *can substitute 99% FF ground turkey for ZERO points.
2 tablespoons shredded cheddar cheese – 2 points on WW Blue Plan *can substitute 1 wedge of Laughing Cow Cheese for 1 point
1 low carb tortilla – 1 point on WW Blue Plan
Caramelized Onions – less than 1 point – onions are free, but they are cooked in olive oil
BBQ sauce – I used homemade BBQ sauce, which was 2 points for one tablespoon. *can substitute sugar free BBQ sauce for ZERO points.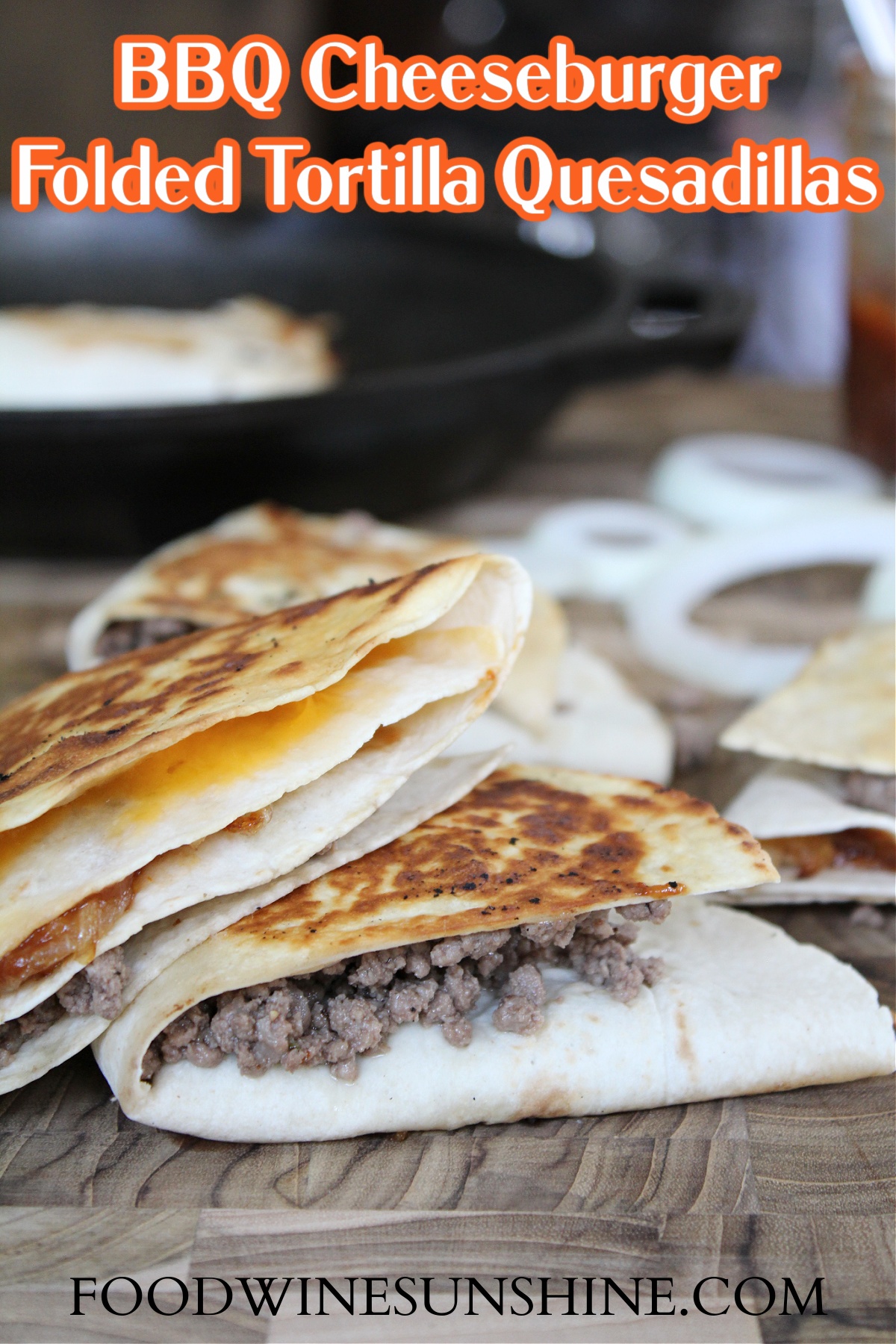 If you love quesadillas, be sure to try my Easy Cheesy Quesadilla Recipe.
Follow Shuman Farms RealSweet Onions on Instagram, Facebook, Twitter and Pinterest for more cooking tips and recipes ideas.
And while you are at it, be sure follow me on Facebook, Twitter, Pinterest and Instagram for more delicious recipes, things to do and more.