(Last Updated On: July 1, 2019)
Disclosure – While I received the Sea Bass for review, my opinions and recipe are 100% my own!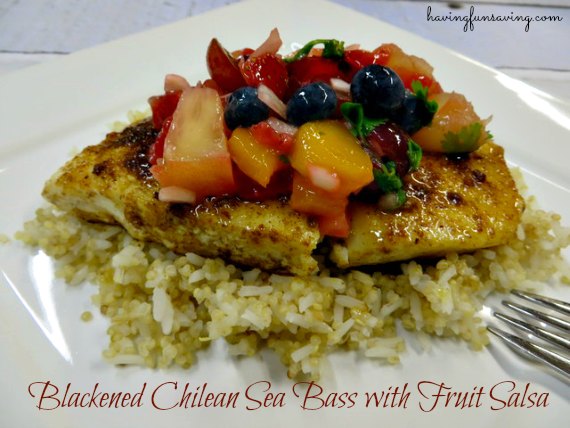 Blackened Chilean Sea Bass With Fruit Salsa Recipe
I love cooking with seafood lately – it's so light and delicious…and not to mention good for us! I have done several different types of glazes and seasonings, but I haven't tried blackened yet…well, until last night…and it turned out AMAZING! You will be surprised just how easy it is. Of course, you can do this with any seafood that you would like, we used Chilean Seabass.
Blackened Chilean Sea Bass With Fruit Salsa Recipe
Author:
Prep time:
Cook time:
Total time:
Ingredients
2 teaspoons cayenne pepper
2 teaspoons ground cumin
2 teaspoons curry powder
1/4 teaspoon turmeric
1/4 teaspoon paprika
1/4 teaspoon garlic powder or salt
1/4 teaspoon black pepper
dash of salt
Chilean Sea bass – or seafood of your choice – we used Anderson Seafoods
1/2 cup diced peaches
1/2 cup diced mango
1/2 cup diced strawberries
1/2 cup blueberries
1/2 cup grapes – cut in half
1/4 cup diced sweet onion
1/4 cup cilantro chopped
1 lime – juiced
1/2 lemon juiced
Instructions
Combine the fruit, lemon juice, lime juice, onion, cilantro in a bowl and refrigerate for at least 1-2 hours
Combine all the seasonings in pan and dry toast them for 2-4 minutes (seasonings CAN BURN, so watch them closely!)
Place the seasonings in a bowl
Place your sea bass on a plate and liberally cover each side of the fillet with your seasoning mixture – I rubbed it in
Heat a small amount of coconut oil (or olive oil) in a pan and saute the sea bass
Add additional seasoning as needed
Cook until white and flaky throughout
Top with Fruit Salsa and serve with quinoa/rice
Enjoy!
I coated my fillets pretty good – make sure to do this one both sides!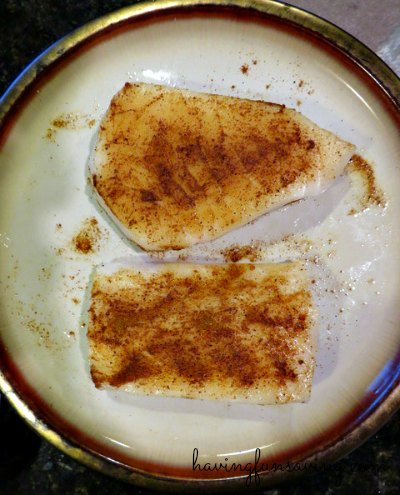 The Fruit Salsa was absolutely amazing! The cilantro and onion added the perfect about of spice and sweet that complimented the Blackened Sea Bass perfectly.
Not to mention, the Fruit Salsa adds beautiful color 😉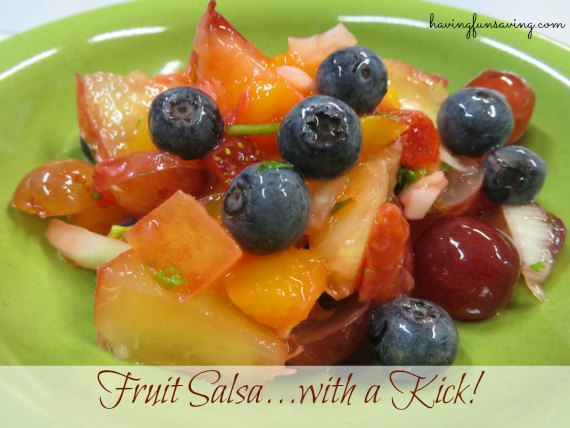 This Blackened Chilean Sea Bass recipe is easy, full of flavor, beautiful colors and is DELICIOUS! Make sure to let me know if you try it – I would love to hear your thoughts!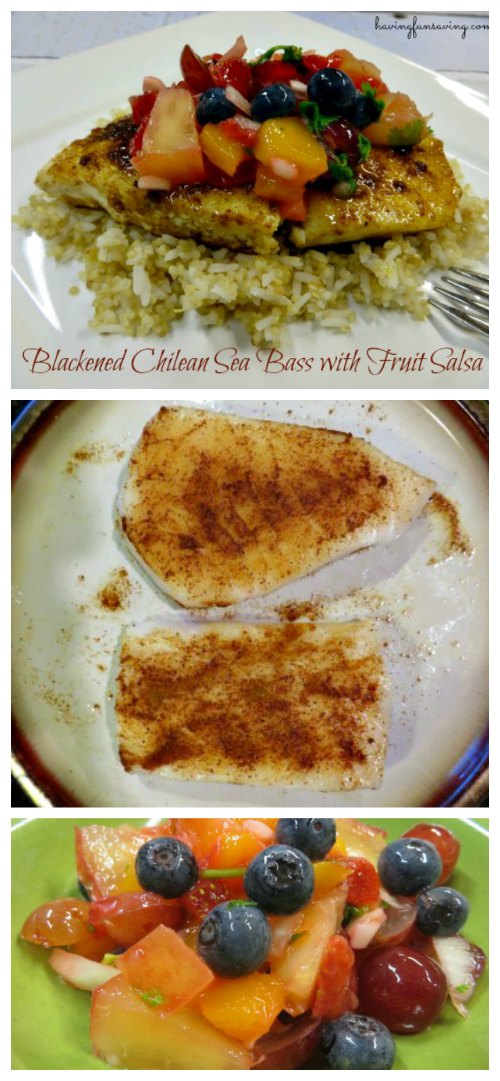 Check out all the seafood available by Anderson Seafoods
Looking for other delicious Seafood recipes? Check these out!
Be sure to check out more recipes from Food Wine Sunshine! And follow me on Facebook, Twitter, Pinterest, and Google +.