(Last Updated On: June 12, 2019)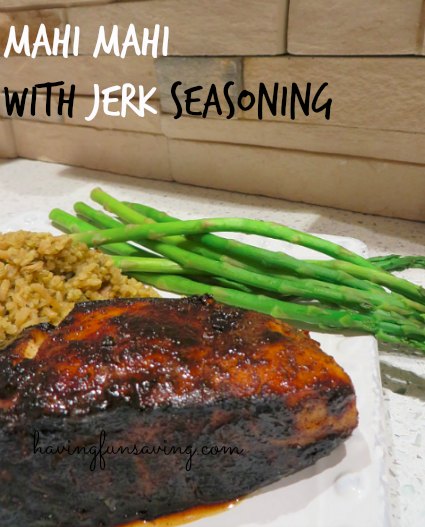 Mahi Mahi with Jerk Seasoning
One of my absolute favorite ways to enjoy Mahi Mahi is usually as a fish taco, but the other night my husband surprised me by cooking up some fabulous Anderson Seafoods Mah Mahi with a Jerk Seasoning. I will admit that I was slightly concerned when I first saw it…I was afraid that he burnt some of our prized Mahi Mahi! But, he didn't 😉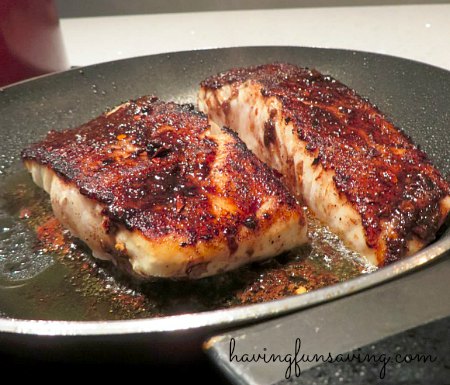 You will brush the seasoning paste that only takes a few moments to make, over the fish before cooking it, so they will blacken as you cook the fillets. Don't worry, they aren't burnt – nor do will it taste burnt. It WILL taste fabulous.
You definitely want to make sure that you really coat the fillets in the seasoning – it adds such a wonderful flavor. As you can see, we even brushed it onto the sides.
Now, here's the recipe. Remember to pin it and/or print it so that you can make it again and again!
Mahi Mahi with Jerk Seasoning
Author:
Prep time:
Cook time:
Total time:
Ingredients
2 fillets of Mahi Mahi – I got mine from Anderson Seafoods
1/4 cup light brown sugar
1 tablespoon allspice
1 teaspoon red pepper flakes
1 teaspoon ground black pepper
1 teaspoon salt
1/4 teaspoon cinnamon
1/4 teaspoon cayenne pepper
1/4 teaspoon ground cumin
2 tablespoons canola oil
Instructions
Mix all the dry ingredients in a small bowl
Add in the canola oil and mix well, it will be like a "paste"
Coat each side of the Mahi Mahi fillets with the jerk seasonings
Pan saute the Mahi Mahi until cooked throughout (it will be white and flaky) – approx 5-7 min per side
Enjoy!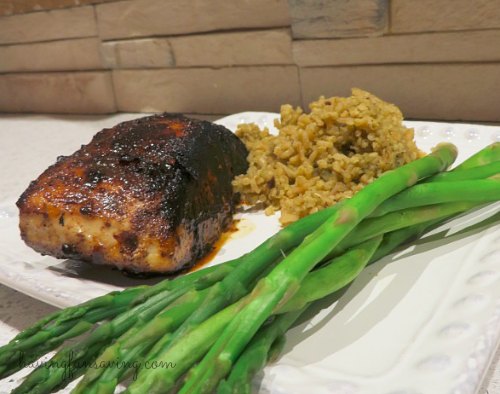 We served ours with steamed asparagus and quinoa. It was definitely a flavorful meal, and we will definitely be adding this one into our regular rotation. I know it's easy to fall into cooking "ruts" but I encourage you to step outside of the box and try something new. Something FUN 🙂
When you think of your holiday meals, I strongly encourage you to think outside of the "traditional" meats…think QUALITY seafood! Think Anderson Seafoods.
I hope your family enjoys this Mahi Mahi with Jerk Seasonings as much as we do!
Find Food Wine Sunshine on Facebook, Twitter, Pinterest, and Google +.