(Last Updated On: August 10, 2019)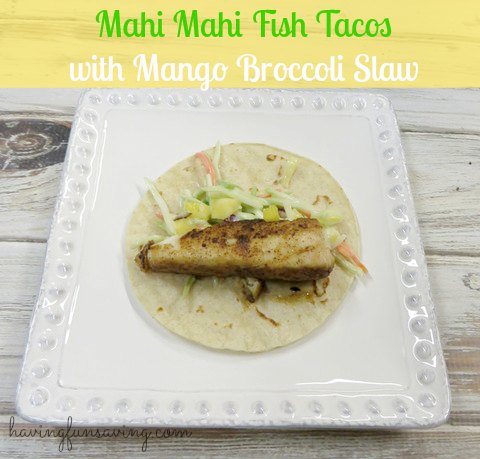 Spring is here and summer is right around the corner so if you are looking for the perfect light and delicious meal – look no further than these delicious Mahi-Mahi Fish Tacos. I added a lower-calorie option Broccoli Slaw with some mango and it was amazing.
Mahi-Mahi Fish Tacos with Mango Broccoli Slaw
Author:
Prep time:
Cook time:
Total time:
Ingredients
2 – fillets of Mahi-Mahi – I used fresh Anderson Seafood Mahi-Mahi
Old Bay Seasoning to taste – I used approx 1 tablespoon
1 bag of Broccoli Slaw
1/4 – 1/2 mango diced
1/4 cup sugar
1/4 cup Extra Virgin Olive Oil
1/4 cup of white vinegar – I prefer Cherry Wine Vinegar, but I know not everyone has that 🙂
1/4 cup of mayo – I use low-fat or fat free
Soft tortillas
Instructions
Pan sautee the Mahi-Mahi until white and flaky on the inside – while cooking sprinkle with Old Bay Seasoning (on both sides)
While the mahi-mahi is cooking mix your broccoli slaw by adding the sugar, oil, vinegar, and mayo into a medium size bowl and mixing well
Add in the broccoli slaw to the same bowl and mix
Add in the mango
Refrigerate the broccoli slaw until mahi-mahi is ready to be served
Serve the Mahi-Mahi and broccoli mango slaw on your tortillas
Garnish with lime/guacamole if desired
Enjoy
Notes
I don't like my slaw with a lot of dressing, feel free to add more of the oil, vinegar, and mayo in equal increments to your liking
You will be surprised at how easy this meal is to make and how gourmet you will feel when it's done!
Make sure to let me know if you try this Mahi-Mahi Fish Tacos Recipe with Mango Broccoli Slaw – I will admit that it is one of my favorites 🙂
Looking for other delicious Seafood recipes? Check these out!
Be sure to check out more recipes from Food Wine Sunshine! And follow me on Facebook, Twitter, Pinterest, and Google +.