(Last Updated On: July 6, 2019)
Enjoy this Healthy Crab Bisque Recipe without the guilt of the fat and calories! You won't miss the heavy cream in this crab bisque.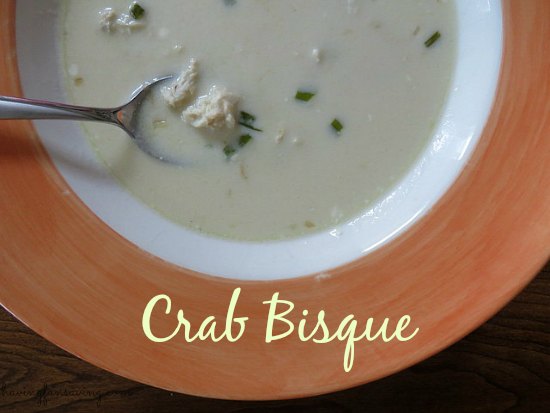 Healthy Crab Bisque Recipe – Without Heavy Cream!
I had some Crab Meat in my refrigerator from Anderson Seafoods that I have been dying to cook with, and since it's a bit cool, I wanted to make a soup. My first thoughts went directly to a Crab Bisque. My next thought was…anything "bisque" is loaded with calories and heavy cream. You all know I try really hard to keep my meals on the lower-fat option. So, I thought back to the Weight Watchers Potato Soup recipe I shared awhile back and decided that I would substitute low-fat cream cheese and fat-free milk for the heavy cream.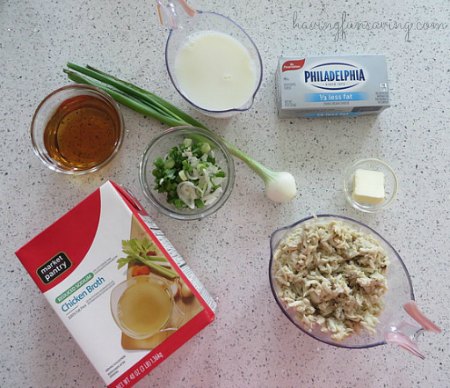 It wasn't really that hard to make, but the cream cheese does take a bit longer to become completely liquified so you will see small white dots while the soup is simmering.
Now, this Crab Bisque recipe is not as creamy as the ones you will have in restaurants, but it is also not 500 calories PER SERVING. I thought it came out great, and have had it for leftovers already too 🙂 The great part about the leftovers, so that you don't see that gross butter/fat layer on the top of your soup – you know what I am talking about if you have ever had clam chowder or a bisque from a restaurant the next day….
Now, here's my recipe…Make sure to Pin it and Print it so that you can make it again and again.
Crab Bisque Recipe – Without Heavy Cream!
Author:
Prep time:
Cook time:
Total time:
Ingredients
1 Tbs. unsalted butter
2 green onions, diced
48 oz chicken stock
3⁄4 to 1 lb. fresh or thawed frozen lump crabmeat – approx 3 to 4 cups
1⁄2 cup dry sherry
8 oz (one package) of Reduced Fat Cream Cheese
1 cup Fat Free Milk
1/2 cup Half and Half
Salt and pepper to taste
Instructions
Melt the butter in a large soup pot
Add the green onions and sauté 2 to 3 minutes.
Add the cream cheese, let it soften in pan with onions – 1-2 mins
Add in stock, milk, and half and half
Season with salt and pepper if desired
Bring to a simmer
Reduce the heat to low
Stir in the crabmeat
Cook until heated through, about 3-5 minutes
Stir in the sherry
Heat for 2 to 3 minutes
Salt and pepper to taste
Top with croutons if desired
Enjoy!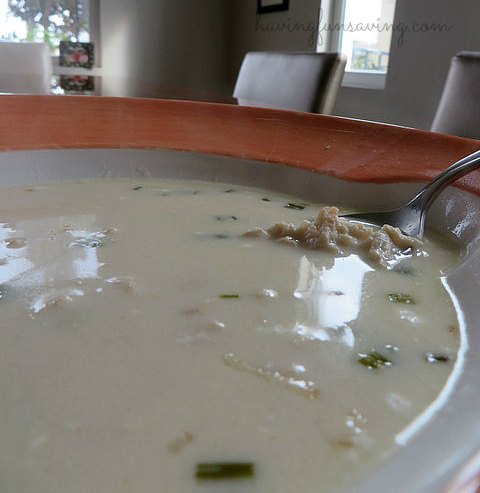 Make sure to let me know if you try this Healthy Crab Bisque…I hope you enjoy it as much as I do!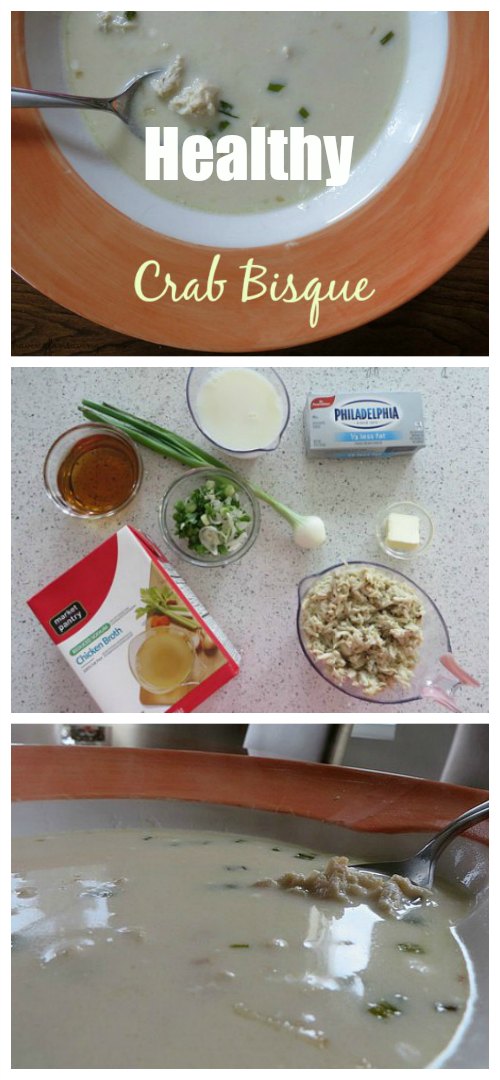 Check out more recipes from Food Wine Sunshine! And make sure to follow me on Facebook, Twitter, Pinterest, and Google +.