(Last Updated On: August 9, 2019)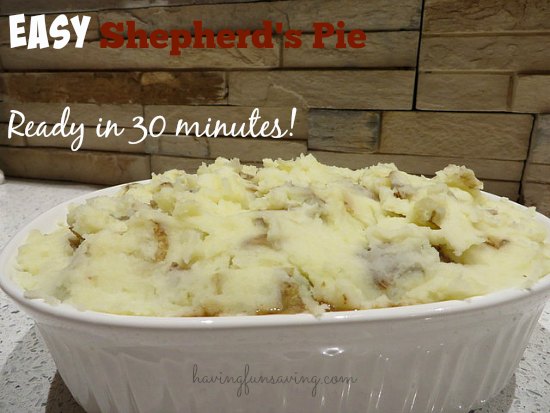 Easy Shepherd's Pie Recipe – Ready In 30 Minutes!
I have an easy and hearty Shepherd's Pie recipe for you guys today. I have never made Shepherd's Pie before, but since my kids keep asking me for homemade mashed potatoes, I wanted to make something that included them. I have had Shepherd's Pie in restaurants before, but if you know me, you know I wanted to make an easy version 😉
This recipe only has 5 ingredients – and you may have them in your pantry right now! When I decided to make it last week, I just needed to go out and buy the Brown Gravy.
The fastest way to get your meal into the oven is to start your mashed potatoes and lean ground beef at the same time. That way when you are ready to add the layer of mashed potatoes, you are ready.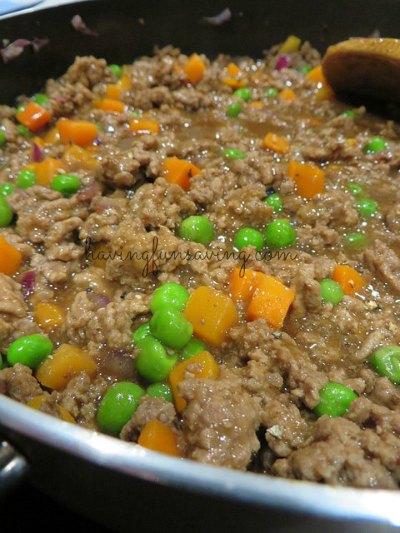 My kids aren't huge vegetable eaters, so I thought a half a bag of the frozen vegetable mix would be good, and it was perfect!
This is definitely a hearty meal and it is a definite crowd pleaser. I got a lot of compliments on it (even from the neighbors that we had over for dinner!), of course I didn't share that it only took me 30 minutes to make 🙂
Here's my Easy Shepherd's Pie recipe – now, make sure to Pin it and Print it so that you can make it again and again!
Shepherd's Pie
Author:
Prep time:
Cook time:
Total time:
Ingredients
1 jar of Brown Gravy – I used Heinz
½ bag frozen carrots and peas
1/2 diced red onion
1-1 1/2 lbs of lean ground beef
Mashed potatoes – I used 5 large russet potatoes to make mine
Instructions
Prepare your mashed potatoes
While the potatoes are boiling, brown the ground beef
Once the beef is cooked thoroughly add in the frozen vegetables, onion and jar of gravy
Simmer until heated throughout
Pour beef mixture into a baking/casserole dish
Top with mashed potatoes
Bake at 350 for approx. 10 min until top of potatoes is slightly brown and dish is heated throughout
Enjoy!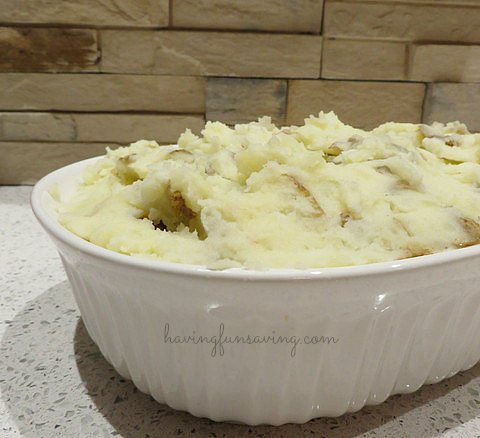 I hope your family enjoys this easy Shepherd's Pie recipe as much as we do!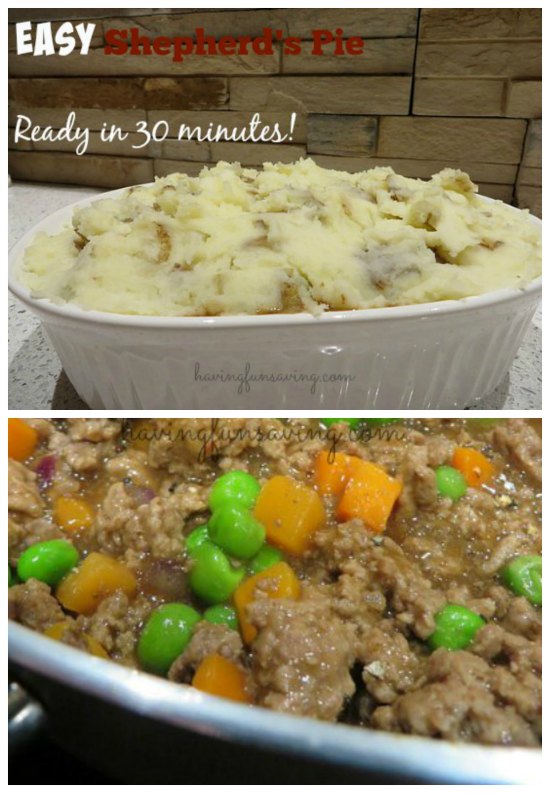 Check out more recipes from Food Wine Sunshine! And make sure to follow me on Facebook, Twitter, Pinterest, and Google +.