(Last Updated On: September 5, 2019)
Disclosure: This post is sponsored by Kohl's. All opinions and fun fashions are 100% our own!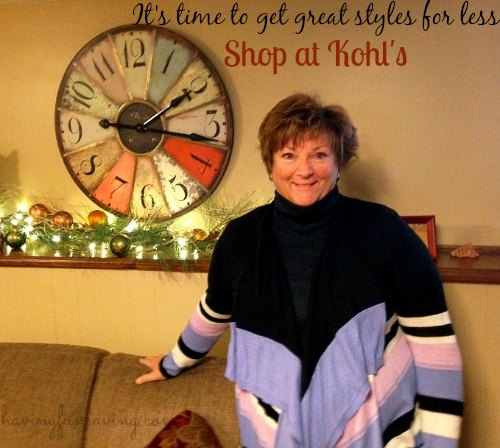 Stylish Women's Clothes at

Kohl's
My mom is one of the most beautiful women that I know, and she has been saying for a long time that if she wants clothes that fit her well and make her feel fashionable, she enjoys shopping at Kohl's. So, when I had the opportunity to partner with Kohl's, I knew you would want to see all the amazing Stylish finds she found.
Take it away mom!
A new year of expectations and resolutions….do you know the best way to start out a new year is to feel good about yourself? To believe in yourself, you first have to feel good about yourself at where you are in your life right now! How many times are you unhappy with yourself when you get ready for a new day? There is never an excuse to not look your best…..at least if you shop at Kohl's 😉
I am a 62 years old, and grandmother of 2. I do my shopping in the woman's section otherwise labeled as Plus Sizes. There is nothing more frustrating than looking for stylish clothes, I have never quite figured out the fashion industry with the selections they make for woman sizes. Believe it or not we like to look stylish in something other than large floral prints with no shape at all, yes we are runway material if you give us the right choices!
I shop Kohl's and am never disappointed in their selections of designer clothes with reasonable price tags. Every year they seem to improve the fashions they have on their racks, and I could not be more pleased.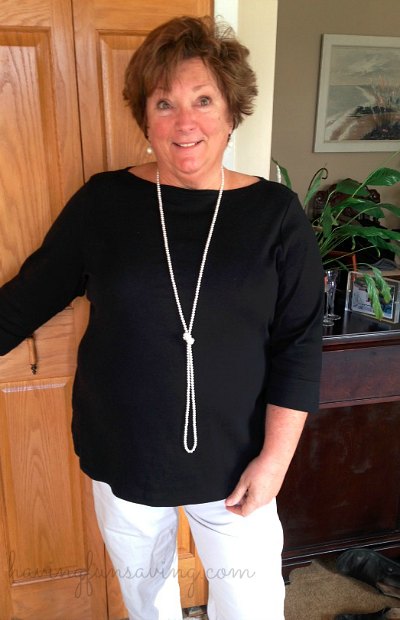 Pictured are some of my favorites…terrific basic black sweater from the Karen Scott collection, I dress it up with pearls for a dressier look and put it with jeans for a casual look.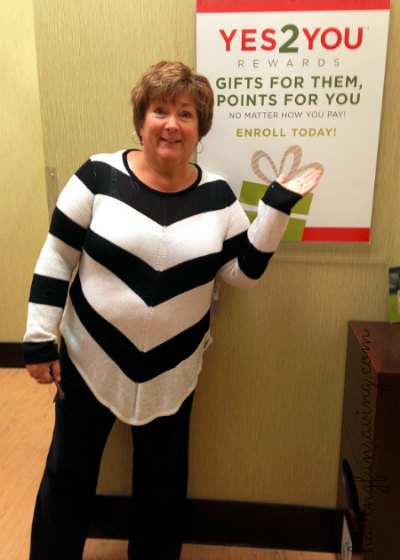 I love chevron stripes and this sweater pictured in black and white by Jennifer Lopez was perfect for the holiday season and into the New Year, and I do love the YES2YOU Rewards points I am building to keep updating my wardrobe!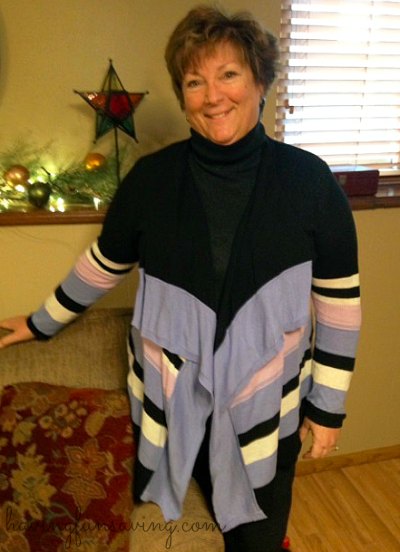 My long multi-colored sweater by Dana Buchman I wear with a black turtle neck and Jeans and it has gotten me many compliments every time I wear it! There is nothing better than a compliment followed by "where did you get that?" My answer most of the time is Kohl's.
I could go on and on with pictures of my wardrobe from Kohl's no other store in my opinion gives as great a selection of fashionable clothing. I even have a great grey leather bike jacket from Jennifer Lopez as well! Their Apt.9, Sonoma life, and Croft and Barrow collections all offer great choices to enhance your closet this season…or any season!
Check out all they have to offer by shopping in a store near you or go to Kohls.com and look for yourself without even leaving your house, I think you will be pleased with what you find.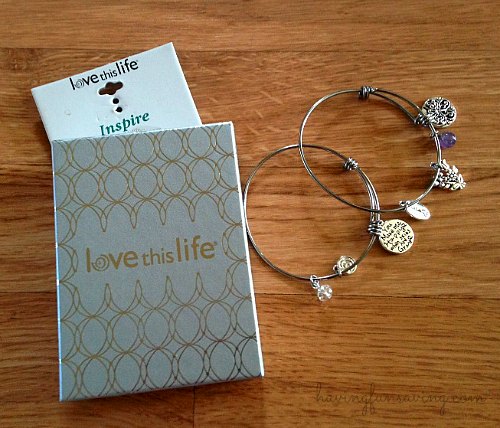 Don't forget to check out their jewelry section to compliment your new affordable wardrobe! I got a couple of the bangle bracelets from the "love this life" collection each has inspirational sayings on them my favorite is "Believe" believe in yourself where you are in your life right now, enjoy it, feel good about yourself and your journey will be much more fulfilling and your day full of smiles.
Did I make the resolution this year to continue on the road to a healthier lifestyle? Yes I did, and I will be heading over to Kohl's to see what they have in exercise clothes to get me through these winter months, because YES they do have them in Plus sizes as well!!
So thank you Kohl's for allowing this Grandma to look and feel great in my clothes, at work and at home. You have never let me down when I am looking for a new addition to my house or wardrobe! Now that the holidays are over I am going to go relax on the couch with my amazingly soft faux fur throw that I got from Home section 🙂
Make sure to stay up to date with Kohl's on Facebook, Twitter, Pinterest, and Instagram to stay up to date with sales, specials, coupons and more!
While you are at it – stay up to date with me too 🙂 Find Food Wine Sunshine on Facebook, Twitter, Pinterest, and Google +.