(Last Updated On: July 6, 2019)
This Baked Crab Rangoon is better for you and better tasting that the take-out version you may get at restaurants. There's actually crab in it 😉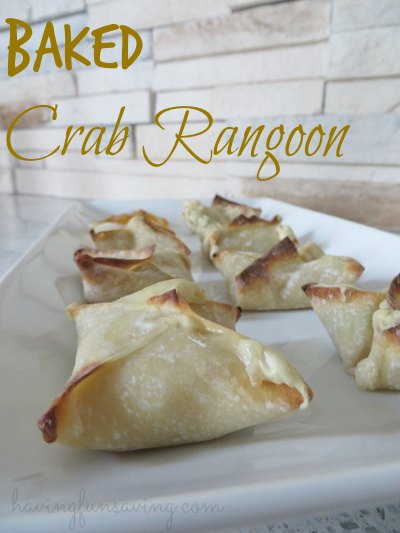 Baked Crab Rangoon Recipe
We got Crab Rangoon from Chinese take-out a few weeks ago and I was amazed by how little actual crab there was in them! I mean, I felt like I was basically eating deep-fried cream cheese. So, I decided I would try my hand at making some that actually had crab in them…and I was going to BAKE them 🙂 You all know that I love sharing recipes that have a healthy twist to them. I had some Crab Meat in my refrigerator from Anderson Seafoods so it was the perfect time to get cooking.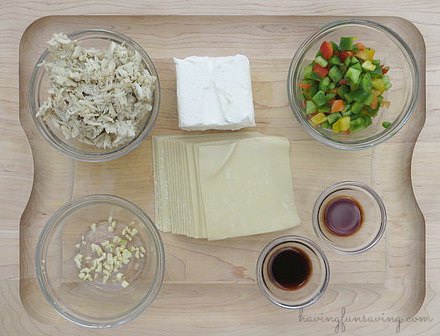 I actually didn't use a ton of ingredients, just the crab, garlic, onions, peppers, and sauces. And wonton wrappers of course 😉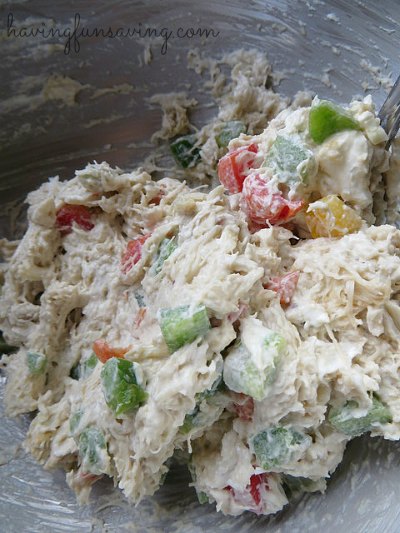 Once you have all your ingredients ready you just mix them together. I wanted mine to have more actual crab than cream cheese, so you will see that mine are full of that delicious seafood.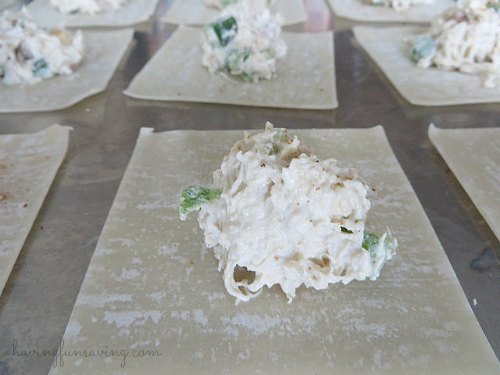 Once you have everything mixed together, line a cookie sheet with wonton wrappers and begin filling each one. Put the mixture in the center of the wrapper.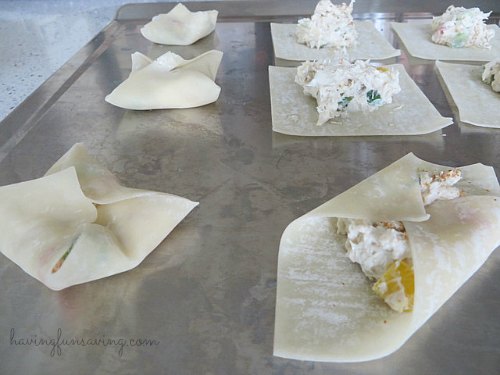 I kind of "swaddled" mine, once two sides are folded in, wrap up the other two sides and pinch the ends together. You may need a splash of water next to you to wet your fingers to insure that ends stay pinched together. This sounds more difficult that it really is, once you get the hang of it, you will be done in no time 🙂
Ok, now here is my Baked Crab Rangoon Recipe. Make sure to print it and pin it so that you can make it again in the future.
Baked Crab Rangoon Recipe
Author:
Prep time:
Cook time:
Total time:
Ingredients
1 clove garlic, minced
4 oz reduced fat cream cheese
4 oz crabmeat, drained and flaked
1/4 cup diced peppers – I used tricolor
1/4 cup diced green onions
1 teaspoons Worcestershire sauce
1/2 teaspoon light soy sauce
Old Bay Seasoning to taste
Wonton wrappers – found in the produce section at my store
Instructions
Mix all the ingredients together, besides the wonton wrappers
Line cookie sheet with wonton wrappers
Scoop 1-2 tablespoons into the center each wrapper – I used my cookie scooper 🙂
If you like Old Bay, gently sprinkle it over the mixture at this point. – I did one batch with it, and one without it, and we leaned towards the batch that had it
Take two sides of the wrapper and gently fold it over the crab mixture and gently press it in so that it "sticks" to the crab without coming open – I refer to the folding as swaddling
Then take the two other sides and bring them to the center
Pinch the ends together – uses a small amount of water on your fingers to firmly close the ends together if needed *refer to pictures in post as needed
Bake at 350 degrees for 10-15 mins or until wrappers brown
Serve with soy sauce or Orange Marmalade – we used the Orange Marmalade
Enjoy!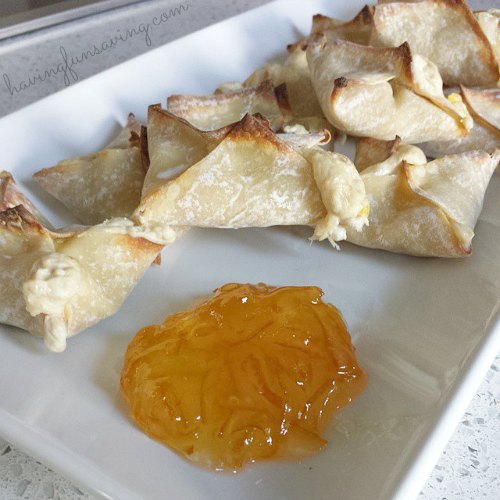 The only thing I think I would change would be to add in a bit of "heat", my husband and I tend to like things a bit spicy, so I think next time I will add in a dash of hot sauce to my mixture. But, overall we were very happy with this Crab Rangoon Recipe, it had great texture and flavor…and they weren't fried 😉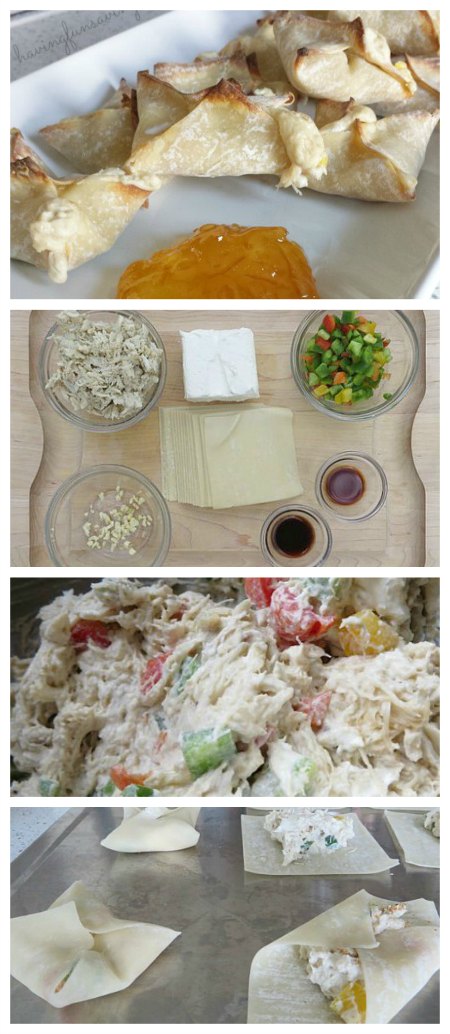 Like Seafood? Check out these delicious recipes too:
Be sure to check out more recipes from Food Wine Sunshine! And follow me on Facebook, Twitter, Pinterest, and Google +.