(Last Updated On: August 27, 2019)
Looking for a refreshingly different salsa recipe? Well, this Fresh Fruit Salsa recipe is it. Filled with flavors and a bit of a kick, you will love it!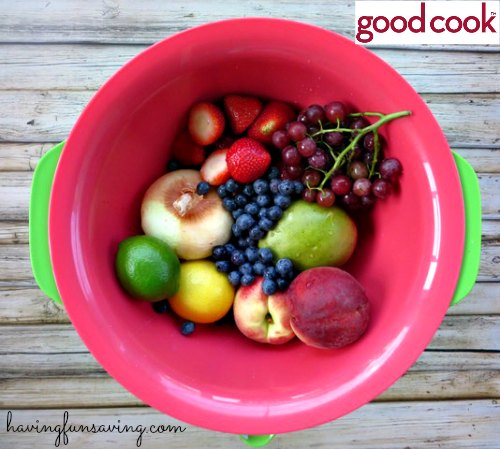 Fresh Fruit Salsa Recipe
One of my favorite things about summer is all the FRESH FRUIT that you will see at the Farmer's Markets, fruits stands, and grocery stores. It's like they are just calling to you to take them home 🙂 I love biting into a fresh peach, or an apple, or enjoying fresh cut watermelon…but there are so many other things we can do with fruit. And to celebrate all those fun fruit ideas – the folks at Good Cook sent me a 3-piece Fruit Bowl Set. It's a great size – it can easily hold your biggest of fruit salads! I love that the 1st "bowl" is like a strainer, so you can have the juices drain thru to the 2nd bowl – this helps keep your fruit fresh longer! It also has a lid, for easy storage 🙂
Where do you find this fabulous Fruit Fruit Bowl by Good Cook? At your local Bed Bath and Beyond, in fact that this product is available exclusively at Bed Bath and Beyond!! I know that is a favorite store for many of us, so make sure to keep a look out for it the next time you are there.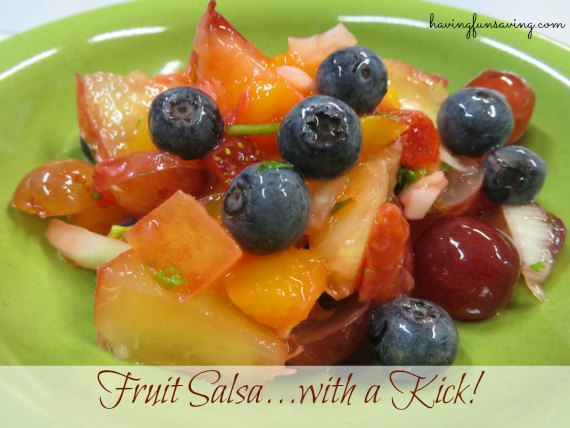 Here was just one of my many ideas to do with Fresh Fruit this season…I made a Fresh Fruit Salsa…the cilantro and onions give it the perfect amount of "kick"!
Fruit Salsa Recipe
Author:
Prep time:
Total time:
Ingredients
1/2 cup diced peaches
1/2 cup diced mango
1/2 cup diced strawberries
1/2 cup blueberries
1/2 cup grapes – cut in half
1/4 cup diced sweet onion
1/4 cup cilantro chopped
1 lime – juiced
1/2 lemon juiced
Instructions
Combine all ingredients in a bowl, cover, and chill for at least 1-2 hours before serving
Enjoy!
I hope you enjoy this Fresh Fruit Salsa Recipe as much as we do!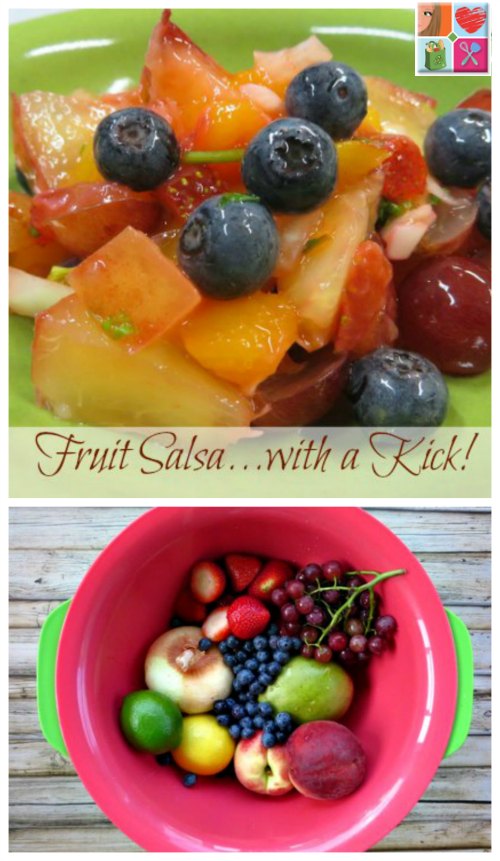 This Fruit Salsa would be good on Seafood – like on in my Blackened Chilean Sea Bass Recipe, on chicken, and of course on your favorite chips!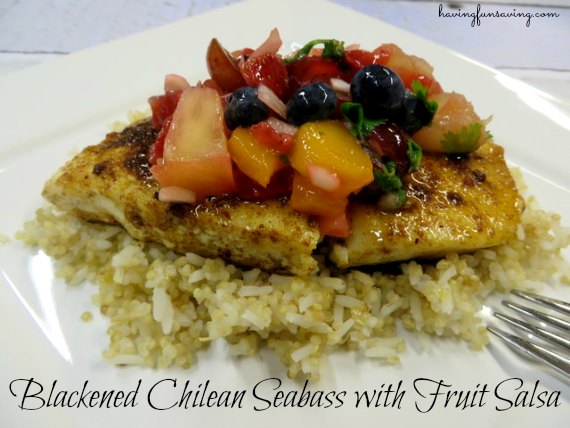 Find Food Wine Sunshine on Facebook, Twitter, Pinterest, and Google + and check out all my delicious recipes.
Disclosure – I am proud to be a Good Cook Kitchen Expert, I received the product listed below for review, all opinions and the recipe are 100% my own.