(Last Updated On: August 10, 2019)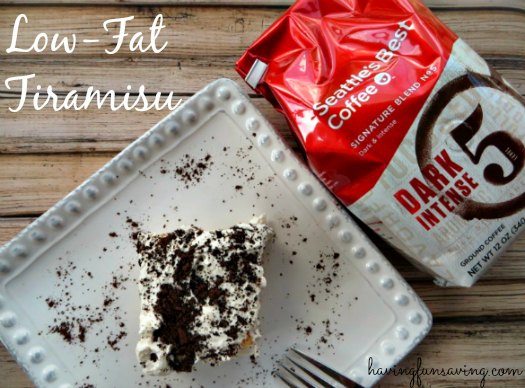 Low Fat Tiramisu Recipe
The folks at Seattle's Best Coffee emailed me the other day and let me know I can find several amazing blends right at my neighborhood Publix! Including its first ever House Blend. Made from high quality, Latin American, Arabica beans, it's rich, smooth and just right! I used this blend in my Coffee Banana Smoothie, it was perfect!
As the temperatures start to rise, I am loving having a cooler way to enjoy my afternoon coffee 😉
Seattle's Best Coffee is on sale at Publix for just $4.99 right now through $4.99, so I took advantage of this amazing deal and also grabbed a bag of the Dark Roast. When I got home I was asking my husband about recipes that used coffee and he quickly requested tiramisu. Now, that proposed two challenges for me:
#1 – I have NEVER made tiramisu and I have heard it's actually pretty hard
#2 – I have been leading a healthier lifestyle lately and how in the world am I going to make this delicious dessert with blowing all my calorie intake in just one bite?!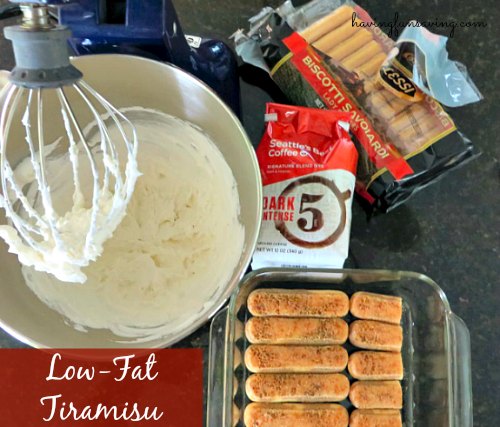 But, I was up for the challenge…and I will admit, it was fun! Oh, and it's oh so delicious 🙂 Yep, I did it – I made an "easier" and low-fat tiramisu!
Here's the your next favorite dessert recipe:
Low-Fat Tiramisu Recipe
Author:
Prep time:
Cook time:
Total time:
Ingredients
2 cups cool whip
4oz 1/3 fat cream cheese
2 oz mascarpone cheese
1 teaspoon vanilla
2 tablespoons of sugar
1 package of lady fingers
1/2 cup brewed Seattle's Best Dark Intense coffee
1 tablespoons sugar
1 teaspoon vanilla
1 tablespoon of dark chocolate baking powder
1 tablespoon of Seattle's Best Dark Intense coffee grounds
Instructions
Brew some Seattle's Best Dark Intense Coffee – make it extra strong
Place one layer of lady fingers on your baking pan – I used an 8×8
In a mixing bowl add the cool whip, cream cheese, mascarpone cheese, 1 teaspoon vanilla, and 2 tablespoons sugar
Mix well
In a small bowl or a measuring cup mix the coffee, 1 tablespoon sugar, and 1 teaspoon vanilla
Brush the coffee mixture of each lady fingers, you can then drizzle some on to ensure they are all coated well – use half of the coffee mixture (1/4 cup)
Use half of the cream cheese mixture and spread it evenly over the layer of lady fingers
Add another layer of lady fingers
Brush the coffee mixture over the lady fingers – drizzle the remaining coffee over them
Use the remaining half of the cream cheese mixture to spread over the lady fingers
Sprinkle cocoa and coffee grounds on the top
Chill for at least an hour before serving
Notes
I used an 8×8 pan, that size was plenty big for my husband and I. And some to share with the neighbors. I did have to cut the lady fingers in half to get the right fit.[br][br]Cook time is chill time in the recipe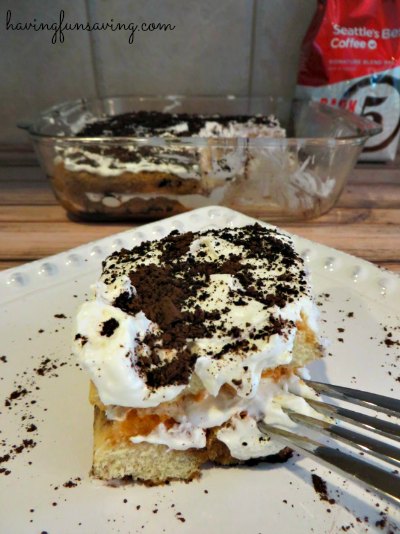 If you try this Tiramisu recipe – make sure to let me know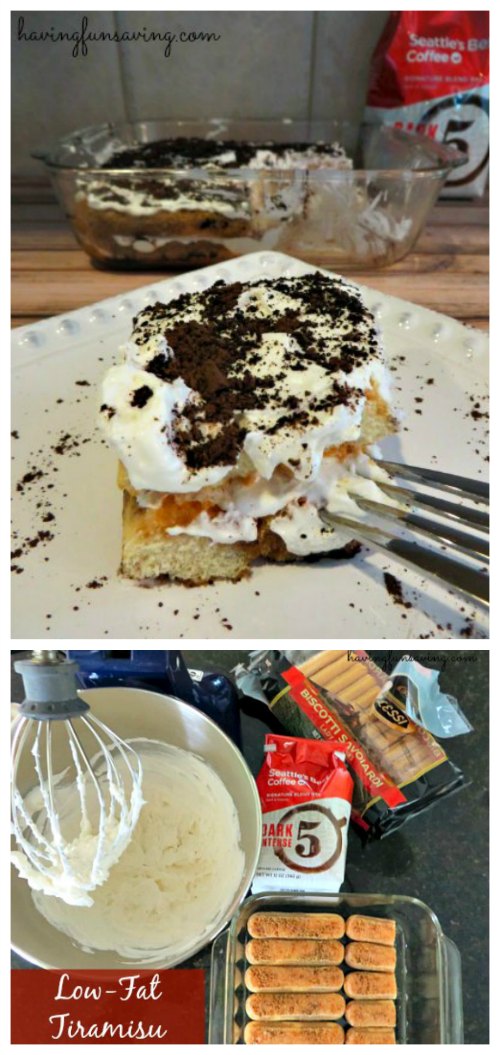 Make sure to stay up to date with Seattle's Best Coffee on Facebook, Twitter, and Pinterest!
While you are at it, stay up to date with me too! Find Food Wine Sunshine on Facebook, Twitter, Pinterest, and Google +.
Disclosure – I did receive a Publix gift card to buy some essentials for delicious recipes that include Seattle's Best Coffee. This recipe and all opinions are 100% my own.