(Last Updated On: August 10, 2019)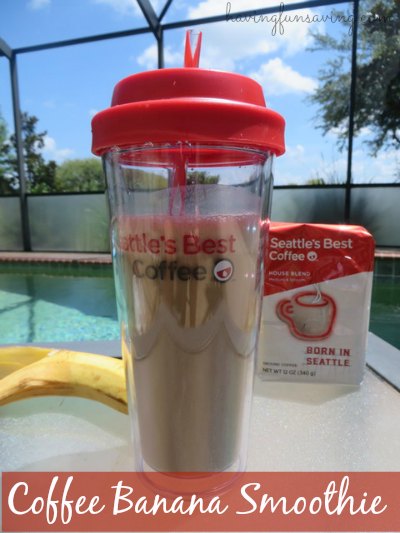 Coffee Banana Smoothie Recipe

#GreatTaste



I love coffee, I have it in the morning when I wake up, and I usually have an iced coffee in the afternoon. Well, I decided to try something FUN with my Seattle's Best Coffee today…I made a smoothie 🙂 I called my mom and asked her for suggestions on what to add and she said that it has to be a healthy version of course…so we agreed on greek yogurt and bananas!
Here's the recipe:
Coffee Banana Smoothie Recipe
Author:
Prep time:
Total time:
If you love coffee, then you have to try this Coffee Banana Smoothie recipe. A bit of caffeine and a bit of banana is a fun way to start your day.
Ingredients
1 cup chilled Seattle's Best Coffee
1 container of non-fat vanilla Greek yogurt (I may try a fruit version next!)
1/2 banana sliced
a dash of cinnamon – good for our metabolism 😉
for a thicker smoothie add a handful of ice cubes
Instructions
Place everything in the blender and mix it until smooth
Enjoy
I have to admit – I was surprised by how yum it was! Filled with protein and that needed caffeine to help me make it through the day, I will definitely be enjoying this Coffee Banana Smoothie recipe again soon!
If you try this Coffee Smoothie recipe – make sure to let me know 🙂
Disclosure – I did receive a Publix gift card to buy some essentials for delicious recipes that include Seattle's Best Coffee. My love for coffee and this smoothie are definitely mine…and make sure to keep a look for another recipe soon…a DESSERT recipe 🙂
Looking for more great recipes?