(Last Updated On: April 5, 2020)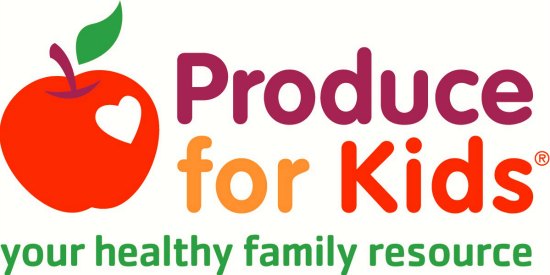 Produce For Kids Give HOPE Campaign at Publix

It's the time of year for all that beautiful produce to be available at your favorite stores. I know you all know that Publix is one of my favorite stores and there has been great deals for weeks!
I know I look at all the goodies and instantly start thinking of recipes I can make that my husband and I will enjoy. But what about the KIDS?! I wanted to take this opportunity…along with Publix and Produce for Kids to remind you about keeping the kids eating healthy.
PUBLIX PARTNERS WITH PRODUCE FOR KIDS® FOR 12th ANNUAL GET HEALTHY, GIVE HOPE CAMPAIGN TO ENCOURAGE HEALTHY EATING
One of my favorite parts is that this is a campaign to raise local funds for Children's Miracle Network Hospitals®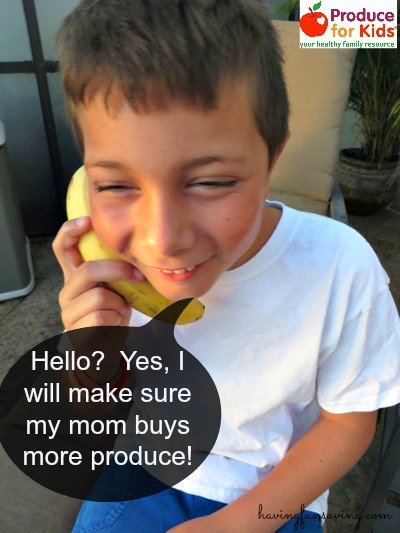 The Get Healthy, Give Hope campaign will hopefully raise hundreds of thousands of dollars for children's organizations. The joint campaign, which began on May 29, will educate families on the benefits of healthy eating and raise money for Publix's designated charity – local Children's Miracle Network Hospitals®. Since 2002, Publix customers and associates have raised nearly $2.3 million for local children's organizations.
To help increase its donation, shoppers are encouraged to add more produce to their grocery carts. All 12 participating fruit and vegetable suppliers will make a consumption-based donation to local Children's Miracle Network Hospitals®, which provides comfort, treatment and hope to millions of sick kids.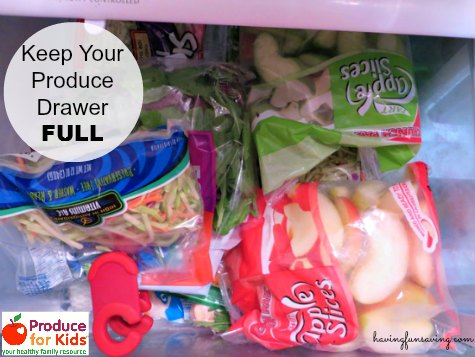 Throughout the campaign, signage will be featured in Publix produce departments, which will list all participating companies, as well as healthy, easy-to-prepare recipes. In-store materials also will encourage shoppers to visit www.produceforkids.com for additional information on the campaign and to read healthy tips from real parents.
For the third year, Produce for Kids also will partner with Sprout®, the 24-hour preschool television channel. For more information, please visit www.produceforkids.com or Produce for Kids Facebook page.
The following companies proudly support the Get Healthy, Give Hope campaign and your local Children's Miracle Network Hospitals: Bolthouse Farms® Juices & Smoothies; D'Arrigo Bros. of California – Andy Boy® Broccoli; Chiquita® Bananas; Fresh Express® Packaged Salads; Coast Tropical Mangoes; Crunch Pak® Sliced Apples; Del Monte Foods® – Fruit Naturals® Cups; J & D Produce, Inc. – Little Bear® Brand Vidalia® Sweet Onions; Minute Maid® Pure Squeezed Orange Juice; Shuman Produce – RealSweet® Vidalia® Onions; Ventura Foods – Marie's® Dressings; Paramount Farms – Wonderful® Pistachios.
Make sure to follow Produce For Kids on Facebook, Twitter, Pinterest or Instagram.
While you are at it – make sure to find Food Wine Sunshine on Facebook, Twitter, Pinterest, and Google + for more Florida Fun, reviews, recipes, and more!
Need some inspiration for your produce kitchen creations? Check out this delicious recipe from Produce for Kids!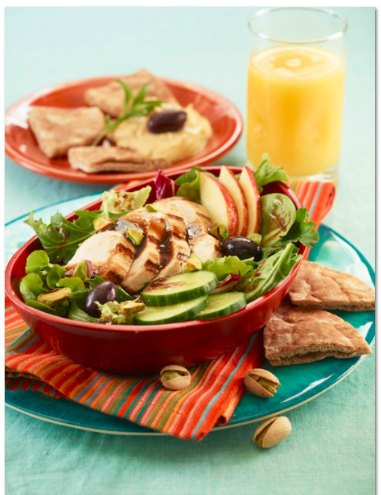 Prep time:
Cook time:
Total time:
Ingredients
4 (3 oz.) chicken breasts
1 pkg. (10 oz.) Fresh Express® salad
3 Tbsp. Marie's® balsamic dressing
½ cup Kalamata olives, chopped
½ cup Wonderful® pistachios, chopped
½ cup mozzarella cheese, shredded
1 cup Crunch Pak® sliced apples
1 cucumber, sliced
Instructions
Cook chicken on preheated medium-high grill 3-4 minutes per side, or until golden in color and firm to the touch. Set aside to cool.
Toss salad, dressing, olives, pistachios, cheese, apple and cucumber in large mixing bowl. Top with sliced chicken.
Notes
For a complete meal, serve Chicken Crunch Salad with:[br]• Whole wheat pita with ¼ cup hummus[br]• A glass of Minute Maid® Pure Squeezed Orange Juice