(Last Updated On: January 31, 2023)
Grabbing a rotisserie chicken is an easy way to get dinner on the table in minutes, but what do you do with leftover rotisserie chicken? Here are delicious and easy ways to use rotisserie chicken to make meal planning and prep a bit easier. While this post is sponsored by Healthy Family Project, my love of making meal time easier is my own.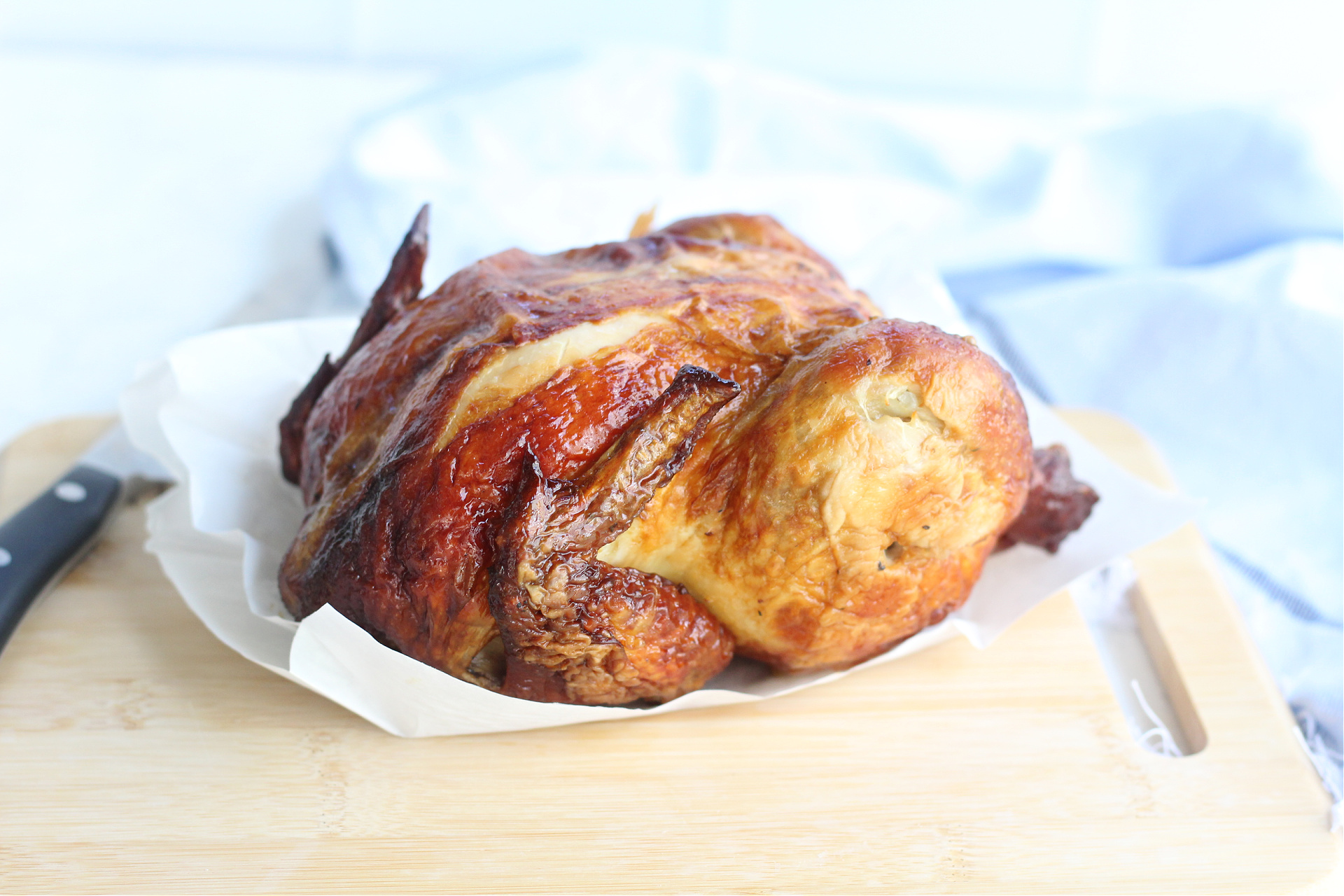 20 Delicious & Easy Ways to Use Rotisserie Chicken
Th kids have been back to school for a few weeks now. My son gets out at 11:00 because he has OJT (on-the-job training) and my daughter made the Cross Country team and practices everyday so she gets home everyday around 5:00 PM. I thought schedules would be easier as the kids got older, but I was wrong. While my son has a car and takes care of most of his stuff on his own, I swear the amount of things we all have to cram into a day has greatly increased.
And while I absolutely love to meal plan as it makes dinner time a heck of a lot easier, some weeks I just don't have the leftover brain power to think about what to make for one night left alone 5.
That's why rotisserie chickens are on my shopping list just about weekly. There are so many meals you can make with them, plus you can eat them just as they are for an easy dinner too. I was watching the Healthy Family Project Back To School Facebook Live and Amanda and Charli were chatting about double duty meals. Like how you can make a big batch of ground beef on Sunday and you can use that to make empanadas, tacos, and taquitos for meals through the week. Which got me to thinking about all the ways I use a rotisserie chicken for easy meals. Seriously, picking up a rotisserie chicken really saves meal time in my house at least once a week, so I thought I would share some of my favorite ways to use rotisserie chicken in hopes to help ease your back to school craziness too.
Below I'm sharing 20 ideas for using rotisserie chicken that may surprise you. But before we get to that, let's address some of the common questions people ask about using rotisserie chicken for quick and easy meals.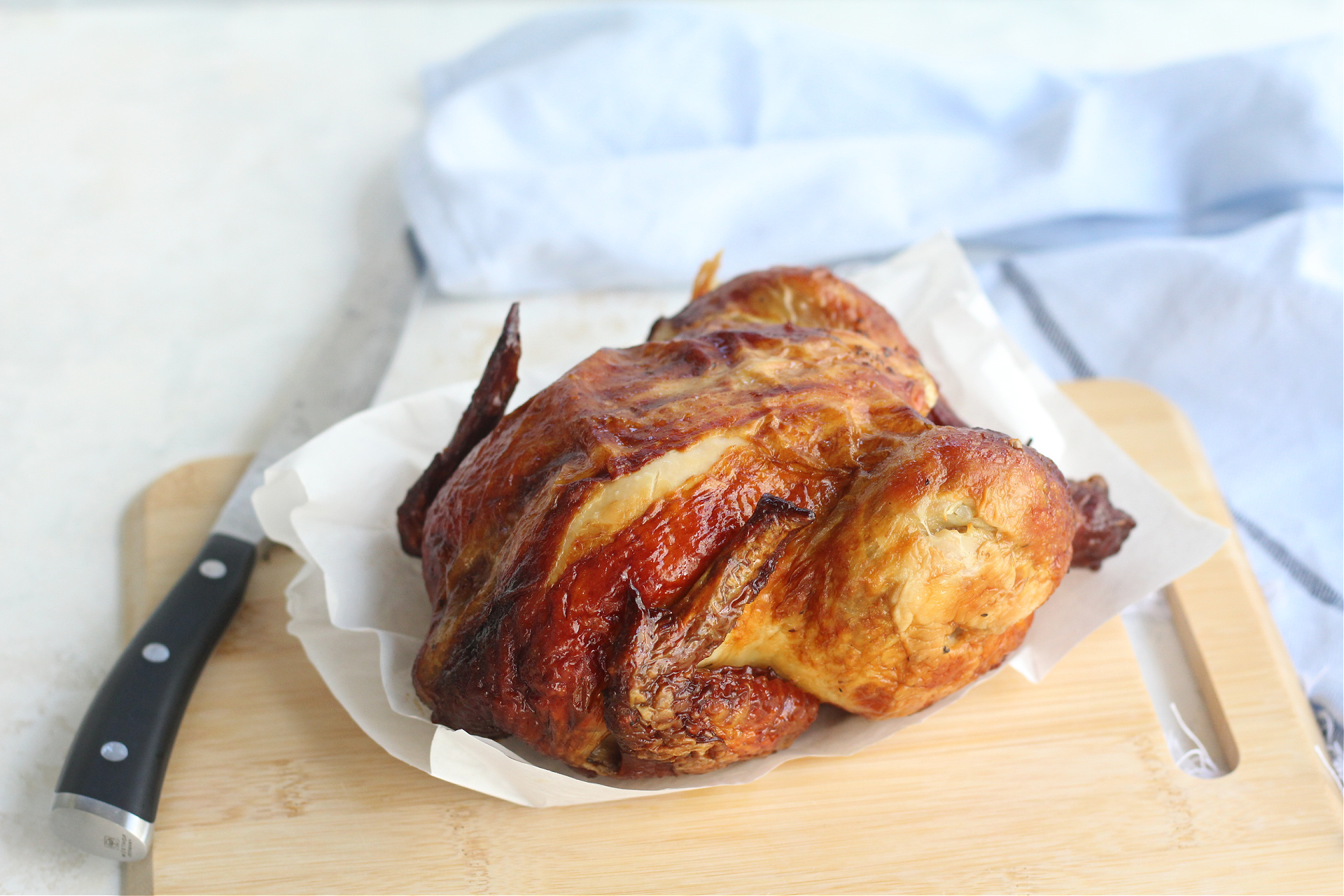 What are the Best Sides to Pair with Cooked Rotisserie Chicken?
A rotisserie chicken from the grocery store is a delicious and easy way to feed your family. But what sides should you serve with it?
Mashed potatoes are a classic side dish that goes well with just about anything. They're especially good with rotisserie chicken! If you're looking for something a little lighter, a salad is always a good option. For something heartier, try roasted vegetables or rice and beans. Personally, I usually have a combination of mashed potatoes, a salad and some roasted veggies.
How Long is a Rotisserie Chicken Good For?
A rotisserie chicken will be safe to eat for 3-4 days after you buy it, as long as you store it properly. If you pull the meat off the bones, the meat will be good for about a week.
Can you Freeze a Cooked Rotisserie Chicken?
The answer is yes! You can absolutely freeze a cooked rotisserie chicken. In fact, it's a great way to meal prep for the week ahead. Simply portion out the meat into individual containers and pop them in the freezer. When you're ready to eat, just thaw and reheat. I use frozen leftover rotisserie chicken meat in soups all the time!
Be sure to remove any skin or bones before freezing as they won't reheat well. And don't forget to label your containers with the date and contents! Tip: If you plan on freezing leftover cooked rotisserie chicken in a plastic container or bag, place a layer of parchment paper or wax paper between the meat and container to prevent freezer burn.
How do You Cook Rotisserie Chicken at Home?
If you have extra time and want to do so, you can cook a rotisserie chicken at home. I've cooked a chicken in the crockpot and it was delicious, but honestly – it's a heck of a lot easier to grab one from the grocery store.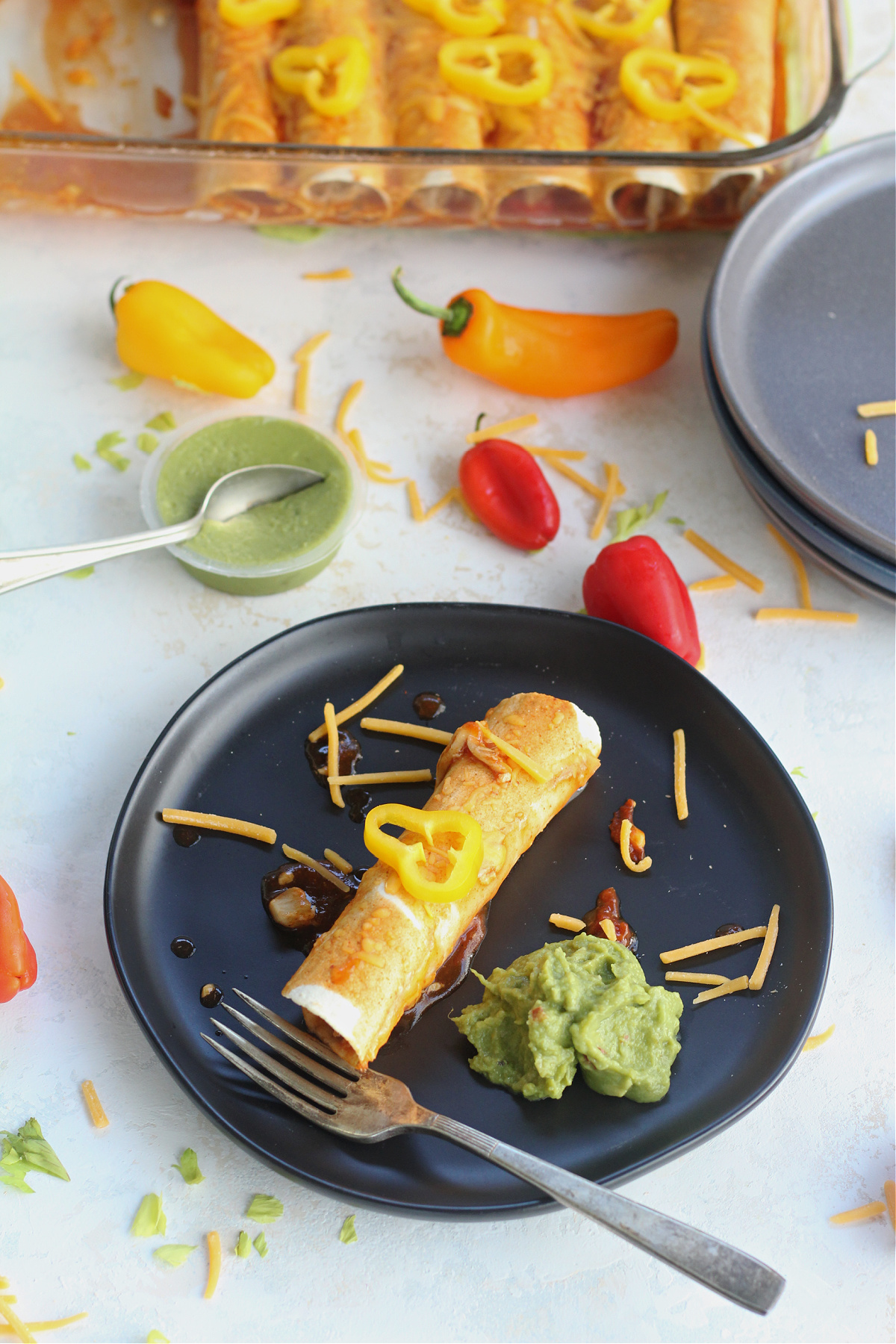 Now let's get to what you came for, 20 ways to USE a rotisserie chicken
The Easiest Chicken Enchiladas – Low fat, prepped in minutes and on the table in less than 30 minutes. We love these…in fact, my daughter makes these for us most of the time! All you have to do is saute some onions, mini sweet peppers and add in the rotisserie chicken. Stuff the tortillas, roll em up, top with sauce and bake. Dinner (or lunch!) is served! Don't forget the guac! Our favorite is YoQuiero! Spicy.
Chicken Apple Enchiladas – Also super easy, but there a sweet addition of apple in these enchiladas that you just gotta try.
Spicy Mustard Chicken Salad with Grapes – A spin on a classic. Use it to make an incredible sandwich or toss it on top of a salad.
Loaded BBQ Chicken Fries – This one is a favorite of my kiddos. That cheese sauce is incredible, and really, can you ever go wrong with loaded french fries?!
Healthy Honey Mustard Chicken Quesadillas – Another deliciously simple and low fat meal option that doesn't lack in flavor.
BBQ Chicken Bubble Up Bake – I have made this by cooking up chicken breasts and cutting em up, but it's easier (and just as delicious) using rotisserie chicken.
Berry Delicious Avocado Chicken Salad – My husband takes a salad to work for lunch everyday, it's fun adding all sorts of topping, but adding the rotisserie chicken gives the salad a punch of protein so that you're not hungry 1 hour later.
Easy Asian Chicken Tacos – Because who doesn't love taco night??
Chicken Pot Pie – A classic made easier with rotisserie chicken.
BBQ Chicken Sandwiches – Simply add your favorite BBQ sauce and a bun. Boom!
Chicken Bacon Alfredo Pizza – I mean….here's bacon and alfredo sauce on a pizza.
BBQ Chicken Taquitos – Easy, delicious and they also make for a great lunch option.
Buffalo Chicken Stuffed Celery – I love this idea! I loooove all things buffalo chicken and this is a healthy spin that doesn't require a bunch of chips 🙂
Fiesta BBQ Chicken Quesadilla – Because BBQ chicken tastes amazing in a variety of ways.
Add the leftover rotisserie chicken to your scrambled eggs in the morning for an extra dose of protein.
Buy premade salad kits and toss on rotisserie chicken to make it a hearty meal option.
Add it to your favorite soups. I follow WW and my friend and I make Zero Point soups weekly, adding leftover rotisserie chicken gives us added protein without adding any fat or points.
Make a wrap! Add in your favorite veggies, a sauce and chicken.
Toss it on top of your pizza . I love this sweet and spicy chicken and tangerine pizza.
Prep it and leave it on a plate in the refrigerator for an easy snack option. Come on, I can't be the only one that is always looking for something healthy to eat at 3 PM.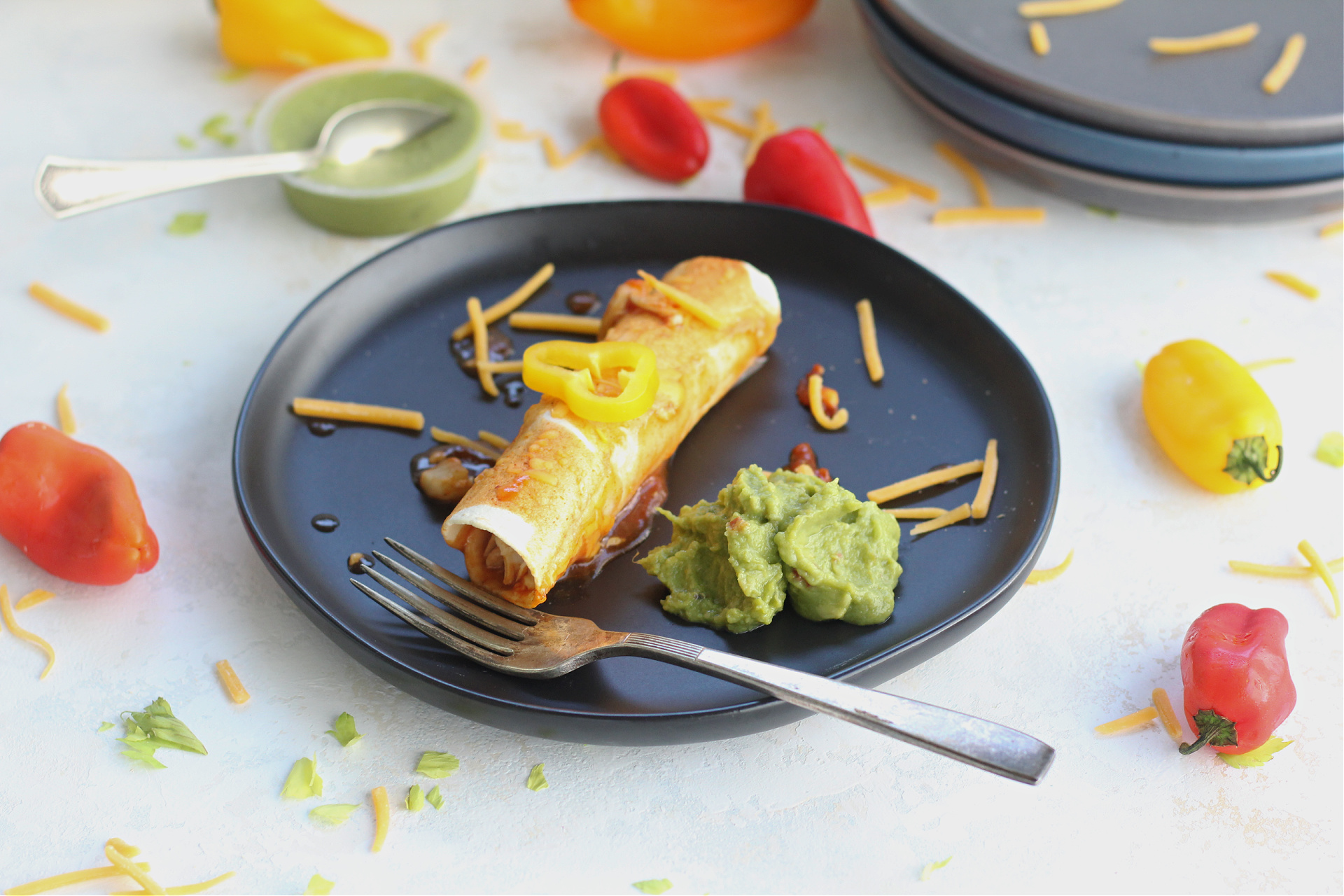 Rotisserie chicken is a healthy protein and when you remove the skin, you do indeed lose some of the flavor. That's why I add mini sweet peppers and onions to just about every rotisserie chicken meal, they add in that flavor. What's even better than adding flavor to my meals with onions and mini sweet peppers? Adding in that flavor and supporting companies that are giving back to the community.
Through the Healthy Family Project Back To School campaign, the partners are making a total of $14,000 donation back to the Foundation for Fresh Produce to increase accessibility to fruits and vegetables in schools. How incredible is that?!
Here are the brands to look out for while you are grocery shopping: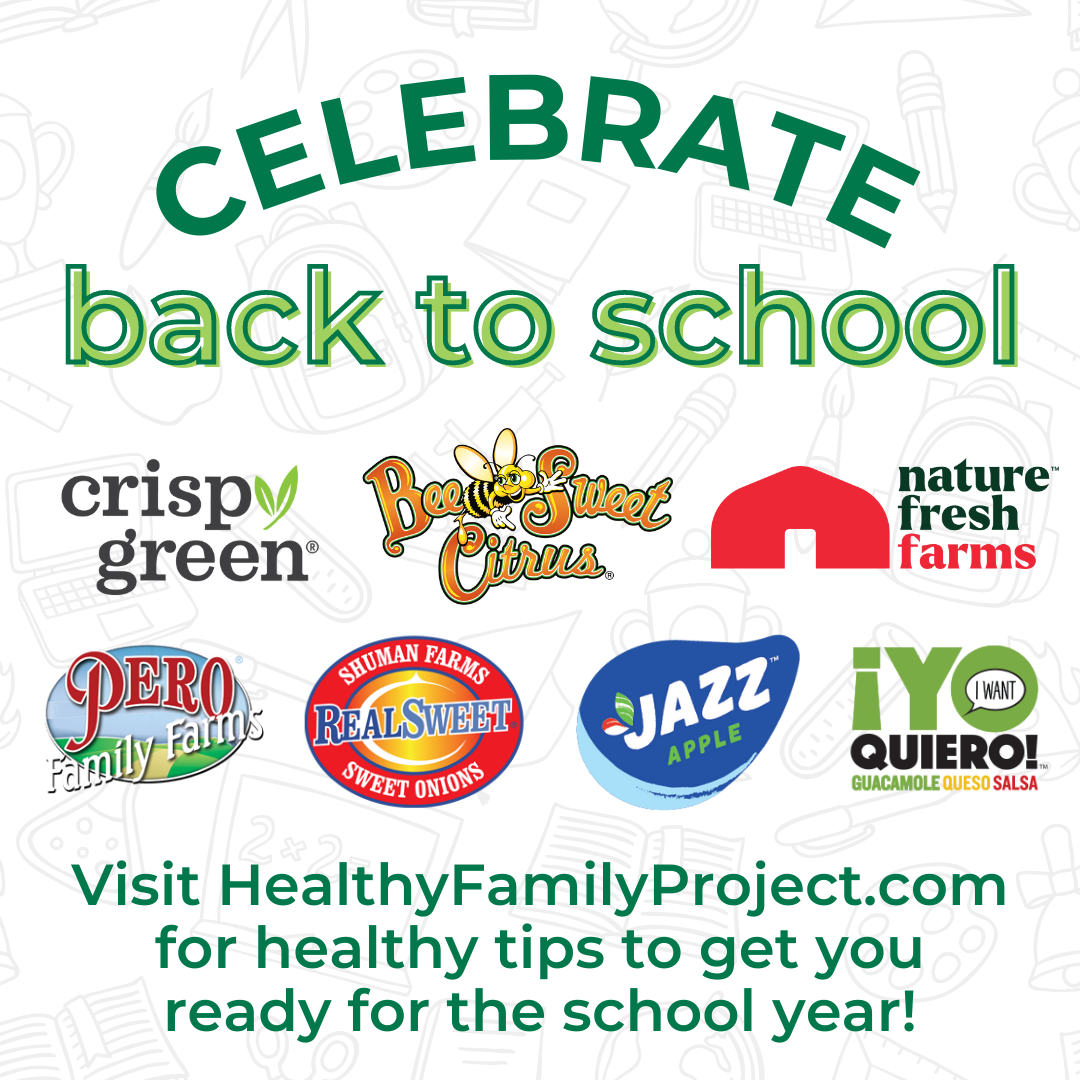 I had some fun in the kitchen with all these amazing sponsors, you gotta check em out:
Try this low-fat and 100% delicious Simple Orange Fluff Dessert. Made with Bee Sweet Citrus mandarins.
And if you like Jalapeno Poppers like our family does, this is the best (and easiest!) Jalapeno Popper recipe out there. YoQueiero! has a killer new line of cream cheese and avocado dips that make this recipe killer.
Fresh Corn Salad. Another completely fat free and 100% delicious dish. Made with fresh corn, RealSweet Vidalia Onions, Pero Family Farms Mini Sweet Peppers and Nature Fresh Farms mini cucumbers.
What is one of your favorite ways to use rotisserie chicken? How are you handling all the meal planning and prep that comes with the back to school season?
Be sure to follow Healthy Family Project on social media such as Instagram, Facebook and Twitter and use the hashtag #poweryourlunchbox to follow all the fun this month…and beyond!
While you are at it, be sure to follow Food Wine Sunshine on Facebook, Twitter, Pinterest and Instagram for more tips, fabulous recipes and more!