(Last Updated On: July 6, 2019)
This Slow Cooker Chicken "Pot Roast" Recipe is the perfect weeknight meal. Prepped in under 10 minutes and cooked all day in the crockpot.
Disclosure: This post is sponsored by Cans Get You Cooking. All opinions and this recipe are 100% my own.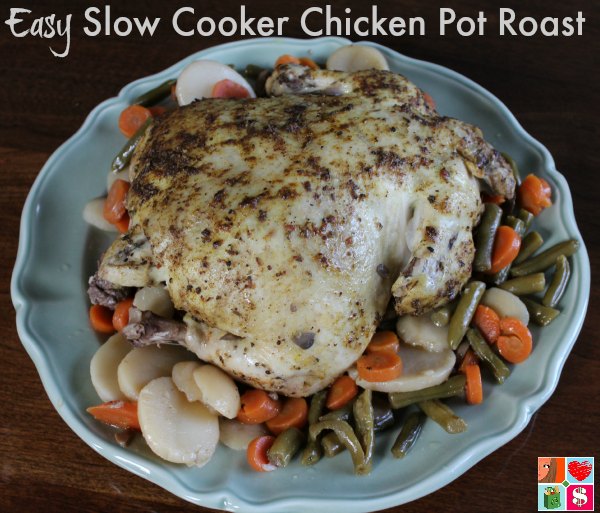 Easy Slow Cooker Chicken Pot Roast Recipe
Do you ever have one of those days where you look in the freezer and refrigerator and you have NO IDEA what to make for dinner? Well, that's where this Easy Slow Cooker Chicken Pot Roast recipe comes in to rescue the day. I opened my refrigerator to find some not-so-fresh carrots and squash, then I opened my pantry (CANTRY…the place where you store all your delicious canned vegetables!), noticed I had canned green beans with mushrooms, canned carrots, and some canned potatoes. Sounds like the perfect start to dinner to me!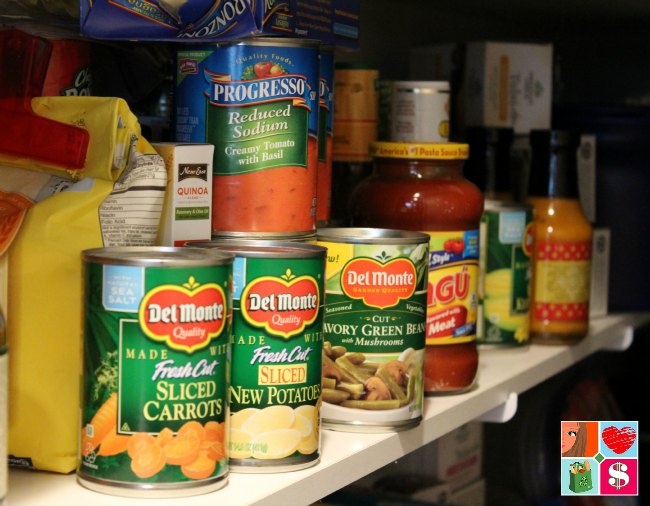 I took out the chicken that has been hanging out in my deep freezer this morning, and my dinner dilemma was well on the way to being solved.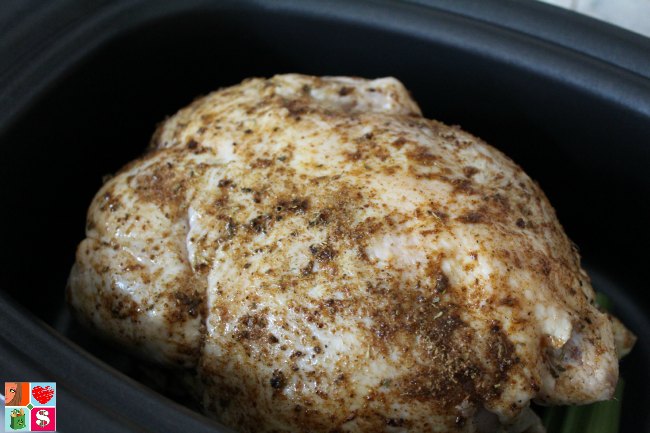 I grabbed some seasonings from my cabinet, seasoned my chicken, tossed it into the crockpot and loaded on the canned veggies!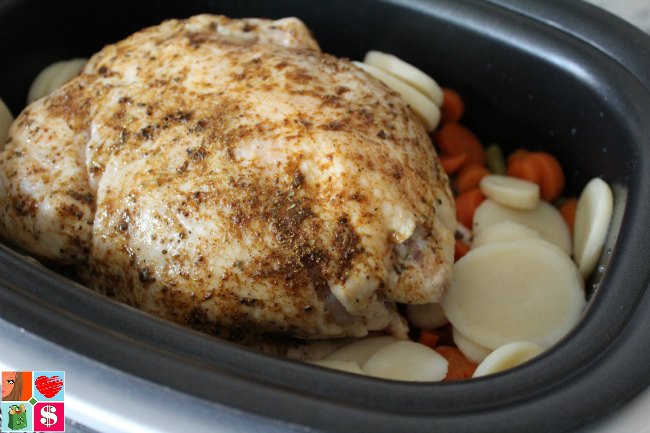 The result was mouth-watering, plus my house smelled fantastic all day 🙂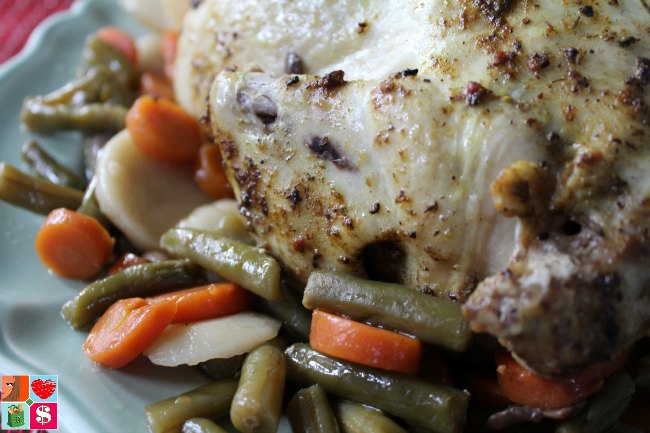 Here is my Crockpot Roasted Chicken Recipe, be sure to Print It and Pin It so that you can make it again and again.
Easy Slow Cooker Chicken Pot Roast Recipe
Author:
Prep time:
Cook time:
Total time:
Have this amazing slow cooker meal prepped in about 10 minutes and enjoy it about 6 hours later. Grab this Easy Slow Cooker Chicken Pot Roast Recipe today!
Ingredients
1 Whole Chicken
1/4 cup Chicken Broth
1 can sliced or baby carrots
1 can sliced of whole canned potatoes
1 can green beans
2 teaspoons olive oil
1 tablespoons of minced garlic
1 teaspoon black pepper
1 teaspoon salt
1 teaspoon paprika
1 tablespoon Chicken Rub
1 stalk of celery
Instructions
Put the celery on the bottom of the crockpot so that the chicken rests on the celery and not the bottom of crockpot to help prevent the bottom from browning too much
Rub/Drizzle the olive oil on the chicken
In a small bowl mix together the dry seasonings
Rub the dry seasonings onto the chicken
Rub the garlic, and any remaining dry seasoning mix into the cavity of the chicken
Place the chicken on top of the celery
Pour in the chicken broth
Drain the canned vegetables
Put the canned vegetables in the crockpot around the chicken
Cook on low for at least 6 hours and chicken is cooked throughout
Enjoy!
I hope you and your family enjoy this Easy Slow Cooker Chicken Pot Roast Recipe as much as we do! It is amazing what delicious recipes you can cook up on Cantry Thursday!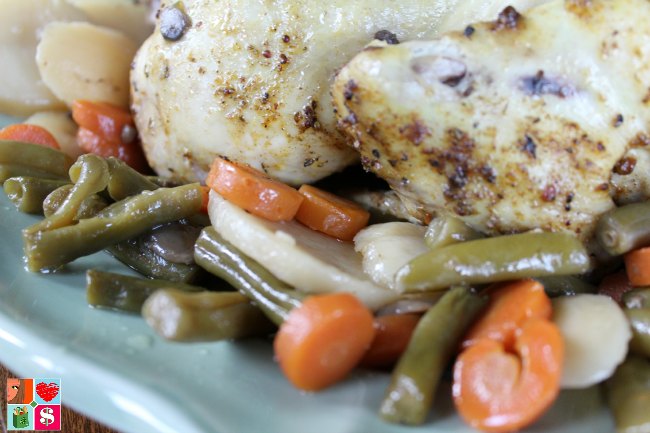 What is Cantry Thursday?
Cantry Thursdays is all about the importance of your Cantry and the role it can and should play on Thursdays – and every day of the week – to help get a nutritious, homemade meal on the table that you can feel great serving. Instead of thinking about ordering a pizza, I made a wholesome meal for my family with ingredients I had right in my house.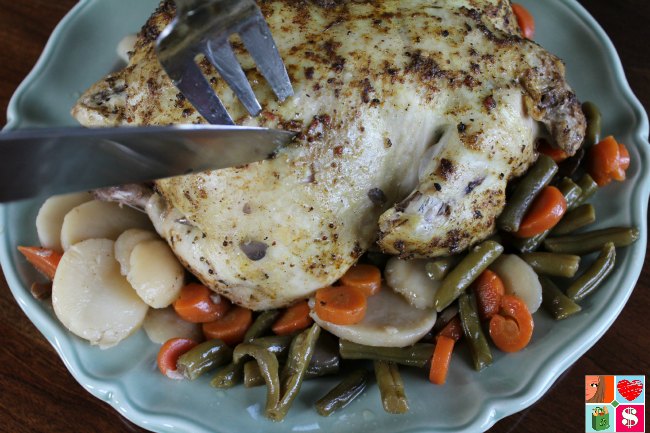 Did you know that according to a recent survey, registered dietitians (RDs) rate canned foods as important in helping both themselves (81%) and their clients (89%) to prepare nutritious, convenient and affordable home cooked meals?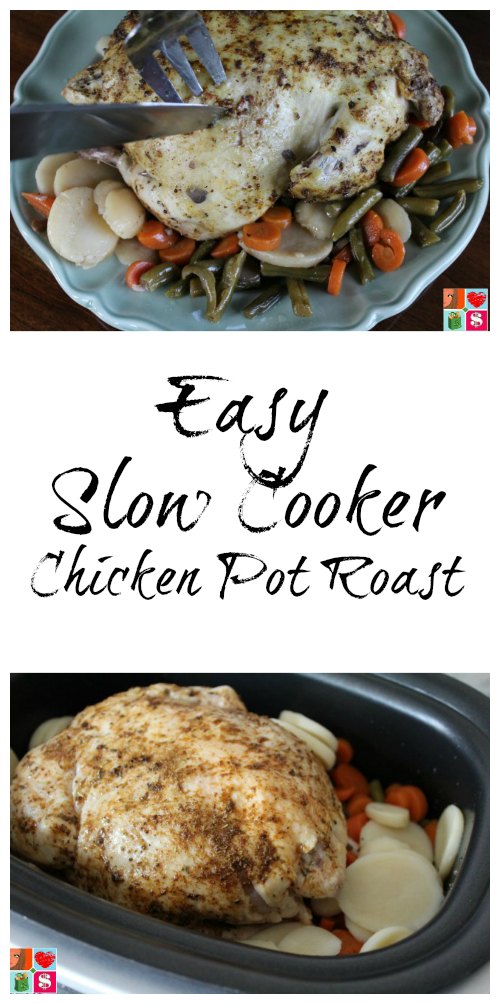 Looking for a delicious roll to go with that Chicken Roast? Consider making these Homemade Pumpkin Dinner Rolls.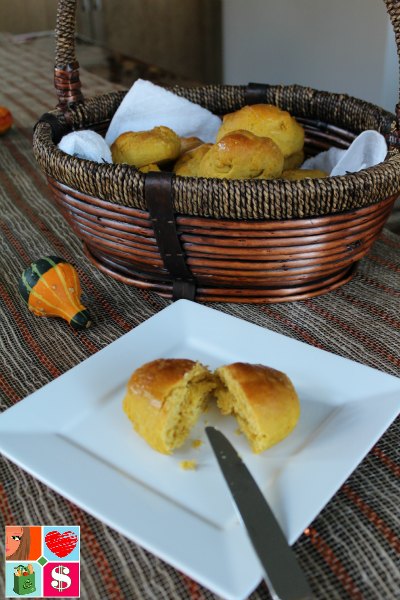 Be sure to check out all the delicious recipes on Food Wine Sunshine and follow me on Facebook, Twitter, Pinterest, Google + and Instagram.
Visit CansGetYouCooking.com and be sure to follow on Facebook, Twitter, Pinterest, and YouTube to get even more delicious recipe ideas!