(Last Updated On: June 8, 2023)
This Chicken Stroganoff Recipe is a healthy twist on a family favorite. Make this Slow Cooker Chicken Stroganoff today and enjoy a comfort food meal!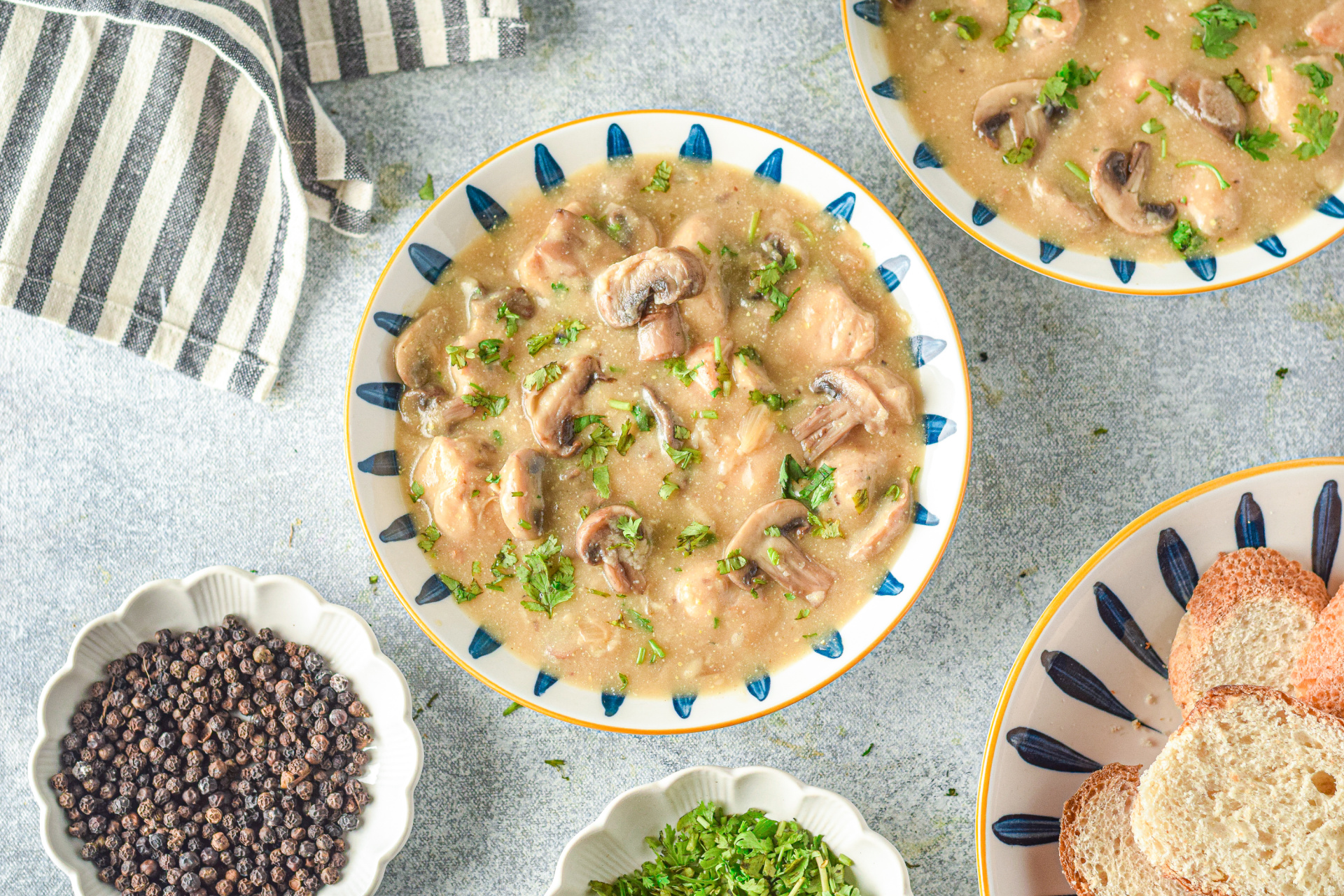 Slow Cooker Chicken Stroganoff
Looking for a healthy and easy dinner option? I got you! Chicken Stroganoff is a delicious and popular dish that combines tender chicken, flavorful sauce, and often mushrooms and onions. Chicken Stroganoff is relatively simple to prepare, making it a convenient option for dinner. The cooking process usually involves sautéing the chicken, mushrooms, and onions, then simmering them in the sauce until everything is well cooked and flavors have melded together. I made this version in the slow cooker to make it even easier 😉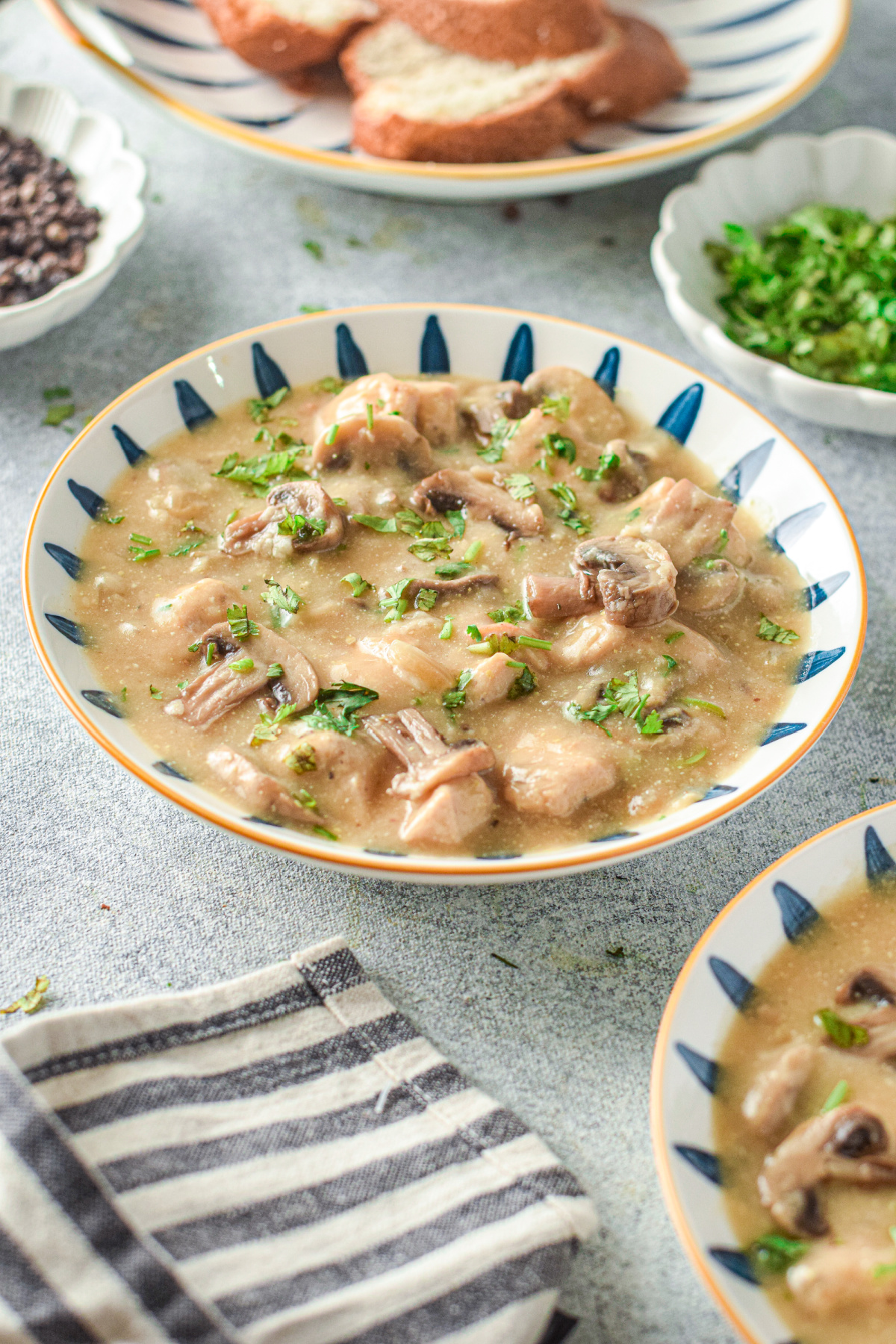 Why I love using my slow cooker
Convenience: Slow cookers are incredibly convenient because they allow you to prepare a meal with minimal effort. Once you've added the ingredients to the pot and set the desired cooking time, you can leave it unattended and go about your day. This is especially beneficial for busy individuals or families who may not have a lot of time for cooking.
Time-saving: Slow cookers are designed to cook food slowly over an extended period, usually several hours. This slow cooking process allows tougher cuts of meat to become tender and flavors to develop over time. You can start a meal in the morning, go to work, and return home to a delicious, fully cooked dinner.
Enhanced flavors: Slow cooking allows flavors to meld together and intensify. The low, gentle heat helps to extract the maximum flavor from the ingredients, resulting in rich and delicious dishes. This is particularly beneficial for stews, soups, and dishes with robust spices or herbs.
Tenderizing tough cuts of meat: Slow cookers are excellent for transforming tough cuts of meat, such as beef chuck or pork shoulder, into tender and succulent dishes. The extended cooking time breaks down the connective tissues, making the meat more tender and flavorful.
Energy efficiency: Slow cookers are energy-efficient appliances. They use low wattage and operate at a low temperature, consuming significantly less energy compared to other cooking methods like stovetop or oven cooking.
Hands-off cooking: Unlike traditional cooking methods that require constant monitoring, stirring, or adjusting heat levels, slow cookers allow you to set it and forget it. You don't have to stand over the stove or oven, giving you more time to focus on other tasks or enjoy your day.
Versatility: Crock pots are incredibly versatile. You can use them to make a wide range of dishes, including soups, stews, chili, roasts, casseroles, desserts, and more. They can accommodate various ingredients and cooking techniques, making them suitable for different dietary preferences and cuisines.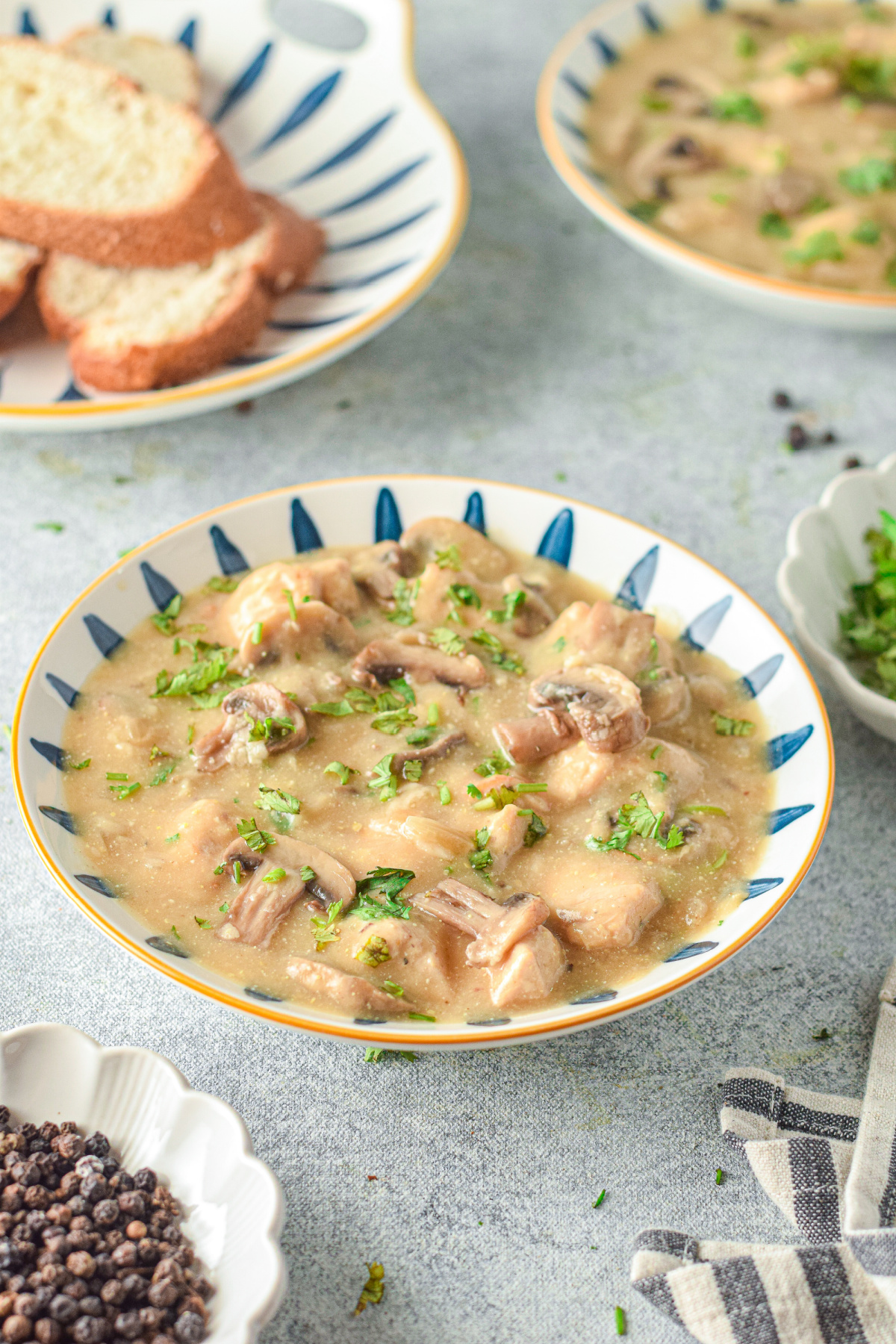 If you have leftovers…that's a good thing! Chicken Stroganoff tends to taste even better the next day as the flavors have had time to develop. This makes it an excellent choice for meal prepping or leftovers that can be enjoyed for lunch or dinner later in the week.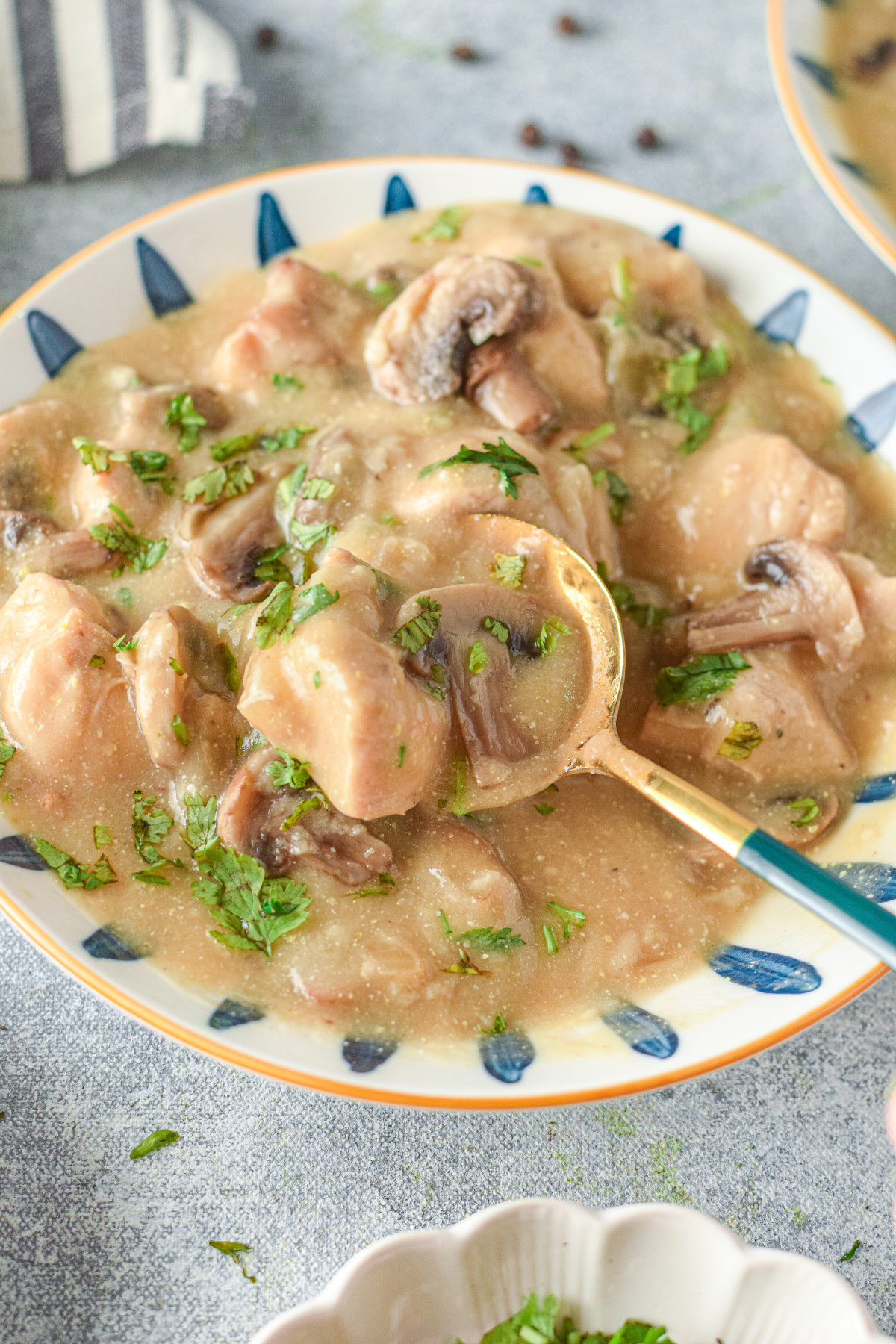 In no time, my house was smelling delicious 🙂 I don't know about you, but whenever I think of a yummy gravy, I think mashed potatoes are in order. I know most serve Beef Stroganoff with noodles or rice, but we enjoyed ours over homemade mashed potatoes.
Now, here's my Slow Cooker Chicken Stroganoff recipe. Make sure to Print It and Pin It so that you can make it again and again.
Feel free to use a crock pot liner for easier clean-up!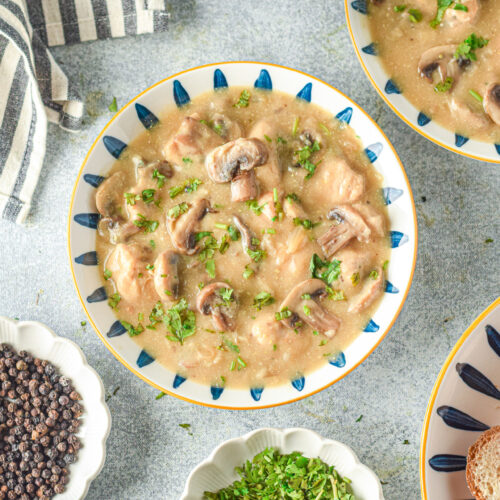 Crock Pot Chicken Stroganoff
This is a healthy version of a popular comfort food. Enjoy this easy Slow Cooker Chicken Stroganoff with your family tonight.
Print
Pin
Rate
Ingredients
1

lb

boneless skinless chicken breasts

cut into cubes

½

red onion

diced

1

can

low fat or healthy request cream of mushroom soup

10 ¾ oz

1

can

cream of onion soup

10 ¾ oz

1

cup

fresh mushrooms

½

cup

low sodium chicken broth

8

oz

reduced fat cream cheese

cut into cubes

8

oz

reduced fat sour cream

black pepper to taste

mashed potatoes or noodles for serving
Instructions
Add chicken onion, soups, mushrooms and pepper to the crock pot

Cook on low for 5-6 hours or until chicken is cooked

Stir cream cheese into chicken mixture until melted

Stir sour cream into chicken mixture

Serve over carb of choice – mashed potatoes for us!
Notes
After I added the cream cheese and sour cream I left the crock pot on warm for about an hour – my husband was late getting home – it didn't hurt it at all.
Nutrition
Calories:
379
kcal
|
Carbohydrates:
17
g
|
Protein:
33
g
|
Fat:
20
g
|
Saturated Fat:
10
g
|
Polyunsaturated Fat:
2
g
|
Monounsaturated Fat:
5
g
|
Trans Fat:
0.01
g
|
Cholesterol:
126
mg
|
Sodium:
689
mg
|
Potassium:
1172
mg
|
Fiber:
2
g
|
Sugar:
5
g
|
Vitamin A:
595
IU
|
Vitamin C:
3
mg
|
Calcium:
187
mg
|
Iron:
1
mg
I hope your family enjoys this Chicken Stroganoff Recipe as much as we do!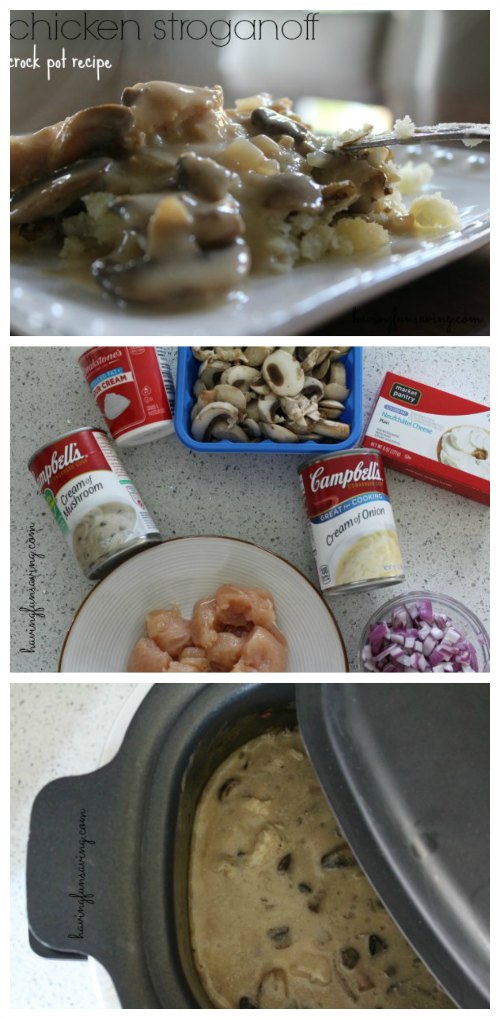 Looking for another delicious and healthy crock pot recipe? Check out my Bacon Wrapped Apple BBQ Chicken Crock Pot Recipe.
In fact, check out all the delicious recipes on Food Wine Sunshine and follow me on Facebook, Twitter, Pinterest, and Instagram.