(Last Updated On: August 30, 2023)
Looking for a low fat, yet delicious idea for dinner tonight? This Slow Cooker Chicken Tortilla Soup is it! Prep it as a freezer meal or put everything into the crockpot tonight and enjoy.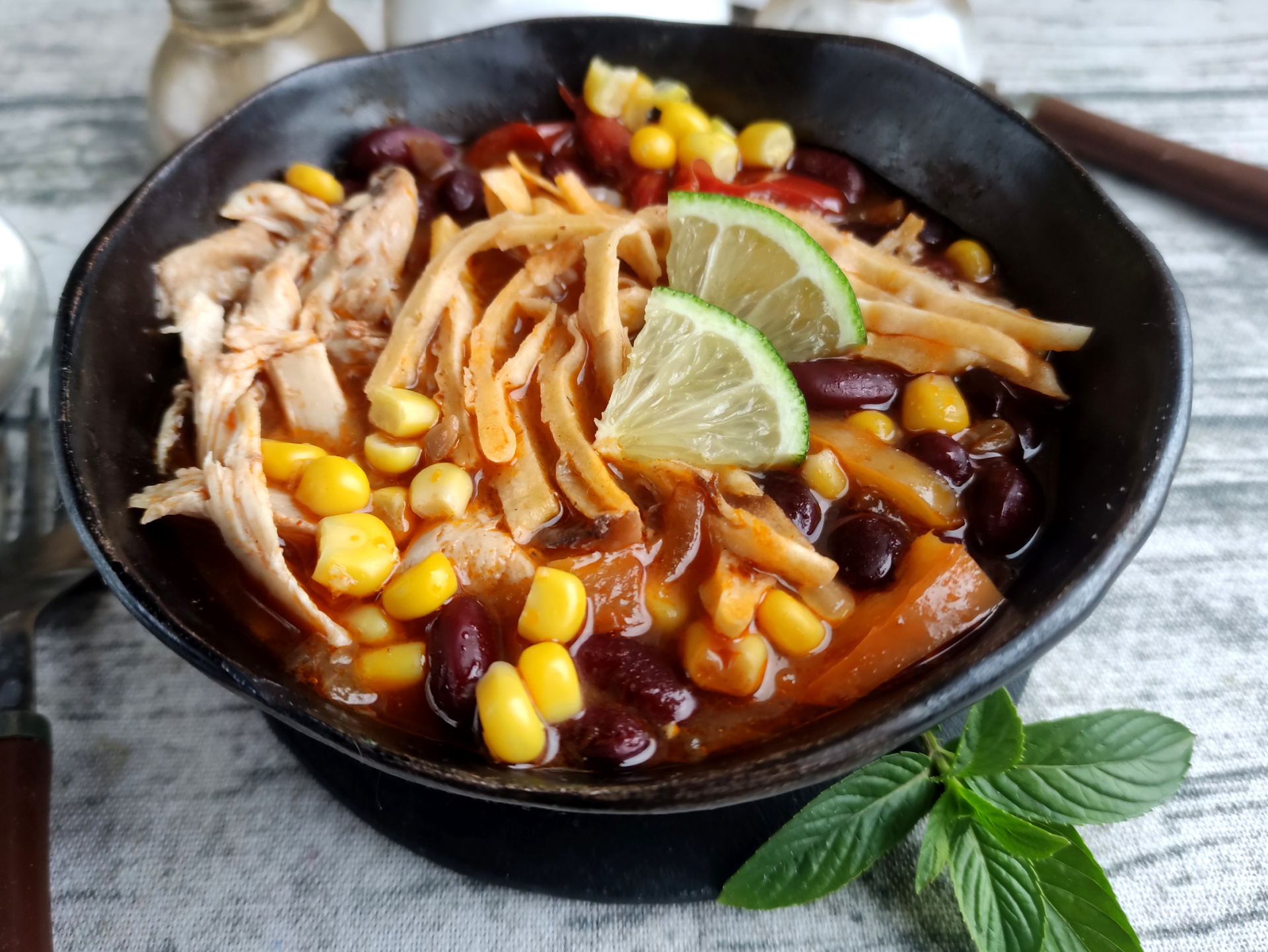 Slow Cooker Chicken Tortilla Soup

When the weather is chilly, there is nothing quite like a nice bowl of soup to warm you up from the inside out. This Chicken Tortilla Soup recipe is made in the slow cooker and can be made today or it can be one that you prep ahead of time and toss in the freezer. Personally, I love freezer meals! There is nothing quite like waking up in the morning and having dinner started in about 2 minutes…all before coffee…no thinking required 🙂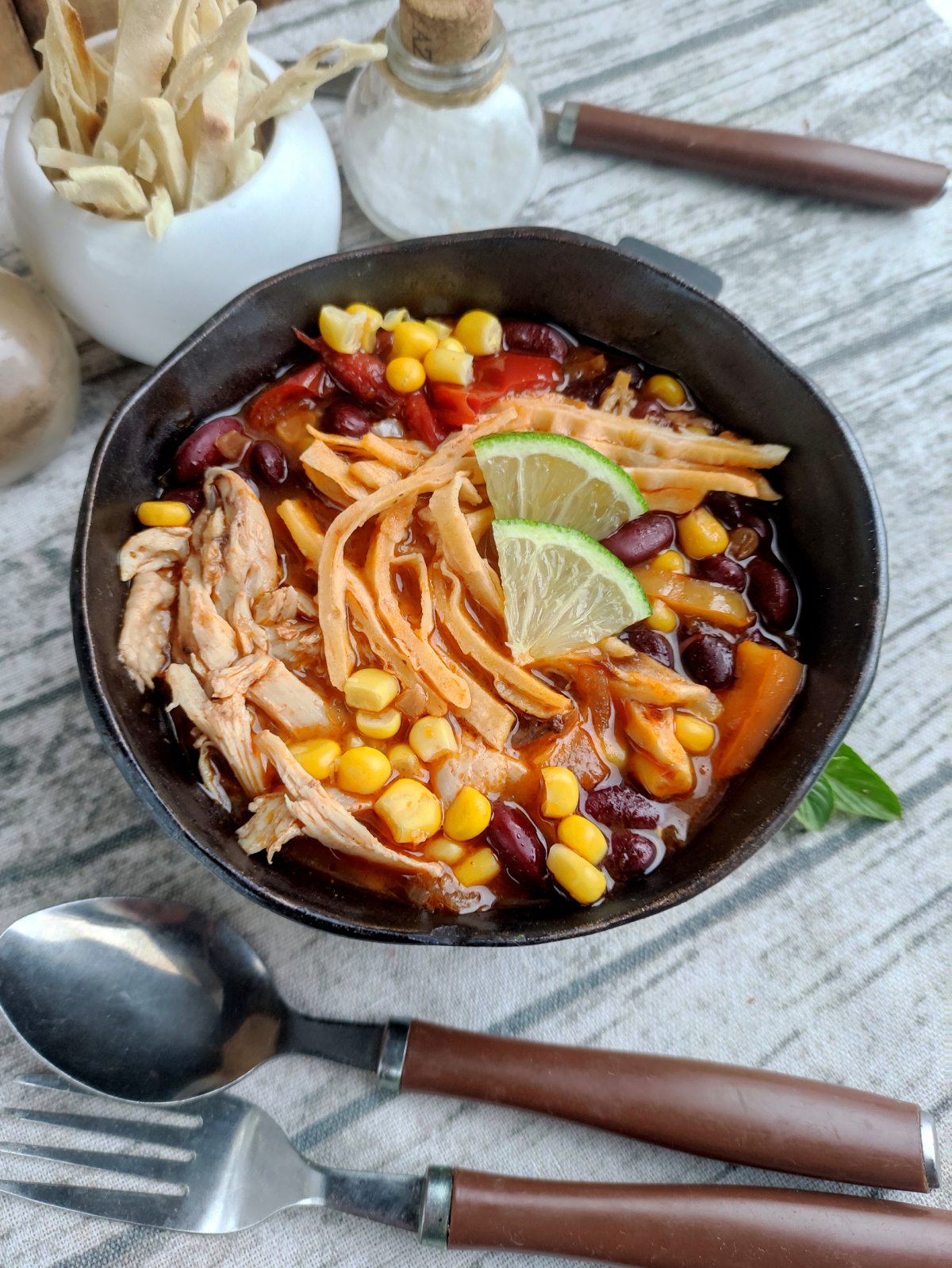 This easy crockpot Chicken Tortilla soup recipe is prepped in about 5 minutes, then it cooks all day in the slow cooker making the chicken nice and tender. Cooking the soup in the crockpot also allows all the ingredients to simmer together to maximize the flavor. I love using my slow cooker!
Slow cooker meals are fantastic for busy families for several reasons:
Convenience: All you need to do is prepare the ingredients, toss them into the slow cooker, set the cooking time and temperature, and let the appliance do the work. This convenience is a lifesaver for busy families who may not have the time or energy to cook elaborate meals after a long day.
Time-Saving: Slow cookers are designed to cook food over a long period of time, typically several hours. This means you can start a meal in the morning before leaving for work or other commitments, and come home to a fully cooked, hot meal in the evening.
Minimal Hands-On Time: Unlike stovetop or cooking in the oven, slow cooker meals require very little active involvement. Once you've assembled the ingredients and set the cooker, you can go about your day without worrying about stirring, checking, or adjusting the heat.
Versatility: Slow cookers can handle a wide variety of dishes, from soups and stews to roasts, casseroles, and even desserts.
Tender and Flavorful Results: The slow cooking process allows flavors to develop and ingredients to become tender and succulent. Tough cuts of meat, for example, break down and become incredibly tender when cooked slowly, resulting in delicious and satisfying meals.
Batch Cooking and Leftovers: Slow cookers are great for preparing larger quantities of food. This means you can cook in batches and store leftovers for later meals, reducing the need to cook every day. Leftovers can also be repurposed into new dishes, minimizing food waste.
Budget-Friendly: Slow cooker meals often make use of affordable ingredients such as beans, lentils, root vegetables, and tougher cuts of meat. This can help families save money on groceries while still enjoying nourishing meals.
Healthier Choices: Slow cooker meals often require less oil and fat since the long cooking process extracts and melds flavors without needing excessive added fats. Plus, cooking at home allows you to control the quality of ingredients, which can lead to healthier meals.
Less Cleanup: Since slow cooker recipes usually involve just one pot, cleanup is generally easier and quicker compared to using multiple pots and pans for a complex meal.
Warm and Ready: Slow cookers often have a "keep warm" setting that maintains the meal at a safe temperature after it's done cooking.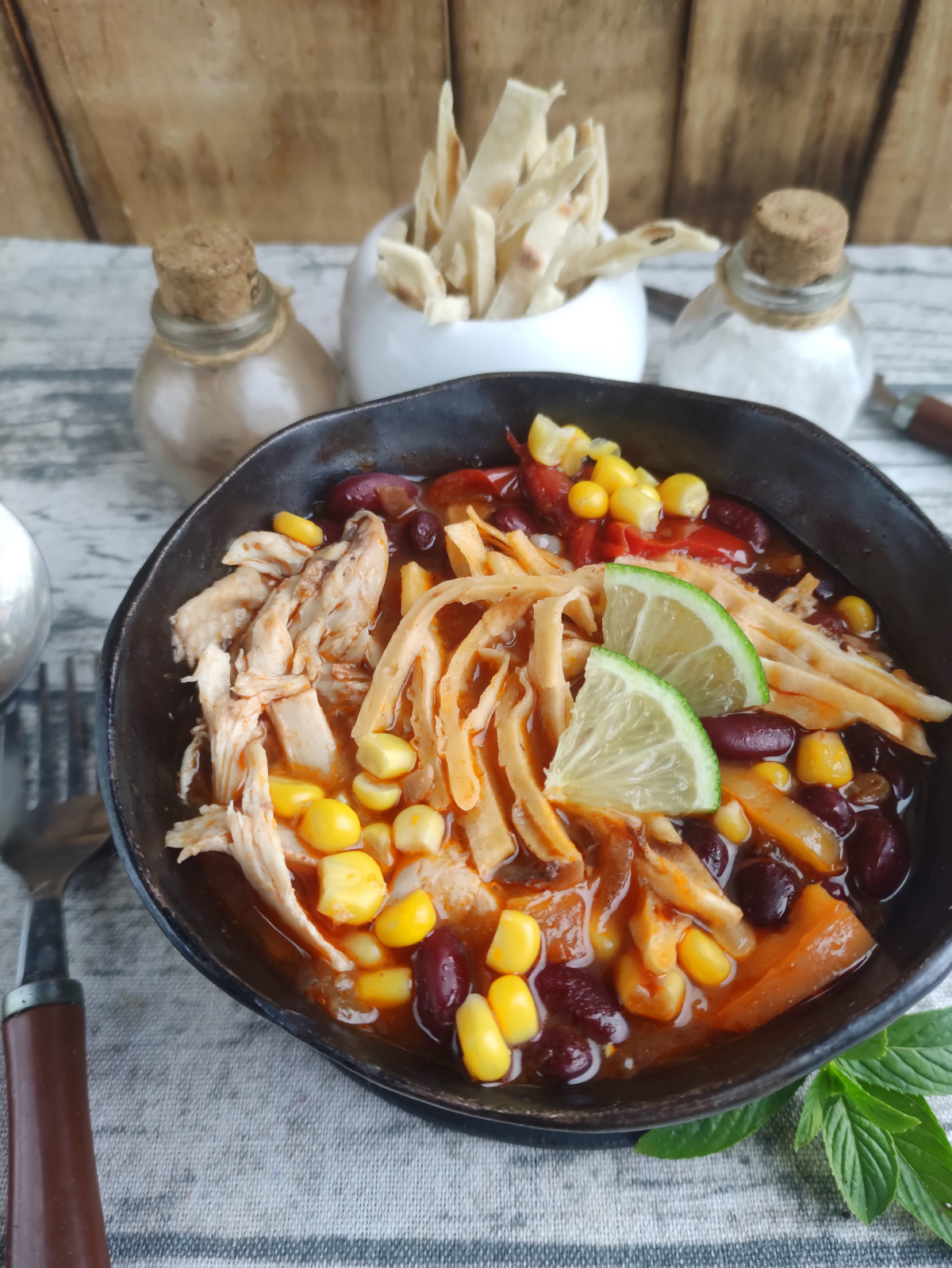 I put that this soup recipe makes 8 servings, and they are hearty servings, so you may end up with leftovers…which always makes me happy! I love easy lunches for the next day! In fact, my friend and I make healthy lunches in batches for each other weekly, and this one is always in the rotation!
If you happen to follow WW like we do – you will be happy to know that this soup is ZERO WW points.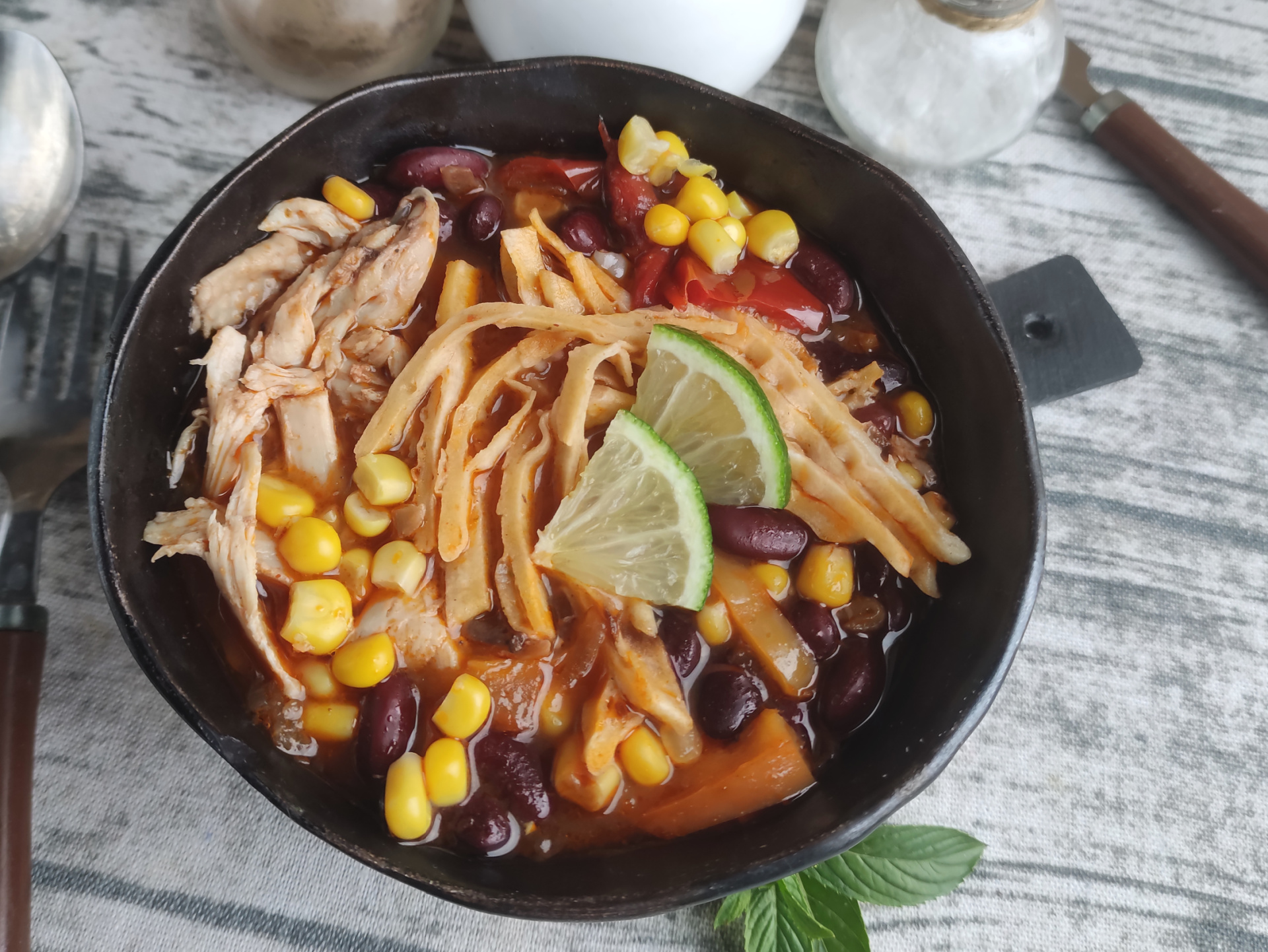 Now, here is my Slow Cooker Chicken Tortilla Soup recipe, be sure to Print It and Pin It so that you can make it again and again.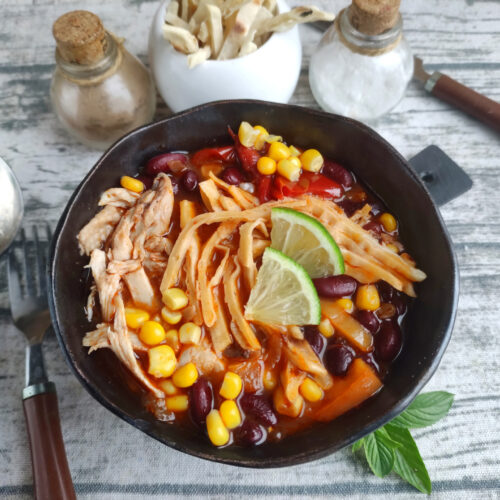 Easy Slow Cooker Chicken Tortilla Soup
This is a healthy slow cooker recipe that can be prepped as a freezer meal or you can make this Chicken Tortilla soup for dinner tonight.
Print
Pin
Rate
Ingredients
1

lb

boneless skinless chicken breasts

24

oz

stewed tomatoes

1 can – you can use diced tomatoes as well

15

oz

corn

1 can

10

oz

original Ro*tel

1 can

3-4

cups

low sodium chicken broth

depending on how thick you want your soup

15

oz

black beans

1 can

1

medium onion

chopped

2

bell peppers

sliced – I used red

1

tbsp

minced garlic

1

tsp

cumin

1

tsp

chili powder

1

tsp

salt

1

tsp

pepper

Sour cream, shredded cheese and tortilla chips to garnish if desired
Instructions
Place all the items into the slow cooker and cook for 6-8 hours on low

If making the meal ahead of time, label freezer bag and then place all ingredients into the freezer bag and toss in the freezer until ready for use

At least 30 minutes before serving remove the chicken and shred it with two forks

Place the chicken back in the slow cooker

Top with Sour cream, shredded cheese, and tortilla chips if desired
Notes
*I recommend cooking for 8 hours from frozen
Nutrition
Calories:
245
kcal
|
Carbohydrates:
35
g
|
Protein:
22
g
|
Fat:
4
g
|
Saturated Fat:
1
g
|
Polyunsaturated Fat:
1
g
|
Monounsaturated Fat:
1
g
|
Trans Fat:
0.01
g
|
Cholesterol:
36
mg
|
Sodium:
582
mg
|
Potassium:
933
mg
|
Fiber:
8
g
|
Sugar:
8
g
|
Vitamin A:
1358
IU
|
Vitamin C:
53
mg
|
Calcium:
74
mg
|
Iron:
4
mg
I hope you enjoy this Crockpot Chicken Tortilla Soup recipe as much as we do!
My whole family enjoyed this easy soup recipe, and I loved that it was simple to make and very low in fat! Just watch how many chips and how much cheese you top yours with 😉
Love Soup? Check out these other amazing Slow Cooker Soup Recipes.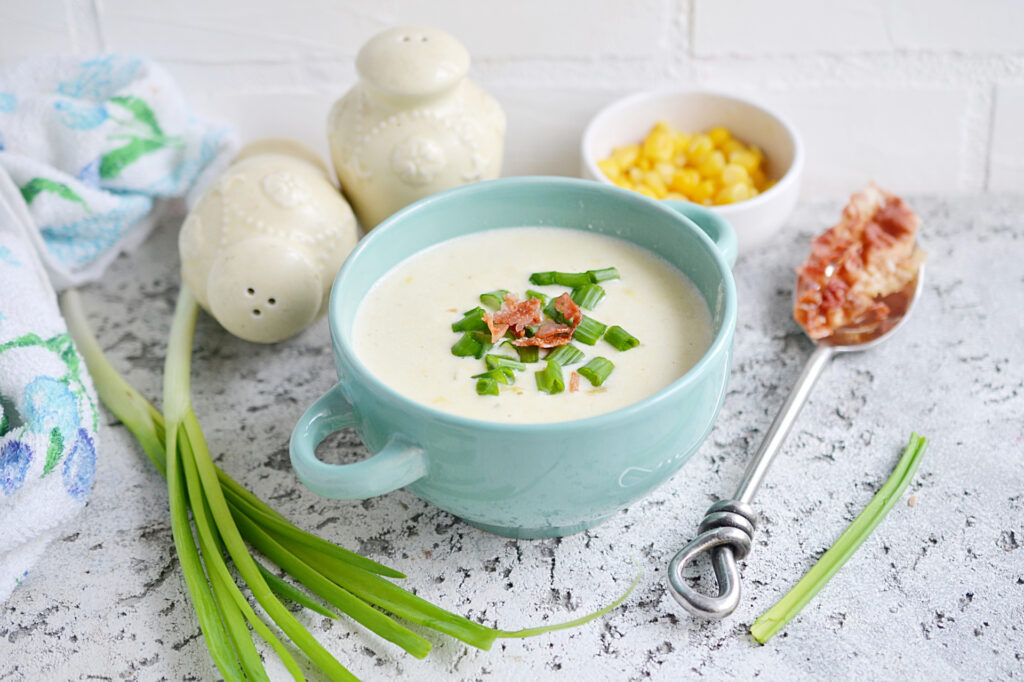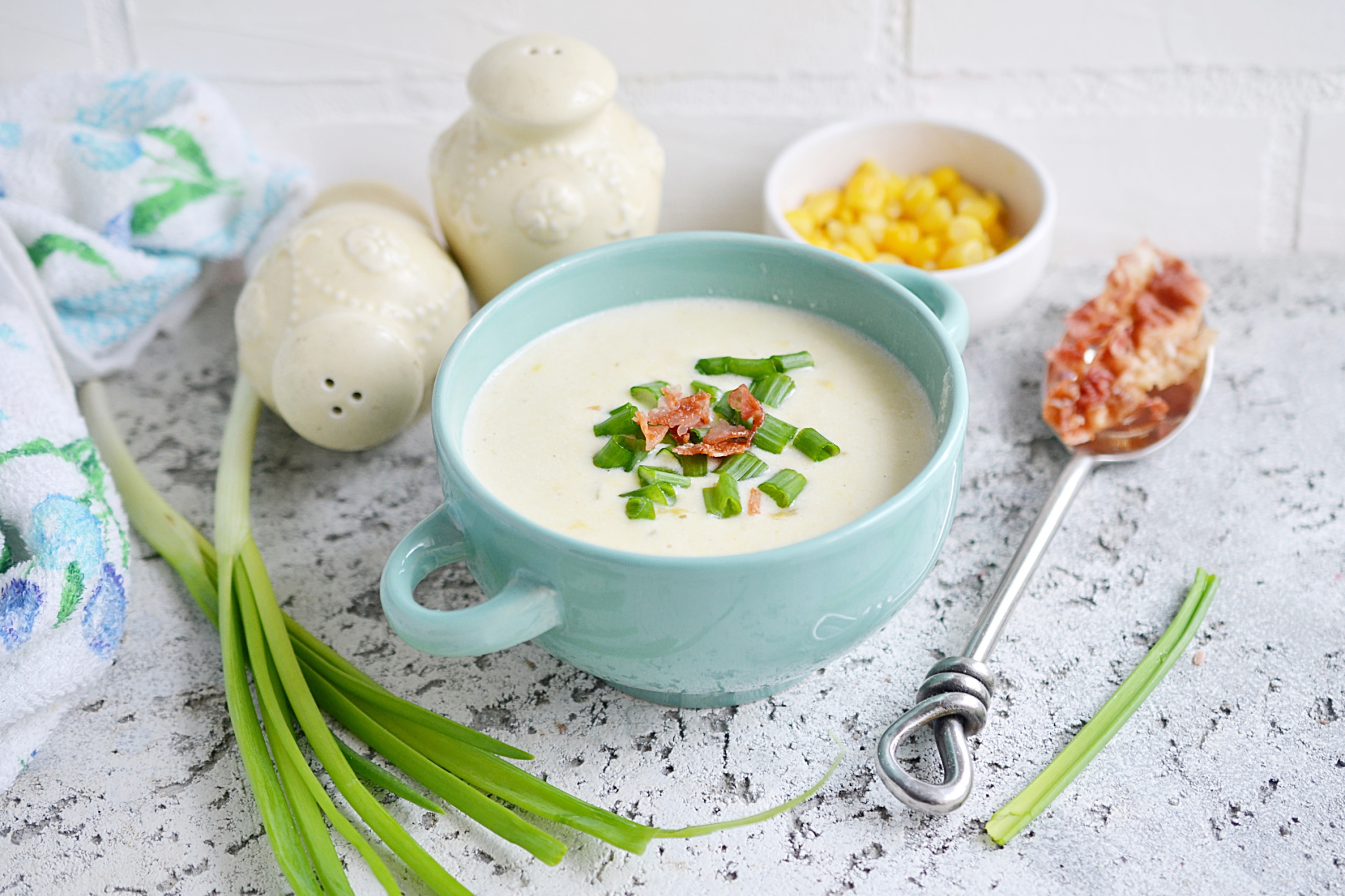 Be check out all my delicious recipes on Food Wine Sunshine and follow me on Facebook, Twitter, Pinterest, and Instagram.