(Last Updated On: March 8, 2022)
Looking to spice up your dinner routine? These Healthy Honey Mustard Chicken Quesadillas are ready in about 30 minutes and are loaded with flavor. My whole family loves them! While this post is sponsored by Healthy Family Project, my love of healthy family-friendly meals and this recipe are my own.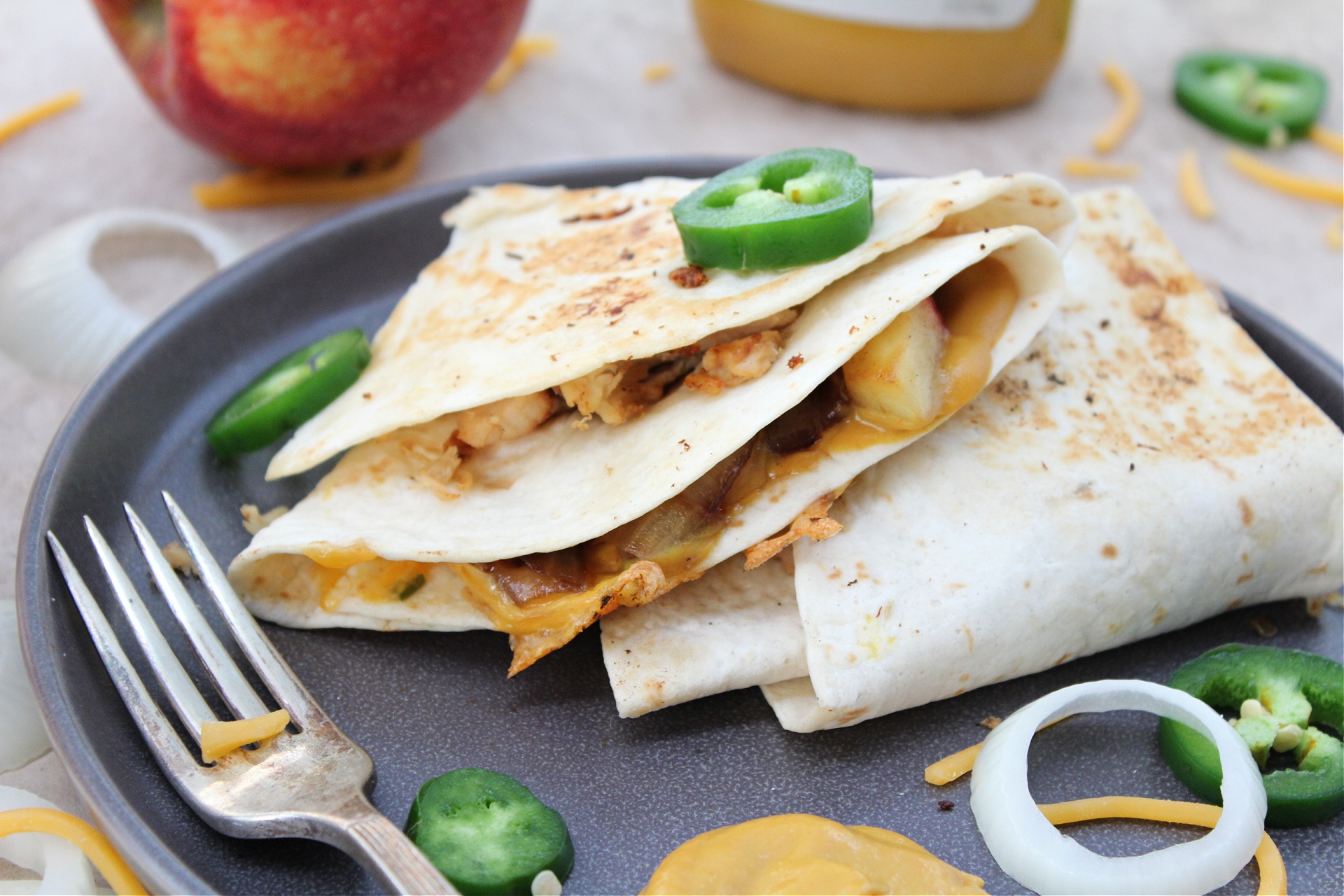 Healthy Honey Mustard Chicken Quesadillas
Do you guys remember that TikTok trend awhile back that had us all folding our tortillas into yummy quesadillas? I made some killer BBQ Cheeseburger Folded Quesadillas. And this week, I made this Honey Mustard Chicken Quesadillas. You all gotta try 'em. They were actually inspired by these Chicken Apple Enchiladas over on Healthy Family Project. I love the combination of sweet and spicy, so adding the apples, caramelized onions, and jalapenos together is like a match made in heaven in my house. Toss in the chicken for protein and spread on the honey mustard for an incredibly delicious meal.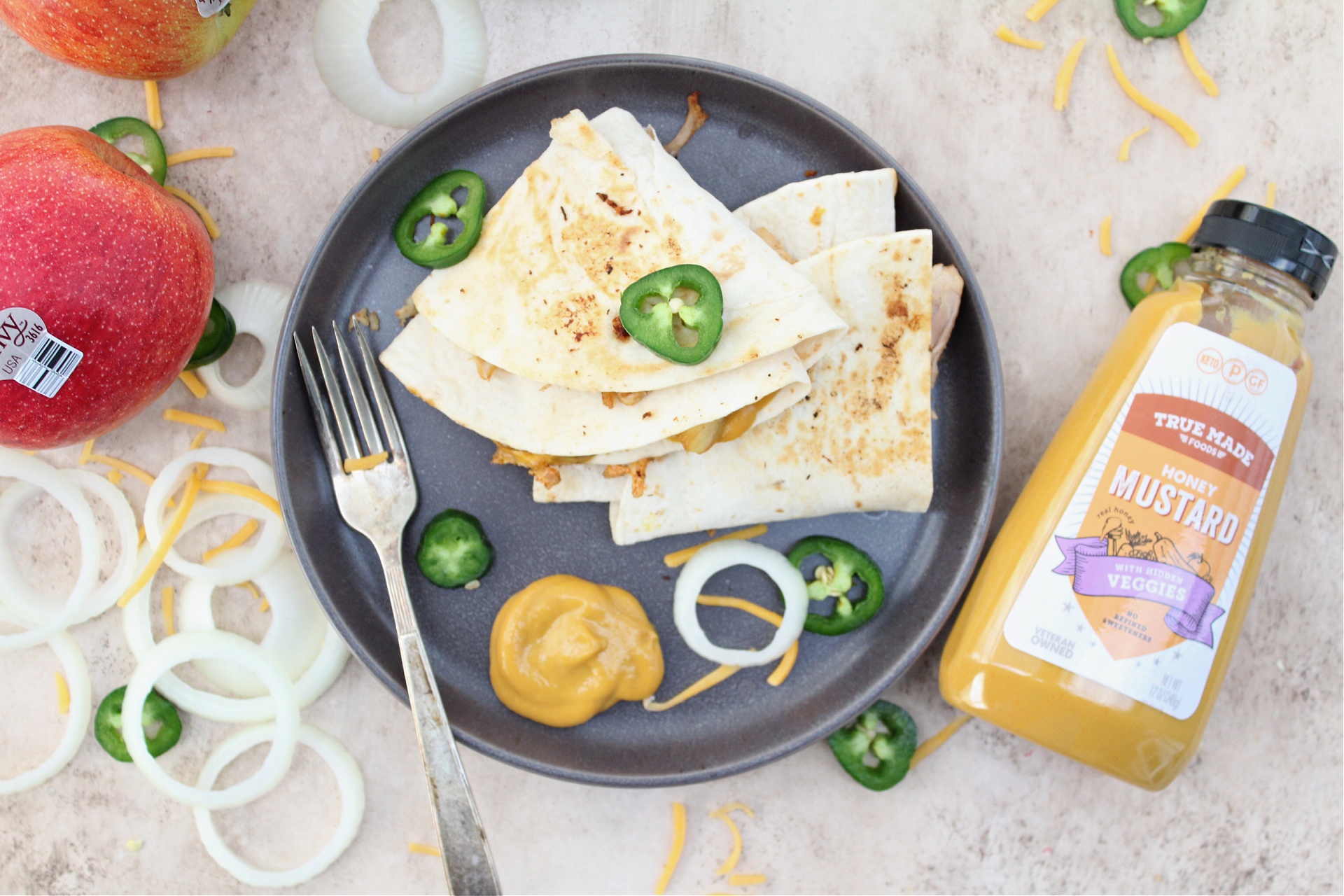 An easy meal that the whole family loves is a huge win in my book. Make it healthy on top of it, and this WW following momma is even happier.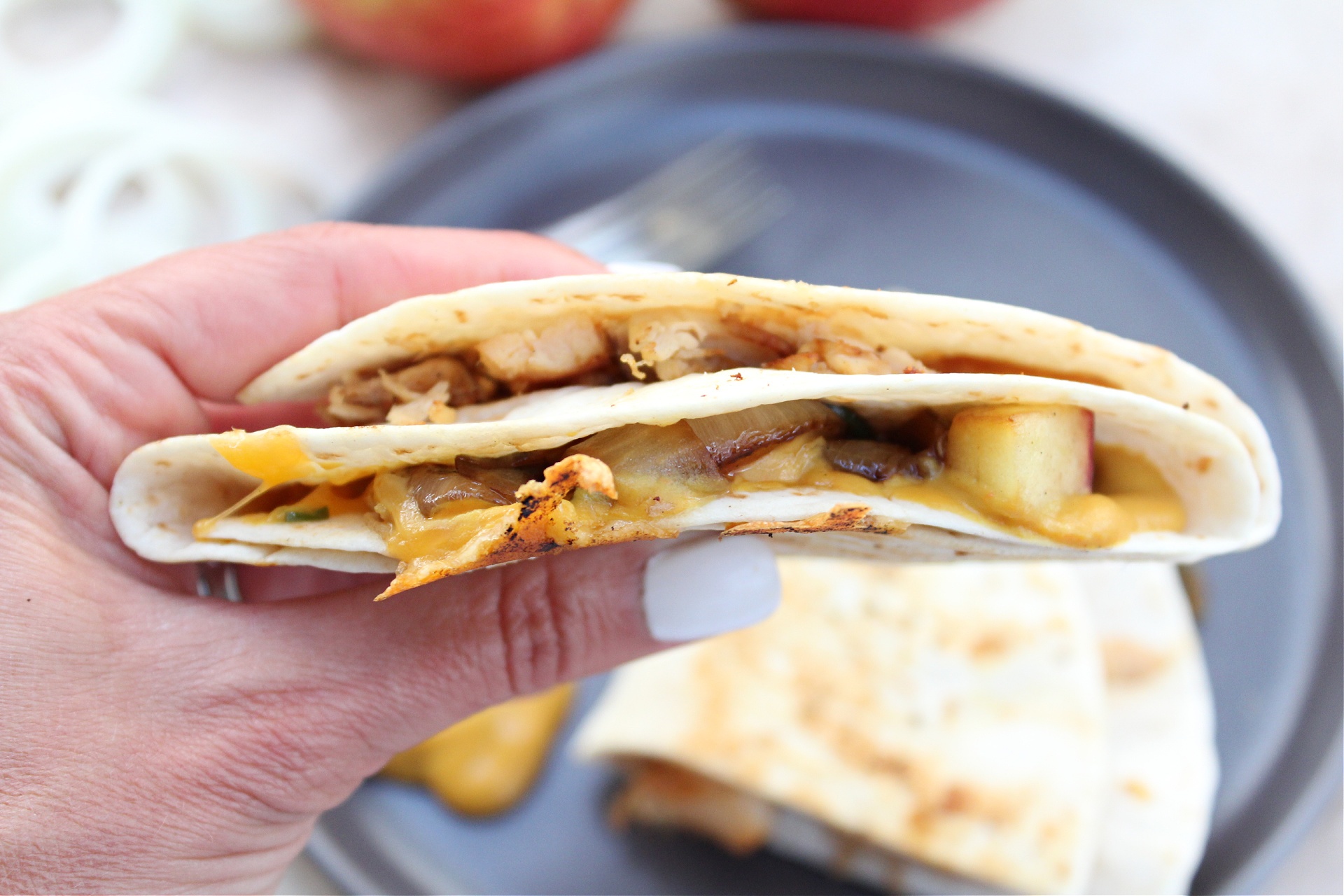 Whether you follow Weight Watchers or not, it's nice to know that you can have a family-friendly, flavorful meal that is healthy, right? I thought so!
But, if you do follow WW too, I thought I would give you a quick break down of the points for me…now, they did just switch up the plan, so these may not be the exact points for you, so be sure to double check.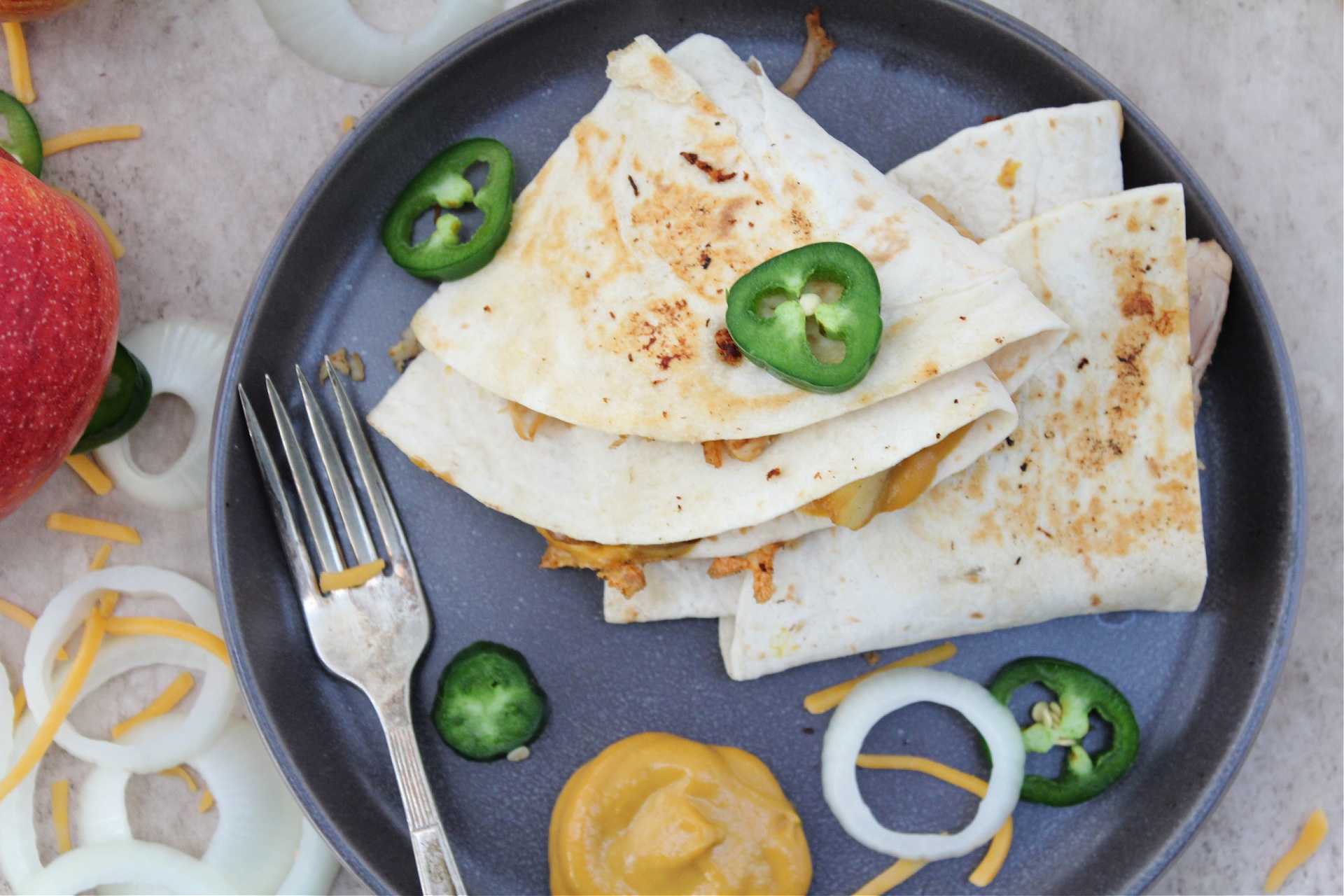 Honey Mustard Chicken Quesadillas WW Points
Low Carb Tortilla – 1 WW Point
1 TBSP Part-Skim Shredded Cheese – 1 WW Point
Chicken – 0 WW Points
Onions/Jalapeno/Apple – 0 WW Points
True Made Foods Honey Mustard – 0 WW Points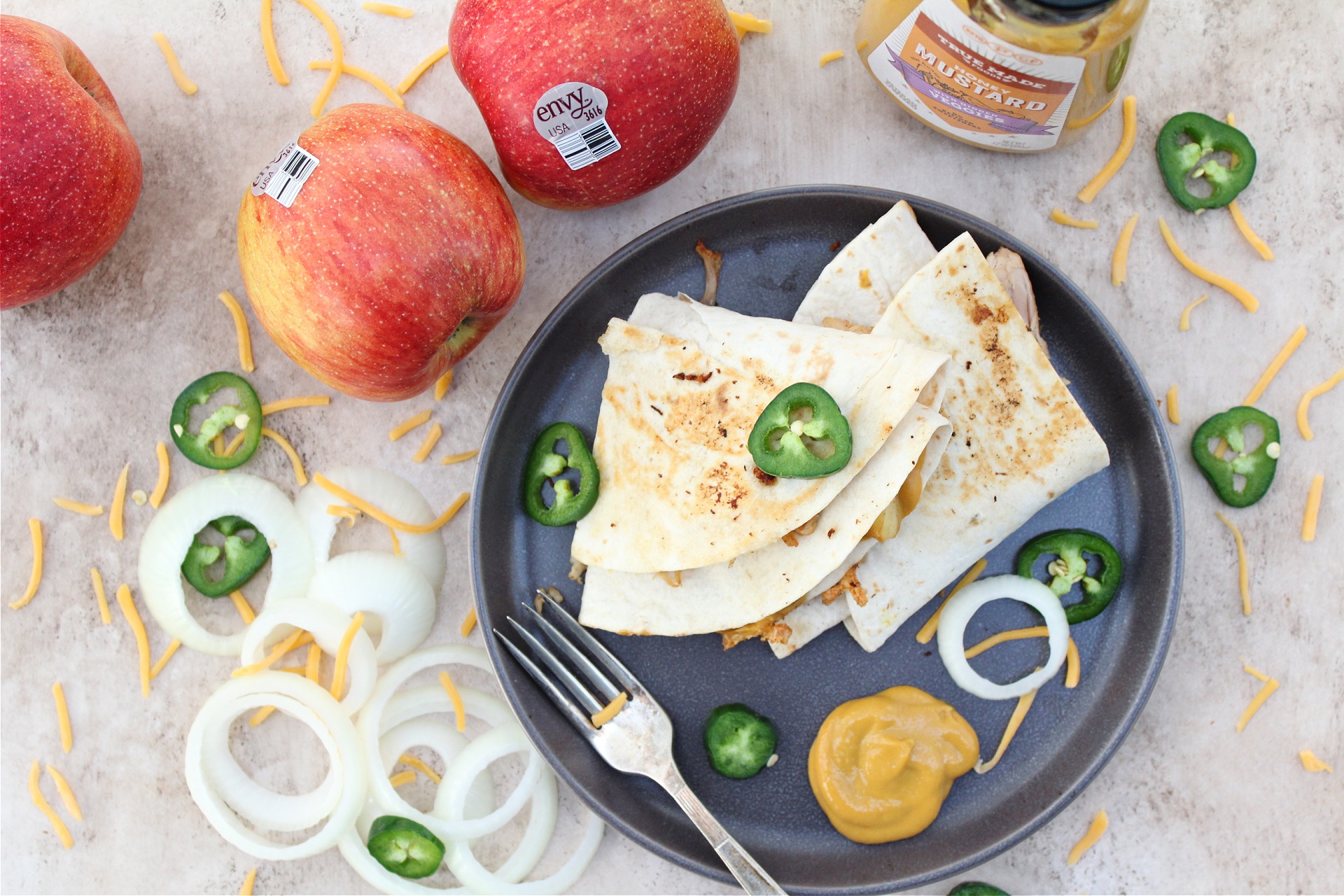 Yes, you read that right….Honey Mustard that's ZERO POINTS! It's a No Sugar Added Honey Mustard and it tastes AMAZING! My husband didn't even notice a taste difference. If you follow WW, you know how exiting it is to find some sauces/condiments that aren't a bunch of points. Did you realize how much sugar is added to sauces and condiments? It's way more than you think! But, it doesn't have to be in there to taste good. Don't believe me? Try True Made Foods. It's sold at the Sprouts by my house, but you can also get it online.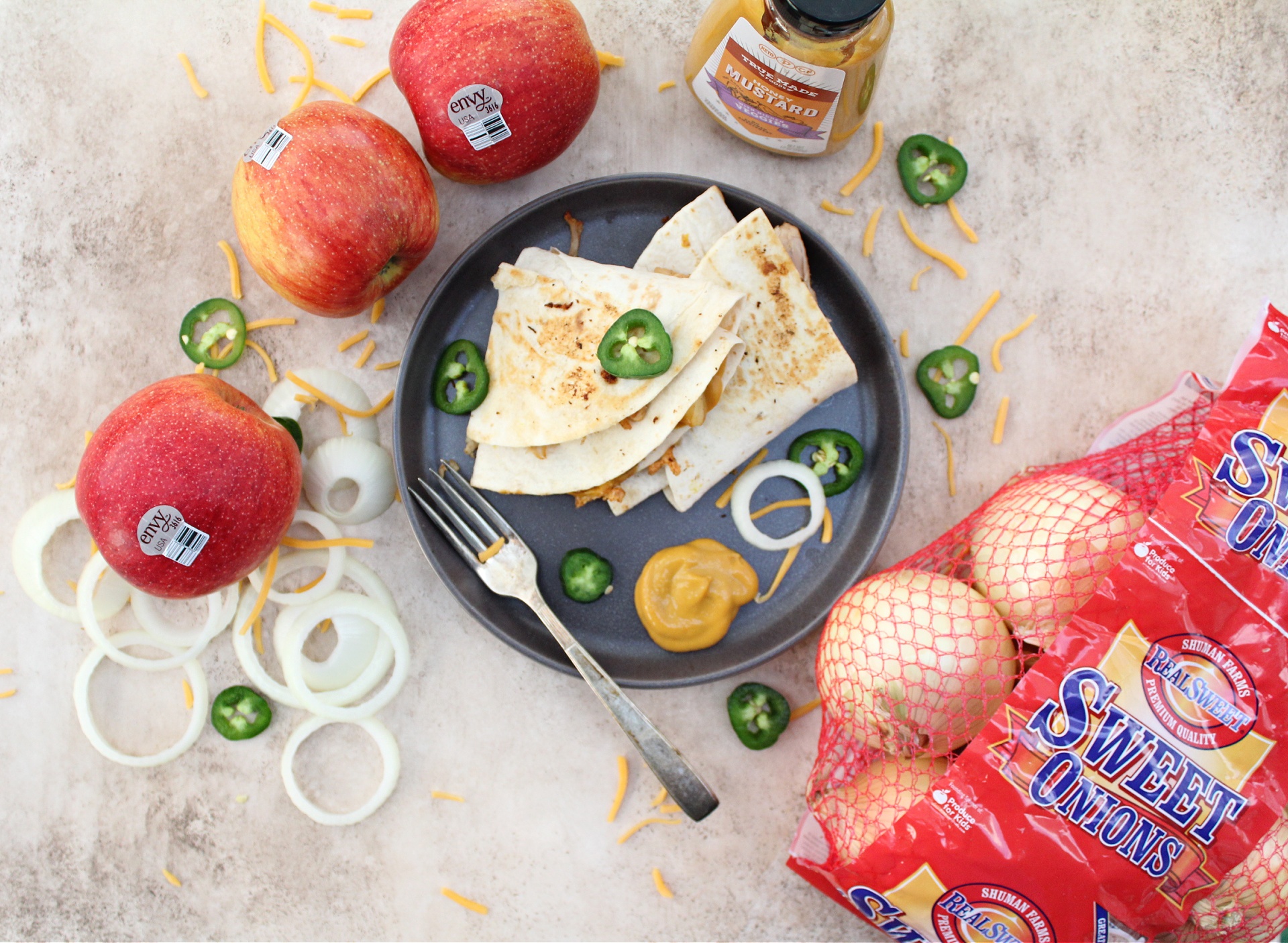 Healthy Honey Mustard Chicken Quesadillas Key Ingredients
Tortillas – I used the low carb ones
Shredded Cheddar Cheese
Chicken – I used rotisserie chicken. We always buy one on Monday and use it throughout the week for various meals. They are perfect for meal-planning!
RealSweet Sweet Onions – These onions caramelize beautifully and the flavor is like no other.
Envy apples – Because they are delish.
Tips for making Honey Mustard Chicken Quesadillas:
Don't use the snack size tortillas. They will be too small once you fold them! I used the fajita size, but the burrito size will also work.
Don't forget the cheese. It helps hold the layers together.
Don't overload the fillings, they will spill out when you fold the sections.
Do make the sauce the first section you fold, if you fold the chicken or cheese first, it will fall out.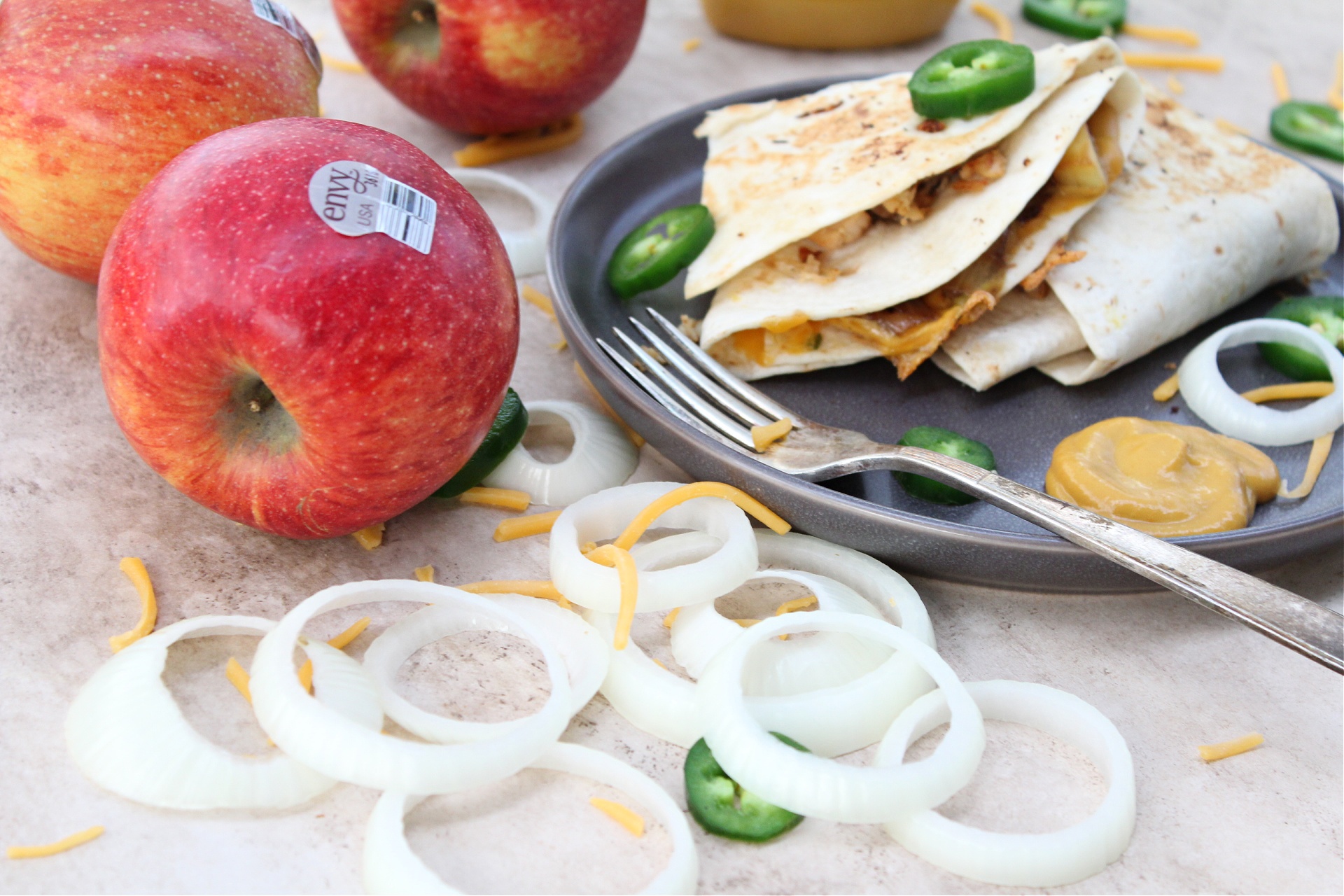 Now, I will openly admit that my husband wasn't at all happy that I was cooking with his favorite apples. Envy apples are a cross between Braeburn with Royal Gala apples, they taste like pure bliss. Sweet, crunchy, delicious. But, since we all absolutely LOVE Envy apples in my house, I knew they would be the perfect apple to use in my Healthy Honey Mustard Chicken Quesadillas. Plus, you only need one….so you and the family can eat the rest anyway you would like 🙂 Since they stay white longer, they are perfect for charcuterie boards!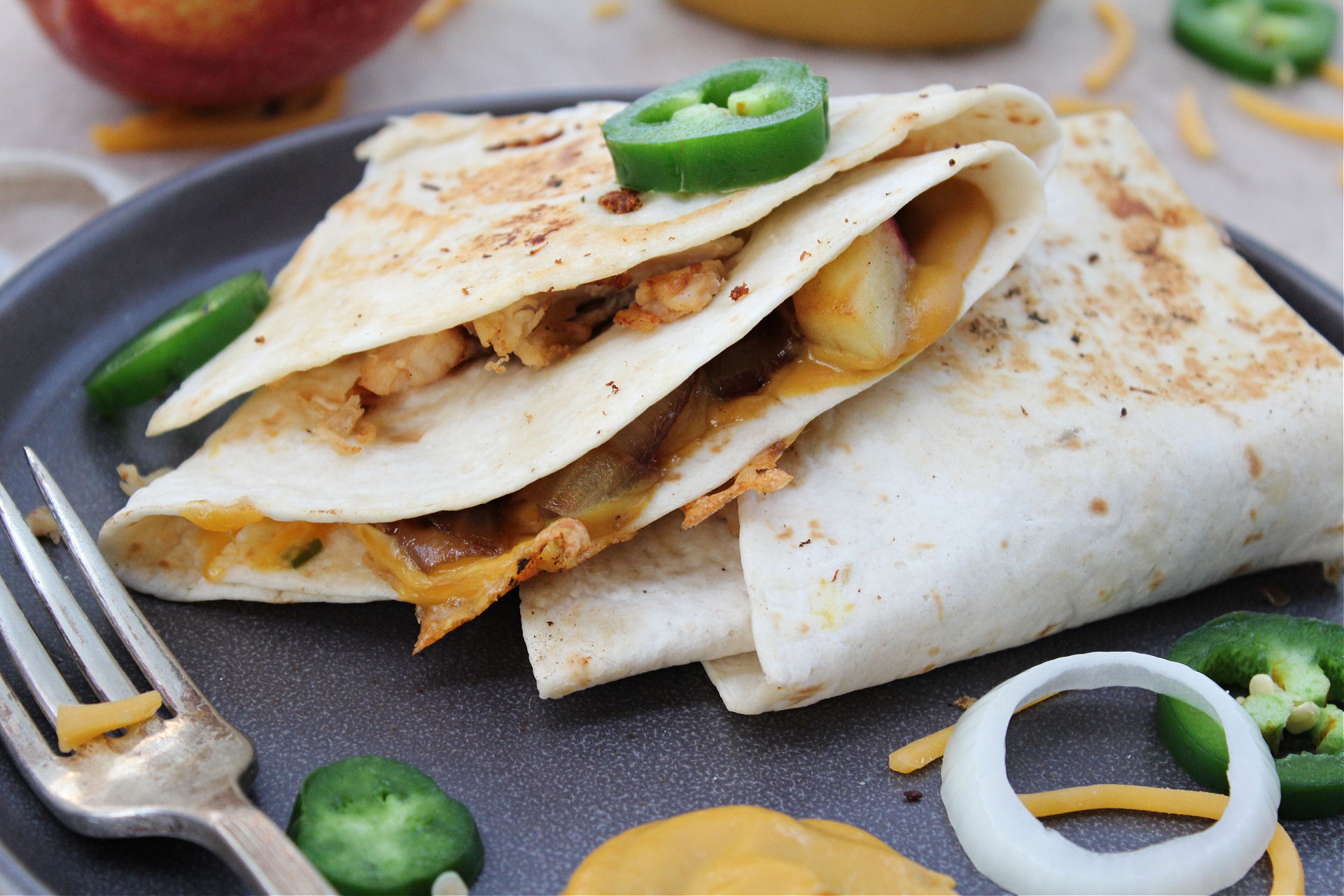 Ok, are we all officially hungry? Let's make some Healthy Honey Mustard Chicken Quesadillas, shall we? Be sure to Print and Pin the recipe so that you can make it again and again.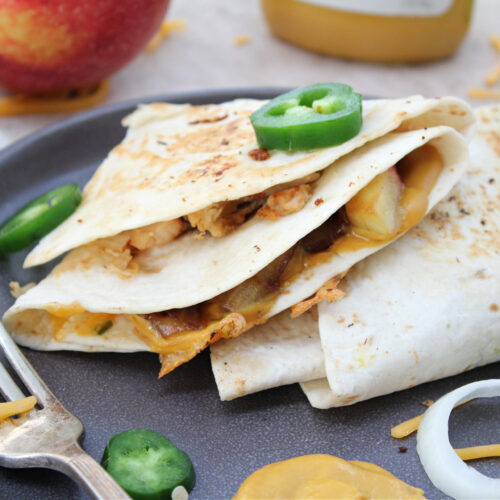 Healthy and Delicious Honey Mustard Chicken Folded Tortilla Quesadillas
Ready in about 30 minutes, these quesadillas are not only fun to make, but they are healthy and full of flavor!
Print
Pin
Rate
Ingredients
1

apple

I used an Envy Apple

1

sweet onion

I used RealSweet Sweet Onion

1

jalapeno

seeds removed if desired

4

low carb tortillas

1

cup

shredded chicken

I used rotisserie chicken

¼

cup

shredded cheddar cheese

½

tbsp

olive oil

I used extra virgin

¼

cup

True Made Foods Zero Sugar Added Honey Mustard
Instructions
Slice onion and add it to the skillet, stir well to coat all the onion slices.

While the onions cook, dice the apple and jalapeno.

Once the onions start to caramelize, add the diced apple and jalapeno.

Lay tortilla flat. Cut to the center of the tortilla.

Add the cooked shredded chicken to the quarter directly below the cut.

Add the cheese to the next quarter.

Next add the caramelized onion/apple/jalapeno mixture to the quarter above the cheese.

In the final quarter, add the honey mustard.

Now, start folding the sections. First fold the honey mustard sauce section over the caramelized onion mixture.

Fold that section over the cheese quarter.

Finally, fold the stacked portion over the chicken section.

Repeat these steps with all the tortillas.

Add olive oil or butter to a skillet.

Warm the skillet over medium heat.

Cook the folded quesadillas approx 3 minutes per side to brown the tortilla and make it crispy, and melt the cheese.
Nutrition
Calories:
156
kcal
|
Carbohydrates:
13
g
|
Protein:
11
g
|
Fat:
7
g
|
Saturated Fat:
2
g
|
Polyunsaturated Fat:
1
g
|
Monounsaturated Fat:
3
g
|
Cholesterol:
34
mg
|
Sodium:
84
mg
|
Potassium:
243
mg
|
Fiber:
2
g
|
Sugar:
9
g
|
Vitamin A:
148
IU
|
Vitamin C:
10
mg
|
Calcium:
76
mg
|
Iron:
1
mg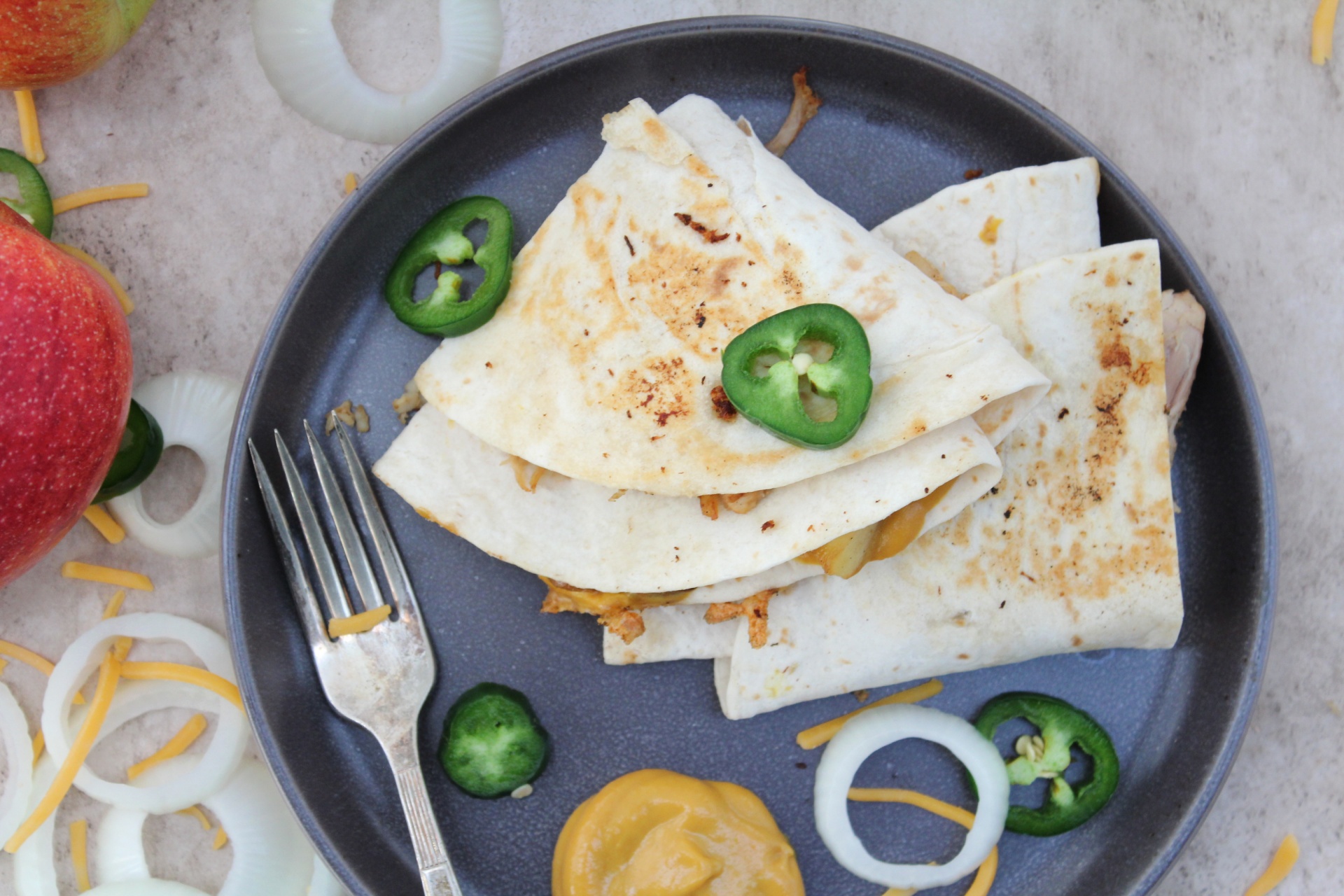 I hope you like these Healthy Honey Mustard Chicken Quesadillas as much as we do!
Looking for more healthy, family-friendly meals? Grab this FREE eBook from Healthy Family Project. The eBook has 6 different meals: 2 breakfast recipes, 2 lunch recipes, and 2 dinner recipes. They are all internationally-inspired and a delicious way to try some new menu items this week.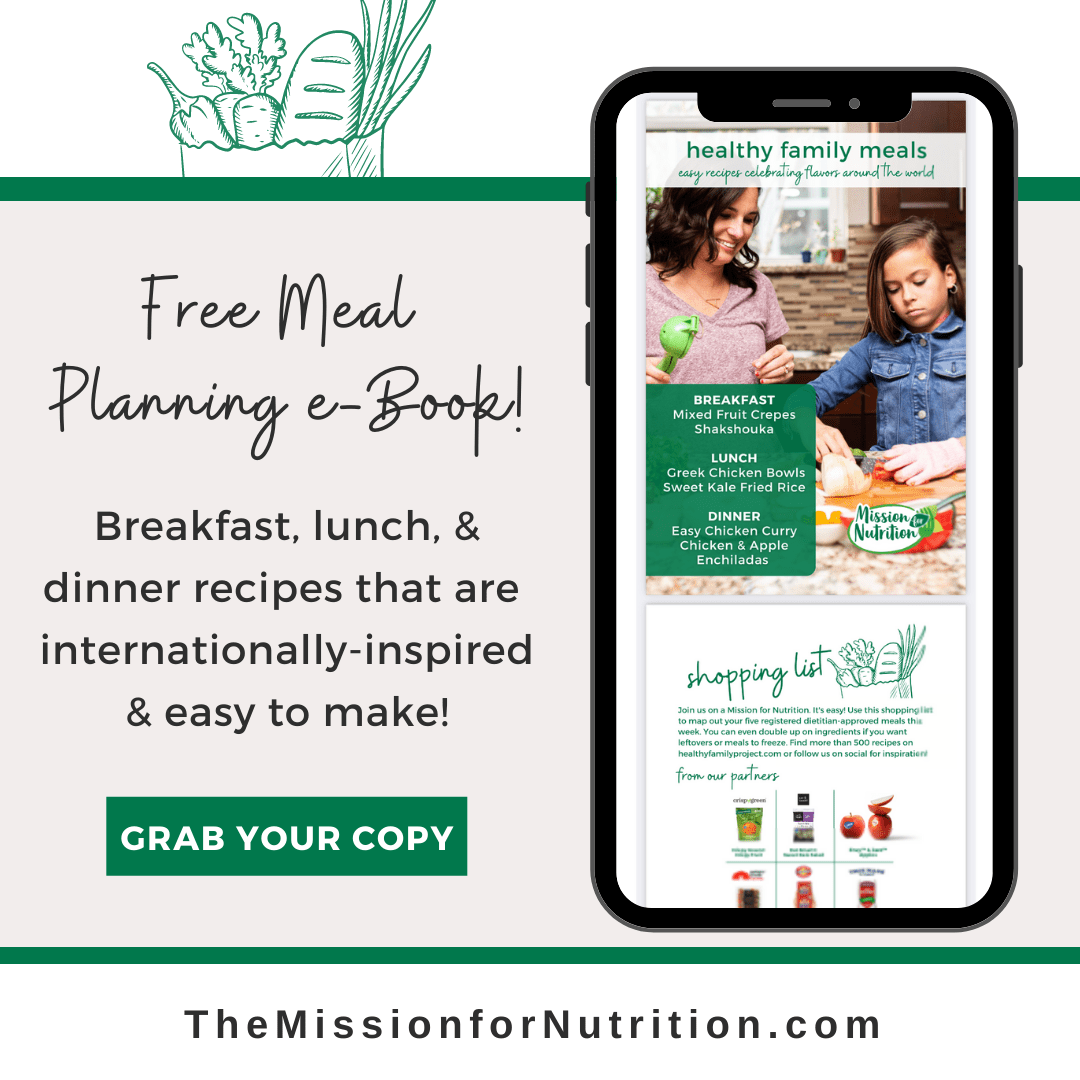 Healthy Family Project is a cause marketing organization that I am proud to be a part of! Through our Mission For Nutrition campaign, the partners are making a total of $12,000 donation back to the Foundation for Fresh Produce to increase accessibility to fruits and vegetables in schools.
Be sure to follow Healthy Family Project on social media such as Instagram, Facebook and Twitter and use the hashtag #missionfornutrition to follow all the fun this month…and beyond!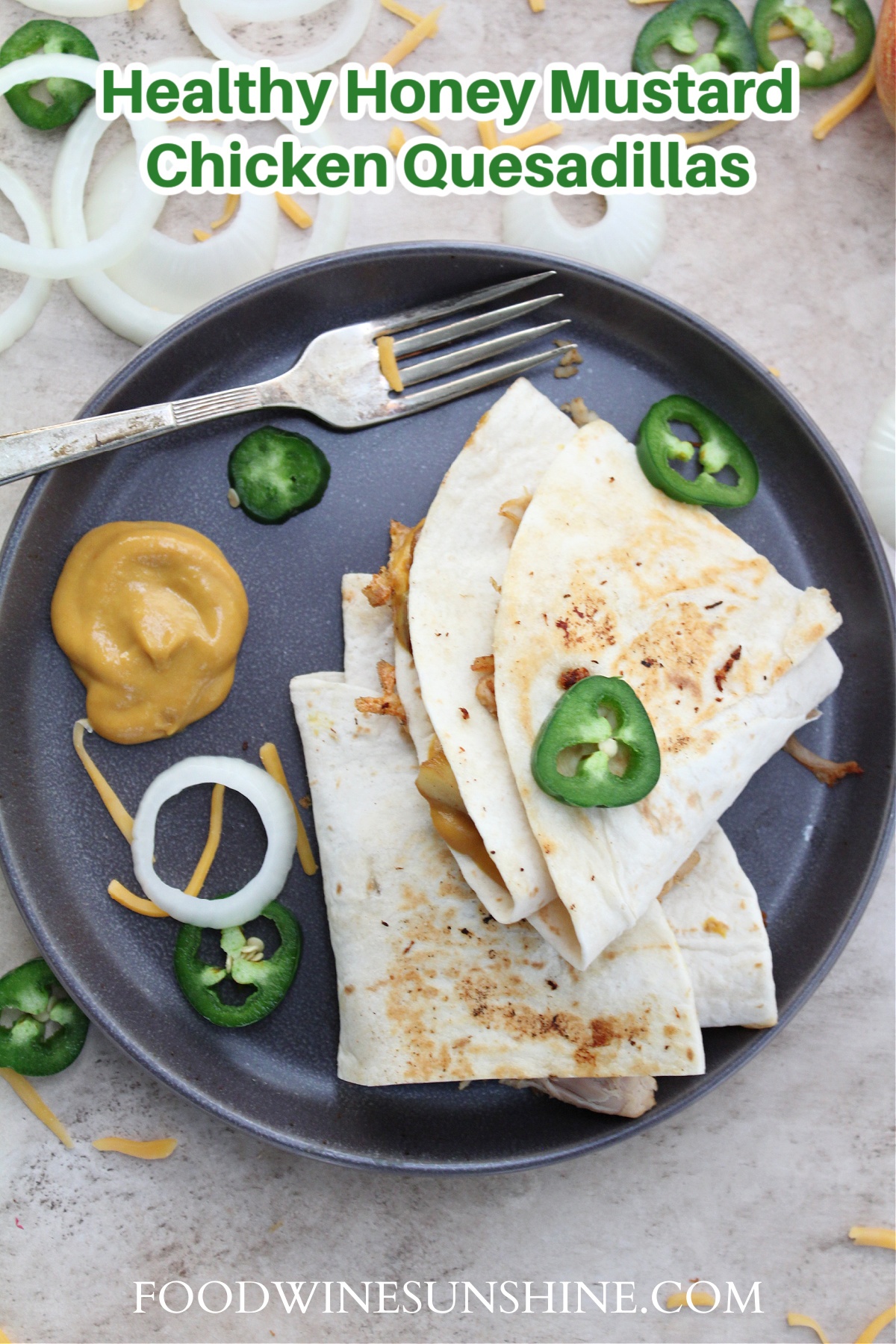 While you are at it, be sure to follow Food Wine Sunshine on Facebook, Twitter, Pinterest and Instagram for more tips, fabulous recipes and more!