(Last Updated On: February 13, 2023)
Better than take out and prepped in under 30 minutes this Sous Vide Pepper Steak is tender, flavorful and 100% delicious. Grab the easy dinner recipe and enjoy!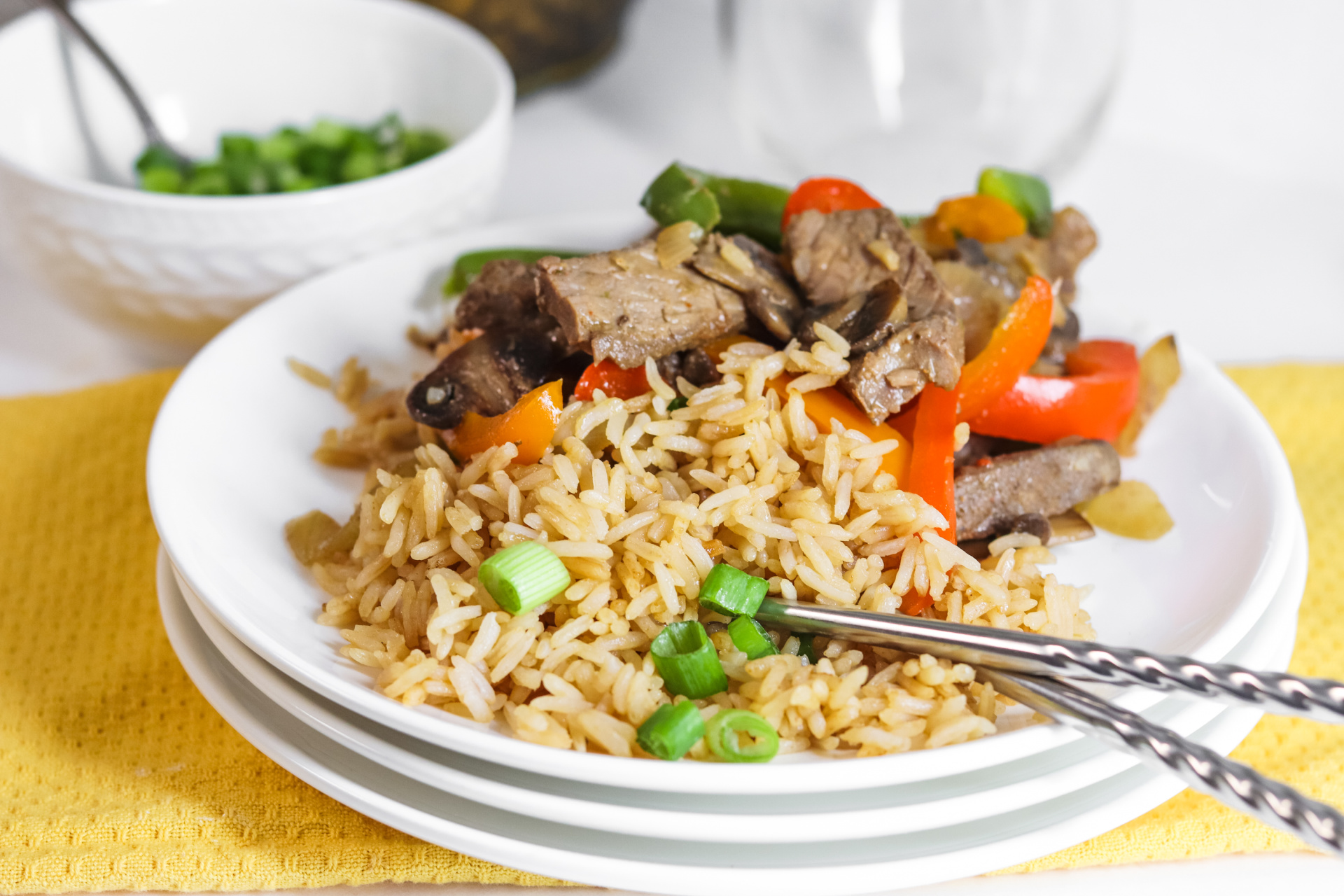 Deliciously Tender Sous Vide Pepper Steak
Michael sent me that Guest Post awhile ago about Sous Vide cooking….and would you believe that I had one in my garage that I never opened. Truth be told, new kitchen appliances intimidate me. I mean, when oven, Blackstone and smoker work fine…why try to learn something new?! Well, sometimes amazing things…aka food…come from learning new things. Like sous vide cooking. And this Sous Vide Pepper Steak.
You will need the wok to fry up the rice and saute the veggies.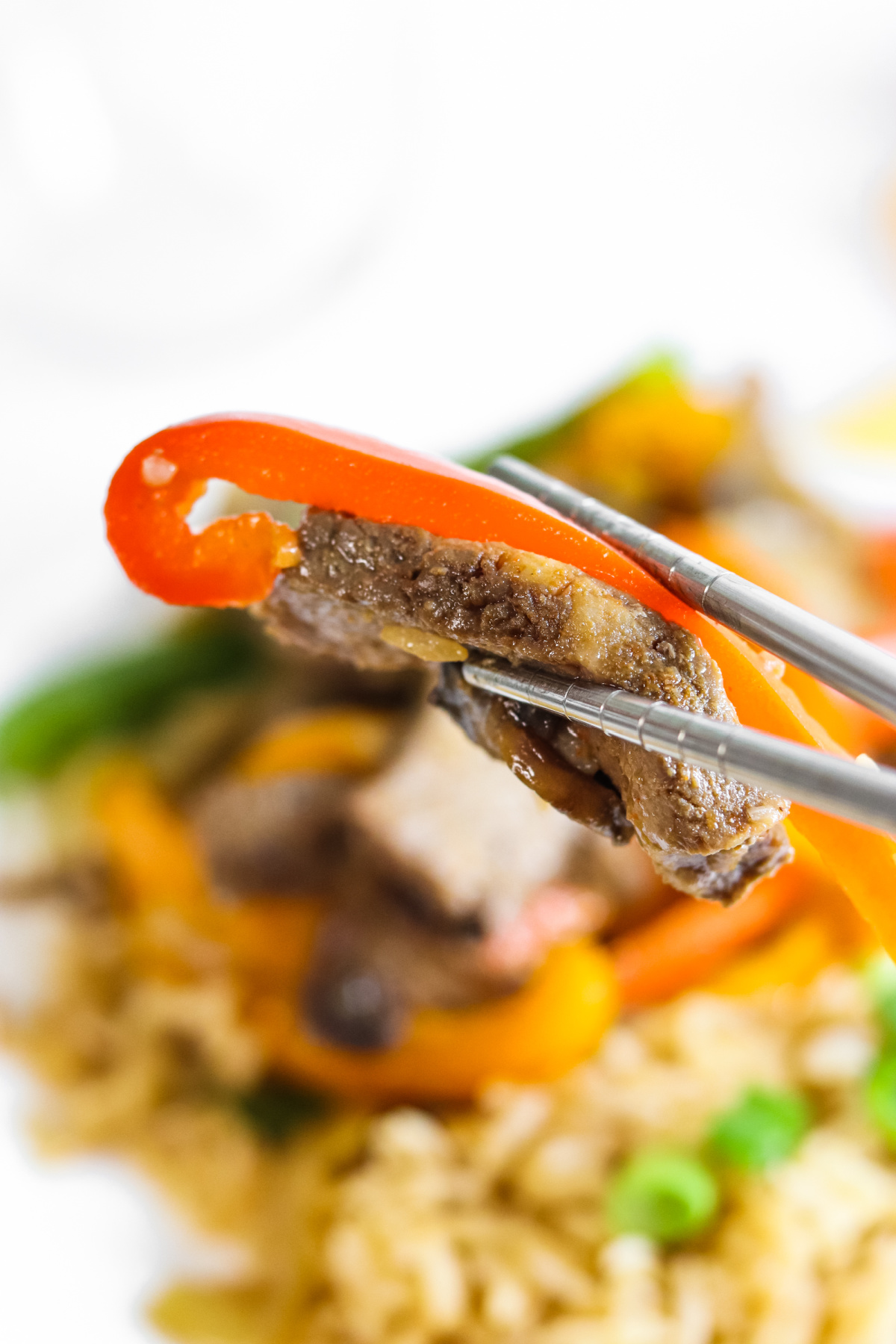 But the steak…..oh, that will melt in your mouth. It's incredible.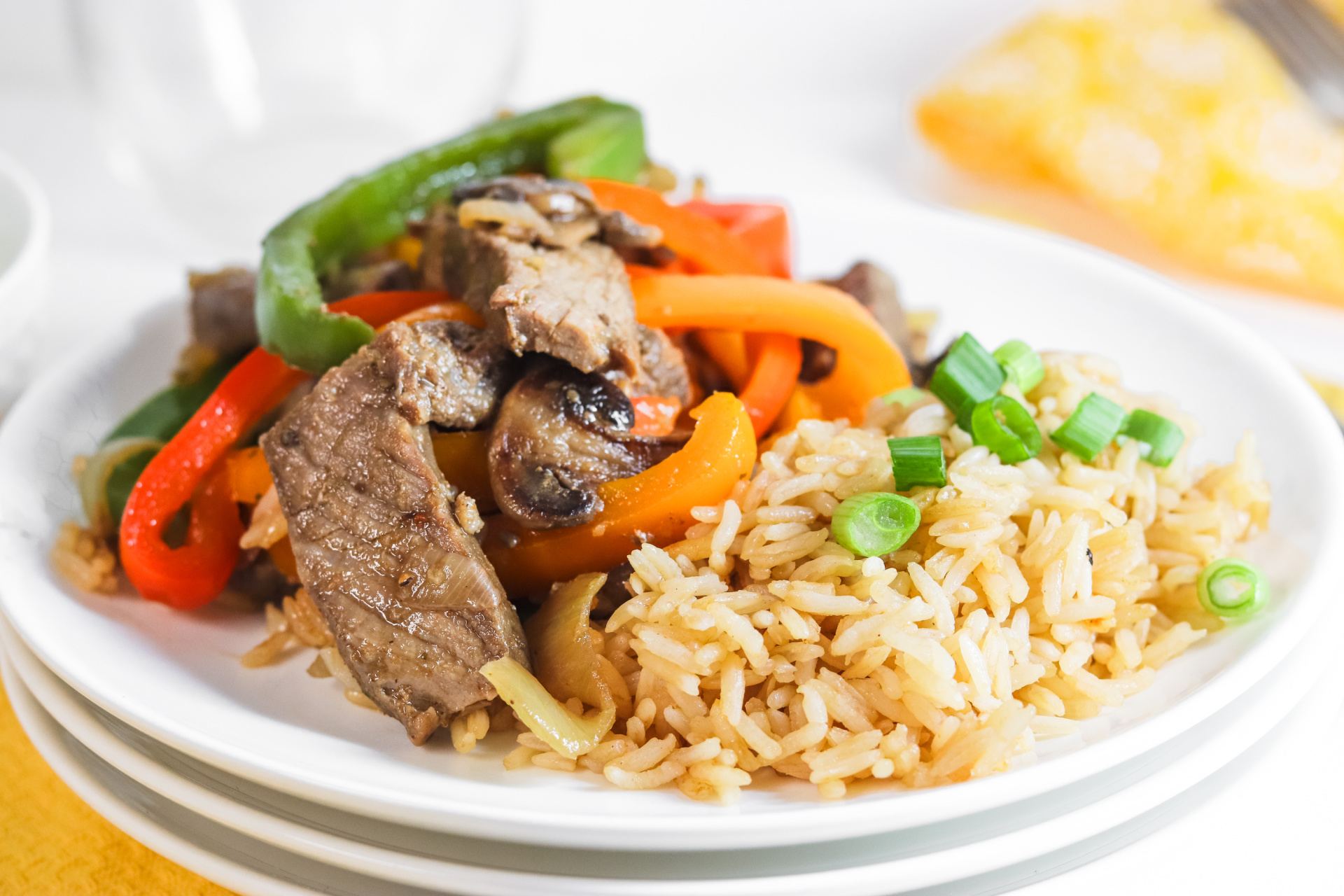 I know the recipe looks like it has a few more steps than I usually do, but I promise you it's not hard! The sous vide cooker does all the hard work…making the steak AH-MAZING.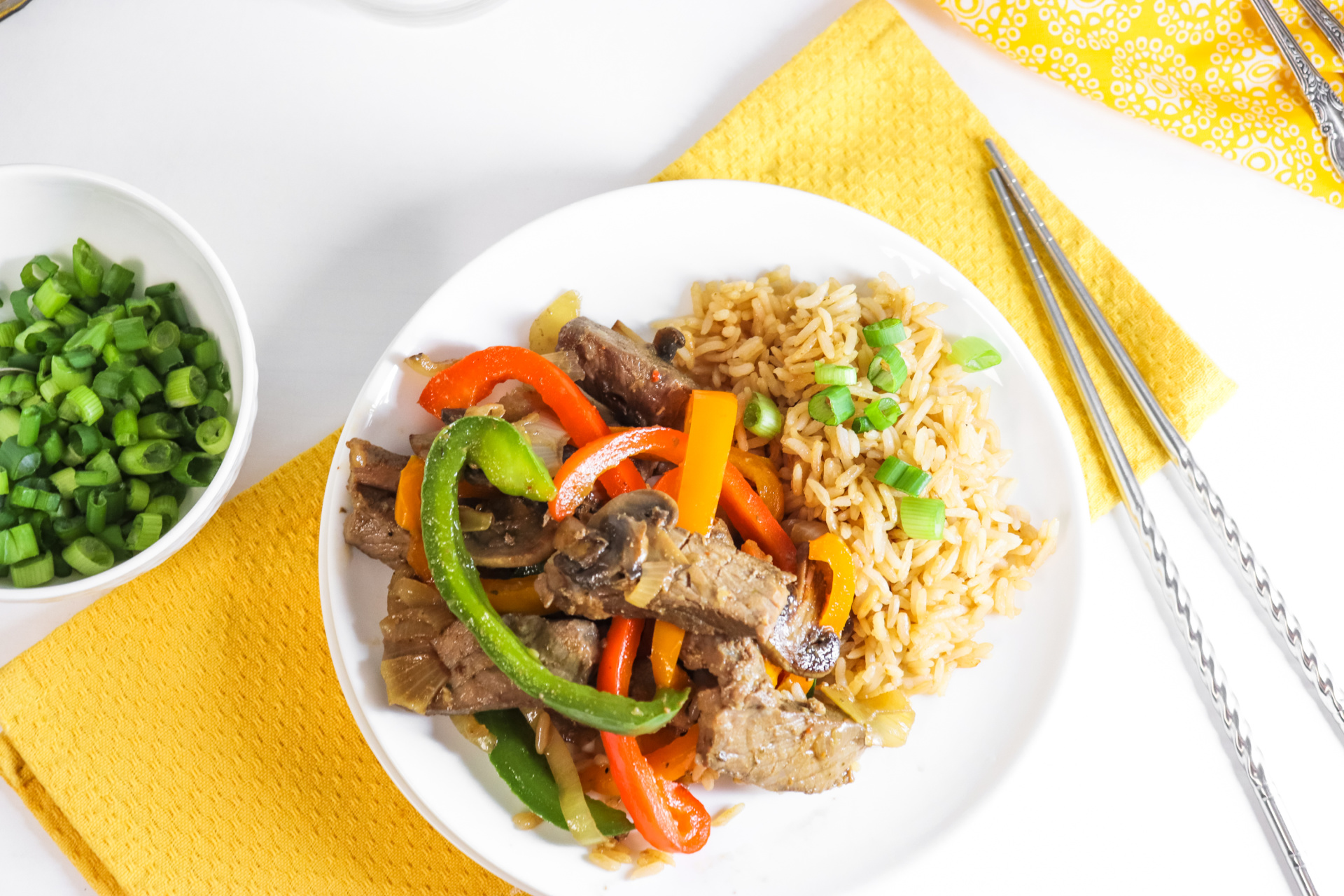 What Is Sous Vide?
Sous Vide is a method of cooking that involves vacuum-sealing the food and immersing it in warm water.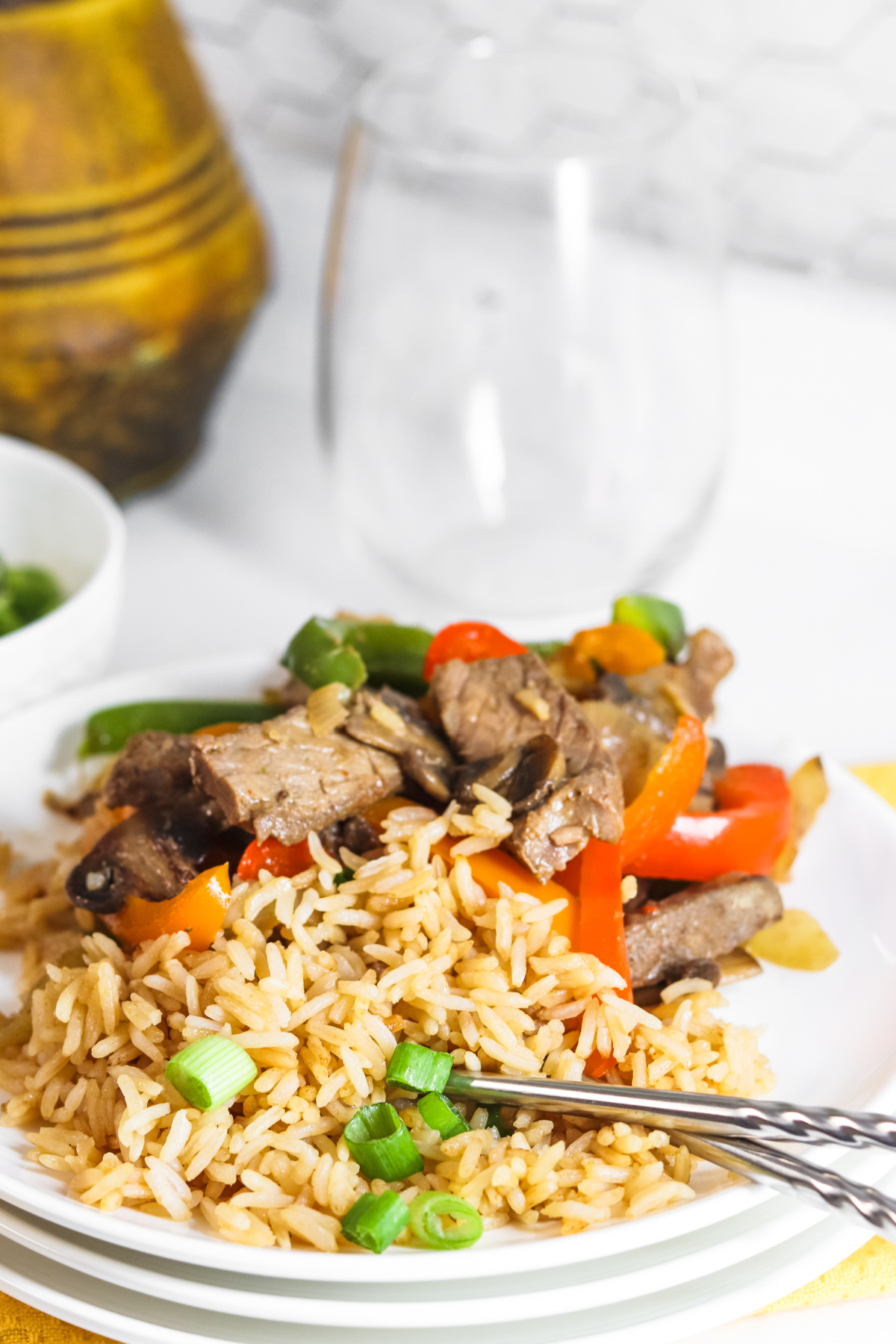 Why use sous vide style cooking?
It allows you to cook food (steak, chicken, fish…you may it!) at a consistent temperature, which means your food is perfectly tender and cooked thoroughly.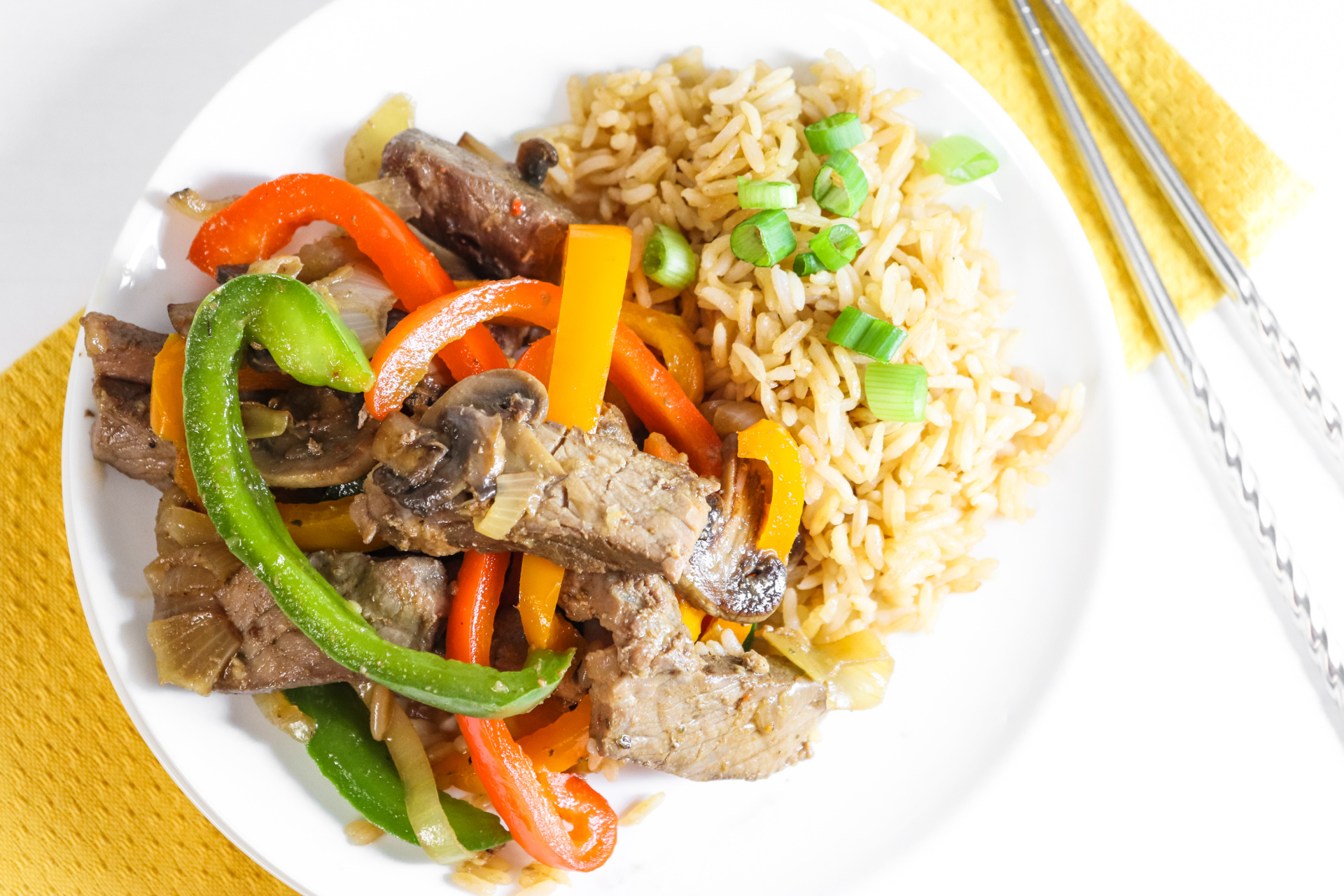 Is sous vide different from boiling?
YES! Boiling often removes flavor and nutrients from food. When you use the sous vide style cooking method the food is cooked in an airtight environment (typically a vacuum-sealed bag or ziplock bag), you need less seasonings to get the flavor you desire and food retains a higher vitamin and mineral content.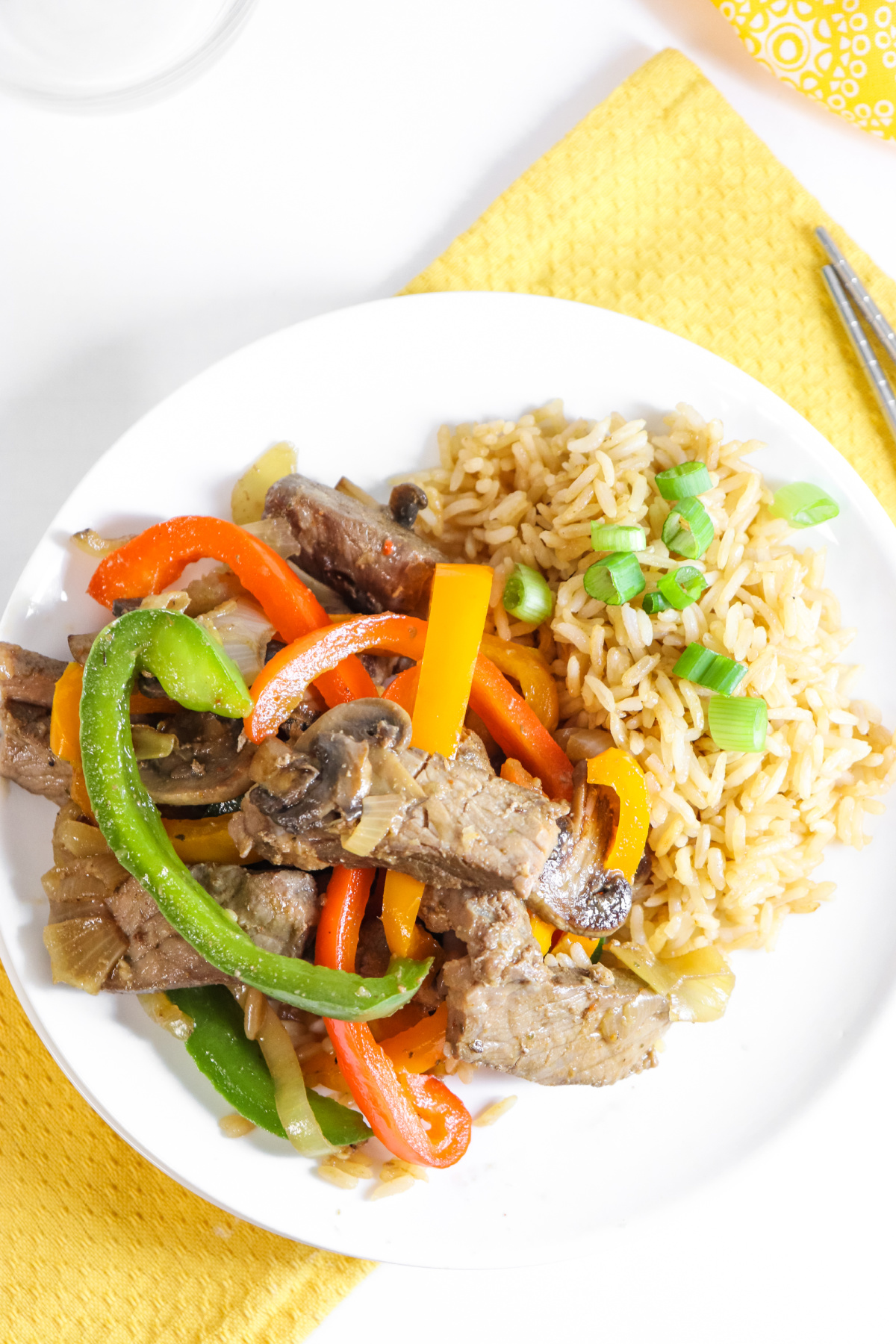 So, why do you need the wok in this sous vide pepper steak? Well, you will saute the vegetables (peppers!) and you want to fry the rice a little.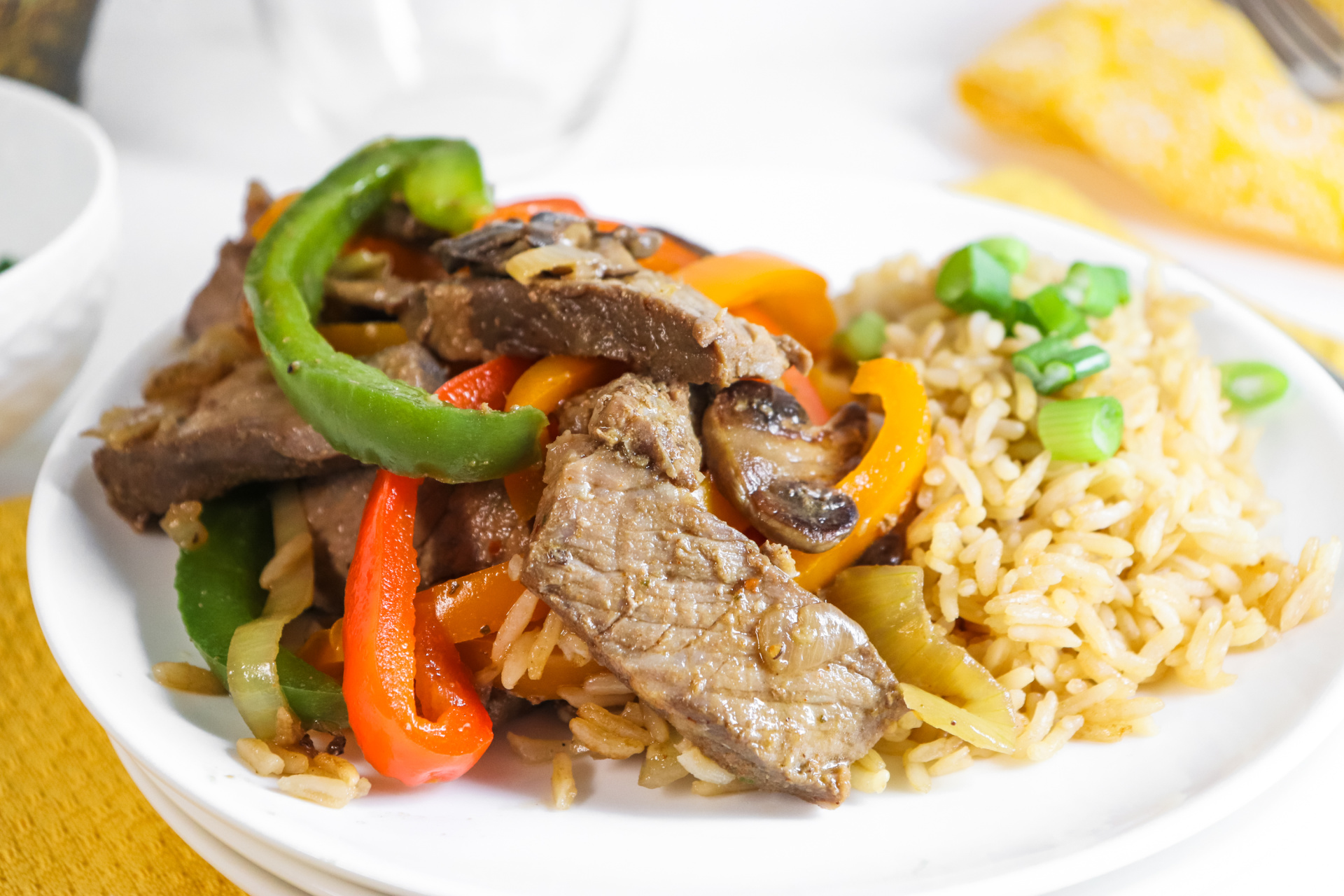 Can you use a different than New York Strip to make Pepper Steak?
Sure! But it may affect your sous vide cooking times and temperatures, so just be sure to adjust that as needed.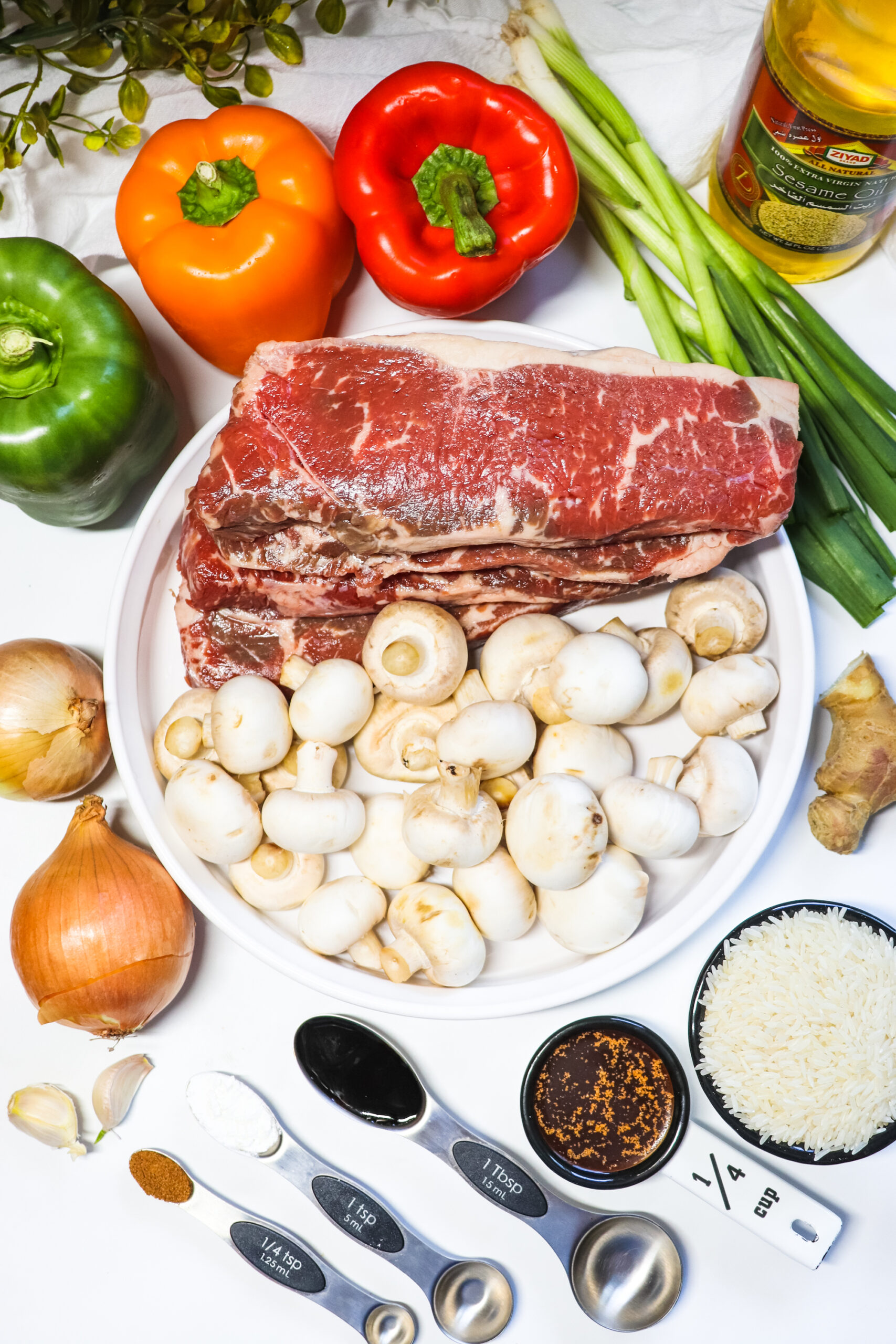 Sous Vide Pepper Steak Key Ingredients
Steak
Peppers
That's it! Na, just kidding, but you obviously need peppers and steak in to make pepper steak 😉
Additional veggies – onions, mushrooms
Seasonings and spices
Beef broth
Soy sauce
Sesame oil
Rice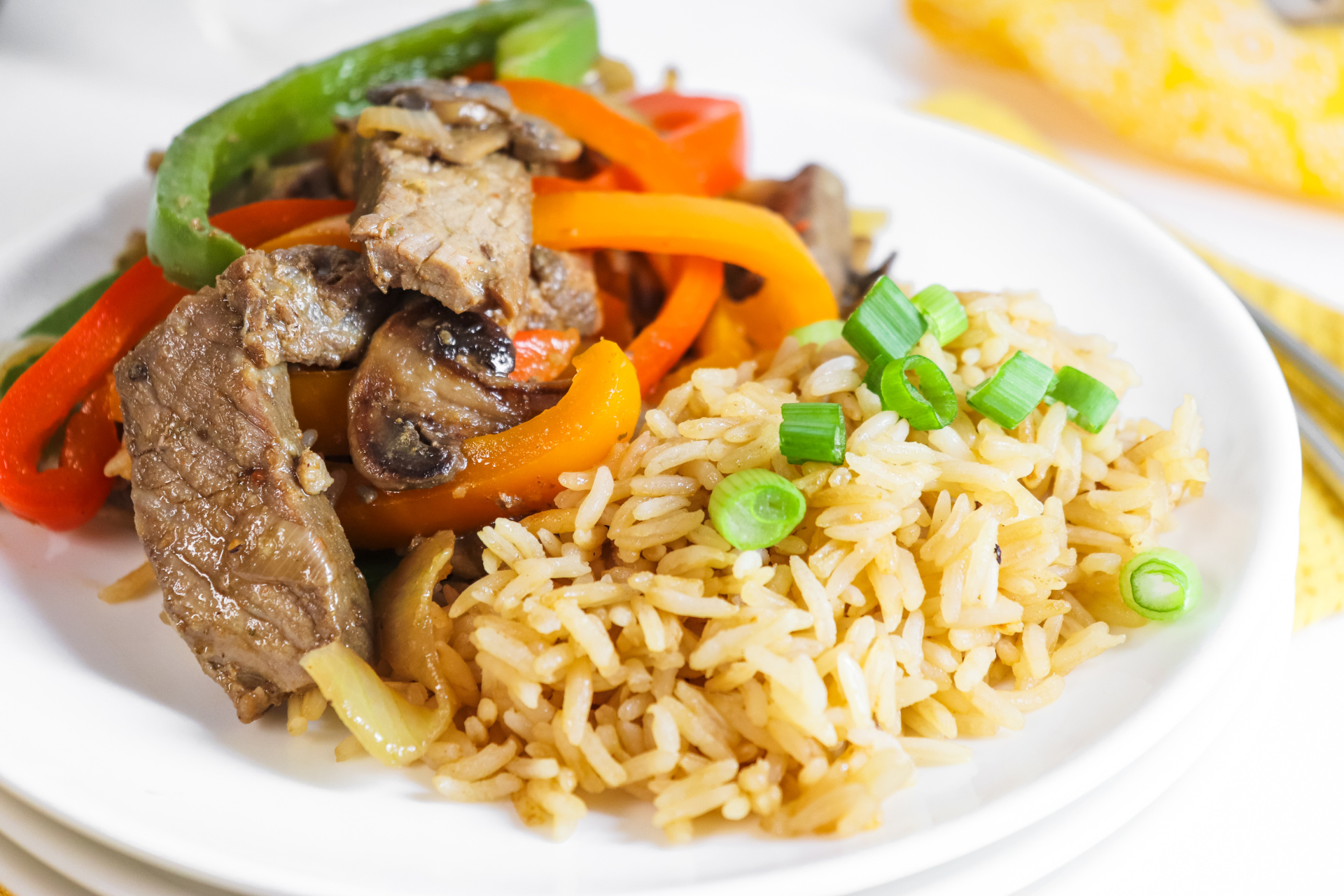 Are we ready to get cooking? I know I'm hungry 😉 Be sure to Print and Pin the recipe so you have it for later.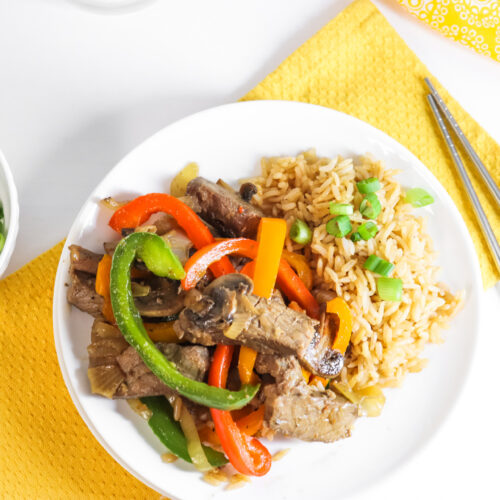 Pepper Steak Sous Vide Wok
Skip takeout and make this popular dish at home. Trust me, it tastes a million times better! Prep is under 15 minutes and the steak is cooked via sous vide so it's extra flavorful and tender.
Print
Pin
Rate
Equipment
Anova App for Sous Vide

free to download

2 (1 gallon) seal-able bags (Ziploc)
Ingredients
4

New York Strip Steaks

16

oz

Button Mushrooms

3

large Bell Peppers

1

bunch Green Onions

2

medium Yellow Onions

2

Garlic Cloves

3

tbsp

Olive Oil

2 tbsp for wok and 1 tbsp for rice

¼

tsp

Five-Spice Powder

1 ¼

cup

Beef Broth

¼ for wok recipe and 1 cup for rice

1

tbsp

Soy Sauce

1

tsp

Cornstarch

1

tsp

Sesame Oil

2

in

chunk fresh Ginger

½ tsp ground ginger can be used

1

tbsp

Spice Rub for steak

Korean BBQ, Chili Lime, Salt/Pepper for example

1

cup

rice

Jasmine Rice is great!

1

tbsp

butter
Instructions
Sous Vide Instructions
Rub steaks with spices of choice and place in seal-able bags. Squeeze out as much air as possible from the bags and seal.

Fill Sous Vide Tub with water per instructions.

Immerse steaks in the tub. I highly recommend buying the tub that comes with a rack. If you don't have the rack, just pin the top of the bag between the tub and the cover.

Place Sous Vide Machine in tub, plug in, and turn on.

Download the Anova App to your phone. The App has a lot of recipes to try and you can just select the one you like and click to start the Anova. For this recipe, I set the temp and time manually by just clicking "Set Temp" and type in 130. I set the "Edit Timer" to 6 hours. Click "Start Anova". Your phone does not need to stay near the machine and you can actually leave the house and run errands and it will still cook once it's set.
Wok Prep Instructions
Prep ingredients while the steaks cook and set aside in covered bowls.

Wash and slice mushrooms.

Peel and cut onions in half, slice onions into thin strips

Slice Peppers into long strips.

Zest the ginger if you are using fresh.
Sous Vide Complete
The Sous Vide will beep when the meat is finished. Just press the button to turn it off. Pull the meat out and thinly slice, removing any fat.
Rice Instructions
In a medium size saucepan, on medium high heat, heat 1 tbsp olive oil and 1 tbsp butter.

Rinse 1 cup rice and add to saucepan. Heat rice, stirring occasionally, until most rice grains become a light golden brown.

Pour in 1 cup beef broth and let it bubble and sizzle. Stir. Add in 1 cup water. Reduce heat to low and cover for 10 minutes. Check rice to see if all the liquid has been absorbed and rice is tender. Turn off heat and set aside.
Putting it all together
Turn wok to saute setting per instructions. Add 2 tbsp olive oil and sliced mushrooms. Saute mushrooms, stirring occasionally, until they turn golden brown.

Add onions, minced garlic, five-spice powder, and ginger. Stir together and saute 2 minutes.

Add pepper strips. Stir together and saute 1 minute.

Add beef slices and any juice from the bag. Stir together and saute 2 minutes.

In a small dish, whisk ¼ cup beef broth, 1 tbsp soy sauce, 1 tsp cornstarch, and 1 tsp sesame oil and add to wok. Stir together and turn off wok.

Serve with rice.
Nutrition
Calories:
666
kcal
|
Carbohydrates:
43
g
|
Protein:
44
g
|
Fat:
36
g
|
Saturated Fat:
13
g
|
Polyunsaturated Fat:
3
g
|
Monounsaturated Fat:
19
g
|
Cholesterol:
111
mg
|
Sodium:
534
mg
|
Potassium:
1106
mg
|
Fiber:
4
g
|
Sugar:
7
g
|
Vitamin A:
2314
IU
|
Vitamin C:
98
mg
|
Calcium:
62
mg
|
Iron:
5
mg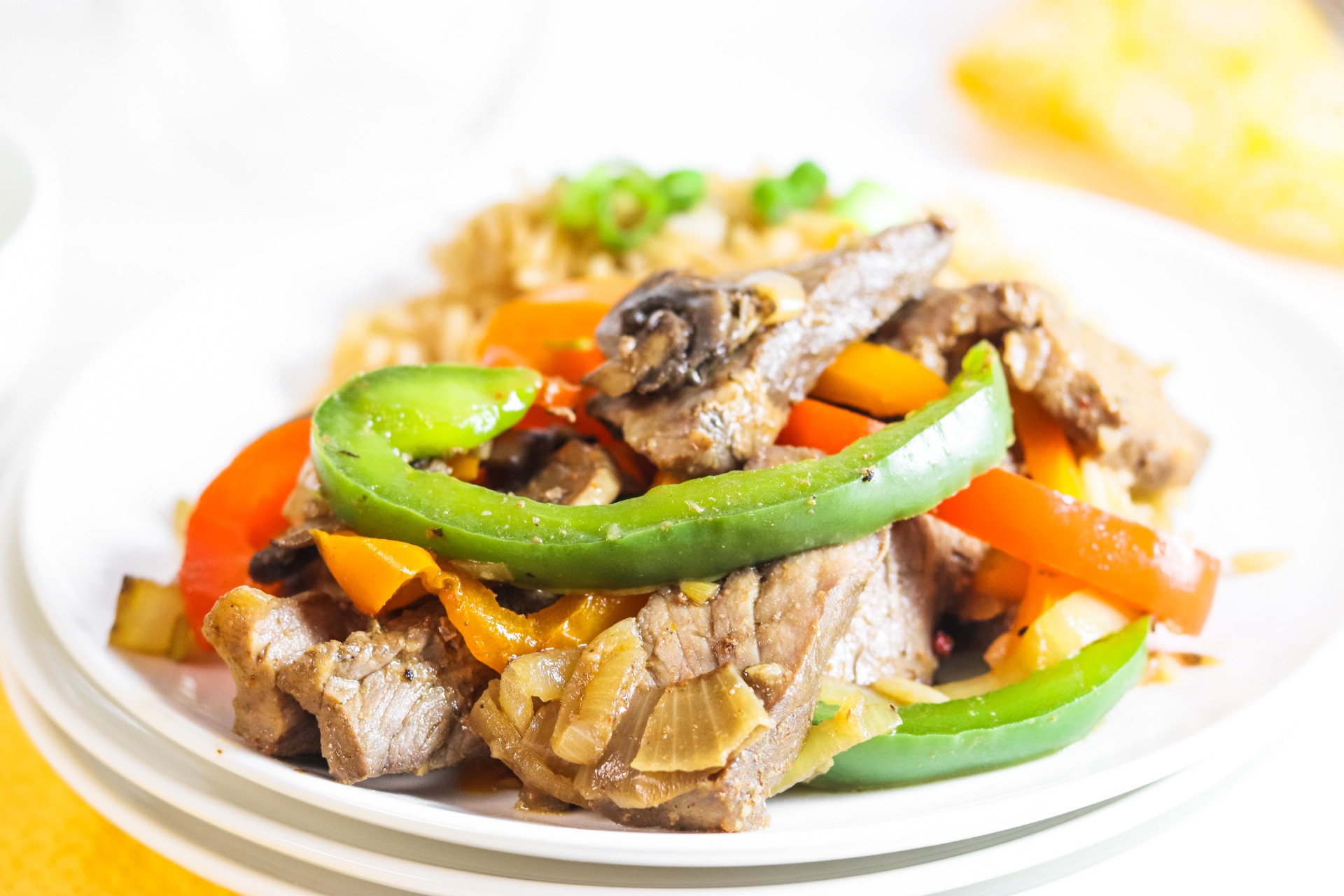 I hope you enjoy this Sous Vide Pepper Steak recipe as much as we do!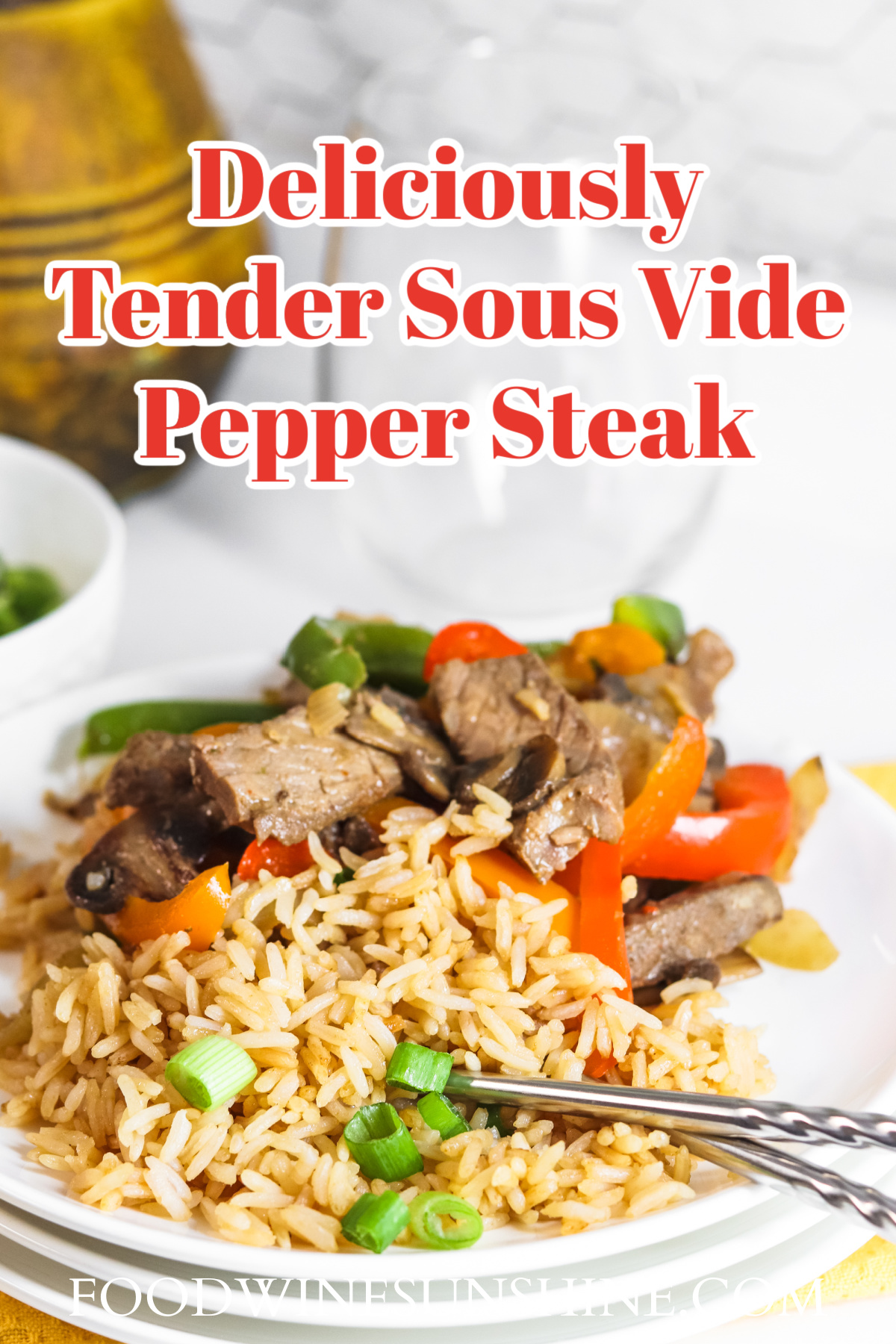 Have you ever cooked anything sous vide? What's your favorite?
Be sure to check out all my recipes on Food Wine Sunshine and follow along on Facebook, Twitter, Pinterest and Instagram.