(Last Updated On: September 2, 2020)
Pizza is a favorite meal to many. With all the different toppings and sauces available for pizza, you may wonder how to pair wine with pizza. I have the answers!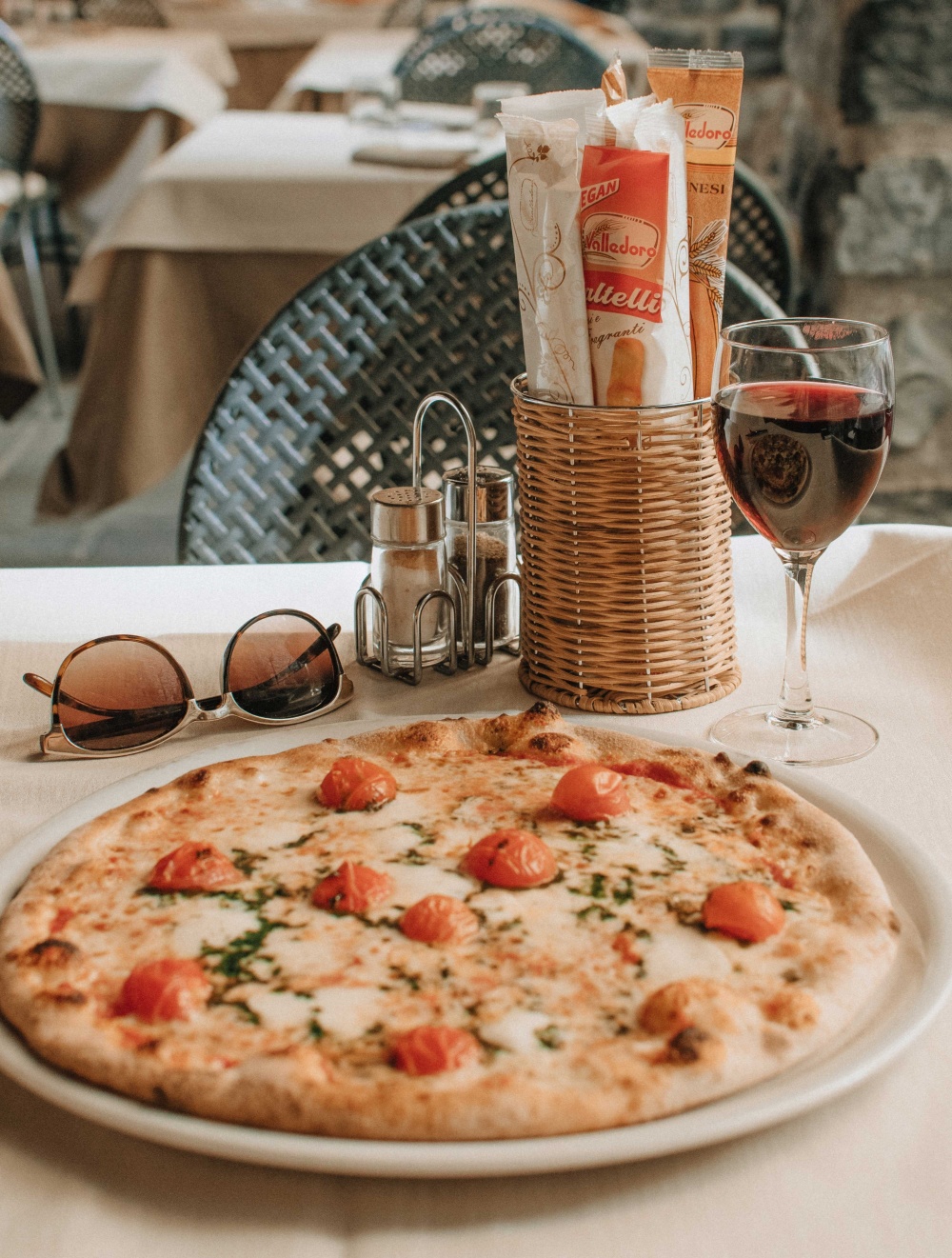 How To Pair Wine With Pizza
Pizza is a traditional meal for millions of people, and the sky is the limit when it comes to choosing toppings, crust and sauces— in fact, Americans eat up to 100 acres of pizza per day. But just because the meal isn't fancy doesn't mean that delicious glass of wine can't be included. Pizza and wine complement each other well; the key is to choose a red or white wine based on the toppings and sauce used.
Actually, it's pizza night in our house tonight. We have pizza once a week or once every other week, and the style and toppings are always changing. A favorite is BBQ chicken with pineapple pizza, or we go with something simple like a Margherita pizza. The kids almost always want just pepperoni, but there is something to be said for simply delicious pepperoni pizza. We almost always prefer a nice thin wood-fired pizza, but once in a blue moon I crave a nice deep dish pizza…and I'll eat all the corners please.
Pairing Wine With Tomato-Based Pizza
Pizza that is loaded with a rich tomato-based sauce, thick juicy slices of tomato (such as Margherita pizza), or such fresh herbs as basil, oregano, parsley, and cilantro pair fantastic with bold, fruity, rich wines with mild tannins. This is because the acidity in the tomatoes works well with the wine's fruit notes and balances out the tannins. Try Barbera, a medium-bodied red from Italy's Piedmont region. You can also try a lighter white wine, like a Pinot Grigio since it's crisp and will not overpower the flavor of the pizza.
Wine For Pizza With White or Pesto Sauce
Nowadays, experimental sauces for pizza are very popular. Alfredo sauce, pesto sauce, tzatziki sauce, Chinese peanut sauce…..all of it tastes delicious on pizza. White wines work well with this type of pizza. For the pesto, choose whites with floral and earthy notes, such as a Chardonnay or Riesling, while alfredo sauce needs a white with a little spice, such as a Sauvignon Blanc with peppery notes. Don't forget to chill your wine slightly before serving.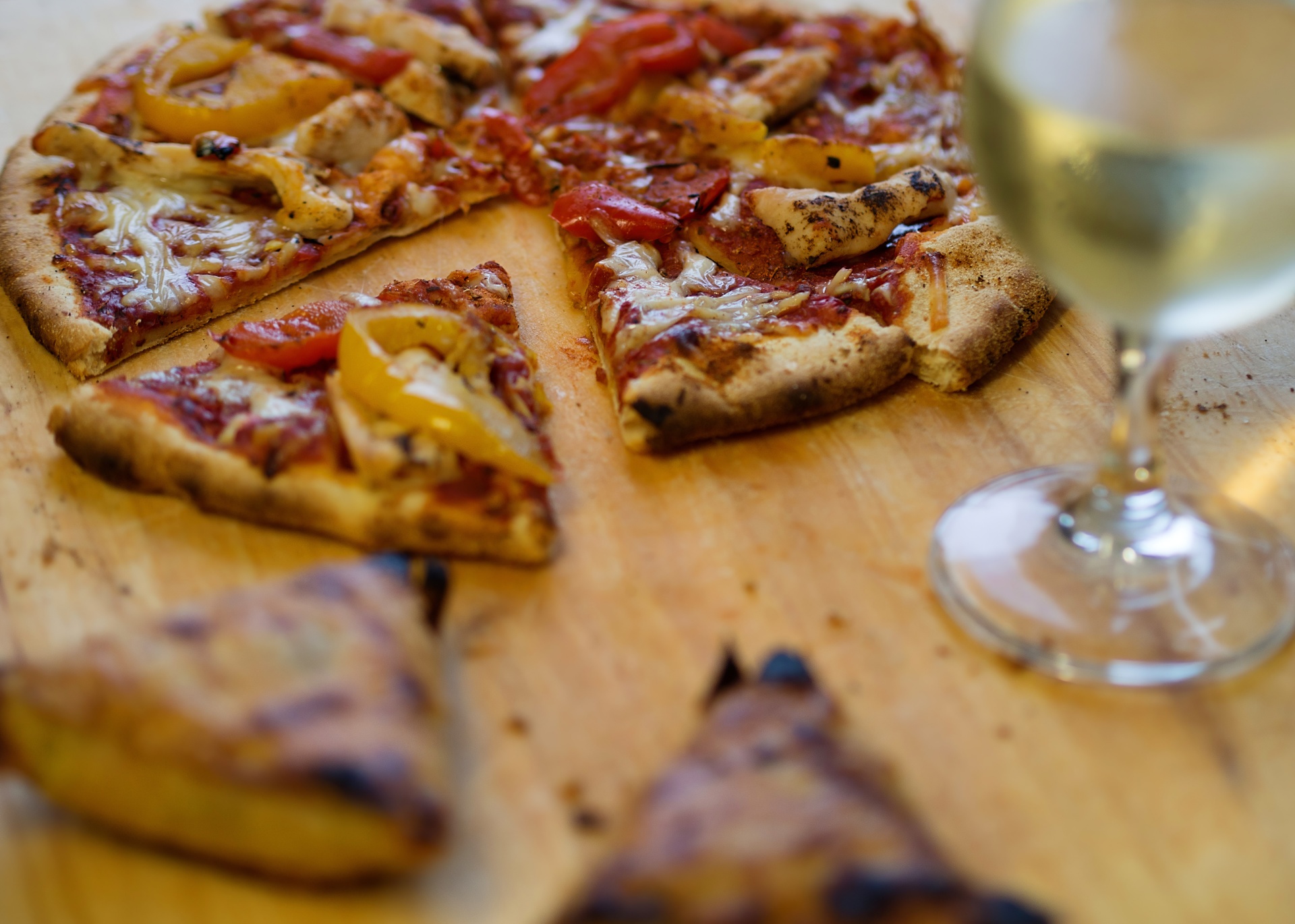 Pairing Wine With Pepperoni Pizza
For pizzas piled high with tangier, spicy meats like pepperoni, sausage (particularly Italian proteins) and salami, try red wines that are full-bodied and earthy. Wines from southern Italy, such as a Primitivo, usually pair well with this favored pizza, because of the less spicy notes and velvety texture. You can also try a nice Cabernet Sauvignon.
The Best Wine For a Vegetable Lover
Since pizzas layered with vegetables make for a fairly light slice, it is smart to aim for a lighter variety of wine. Olives, onions, peppers, lettuce, broccoli, zucchini, artichoke, garlic, and so forth are common vegetable options for pizza. Try a Rosati, an Italian term for a dry rose, to compliment the lighter variety of pizza.
Pairing Wine With Cured Meats and Peppery Greens
Many pizzas, particularly in European regions, pile on the prosciutto, dried red pepper, and peppery greens like arugula. It can be difficult to find a wine to pair with this type of pizza because red is the best option—however, many reds can border on being too bold, and this will overwhelm your taste buds. A rich, savory Chianti is the way to go here, as the slight spice notes in the wine will pair well with the toppings.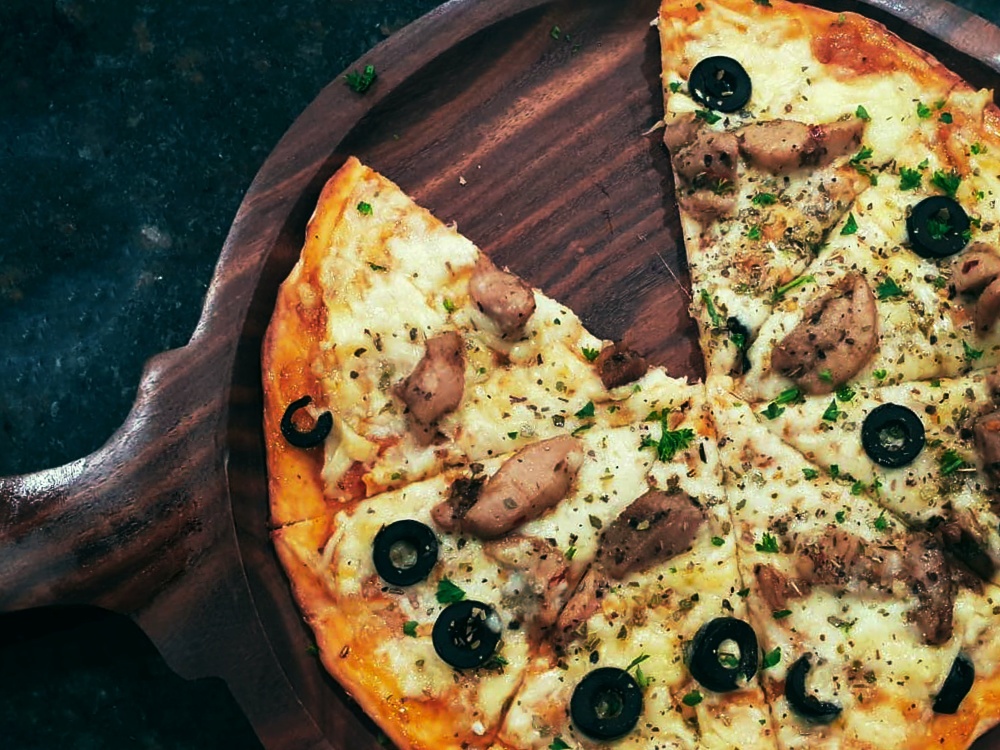 The Best Wine for Earthy Pizza Toppings
Mushrooms are a favorite of many pizza lovers, with a wide variety of earthy components available for the taking. There's no better pairing than a Pinot Noir with mushrooms (with a little shake of oregano)— it's a match of earthiness and spice made in pizza heaven. Look for a bold Pinot that has notes of chocolate, spice or pepper, or oak.
Keeping the idea in mind that one must balance the flavors of food and wine is an easy method of pairing the two. So forget the glass of soda or cold beer, and try your hand at matching up wine with you pizza for a match made in heaven.
What wine do you like to pair with your favorite pizza?
Learn more about Food and Wine Pairing Basics.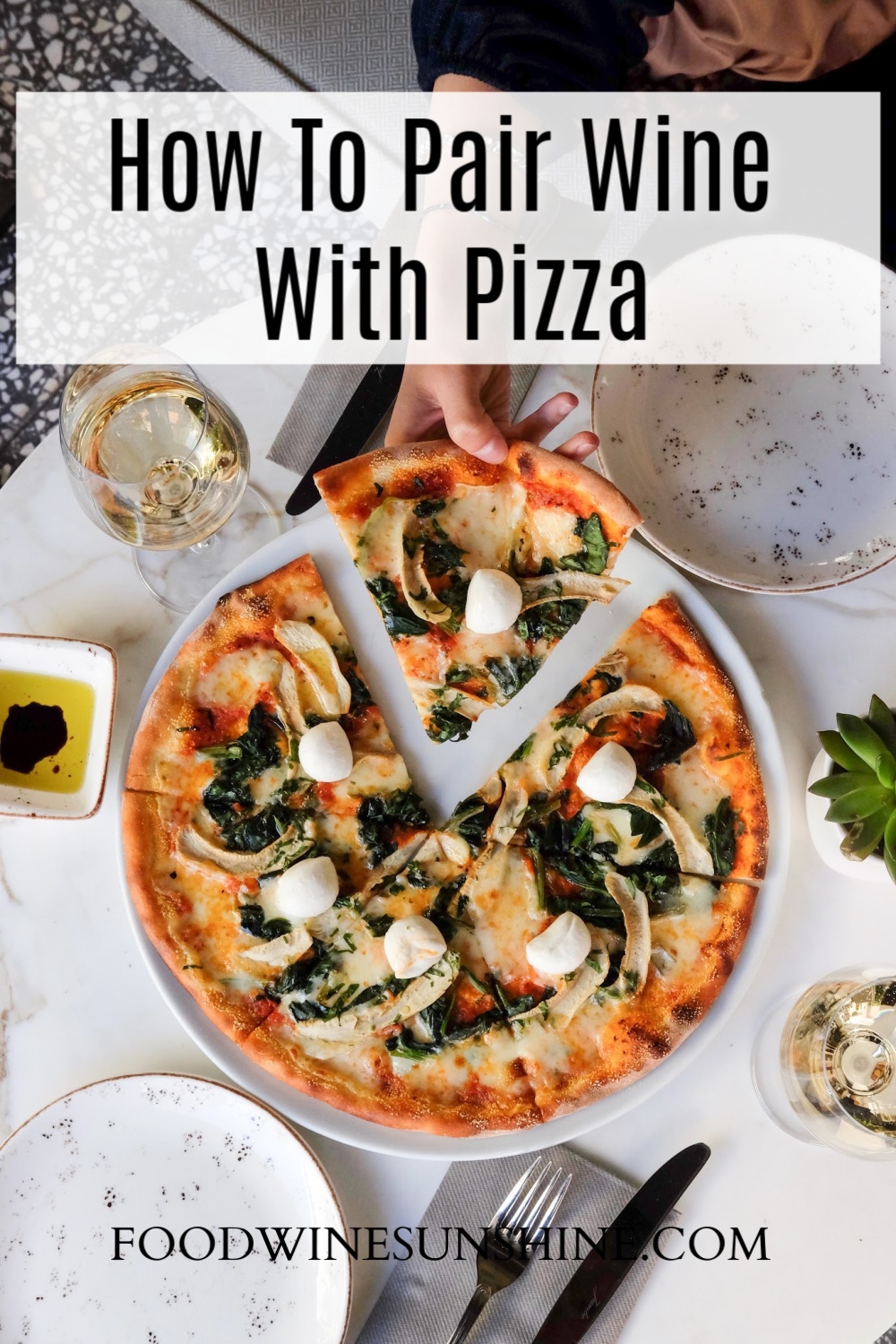 Be sure to check out Food Wine Sunshine on Facebook, Twitter, Pinterest, and Instagram for more wine tips, cocktails, healthy recipes, and fun things to do.