(Last Updated On: June 5, 2020)
Being a Dairy Farmer is a non-stop job, 365/24/7. However, it is also a way of life that families, like the Lussier family, are very passionate about. Discover what a day in the life of a dairy farmer is like. While this post is sponsored by Florida Dairy Farmers, all opinions and my love of dairy and farming are my own.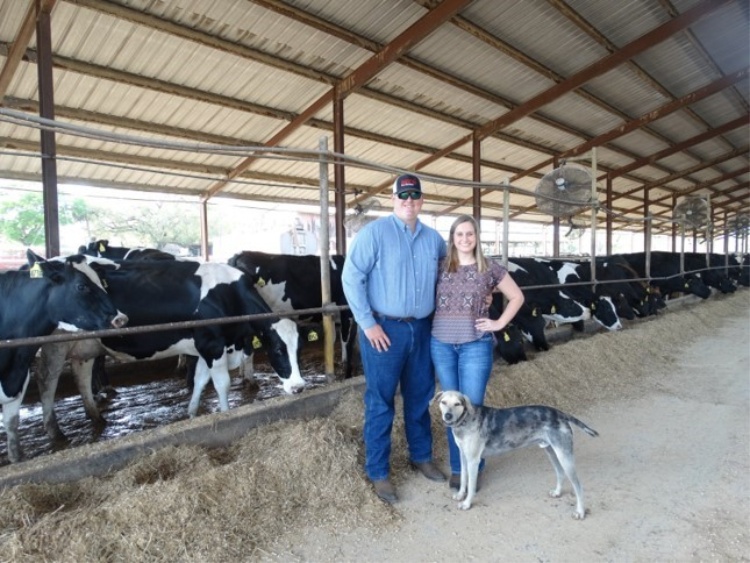 A Day In The Life Of A Dairy Farmer
Have you ever been in the grocery store and, before you grabbed a gallon of milk, a block of your favorite cheese or a container of your favorite ice cream, stopped to wonder where exactly those products came from? Probably not. And you're not alone. We go to the store to get the things we need, and the things our families need, but we don't always think about where those things come from.
When you know where your food comes from, you can make more informed decisions to maximize the freshness and nutritional value. When you buy local, you are also supporting local businesses and your local economy.
Today I am going to share with you where some of that milk comes from that you grab off the shelf at your local Publix here in Florida. Hopefully this will help you have a better understanding where your food comes from and how you are supporting local, family farmers.
Lussier Dairy, located in Hawthorne, Florida, is owned and operated by the Lussier family. I had the incredible opportunity to interview Kevin Lussier about what it is like to be a dairy farmer, and it was evident in the first few minutes of the interview that Kevin is very passionate about being a dairy farmer. In fact, so much so that was one of my first questions.
When I asked Kevin Lussier why he liked being a Dairy Farmer he said: I just love the way of life, I know that every day I am giving back to the community which helps the nation as a whole. Being a dairy farmer is not just a job, it is a way of life, a livelihood that I am proud to be a part of.
Every single day Kevin, his family, and their 10 full-time employees work hard to ensure that the cows are happy.
Yes, EVERY. SINGLE. DAY. Dairy farming isn't a job that is Monday – Friday from 8:00 AM – 6:00 PM, it is 365 days a year, 24 hours a day, 7 days a week. But Kevin is okay with that, in fact, he loves it. He grew up on a farm and he is looking forward to raising his kids on the farm with his wife, Shelby.
On the Lussier Dairy Farm, the first milking shift starts at 3:30 AM. Kevin arrives at the farm around 6:00 AM to check on the cows to make sure that they are happy, healthy and that everyone is eating well. Calves and mommas are checked on a bit more frequently throughout that day, because all mommas and babies need a little extra love 🙂
By 7:00 AM Kevin is doing some of his daily chores, whether that be bailing hay or cleaning the barns. By noon, it's time for lunch, but the cows come first. Cows are fed 2 – 3 times a day, and since they like structure and routine, those times are the same every day. Again, it's most important to Kevin (and all Florida Dairy Farmers) that their cows are happy and well cared for.
Cows are milked again in the late afternoon, approximately 12 hours from the first milking. Trucks come every day about 10 months out of the year to deliver the 35,000-38,000 lbs of fresh milk to places such as Publix, Dean Foods and Borden. In the summer, the amount of milk production slows a little due to the heat so trucks come every 36 – 48 hours. Let's be honest, no one (even cows) likes to work too much when it's hot outside. Again, the most important thing to Kevin and his family is the happiness and well-being of their 600+ cows.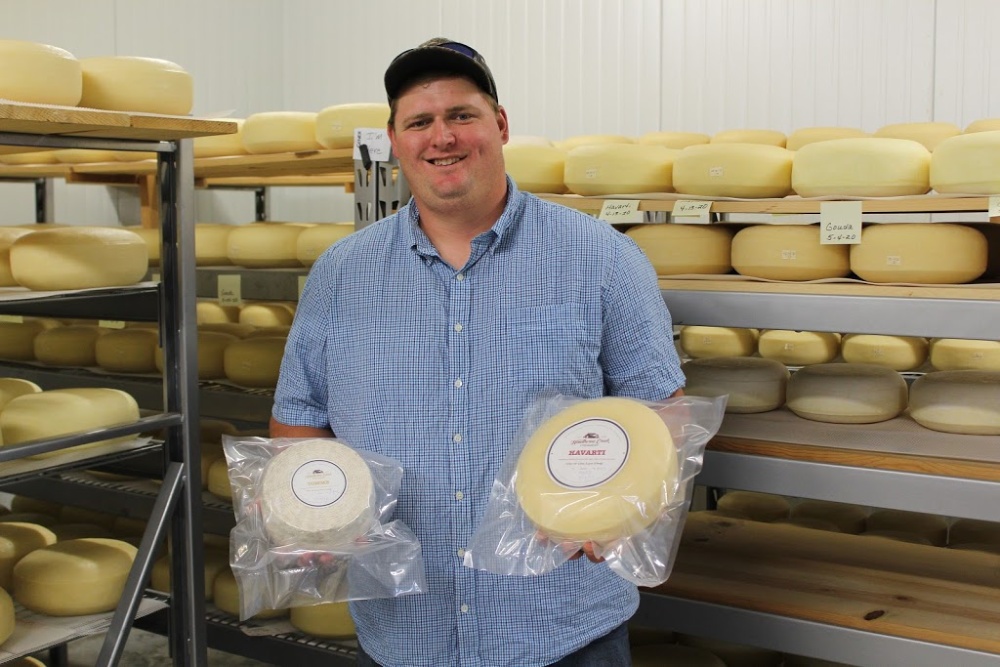 In his spare time, Kevin can be found at his new love, a local creamery. Actually, Kevin doesn't have any spare time, he just figured out how to get more hours in a day 😉 Kevin and his wife came across the incredible opportunity to diversify their love of dairy by purchasing a creamery from a local couple that were looking to retire. Here, one of the past owners now helps with the cheese making process where they create 4 incredible types of cheese: Gouda, Havarti, Swiss and Tomme. I asked Kevin which was his favorite and he said if he had to choose, it would be the Gouda, he describes it as extra creamy and buttery. Can I have some please?! I also had to ask what Tomme was. I consider myself pretty knowledgeable when it comes to cheese (because I could basically live off of cheese, bread, chocolate and wine 😉 ) but I hadn't heard of Tomme. Kevin said that it is similar to brie as it melts beautifully and has a rich earthy taste. Can someone pass me some crackers please? Yum! There are also cows located at the creamery, these are the cows where the milk comes from to make the cheese.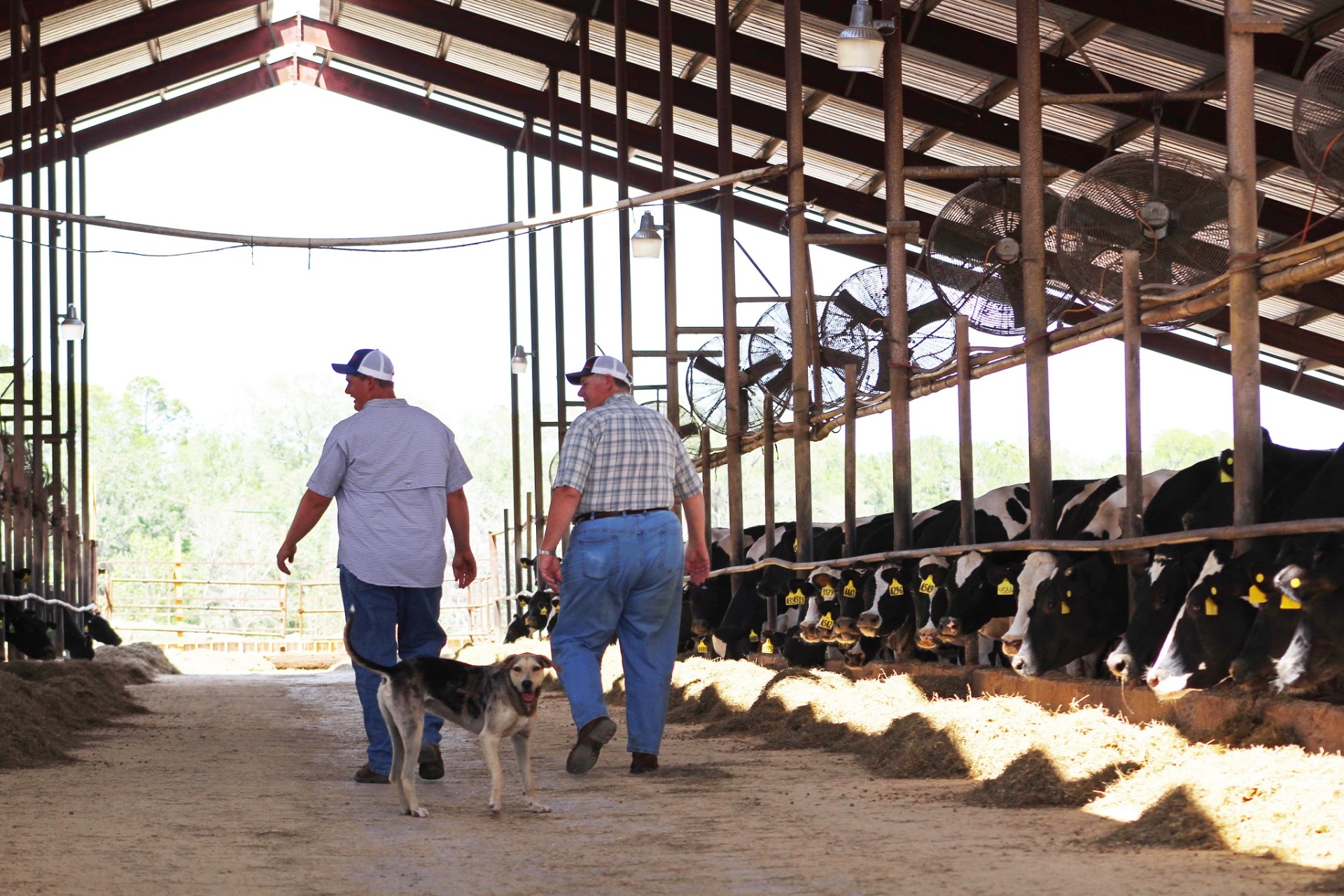 Kevin, along with his Dad, tend to the cows at both locations 100% of their time. Not because it's a job, but because it's a way of life that they love. They love the cows, they love their farm, they love how they help us get nutritious, fresh milk every single day.
Learn more about the Lussier Family and Lussier Dairy. I also strongly encourage you to learn more about Florida dairy farms and their farm practices. I have a huge appreciation for what dairy farmers, like Kevin Lussier, do for us and our families. It is not an easy job, but you can tell that they wouldn't have it any other way. It's their life. It's their passion. And for that, I couldn't be more thankful.
Want to learn a bit more about why milk is awesome? Check out these Health Benefits Of Milk.
Have you ever been to a Dairy Farm? I hope now you have a better understanding of what a day in the life of a dairy farmer is like.
Be sure to check out Florida Milk for more dairy-licious recipes and follow them on Instagram, Facebook and Pinterest.
And while you are at it, check out all the healthy recipes on Food Wine Sunshine and follow me on Facebook, Twitter, Pinterest and Instagram for more FOOD WINE AND SUNSHINE.