(Last Updated On: December 1, 2023)
Looking for a simple, yet refreshing cocktail to enjoy this fall? This Pummelo Gin Fizz is a citrusy twist on a traditional Gin Fizz. While this post is sponsored by Noble Citrus, all opinions and my love of Florida agriculture and pummelos are my own.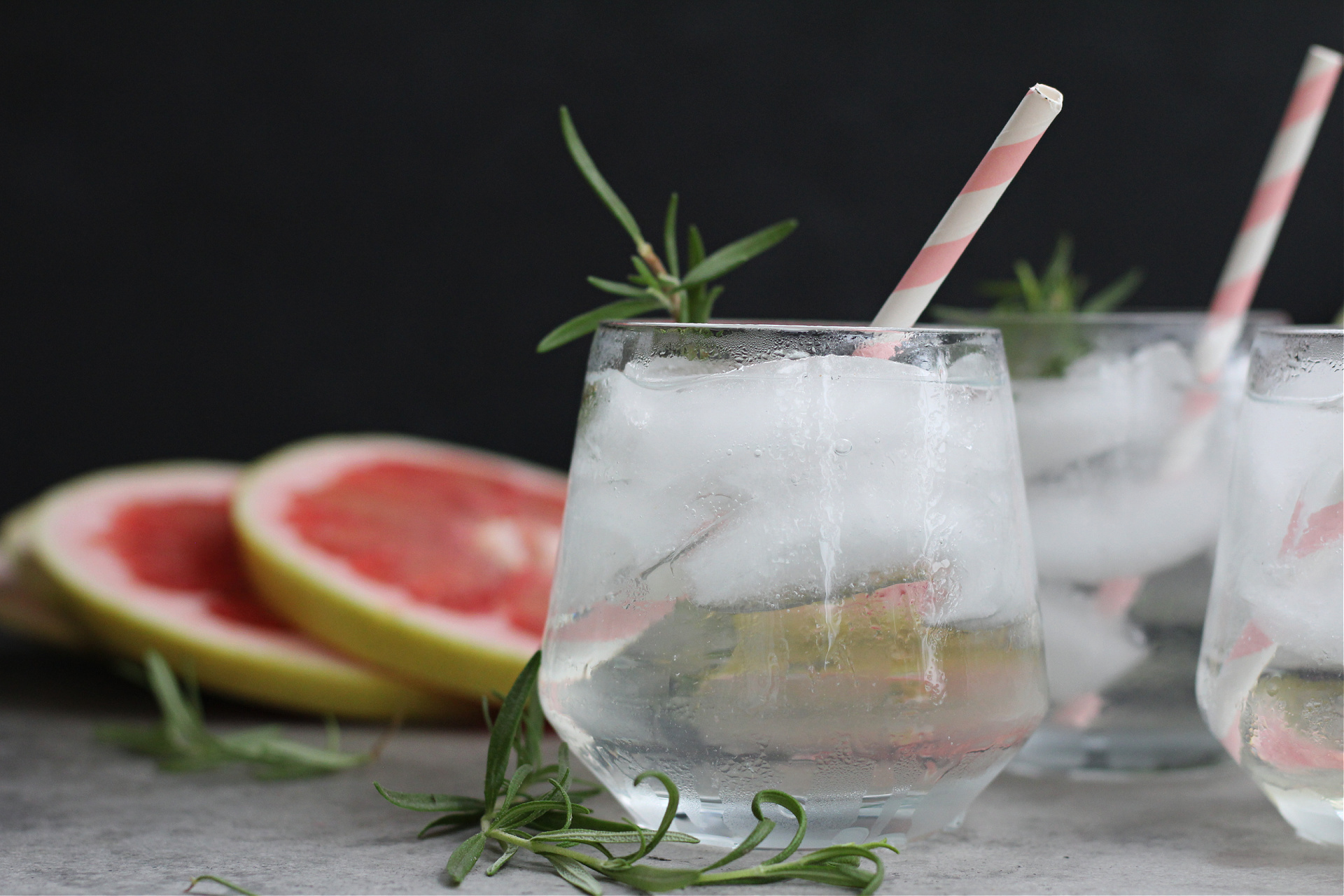 It's Florida Starburst Pummelo Season and what better way to celebrate than with this sexy Pummelo Gin Fizz cocktail?
So, what exactly is a pummelo?
Well, I've been chatting about them for a few years with you all, so hopefully you remember that they are the BIGGEST, MOST AMAZING FLORIDA CITRUS. Noble Citrus here in Winter Haven has rows and rows of citrus trees that grow the Florida Starburst Pummelo. They are then hand-picked and shipped to your local grocer so that you can enjoy them from October to January. The Florida Starburst Pummelo may remind you of a grapefruit, but it is larger, juicier, sweeter and they are actually less acidic than grapefruit.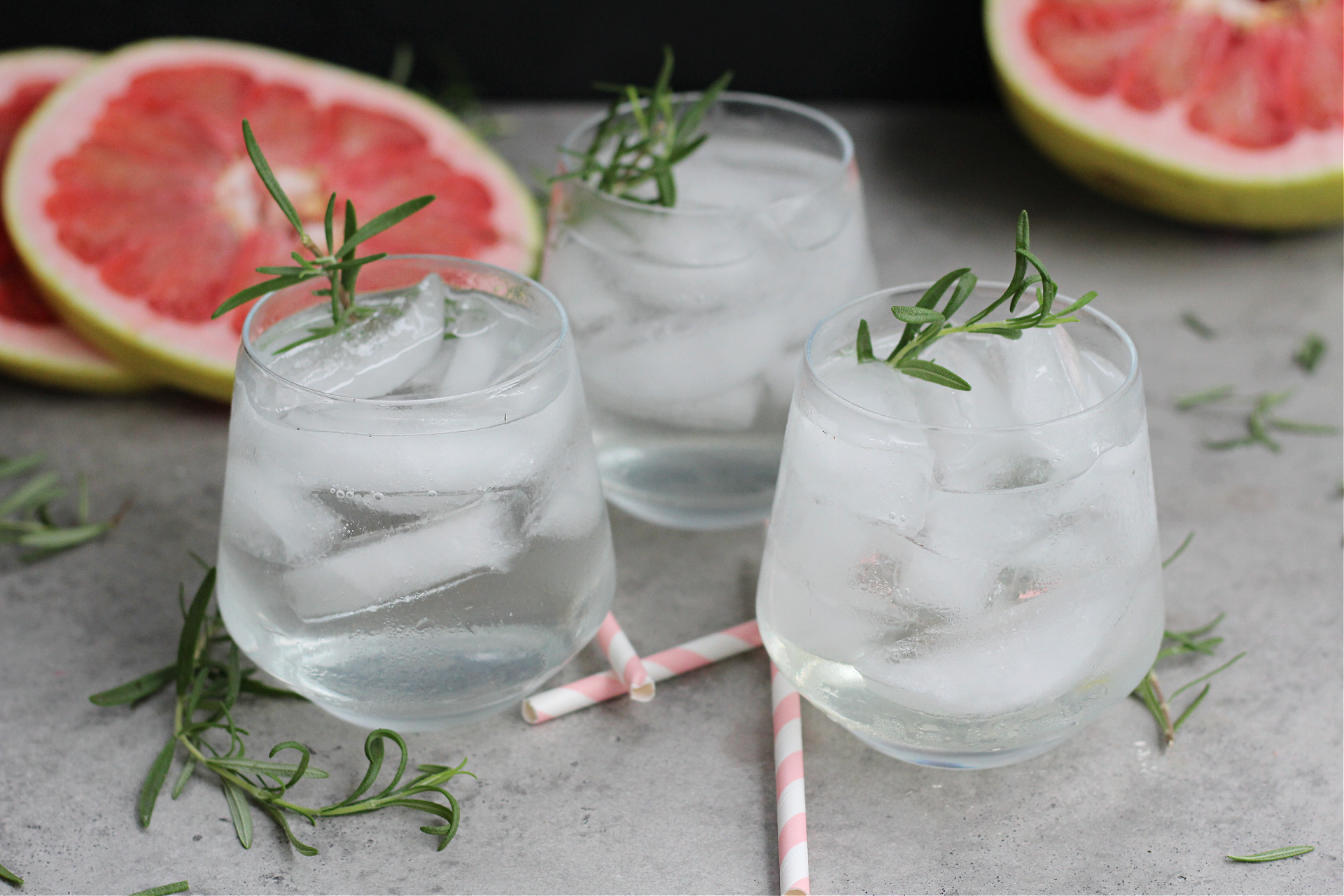 Alright, so what is a gin fizz cocktail?
A Gin Fizz is a classic cocktail that's both refreshing and slightly tart, featuring gin as the primary spirit. It's known for its frothy and effervescent texture, achieved by vigorously shaking the ingredients with ice and topping the drink with carbonated water (soda water or club soda).
Here's a basic recipe for a Gin Fizz:
Ingredients:
2 oz (60 ml) gin
3/4 oz (22 ml) fresh lemon juice
1/2 oz (15 ml) simple syrup (equal parts water and sugar)
1 egg white (optional, for frothiness)
Soda water (club soda) to top
Ice
Lemon twist or slice, for garnish
Instructions:
In a cocktail shaker, combine the gin, fresh lemon juice, simple syrup, and, if desired, the egg white.
Add a handful of ice to the shaker, and shake vigorously for about 10-15 seconds. This not only chills the cocktail but also creates frothiness from the egg white.
Strain the mixture into a highball or Collins glass filled with ice.
Top off the glass with soda water, leaving about an inch of space at the top.
Give it a gentle stir to combine the ingredients.
Garnish with a lemon twist or slice.
The egg white is an optional ingredient that gives the Gin Fizz its characteristic frothy head. If you choose to use it, make sure to shake the cocktail thoroughly to create the foam. If you prefer a vegan or egg-free version, you can omit the egg white; the drink will still taste delicious but won't have as much foam.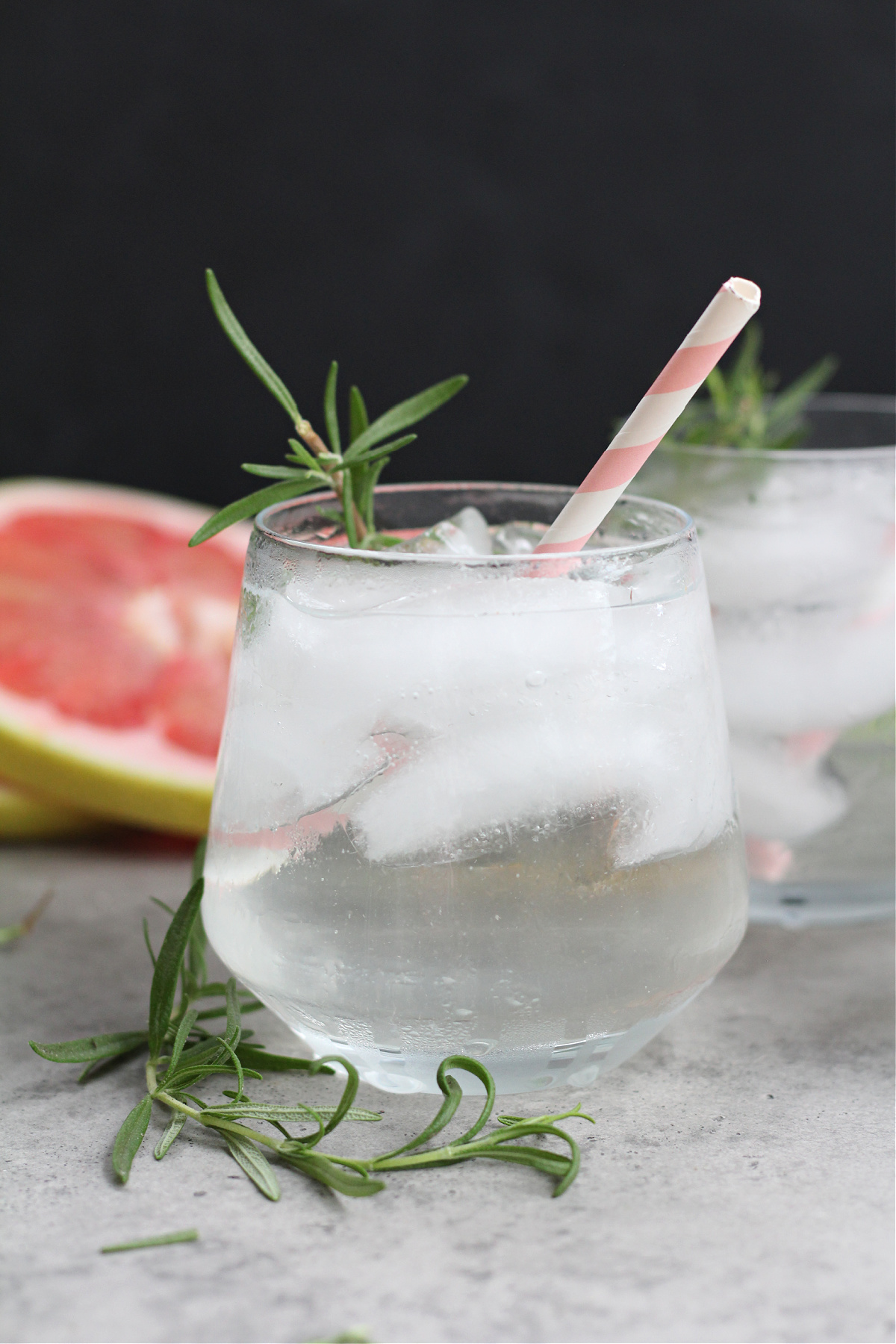 So, why make a Pummelo Gin Fizz?
Well, the Pummelo Gin Fizz is a variation of the classic Gin Fizz cocktail that incorporates pummelo simple syrup juice for a citrusy twist. I didn't do the egg white in my recipe, adding egg white just wasn't up my alley.
The combination of gin's botanicals, pummelo's mild tartness, and the effervescence of soda water creates a refreshing and flavorful cocktail.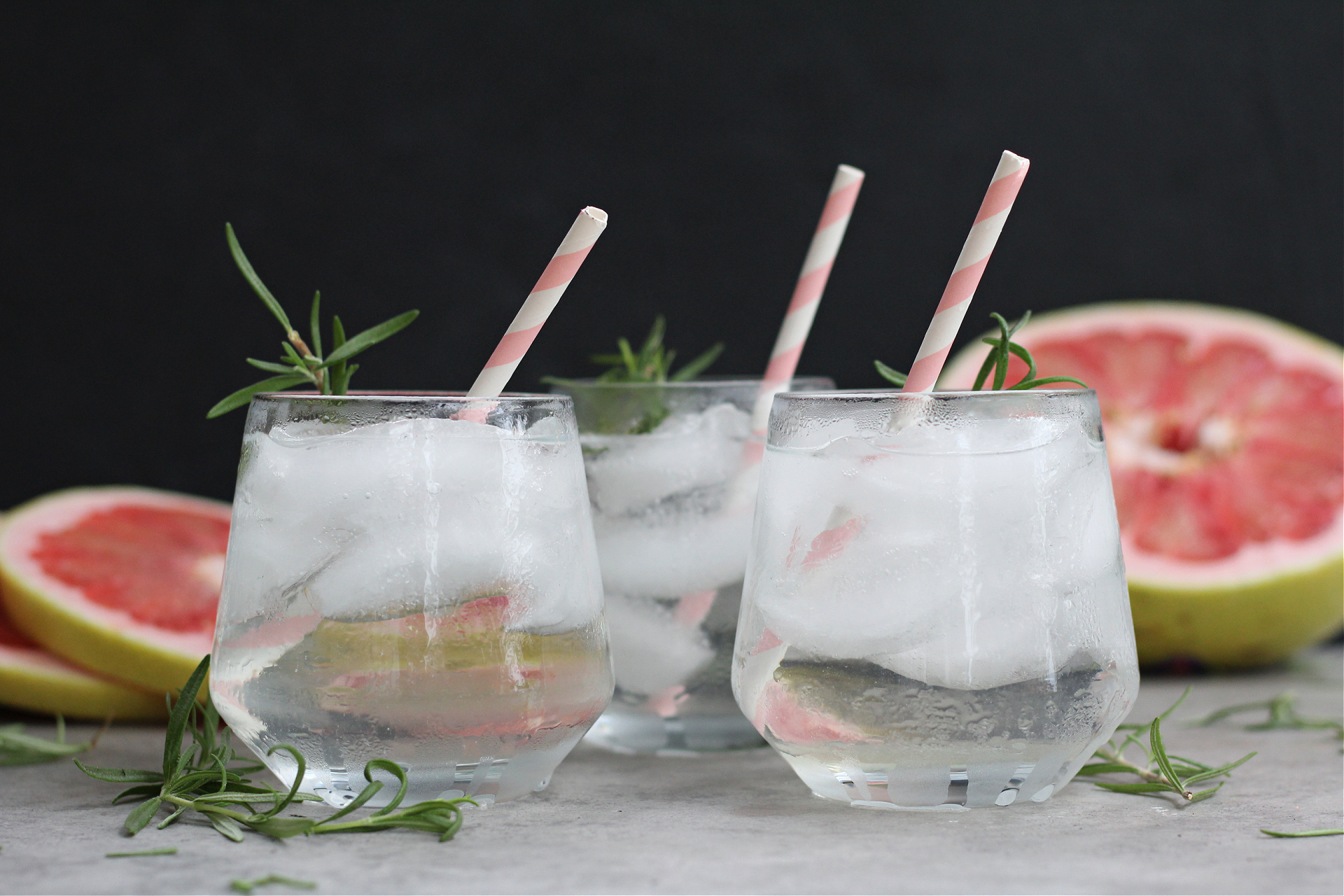 Why add rosemary to your Pummelo Gin Fizz
Honestly, I did it because it's growing like crazy in my garden and it's pretty! But, adding rosemary to a Pummelo Gin Fizz is an easy way to enhance the flavor profile and aroma of the drink. Rosemary is a fragrant and aromatic herb with earthy and pine-like notes that can complement the citrusy and botanical qualities of the cocktail.
To incorporate rosemary into a Pummelo Gin Fizz cocktail, follow these steps:
Muddle a small sprig of fresh rosemary in the bottom of the glass or shaker to release its aromatic oils.
Proceed with the standard Pummelo Gin Fizz recipe, which typically includes gin, pummelo simple syrup, and soda water or sparkling water.
Garnish the finished cocktail with an additional sprig of fresh rosemary for both aroma and visual appeal.
Keep in mind that the intensity of the rosemary flavor can vary depending on how much you muddle and how long you let it infuse in the cocktail. You can adjust the amount of rosemary to suit your taste preferences, from a subtle hint of aroma to a more pronounced herbal flavor.
Want to experiment with pummelo cocktails and that pummelo simple syrup? I got you!
To make pummelo simple syrup, follow this recipe add in the rind of the pummelo to the pot and then remove it once you remove the pot from the heat.
Pummelo, with its sweet and mildly tart flavor, pairs well with a variety of alcoholic beverages, particularly in cocktails.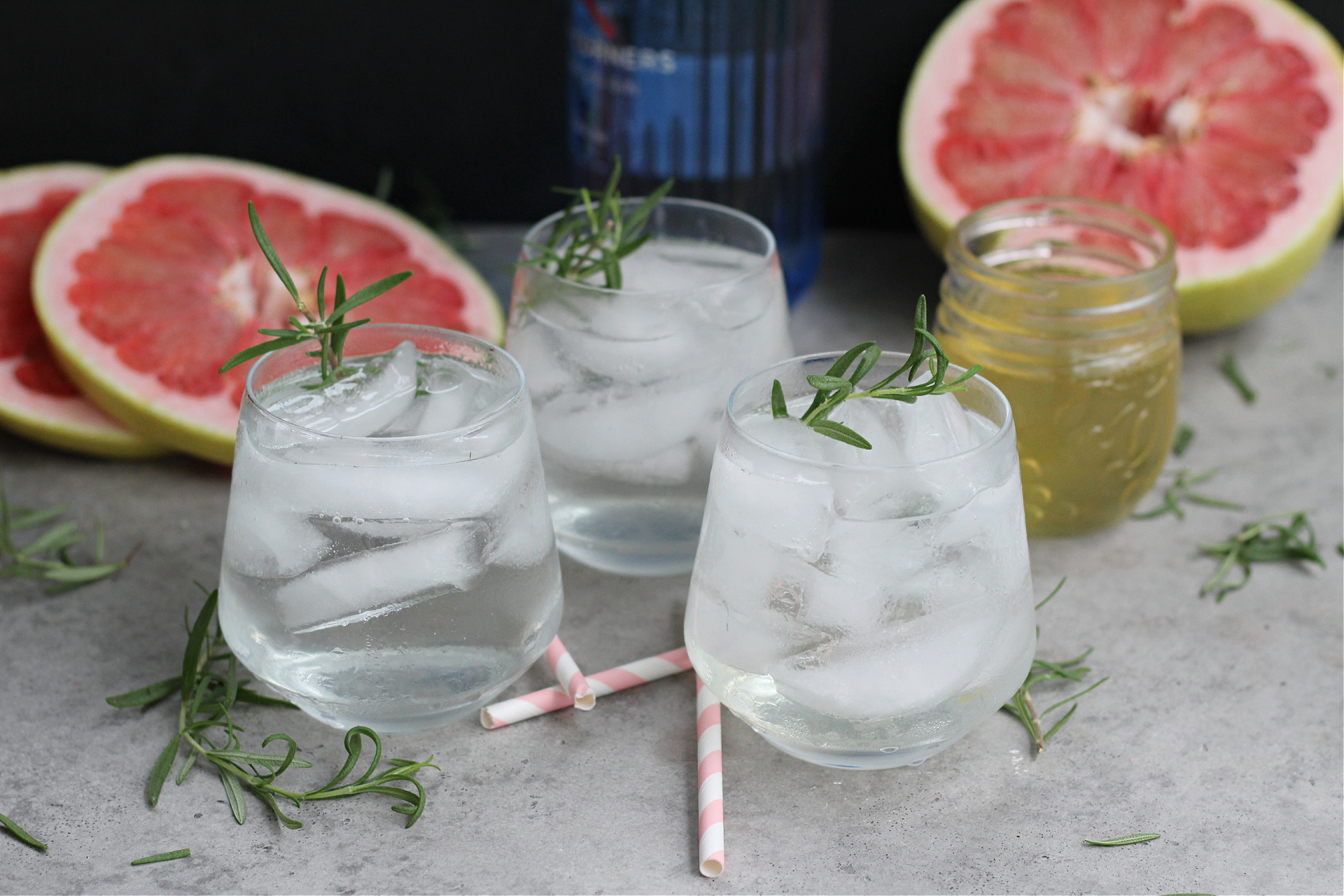 Here are some alcoholic options that complement the flavor of pummelo:
Vodka: Vodka's neutral flavor allows the pummelo's natural sweetness and citrus notes to shine. You can create a refreshing pummelo vodka cocktail with pummelo juice, vodka, and a splash of soda or tonic water.
Gin: Gin's botanicals, including juniper and various herbs and spices, can enhance the citrusy profile of pummelo. A pummelo gin and tonic or a pummelo Collins (similar to a Tom Collins) are excellent choices.
Rum: Light rum or white rum can provide a tropical and fruity backdrop for pummelo. Consider mixing pummelo juice with rum, a bit of lime juice, and a touch of simple syrup for a delightful cocktail.
Tequila: Tequila, especially silver or blanco tequila, pairs nicely with pummelo's citrus notes. A pummelo margarita or a pummelo Paloma (with grapefruit soda) can be delicious options.
Prosecco or Champagne: Pummelo juice can be used to create a citrusy and bubbly brunch cocktail when mixed with Prosecco or Champagne. Add a splash of orange liqueur for extra complexity.
Sake: For a unique twist, you can mix pummelo juice with sake. This combination can result in a refreshing and slightly exotic drink.
Beer: Light, crisp beers, such as lagers or wheat beers, can be a good match for pummelo. You can create beer cocktails by adding pummelo juice and a splash of soda to beer.
Cointreau or Triple Sec: These orange liqueurs can enhance the citrusy flavors of pummelo-based cocktails. They work well in drinks like a pummelo sidecar or a pummelo martini.
Whiskey: While whiskey is less commonly paired with pummelo, the combination of a citrusy pummelo twist and a mild whiskey, such as bourbon, can be surprisingly enjoyable. Try it in a pummelo whiskey sour.
Remember to balance the sweetness and acidity of pummelo with the alcohol and other ingredients in your cocktails. You can also experiment with herbs, spices, and other flavor enhancers to create unique and customized pummelo-based drinks that suit your taste preferences.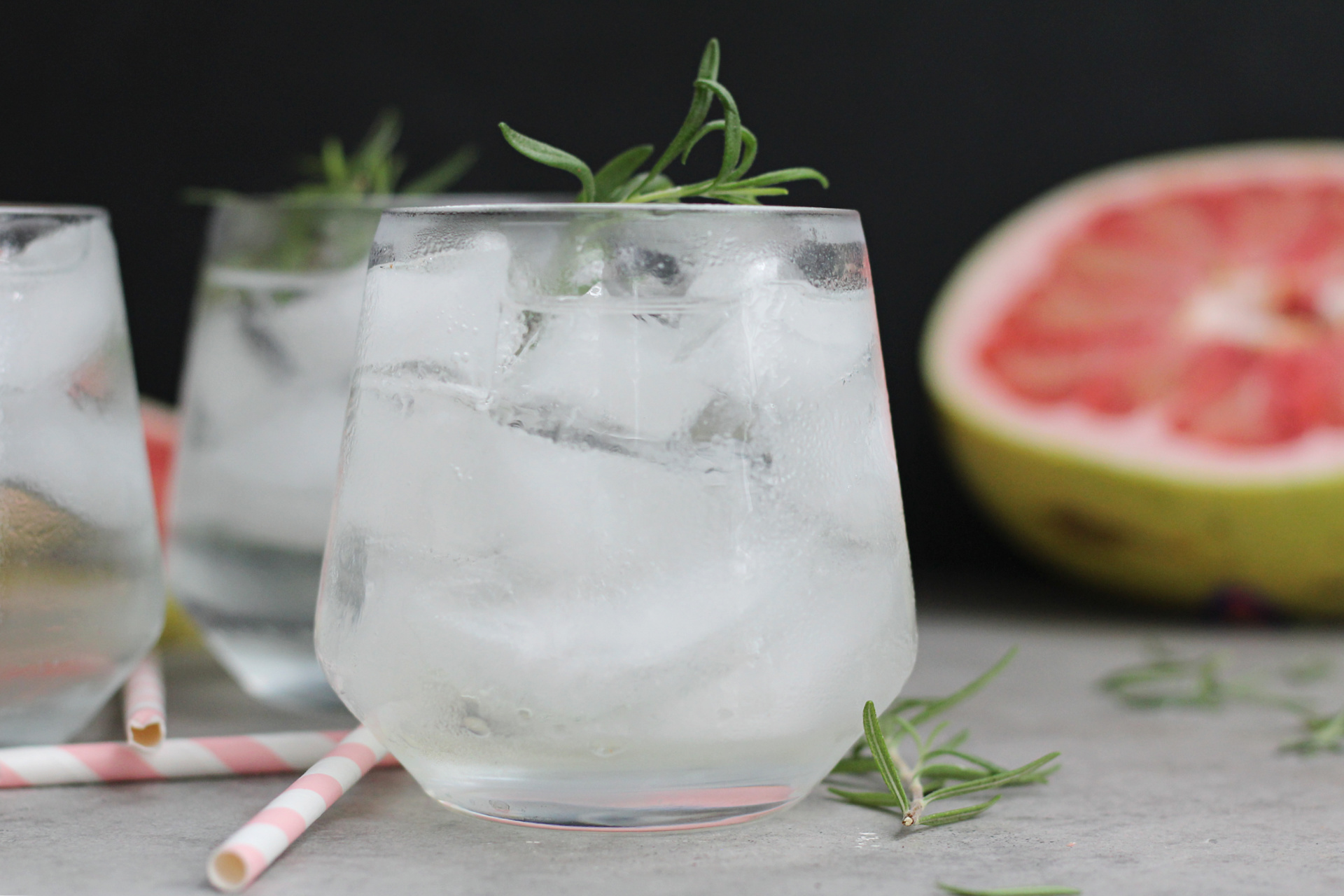 Ok, are we ready to make that cocktail yet? Here's how to make a Pummelo Gin Fizz. Be sure to print and pin the recipe…and make two! Cheers!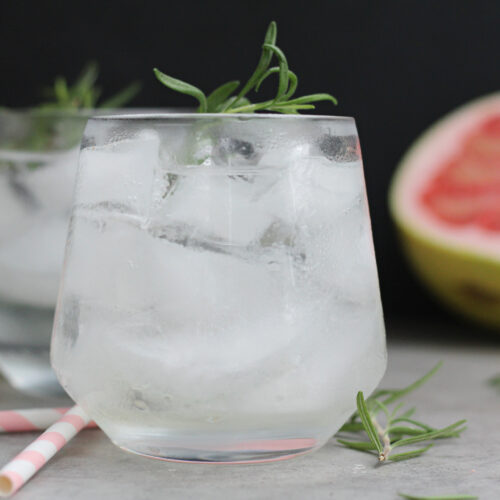 Pummelo Gin Fizz
Easy to make, refreshing, and the perfect way to celebrate Florida Starburst Pummelo season! Cheers to this Pummelo Gin Fizz Cocktail!
Print
Pin
Rate
Ingredients
2

oz

gin

2

tbsp

pummelo simple syrup

Soda water or sparkling water

Ice

Rosemary sprig

for garnish – muddle to increase the flavor
Instructions
Add the pummelo simple syrup to your favorite glass

Pour in the gin

Stir

Add ice

Top with sparkling water

Add rosemary

Enjoy!
Nutrition
Calories:
239
kcal
|
Carbohydrates:
29
g
|
Sodium:
24
mg
|
Potassium:
26
mg
|
Sugar:
29
g
|
Calcium:
5
mg
|
Iron:
1
mg
Learn more about Starbust Pummelos and Noble Citrus online and be sure to follow on Facebook, Instagram and Twitter to stay up to date with all things Noble Citrus.
While you are at it, follow me too! In fact, check out all my recipes and follow along on Facebook, Twitter, Pinterest and Instagram.