(Last Updated On: November 27, 2023)
Celebrate Halloween with this easy to make Halloween Punch. Dry ice added for a fun affect! Please drink responsibly.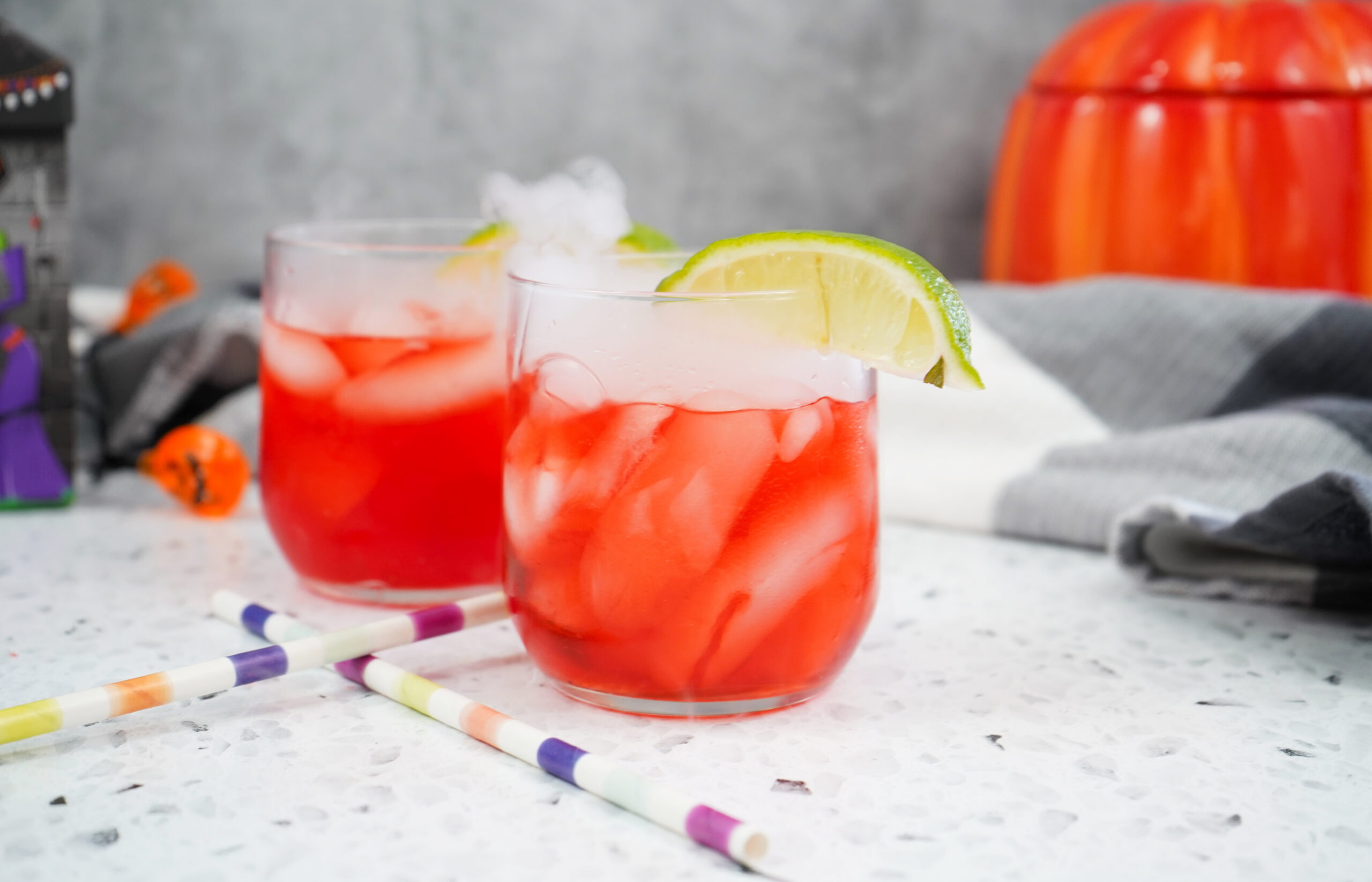 Halloween is almost here and what better way to celebrate than with a delicious spiked Halloween punch! This cocktail is sure to make your ghostly gathering an unforgettable time. 'Tis the season for spooky spirits and this frightfully festive beverage will provide just that. Whether you're having a few close friends over or throwing an epic Halloween bash, this punch will add a special something to your celebration. So gather 'round the cauldron and get ready to enjoy this Halloween Spiked Punch!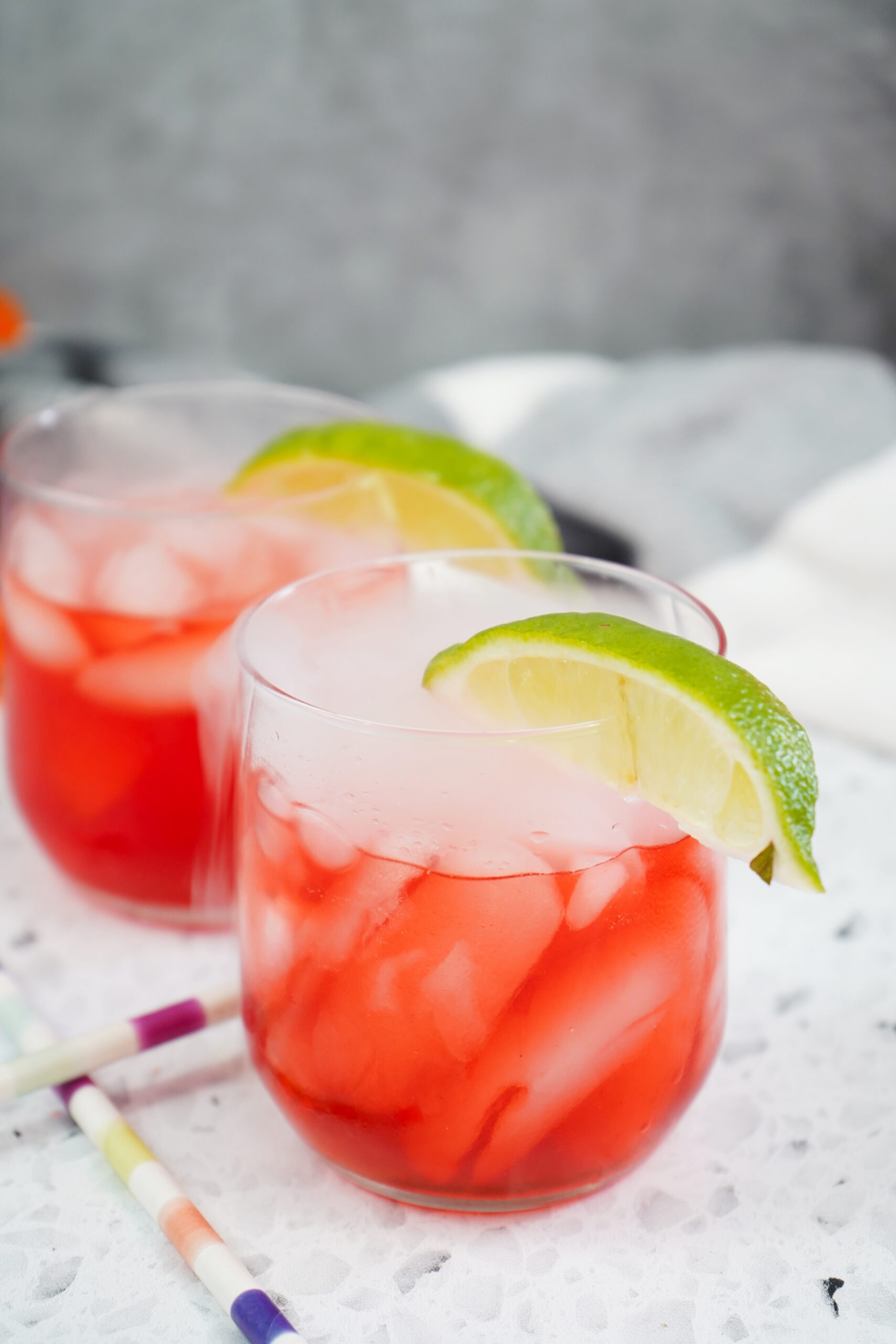 Fun Halloween Facts
Halloween is one of the most beloved holidays for children and adults alike. It's a time for costumes, candy, and haunted houses – but there are fun facts about Halloween that you may not know! From its origins in ancient Celtic tradition to its current status as an American holiday loved by all, here are some interesting facts about this thrilling holiday. Whether you're looking to impress your friends or just become more knowledgeable about the season, these fun Halloween facts will surely be a treat.
Did you know that if someone from Ireland accidentally drops a carving knife, it's considered bad luck? This could be why carving pumpkins is done with smaller tools like tiny knives and spoons! Also, contrary to popular belief, Jack O'Lanterns originated in Ireland. They were originally carved out of turnips or potatoes by Irish folk trying to ward off evil spirits.
Also speaking of pumpkins – did you know they come in all shapes and sizes? From tiny gourds to gigantic giants that can weigh over 1,000 pounds – there's something for everyone at your local pumpkin patch!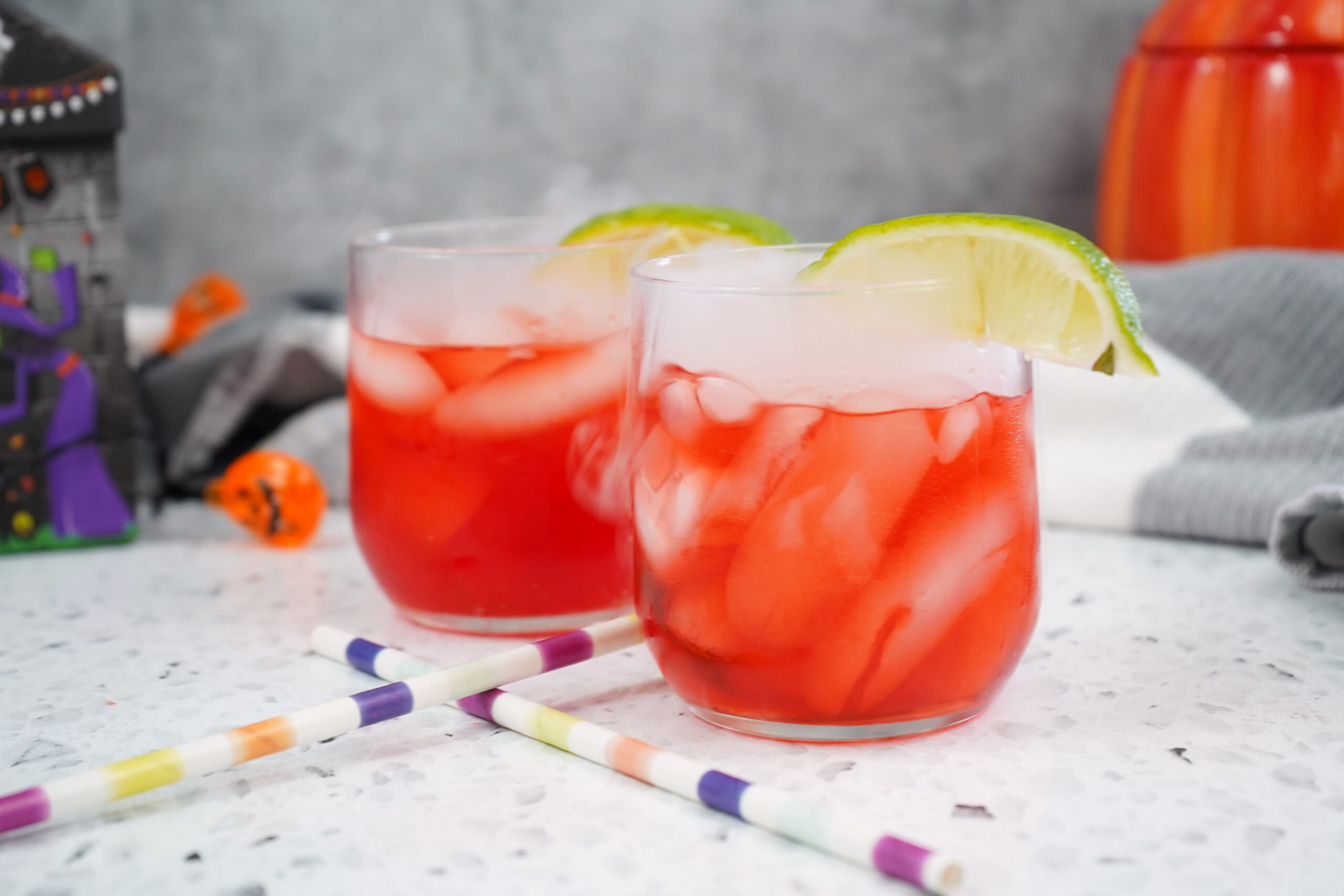 Tips for Handling Dry Ice
Our Halloween Spiked Punch has an extra spookiness to it with the addition of dry ice. It literally makes the glass look like it's smoking. It is the perfect substance for adding a touch of drama to special events or creating an eerie atmosphere in horror movies. But what many people don't know is that it can be dangerous if not handled correctly.
If you're planning on using this mysterious material, here are some tips and tricks to ensure your safety:
First of all, never handle dry ice with bare hands! Make sure you wear gloves or use tongs when handling it since contact with skin can cause severe frostbite.
Secondly, always store your dry ice in an insulated container such as a cooler or Styrofoam box—it will help contain the cold and keep it from evaporating too quickly.
Third, and perhaps most importantly, never consume it while it's still in "ice form." Dry ice can be incredibly dangerous if consumed incorrectly. But what actually happens if you decide to take a bite out of this -218 degree Celsius delicacy?
Well firstly, your mouth will feel like it has been plunged into the icy depths of Antarctica. This intense cold will cause an extreme amount of pain as all moisture in your mouth quickly evaporates due to the sublimation process. You may also experience loss of sensation in your tongue, as well as hand and foot numbness due to nerve damage caused by the cold temperatures.
That is why we recommend you let it dissolve completely before consuming your drink.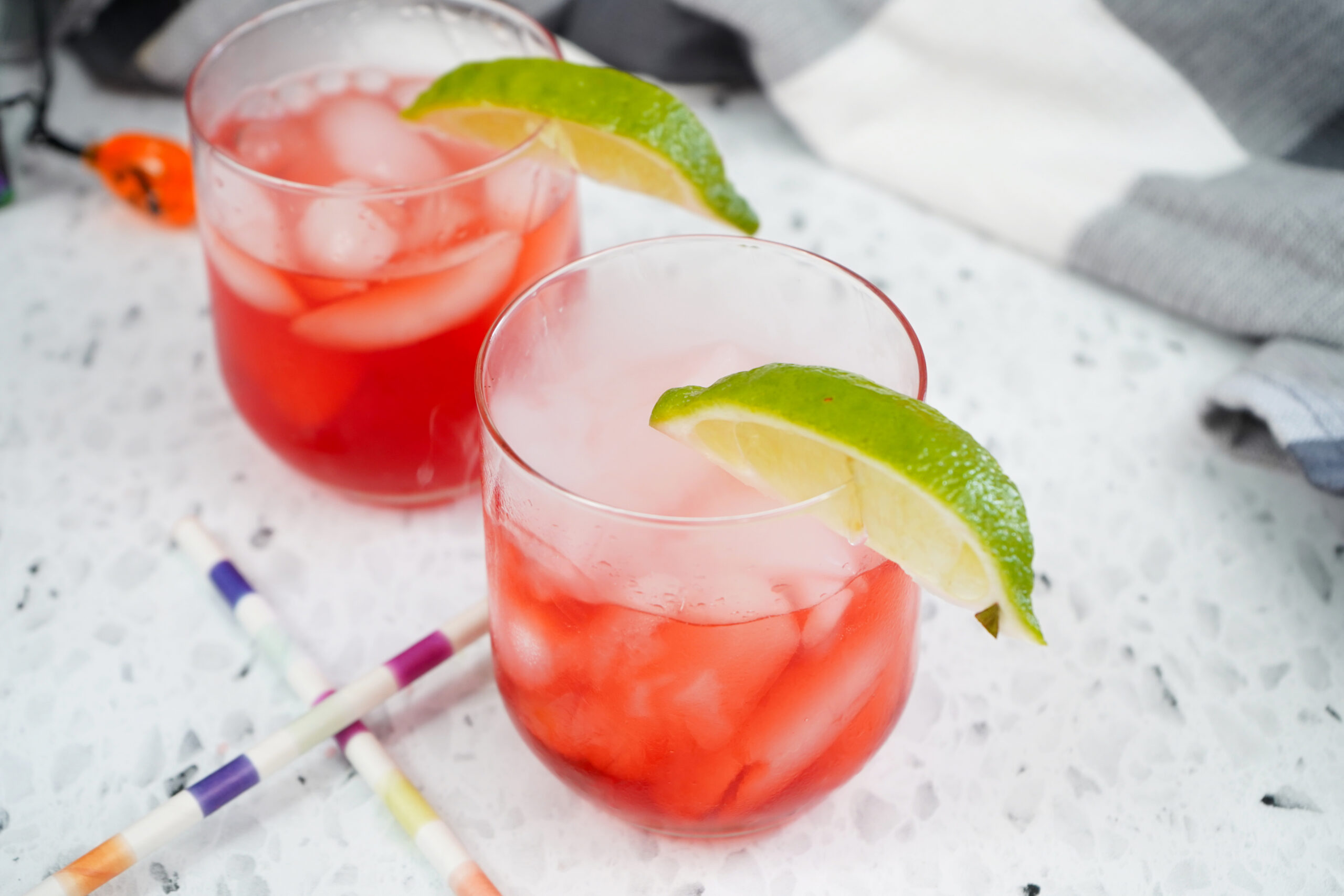 Other Halloween Cocktail Ideas
Halloween is one of the best times of year to get creative with your cocktail creations. Here are just a few of our favorites:
Blood-red Jell-o shots: Just add your favorite liquor to red jello. Make it extra red with food coloring.
Smoking cauldrons of your favorite margarita: Make it green with food coloring and just add dry ice.
Zombie Highball: half an ounce each of silver and spiced rum, triple sec, orange juice, lime juice, simple syrup and grenadine.
Green Goblin Fizz: one ounce each of vodka, coconut rum, peach schnapps, sour apple liqueur, and sweet and sour mix with ginger ale to top it off.
Spooky Sangria: Fill a rubber glove with water – make sure it's a latex free glove with no powder! Tie off the glove and freeze it. Then, when it's frozen, peel off the glove and drop it into your sangria for a spooky effect!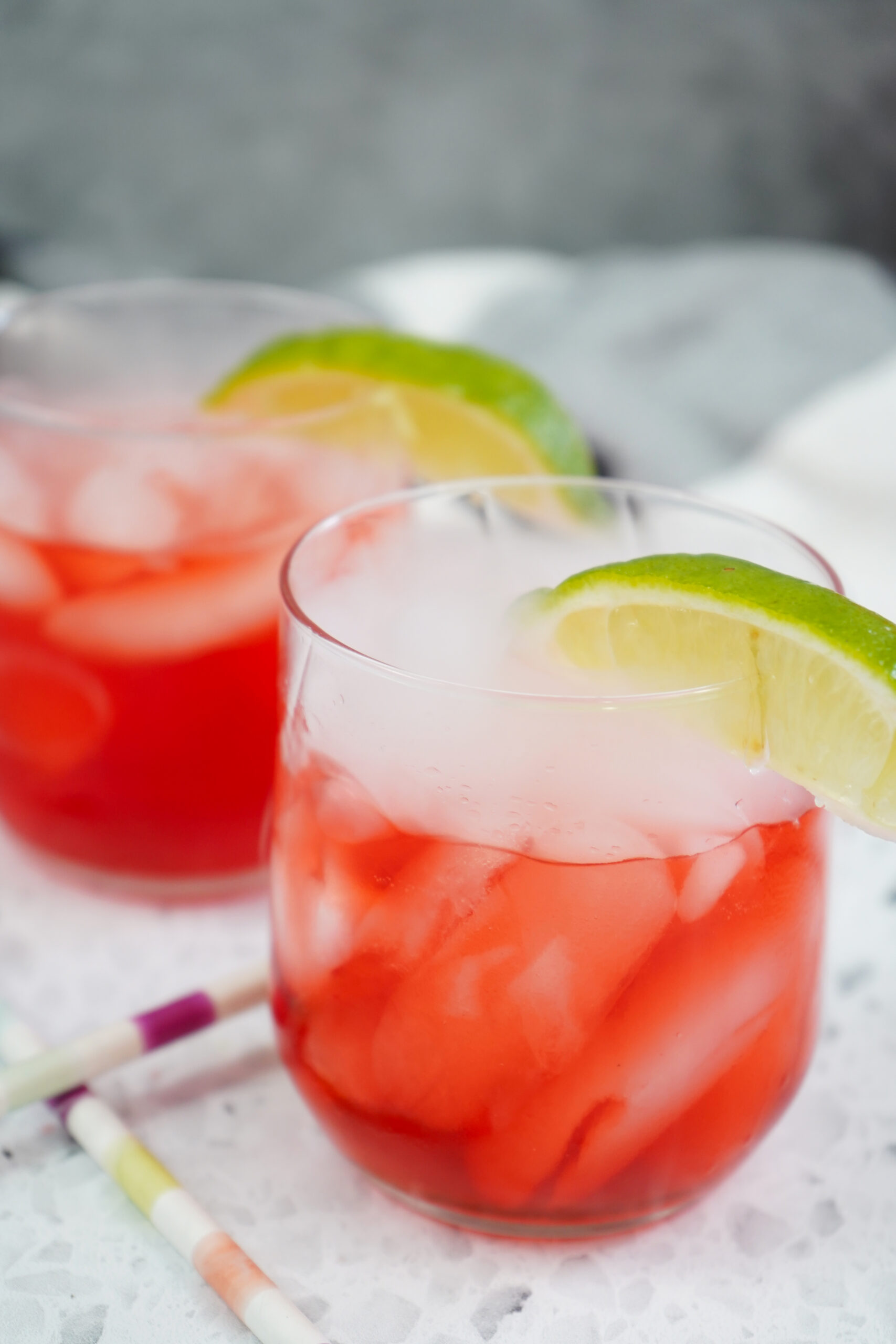 Keep in mind: Pretty much any cocktail can become a spooky cocktail with the right description, a fun glass, and the right garnish….Plastic spiders and eyeballs go a long way during Halloween 😉
Looking for more Halloween eats and treats to serve at your party?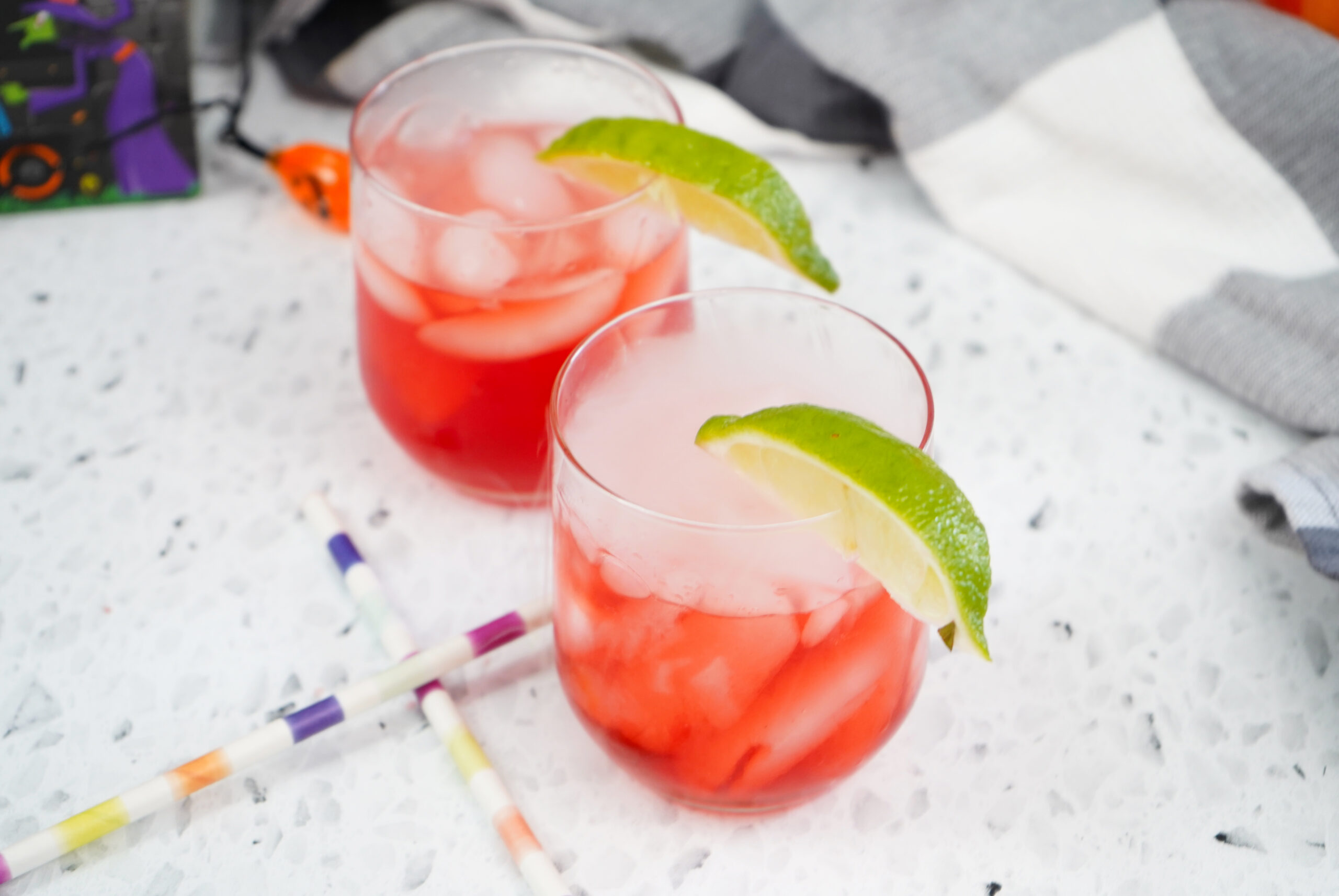 Ok, let's make some Halloween Punch, shall we? Cheers!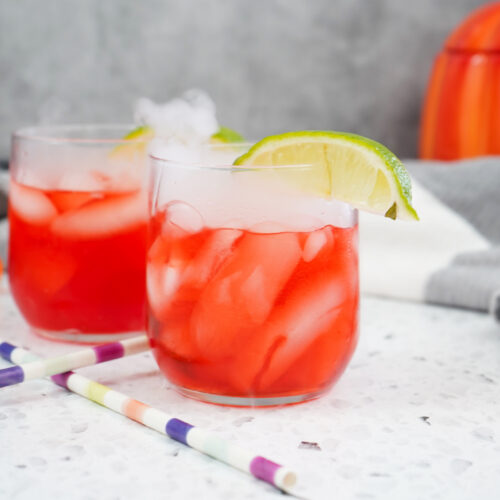 Halloween Spiked Punch
Celebrate the spooky holiday with this Spiked Halloween Punch! Drink responsibly, as this Halloween Punch packs a punch!
Print
Pin
Rate
Ingredients
Regular Ice

8

oz

Vodka

1 cup

8

oz

Rum

spiced or white – 1 cup

16

oz.

Fruit Punch

2 cups

16

oz

ginger ale or lemon-lime soda

2 cups

8

Lime wedges

Dry Ice for garnish

optional (see notes for safe handling)
Instructions
In a medium size bowl, add the soda and liquors. Still well.

Serve in glass of choice with a wedge of lime.

Carefully add 1-2 pieces of dry ice to the glass.

Important: Consume after the dry ice has completely dissolved.
Notes
Carefully follow all precautions when handling dry ice. Wear gloves, keep ventilated, etc. It is usually sold by the block- so you can break it into pieces in order to use for cocktails.
You do not need the dry ice- but it is a fun effect. DO NOT CONSUME dry ice pieces or let them touch your skin. Dry ice is safe to consume after it has dissolved completely.