(Last Updated On: November 5, 2021)
Dreams do come true at Discovery Cove Orlando! Swim with the dolphins, explore the reef and get up close and personal with all the beautiful wild life. While this post is sponsored, all opinions and our love of Discovery Cove are our own.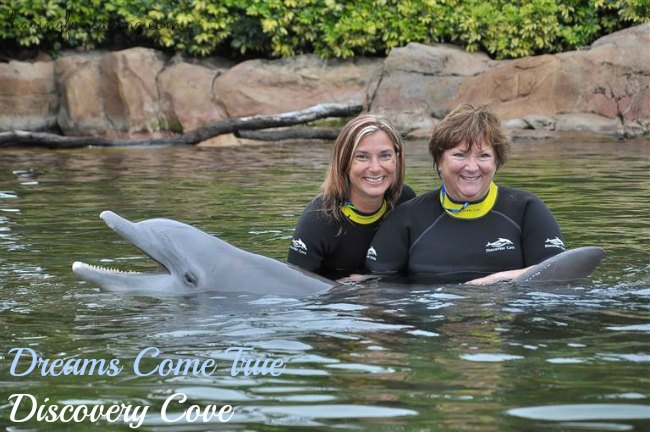 Discovery Cove Orlando – Dreams Do Come True

Discover Paradise. What do you think of when I say that? What is your "paradise"? Does it include sandy beaches? Palm trees? The chance to relax? Beautiful water? Incredible food? Tasty beverages? How about the opportunity to snorkel with thousands of fish…and even rays? Feed tropical birds? Play inches from a family of otters? How about SWIMMING WITH A DOLPHIN?
All those things describe my paradise. In fact, mine was even better because my mom was with me when I got to Discover Paradise. We had the amazing opportunity to go to Discovery Cove in Orlando together.
When Discovery Cove contacted me and said that myself and a guest were invited to visit for the day, my initial response was EEKKKKKK! I called my husband insanely excited and said:
"I got just the best email! I get to go to Discovery Cove and bring someone with me! My question for you is, would you like to come, do I figure out how to bring just one of our kiddos…or can I call my mom?"
He quickly responded with:
"Call your mom, this has been a dream of hers forever."
I called my mom and she was SO EXCITED. I have no words to actually describe her excitement 🙂 She lives in Michigan and started looking for plane tickets right away.
I love being a mom, being able to care for two precious beings that love me unconditionally is the most rewarding experience in my life. I learned how to be a mom from my MOM. My MOM has shown me unconditional love and support my whole life. She has taught me life lessons, held my hand when I was scared, cried with me, laughed with me, has always been by my side, has driven the country with me, is there whenever I need ANYTHING. So, being able to Discover Paradise with my MOM was an experience I'll never forget.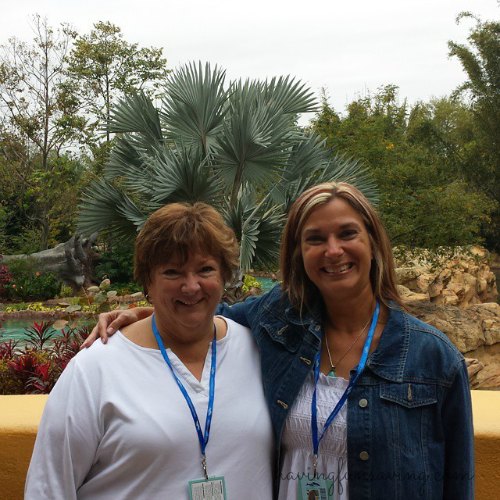 From the moment we walked into Discovery Cove we were transported to Paradise. We were greeted by a gracious staff and surrounded by beautiful plants and flowers. If you happen to meet Todd or Erika when you go – tell them we said HI!
The 1st decision you have to make it where you are going to sit. There are several beach areas to choose from and all have the softest, whitest sand you will ever walk on. Each area is by water and is NOT crowded. Did you know that Discovery Cove limits the amount of guests per day to ensure that your experience is the most amazing possible? You can sit by Dolphin Cove, The Grand Reef, The Freshwater Oasis, or by the Wind Away River. You can also get a Cabana if you want extra privacy.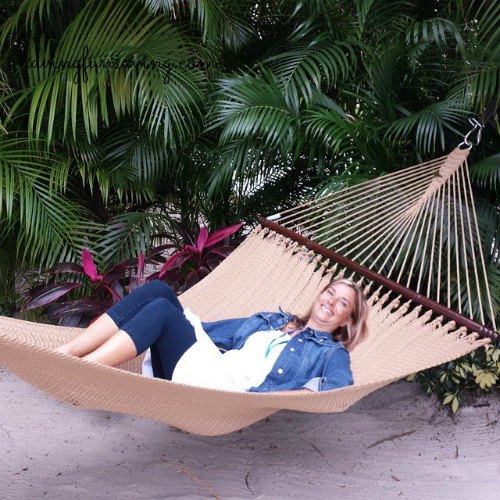 Once you have your seat, I recommend grabbing some breakfast. My mom and I had the option to enjoy breakfast sandwiches, fresh fruit, fresh toast, yogurt, juice, coffee, and more! Your experience at Discovery Cove includes your meals and drinks all day. And the food is amazing. It's hot and fresh and you can enjoy as much as you want 🙂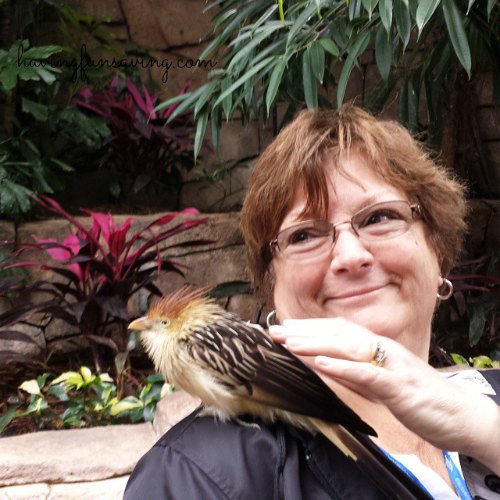 Once my mom and I had breakfast we headed to the free-flight aviary. We hand-fed exotic birds, pet them, and chatted with them. I couldn't believe all the birds that were in there! It was so much fun having them land on us and feed them all!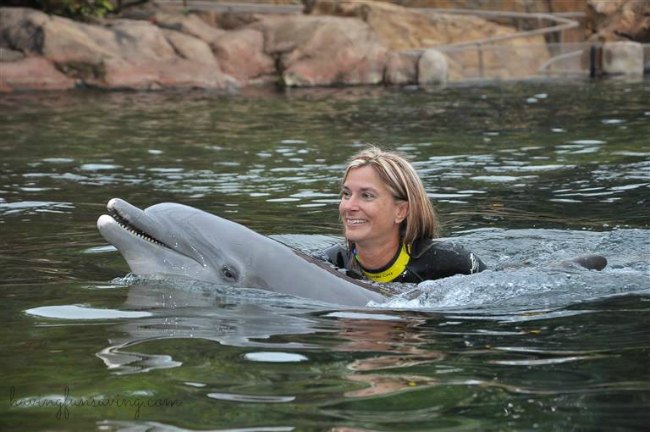 After we visited free-flight aviary, we had a snack (I love soft pretzels and was thrilled that they were available all day!) and got ready to SWIM WITH THE DOLPHINS. There are life vests and wetsuits available to you all day, since it was a bit chilly the day we went, we opted for the wet suits. You arrive at your Dolphin Trainer Cabana 5-10 mins before your scheduled time and you get the chance to chat with a dolphin trainer as well as get ready for YOUR experience.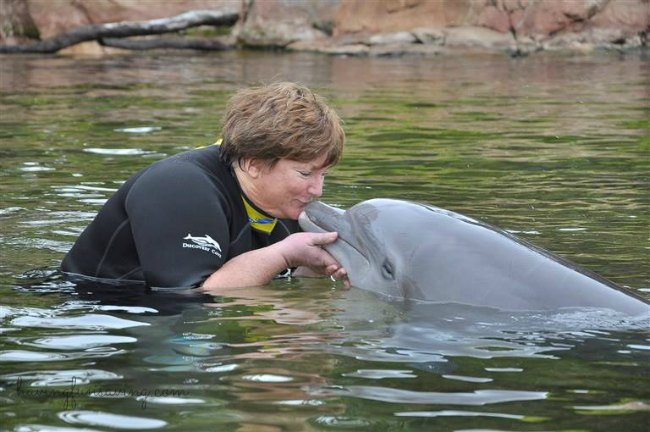 Once you leave the cabana you head over to Dolphin Cove with your group and trainer. For the next 30 mins you have the opportunity to meet a dolphin, pet it, chat with it, swim with it and KISS IT. I cried. My mom cried. We had everyone in our group laughing 🙂 I really can't put into words how amazing the experience is. It really is a Dream Come True. It really is the way to Discover Paradise.
After we swam with Akia (that was our dolphin) we had lunch. Salmon, Hawaiian Chicken, Rice Pilaf, Cheesecake, Wine…and those were just a few of the items on my tray 😉 We also had a special owl visitor!
The Grand Reef was the next stop on our agenda. The water in the Grand Reef is crystal clear and gives you the opportunity to swim with thousands of tropical fish. My mom and I snorkeled around it twice because there is no way you can see it all in just one swim. You do get a snorkel and mask to use all day too – no need to bring one from home or buy one.
After The Grand Reef, we warmed up in the Wind Away River. It wraps around in a big circle, and you can get out at various locations…including the aviary! The water is warm and the scenery is undeniably breathtaking.
From the Wind Away River, we checked out the playful Otters and the marmosets.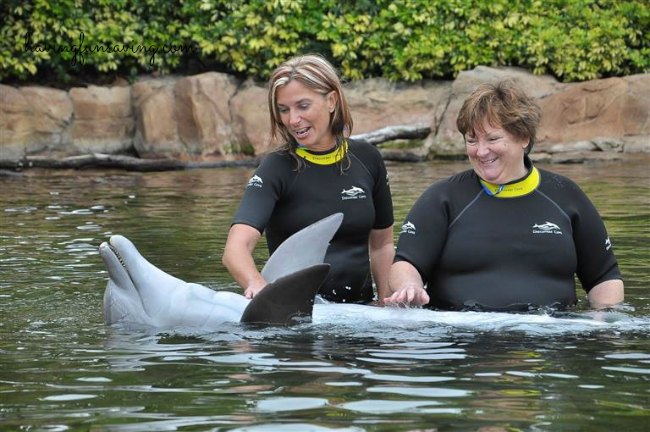 Discovery Cove is an amazing place to visit by yourself, with a loved one, with your MOM, or with your family! I have been in the past with my kids and it is an experience they both still talk about.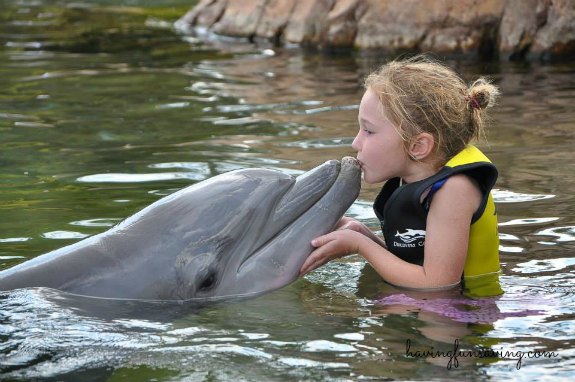 Once you have finished your day at Discovery Cove Orlando, the fun does NOT stop. You also get UNLIMITED admission to SeaWorld® and Aquatica, SeaWorld's Waterpark™ in Orlando for 14 consecutive days around the date of your reservation. How awesome is that?
My mom got a poster of her experience at Discovery Cove, and she takes Akia with her just about everywhere. As you can see, it came with her to school already 🙂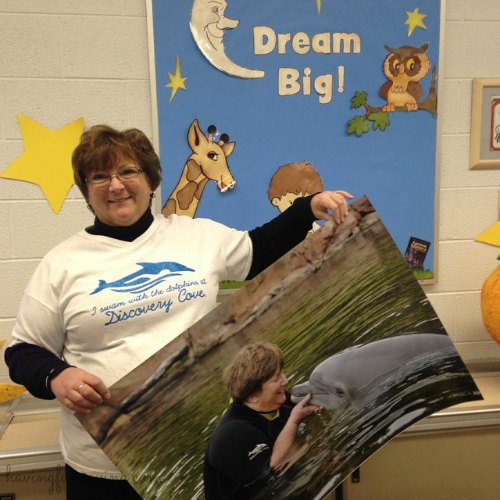 Get Ready To Discover Paradise at Discovery Cove Orlando
Have you been to Discovery Cove Orlando before? Is it on your wish list?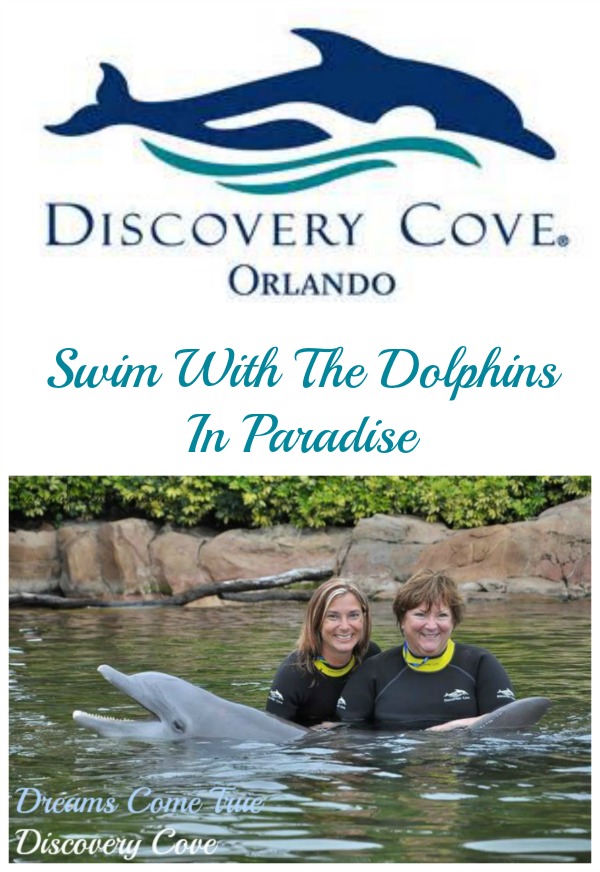 Be sure to follow Discovery Cove on Facebook and Instagram to stay up to date with everything in Paradise!
In fact, make sure to check out Food Wine Sunshine for more Florida Family Fun and follow me on Facebook, Twitter, Pinterest, and Instagram too 🙂
Looking for more fun things to do in Florida?