(Last Updated On: June 7, 2019)
The Blue Man Group Show is Orlando Florida is located within Universal Orlando. The performance will keep the whole family moving, grooving, and having fun! My family and I received free tickets to see this amazing show. No other compensation was received. All opinions are 100% my own.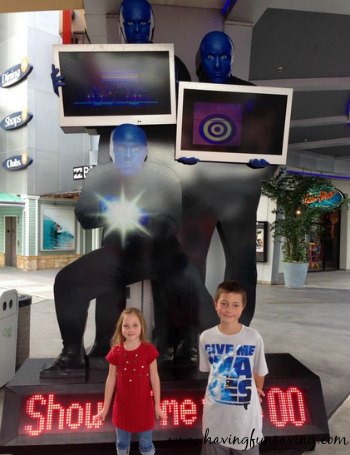 Tips For Seeing The Blue Man Group With Kids
Have you witnessed the magic of the Blue Man Group? This past weekend my family and I were blessed with the opportunity to see the show in Orlando at Universal Studios. It is definitely one of the things you must do in Florida!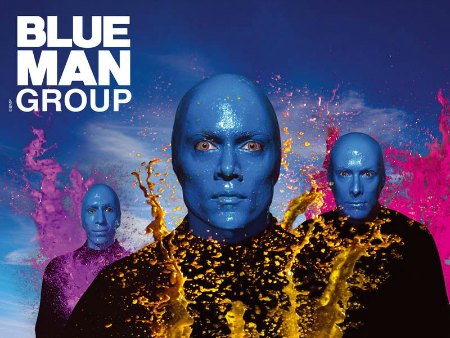 Experience the mystery, the humor, the euphoria and the indescribable celebration of art, technology and music that is Blue Man Group at Universal Orlando® Resort. Lose yourself in the incredible performances, the astounding music and the captivating stage show. Combining science and laughter, Blue Man Group makes for an explosive evening of entertainment that has wowed more than 25 million people worldwide.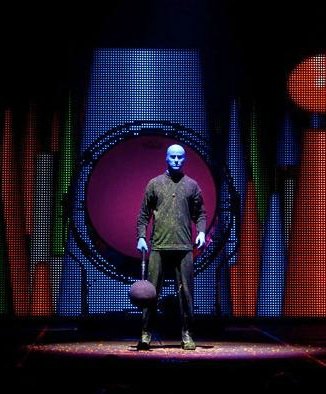 And lose ourselves we did…
We went to the 9:00 pm show and my kiddos are 8 and 6, so my husband and I were slightly worried that they would be antsy in the show.
Did they? NO. It was an AMAZING show. How is it possible that 3 Blue Men can keep a totally filled audience completely engaged for 2 hours? Well, you will just have to see the show 😉 But I will tell you that there is paint, art, food, and a lot of audience participation. We laughed and smiled for 2 hours straight.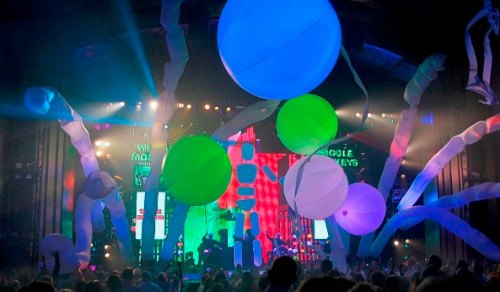 The only part of the show that you can take pictures is during the "Booty Shaking" and that was definitely a FUN part. My son was laughing non-stop at all the different names they came up for your bum. And me and Sadie…well, we were Booty Shaking! I told you guys that we love to dance 🙂
At the end of the show my son told me that his art teacher shows clips of the show in her class because it shows different ways to express art. How cool is that? First of all, I love that his teacher thinks outside the box, second – I love that he gets to see clips of this amazing show!
One of my other favorite parts of the show…the end. Well, not that it ended, but that when the show was over the Blue Man Group and the musicians were outside and available for pictures!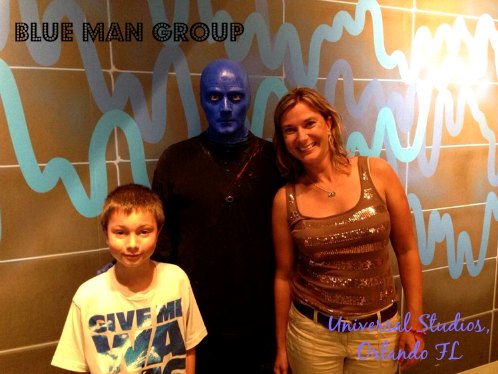 We got to have our pictures taken with the STARS!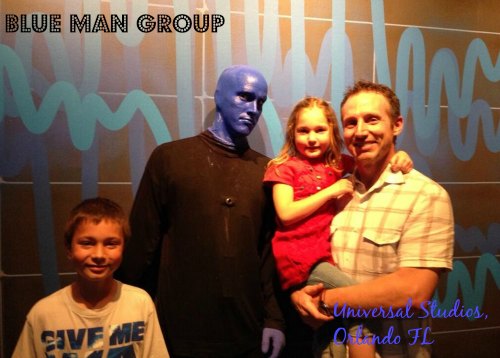 Even if you have seen the show before, I highly recommend it. My husband and I both saw it about 10 years ago and it was a whole new experience…especially when you witness it through your children's eyes.
After the show – head over to City Walk and enjoy some of the Orlando Night Life. If we had the grandparents with us, we would sent the kids home with them and done a little dancing 😉 The music and lights coming from all the restaurants and clubs was definitely attention grabbing.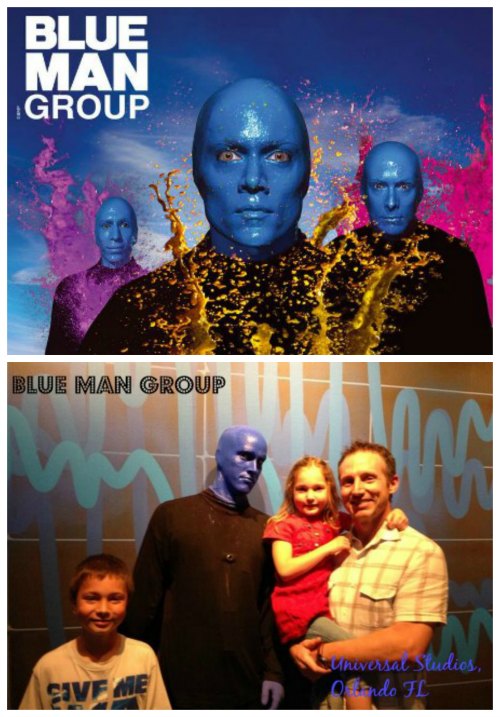 Be sure to check out the Blue Man Group online, on Facebook, and Twitter to stay up to date on everything BLUE 🙂
Make sure to follow the fun from Universal Orlando Resort on Facebook, Twitter and Instagram. And find Food Wine Sunshine on Facebook, Twitter, Pinterest, and Google + for more Family Fun Things to Do In Florida!
Have FUN checking out the

Blue Man Group

in Orlando, FL…We sure did!
Looking for more things to do in Florida?