(Last Updated On: June 7, 2019)
Disclosure: I was able to take my family to the Clearwater Aquarium for free because I am a Dolphin Tale 2 Ambassador. No other compensation was received. My love for dolphins, Winter, Hope, the Clearwater Marine Aquarium, and all opinions are 100% my own!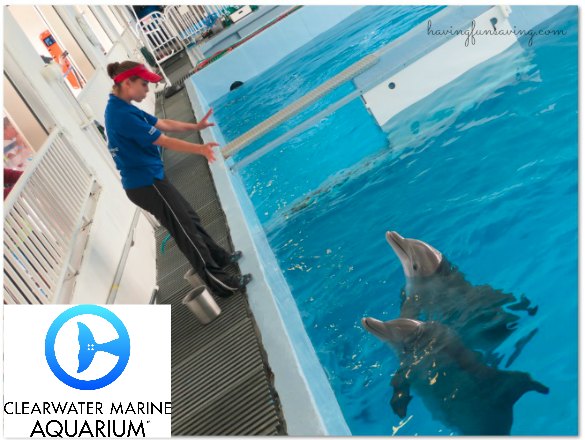 See Winter at The Clearwater Aquarium And Fall In Love! #WinterHasHope

Do you remember 2005? I know it was 9 years ago now, but is there anything that you really recall from that year? For me, it was my son's birth. On January 14th I went in for my regular checkup and my doctor told me that I had to go directly to the hospital. 23 hours later and after lots of complicated labor I had my son. It was a miraculous moment and I will never forget the first time I held him.

There are quite a few people at the Clearwater Marine Aquarium, like David Yates, the CEO of the Clearwater Marine Aquarium and trainer Abby that will also never forget the year 2005 due to a miraculous moment. In the winter of 2005 a three month old dolphin came to the Clearwater Marine Aquarium in need of care, love, and hope. That dolphin had become entangled in a crab trap line which cut off circulation to her tail flukes and despite exhaustive efforts to promote healing, her tail deteriorated and could not be saved.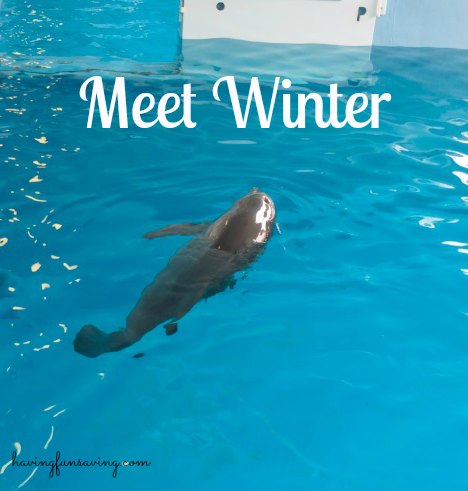 That dolphin is Winter.
Winter's energy and ability to adapt to her new physical form surpassed expectations. She healed completely, adapted to a new swim pattern, and learned to eat fish on her own.
Winter is now happy at the Clearwater Marine Aquarium and has become an inspiration to many. The fact that she adapted to the fact that she didn't have a tail, and that she would have to wear a prosthetic to swim naturally is just amazing.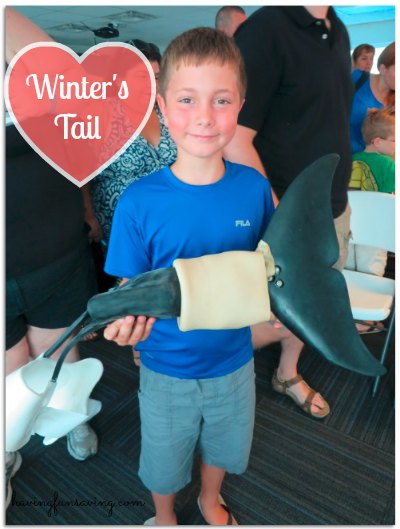 Winter's tail is constantly being researched and modified, which in turn continually teaches us about adapting prostheses to new and different challenges. In fact, the research for Winter's tail has also helped many humans adapt to their prostheses!
Winter has touched the hearts of so many people…young and old. Her story is one that we can look to for inspiration and hope. You can't help but look at Winter and smile. She is beautiful. She is amazing. She is inspiring.
Learn more about Winter's Story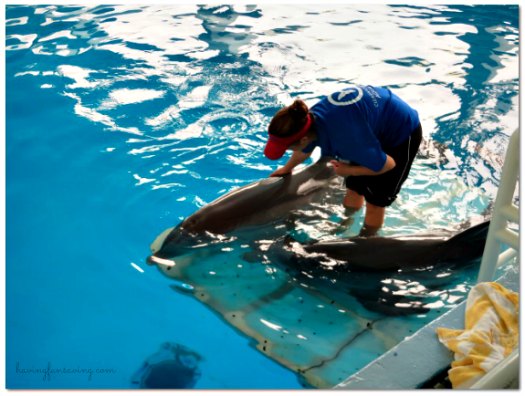 I recently had the opportunity to visit Winter at the Clearwater Marine Aquarium as part of a Dolphin Tale 2 event and I loved the fact we started our day at the aquarium. We learned about what the aquarium is all about, it is about…
Rescue, Rehab and Release
They are dedicated to caring for animals and then releasing them to back into nature. The Clearwater Marine Aquarium is a fully functioning hospital for animals, and that is their most important function. We are very fortunate that they allow the public to come in and connect with the amazing animals they have there, like Winter….and Hope!
Learn more about the Clearwater Marine Aquarium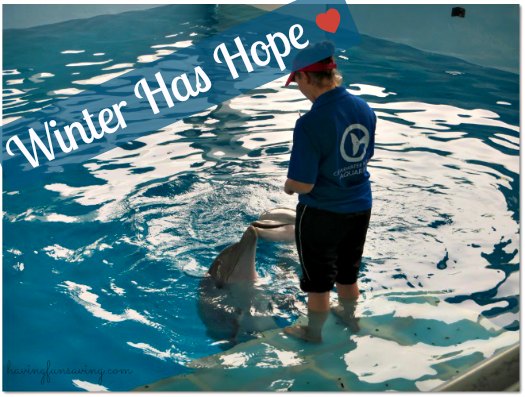 Have you heard about Hope yet? First of all, I love her name. Winter has given hope to so many people I love that she now has HOPE too 🙂 I did get he chance to see the new movie that tells you all about how the relationship became to be between Winter and Hope, but I will tell you more about that later. I will tell you now that the movie comes out on September 12th, so mark those calendars!! Actually, you can catch a premiere event here in the Tampa Bay area on September 10th, you can read more about the Dolphin Take 2 Event here.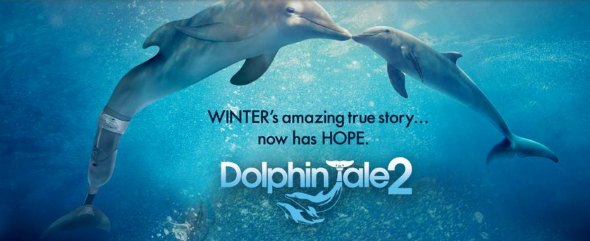 I am proud to share that after meeting Winter, visit the aquarium, and seeing the new Dolphin Tale 2 movie my beautiful 7 year old daughter has decided that she wants to volunteer at the Clearwater Marine Aquarium as soon as she is old enough and "go to school to care for dolphins." Want to get involved as well?
Learn how to get involved with the Clearwater Aquarium
Winter's was one of the most difficult cases for the Clearwater Marine Aquarium. Her story is a bittersweet realization of the dangers faced by animals as a result of humans! Fishing line and gear can be very dangerous to marine life – in fact they can cause them to become injured, ill, or potentially lead to their death. Coming to the aquarium and seeing Dolphin Tale 1 & 2 are wonderful ways to teach your children about the importance of keeping our oceans clean.
Playing on seeing the movie, Dolphin Tale 2? Check out my movie review!
Together, we can make a difference!
Make sure to stay up to date with CMA on Facebook, Twitter and on Instagram!
While you are at it – stay up to date with me too 🙂 Find Food Wine Sunshine on Facebook, Twitter, Pinterest, and Google +.