(Last Updated On: September 4, 2020)
Find out why my family loves the Monster Jam and we won't miss a show here in Tampa!
Disclosure: We were able to attend this event for free. All opinions and our love for Monster Trucks are 100% our own.

Why My Family Loves The Monster Jam
Tampa is a great city. We have amazing restaurants, beautiful beaches, things to see, things to do, and there are always unforgettable shows to catch. And with all of the things that can be on my calendar, there is one event that my family and I REALLY look forward to. The Monster Jam.
Seriously?? You may be saying right now. And my answer is simple. Yes, seriously.
I have told you all in the past how my love for the Monster Truck Show began. Trust me, I never thought this would happen. But, now I wouldn't imagine missing a year. This was our 4th year going together as a family and we loved it. Our tradition started…well, 4 years ago, when my son made the decision to take some friend to the Monster Jam instead of have a birthday party, and each year he decides the same thing. He has one friend that has come with him every year and the excitement from my son and his buddy is just too cute! They will actually talk about it all year long!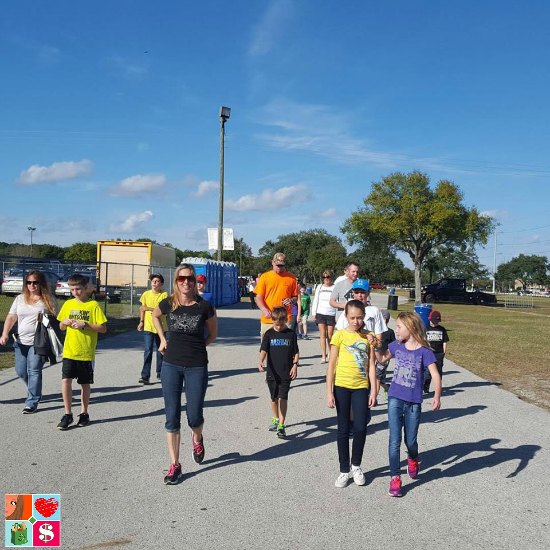 This year we had our crew of 6 then we met up with another 14 people! That is a totally of 20 of us!! We all went to the Party in the Pits and got our autographs, got to meet some drivers and of course see lots of the amazing trucks.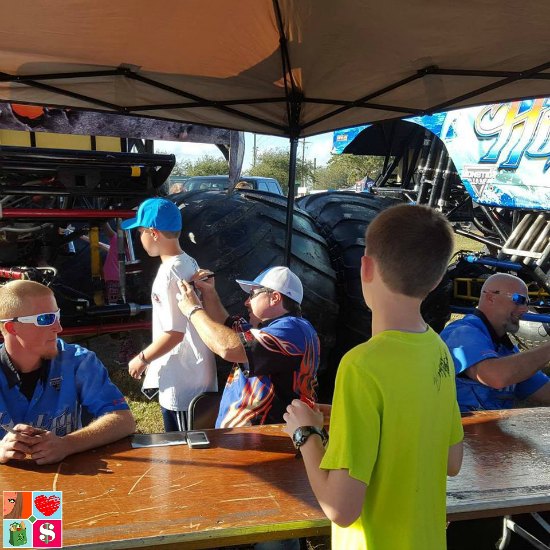 After the Party in the Pits we "tailgated" with everyone. We had a small grill, made hot dogs and played some football until it was time to go in and grab our seats.
I will say that there have been years where Grave Digger didn't make it the whole show, but this year Adam Anderson rocked the Raymond James Stadium!
And MAXD…well, WOW. His freestyle race was OUTSTANDING and when he jumped over THREE Monster Trucks with fireworks exploding, all of Tampa Bay must have heard those cheers.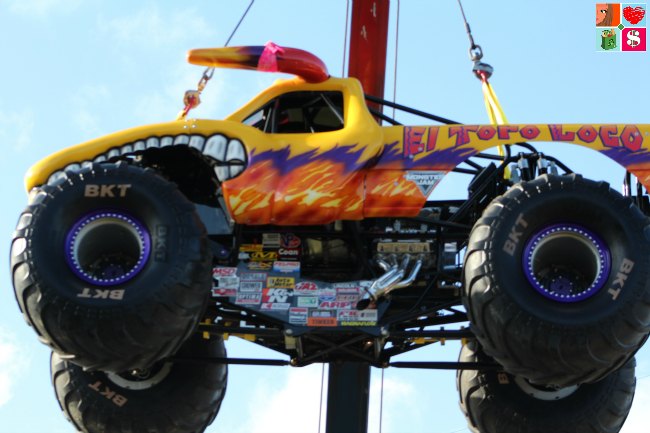 New this year (well, at least to me) was the donut competition. Which in my opinion El Toro Loco totally rocked. You can see hers on my Instagram page here.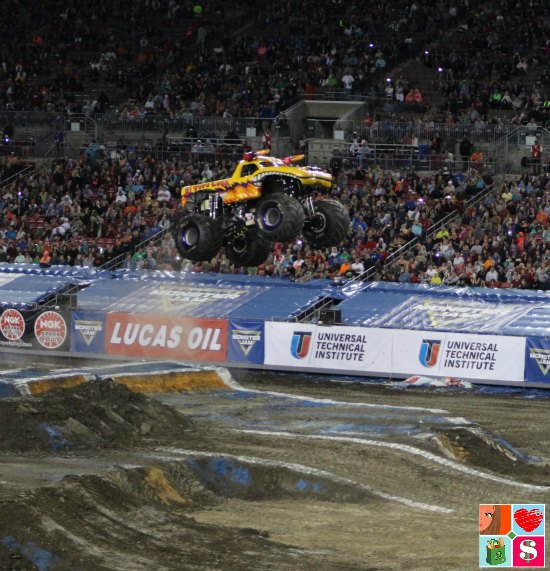 There were also Mega Trucks this year. They were actually really fun to watch! Not as big as the Monster Trucks, but there were still really loud, really fast, and did some good racing.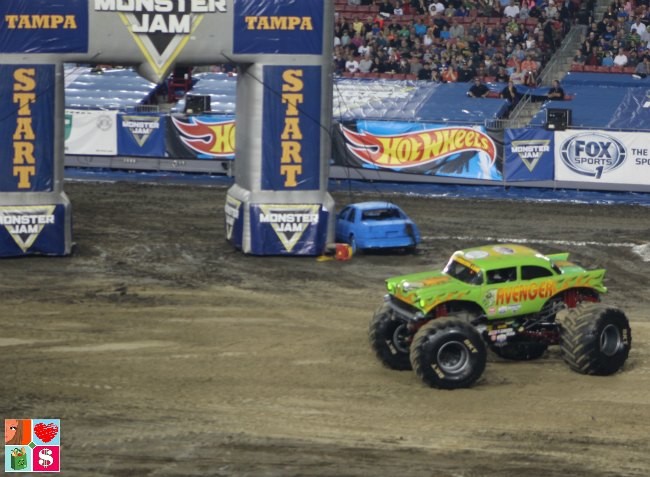 Some of our favorite trucks left the stadium after the races, and I will admit, we were a bit nervous that we weren't going to see them again. But, everyone but Avenger made it back out for the Freestyle. Grave Digger and Monster Energy won the races 🙂
Monster Mutt, Junk Yard Dog at this show, is a personal favorite of mine, especially since I got to meet the driver when I was done at Feld Entertainment last month. The mechanics were working on his truck in-between the races and the freestyle, he had some steering issues, but he still gave a great performance.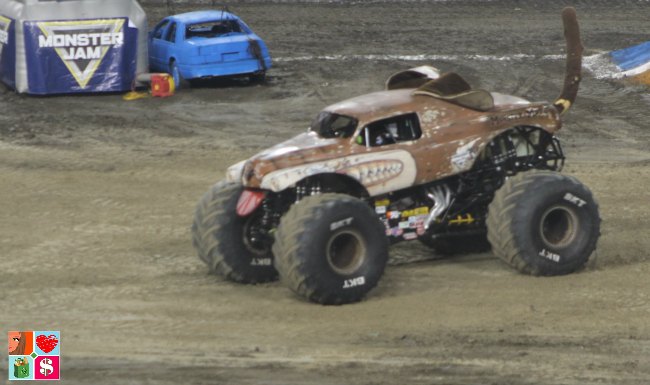 In the end, Grave Digger, the crowd favorite, did indeed win! And so did we. We all left the stadium with huge smiles and memories in our hearts.
Here are 5 Reasons Why We Love the Monster Jam
The Trucks
I mean, where else are you going to see such awesome looking trucks that have tires bigger than you?!
The Drivers
If you go to the Party in the Pits, it's great see them and get an autograph (or 10) but even if you don't do that, you can just tell from the way they drive that they love us fans. They are here for us, and they love that you are here for them. So, YELLING as loud as you can is strongly encouraged 😉 I have been known to come home without a voice!
It's Family-Friendly
There are fans in the stands as young as 2 years old to fans that are 72+ years old. There is something for everyone to enjoy.
Ticket Prices
Tickets start as low as just $15. As a mom that likes to watch her pennies, I appreciate an event that won't break the bank
The Memories
I remember the 1st time we went as a family…my daughter was just 4 and she sat on my lap yelling her little heart out as Medusa jumped and flipped. I remember when my son would just sit in awe and look at the trucks and how fast they would go. And now today, as he sits with his two buddies, I look at them and think, they are going to be doing this when they are teenagers. We have made a tradition. We have made memories that will last in these boys' hearts for years to come. And that just melts my heart. Memories, family, friends, and smiles. What more could a parent ask for?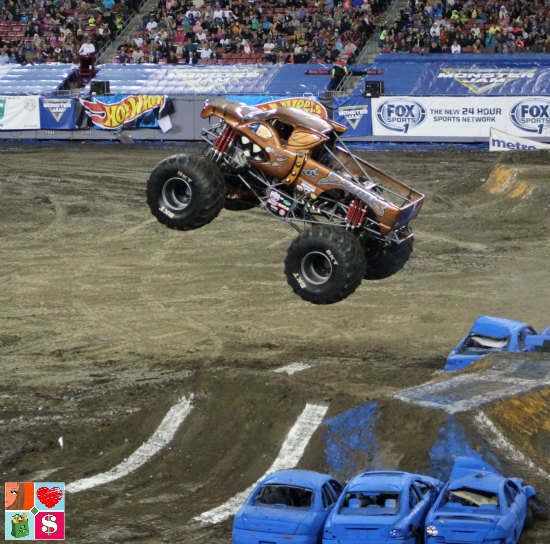 I love the trucks, the love the show, and I love that for the last two years I have been able to talk to the mechanics and some of the driver down at Feld. I am not joking when I say that this is one of my favorite events of the year! Hopefully it is one of yours too!
If you have never been to a Monster Jam, I STRONGLY recommend it. It is so fun! If you have been to a Monster Jam, which truck is your favorite?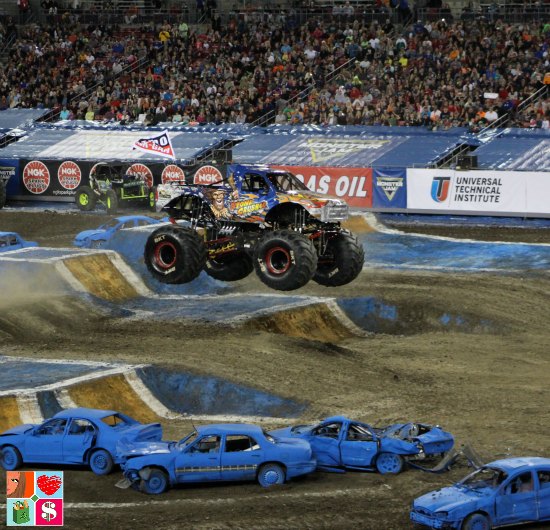 The Monster Jam will be back again in Tampa on February 6th and in Orlando on January 23rd.
Check out Monster Jam on Facebook, Twitter, Instagram and on Youtube. In fact, make sure to check out Food Wine Sunshine on Facebook, Twitter, Pinterest, and Instagram for more Florida Family Fun!