(Last Updated On: August 31, 2023)
Looking for the perfect place to stay in the Florida Keys? Find out why my best friend and I fell in love with Isla Bella Beach Resort on Marathon Key and why you should stay at Isla Bella Beach Resort.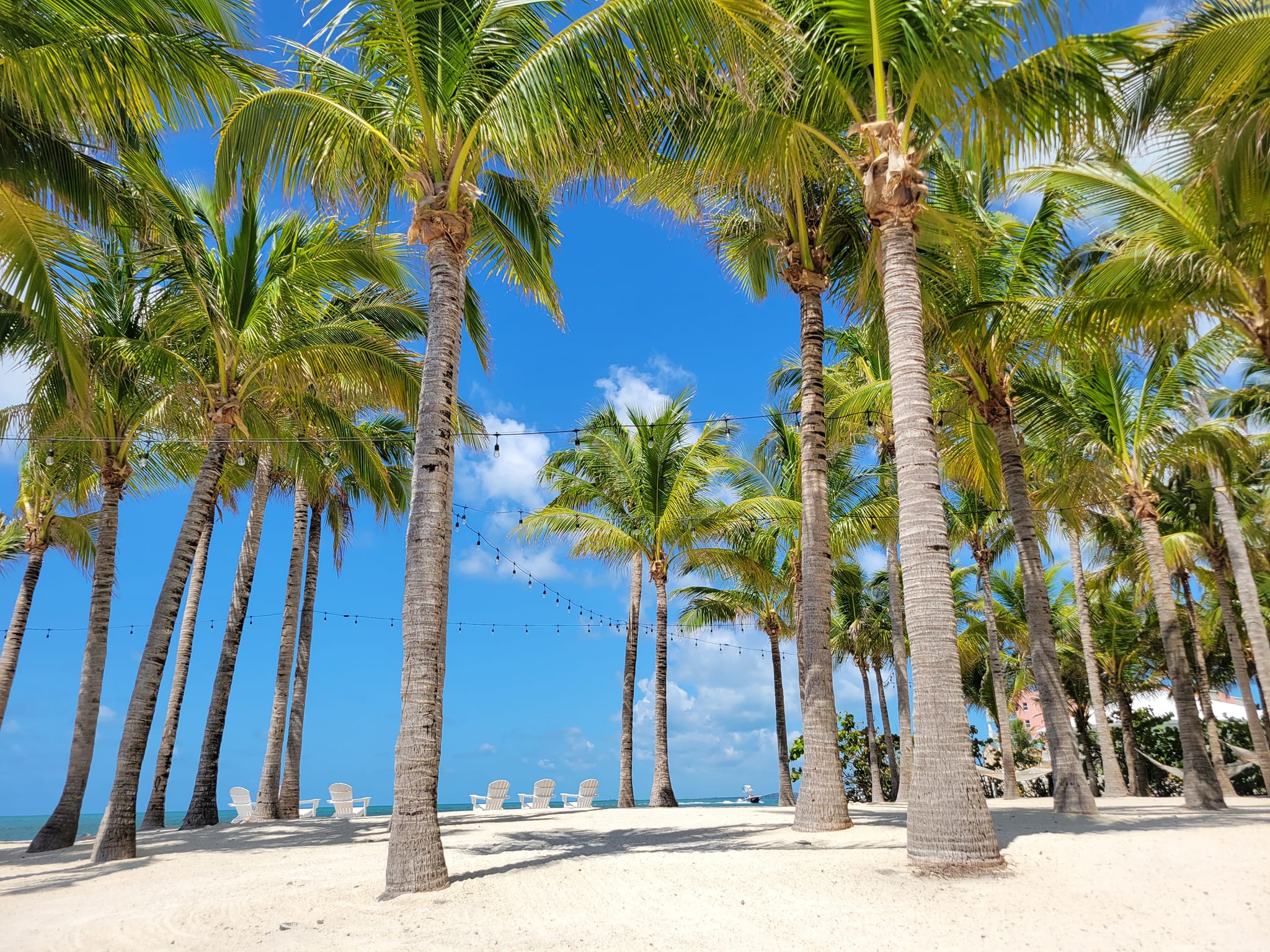 Florida is filled with tropical destinations that you can visit. And you will most-likely have an amazing time at each and every one of them. I mean, they don't call it the Sunshine State for nothing! We are the home to some of the best beaches in the United States. So, as a resident for over 20 years, how do I go about planning a Florida vacation where I want beach, sunshine and relaxing but I don't want it to feel like my backyard. Tricky huh?
Well, I will be honest, I enlisted the help of a travel agent. With the THOUSANDS of options here in Florida, I was really looking for something special to celebrate by best friend. We were escaping away for a long weekend for her 50th Birthday Celebration.
We needed something swanky, sexy, yet age appropriate. Yes, those were my exact words. We didn't need to be anywhere where all our neighbors were partying until 4 am. While, there is absolutely nothing wrong with that…If you are the 4 am party-person…GOOD FOR YOU! That's just not the trip we were looking for.
My friend and I have been best friends for over 20 years. We have been through a LOT. Marriages, children, heart ache, divorce, death but above all we have always been there for each other. For the smiles, hugs, laugh, tears, and the screams. The days that you need that shot of fireball at 10 am just to try to make it through the day, the afternoons that turn into nights where you sit and just talk until. The mornings where we walk for hours because it's not only exercise, but our therapy sessions.
So, how the hell do you plan a trip to celebrate a LIFETIME of friendship?
We road tripped down to the Florida Keys. It's about a 7 hour drive for us from Tampa, so we did stop one night about 4 hours south. It was perfect because then we got to our final destination nice and early.
We pulled up to the gates and drove along a tree-lined windy road and then you saw a beautiful white building where we checked in.
We opened those doors and just about cried. You saw nothing but windows and that view…oh, that view was GORGEOUS blue water and white sand. That view screamed – RELAX HERE. That view screamed – YOU'VE ARRIVED.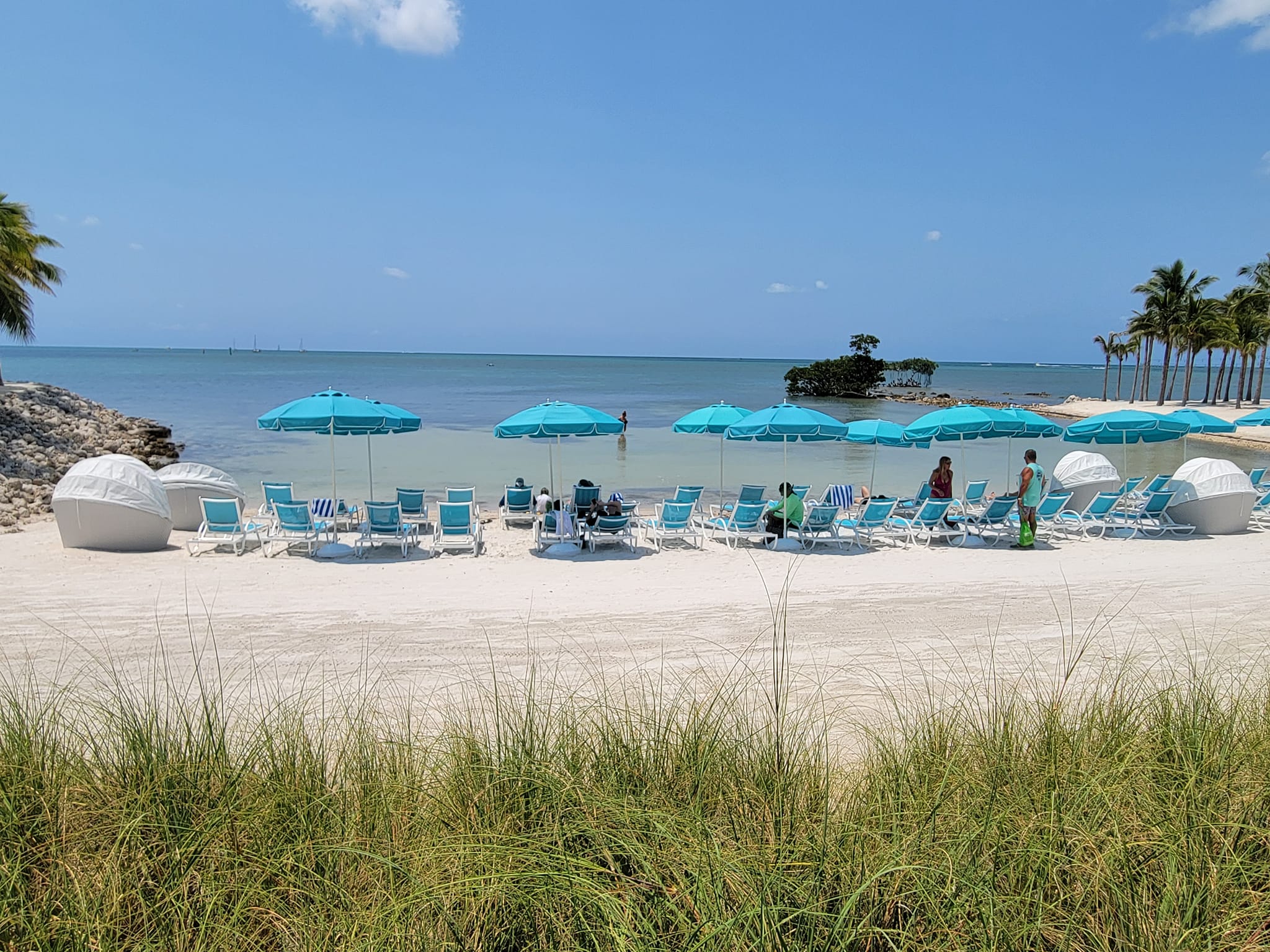 Now, we did get there early, so our room wasn't ready, but the staff offered us a complimentary glass of champagne (YES PLEASE) and we sat on the couches outside and took deep breathes of that sexy salt-filled air.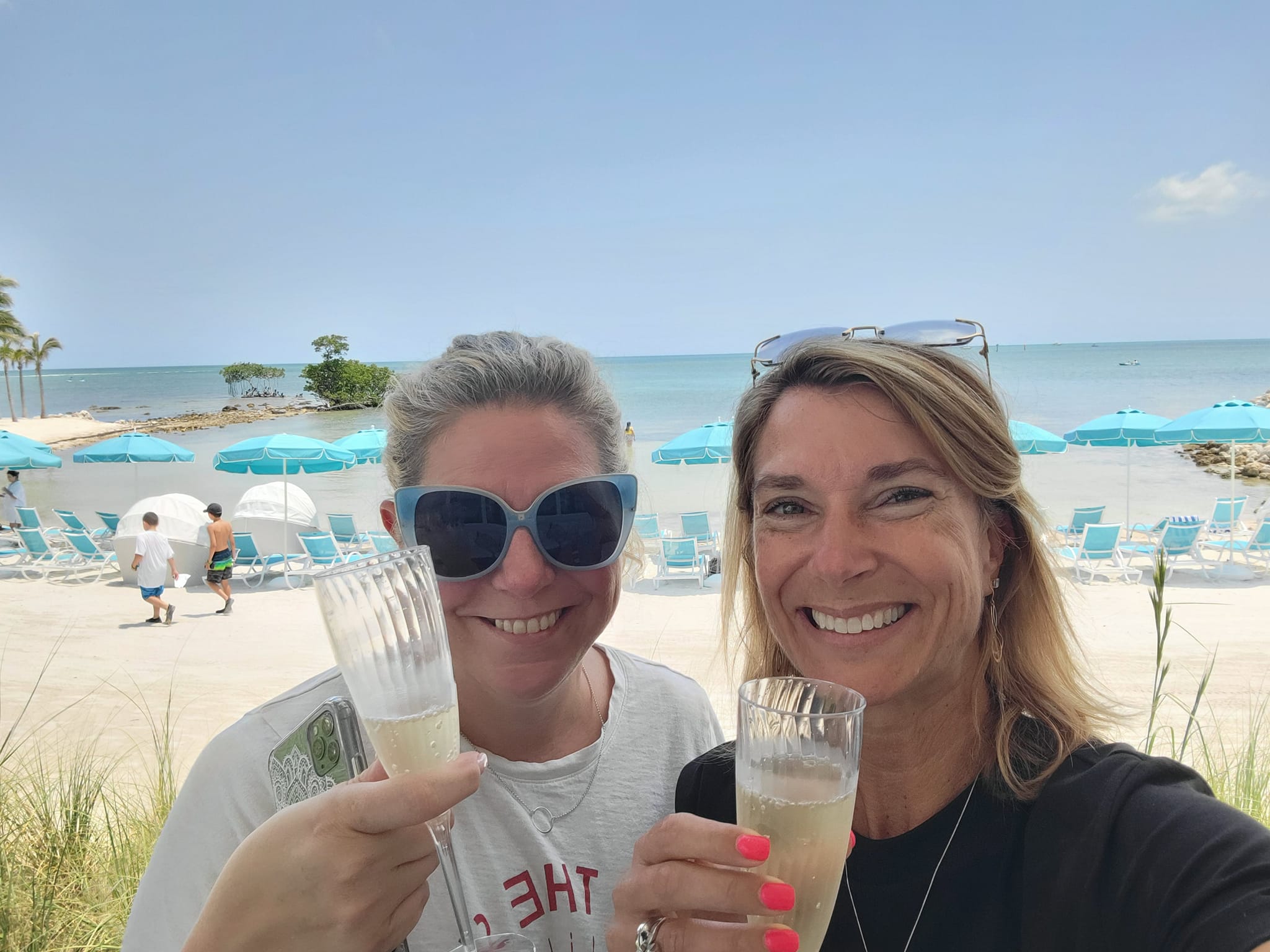 Then we went to find the beach bar 😉
Which was one of our favorite places for the next several days.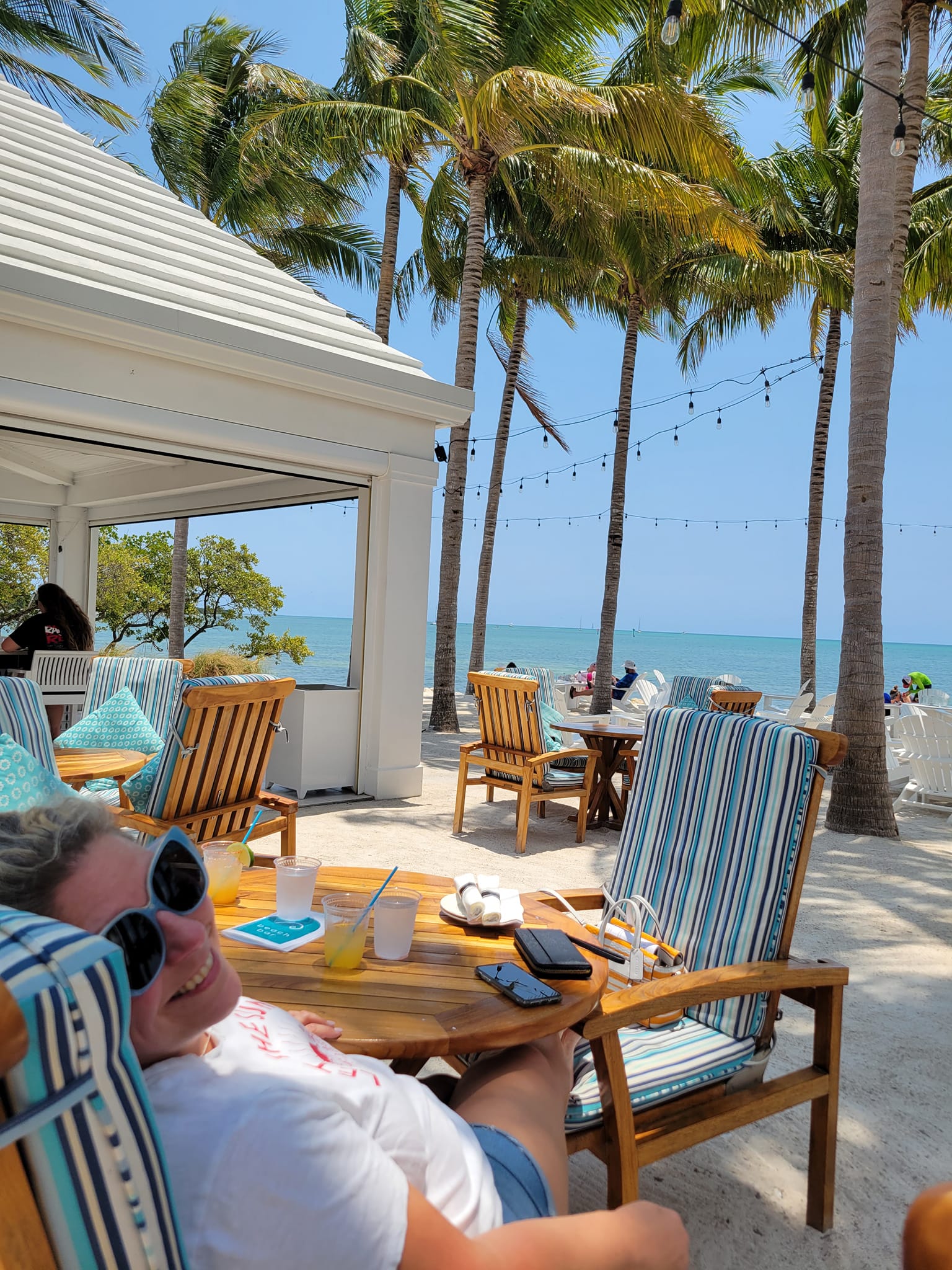 The food was great and damn, those bartenders make a killer cocktail. We had the smoked mahi-mahi fish dip every day I believe…yes, it was that good. My recommendation for a cocktail is the Hot Passion…it is a little spicy, but it's AH-MAZING. I also recommend after you have two…have a couple glasses of water and some food 😉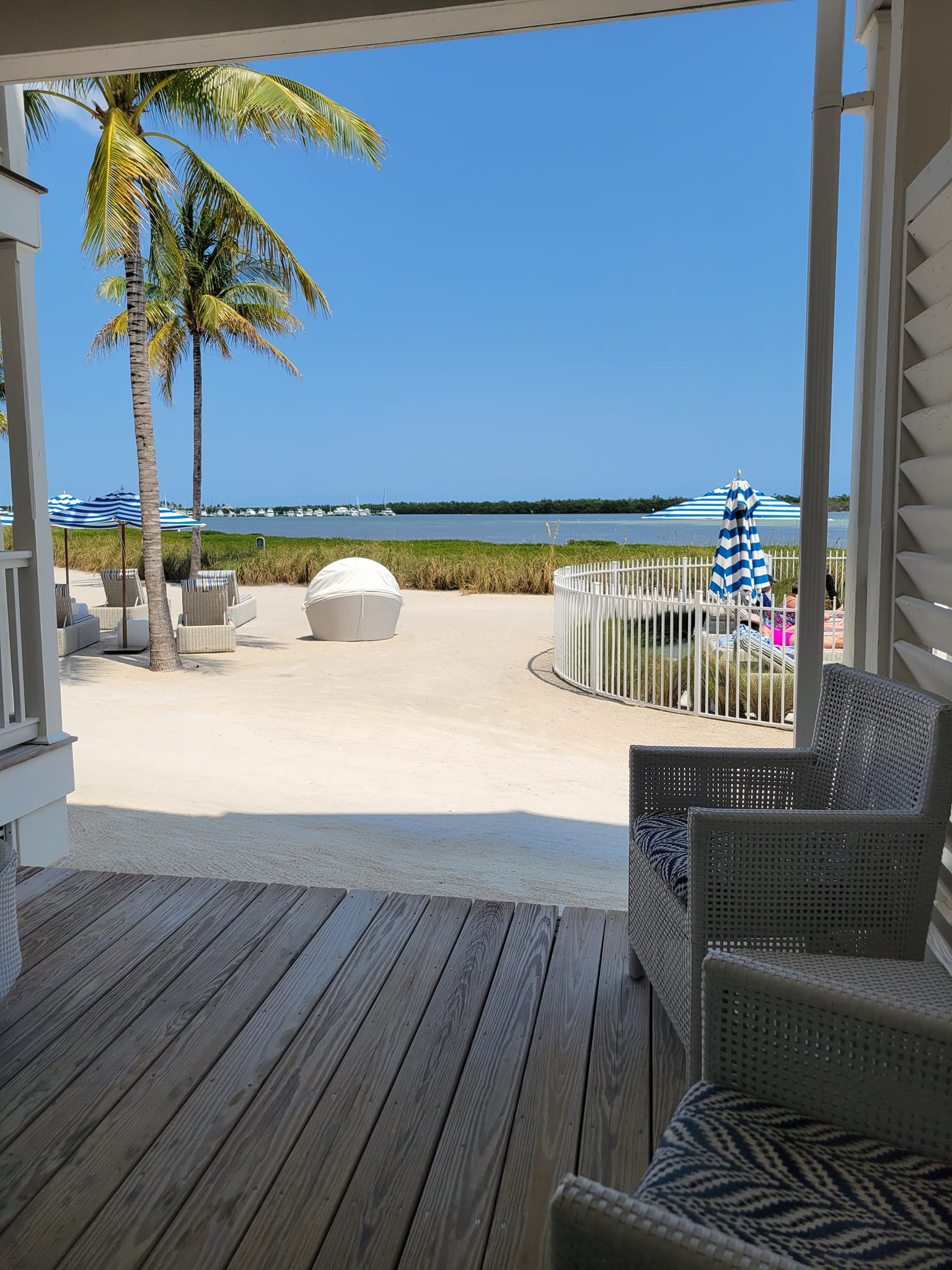 When the room was ready, we found out that we were upgraded to a two-bedroom two-bathroom suite – that had that view of the water!! YES PLEASE.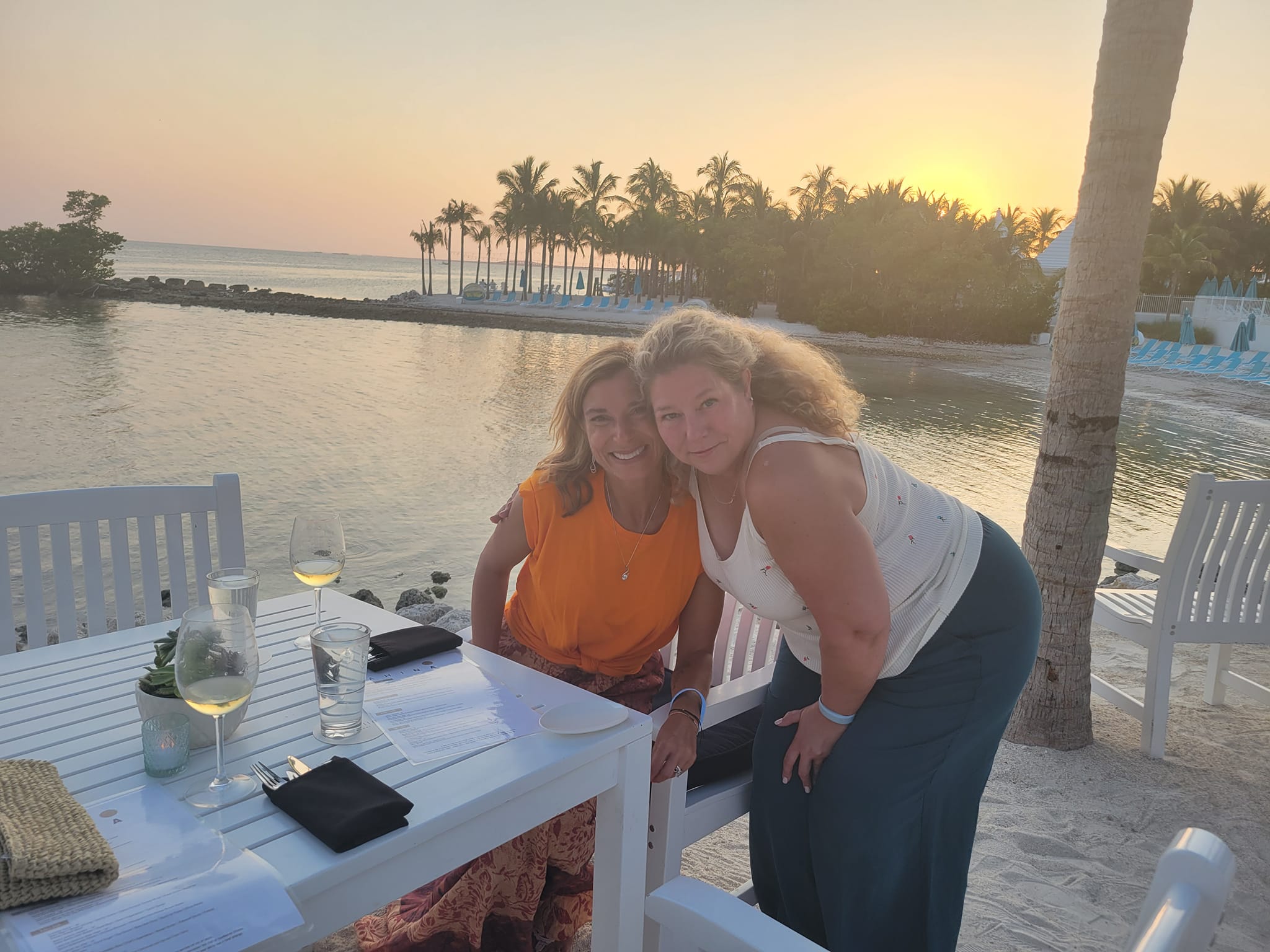 We ate breakfast, lunch and dinner by the water every day. I mean, how could you not?? For dinner…be sure to make a reservation to make sure you get a table on the water….THAT VIEW!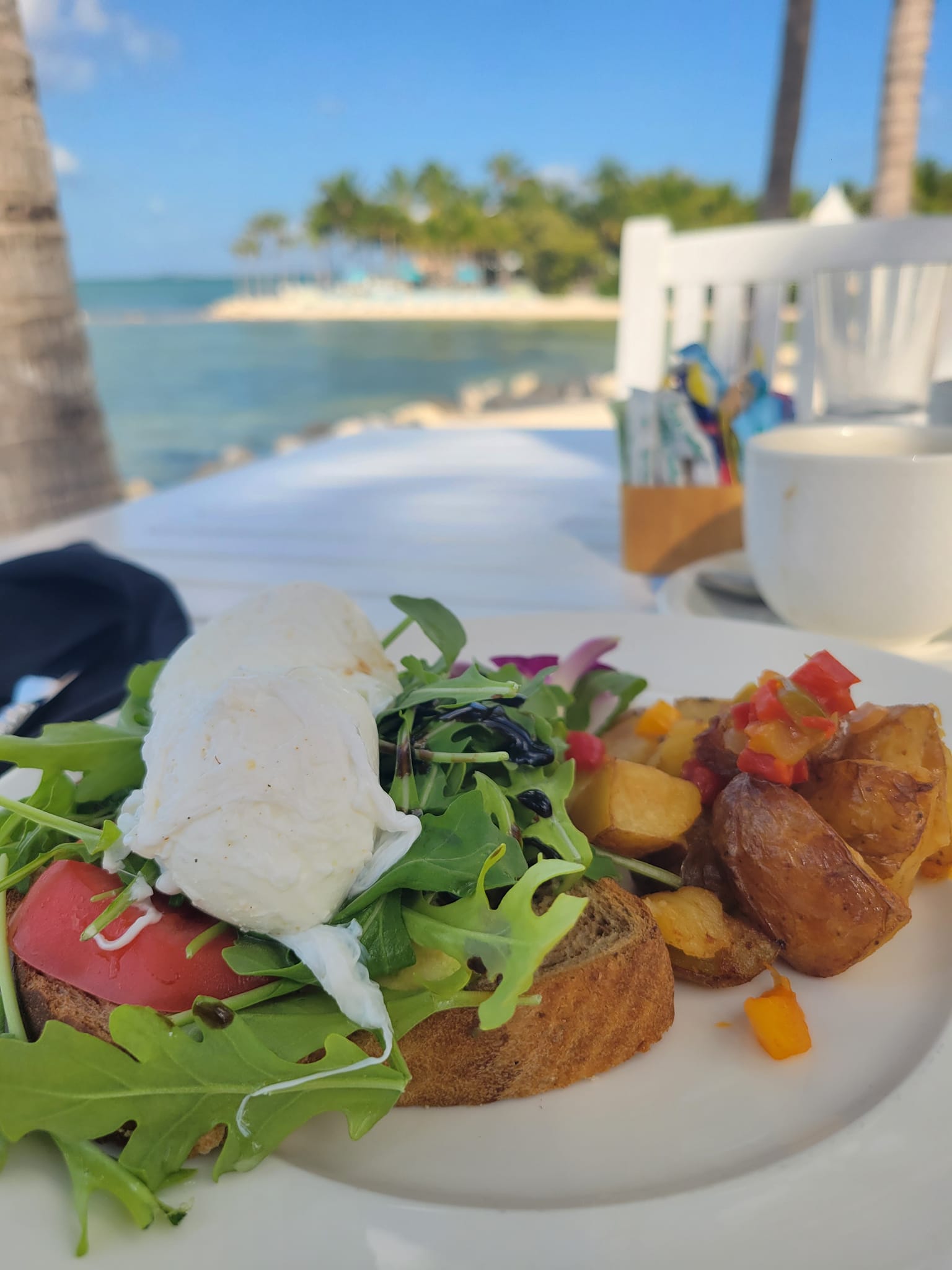 We went to breakfast everyday in our swim suits, then headed right to the beach with our books. We relaxed, read and took in some vitamin D. By lunch, we were ready for a glass (read bottle) of wine by the water, which we enjoyed until it was time for lunch.
Pro-travel Tip: Pack a couple bottles of wine and bring em with you! Not only will it save you some money, but it guarantees that you'll have wine you like. I brought 5 bottles with us in my Fly With Wine suitcase.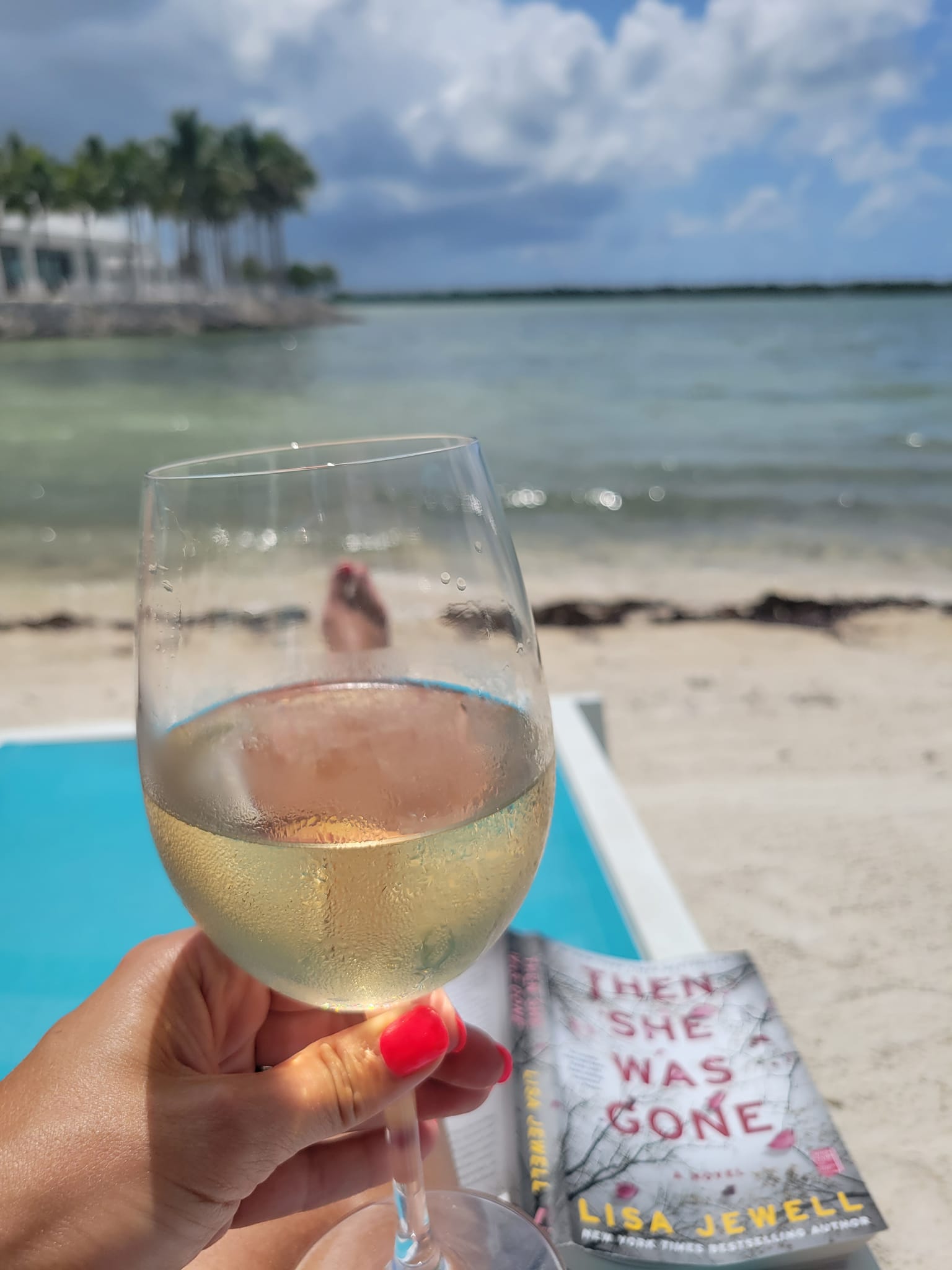 For activities other than sitting on the beach reading and sipping wine, we also headed to Key West one day. Marathon Key is a little over half way to Key West, so you really can't go and not head all the way down. Plus, my bestie has never been! We left for Key West a little after lunch and spent the day listening to live music, then headed to Mallory Square for sunset before heading back to Isla Bella.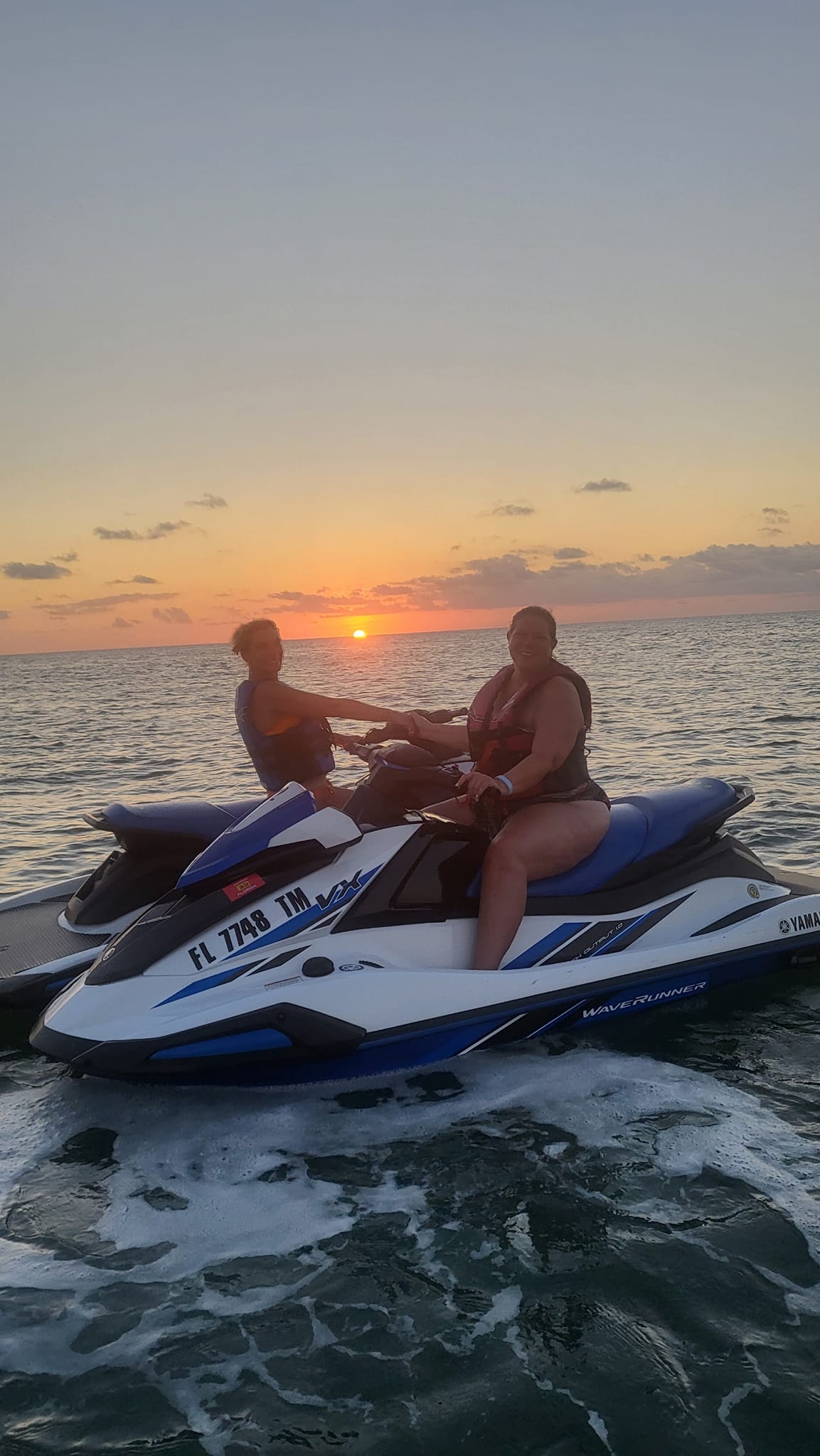 Another way to enjoy the sunset is on a JET SKI. Yep, we did that one day too. We did the jet ski sunset cruise right from Isla Bella Beach Resort. We had the bestest (yes, bestest) guides ever. It was Jen's (my best friend) only 2nd time on a jet ski and she did AWESOME. It may sound silly, but it's kinda freeing to be able to cruise around by yourself on the ocean.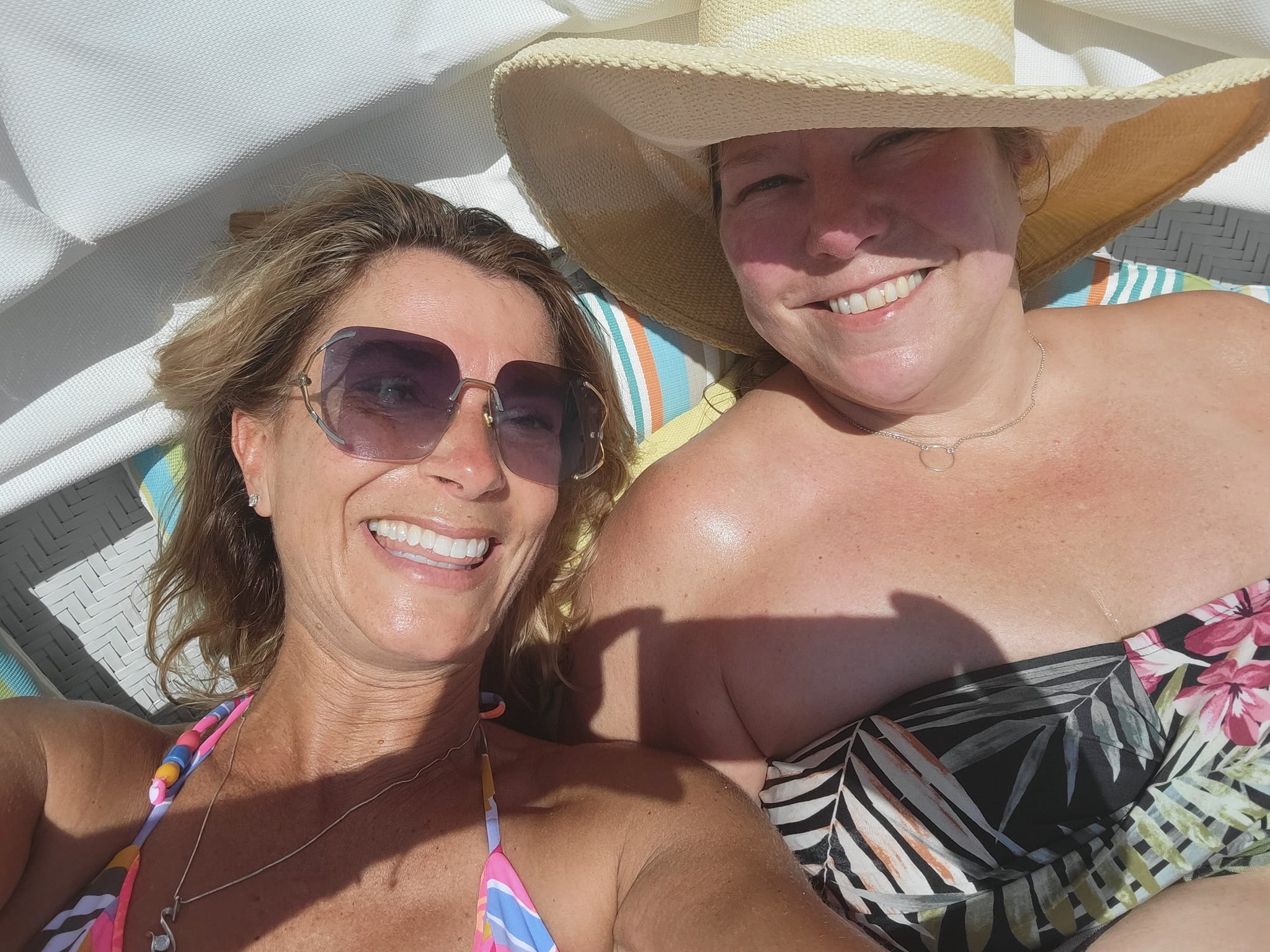 Alright…my best friend's birthday trip was indeed one that we will never forget. It was ABSOLUTELY beautiful and the staff was all so nice. If are wondering, they did have things to do for kids…lots of activities, several pools and, of course, a beach. But, as two grown-women who left their kiddos at home, we didn't feel like we were surrounded by kids either, it was a nice balance for those looking for an adult getaway as well. Like us.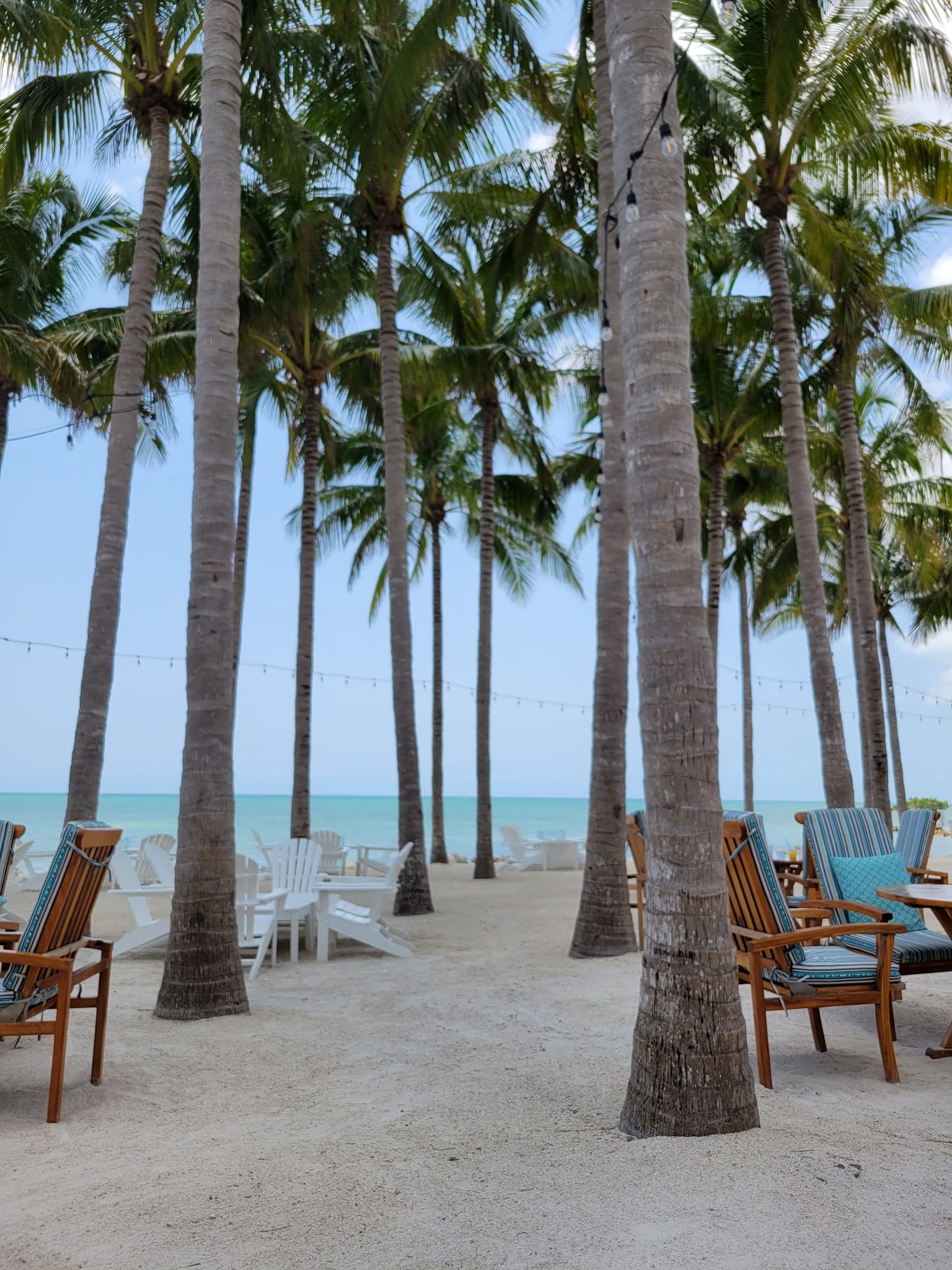 Here are several reasons why staying at Isla Bella Beach Resort on Marathon Key is a great choice:
Beautiful Beachfront Location: Isla Bella Beach Resort boasts a stunning beachfront location, offering direct access to a private sandy beach. You can enjoy breathtaking views of the turquoise waters and relax on the pristine shoreline right outside your accommodation.
Luxurious Accommodations: The resort offers a range of luxurious accommodations, including rooms, suites, and beach houses. Each unit is elegantly designed and features modern amenities, comfortable furnishings, and private balconies or patios with ocean views.
Resort Amenities: Isla Bella Beach Resort provides a wealth of amenities to enhance your stay. Enjoy the resort's multiple swimming pools, as well as a private pool for adults only. There's also a full-service spa, fitness center, and waterfront dining.
Water Sports and Activities: The resort offers a variety of water sports and activities for guests to enjoy. You can rent kayaks, paddleboards, and jet skis to explore the surrounding waters. Snorkeling, fishing, and boat charters are also available for those looking to further immerse themselves in the marine environment.
On-site Dining: Isla Bella Beach Resort features several on-site dining options, ranging from casual to fine dining. You can savor fresh seafood, Caribbean-inspired cuisine, and other delicious dishes while enjoying the scenic views of the ocean.
Relaxation and Tranquility: If you're seeking a peaceful and serene getaway, Isla Bella Beach Resort provides a tranquil atmosphere that allows you to unwind and rejuvenate. The resort's beautifully landscaped grounds, private beach, and secluded pools create an ambiance of relaxation and tranquility.
Proximity to Attractions: Marathon Key is centrally located in the Florida Keys, making it a convenient base for exploring the surrounding area. From Isla Bella Beach Resort, you can easily access popular attractions such as Sombrero Beach, the Turtle Hospital, and the Dolphin Research Center.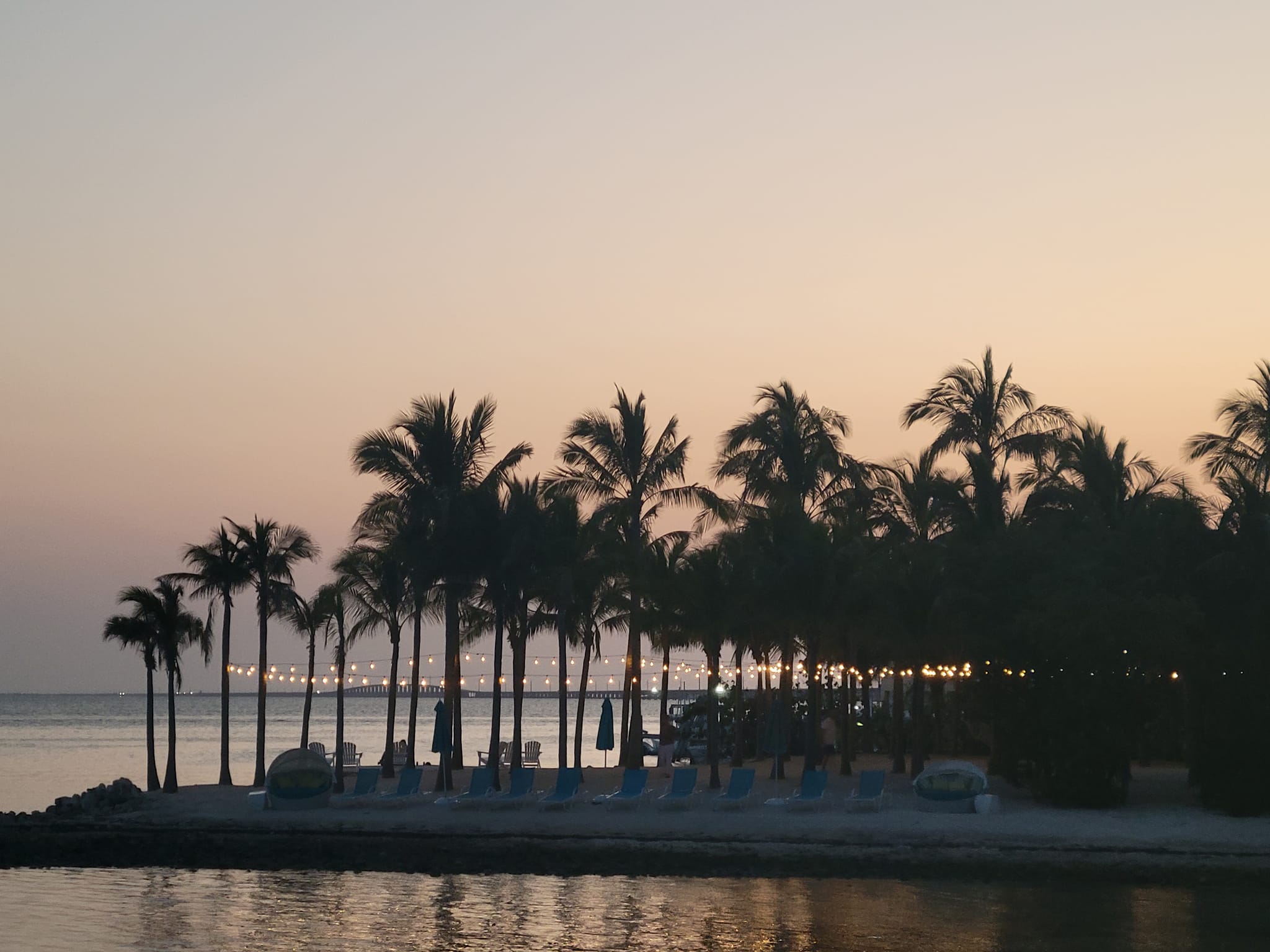 Overall, staying at Isla Bella Beach Resort on Marathon Key offers a combination of luxury, natural beauty, and access to a wide range of activities.
Additional Things To Do When Staying on Marathon Key
Sombrero Beach: Enjoy the sun, sand, and turquoise waters at Sombrero Beach. It's a beautiful spot for swimming, sunbathing, picnicking, and snorkeling.
Dolphin Research Center: Visit the Dolphin Research Center to learn about marine life conservation and interact with dolphins. You can participate in dolphin encounters, watch educational presentations, and even swim with the dolphins.
Turtle Hospital: Take a tour of the Turtle Hospital, a rescue and rehabilitation center for injured sea turtles. Learn about the hospital's efforts to protect these amazing creatures and witness the rehabilitation process.
Curry Hammock State Park: Explore the natural beauty of Curry Hammock State Park. Enjoy activities like swimming, snorkeling, kayaking, and fishing. The park also has scenic nature trails and picnic areas.
Pigeon Key: Take a boat or ferry to Pigeon Key, a historic island with charming cottages and a museum. Learn about the island's history and enjoy its picturesque views and walking trails.
Florida Keys Aquarium Encounters: Get up close and personal with marine life at the Florida Keys Aquarium Encounters. You can snorkel in a coral reef tank, hand-feed sharks and stingrays, and learn about various marine species.
Seven Mile Bridge: Drive or walk along the iconic Seven Mile Bridge, which connects Marathon Key to the Lower Keys. Enjoy breathtaking views of the ocean and the surrounding islands.
Kayaking and Paddleboarding: Rent a kayak or paddleboard and explore the calm and crystal-clear waters surrounding Marathon Key. You can paddle through mangrove trails, observe wildlife, and enjoy the serene atmosphere.
Deep-Sea Fishing: Charter a boat and go deep-sea fishing in the abundant waters off Marathon Key. The area is known for its excellent fishing opportunities, including catching species like tarpon, marlin, sailfish, and snapper.
Sunset Celebration at Marathon Marina: Head to the Marathon Marina to experience the Sunset Celebration. Enjoy live music, local food vendors, and stunning views as the sun sets over the water.
Remember to check local guidelines and availability for each activity or attraction, as some might have specific requirements or limitations.
Now, the only thing on the list above that we did was drive the Seven Mile Bridge. We weren't looking for a lot of activities or things to do while staying on Marathon Key, we were looking to relax, celebrate our friendship and enjoy. And that's exactly what we found at Isla Bella Beach Resort.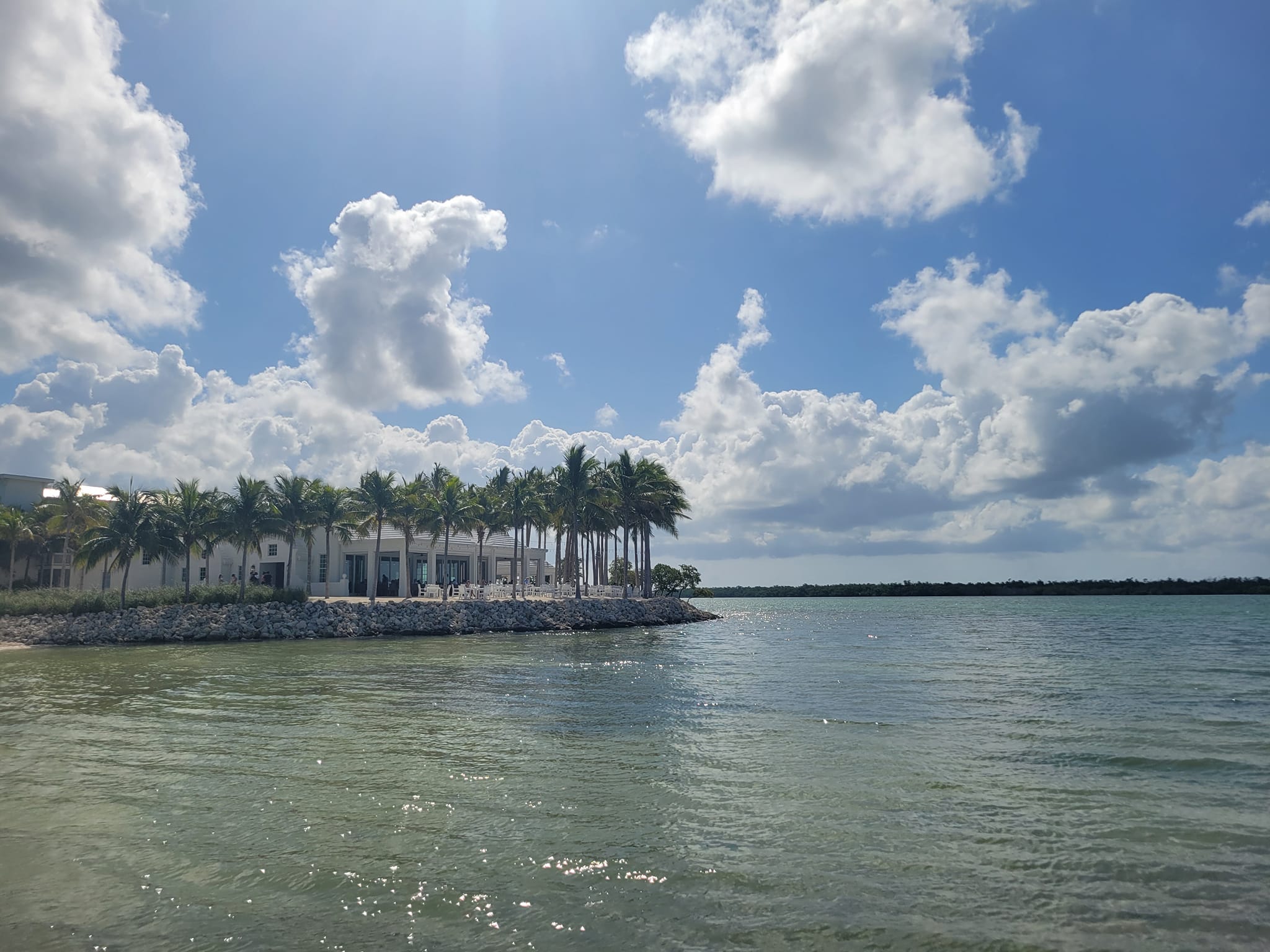 Not sure if Isla Bella Beach Resort is the one for you on your next Florida Keys vacation? WHAT?! I guess it could happen 😉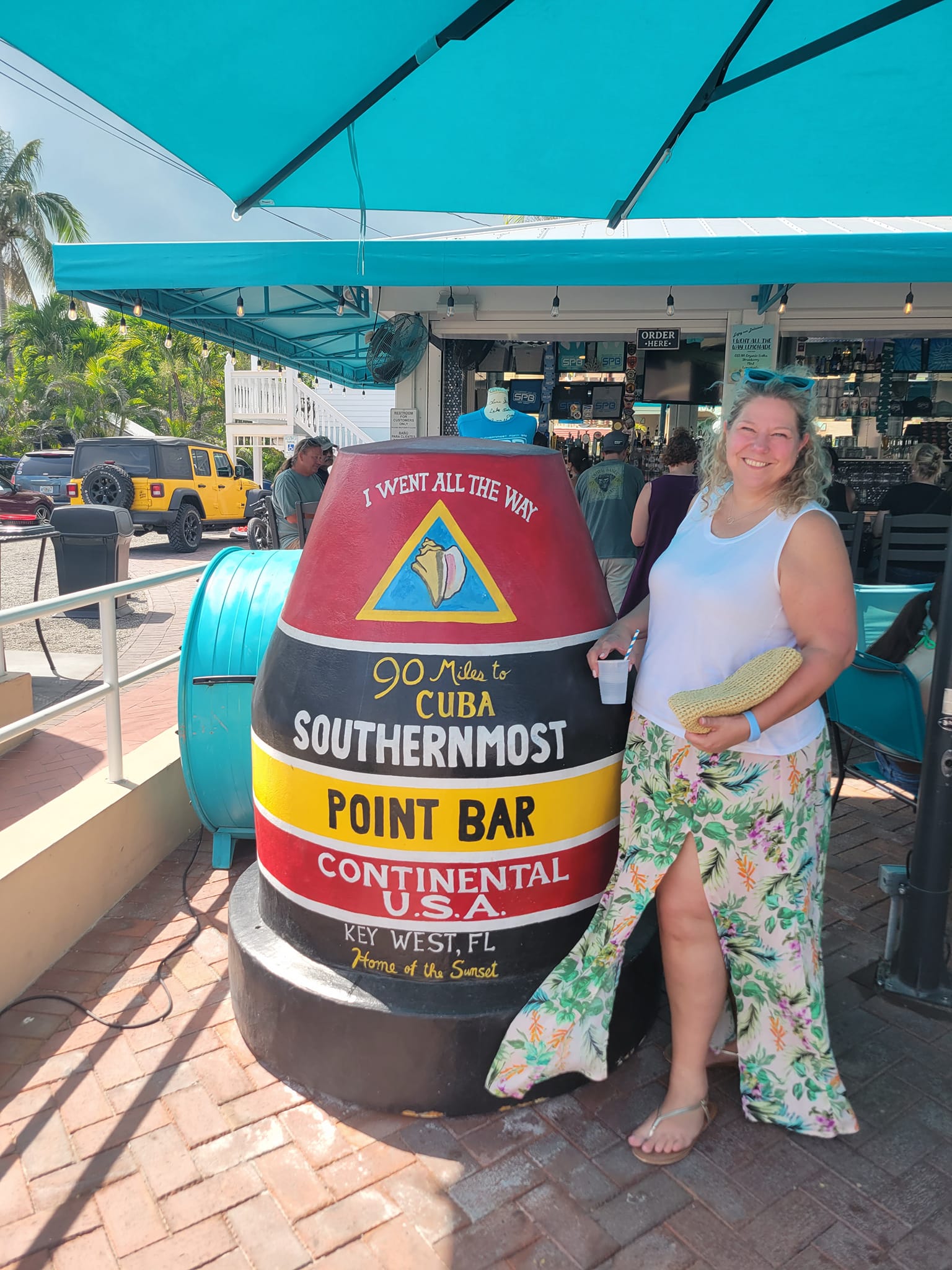 Here are other great options to consider staying at when visiting the Florida Keys:
Tranquility Bay Beach House Resort: This beachfront resort offers spacious and well-appointed beach houses with private balconies or patios. It features a private beach, multiple pools, a waterfront tiki bar, and on-site dining options. Located on Marathon Key.
Hawks Cay Resort: Nestled on Duck Key, Hawks Cay Resort offers a variety of accommodations, including hotel rooms, suites, and villas. The resort boasts a private marina, multiple pools, a saltwater lagoon, water sports activities, and several dining options. We have actually stayed here several times as well.
Courtyard by Marriott Marathon Florida Keys: This well-known hotel brand offers comfortable rooms with modern amenities. It features a waterfront pool, a fitness center, on-site dining, and is conveniently located near attractions like Sombrero Beach.
Airbnb and Vacation Rentals: The Florida Keys has a variety of vacation rentals available through platforms like Airbnb. From waterfront condos to beachfront houses, these rentals offer flexibility and a homely atmosphere.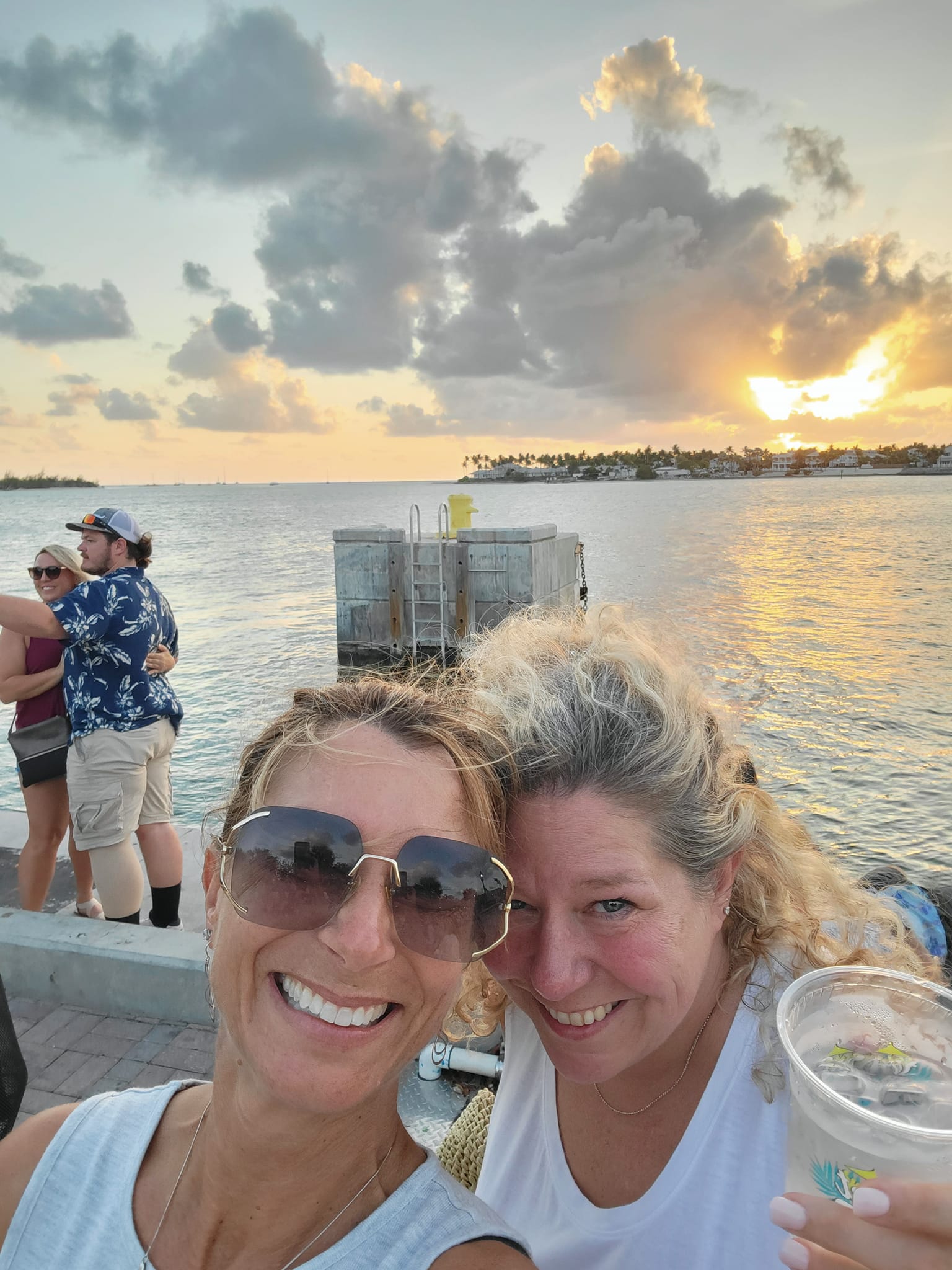 Have you stayed in the Florida Keys before? Where is your favorite place to stay?
Be sure to follow Food Wine Sunshine on Facebook, Twitter, Pinterest, and Instagram for more wine tips and experiences, healthy recipes, and travel.