(Last Updated On: July 28, 2023)
This purple ice cream is made with purple sweet potatoes, giving it that vibrant fun color! Add in Florida Milk for creaminess and a little sweetener and you have a delicious no churn purple sweet potato ice cream. While this post is sponsored by Florida Milk, my love of healthy and yummy dessert recipes and Florida Milk are my own.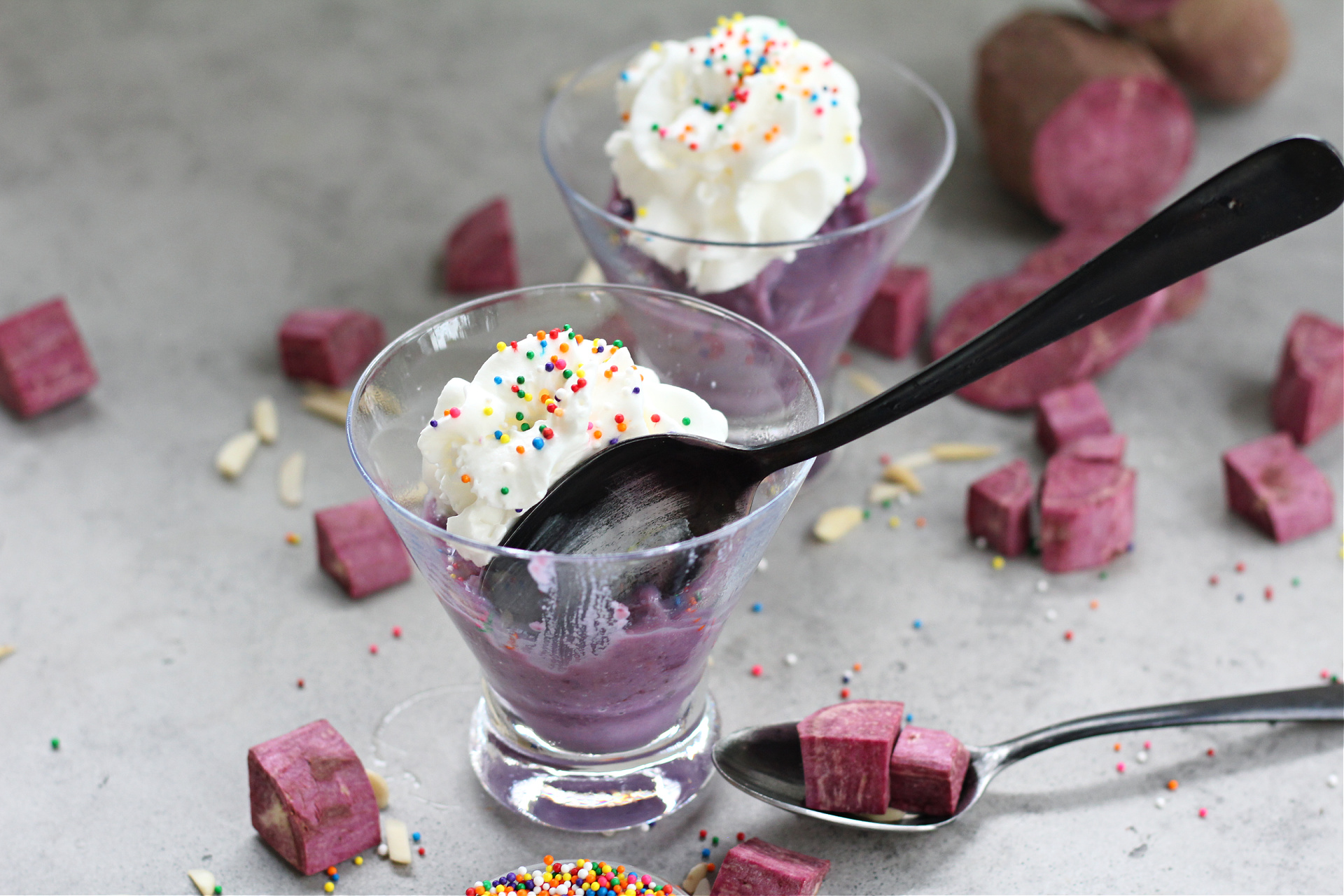 The summer temperatures are soaring and we are all looking for ways to cool down and beat the heat. One delicious way to do just that is to enjoy some delicious homemade ice cream. Not just any homemade ice cream though…purple sweet potato homemade ice cream!
You read that correctly, purple sweet potato ice cream! What do you mean you never thought of making ice cream out of vegetables before? Seriously though, purple sweet potatoes have a deliciously sweet flavor that makes them perfect for making dessert with. Plus, who doesn't love the color purple? No food coloring needed in this fun ice cream recipe!
While the idea of using sweet potatoes for dessert might seem kind of strange to us, besides sweet potato pie of course, but the Japanese use purple sweet potatoes in traditional desserts all of the time. They are also commonly used in desserts throughout Southeast Asia. Purple sweet potato ice cream is called Ube, pronounced "ooh-beh".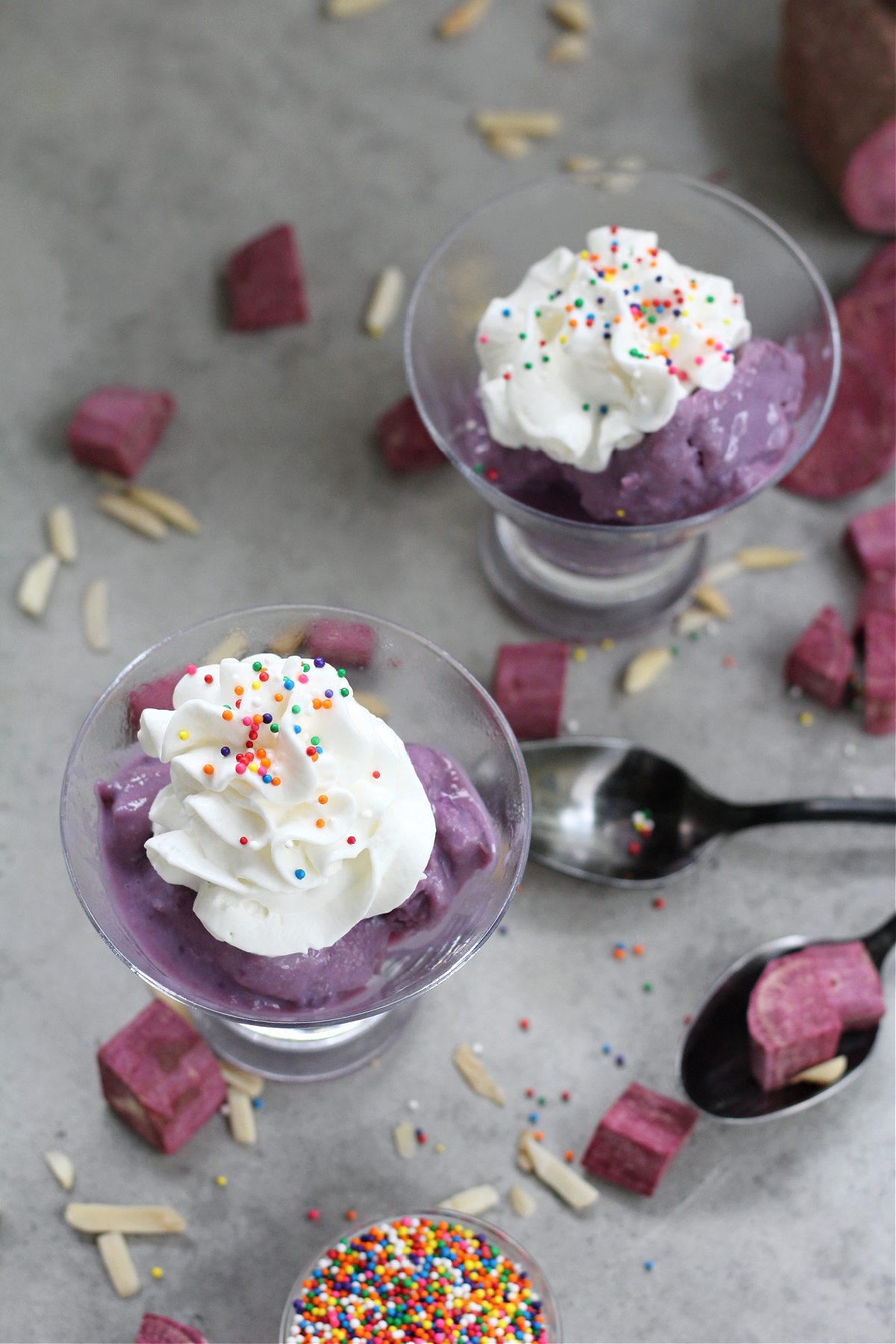 Not only are these sweet potatoes a beautiful purple color, but they also taste sweet with a flavor reminiscent of maple syrup. Some people also say the flavor reminds them of light vanilla, or lavender, all of which work great with ice cream!
Purple sweet potatoes are high in fiber, vitamin C, and potassium, as well as antioxidants. You can feel great about serving this purple ice cream treat to your family because it's healthy. They might not believe that it is made with a vegetable though!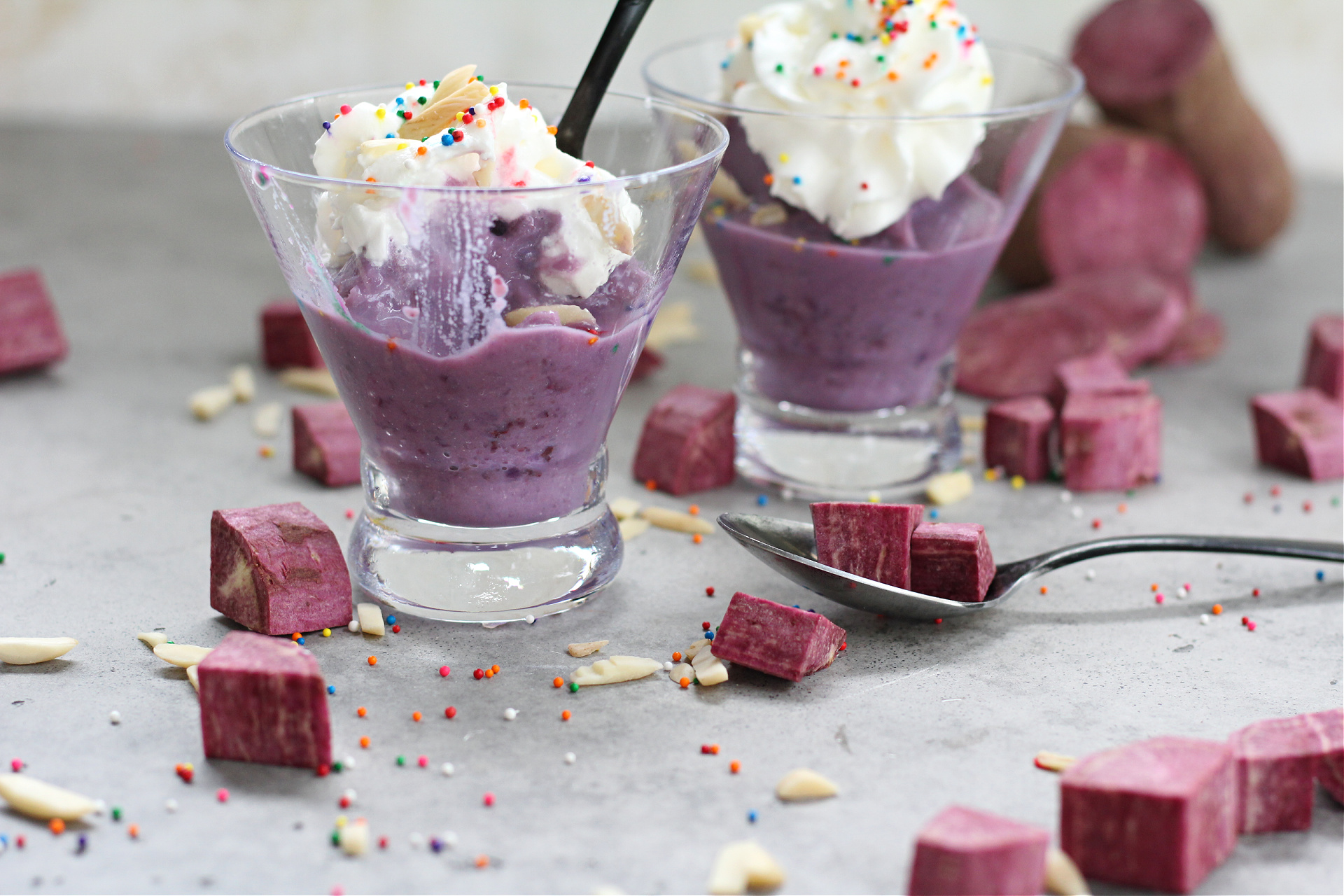 Ingredients for Purple Sweet Potato Ice Cream
To make this tasty, refreshing, and hydrating (very important on a hot summer day) treat you will need just a few ingredients. You will need purple sweet potatoes that have been cooked, peeled, mashed, and cooled. You will also need whole milk, sea salt, maple syrup, and vanilla extract.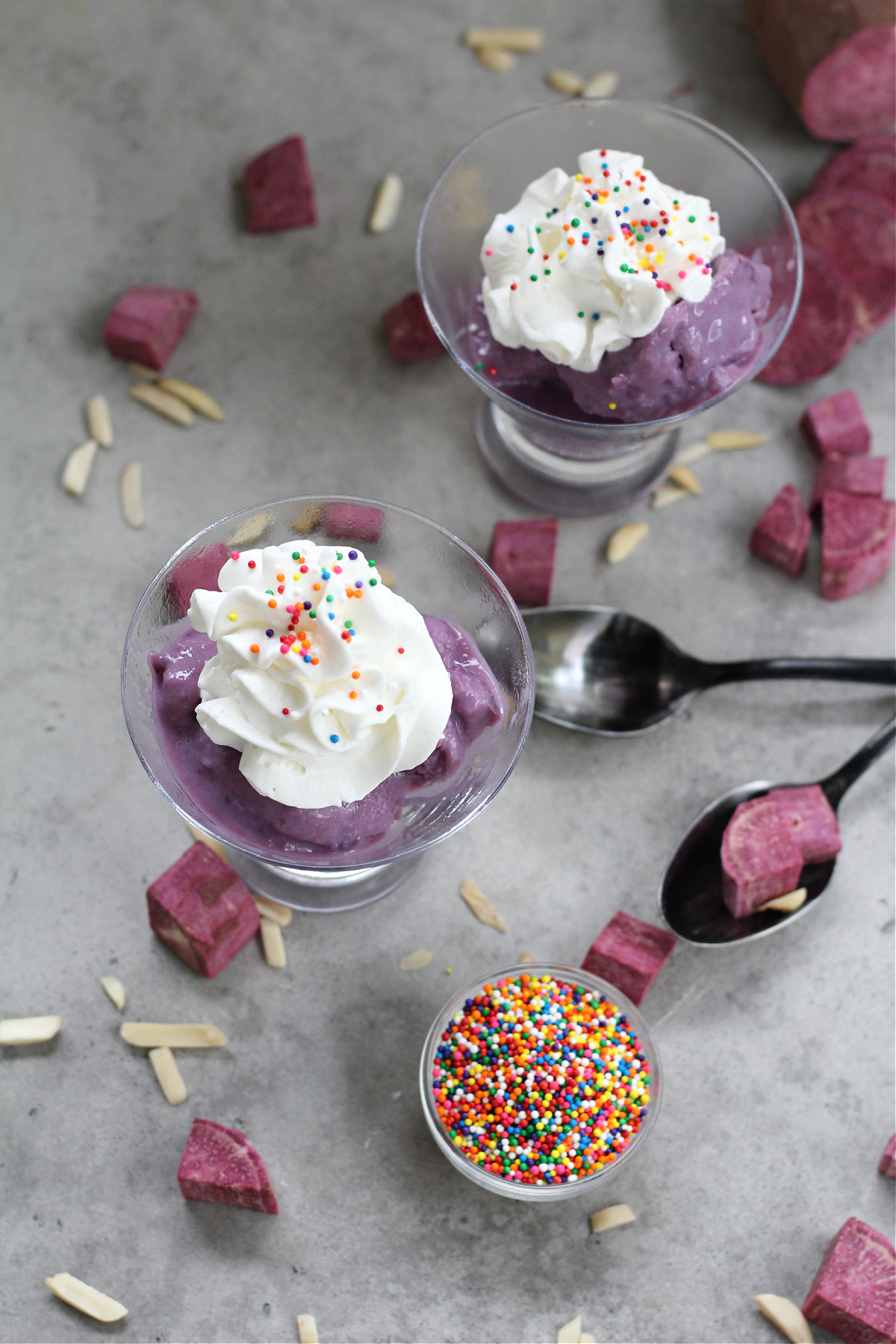 How To Make Sweet Potato Ice Cream
Once your sweet potatoes are ready, put them in your blender and add your other ingredients. Blend all of the ingredients together for three to four minutes until they are very smooth. Pour the mixture into a bowl and cover it and put it in the freezer. The mixture needs to chill for at least four hours.
Don't have an ice cream maker? Don't worry about it, you can still have homemade ice cream. Blend your ingredients together until smooth just like above, and then pour the mixture into a freezer-safe container and freeze for 5 to 6 hours.
If you have one, use an ice cream maker to freeze your purple sweet potato ice cream and then place it in a freezer-safe container so that it can continue to set. Remove the ice cream from the freezer about 15 minutes before serving, so that you can scoop it out.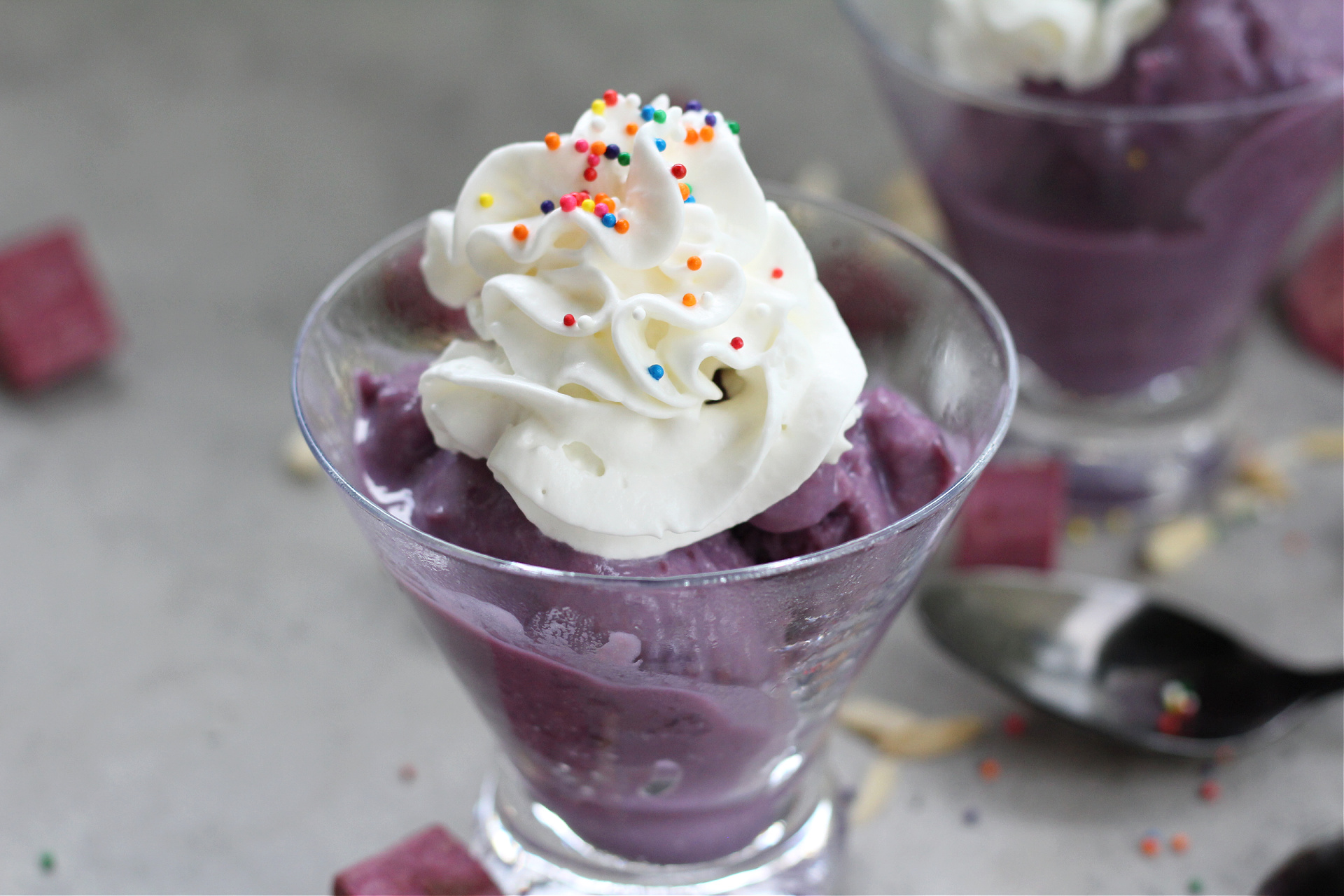 If you would like a garnish for your sweet potato ice cream, you can chop and toast some nuts for a topping. The sweet, salty, and crunchy combination is delicious and pairs really well. You can also just serve it plain and it will still be delicious. Whipped topping and sprinkles and slivered almonds is how I topped mine…simple, yet perfect.
This boldly colored treat is one that you can feel great about indulging in, after all, it's basically just blended vegetables and Florida milk. If you have kids who don't like to eat their veggies, this is a great way to sneak some in. After all, who doesn't want a nice bowl of creamy ice cream on a hot summer day? You don't have to tell them that it's good for them!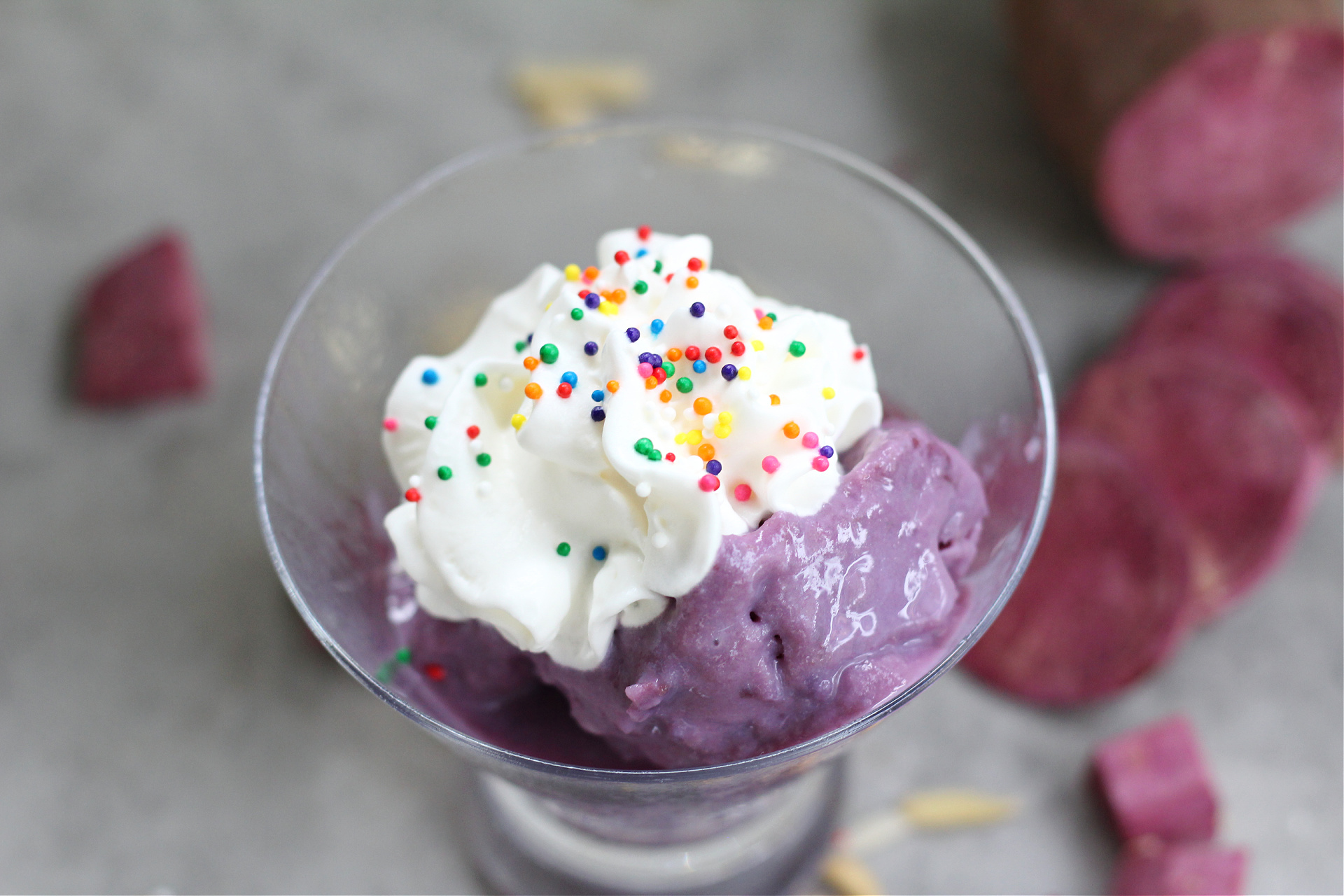 Alright, let's make some no churn purple ice cream shall we?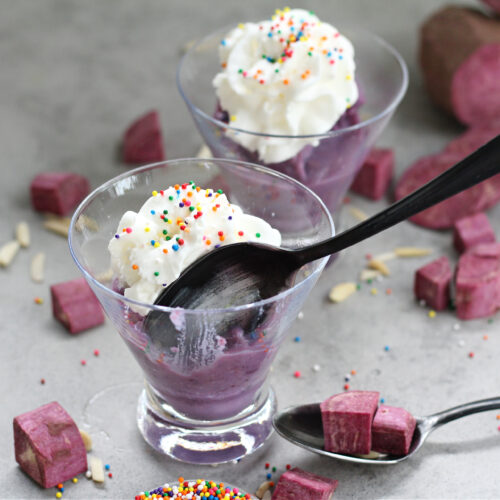 Purple Sweet Potato Ice Cream
Looking for a healthy sweet treat that is super easy to make? Try this purple ice cream! Made with just a few ingredients, it's prepped in under 10 minutes and is made with purple sweet potatoes!
Print
Pin
Rate
Ingredients
1

cup

cooked mashed and packed purple sweet potato

approx 2 small sweet potatoes I cooked mine in the microwave for 5 minutes. Be sure to poke holes in it before cooking.

1 ⅔

cups

Whole Florida Milk

2

tablespoon

maple syrup

*more to taste

1

tablespoon

vanilla extract

1/4

teaspoon

sea salt
Instructions
Add the mashed sweetpotato, milk, maple syrup, vanilla and salt to your favorite blender.

Blend until smooth and mixed thoroughly.

Pour the sweetpotato mixture into a loaf pan.

Cover with plastic wrap and place in the freezer.

Every 30 – 45 minutes stir the sweetpotato mixture, the edges will start to freeze first and you will want to stir that in to insure an even creamy texture. Do this at least 3 times.

Your ice cream will be ready to enjoy in about 3 to 4 hours. If you freeze your homemade ice cream overnight you will need to allow it to thaw on the counter for about 5 mins so that it is soft enough to scoop.

I topped mine with whipped topping, almond slivers and sprinkles. Other toppings could be chocolate syrup, caramel sauce, and/or fresh fruit.
Notes
You can leave your purple sweet potato ice cream in the freezer for about 2 weeks, but it's best fresh.
Nutrition
Calories:
63
kcal
|
Carbohydrates:
9
g
|
Protein:
2
g
|
Fat:
2
g
|
Saturated Fat:
1
g
|
Polyunsaturated Fat:
0.1
g
|
Monounsaturated Fat:
0.3
g
|
Cholesterol:
6
mg
|
Sodium:
102
mg
|
Potassium:
146
mg
|
Fiber:
0.5
g
|
Sugar:
6
g
|
Vitamin A:
2441
IU
|
Vitamin C:
0.4
mg
|
Calcium:
73
mg
|
Iron:
0.1
mg
So what do you think? Are you going to try making some purple sweet potato ice cream at home?
Be sure to check out Florida Milk for more dairy-licious recipes and follow on Instagram, Facebook and Pinterest.
And while you are at it, check out all the recipes on Food Wine Sunshine and follow on me Facebook, Twitter, Pinterest and Instagram for more FOOD WINE AND SUNSHINE.