(Last Updated On: September 5, 2019)
Magic School Bus Weather Lab Review + FREE Science Experiments
I have a fun review for you guys this afternoon. My son, Steven, has been learning about weather at both school and Cub Scouts, so he was excited to have his own kit at home.
He is now the proud owner of the The Magic School Bus Weather Lab. It is recommended for Ages 5+ and has received a Parents' Choice Foundation Award! Steven is 8 (well, he will be 9 next month) and he still enjoys it. There's a FUN Science in it that keeps him intrigued 🙂
The Young Scientists Club is who makes this FUN Weather Lab. They continue to enthuse children with unlimited possibilities, parents with age appropriate (and fun!) learning tools and toy industry judges with phenomenal products that empower children to explore and wonder.
Check out all the Science Games and Kits created for young minds
The now iconic bus-shaped kit includes a variety of experimental components, 28 illustrated activity cards, a weather station, weather chart, stickers and a data notebook for recording observations and results. There are a wide variety of activities and projects including making a thermometer, creating a cloud and a tornado in a bottle, and making a wind vane; there are also explanations of experiments and discussions of scientific concepts such as evaporation and condensation. The kit is a simple and fun-filled way to introduce young children to basic scientific concepts of observation and recording data, as well as those specific to the study of weather. While our younger testers needed (and enjoyed) adult guidance, those eight and up were pleased to be the principal investigators and report their findings to anyone who would listen.
Do you have a budding Scientist at home? Well, you will be happy to know that you can get a FREE Science Experiment WEEKLY over on The Young Scientists Facebook Page.FREE just so happens to be my favorite price…and if the kids love it…even better!
Check out the FREE Science Experiments
You can also join the Magic School Bus CLUB – where you young scientist will get a new science kit in the mail each month!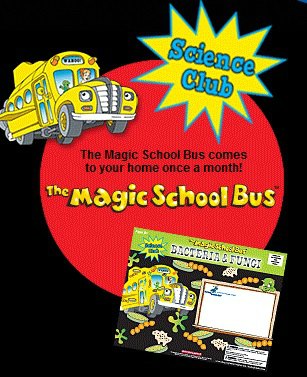 Talk about a FUN gift idea! And it will give all year long 🙂
Make sure to visit The Young Scientist Club on Facebook, follow them on Twitter and Pinterest.
Disclosure: I received this item free of charge. No monetary compensation was received or offered. All opinions expressed are my honest thoughts on this product.