(Last Updated On: December 1, 2020)
Here are basic Tips For Pairing Wine with Meat, Game and Poultry. These tips for pairing wine with meat will help you decide what wine to open. Red wines usually win, discover which ones.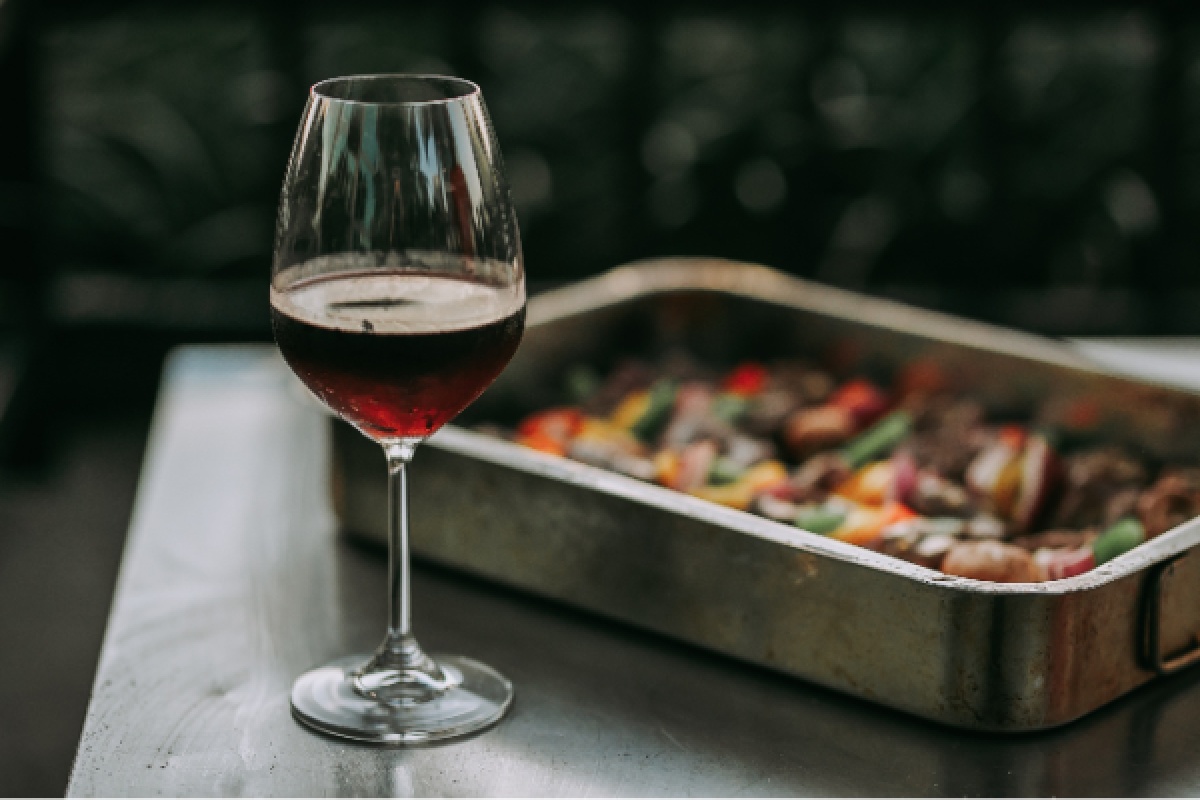 Tips For Pairing Wine with Meat, Game and Poultry
There is no inappropriate venue for good wine. A good wine fits as well with barbecue as with the finest French cuisine. However, not all wines go with all foods. Which wine is chosen to go with which meat can make the difference between memorable meal and a not so memorable meal. Wines are made to enhance your meal and dining experience.
The first thing to consider is the number of courses and how they will be served. For example, salads are generally served before the main course, unless it is a casual style meal such as a picnic. If you have two or more courses that will follow each other, each course should be paired with a different wine, with the most robust wine saved for the main course.
Most meat-based courses go best with dry or medium-dry wines. For richer, 'meatier' tastes, use red wines with strong berry notes, such as Zinfandel or Cabernet Sauvignon, rather than sweet wines. For sweet chutneys, honey garlic, and other sweet main courses, choose wines with just enough sweetness not to be overwhelmed. Save your sweetest wines for dessert.
Pair your wine to the dominant flavor, not the dominant food. Barbecued steaks, steak Oscar, and a screaming hot chili are all based on red meat, but the choice of wines is completely different. On the other hand, Zinfandel goes well with tomato-based barbecue sauces, no matter whether the meat is ribs, shrimp, or hamburgers.
For substantial salads with bacon or marinated shrimp or chicken, for the main dish with a little spice, or for a cheese-based sauce, try a Sauvignon Blanc, either on its own or as a blend. This wine also goes well with sushi.
For subtle flavors of herbs and light cheeses, especially with shrimp or grilled chicken, try a young, unoaked white wine, such as a Chardonnay. Chilean wines are particularly excellent to pair with these tastes. Slightly stronger flavors, such as a demi-glaze or au jus, might benefit from a semi-sweet rose, which complements the flavor of the natural steak juices without overpowering them.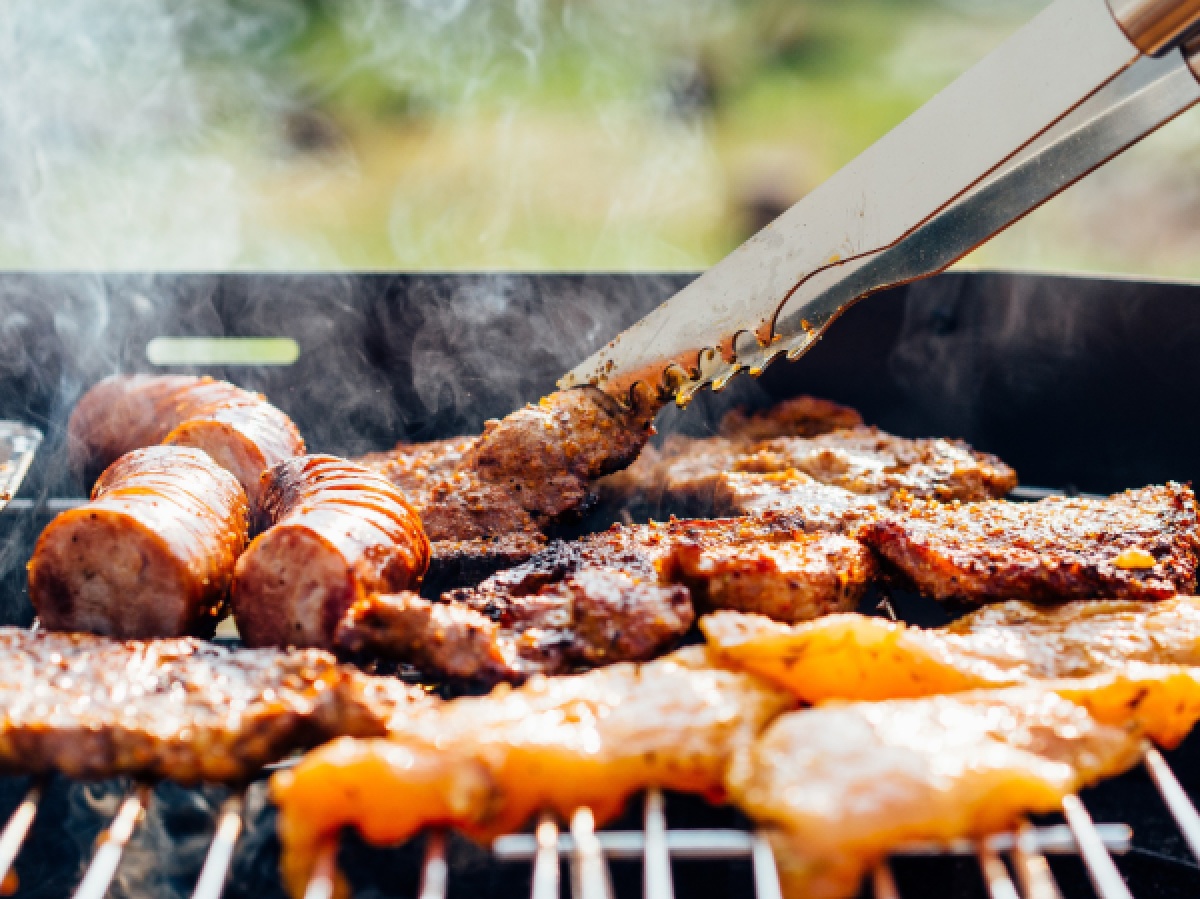 For barbecued food, the dominant flavors come from the choice of seasoning. A robust Bordeaux, Merlot or Cabernet Sauvignon is excellent with the intense flavors of a hearty barbecued steak. A more subtle steak rubbed with peppercorns and sage will be enhanced by a Napa Valley Zinfandel. For strong tomato-based sauces, choose an acidic red with fruit or pepper notes. For the richest barbecued foods, try a Spanish Tempranillo.
Game meats are more robust than their domesticated kin. While this usually means using a more robust wine to match, this may result in too much, too close together. Instead, try a lighter Rhone wine or, for grilled or stuffed game birds, a Pinot Noir.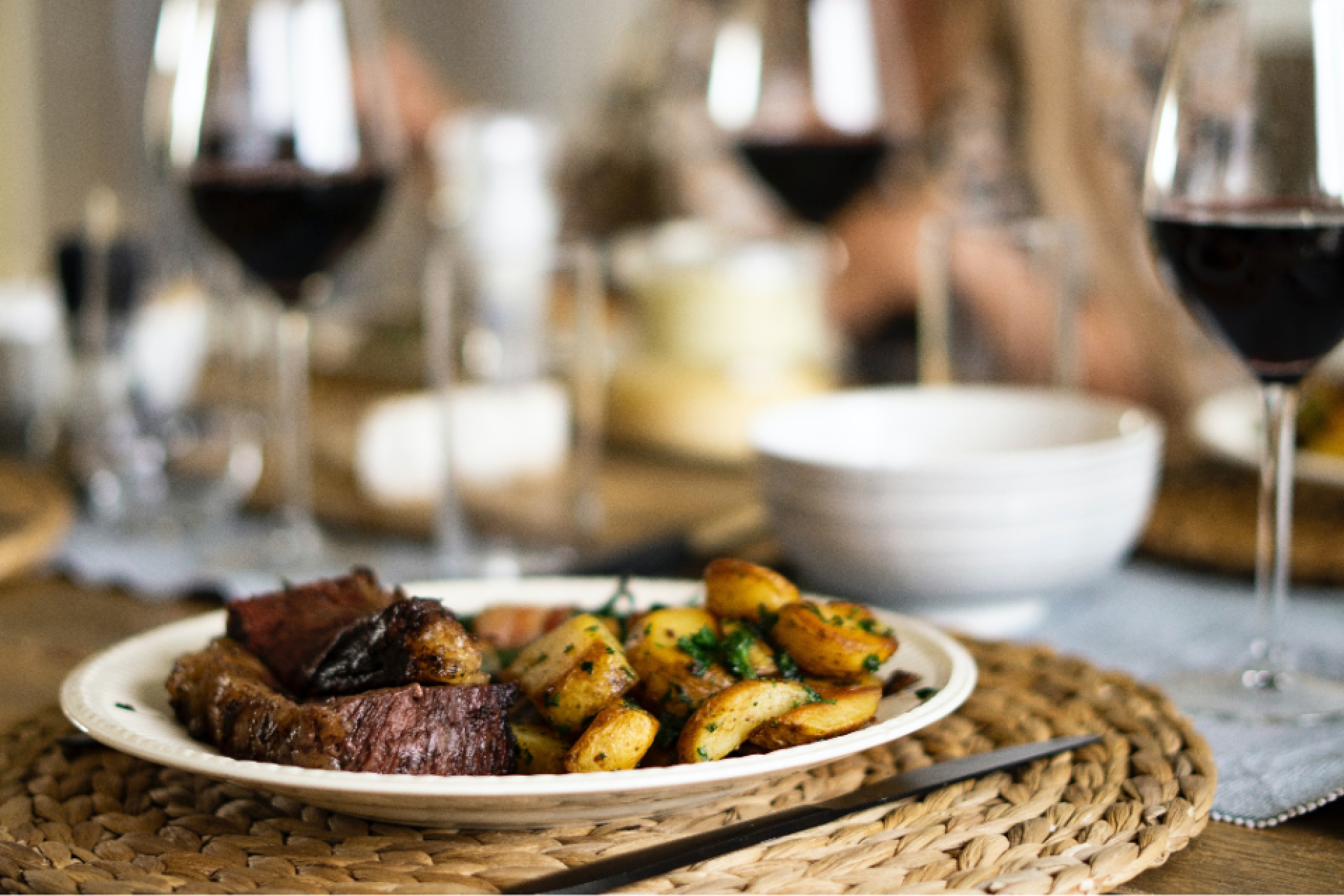 Whenever possible, try to match the geographic origin of the wine with the geographic origin of the food. Wines are heavily influenced by local soil and climate. The foods which developed in that part of the world naturally complement the local wines.
For a casual barbecue, buffet, or picnic, you probably want a couple of bottles of something that will go with everything. In this case, pair the wine to your main food, but keep it light. If the weather is hot, keep it even lighter. Some picnickers prefer to buy several single-serving bottles of wine and treat their picnic as a multi-course meal. If you want variety, choose one white wine and one red wine. As a general rule, plan for 2-3 glasses of wine per person, with about five glasses per bottle, with twice as much white wine as a red.
If you are looking for more wine pairing tips, here are the Food and Wine Pairing Basics. If you serve seafood over the holidays (or anytime!) here are the tips for pairing wine with seafood.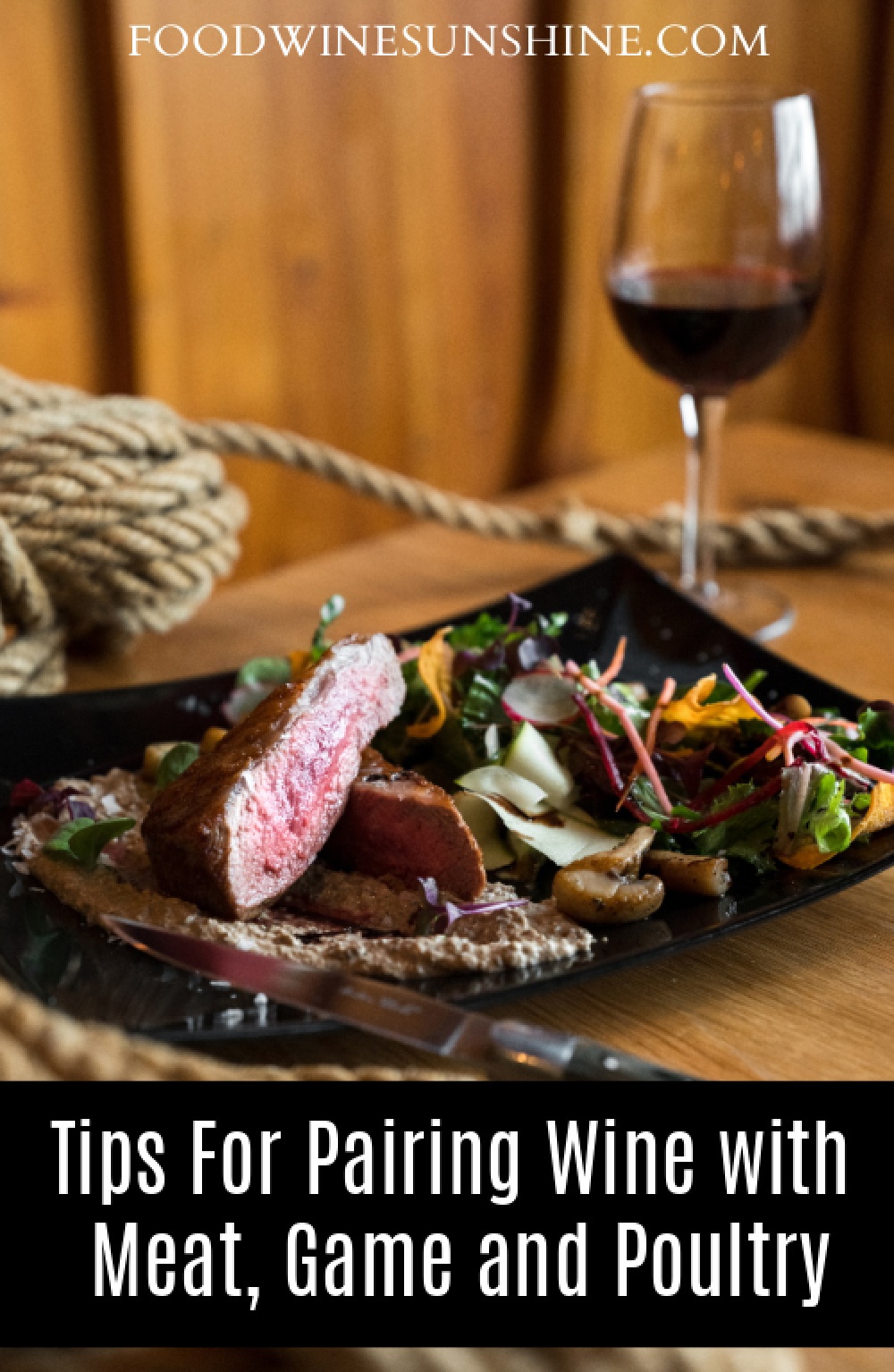 I hope these tips for pairing wine with meat help you the next time you are looking for the perfect wine to go with dinner.
Be sure to check out Food Wine Sunshine on Facebook, Twitter, Pinterest, and Instagram for more wine tips, cocktails, healthy recipes, and fun things to do.