This Stuffed Peppers Recipe is an easy Make Ahead Meal. Make these stuffed peppers, freeze some and have dinner ready for another night too!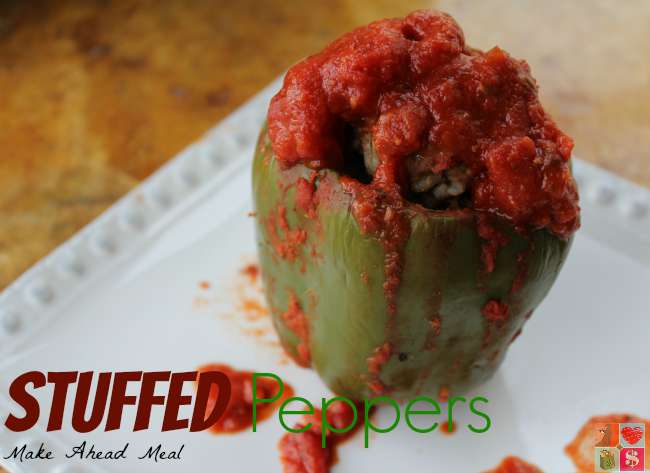 Stuffed

Peppers

Recipe – Make Ahead Meal
A meal that is pre-made and ready to throw in the oven or crockpot is a parent's dream come true on a busy night. Now that school is either back in session or about to be, I am sure you are looking for ways to make dinner time easier. And that is why I am loving this Stuffed Peppers Recipe. It's easy, delicious, and you can make a bunch ahead of time and just pull them out of the freezer when you are in need of a fabulous dinner. Don't worry, I will list a bunch more Freezer to Crockpot meals below this amazing Stuffed Peppers Recipe so that you can really stock up your freezer 😉
It has been awhile since I have made Stuffed Peppers, years to be exact, but my mom was down visiting from Michigan and we decided it was the perfect time to prep some Stuffed Peppers! Who can resist mom's help in the kitchen?!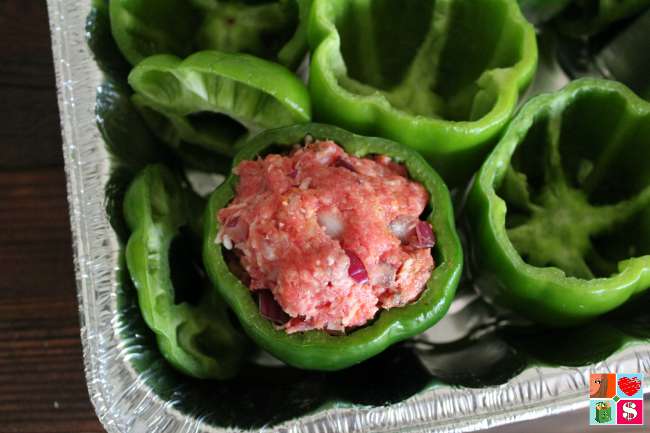 I love that you can make make Stuffed Peppers in just a few easy steps and you only need a few ingredients. The peppers add such flavor to the meat!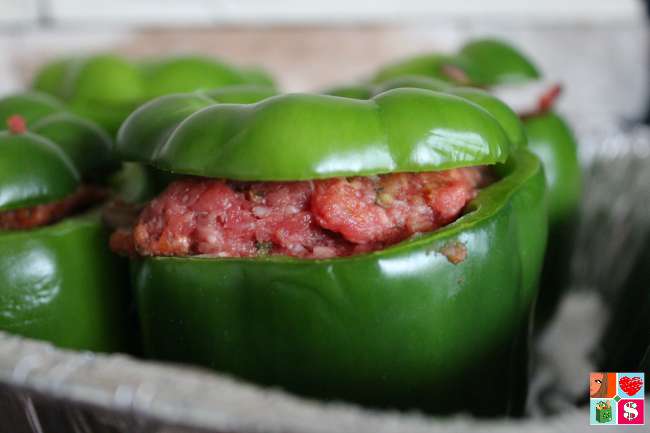 Once you have your peppers stuffed, you simply toss the tops back on and put them in the freezer until you are ready to make them. Ready to make them now? You can cover them with pasta sauce and put them in the crockpot and let them cook all day or toss them in the oven. So many options 🙂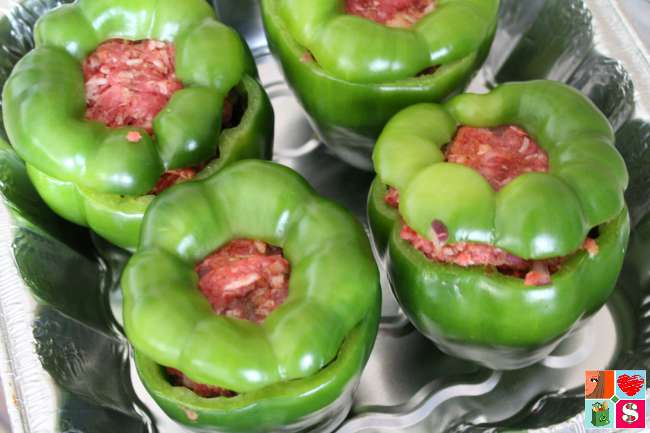 Nervous that your kids will be scared off by the peppers? They don't have to eat them! Just cut the stuffed pepper in half and let them eat the meat mixture. My kids loved it! And even though they didn't eat the pepper, they thought it was cool that their dinner came in a edible bowl 🙂
Now, here is my Stuffed Peppers Recipe, be sure to Print It and Pin It so that you can make it again and again.
Stuffed Peppers Recipe – Make Ahead Meal
Author:
Prep time:
Cook time:
Total time:
Ingredients
4 bell peppers
1 – 1.5 lbs lean ground beef
1/2 cup Minute White Rice
1/4 cup bread crumbs
1 onion diced – I used red onion
1 egg
1/4 cup/small handful of cubed bread
1 tablespoon Italian seasoning
1 24 oz can tomato sauce – divided
Instructions
Mix everything but the tomato sauce together
Add in 1/3 cup canned tomato sauce
Stuff peppers with meat mixture – fill peppers slightly over the top
Put top of the pepper back on if desired
Freeze until ready for use
Oven Instructions
Allow to thaw overnight if you are cooking in the oven, top with pasta sauce and bake for 1 -1.5 hrs at 350 degrees until meat is thoroughly cooked
Crockpot Instructions
If freezer to crockpot meal, simply remove peppers from freezer, place in crockpot, cover with one jar of sauce and cook on low all day – approx. 8 hours or until meat is cooked thoroughly
I hope you and your family enjoy this Recipe for Stuffed Peppers as much as we did!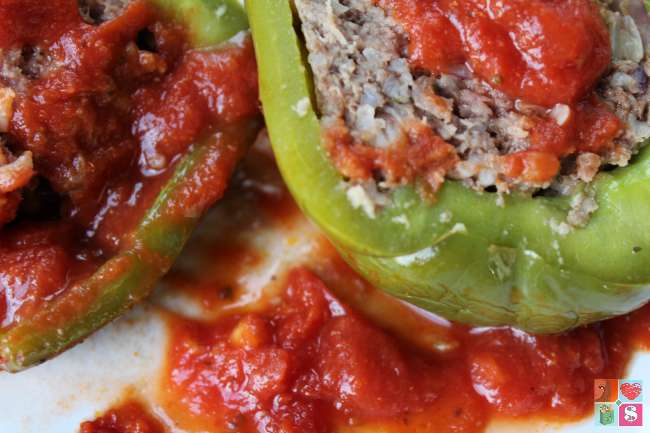 If you are stopping by today from Studio 10 here in Tampa Bay, WELCOME and thank you for checking out Food Wine Sunshine and Cooking.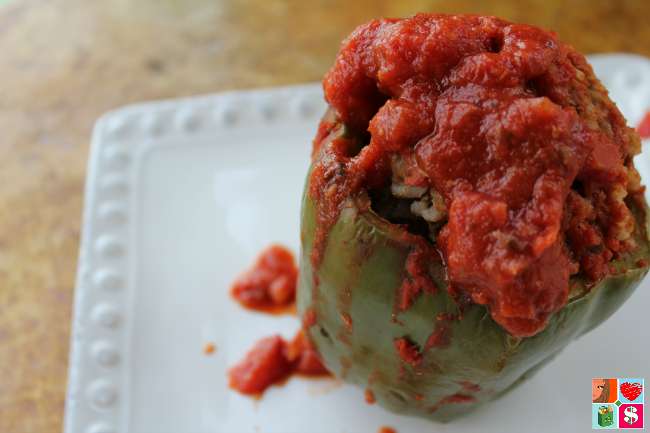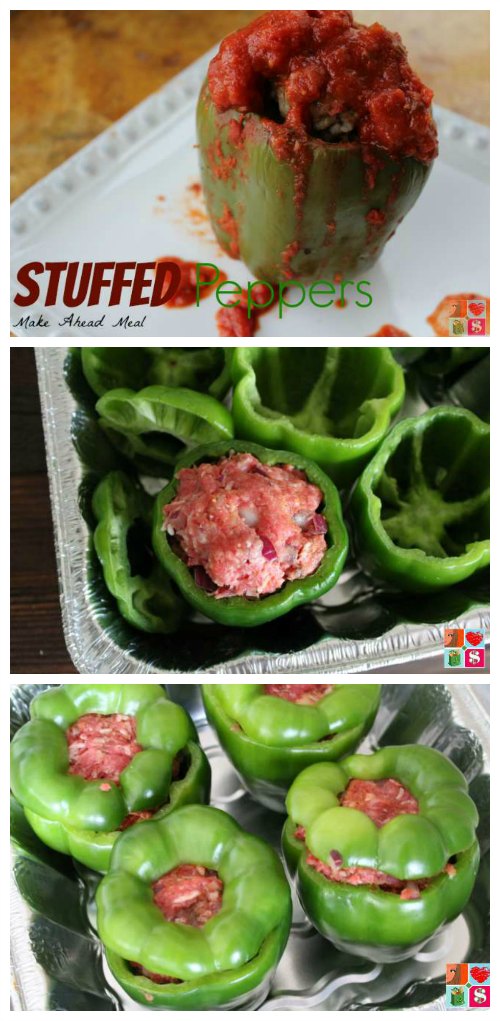 Looking for more Make Ahead Meals? Check out these popular Freezer to Crockpot recipes:
Looking for a easy weeknight meal idea that is ready in 30 mins are less? Check out these recipes:
In fact, be sure check out all the delicious recipes on Food Wine Sunshine and follow me on Facebook, Twitter, Pinterest, Google + and Instagram.
Looking for more Dinner Ideas?